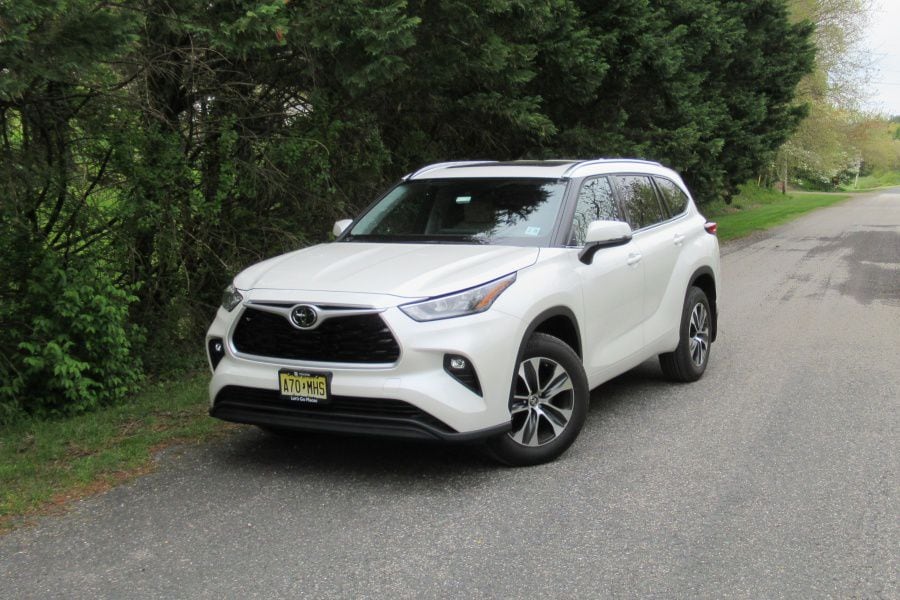 2020 Toyota Highlander XLE ・ Photo by Brady Holt
"Bigger is better," the conventional wisdom goes. That's why most three-row crossovers grow whenever they're redesigned, adding inches of legroom and cubic feet of cargo space with each new generation.
But if you want to seat up to eight passengers without excessive bulk, the 2021 Toyota Highlander is a popular option. Slightly smaller than most of its competitors, this mid-size crossover beats most of them for fuel economy and maneuverability. We spent a week in the Highlander — which is priced from $34,810 — to see how it stacks up against an increasingly strong set of competitors. Here's what we learned.
Not a Radical Design
The Highlander is still quite new, having been fully redesigned for the 2020 model year. But from a stylistic perspective, the redesign was conservative; you'd have to know your Highlanders to tell a 2019 model from a 2021. High, small headlights; small windows; and a boxy front end keep it from looking like a dull box, but the Highlander also lacks the visual panache of some competitors. It's a couple inches narrower than most of its competitors, which along with its big nose, makes it look oddly proportioned from some angles. New this year, an XSE model provides sportier styling cues than our XLE test vehicle.
Things are middle-of-the-road inside the cabin, too. While owners of older Highlanders will see improved materials and easier-to-use controls, the overall dashboard layout hasn't changed much. But some mainstream-brand crossovers have become almost luxury cars, and the Highlander doesn't fully match their pizzazz. Toyota dresses up the cabin with lots of colors, and our test vehicle's leatherette upholstery spreads onto the lower dash. But areas of cheap, basic-feeling plastics separate the Highlander from the segment's fanciest interiors.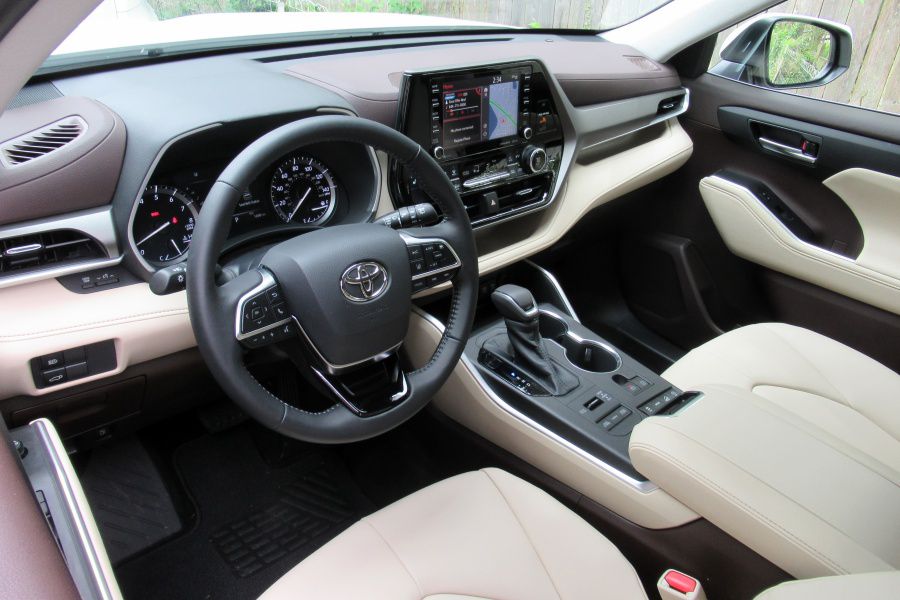 Photo by Brady Holt
Easy to Drive
The advantage to the Highlander's relatively tidy dimensions is that it's an easy three-row crossover to drive. It feels less bulky on the road than some of its competitors, and its 37.4-foot turning circle is a foot tighter than key competitors like the Honda Pilot, Hyundai Palisade, and Chevrolet Traverse.
The 2021 Highlander has a more composed ride and a more natural feel to its steering than the previous-generation model. But it's still not as calm, composed, and overall upscale as today's best competitors. The Highlander is generally smooth, but the vehicle shudders when it hits a bump, rather than taking the impact in stride. There's a similar lack of polish to the steering, brakes, and accelerator. Everything works fine, just not with a meticulously honed smoothness. The new XSE model has stiffer suspension tuning for slightly sportier handling. 
Photo by Brady Holt
Powerful and Efficient
The Highlander comes standard with a powerful yet fuel-efficient V6 engine. This 3.5-liter makes 295 horsepower and 263 lb-ft of torque, and it's mated to an eight-speed automatic transmission. This is a simpler approach than the turbocharged four-cylinders found in a growing number of competitors, yet the Highlander still has above-average fuel economy. Its EPA estimates are 21 mpg in the city, 29 mpg on the highway, and 24 mpg overall with front-wheel-drive, and 20 mpg city, 27 mpg highway, and 23 mpg combined with all-wheel-drive. Similarly, our AWD test vehicle averaged about 23 mpg in mixed driving.
The Highlander still has an ace up its sleeve, though. That's the Toyota Highlander Hybrid model, which pairs a four-cylinder gas engine with electric motors to manage EPA ratings of 36 mpg city and 35 mpg highway with front-wheel-drive, and about 1 mpg less with all-wheel-drive, depending on the trim level. The Highlander Hybrid gives up a bit of power compared to the V6 model, but in exchange, you get better gas mileage than the average small sedan.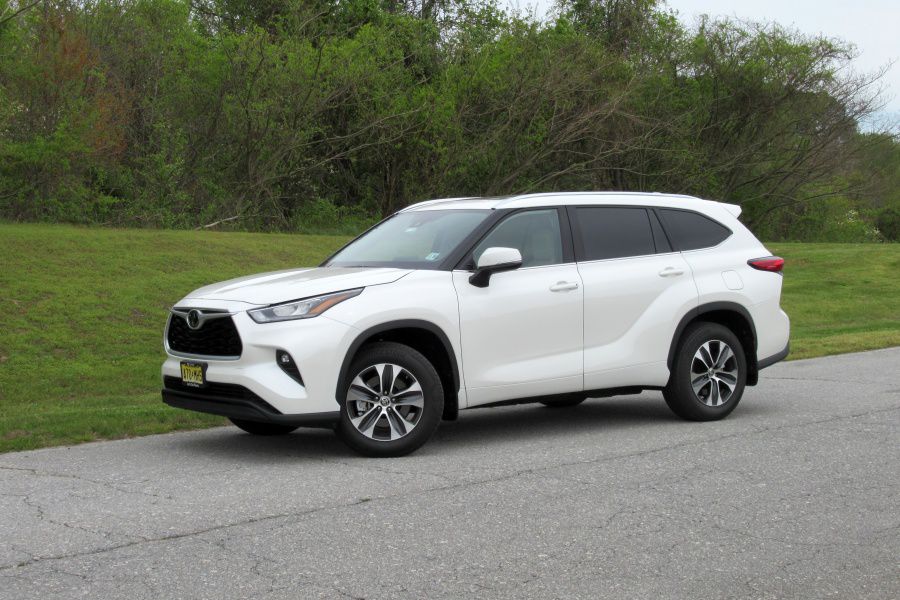 Photo by Brady Holt
Plus-Sized Infotainment
Another way the Highlander beats the competition is its biggest-in-class infotainment screen. Uplevel models have a huge 12.3-inch touchscreen, shown here, which lets you see lots of information simultaneously without having to switch among different views.
However, most Highlander models — including our XLE test vehicle — have a more conventional 8-inch screen. Toyota's interface includes a handy "home" view that splits the view among the in-dash navigation system (if equipped), audio details, and your paired phone. The system is logical and the graphics are attractive, and the 8-inch screen is flanked by convenient hard buttons (which cluster below the larger 12.3-inch screen). The system could respond more quickly to inputs, though. Both screens support Apple CarPlay and Android Auto smartphone integration, and five USB ports are standard. Upper-trim Highlanders also include the Toyota "Easy Speak" in-cabin intercom system.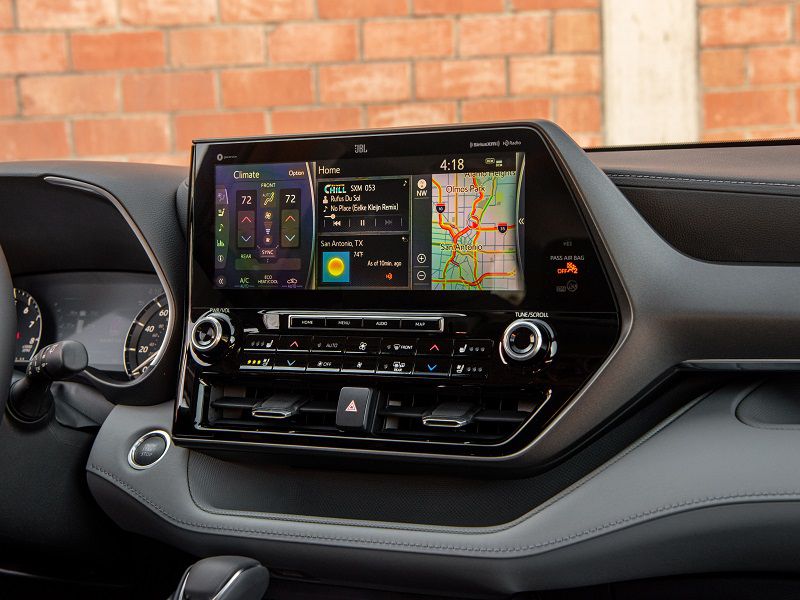 Photo by Toyota
Middling Interior Space
Today's Toyota Highlander is the roomiest generation yet, but it still lacks the stretch-out space you'll find in some competitors. If you'll be using your third-row seat all the time, there are better options than the Highlander.
It seats five adults with ease (or four, if you pick second-row captain's chairs) if you slide the fore-aft second row all the way back. But doing so leaves third-row passengers with almost no legroom, so passengers across all three rows will need to compromise. Also, there's limited cargo room behind the third row when it's in use: 16.0 cubic feet, which is more than earlier Highlanders but still less than most competitors. Some groceries or backpacks will fit, but not much more. Folding it down creates a more competitive 48.4 cubic feet behind the second row, and maximum cargo volume behind the front seats is 84.3 cubic feet. Towing capacity is a class-competitive 5,000 pounds with the V6 engine and a less impressive 3,500 pounds with the hybrid.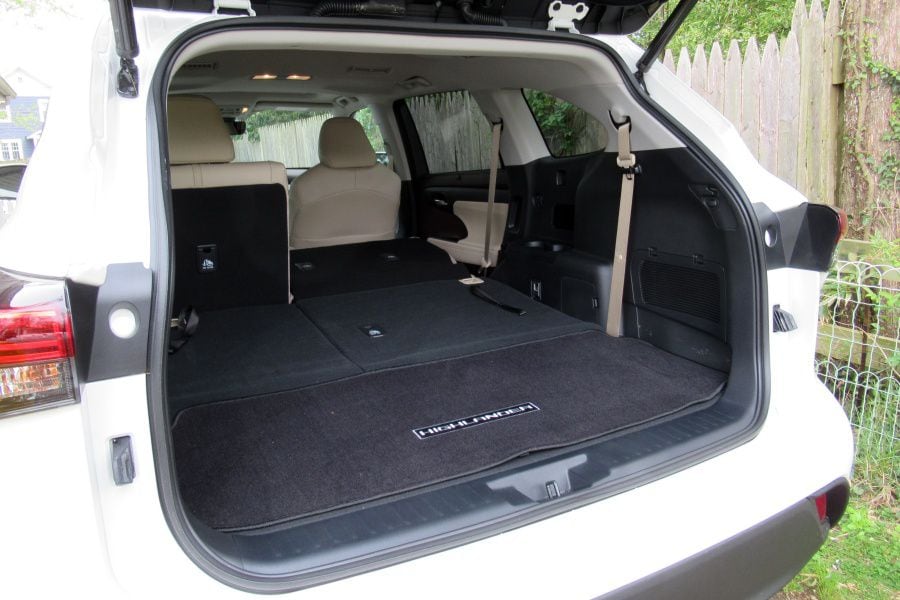 Photo by Brady Holt
Top Safety Pick
The Toyota Highlander aced its Insurance Institute for Highway Safety crash tests and accident-avoidance evaluations to become an IIHS Top Safety Pick, at least on upper-trim models. All trim levels offer sterling crash protection and a top-notch automatic emergency braking system, which earned top marks even for its ability to avoid pedestrians — a rare feat. However, you need a high-end model to avoid the Poor-rated headlights. The National Highway Traffic Safety Administration awarded the Highlander a five-star overall rating, its highest score.
Every Highlander also comes standard with a generous suite of advanced driver assistance systems. These include a forward collision warning with automatic emergency braking, which features pedestrian and bicyclist detection; adaptive cruise control; a lane-departure warning with lane-keeping steering corrections; and automatic high beams. Even though the Highlander was all-new last year, the 2021 model already brings some updates: the ability to automatically slow the vehicle to go around a curve and to swerve automatically to avoid a collision, along with more modest upgrades to the driver-assist systems. All Highlanders but the base trim level also feature blind-spot monitoring with a rear cross-traffic alert.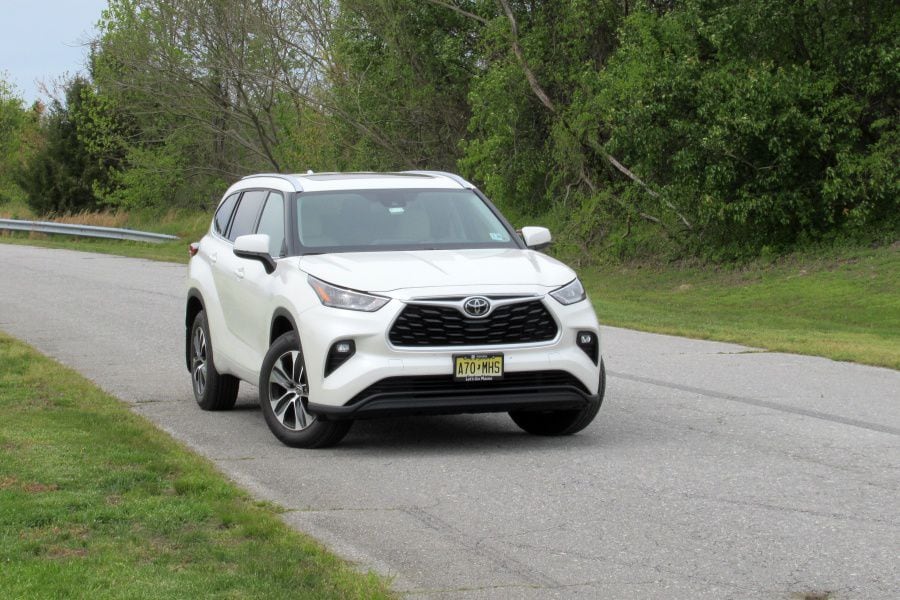 Photo by Brady Holt
Models and Pricing
The 2021 Highlander starts at $34,810 for the base L model, which is high for this class. Toyota does provide generous standard equipment on the base model, at least. In addition to the aforementioned safety technology, every Highlander includes a power-adjustable driver's seat, push-button starting, alloy wheels, and LED headlights.
The LE model ($37,010) adds a power liftgate, blind-spot monitoring, and the rear cross-traffic alert. The XLE, like our test vehicle, adds leatherette upholstery, heated front seats, a wireless smartphone charger, and a moonroof. It starts at $39,810, and our test vehicle swelled to $44,498 by adding all-wheel drive, a navigation system, and a few other accessories. The new XSE model ($41,405) is similarly equipped to the XLE but has an exclusive front-end design, along with bigger wheels, the navigation system as standard equipment, and a more advanced all-wheel-drive system. The Limited ($43,765) and Platinum ($46,965) introduce richer interior materials, offer the 12.3-inch infotainment screen, and have some exclusive features like ventilated front seats and heated second-row seats. All-wheel drive costs roughly $1,700 extra, while the Hybrid costs about $1,500 extra and isn't available on the L. All Highlanders face a $1,175 destination charge.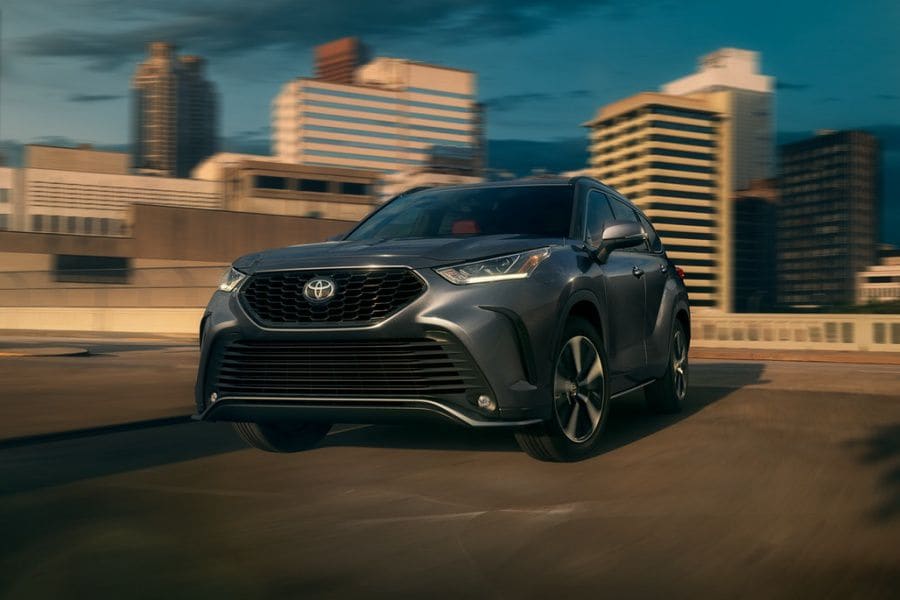 Photo by Toyota
Competitors to Consider
This year's hottest three-row crossovers are the recently introduced Hyundai Palisade and Kia Telluride, which are outstanding combinations of luxury, functionality, and value. They're a bit bulkier than the Highlander, though, and not as fuel-efficient.
The Subaru Ascent is another family-friendly choice in this segment. It's only a little bigger than the Highlander, its seats are more comfortable, and its interior uses higher-quality materials. But its four-cylinder engine isn't any more fuel-efficient than the Highlander's more powerful V6. The luxuriously finished, fun to drive Mazda CX-9 is a great fit for people who appreciate the agility of a smaller vehicle, though it's actually larger than the Highlander and has similarly unremarkable cargo room. The Honda Pilot rides more smoothly and quietly than the Highlander, and it has more room, but it feels bulkier and has dated interior decor. If you're seeking a smaller crossover with three rows of seats, the GMC Acadia and Kia Sorento are two options, though they have less space than even the Highlander — the Sorento is especially tight, even for five — and the Acadia can get expensive quickly. And no competitor can match the Highlander Hybrid's fuel economy.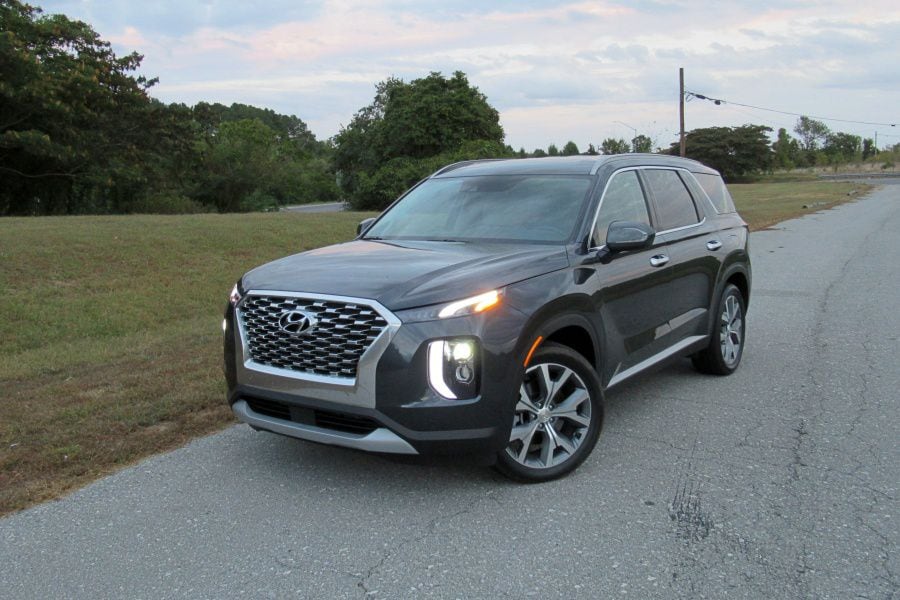 Photo by Brady Holt
Final Thoughts
The 2021 Toyota Highlander is a fine crossover, as long as you don't need spacious third-row seating or maximum cargo space. It's decently comfortable, appealingly maneuverable, and filled with family-friendly safety and convenience features. It gets good gas mileage with the V6 and outstanding mileage in hybrid form.
That said, the Toyota costs more than most of its competitors — even those that have more space, feel more upscale, or both. We do recommend considering a Highlander if you don't need maximum spaciousness. (If you do, the Chevrolet Traverse, Volkswagen Atlas, and Hyundai Palisade and Kia Telluride are the class standouts.) But we wouldn't buy the Highlander without first checking out its increasingly compelling competitors.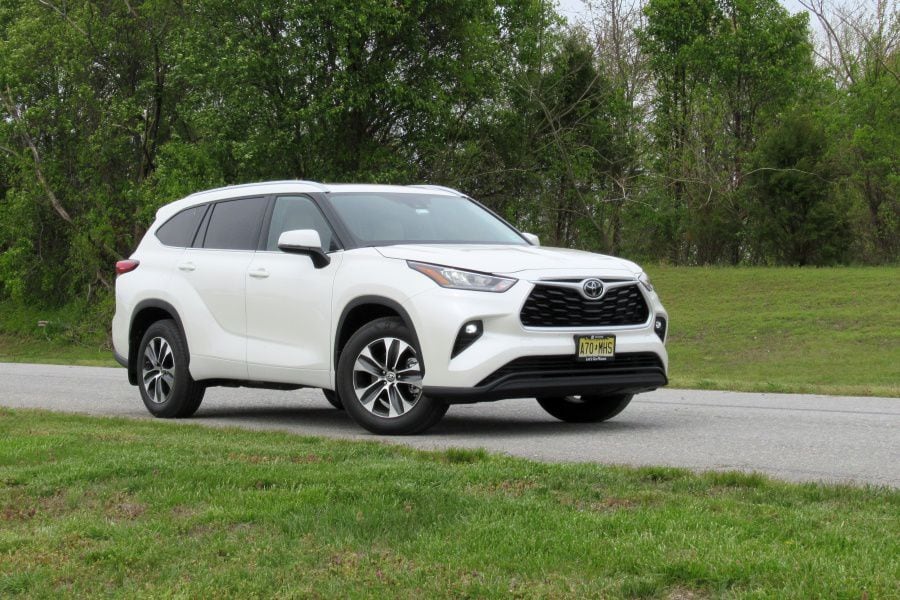 Photo by Brady Holt