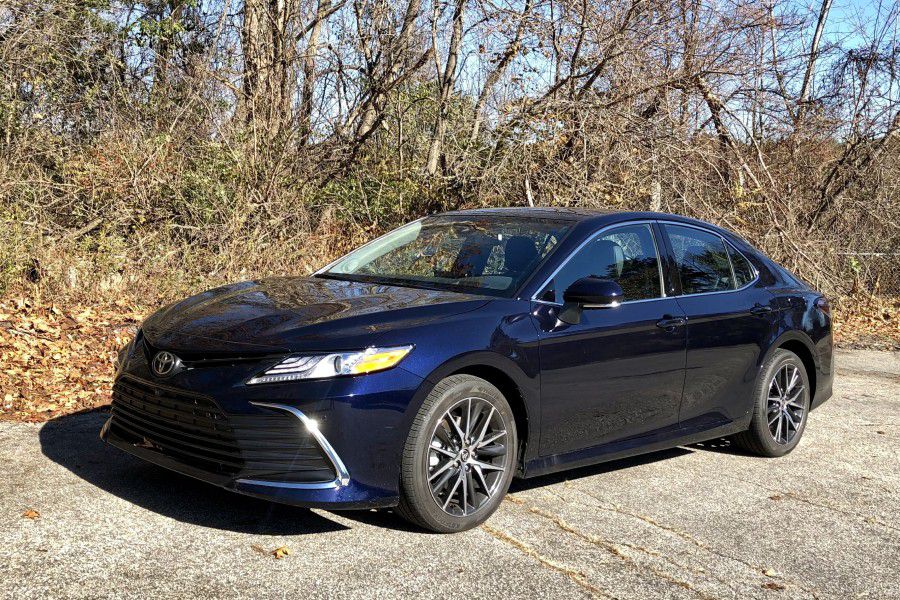 2021 Toyota Camry Front ・ Photo by Nicole Wakelin
The 2021 Toyota Camry is a five-person sedan available in a wide range of trims with a comfortable interior and an impressive suite of standard safety features. It has long been a popular choice for those who want a sedan, but the number of people looking for a sedan has declined over the years. They've been pushed aside by crossovers and SUVs, so the Camry has its work cut out trying to lure in buyers.
It does an admirable job of exactly that by continuing to introduce new features, particularly on the safety front, while improving the interior to focus on passenger comfort. A variety of powertrains includes a hybrid, which helps keep the Camry affordable in the long term, and a larger infotainment screen that makes staying connected easier than ever. Let's take a closer look at the 2021 Toyota Camry to see if it's the right sedan for you.
Wide Range of Trims Includes Hybrids
The Camry is available in a wide range of trim levels, starting with the base LE at $24,970, which is available only with a 2.5-liter four-cylinder engine. It's followed by the SE at $26,485 with interior upgrades that include single-zone automatic climate control and SofTex trimmed front seats. The XLE comes in at $29,870 with leather seats and a 9-inch infotainment touchscreen. It's also your first chance at the more powerful 3.5-liter V6 engine.
Next up is the XSE at $30,420 with metal interior accents and an upgraded nine-speaker JBL audio system. Hybrid variants of those trims range from $27,270 to $32,720. There are also two gas-only trims, with the SE Nightshade at $27,185 featuring unique black accents and the TRD at $32,185 with the V6 engine, a sportier suspension tune, and various aesthetic upgrades.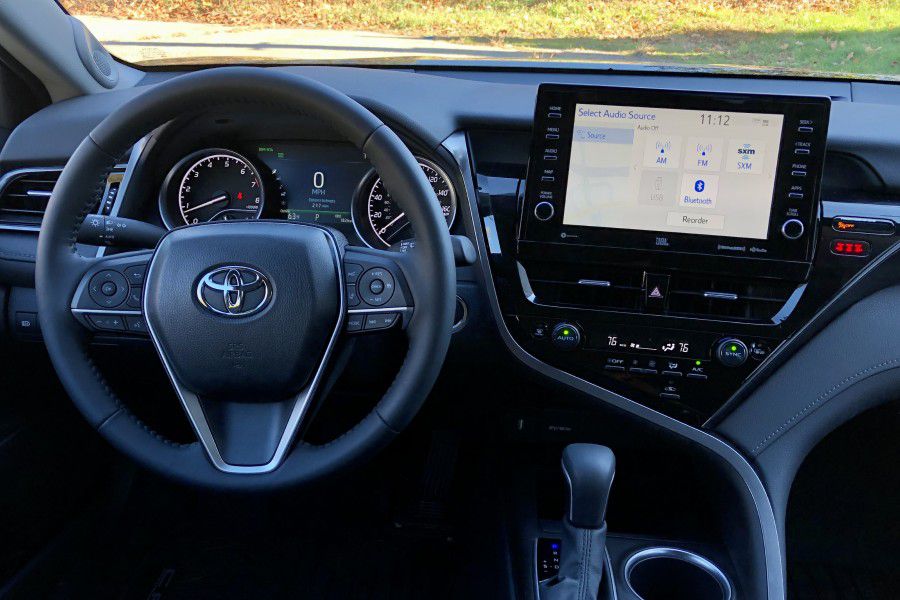 Photo by Nicole Wakelin
Three Powertrain Choices
There's a choice of three powertrains, starting with a 2.5-liter four-cylinder engine with 202 to 206 horsepower depending on the trim level. Torque also varies from 182 to 186 lb-ft. This is paired to an eight-speed automatic transmission with front-wheel or all-wheel drive. Next up is a 3.5-liter V6 with 301 horsepower and 267 lb-ft of torque, which is also paired to an eight-speed automatic and is available only with front-wheel drive. The hybrid is paired with the 2.5-liter and an electric motor for 208 horsepower with 163 lb-ft of torque and a continuously variable automatic transmission with front-wheel drive only.
We drove the XLE with all-wheel drive, which has the less-powerful four-cylinder engine. It proved a responsive ride, easily reaching highway speeds with plenty of power for passing slower vehicles. The transmission did its job quietly in the background with minimal noise intruding into the cabin.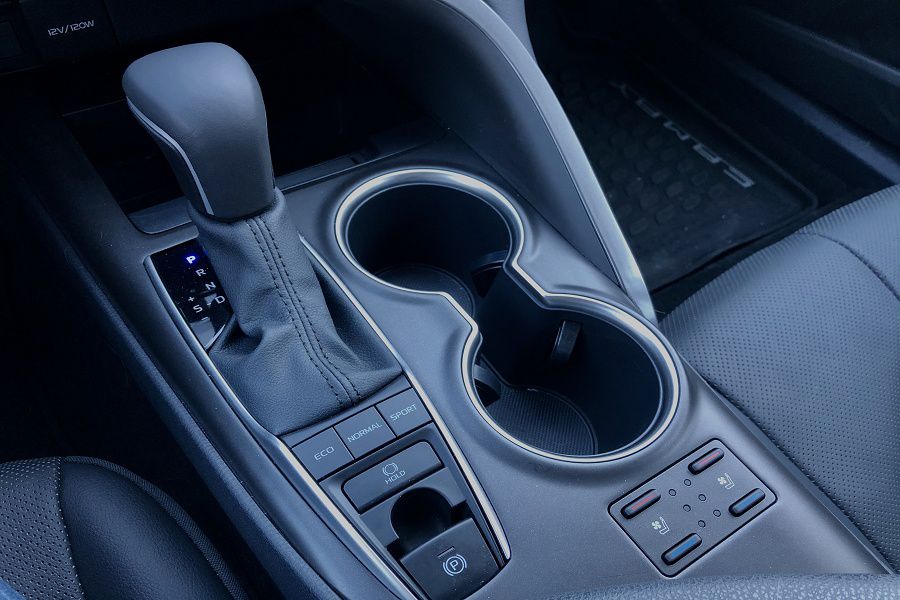 Photo by Nicole Wakelin
Relaxing Ride
When you buy a sedan, you're focused on passengers rather than cargo capacity or capability, which makes ride quality a priority. The Camry provides a smooth, quiet ride so passengers can simply sit back and relax. Road and wind noise is minimal, and even a winter storm and stretches of rough, uneven pavement weren't enough to disrupt the quiet interior. Engine and transmission noise are also kept to a minimum, even under hard acceleration, further enhancing the experience.
Handling is crisp, but not stiff or taxing, which makes the Camry as pleasant to drive as it is to ride in as a passenger. The Camry also maintains its composure over rough roads with minimal body sway even during quick highway maneuvers, always keeping passenger comfort a priority. Overall, the Camry provides a quiet, comfortable ride that makes it ideal for longer road trips.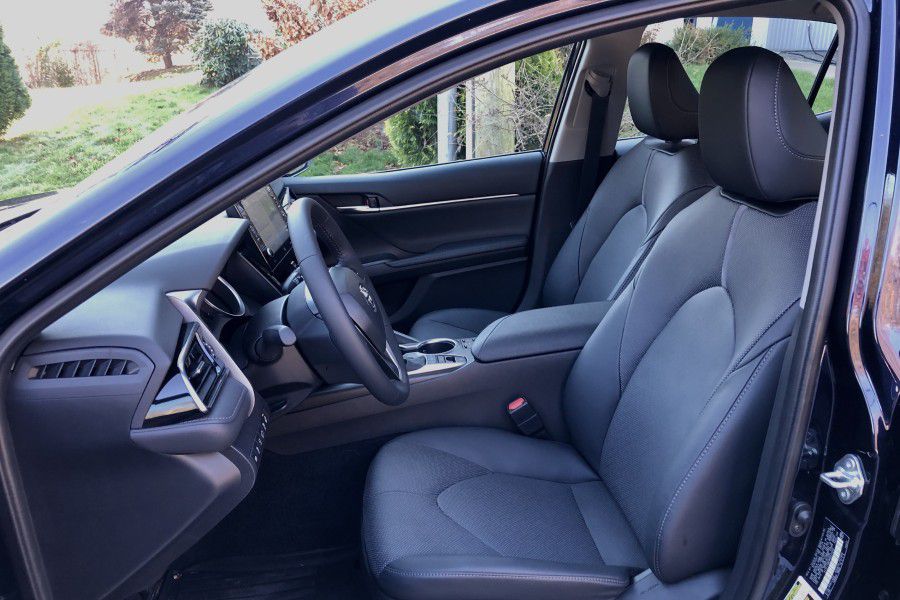 Photo by Nicole Wakelin
Comfortable and Appealing Interior
The interior of the Camry is roomy with plenty of space for five adults. Front seats are supportive with minimal bolstering, making them suitable for those of a larger frame and for long trips. Those in back get an equally comfortable and spacious experience. Two adults will have enough room to spread out, and even three will find space room for all but the longest of road trips.
There are plenty of soft-touch surfaces with fabric seat upholstery standard, but moving up through the trim range, the interior gets upgrades that create a more premium experience. This includes leather-trimmed eight-way power-adjustable front seats, heated and ventilated front seats, and a leather-trimmed steering wheel. There are available real wood and metal accents, ambient interior lighting, and cupholders for front and rear passengers. Regardless of the model you choose, the 2021 Toyota Camry is a welcoming space for passengers and driver.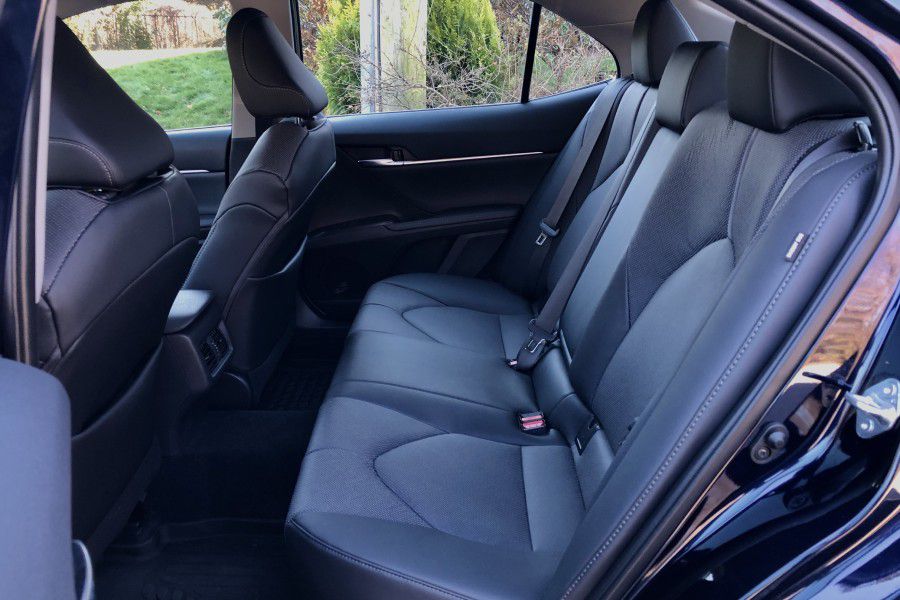 Photo by Nicole Wakelin
Spacious Trunk
While those who put a priority on cargo are likely looking at something larger like a crossover or an SUV, sedan buyers need cargo room, too. The Camry has 15.1 cubic feet for cargo in the trunk, which easily handles a family's luggage for a week's vacation. That number is the same for the hybrid, so you don't have to sacrifice trunk space for fuel efficiency. A wide trunk opening and a low load floor make it easy to stow heavy or bulky items that might not be able to fit into smaller sedans.
When it's a combination of people and cargo, the Camry offers the flexibility to carry longer items that won't fit within the confines of the trunk. This is thanks to rear seats that split-fold 60/40 on all but the TRD model.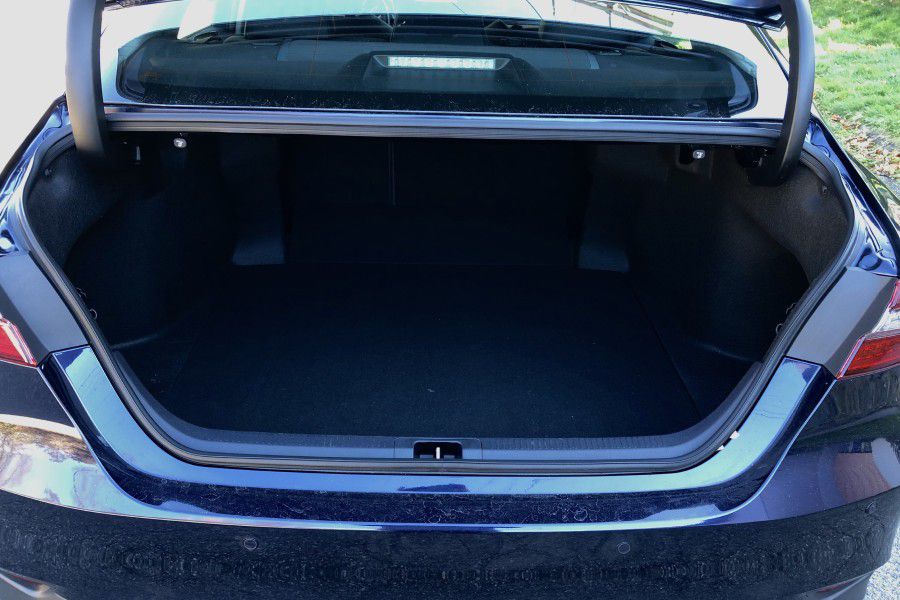 Photo by Nicole Wakelin
Good Fuel Economy
One of the benefits of a sedan is fuel economy that keeps it affordable even when gas prices rise. Equipped with the 3.5-liter engine, the 2021 Toyota Camry gets up to an EPA-estimated 22 mpg in the city, 33 mpg on the highway, and 26 mpg combined. The 2.5-liter engine improves upon those numbers with up to 28 mpg in the city, 39 mpg on the highway, and 32 mpg combined with front-wheel drive. The numbers drop back down with all-wheel drive to 25 mpg in the city, 34 mpg on the highway, and 29 mpg combined.
The Camry Hybrid posts the best numbers with up to an EPA-estimated 52 mpg in the city, 53 mpg on the highway, and 52 mpg combined. Whether you choose a gas or hybrid powertrain, front-wheel or all-wheel drive, the 2021 Toyota Camry gets fuel economy that makes it easy on your budget.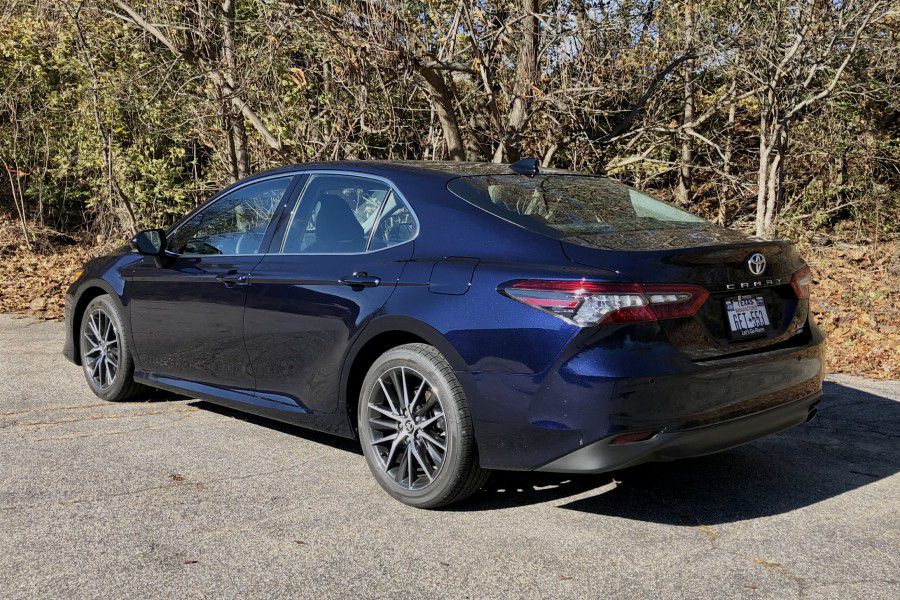 Photo by Nicole Wakelin
Large Infotainment Screens on Every Trim
Standard infotainment in the 2021 Toyota Camry includes a 7-inch infotainment touchscreen, six-speaker audio system, Apple CarPlay, Android Auto, and Amazon Alexa. There's also a USB media port, a USB charging port, hands-free phone connectivity with Bluetooth, and SiriusXM with a three-month trial. In addition, there's Safety Connect with a one-year trial and Wi-Fi hotspot connectivity with a three-month trial.
Optional infotainment features include a larger 9-inch touchscreen and a premium nine-speaker JBL audio system with a subwoofer and amplifier, and navigation. There's even available Qi wireless charging so you can keep your phone charged without having to manage a tangle of cables. The Camry has a comprehensive infotainment system that includes key smartphone connectivity and is easy to use with a large screen even on base trims, plus intuitive menus that make it easy to navigate through your options.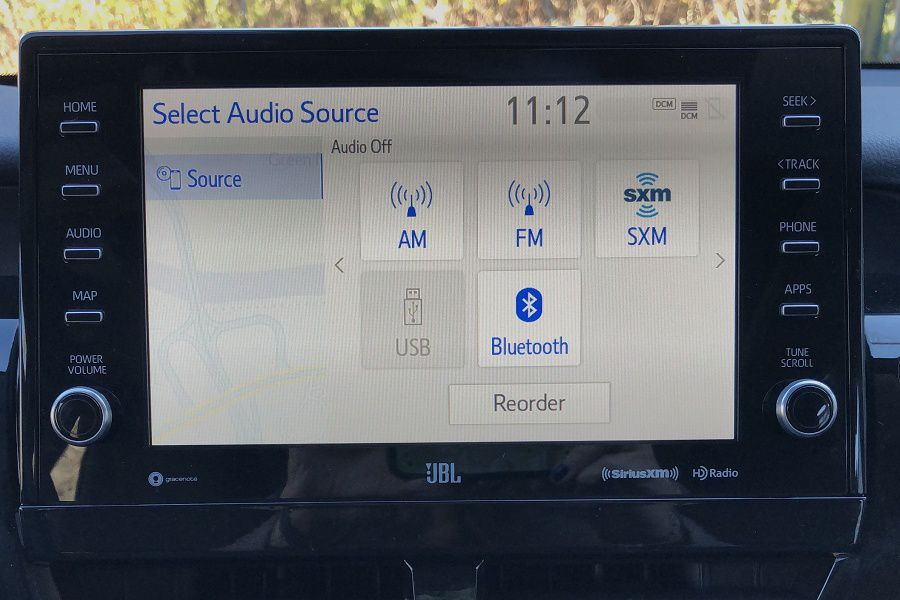 Photo by Nicole Wakelin
Large Suite of Advanced Safety Features
The 2021 Camry has Toyota Safety Sense 2.5+ standard on every trim. This is the latest version of Toyota's suite of advanced safety features. It includes a pre-collision system with pedestrian detection, a lane-departure alert with steering assist, automatic high beams, lane tracing assist, road sign assist, and adaptive cruise control.
Additional standard features include hill start assist and a rear seat reminder, with available features including blind-spot monitoring, a rear cross-traffic alert, and rear cross-traffic braking. The Camry also gets high marks in crash tests with an overall five-star rating from National Highway Traffic Safety Administration. The combination of standard and available safety features along with good crash test ratings makes it a top choice for those who put a priority on safety.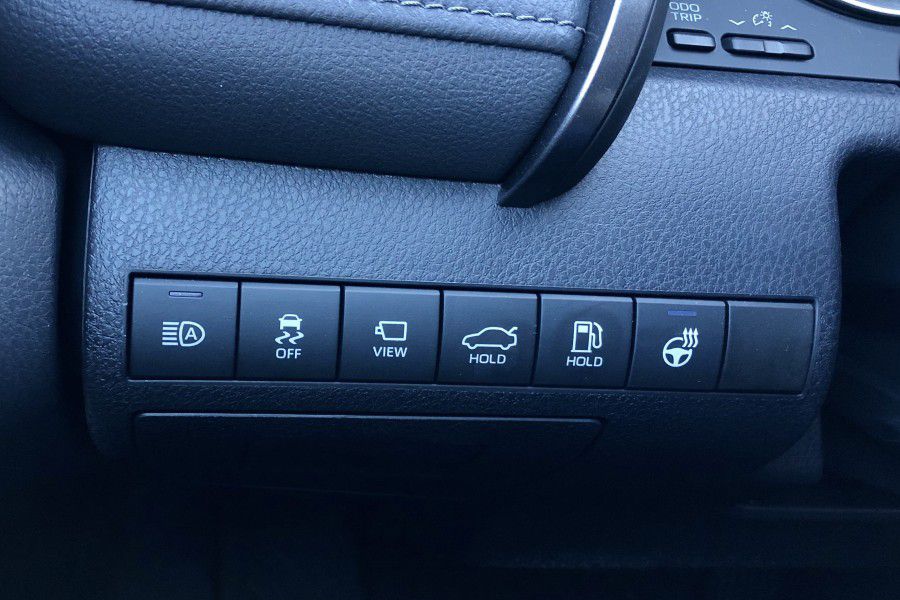 Photo by Nicole Wakelin
Final Thoughts
The 2021 Toyota Camry offers plenty of compelling reasons to go with a sedan instead of moving up to a crossover. It has a choice of fuel-efficient powertrains, including a hybrid, that keep it affordable over the long term. A wide range of trims with good availability of all-wheel drive makes it easy to find one that fits your needs and your budget, and it offers a strong suite of standard safety features.
Infotainment features key smartphone connectivity with screen sizes that make following navigation easier and less distracting while an attractive and comfortable interior puts the focus on passengers. While sedans aren't as popular as years past, they're still a great choice for those who don't need extra cargo room and crave a quiet, comfortable ride. The 2021 Toyota Camry is a solid choice for sedan shoppers.
Photo by Nicole Wakelin