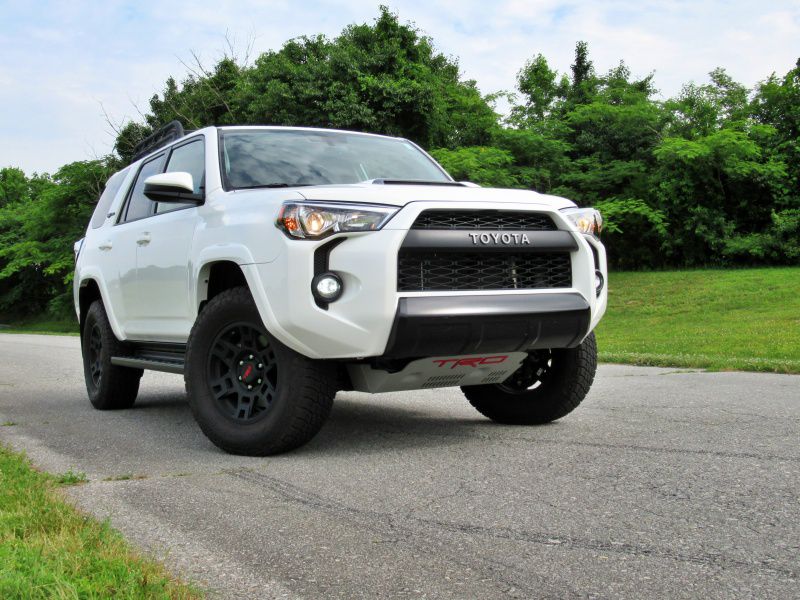 2019 Toyota 4Runner TRD Pro ・ Photo by Brady Holt
The Toyota 4Runner almost didn't survive. Once the company's best-selling SUV, its sales had dwindled as customers picked the smoother-riding, more fuel-efficient Toyota Highlander crossover instead of the 4Runner's heavier-duty off-road capability and towing capacity. When a recession struck in 2008, leaving money scarce and gas prices high, it seemed logical that Toyota would discontinue the 4Runner.
Instead, Toyota fully redesigned the vehicle for the 2010 model year and doubled down on its image and capability. Gone was the sleek 4Runner in favor of an aggressive, get-down-to-business box. That flavor became a runaway success. The 4Runner has received few updates over the past decade — revised styling in 2014, and additional safety and infotainment features last year — but sales steadily climbed. Though it's not cheap, starting at $36,765, it's one of the best-selling mid-size SUVs today. Whether you're interested in its go-anywhere capability or just its unique vibe, let's go over the 4Runner's pros and cons to see if it's the SUV you want to take home.
Looks Tough
Toyota made the 4Runner boxy and trucklike at a time when most SUVs were becoming elegant, genteel, or gentle. The trend hasn't reversed over the past decade, which means the 4Runner still looks nothing like most of the mid-size SUVs you can buy today.
The vertical front of the vehicle looks like a battering ram with headlights. The headlights are high, and they sit above aggressive C-shaped slits in the bumper. The bumper curves up and away from under the vehicle to provide more off-road clearance, and protective skid plates are visible underneath. The fenders are squared-off and flared, and the vehicle's body is a chunky box. Different 4Runner models offer different grille designs; luxury-themed versions break up the big grille into three pieces, while off-road models have a bigger lower area that's protected. And the TRD Pro, like our test vehicle, replaces the oval Toyota logo with purposeful lettering. It also included unique wheel designs and a rooftop cargo rack that made the vehicle look like a slick custom job. Think hard about the cargo rack, though; it's too tall for some garages.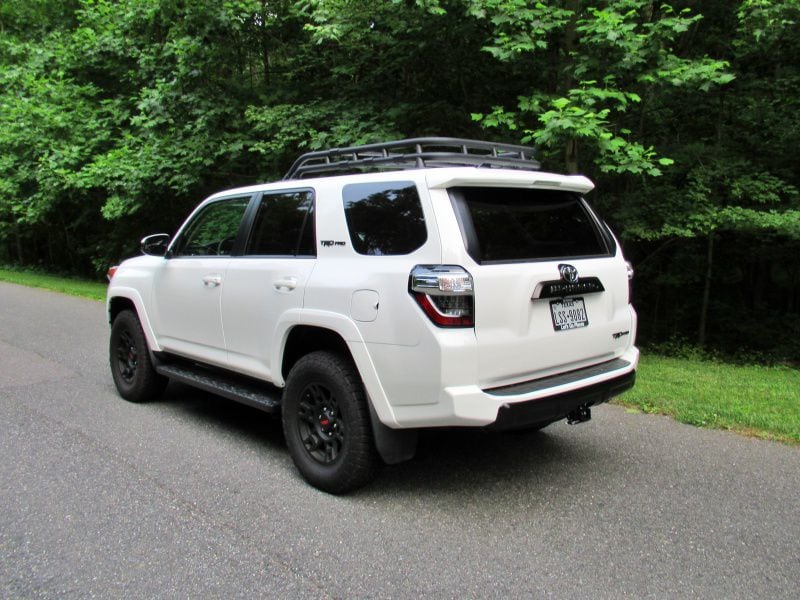 Photo by Brady Holt
Hardy Interior
The 4Runner's interior is hardy and functional. Extra-large climate-control knobs are both functional and charming; they hearken back to an era when SUVs were simple, honest, utilitarian machines rather than tall family haulers. Yet Toyota has also brought the interior into this decade with an 8-inch infotainment touchscreen that arrived for the 2020 model year. The system works well and supports Android Auto and Apple CarPlay smartphone integration, and it fits cleanly into the dashboard despite being retrofitted into an old interior design.
Still, we think Toyota could update the cabin without losing the 4Runner's unique vibe. In particular, we don't love how much shiny silver plastic covers the dashboard and the instrument panel knobs. That was a trendy cue in 2010 that has since run its course; it's the wrong kind of throwback, not honoring the 4Runner's legacy. Still, if you don't mind the silvery plastic trim, the 4Runner's blocky-looking, rugged-feeling dashboard might be the perfect alternative to luxury-focused car-like models.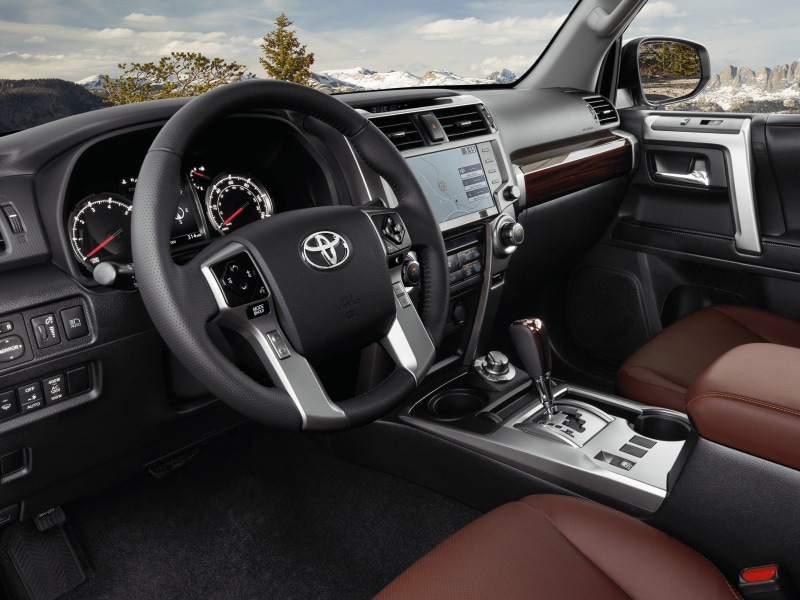 Photo by Toyota
Lots of Space
Truck-based SUVs like the Toyota 4Runner typically have less interior room than similarly sized front-wheel-drive crossovers. But the boxy 4Runner acquits itself admirably. In fact, compared with the slightly longer and wider Toyota Highlander, the 4Runner actually has more total cargo capacity — thanks to its boxier styling and higher roof.
You get an outstanding 47.2 cubic feet of cargo space behind its second-row seat and 89.7 cubic feet behind the front seats. An optional slide-out cargo tray makes it easy to load and unload items weighing up to 440 pounds or can serve as a seat, and the 4Runner is the only current vehicle with a power-retractable rear windshield. The front and second-row seats are also comfortable, with generous space for five passengers. Most trim levels include either leatherette or genuine leather upholstery with heated front seats, and a power driver's seat is standard on all models. The only issue is if you're counting on the optional third-row seat. It's not available on all trim levels, it's cramped, and it leaves just 9 cubic feet of cargo space when it's in use.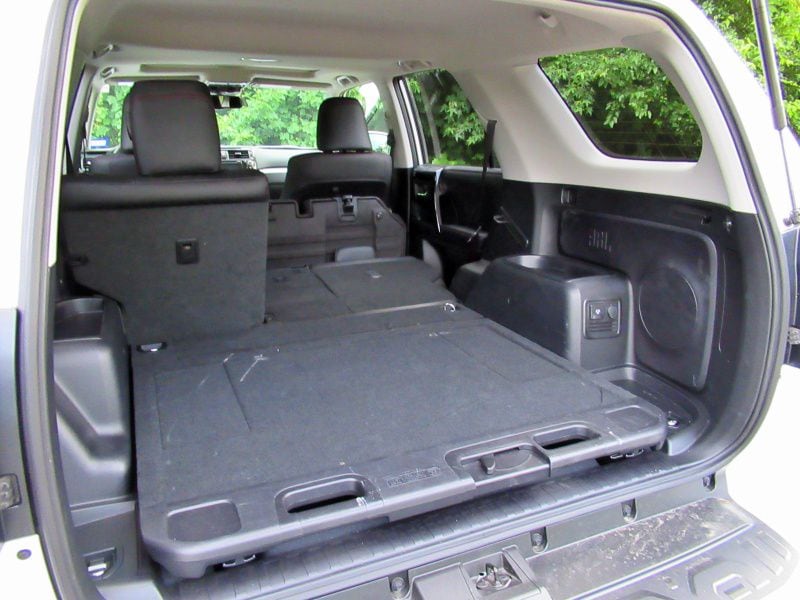 Photo by Brady Holt
Genuine Capability
The 2021 Toyota 4Runner isn't just pretending to be tough. This is a rugged vehicle that can keep up with pretty much any stock SUV on the market today when the pavement ends.
Its available gear includes four-wheel drive with a two-speed transfer case, a locking rear differential, selectable off-road driving modes, an adjustable "Crawl Control" feature that maintains your speed automatically as you negotiate obstacles, and a system that can automatically disconnect the suspension sway bars to let the wheels rise up and down more on uneven surfaces. Our tested TRD Pro model has FOX high-performance shocks, retuned springs, an even thicker front skid plate, and all-terrain tires. But the 4Runner isn't just about gizmos. It also has the basics of 9.6 inches of ground clearance, a departure angle of 26 degrees, and an approach angle of 33 degrees; this is an SUV that will carry you up, over, and through whatever you throw at it. We wouldn't bet on the 4Runner over a purpose-built off-roader like the Jeep Wrangler, and the new Ford Bronco is another potent challenger. But especially with the right driver behind the wheel, this is an SUV that can go places.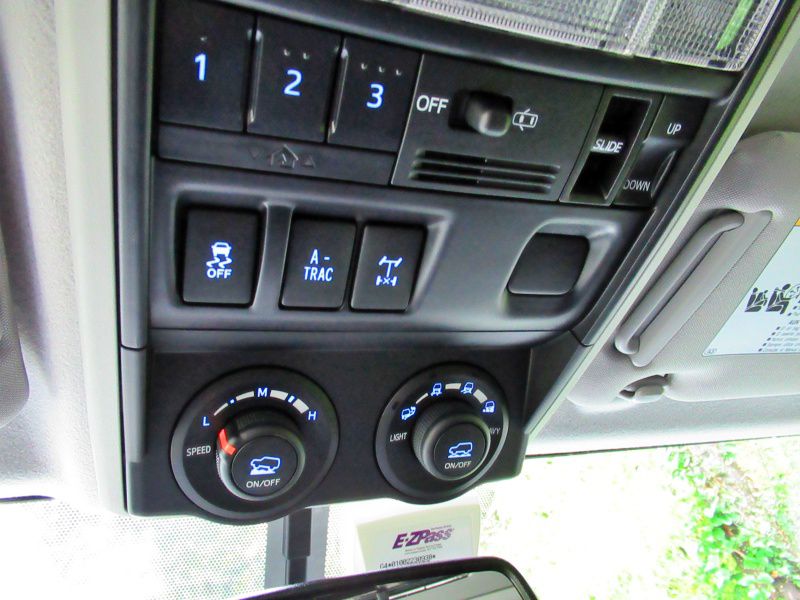 Photo by Brady Holt
Fairly Smooth
Impressively for an off-road-ready SUV, the 4Runner rides pretty well, even in TRD Pro form. It can jostle a bit over certain bumps, while the rugged suspension takes others in stride. It's a great mix of endearing character and everyday comfort.
However, off-road capability and a soft-sprung ride have to come from somewhere, especially on a decade-old vehicle. In the 4Runner's case, you pay for it when it comes to handling and braking. The steering is disconnected and vague, and the handling is cumbersome. Drive this SUV with care; don't count on car-like reflexes if you need to swerve out of danger's way. Even braking can feel dramatic, with the SUV rocking back and forth when you bring it to even a fairly stop. The relatively tight 37.4-foot turning radius is an unexpected bonus, though.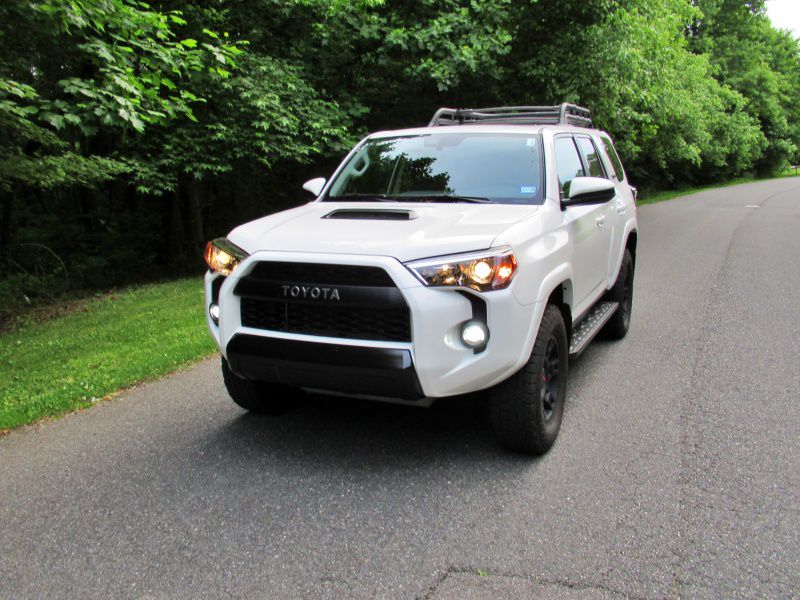 Photo by Brady Holt
Old-School Powertrain
The 4Runner's 4.0-liter V6 engine and five-speed automatic transmission haven't changed in more than a decade. That's good news for folks who swear by their longevity, but bad news when it comes to the everyday driving experience. The quoted 270 horsepower and 270 lb-ft of torque are still competitive, but the engine can struggle until the five-speed agrees to downshift, then roars afterward. On paper, it's decently quick; in practice, it can feel like it's straining.
Then there's the gas mileage: an EPA-estimated 16 mpg in the city and 19 mpg on the highway. That's in line with our experience, as we saw 18 mpg during a weeklong test. That's subpar even for today's full-size SUVs with generous eight-passenger seating and huge V8 engines, much less for a mid-size SUV. The equivalent Jeep Wrangler Unlimited powertrain — itself hardly a fuel miser — beats the 4Runner by a whopping 4 mpg, and Jeep also sells more economical four-cylinder, turbodiesel, and plug-in hybrid Wranglers. Also, while the 4Runner has enough power for it to pull a 5,000-pound trailer, some crossovers (including the Highlander) now have equivalent towing limits.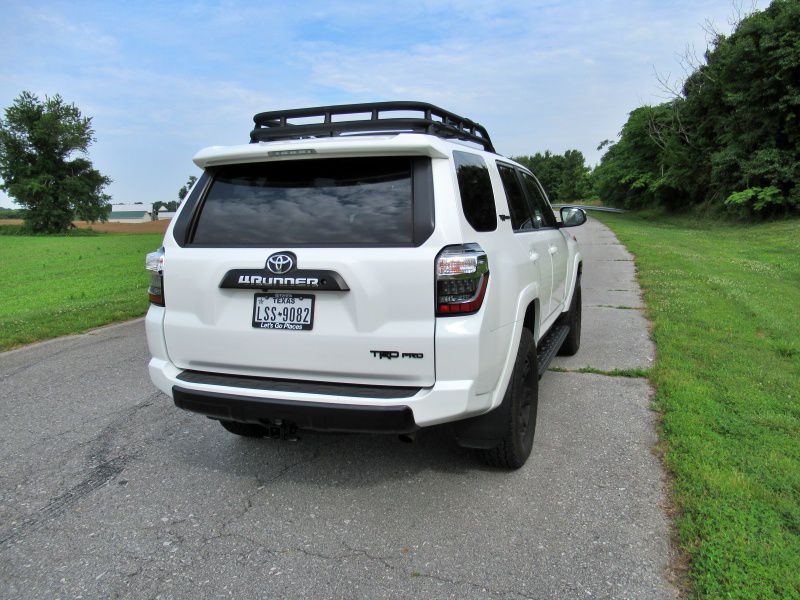 Photo by Brady Holt
Luxury-Level Prices
The 4Runner doesn't act like a luxury vehicle, but like many off-road-focused SUVs, it's priced like one. All that off-roading gear doesn't come cheap. Even the base two-wheel-drive SR5 model costs $36,765, while the TRD Pro tops $50,000. Excellent projected resale value means you'll at least recover a big chunk of that cost when you trade in your 4Runner, and Toyota provides two years or 25,000 miles of free scheduled maintenance.
More good news: Even the base model has a long list of standard safety features, including adaptive cruise control, automatic emergency braking, and a lane-departure warning. As long as you don't mind cloth upholstery and are willing to forego some off-road gadgets, the SR5 has a lot to offer. Other 4Runner trim levels include the leatherette-trimmed SR5 Premium ($39,825), the TRD Off Road that includes four-wheel drive with Crawl Control ($40,730), the TRD Off Road Premium with leatherette ($43,325), the most luxuriously finished Limited ($45,670) and the heavy-duty TRD Pro ($50,745). Keep in mind that nowhere in the lineup will you get push-button engine starting, blind-spot monitoring, lane-keeping steering corrections, or a panoramic sunroof.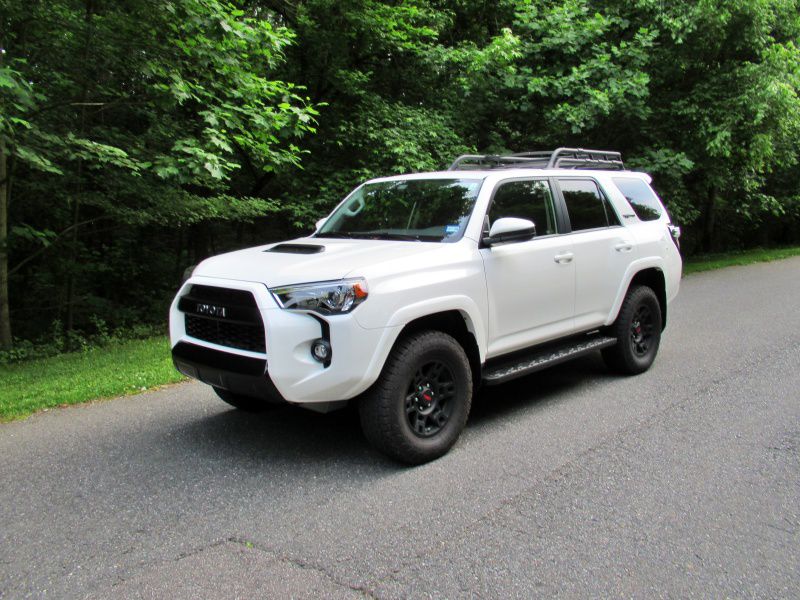 Photo by Brady Holt
Few True Competitors
The 4Runner has few direct rivals in the mid-size SUV world. The Jeep Wrangler Unlimited is about the same size and has a similar off-road focus, but its removable roof and doors give it unique advantages and disadvantages: You can get a lot more fresh air, but it's a noisier and cruder experience than the solidly built 4Runner. We expect a similar dynamic against the upcoming Ford Bronco, though Toyota loyalists might prefer the 4Runner's proven reliability record.
The Jeep Grand Cherokee, meanwhile, remains what the 4Runner used to be: a luxurious off-roader. The 4Runner is roomier and has a tougher vibe, while the Grand Cherokee is quieter and more opulently finished. Some folks also like to compare the 4Runner against the Subaru Outback, a capable mid-size crossover with 8.7 inches of ground clearance (or 9.5 inches on the upcoming Wilderness model). If you aren't in love with the 4Runner's vibe and just need to tackle some rough outdoor conditions, the Outback is entirely more sensible: affordable, economical, comfortable, and safe. Sensible isn't charming or fun, though, while the 4Runner — for all its logical drawbacks — can be just that.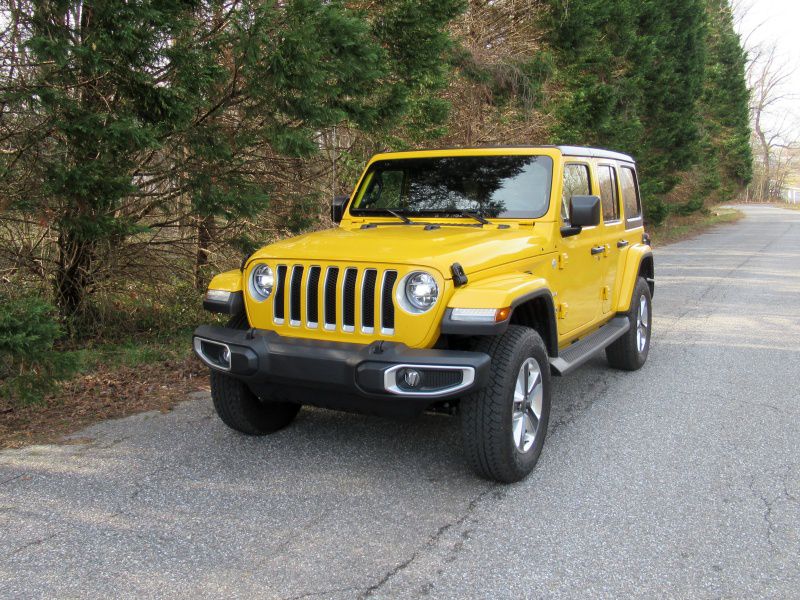 Photo by Brady Holt
Charting Its Own Course
When you want something like the 2021 Toyota 4Runner, you don't have a lot of choices. It's not modern, but you might like that. Its fuel economy is pretty poor, and its crash-test scores haven't kept up with the times; it's hard to imagine liking that, but you can decide to cope. Some of its dashboard trim falls in the uncomfortable middle ground between contemporary and classic, looking merely dated, but lots of folks clearly don't mind.
If you're looking for a smooth, comfortable, fancy SUV, you've come to the wrong place. If you want something with character and capability, you've found a roomy, dependable vehicle that charts its own course away from the crossover herd.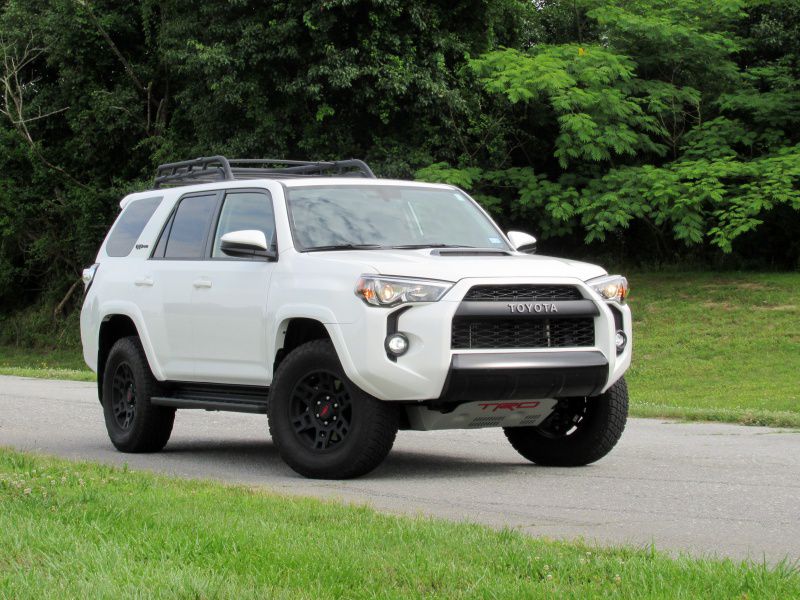 Photo by Brady Holt