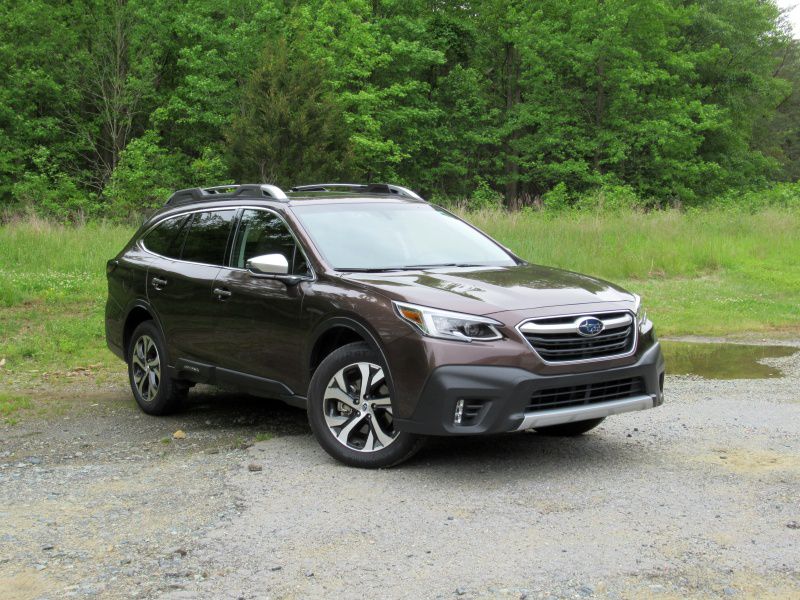 2020 Subaru Outback Touring XT ・ Photo by Brady Holt
Compact crossovers are the hottest segment of the auto market. These models are loved for blending spaciousness, fuel efficiency, and affordable prices. But while they've gotten increasingly fancy in recent years, even some of the best compact crossovers still show their budget-car roots — they're typically less cushy, quiet, powerful, and polished than larger mid-size models.
If you're looking for all the value and efficiency of a compact crossover but you want a more substantial, more expensive-feeling vehicle, one crossover stands above all the rest: the 2021 Subaru Outback. Generously equipped even at its base price of $26,795, the mid-size Outback costs less than some compact models and still gets up to 29 mpg in mixed driving. You also get a richer interior, more comfortable seats, a smoother ride, superior towing capability, and an optional 260-horsepower engine. If this sounds like the perfect crossover for you, keep reading to learn more about the Outback's pros and cons.
Famously Rugged
The Outback is one of the most car-like crossovers in some ways. Despite their light-duty underpinnings, most models are carefully shaped to look like an SUV. By contrast, the Outback is literally a station wagon version of the Subaru Legacy mid-size sedan, right down to the proportions and most of the exterior bodywork, the near-identical dashboard, and nearly all mechanical equipment. The Outback gets a few extra features, higher ground clearance, and some body cladding and other cosmetic details.
Yet it's this station wagon that actually earns a better reputation for toughness than most crossovers. Credit goes to Subaru's excellent symmetrical all-wheel drive as standard equipment, a generous 8.7 inches of ground clearance (more than most Jeep Grand Cherokee models), and a heartily utilitarian vibe, with durable black cladding and a sturdy roof rack. This isn't the SUV you'd pick for purely recreational rock-crawling, but this Subaru will get you through mud and snow that would strand many vehicles that are shaped more like an SUV. While handsome, it's not supposed to look pretty and delicate, and the vibe works well.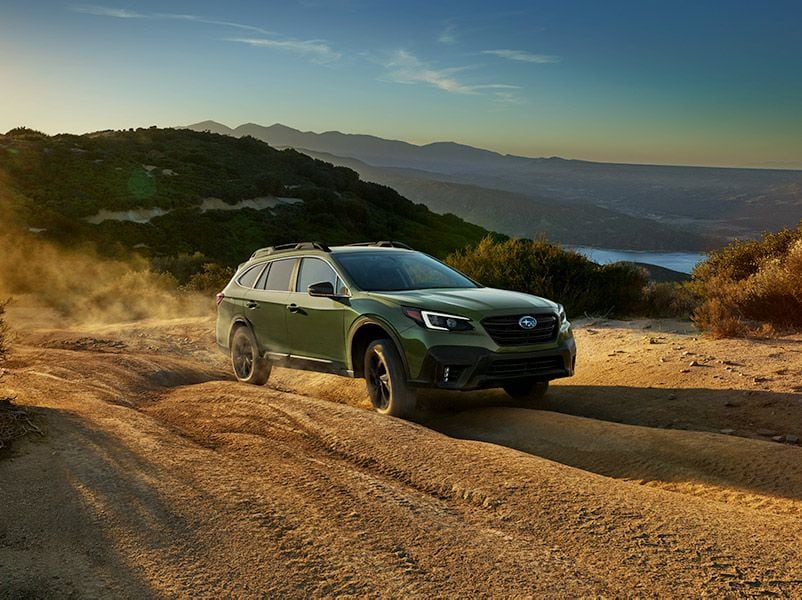 Photo by Subaru
Smooth and Comfortable
The Outback has long been known for its rugged capability, but in recent years, it has also become more comfortable and quiet. This isn't exactly a luxury vehicle, but it's a cut above a Toyota RAV4 or Subaru's own Forester.
The Outback is bigger and heavier than these compact crossovers, and you feel that weight in a good way. This is a vehicle with more substance than most similarly affordable crossovers. It's quieter, too. And although bigger, heavier vehicles often handle with less agility than smaller, lighter ones, the Outback isn't as tall as most crossovers, and that lower center of gravity appears to have helped. This isn't a sports car, but the Outback is decently agile with responsive, natural-feeling steering. And it feels lower and less bulky than most mid-size crossovers. The Outback can also out-tow most small crossovers, managing 2,700 lbs with its base engine and 3,500 lbs with an optional turbo, though several mid-size models do more.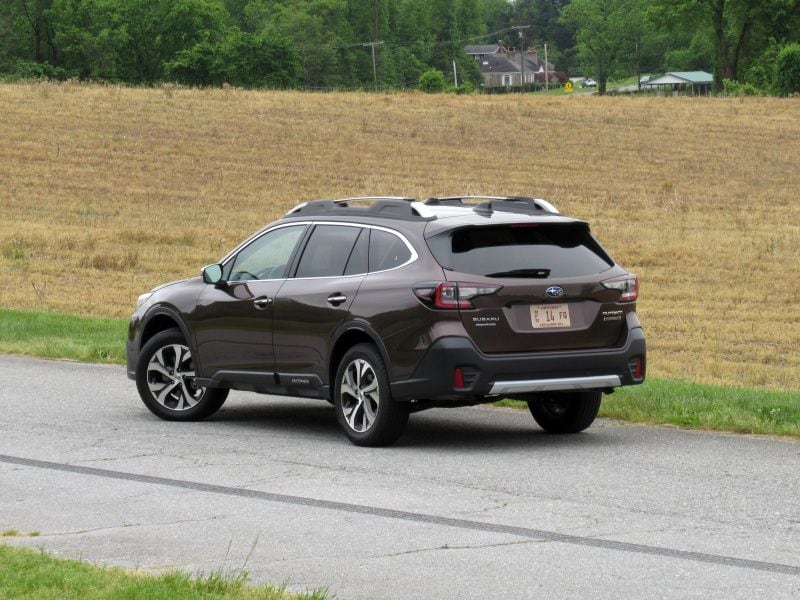 Photo by Brady Holt
Fuel-Sipping Engines
The current-generation Outback arrived in 2020, bringing more fuel-efficient engines. Most models use the base 2.5-liter four-cylinder engine, which makes 182 horsepower and 176 lb-ft of torque. That's less than most mid-size crossovers but in line with most compact models. The engine doesn't sound great, but it makes sufficient pep for most buyers, and the Outback's sound-deadening muffles it decently well.
Our test car had the 2.4-liter turbocharged four-cylinder engine that's included on upper-trim Outbacks. It replaces the last generation's strong but thirsty six-cylinder engine, and it's a winner. Despite making an excellent 260 hp and 277 lb-ft of torque, it beats many compact crossovers' fuel economy — to say nothing of fellow mid-size models. EPA scores are 26 mpg in the city, 33 mpg on the highway, and 29 mpg overall with the base 2.5-liter engine and 23 mpg city / 30 mpg highway / 26 mpg with the 2.4-liter turbo. Our 2.4-liter test vehicle averaged 27 mpg during a week of driving, and it delivered effortless (if not invigorating) acceleration.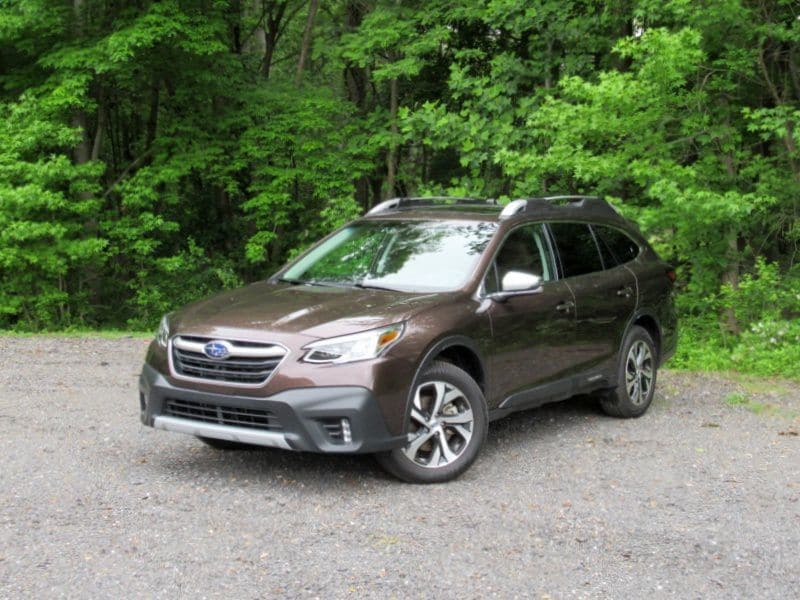 Photo by Brady Holt
Posher Than You'd Think
Subarus aren't known for being luxury cars, which is why the current Outback might be a pleasant surprise. Our $41,000 Touring XT test vehicle needed to impress, and Subaru delivered rich yet sturdy leather and high-quality dashboard materials. Even lower-trim models avoid an aura of cheapness. Some mid-size crossovers are all-out luxury machines, and the Outback doesn't go that far, but it's still a cut above most similarly priced compact models.
The Outback has a mostly user-friendly interior. The latest model includes a giant 11.6-inch touchscreen infotainment system on most trim levels. It makes the car look more modern and it mostly works well, with standard Android Auto and Apple CarPlay integration and a large map view for the optional navigation system. Our main complaint is that the climate controls are almost entirely within the screen, and some of them take too many steps. We don't see Subaru's cold-weather customers wanting to tap the screen in two places to adjust the seat heaters.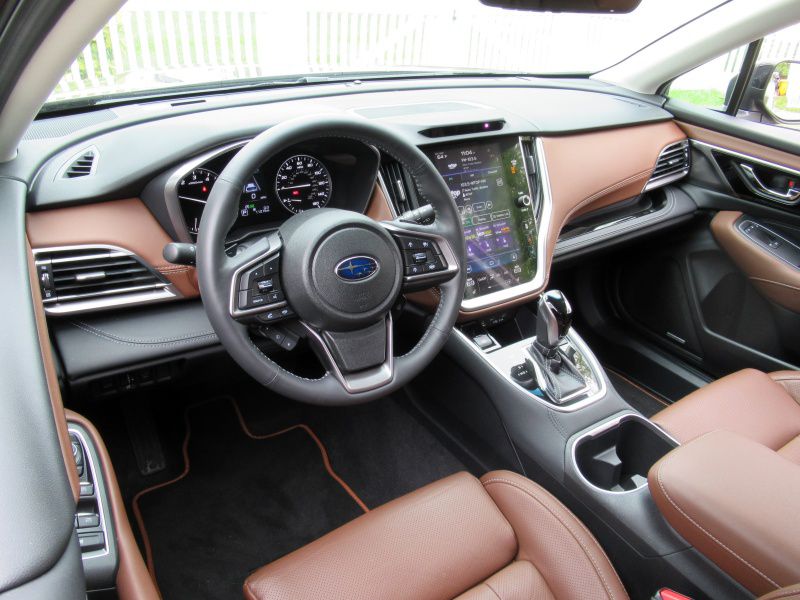 Photo by Brady Holt
Plenty of Space
By the numbers, the 2021 Subaru Outback isn't much roomier than many compact crossovers, including the brand's own Forester. But there's more than meets the eye.
First of all, the Outback's front and rear seats are especially comfortable and supportive. This is a car that will coddle its five passengers, not merely make room for them. Secondly, the Outback's longer, lower body provides more usable floor space than a compact crossover that's taller but not as long. In other words, when you're not stacking your stuff to the roof, the Outback should give you more room. And either way, space is competitive with most mid-size five-passenger crossovers: 32.5 cubic feet behind the rear seat and 75.7 cubic feet with the seat folded. Only the Honda Passport has appreciably more, while the Chevrolet Blazer, Jeep Grand Cherokee, and Nissan Murano have much less.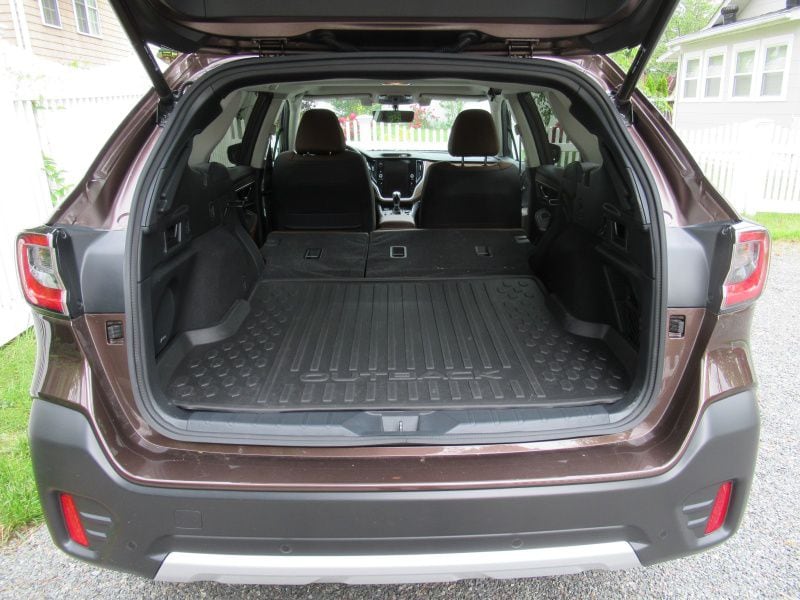 Photo by Brady Holt
Family-Friendly Safety
Besides offering plenty of room for the family, the Outback focuses on keeping everyone safe inside. Even the base model includes Subaru's EyeSight suite of advanced safety features: a forward-collision warning with emergency automatic braking, a lane-departure warning with lane-keeping steering assist, adaptive cruise control, automatic high beams, and — new this year — headlights that point toward the direction you're steering to help you see around curves.
Also widely available is blind-spot monitoring with a rear cross-traffic alert, while many trim levels even add rear automatic braking. If a crash occurs anyway, know that the Outback aced its crash tests. It earned the top Top Safety Pick+ designation from the Insurance Institute for Highway Safety and five out of five stars from the National Highway Traffic Safety Administration.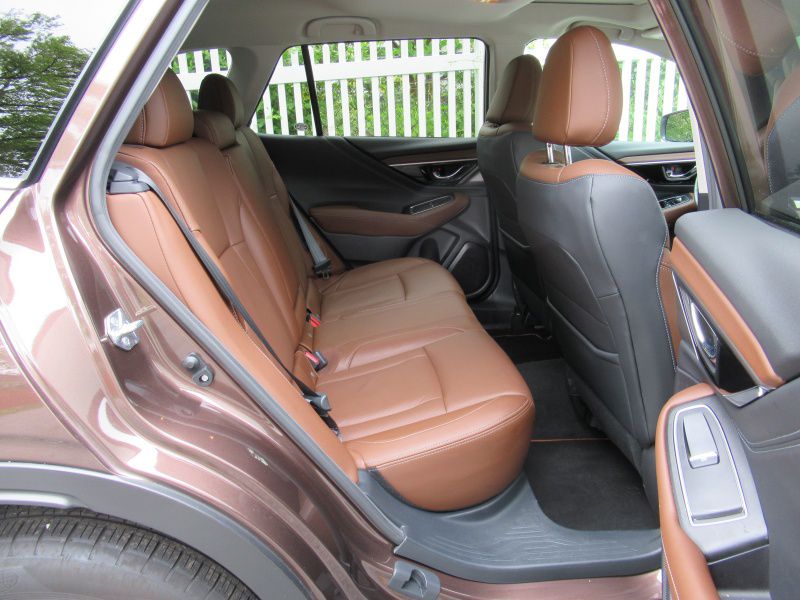 Photo by Brady Holt
Exceptional Value
Especially when you consider that it brings all-wheel-drive as standard equipment — it's about $2,000 extra on most crossovers — the 2021 Subaru Outback's base price of $26,795 is exceptional. Most mid-size crossovers start above $30,000 without AWD, and even compact models like the Toyota RAV4 are more expensive.
That's not because the base Outback is stripped-down, either. In addition to all the safety gear we discussed, the base Outback also includes automatic climate control, Bluetooth, two 7-inch touchscreens, Android Auto and Apple CarPlay, and 17-inch alloy wheels. The Premium trim, $29,045, adds a power driver's seat, heated front seats, leather-wrapped steering wheel, rear USB ports, and the single 11.6-inch screen. You can also add blind-spot monitoring, a hands-free power liftgate, and push-button starting, among others. The Limited, $33,595, adds those features as well as leather upholstery and heated rear seats. The Touring, $37,495, has rich Nappa leather, cooled front seats, and a heated steering wheel. These models use the base 2.5-liter engine; the turbo XT models start at $35,495 for the Onyx Edition, a flashier, better-equipped version of the Premium. You can also get a Limited XT ($37,995) and Touring XT ($39,945).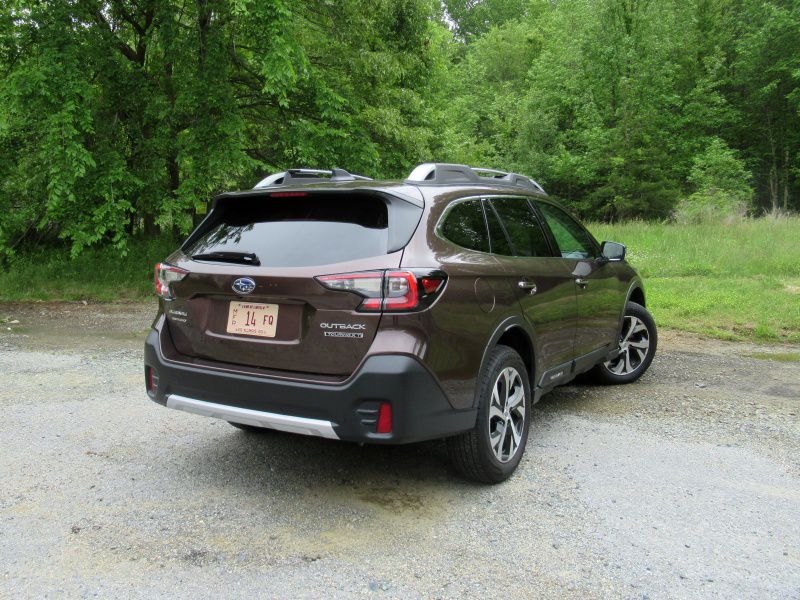 Photo by Brady Holt
Alternatives to Consider
You could shop the Outback against similarly priced compact crossovers or similarly sized, similarly refined, similarly powerful mid-size models. The closest competitor, though, is likely the Subaru Forester. This compact crossover is about as spacious and hardy as the Outback, but it costs a couple thousand dollars less. However, the Outback feels more solid, tows more, and has extra power with the optional turbo. The Outback has similar advantages over best-selling compacts like the Honda CR-V, Nissan Rogue, and Toyota RAV4.
If you want a powerful engine but not a lot of fancy features, meanwhile, you might appreciate how the Honda Passport includes a 280-hp V6 and optional all-wheel-drive for $33,990 (compared with $35,495 for the cheapest turbocharged Outback). It's far less efficient than the Outback, though, and soars well past $40,000 with all the features. Meanwhile, if you're interested in refinement and off-road capability, the Jeep Cherokee compact crossover is an impressive choice, but it gets expensive in a hurry and has limited cargo room. Lastly, the classy-looking Hyundai Santa Fe is another affordable mid-size crossover with more polish than a typical compact, but the Outback is more comfortable, fuel-efficient, and inexpensive.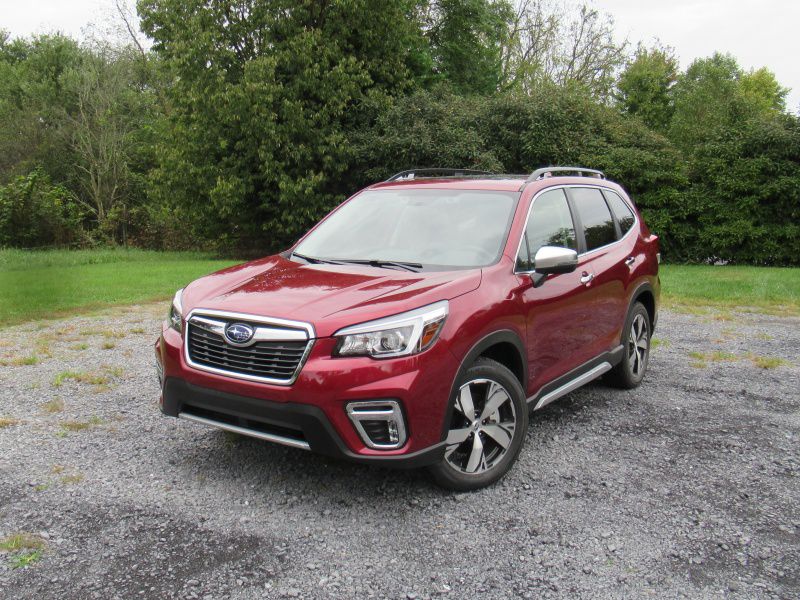 Photo by Brady Holt
A Class By Itself
There's nothing else quite like the Outback. It's not just that it looks like a station wagon, a rare breed today, or merely Subaru's well-crafted image of being outdoorsy without over-the-top macho. It's also the way the Outback delivers the refinement and solid feel of a mid-size crossover, but with the price tag and gas mileage of a compact one. And the new turbo engine provides strong acceleration along with relatively thrifty fuel economy; it's a pricey upgrade, but even a turbocharged Outback is a good deal for what you get.
The Outback isn't the sort of mid-size crossover that tries to be flashy or fancy, like the extra-cushy Ford Edge or the high-style Chevrolet Blazer and Nissan Murano. But this safe, spacious, comfortable, capable, and affordable model can appeal to a wide variety of buyers — and if you like its rare flavor, the Outback is in a class by itself. Unless you know you want a different style or a sportier driving experience, don't miss this standout Subaru.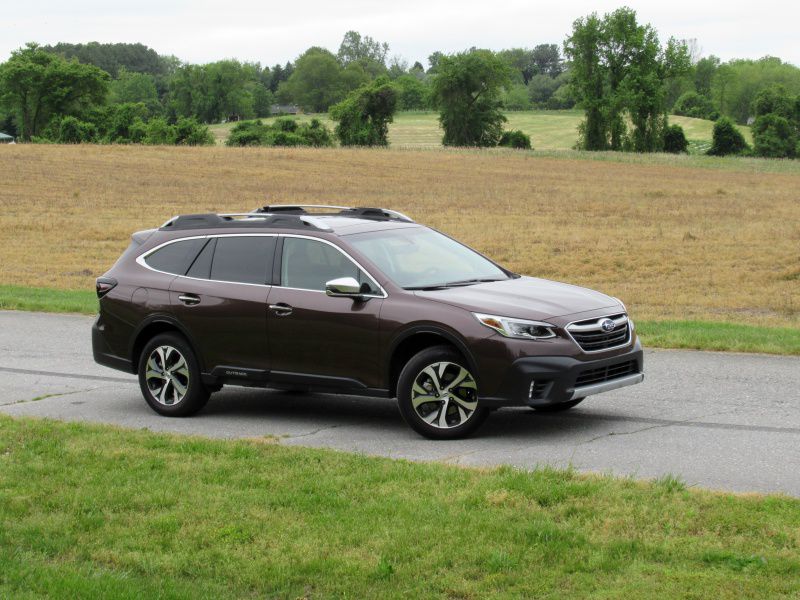 Photo by Brady Holt