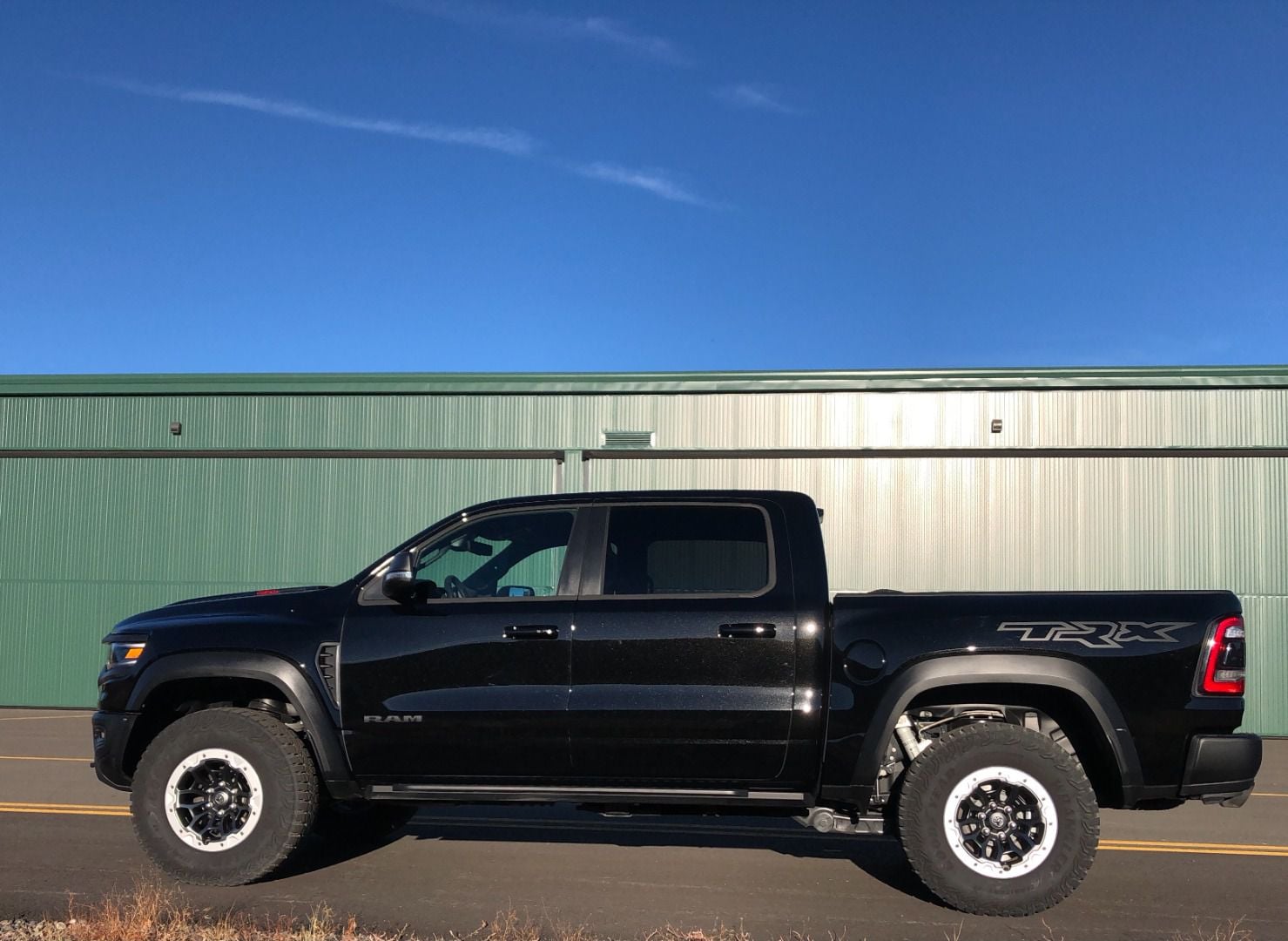 2021Ram1500TRXProfile ・ Photo by Nicole Wakelin
The all-new 2021 Ram 1500 TRX expands the Ram 1500 lineup to include the most powerful mass-produced truck in the world. Its 6.2-liter supercharged V8 engine offers an incredible 702 horsepower with 650 lb-ft of torque for unparalleled performance no matter the conditions. In addition to strong performance, the Ram 1500 TRX is also ready for serious off-road adventures.
The TRX features multiple drive modes and "Off-Road Pages" accessible through a standard 12-inch touchscreen. It has a higher ride height than the rest of the Ram 1500 lineup for a total of 11.8 inches of ground clearance and can ford up to 32 inches of water. There are also standard 35-inch all-terrain tires for tackling challenging off-road terrain. Let's take a closer look at the all-new 2021 Ram 1500 TRX and see if it's the right pickup truck for you.
Two Available TRX Variants
The TRX is a part of the Ram 1500 lineup priced from $69,995. It has a standard 702-horsepower, 6.2-liter V8 engine, new fender flares that make the body 8 inches wider, and exclusive front and rear 2.5-inch Bilstein Black Hawk e2 performance shocks. Inside, the TRX has fabric, leather, and carbon fiber trims along with a flat-bottom steering wheel, aluminum paddle shifters, and a redesigned center console for improved storage.
There's also a limited-run Launch Edition of only 702 units, which is an homage to the engine's horsepower. It comes in with a considerably higher price point of $88,570 and unique features that include Anvil Gray paint. Inside, the Launch Edition has a special red and brushed aluminum center console badge signifying its special edition status. Standard features on the Launch Edition include carbon fiber interior trims, a head-up display, beadlock-capable wheels, 19-speaker Harman Kardon audio, and a dual-pane panoramic sunroof.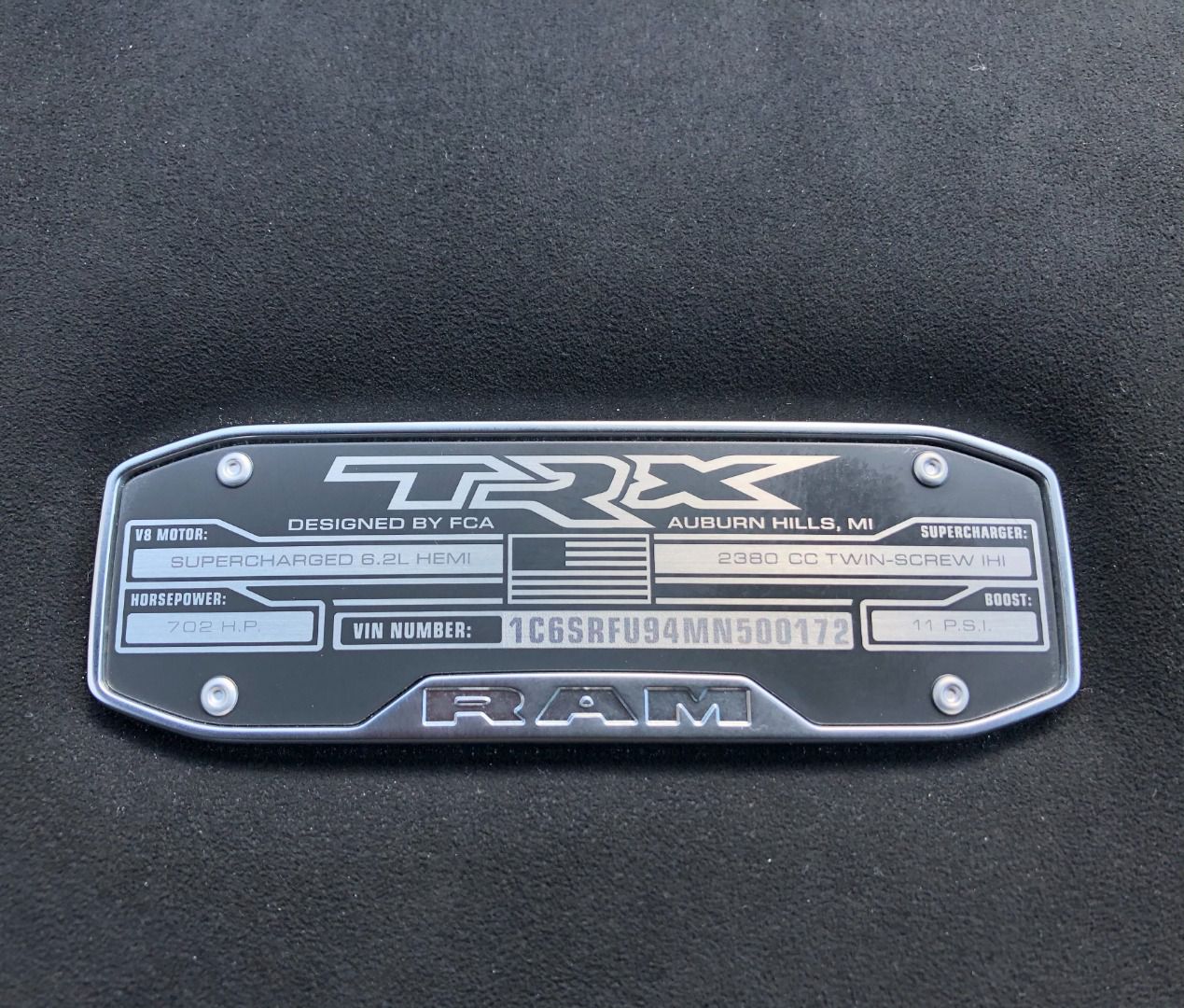 Photo by Nicole Wakelin
Performance Like No Other Truck
If you're looking for a truck with plenty of power, then look no further than the Ram 1500 TRX. It's the fastest, most powerful mass-produced truck in the world, with a 0-60 mph time of 4.5 seconds and a top speed of 118 mph. The TRX claims its title with a 6.2-liter supercharged V8 engine with 702 horsepower and 650 lb-ft of torque. This is paired with a high-torque capacity eight-speed automatic transmission.
Driving the Ram 1500 TRX, you feel every bit of power when you step on the gas. It's not a small truck, but its responsive engine delivers power quickly and smoothly. Accelerating up to highway speeds is effortless, making merges into traffic easy while the transmission manages power delivery smoothly so there's nothing rough or jarring about the drive. Whether it's slow, easy driving through city traffic or more demanding highway speeds, the Ram TRX is ready.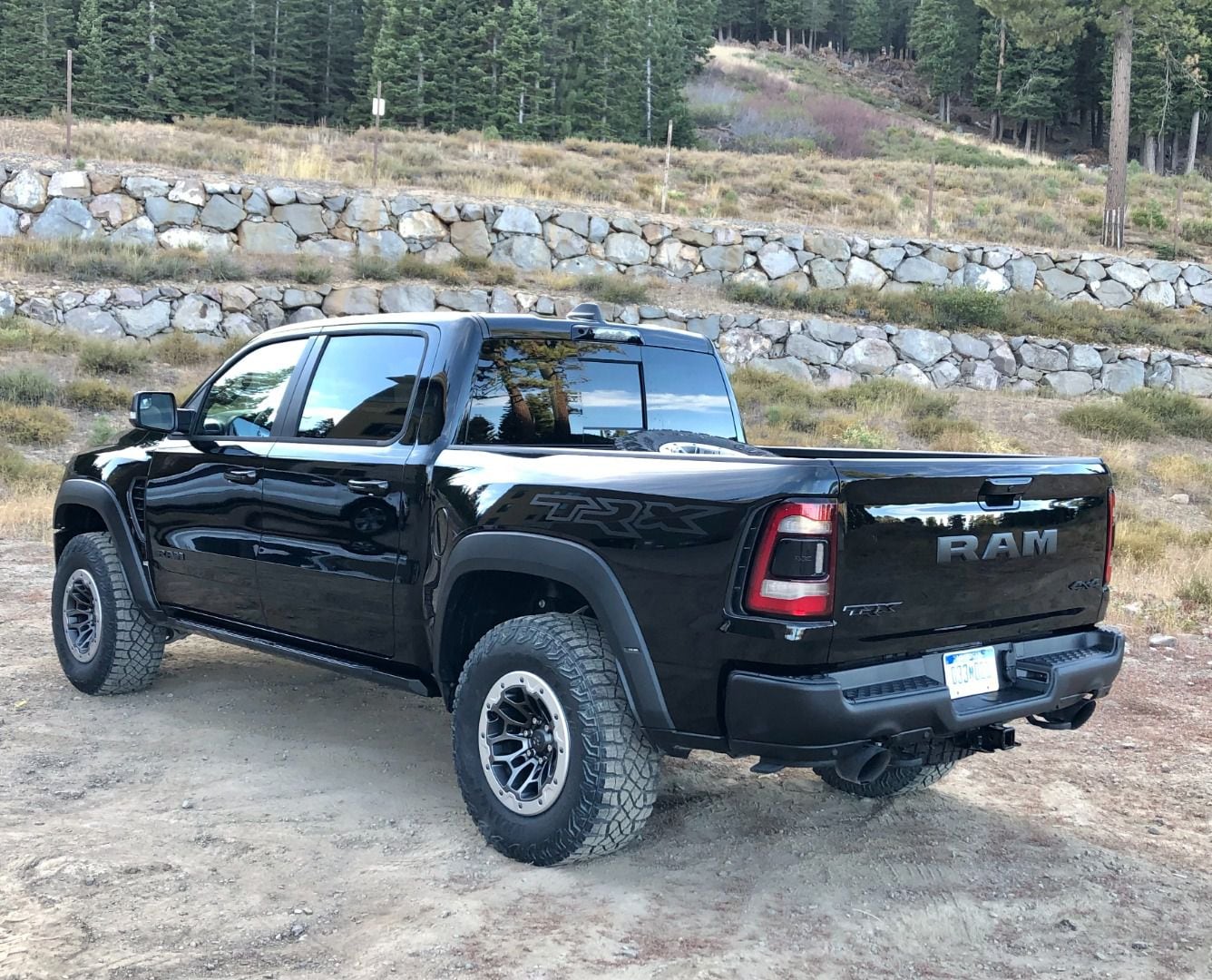 Photo by Nicole Wakelin
Smooth Ride Despite Off-Road Prowess
Trucks aren't known for having the smoothest, most comfortable rides. They can be harsh and somewhat unwieldy in the best conditions. Combined with features designed to provide off-road capability, the end result is often a truck that gets the job done but isn't particularly nice to drive. The 2021 Ram 1500 TRX doesn't suffer from these typical pitfalls.
This is in part due to an all-new suspension system that includes active damping. It uses forged aluminum front upper and lower control arms. There's also a new independent front suspension system with active damping and high-strength aluminum for strength and durability. What you feel as a driver is control and confidence behind the wheel. Steering is centered and controlled with minimal bounce and sway even tackling extreme off-road challenges at speed. The Ram 1500 TRX delivers a smooth and controlled ride that makes driving less taxing for driver and passengers alike.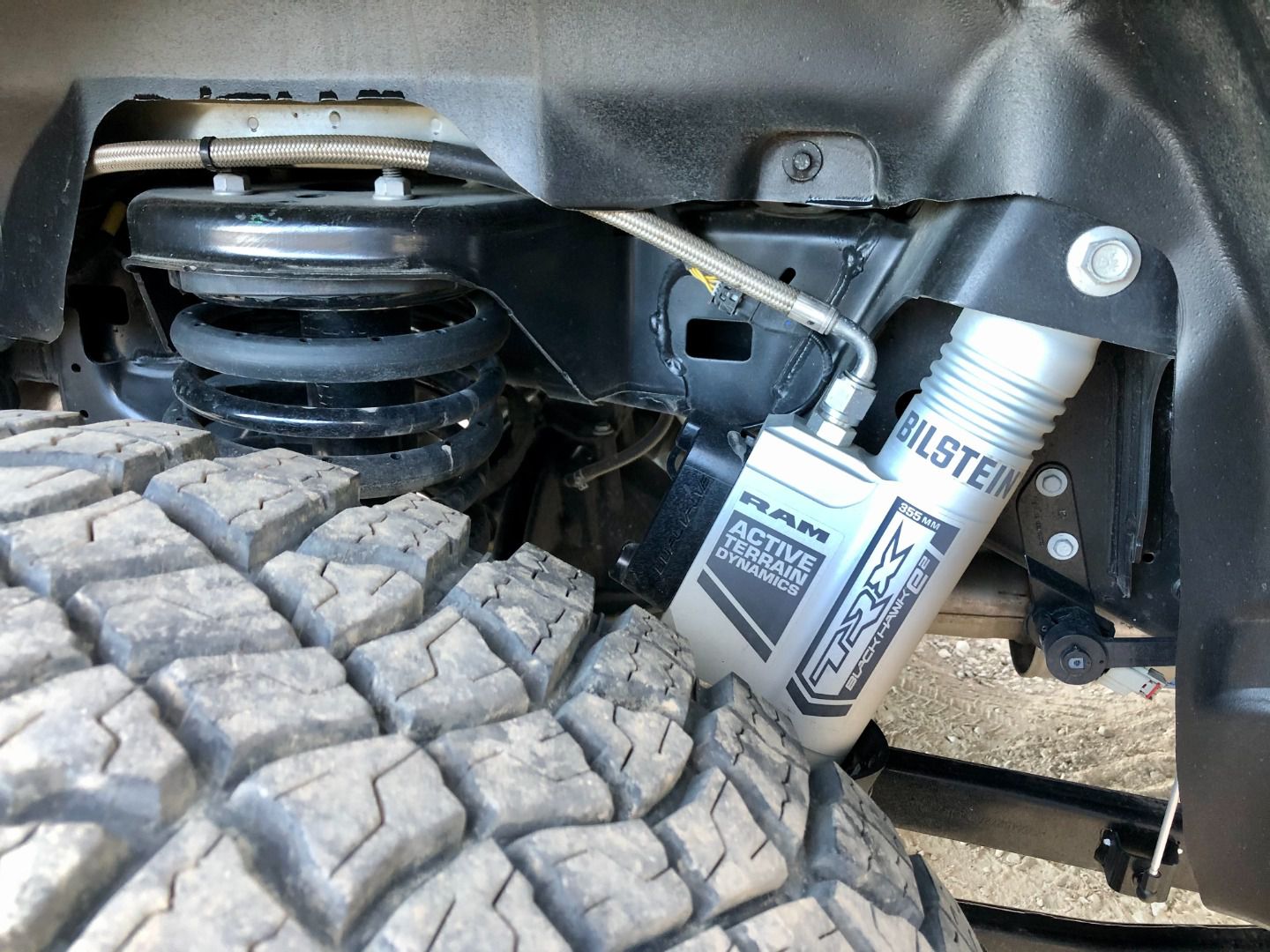 Engineered for Off-Road Adventures
A large part of what makes the Ram 1500 TRX unique is its off-road capability. You can spend your time on pavement if that's your choice, but the TRX shines off-road. It has the largest air filter in the segment and is specifically designed for dusty environments. A Dana M250 solid rear axle with full-floating hubs improves traction on rough surfaces, while an electronic locking rear differential improves overall off-road performance. Exclusive 2.5-inch Bilstein shocks provide a fast reaction, making it easy to tackle rough terrain at high speeds.
There's a five-link coil suspension tuned for a balance between comfort and handling on any surface, and the TRX has wheel travel that's more than 13 inches greater than the rest of the Ram 1500 lineup. There are also five dynamic modes — auto, sport, tow, snow, and custom — as well as three off-road modes: mud/sand, rock, and Baja.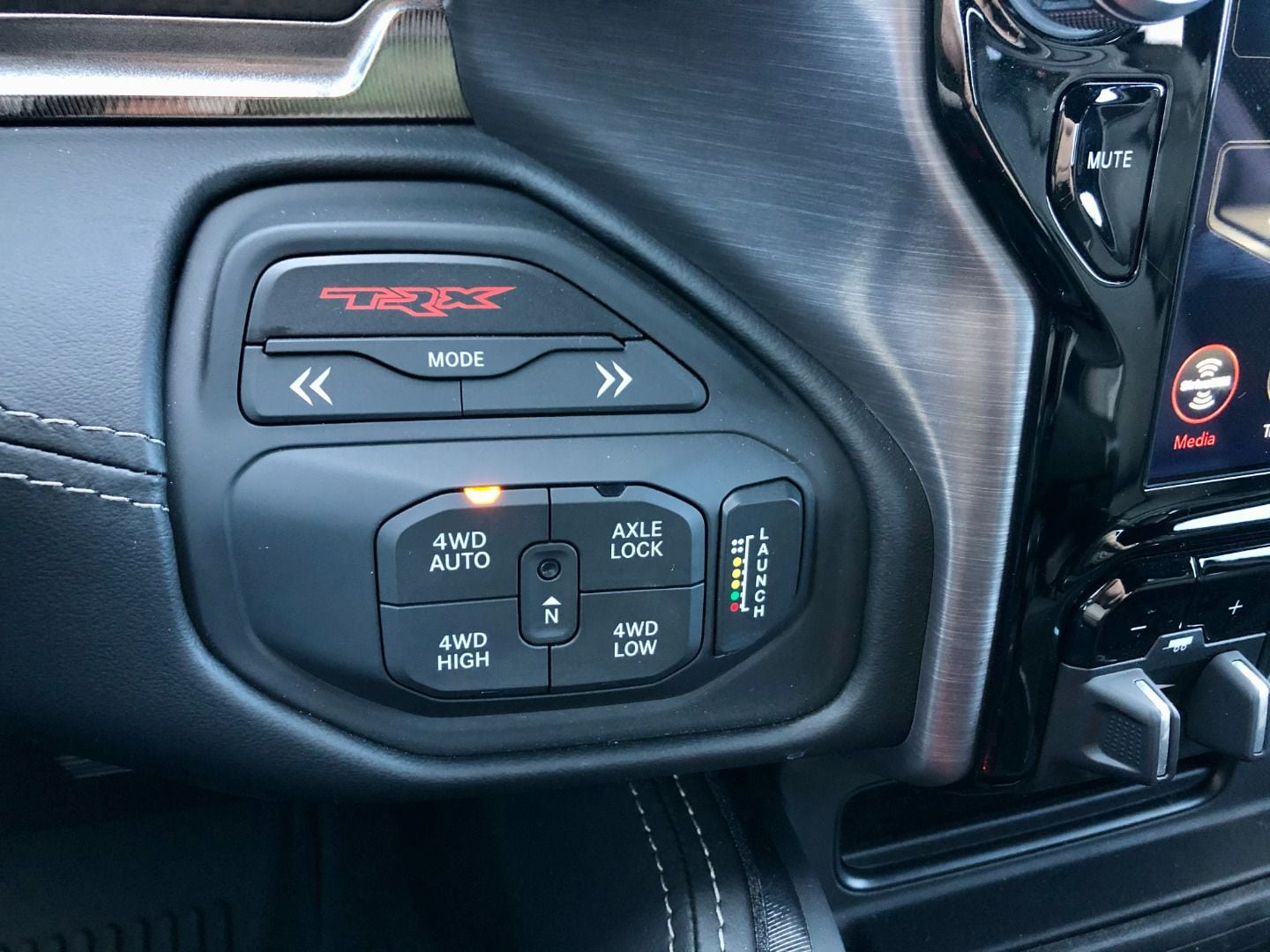 Photo by Nicole Wakelin
Towing and Payload Ratings to Handle Serious Work
There are many reasons people buy trucks. One of the biggest is the capability of a truck to tow and manage a payload that is simply not possible in other vehicles, even big SUVs. The Ram 1500 TRX is up to the challenge of getting work done. It can tow up to 8,100 pounds and carry a payload up to 1,310 pounds with its 5-foot-7-inch bed.
Helping make managing that trailer easier is Trailer Reverse Steer Control. This a standalone option on the TRX rather than coming as a part of an expensive package. Instead of having to turn the steering wheel to carefully direct a trailer in the right direction, this feature does all the work with a simple dial. Point the dial in the direction you want, and the wheel will automatically turn the right way. The Ram 1500 TRX is ready for work.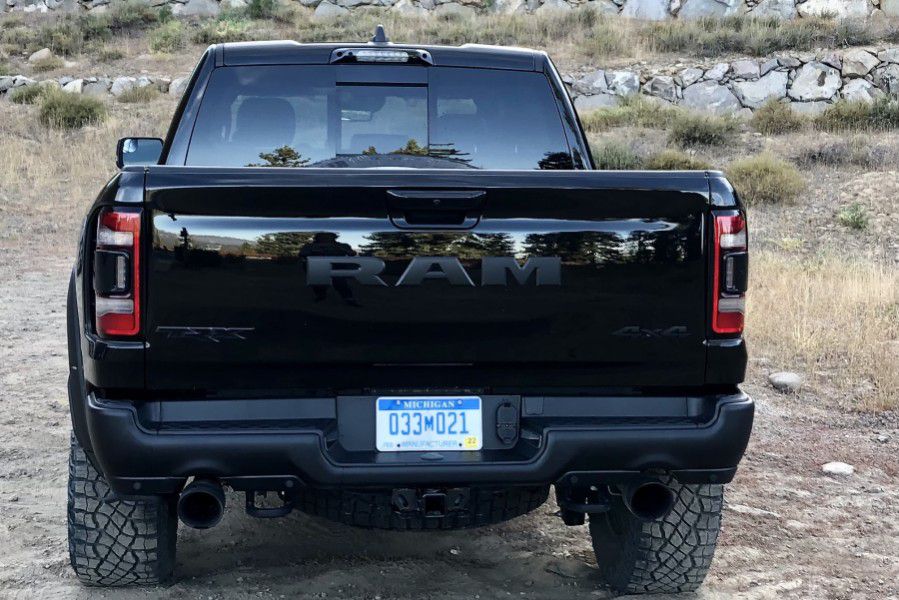 Photo by Nicole Wakelin
Attractive and Durable Interior
Despite its capability to go off-road at speed and its versatility to tow and haul cargo, the Ram 1500 TRX doesn't forget that it has passengers who want to travel in comfort. Available only as a crew cab, it includes seating for five with wide, supportive front seats. The rear seats are equally roomy with plenty of space for three adult passengers. Whether cruising on the highway, enjoying some time off-road, or hitting the track, the Ram 1500 TRX delivers a smooth, unfettered ride for its passengers.
Three red and black interior options include either cloth and vinyl, leather and suede, or leather and suede with red carbon fiber accents. Available heated and ventilated seats add an extra level of comfort, while a flat-bottom steering wheel and head-up display make driving the TRX more comfortable.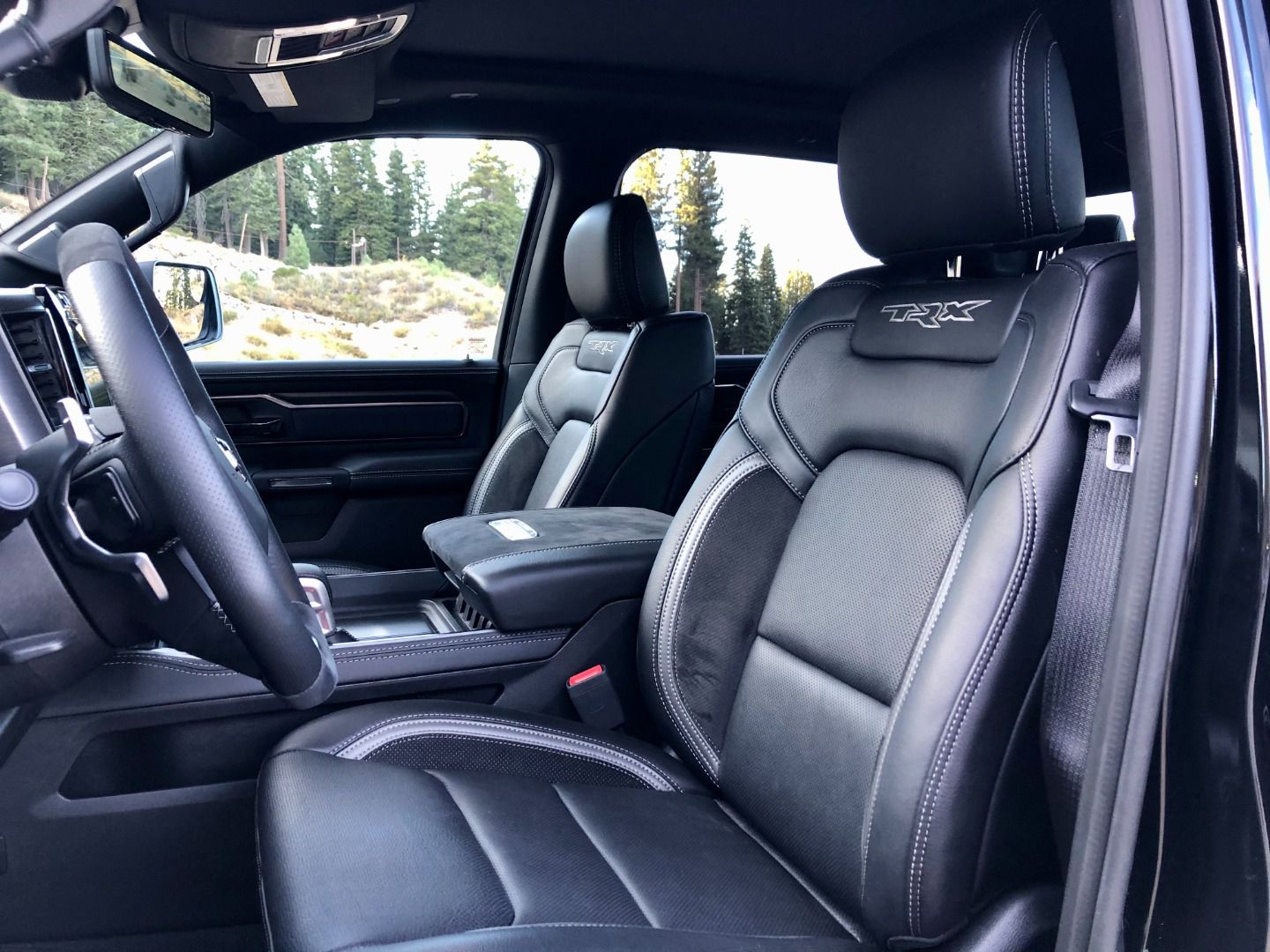 Photo by Nicole Wakelin
Standard 12-inch Touchscreen
The Ram 1500 TRX doesn't skimp on the tech front with a standard 12-inch touchscreen. It's fully customizable so you can choose to have the features and functions you use most often displayed prominently. Uconnect is one of the most intuitive systems available, making for a short learning curve. Even passengers not familiar with the system will find it easy to use.
Customization includes the ability to show one application on the entire screen. For example, if you're trying to follow complicated directions, then you can dedicate the full screen to navigation. You can also choose to divide it with different displays on the top and bottom when multiple features are a better choice. Audio includes an available 900-watt 19-speaker Harman Kardon audio system — the most powerful in any pickup. It easily fills the cabin with rich sound, enhancing the passenger experience. The Ram 1500 TRX is tough, but it coddles passengers in comfort.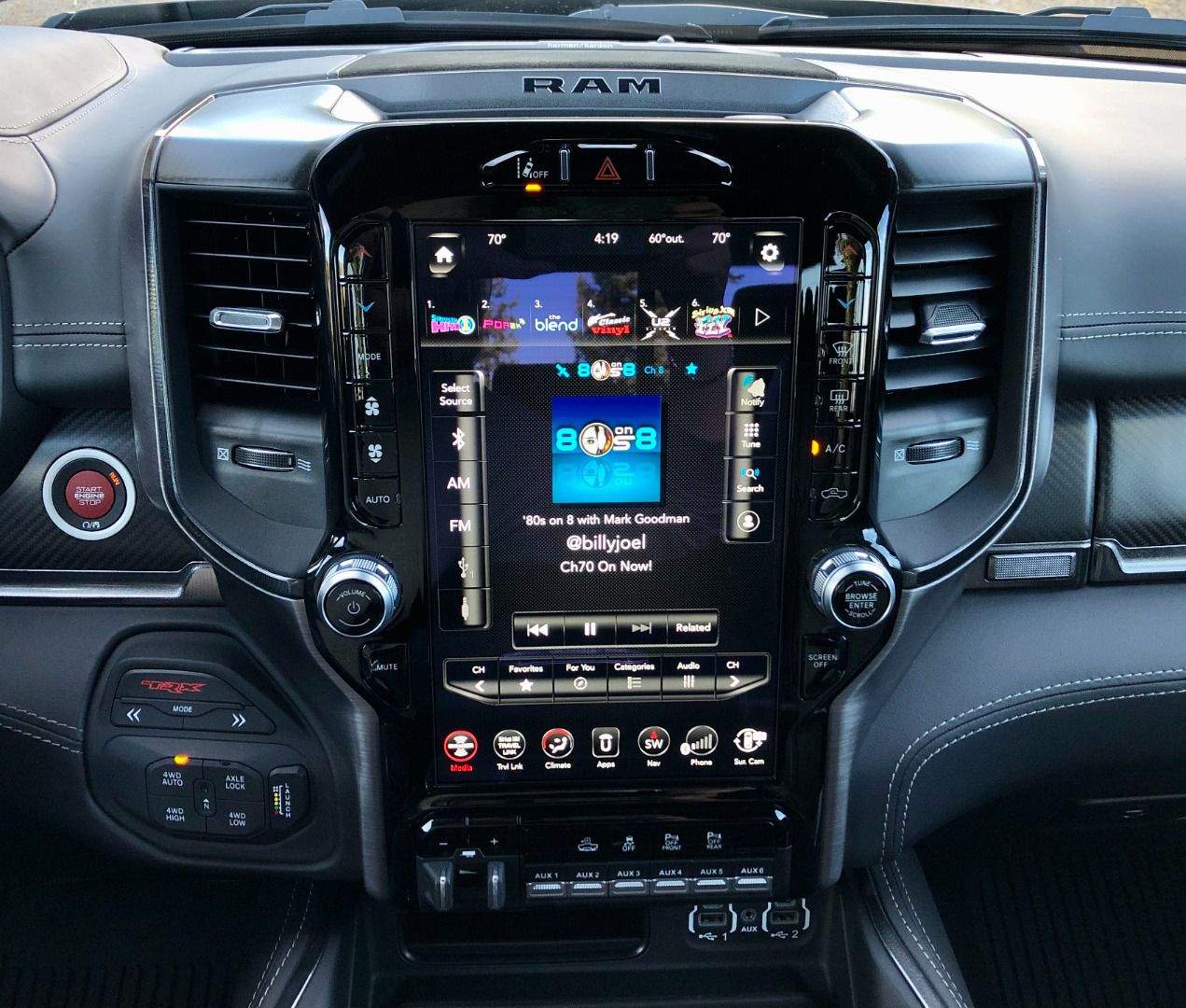 Photo by Nicole Wakelin
Advanced Safety Features Cost Extra
The Ram 1500 TRX includes an extensive list of advanced safety features, but they're unfortunately available as options rather than standard. Most can be had by adding either the Advanced Technology Group or Advanced Safety Group. While a rear backup camera with dynamic gridlines and center lines is a standard feature, there's also an available 360-degree surround-view camera that shows just how close you are to nearby objects, especially those that are low and hard to see from inside the truck.
Additional available features include a rearview camera mirror with cargo box illumination, blind-spot monitoring with rear cross-path and trailer detection, forward collision mitigation with adaptive emergency braking and pedestrian detection, lane keep assist, and a head-up display. Finally, there's front and rear park assist with automatic reverse stop.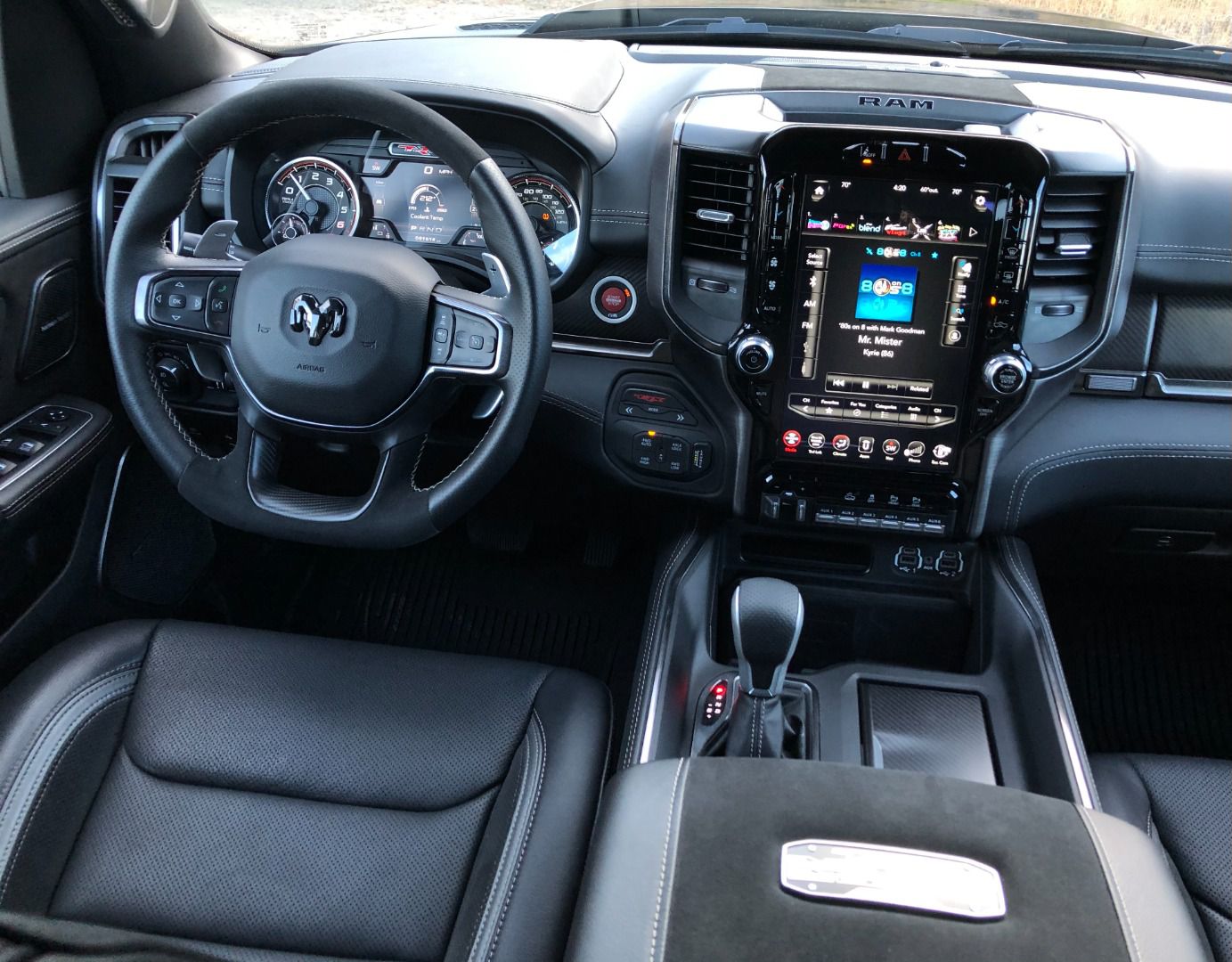 Photo by Nicole Wakelin
Final Thoughts
While there was already a good range of Ram 1500 trims from basic work trucks to luxury trims, there wasn't an option for those who wanted the power to go off-roading at high speeds. The Ram TRX delivers that option with its 702-horsepower engine and specially engineered off-road enhancements. It even has drive modes that cover the usual road conditions and a range just for off-road driving.
The TRX balances its power and capability with smooth handling and a comfortable interior that make it just as much fun to drive on paved roads. A fully featured infotainment system with a large screen includes applications that make daily driving and off-roading easy. And although only available as part of several packages, advanced safety features help keep you and your loved ones safe. The 2021 Ram 1500 TRX is a welcome addition for truck enthusiasts with big off-road plans.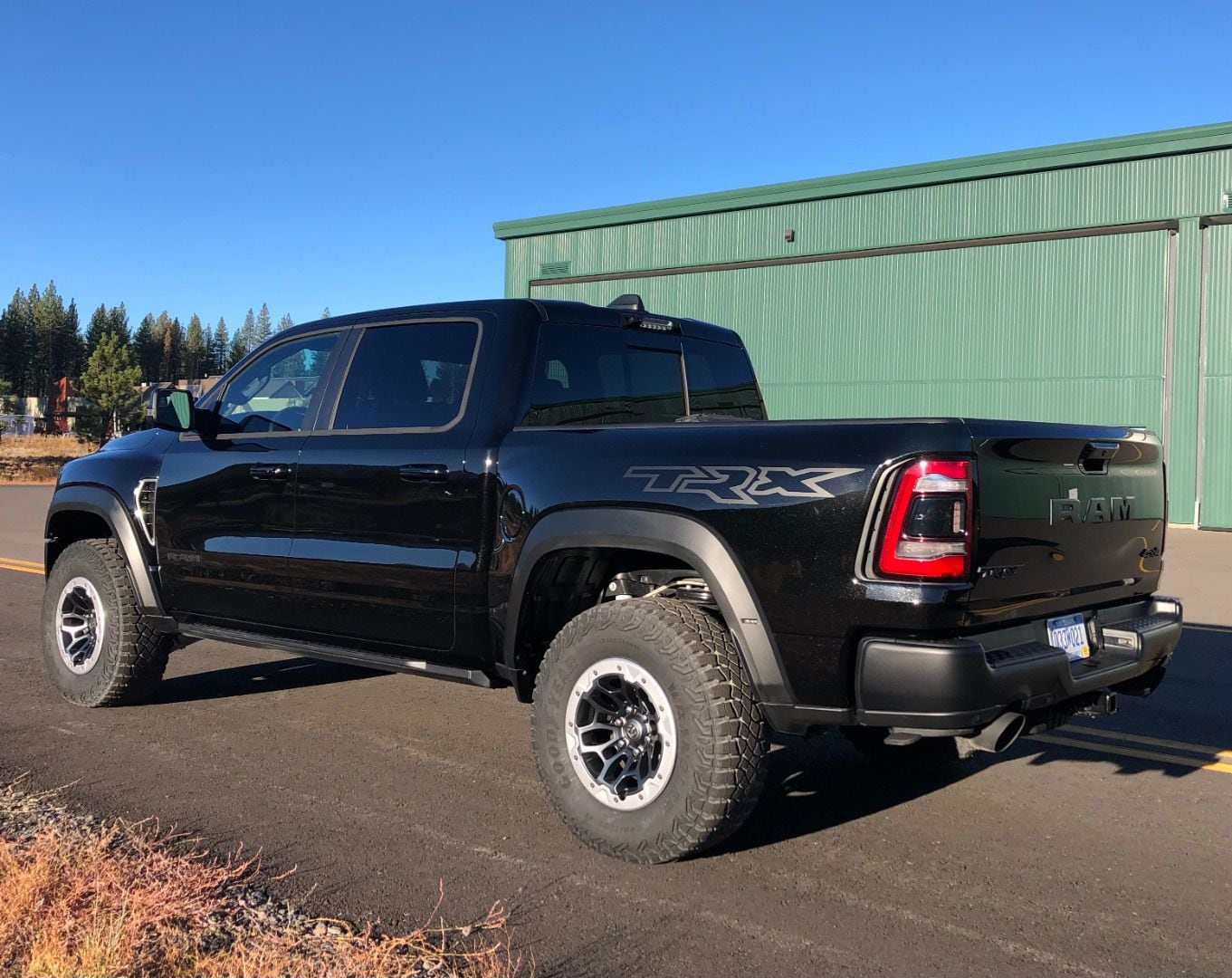 Photo by Nicole Wakelin