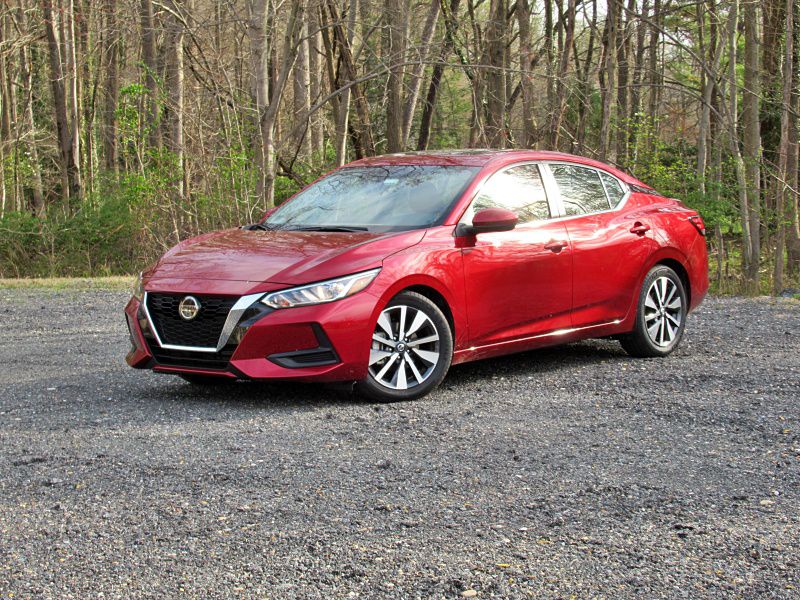 2021 Nissan Sentra SV ・ Photo by Brady Holt
We hopped into a stylish sedan with a wide, assertive stance, quilted leather upholstery, and advanced driver-assistance technology. It wasn't a Mercedes-Benz, or even from an upstart luxury brand. We were driving a 2021 Nissan Sentra, a compact economy sedan that cost a mere $25,650. And that's with the fancy leather and lots of other add-ons. The base price: $19,460.
The Sentra backs up its tempting blend of style and value with agreeable driving dynamics, a comfortable cabin, and an easy-to-use infotainment system. We recently spent a week in a 2021 Sentra to see how it fits into the broader compact car class. Read on to see if it sounds like the right choice for you.
Sharp, Though Not Overdone
Economy cars have a reputation for being dull to look at, and the Nissan Sentra has historically done little to challenge that mindset. That changed with the vehicle's last redesign, which appeared as a 2020 model. Nissan made the sedan about 2 inches wider and 2 inches lower than before, providing sportier, ground-hugging proportions. 
No less importantly, we love how Nissan was able to make the new Sentra attractive without going overboard with busy styling details. Low, slim headlights integrate smoothly into the big grille that dips to the ground. Gentle but confident haunches give substance to the front and rear fenders, and the crisply styled rear end could pass for a Mercedes-Benz A 220. We're particularly taken with the SR trim level that we tested last year, pictured on this page, thanks to its bigger 18-inch wheels, LED headlights, foglights, and lower-body extensions. But our SV test vehicle is also crisply styled, though we wish it were available with foglights rather than empty cutouts. The base S model has steel wheels with plastic hubcaps, but it's less aggressively low-rent than many entry-level economy sedans.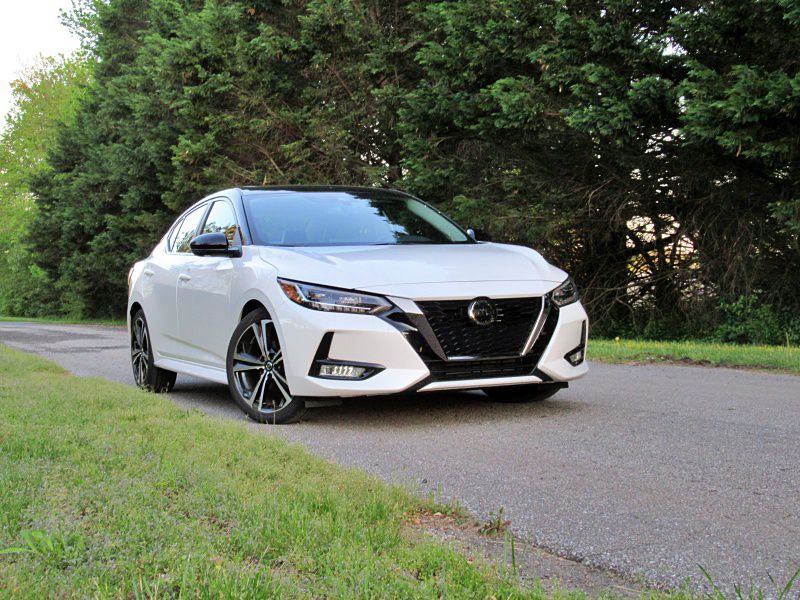 Photo by Brady Holt
Attention-Grabbing Interior
While the SR is the sharpest-looking Sentra on the outside, Nissan saves the attention-grabbing interior for the SV. That's the trim level that lets you add the quilted leather upholstery you see on this page. In addition to the seats, this tan leather also goes on the dashboard, center console, and door panels. All other Sentras, including the SV without the optional leather, have only black-on-black interiors.
Even if you're not looking to be dazzled, the Sentra has a pleasant interior. It's mostly well-assembled with good materials for the price, and the controls are easy to use. The base Sentra S has a 7-inch infotainment touchscreen, while the SV and SR upgrade to a more generous 8 inches; all models support Android Auto and Apple CarPlay smartphone integration. Even our leather-trimmed SV test car didn't wow us at every turn, with some cheaper plastics, clunky sun visors, and an old-school foot-operated parking brake. But for the price, it's a showstopper overall.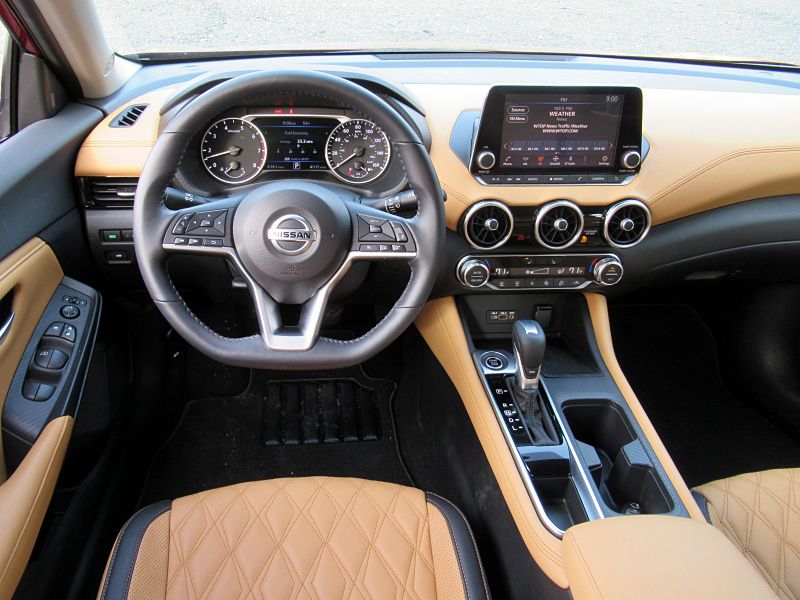 Photo by Brady Holt
Roomy for a Small Car
The Sentra can fit four adults and squeeze in a fifth, with above-average accommodations for a compact sedan. The front and rear seats are thickly padded and supportive.
If you're familiar with the Sentra generations sold from 2007 to 2019, though, you might be disappointed. Thanks to their less graceful proportions, they squeezed in massive rear seats with more legroom than many mid-size sedans. They were family-friendly cars that cost much less, meaning the old Sentras sold at a huge discount from other vehicles with this much space. Now, the Sentra is instead more of a pretty good compact car when it comes to interior space, rather than an exceptional one. Trunk space is also down a bit, though it's still above average for the class at 14.3 cubic feet.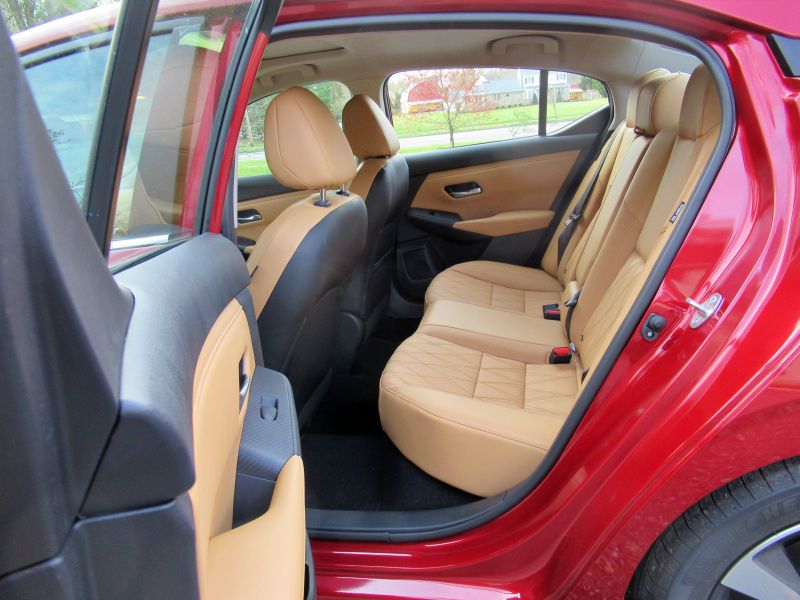 Photo by Brady Holt
Not a Sports Sedan
Although the Sentra looks sporty — and although the last redesign brought a bigger engine and a more sophisticated suspension — this is not a true sports sedan. Rather, it improved from being the slowest, clumsiest-handling compact sedan to being down-the-middle average.
Regardless of trim level, every Sentra has a 2.0-liter four-cylinder engine making 149 horsepower and 146 lb-ft of torque. That's about average for a base engine in the class, though many competitors also offer higher-powered upgrades. There also aren't performance-oriented touches like manual overrides of the continuously variable automatic transmission (CVT), or a selectable "sport" driving mode to adjust steering, throttle, and transmission calibrations. The Sentra accelerates with decent pep in routine driving, but it makes a lot more noise without a lot more power if you try to push it harder. Ride and handling are composed without showing much eagerness; it doesn't threaten to plow off the road if you take a turn fast like the tippy old Sentra, but there's not much in the Sentra experience that encourages or rewards exuberant driving.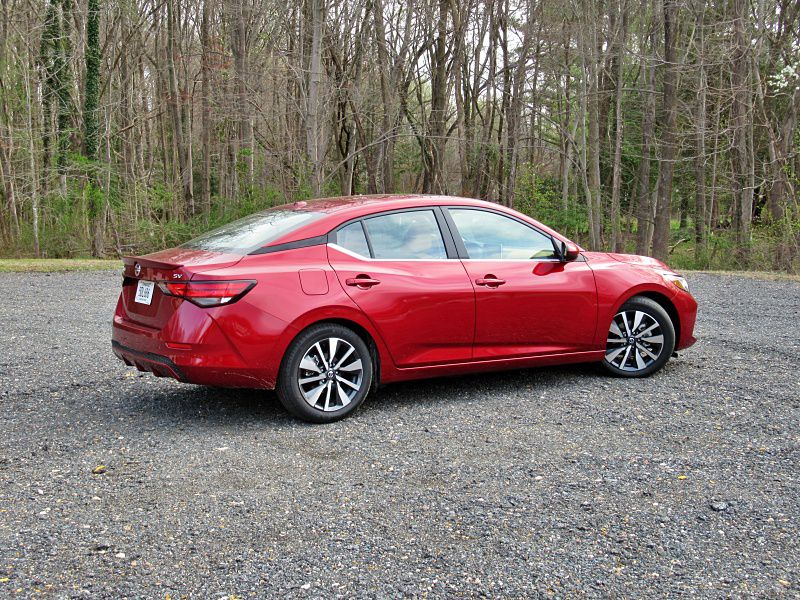 Photo by Brady Holt
Respectable Efficiency
The Sentra may not be especially speedy, but it's agreeably economical. The S and SV trim levels earn competitive EPA ratings of 29 mpg in the city, 39 mpg on the highway, and 33 mpg combined. The SR dips to 28 mpg city, 37 mpg highway, and 32 mpg combined. These figures are class-competitive but a few miles per gallon behind certain versions of the Honda Civic, Hyundai Elantra, and Toyota Corolla.
We averaged about 33 mpg in our SV and about 34 mpg in our SR, a difference you can chalk up to varied driving conditions. While these numbers aren't scientific either for the same reason, we have done better when testing several other compact cars. We also did significantly better in a previous-generation 2019 Sentra, which has similar EPA ratings despite less power than the current model. Also, unlike a growing number of competitors, you can't get a gas-electric hybrid version of the Sentra. This is an economical small sedan, but it's not the thriftiest fuel-sipper.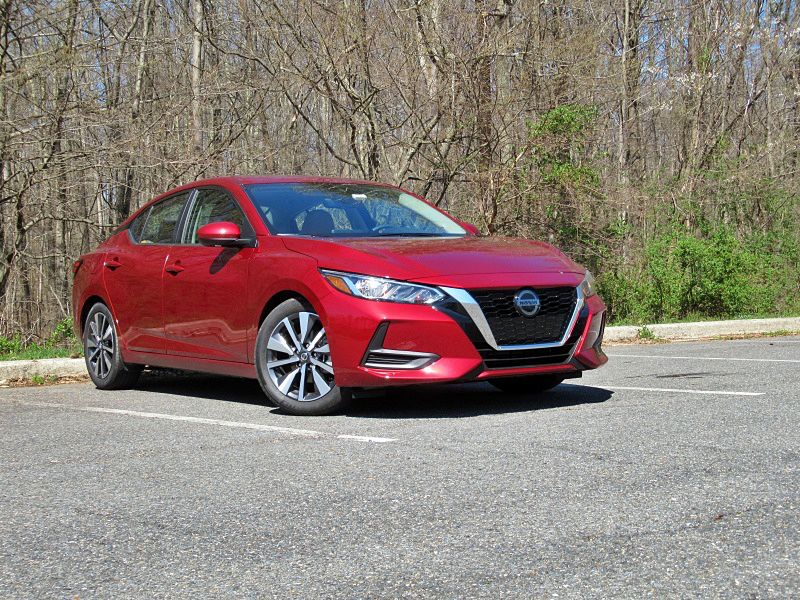 Photo by Brady Holt
Top Safety Pick
The Sentra earned a Top Safety Pick designation from the Insurance Institute for Highway Safety and scored five out of five stars overall in National Highway Traffic Safety Administration testing. And it comes standard with features that include forward and rear automatic emergency braking, a lane-departure warning, and blind-spot monitoring with a rear cross-traffic alert. Still, its safety record comes up a little short of the very best small sedans.
First of all, the Sentra missed the highest IIHS Top Safety Pick+ mark due to poor headlight illumination on most models, and its automatic emergency braking system missed the highest possible score at avoiding pedestrians. Secondly, the Sentra's five-star overall NHTSA performance includes a weaker three-star mark for front-passenger protection in the agency's frontal-impact crash test. And thirdly, while the Sentra's list of standard safety technologies is impressive, the car doesn't offer lane-keeping steering assistance.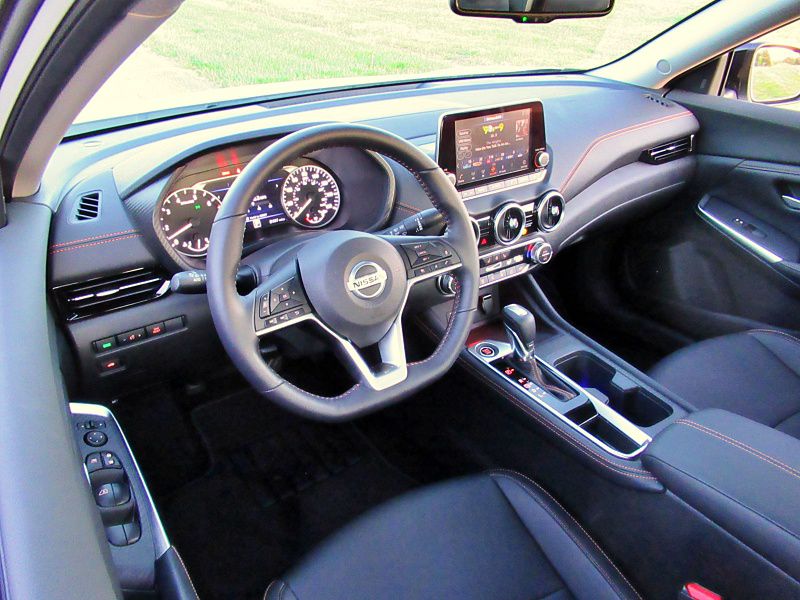 Photo by Brady Holt
An Affordable Option
We mentioned that the Sentra starts at $19,460 for an S model that provides touchscreen infotainment and a long list of safety features. That's about as cheap as it gets in the compact sedan class unless you're looking for a manual transmission, despite standard equipment that also includes keyless entry with push-button start.
You can upgrade to the Sentra SV ($20,520) for 16-inch alloy wheels, a six-speaker sound system, automatic climate control, adaptive cruise control, the bigger 8-inch infotainment screen, and upgraded upholstery. The sport-themed SR ($21,800) has 18-inch wheels and other dressier styling cues. Both the SV and SR are available with a $2,270 Premium Package, though curiously with different features. The SV's includes high-end quilted leather upholstery, while the SR's has leatherette but a premium Bose sound system, heated steering wheel, Wi-Fi hotspot, and surround-view parking camera. Both packages include a sunroof, power driver's seat, and heated front seats. Whichever way you go, the Sentra gives a lot of features for the money — if you steer clear of the smaller extras that add up. Our SV test car had $1,680 worth of appearance add-ons, including ambient lighting, extra-cost paint, and a rear spoiler.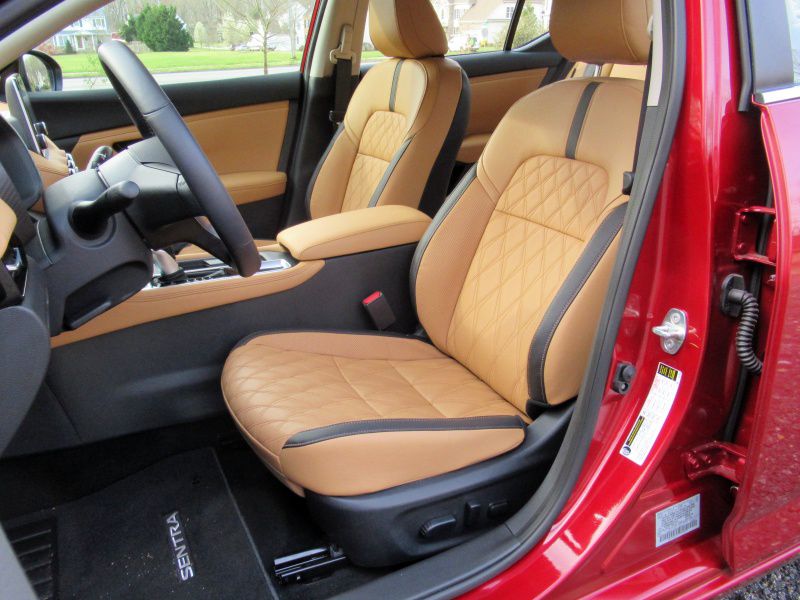 Photo by Brady Holt
Strong Competitors
The Sentra faces a number of appealing and affordable compact sedans. The newly redesigned 2021 Hyundai Elantra has made a particular splash with its edgy bodywork and high-tech cabin, while the Kia Forte, Toyota Corolla, and Volkswagen Jetta are other notable options for value-conscious customers. The subcompact Nissan Versa is another possible option for bargain hunters, featuring somewhat similar styling to the Sentra but for less money (along with less power and less rear legroom).
Meanwhile, when driving enjoyment ranks highly, the Mazda3 and Honda Civic are winning choices. Of the two, the Mazda3 has the more luxurious experience while the Civic has more interior space and better gas mileage.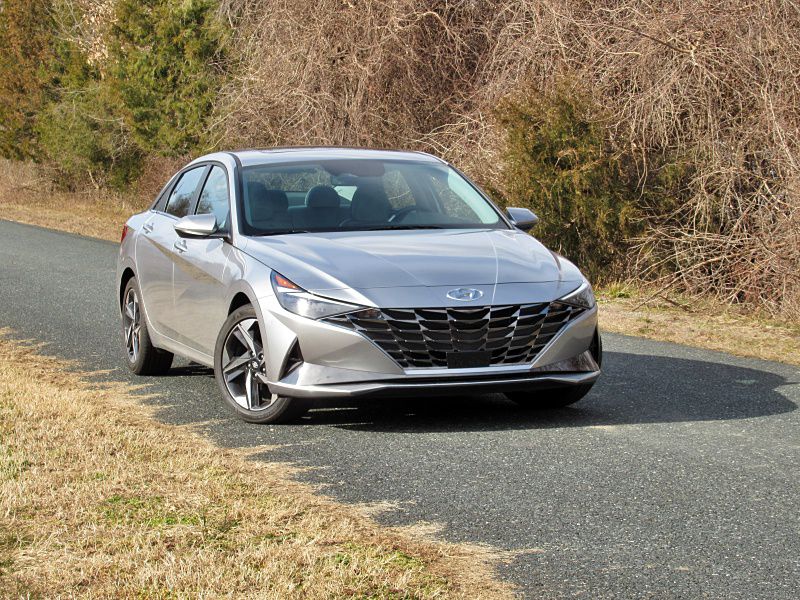 Photo by Brady Holt
Pizzazz on a Budget
The Sentra's calling card comes back to its styling. To our eyes, it's a solidly adequate car with some beautiful dressing — from its graceful yet assertive exterior to its available snazzy interior trim. It provides more pizzazz than you'll usually find on such a tight budget, and it doesn't make you put up with a cramped interior or bumpy ride to get it.
If you're less wowed by the Sentra's design, it becomes just another pretty good small car at a reasonable price. If you're looking for driving pleasure that matches its sporty design, we think you'd be disappointed. And if you were hoping it still had a ridiculously roomy interior, bad news. Still, the Sentra has become a solidly competitive compact sedan that avoids glaring faults. When you're shopping in this class, don't forget to give it a look.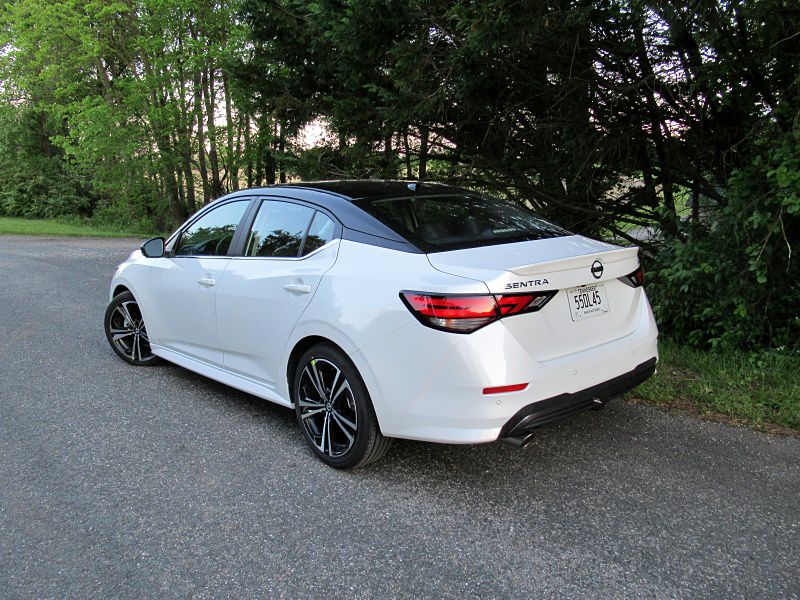 Photo by Brady Holt