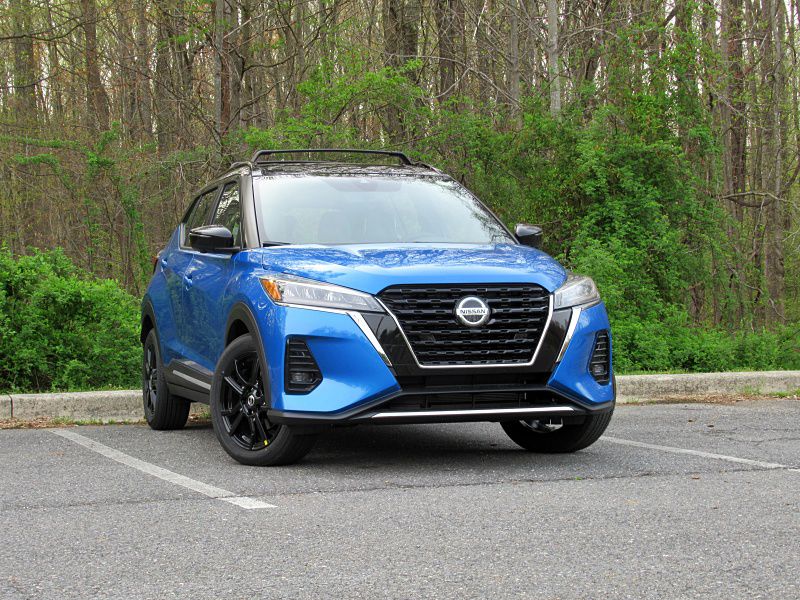 2021 Nissan Kicks SR ・ Photo by Brady Holt
These days, it seems everyone wants an SUV. With more cargo space than a sedan, and with increasingly similar driving manners and gas mileage, crossovers seem like no-brainers. The main issue: Many of them can be pretty expensive.
If you're looking for a lot of room on a tight budget, the Nissan Kicks is ready to deliver. This subcompact crossover starts at just $19,500, despite being packed with standard safety and infotainment features. And its standout fuel economy ratings — 33 mpg in mixed driving — keep operating costs low. This year brings revised styling, an updated interior, and more features. Keep reading as we go through all the details of the overhauled 2021 Nissan Kicks to see if it's enough of an SUV to meet your needs.
Restyled Exterior
The Kicks is one of the smallest and least SUV-like crossovers you can buy. It faces the Kia Soul, Toyota C-HR, and Hyundai Venue as a tiny vehicle with an elevated seating position, a small engine, no option for all-wheel drive, and a tiny footprint. We'll discuss these competitors more later, but the important factor is that you shouldn't expect the Kicks to look or feel like a true SUV.
Still, Nissan added some aesthetic punch this year. Slimmer headlights and a bigger grille make the Kicks' front end look more aggressive and less anonymous than before, if still not much like a tough truck. Around the sides and back, it's cheekily chunky, standing taller than a sedan and not shying away from that look. The rear windshield flows diagonally upward to meet an upward kick in the side windows, and the taillights follow. New this year, a lightbar spans the width of the tailgate to connect the two taillights. The Kicks doesn't set out to look like a luxury car, but it injects a bit of character into its functional design.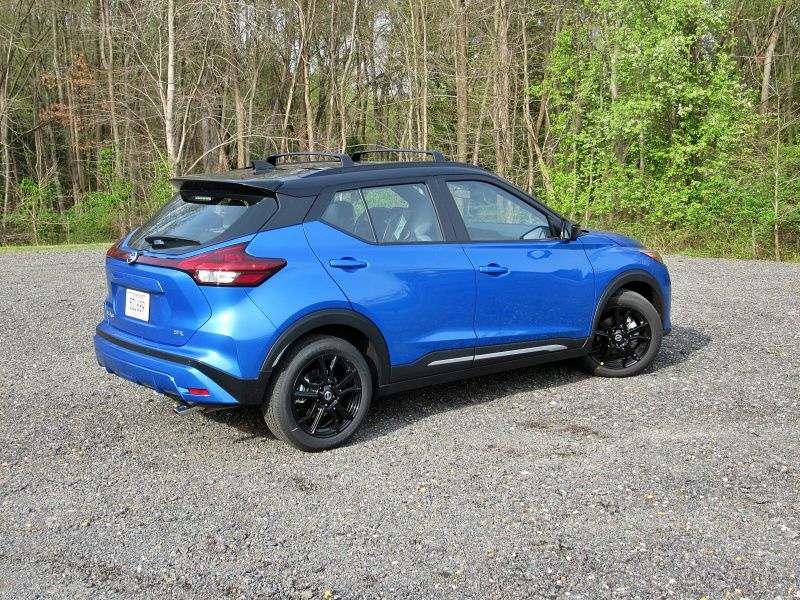 Photo by Brady Holt
Upgraded Interior
Nissan has made some modest but noteworthy updates to the Kicks' interior this year. First of all, it redesigned a largely empty space between the front seats to add a center console bin with an armrest and to expand the once-tiny cupholders. Secondly, it upgraded the infotainment offerings to include Android Auto and Apple CarPlay on all trim levels, and to give all but the base model a bigger infotainment screen: 8 inches instead of 7 inches.
Otherwise, the Kicks' interior hasn't changed too much since the vehicle's debut as a 2018 model. It's still basic but well-executed, with padded surfaces where you'll need them (like the door armrests and the new center armrest) and lots of hard plastics elsewhere. Nice touches include metal interior door pulls, multicolored and patterned upholstery even on the base model, and a leatherette-trimmed dashboard on our top SR test vehicle. The control interface is blessedly simple, and the gauge cluster includes a large 7-inch reconfigurable digital display. Overall, Nissan has given the Kicks a pleasant ambiance without much pretense that this is anything but a budget car.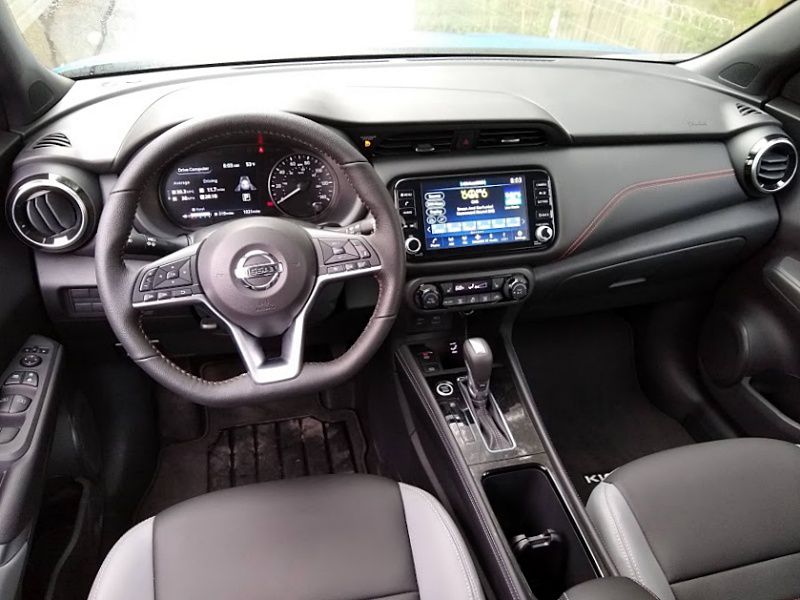 Photo by Brady Holt
Roomier Than You'd Expect
Even though it's one of the smallest crossovers you can buy, the Kicks delivers a higher seating position, bigger backseat, and higher cargo volume than a number of larger models. No, there isn't a Chevy Suburban's stretch-out space hiding inside this subcompact body, but you can fit four adults on comfortable, supportive seats without having to jam anyone's knees into the front seatbacks. The new center armrest is too narrow for the driver and front passenger to share, though.
As we mentioned, cargo volume is excellent for the class with 25.2 cubic feet behind the rear seat and 53.1 cubic feet with the rear seat folded. The rear seat doesn't lie flush with the cargo floor, and you may need to remove the rear head restraints or move the front seats forward to make room for them to fold. But this is an impressive capacity for such a small vehicle, especially considering that Nissan made room for passengers and their luggage; some models create a roomy backseat by eliminating cargo space behind it, or vice versa.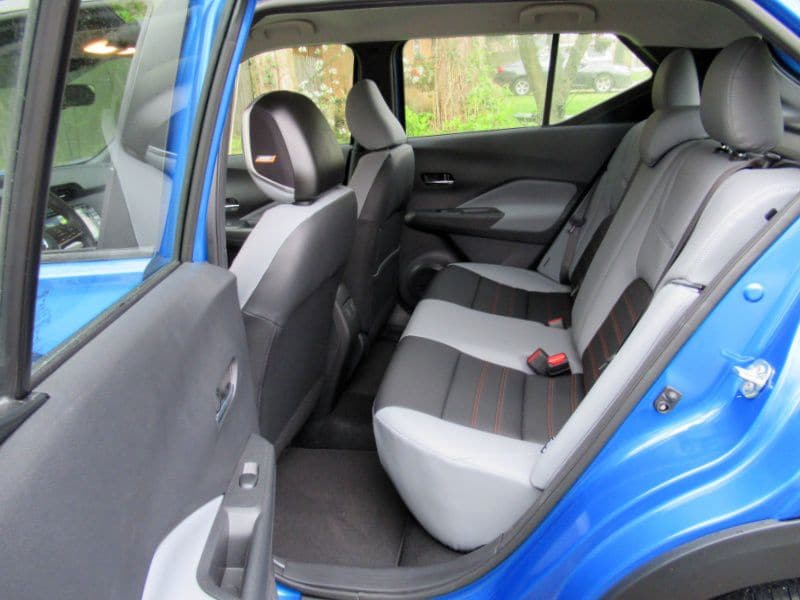 Photo by Brady Holt
The Little Engine That (Mostly) Could
The Nissan Kicks is one of the least powerful suvs you can buy. Its 1.6-liter naturally aspirated four-cylinder engine makes just 122 horsepower and a mere 114 lb-ft of torque, sent through a continuously variable automatic transmission (CVT). As you might expect, this isn't a speed demon, but still pretty peppy at lower speeds. When you really want to get moving in a hurry, the engine gets noisy and doesn't have much reserve power to meet the demand, but some subcompact crossovers are even slower despite higher horsepower ratings.
This tiny engine pays off when it comes to fuel efficiency, which the EPA pegs at 31 mpg in the city, 36 mpg on the highway, and 33 mpg combined. That's better than any other SUV except for hybrids and electric vehicles — and even some of the former use more gas than the Kicks. In our testing, the Kicks averaged 35 mpg in mixed driving; it fell below that average on the open freeway, though, where many cars are at peak efficiency but where the Kicks' little engine has to work extra hard to keep moving.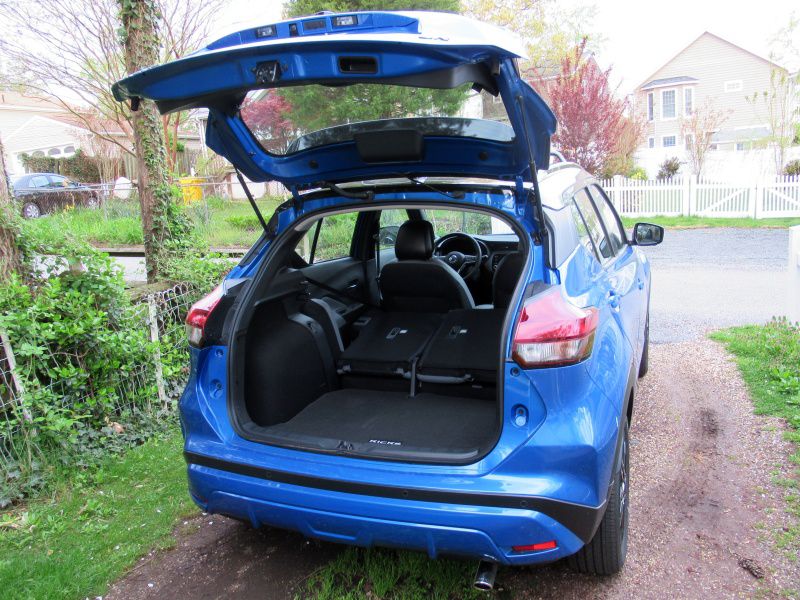 Photo by Brady Holt
Fun Until You Hit the Freeway
Like the engine, the Kicks' suspension is well-suited to buzzing around town. A smooth ride takes potholes with less jostling than many small, cheap cars, and the steering is unexpectedly firm and responsive. This little Nissan can be downright comfortable and fun, despite also being inexpensive, efficient, and maneuverable.
However, once again, the Kicks isn't at its happiest on the freeway. Even most small cars cruise confidently down the Interstate these days, but the Kicks is noisier, less settled, and more prone to wandering a bit. It's not extreme; this is still a modern vehicle, and a lane-departure warning is standard if you do manage to drift off course. (There's no automatic lane-keeping steering assistance, unfortunately.) But if you'll be doing a lot of long road trips, you can find a more relaxing highway companion than the small, light, low-power Kicks.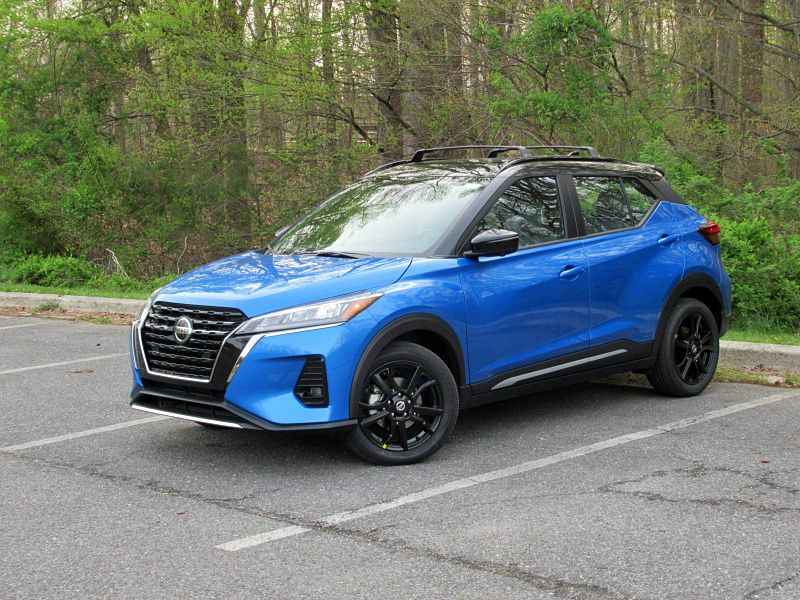 Photo by Brady Holt
Safety Comes Standard
As we've mentioned, the Kicks includes a generous array of advanced safety technology as standard equipment on even the base trim level. Specifically, the list includes front and rear automatic emergency braking, front pedestrian-detection capability, a lane-departure warning, a blind-spot monitoring system with a rear cross-traffic alert, and rear parking sensors. No other vehicle, SUV or otherwise, is so generous below $20,000 (though a couple have a few different features the Kicks is lacking). Adaptive cruise control is newly standard on all but the base model, and a useful surround-view parking camera is included on the top SR.
The Kicks hasn't been fully crash tested, but it earned top marks in all of the Insurance Institute for Highway Safety evaluations thrown at it so far. It was less outstanding in National Highway Traffic Safety Administration testing, earning a low three out of five stars for front-passenger protection in a frontal impact, and a middling four out of five stars overall.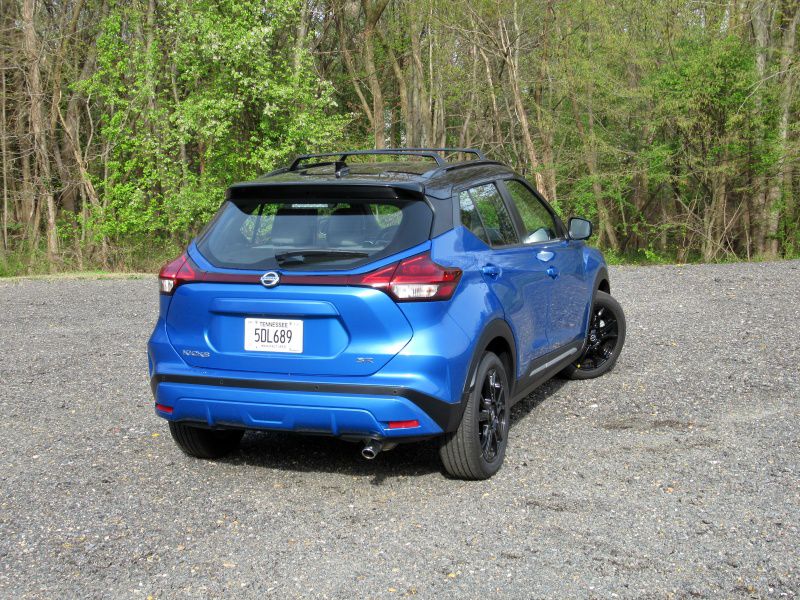 Photo by Brady Holt
A Great Bargain
The 2021 Nissan Kicks is available in a choice of three trim levels, each feature-packed at affordable prices. The base S ($19,500) already brings the long list of safety features we just told you about, and it also includes push-button starting, a six-speaker sound system, three USB ports, and a 7-inch infotainment touchscreen with Android Auto and Apple CarPlay.
For $21,300, you can step up to the SV, which adds big 17-inch alloy wheels, body-colored side mirrors and door handles, automatic climate control, adaptive cruise control, roof rails, and a fourth USB port (USB-C style). The SR adds cosmetics like a leather-wrapped steering wheel, LED headlights and foglights, and a rear spoiler, along with the surround-view parking camera system, for not much more: $21,940. The SR is also the gateway to the affordably priced Premium Package ($1,200), with leatherette upholstery, heated front seats, a heated steering wheel, and a Bose eight-speaker stereo. Our SR test vehicle's sticker price swelled to a less palatable $26,730 due to costly add-ons that we'd have happily skipped, like the $495 black wheels and the $460 illuminated kick plates. Avoid such items, and the Kicks is an incredible value for the money.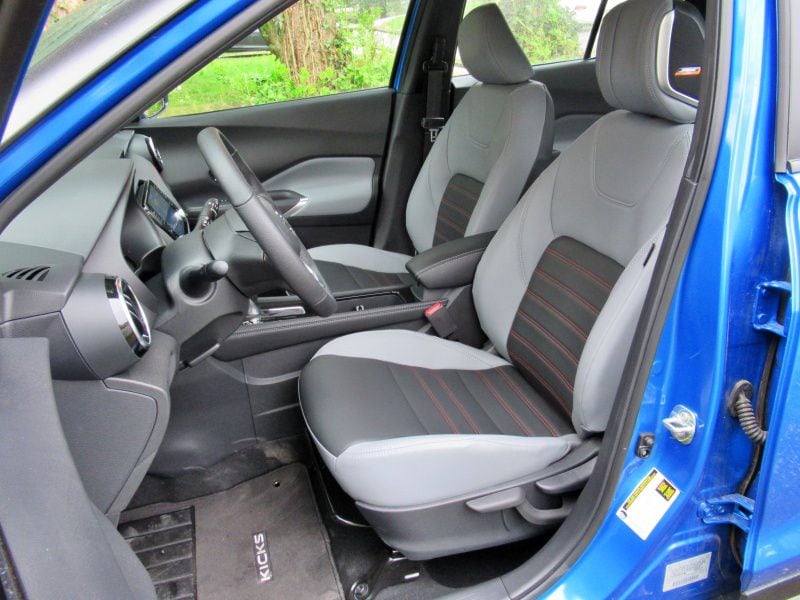 Photo by Brady Holt
Competitors to Consider
We mentioned the Kicks' three closest competitors earlier: the Kia Soul, Hyundai Venue, and Toyota C-HR. Each of them has some appeal and might be the best option for you.
The Soul is a well-rounded vehicle that's quicker, quieter, and smoother-riding than the others, and it has even more interior space than the Kicks. However, Nissan counters with superior fuel economy and a lot more safety features for the money. The Venue is an extra-small, extra-maneuverable little box that trades some of the Kicks' interior volume for even more city-friendly dimensions. It's bumpier at lower speeds but more settled on the highway. Lastly, the C-HR is a radically styled vehicle that comes up short beyond its aesthetics; it has a smooth ride but is otherwise compromised by a small cabin, poor visibility, and humdrum driving experience, including even slower acceleration than the Nissan. Other appealing subcompact SUVs include the slightly larger but still affordable Kia Seltos, Subaru Crosstrek, Mazda CX-30, and Hyundai Kona, which compete more directly with the Nissan Rogue Sport than the Kicks. If you don't need a big cargo hold, you could also consider the Nissan Sentra or a similar compact economy sedan.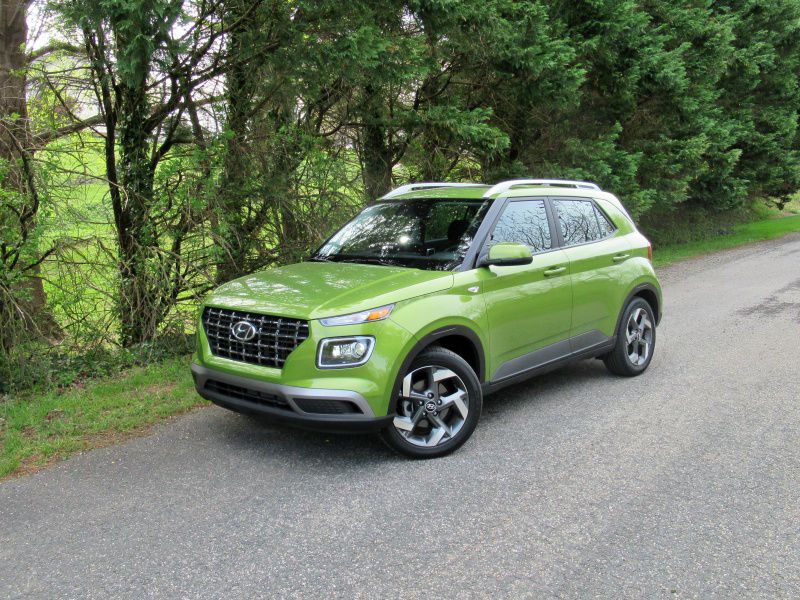 Photo by Brady Holt
The New Economy Car
While the compact sedan used to be the classic idea of an economy car, the 2021 Nissan Kicks makes a strong case to take over that title. While it's not as quick as most of today's compact sedans, and while it doesn't have the same relaxed highway manners, the Kicks brings versatility, comfort, technology, and fuel economy at a fantastic price.
This year's updates help the Kicks fare better against its growing list of competitors, but whichever subcompact crossover you choose, don't overlook this segment of the automotive market. You might decide that bigger, quicker, quieter vehicles are worth the extra money, or you might need all-wheel drive. But either way, the Kicks demonstrates that you can still get a pretty impressive vehicle for less than $20,000.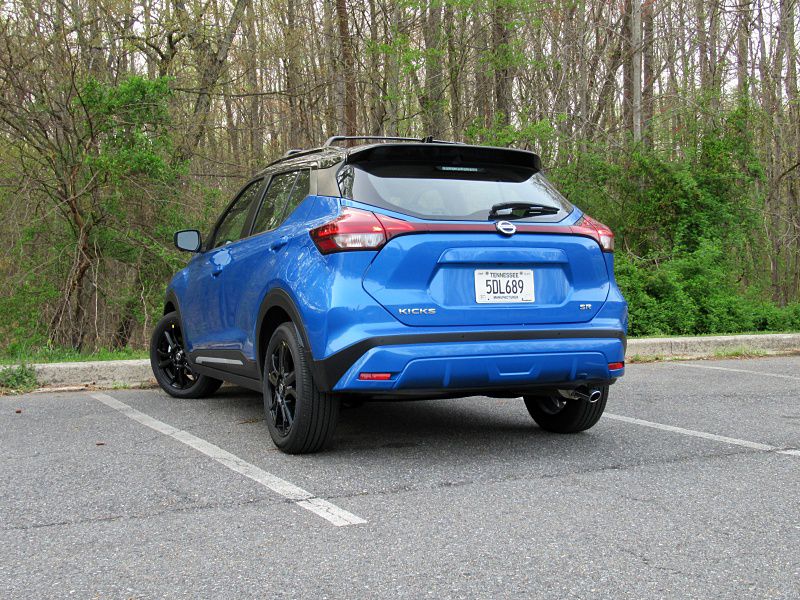 Photo by Brady Holt