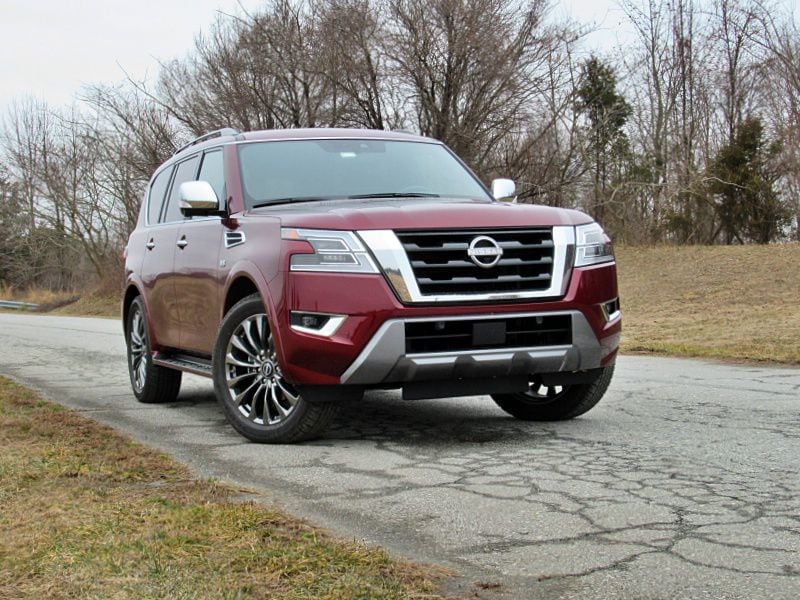 2021 Nissan Armada Platinum ・ Photo by Brady Holt
Full-size SUVs have become luxury vehicles. When you just want three rows of seats, a good minivan or mid-size crossover can cost under $35,000. But when you demand road-dominating presence or heavy-duty towing capabilities, a full-size model typically costs $50,000 and up. And once you add enough options, best-sellers like the Chevrolet Tahoe, GMC Yukon, and Ford Expedition can top $80,000.
If you're looking to spend a little less, you might consider the Nissan Armada. It's not dirt-cheap either, with a base price of $48,600, but it provides lots of features for the money whether you want a base model or a well-equipped one. And although it has been around for a while, the Armada is newly updated this year with revised styling, a more advanced interior, and a more powerful engine. Let's go over the details of this often-overlooked full-size SUV to consider whether it deserves to steal more customers from its more popular competitors.
Updated Exterior
The 2021 Nissan Armada has a chiseled front end with sharp, straight lines, crisp LED lights, and a bold trapezoidal grille. It's more assertive than last year's rounded-off model without being in-your-face aggressive or polarizing. Around the back, new taillights are red instead of white, and they now integrate smoothly with a bar over the license plate. It doesn't look as new as the front, but we think it's a cleaner, more cohesive design than the old Armada. It also debuts Nissan's redesigned logo, which has slimmer borders than the previous iteration.
However, Nissan hasn't changed the overall shape of the vehicle in more than a decade, and it shows. The current Armada only dates to 2017, but it's derived from a vehicle that debuted back in 2010 as the international-market Nissan Patrol and the U.S.-market Infiniti QX56 (now called Infiniti QX80). Even with the sharp new face, the Armada's rounded-off body and rounded-off windows look older than the boxier full-size SUVs from GM and Ford. On the other hand, that might be good news if you consider the latest American SUVs to look busy and overwrought.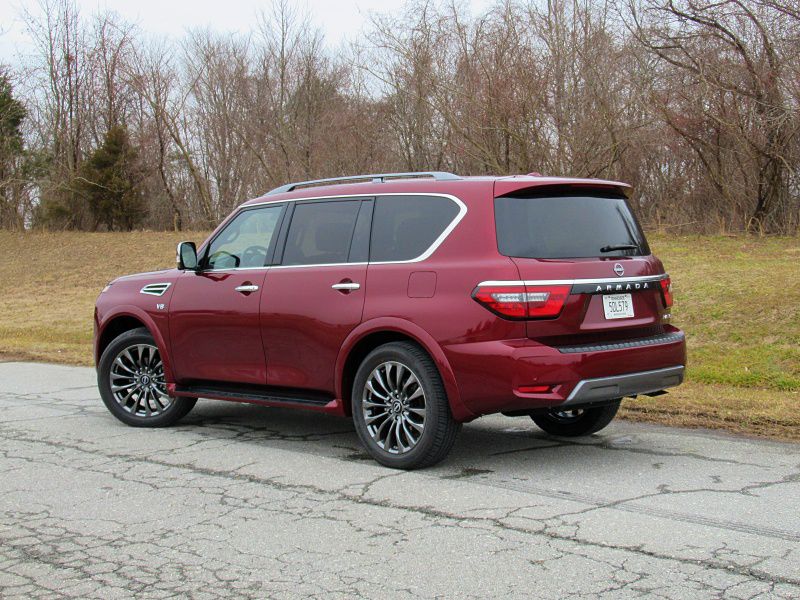 Photo by Brady Holt
Modernized Interior
To bring the 2021 Nissan Armada's cabin up to this decade's standards, Nissan has overhauled the vehicle's interior. The most obvious element is a new infotainment touchscreen, which measures a class-leading 12.3 inches and comes standard on every trim level. It perches at the top of the dashboard, rather than the old 8-inch unit that was embedded lower in the instrument panel, and finally adds Android Auto and Apple CarPlay smartphone integration (including wireless CarPlay connectivity). This isn't the best-looking infotainment system in the industry, but the screen size lets you usefully split the display among different views.
The 2021 Armada also has a cleaner instrument panel design with fewer shapes and colors, and there's a new display screen for the climate controls. And the old Armada's excessive glossy woodgrain trim has been pared back, covering less of the dashboard and featuring more muted colors, even if it can't match the textured real wood available on some competitors.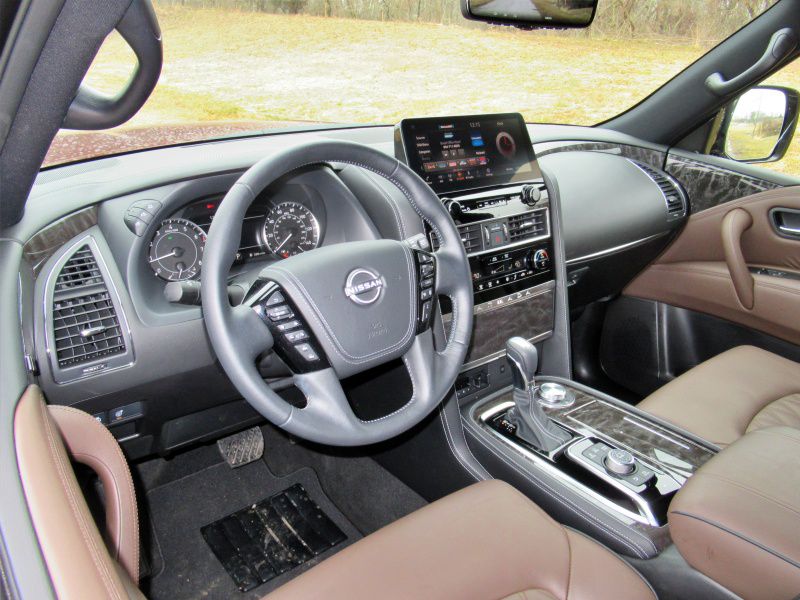 Photo by Brady Holt
Comfortable Cabin
As you'd expect from a full-size SUV, the Armada has big, spacious front seats and a high seating position. The second row is comfortable, too, with a choice of captain's chairs or a three-passenger bench seat, the latter bumping total capacity to eight passengers. However, the captain's chairs include a bulky fixed center console, rather than providing a pass-through to the third row. And the third row has less legroom than the Ford Expedition or the newly redesigned Chevrolet Tahoe and GMC Yukon.
Cargo space also lags the Expedition and Tahoe/Yukon siblings, particularly behind the third-row seat. At just 16.5 cubic feet, the Armada has less room than many mid-size crossovers. The available power-folding operation for the third row is slow, and you have to hold down the button the whole time. Once it finally goes down, you get 49.9 cubic feet. Folding the second row opens up 95.4 cubic feet. Unlike some competitors, there is no remote-folding release for the second row, and those figures also trail the top competition. Still, as long as you aren't using the third row for either passengers or cargo, few people would find the Armada cramped.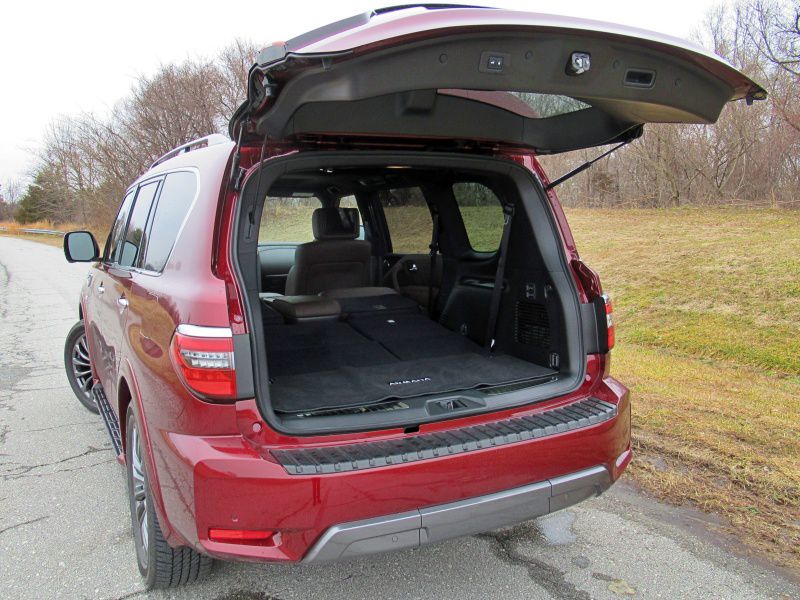 Photo by Brady Holt
Smooth Ride
While full-size SUVs are generally considered cushy vehicles, they often have unexpectedly stiff rides thanks to their heavy-duty truck suspensions and huge fancy wheels. Fortunately, even with its massive 22-inch alloy wheels, our tested 2021 Nissan Armada stayed pretty smooth and quiet.
The tradeoff is that the Armada isn't as agile as its newer competitors. They track straight and true, their steering is more precise, they handle with more composure, and they have tighter turning radiuses. The Armada also has a disconcertingly soft brake pedal. It's not a white-knuckle driving experience, but it's less relaxing to pilot the Armada than an Expedition or Tahoe. Still, the Armada's steering feels less disconnected from the wheels than in the even older Toyota Sequoia.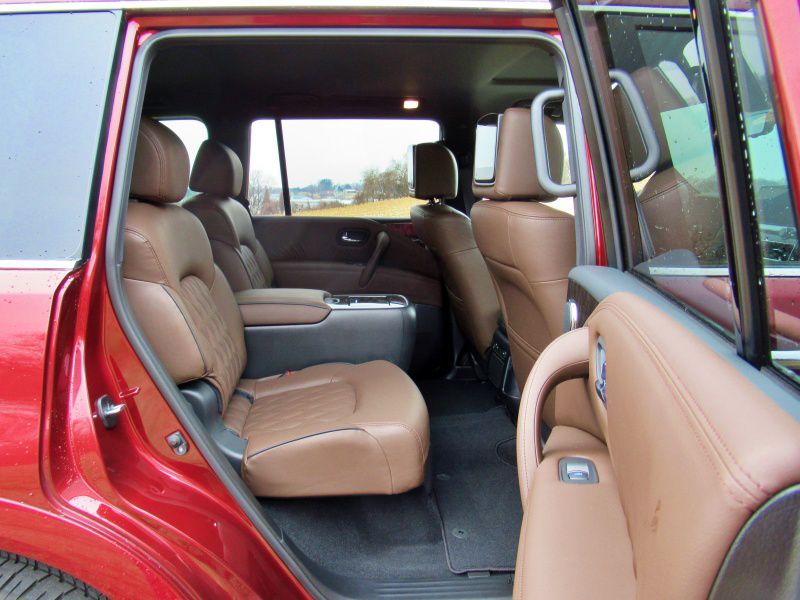 Photo by Brady Holt
Old-School Engine
The Armada has the most powerful standard engine in its class. Newly updated for 2021, this 5.6-liter V8 makes 400 horsepower and 413 lb-ft of torque, up from last year's already-potent 390 hp and 394 lb-ft. It's mated to a seven-speed automatic transmission.
There's plenty of performance if you dig into the throttle, but the engine makes a lot of noise before anything starts to happen. That makes the Armada feel slower than it is, though it's better than hair-trigger throttle response that would make it difficult to drive smoothly. The Armada is a few hundred pounds heavier than its newer competitors, which have invested in weight-reducing technologies as well as more advanced 10-speed automatics. That offsets the Nissan's horsepower advantage and explains the Armada's low fuel economy ratings: 14 mpg in the city, 19 mpg on the highway, and 16 mpg combined with rear-wheel drive and 1 mpg less with four-wheel drive. Also, the Armada's horsepower bump requires costlier premium fuel. The Expedition, Tahoe, and Yukon are thriftier, and though the Sequoia uses even more gasoline, it uses regular-grade fuel. On the plus side, the Armada has the highest standard towing capacity in its class: 8,500 lbs.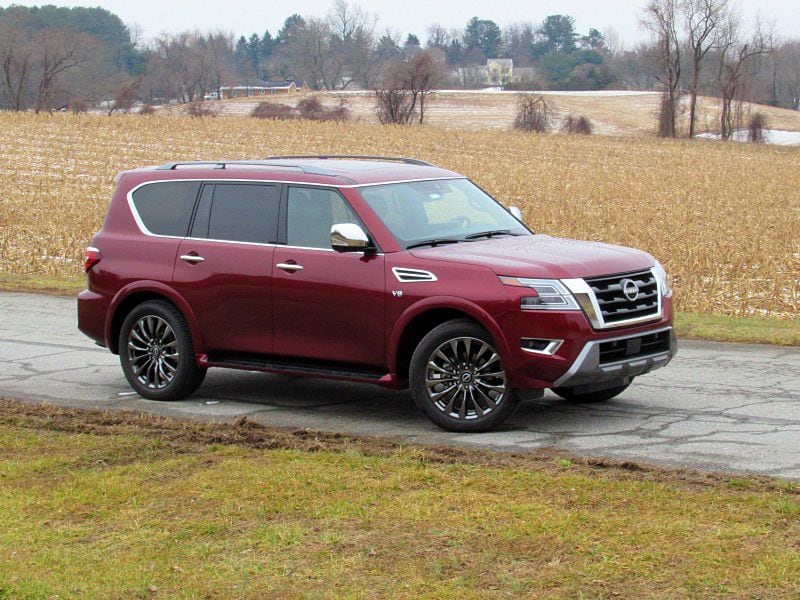 Photo by Brady Holt
Relatively Affordable
Starting from $48,600, the Armada is well-priced for its class. And even the base S model is well-equipped with a full complement of safety and infotainment features, including the big 12.3-inch touchscreen, a navigation system, and adaptive cruise control. A heated 10-way power-adjustable driver's seat is also standard. Budget some money to upgrade its four-speaker stereo, though.
The Armada SV is a killer deal at $52,600, as long as you'll accept leatherette upholstery over genuine cowhide and just six speakers. It's a great way to get the experience of a full-size luxury SUV at a less astronomical price point than the competition. A $2,000 package swaps the standard 18-inch wheels for 20-inchers and adds foglights and a power liftgate, while the $56,000 SL adds genuine leather, a 13-speaker Bose sound system, a surround-view parking camera, and a sunroof. The top Platinum model, like our test vehicle, has quilted leather, a heated steering wheel, cooled front seats, heated rear seats, rain-sensing windshield wipers, a rear camera mirror, a rear entertainment system, and a power-folding third-row seat. That's not unreasonable for $65,000, but it's a pity that you can't get some of those features on cheaper Armadas.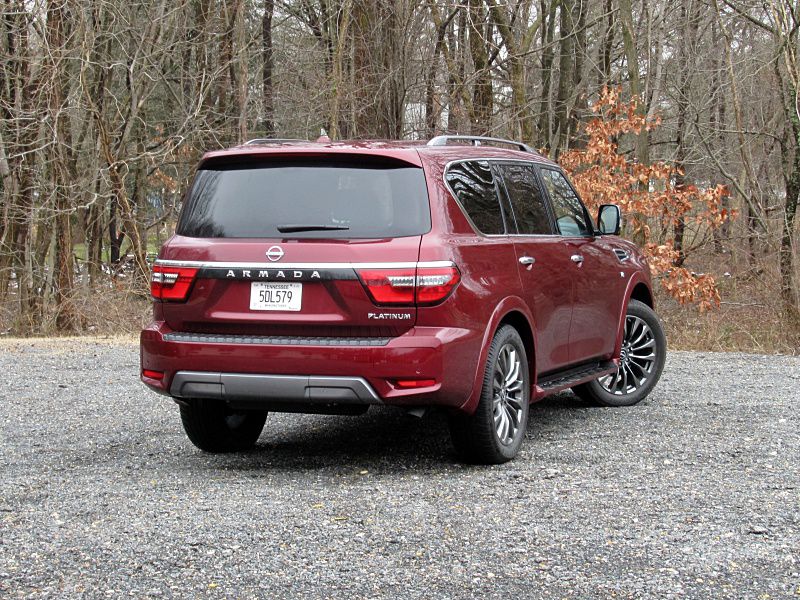 Photo by Brady Holt
Modern Safety
As we mentioned, the Armada has a generous assortment of advanced driver aids as standard equipment. This year, the Chevrolet Tahoe and GMC Yukon finally added automatic emergency braking and lane-keep assist as standard equipment, as the Ford Expedition and Toyota Sequoia have done for a couple years. But the Armada goes the farthest of all, also providing adaptive cruise control, pedestrian-detection capability, blind-spot monitoring with a rear cross-traffic alert, driver-attention monitoring, and rear automatic braking for no extra cost on all trim levels.
The Armada can also be upgraded with features that include a surround-view parking camera and a rear camera mirror, which lets you choose between a standard reflection or a camera view that eliminates any interior blind spots like roof pillars or passengers' heads.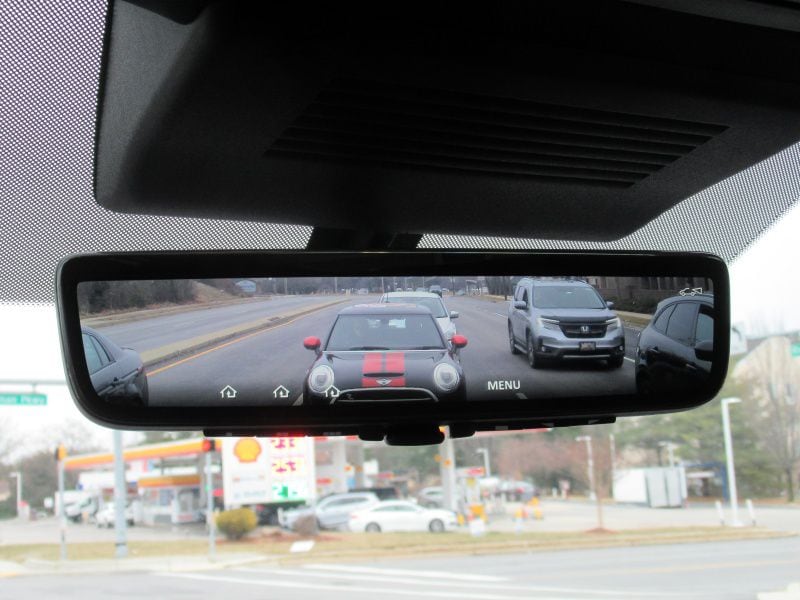 Photo by Brady Holt
Excellent Competitors
The Armada faces some excellent competitors in the full-size SUV segment — in particular, the Ford Expedition and the newly redesigned Chevrolet Tahoe and GMC Yukon. All three provide roomier interiors, superior handling, and thriftier fuel economy than the Armada, but they all cost a few thousand dollars more when comparably equipped.
Value seekers might also compare the Armada to the Toyota Sequoia, since it's another Japanese-made SUV that trades modernity and fuel efficiency for value. Between the two, the Nissan feels more up-to-date, especially after this year's styling and technology upgrades. The Armada also gets better mileage and handles with more composure. But the Sequoia has a roomier interior, costs less, and avoids pricy premium-grade fuel. Lastly, buyers interested in the Armada might consider its luxury-brand cousin, the Infiniti QX80, but we'd probably stick with the Nissan. The QX80 has some nicer interior trims and a longer list of optional features, but with a base price of $69,050, even an entry-level QX80 is more expensive than a top-of-the-line Armada. The two SUVs have similar styling, interiors, and driving experiences, but the QX80 lacks the Armada's new 12.3-inch touchscreen.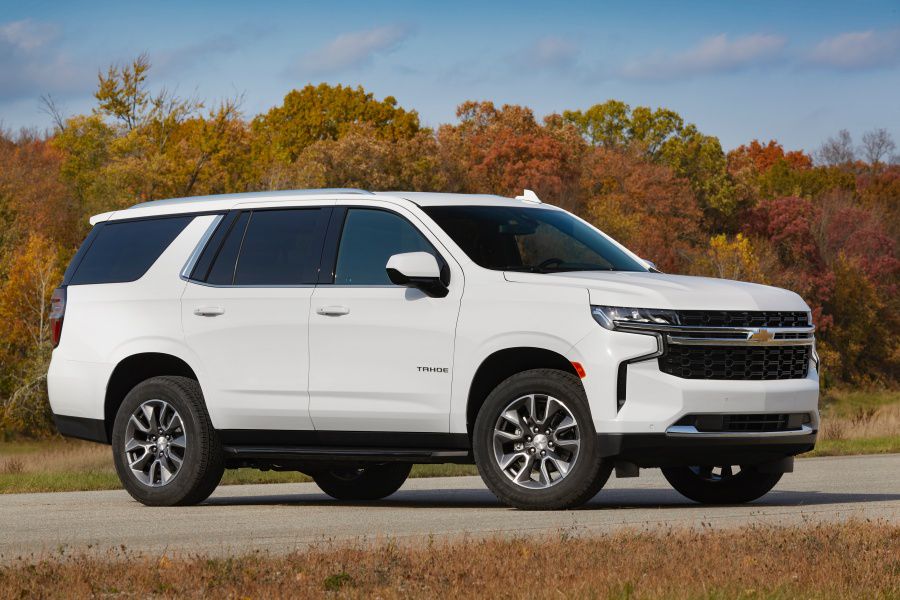 Photo by Chevrolet
A Worthwhile Update
The 2021 Nissan Armada introduces a fresh new face and a spiffy new infotainment system, and the upgrades add life to this aging model. While it doesn't quite look brand-new, it doesn't look like it's been around for more than 10 years.
The Armada's old bones keep it from rivaling the class leaders' handling or fuel economy, and it also doesn't offer the extra-generous space for cargo or third-row passengers that you might expect from a full-size SUV. But the updates keep the Armada relevant in this segment when you consider its generous list of features for the money.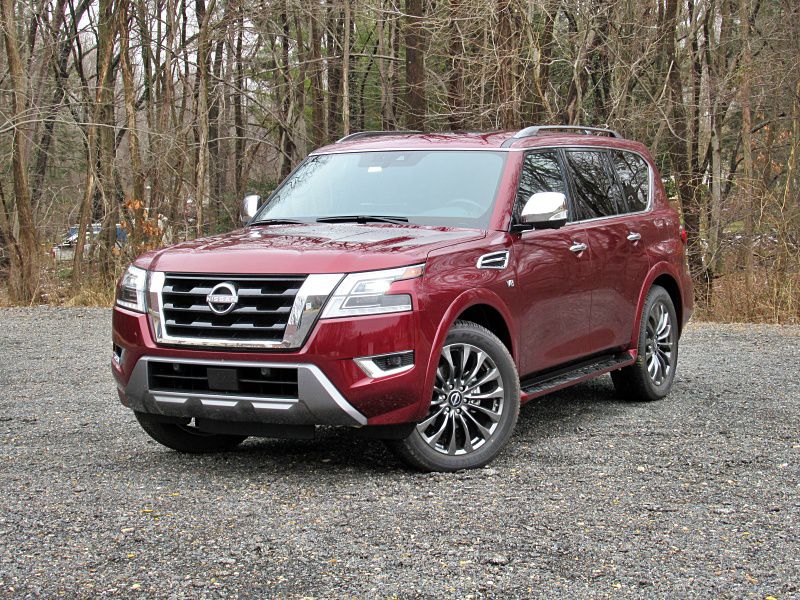 Photo by Brady Holt