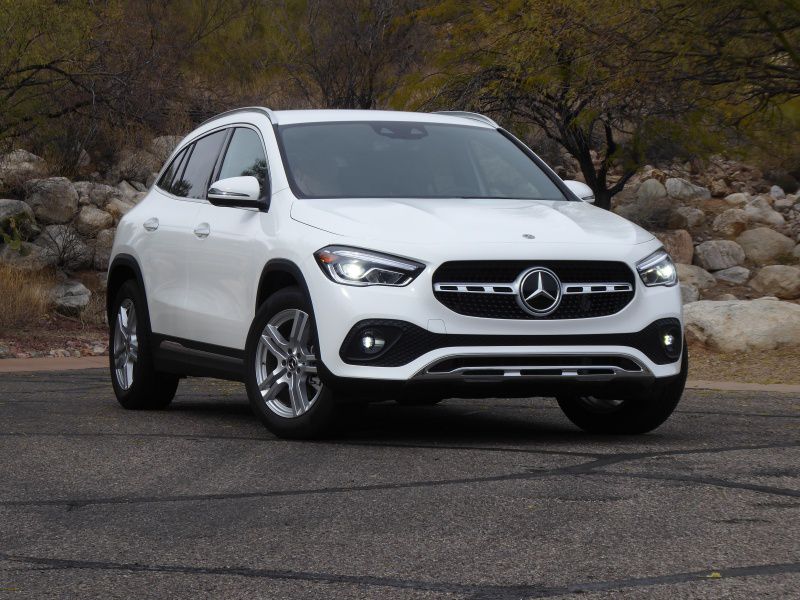 2021 Mercedes-Benz GLA 250 ・ Photo by Ron Sessions
The entry vehicle in the extensive Mercedes-Benz SUV lineup is the GLA 250. All-new this year, the 2021 Mercedes-Benz GLA250 grows in size with a taller roof and roomier seating, but it remains the luxury brand's smallest offering — making it a logical choice for urban buyers dealing with limited parking and traffic-clogged streets. As with the compact Mercedes-Benz CLA four-door coupe and GLB SUVs, the new GLA 250 also upgrades to the brand's latest MBUX infotainment system and available safety and driver-assistive technology. The new GLA 250 carries up to five passengers and is available with a choice of front-wheel drive or 4Matic all-wheel drive.
The 2021 GLA 250 competes in the subcompact premium SUV segment with vehicles such as the Audi Q3, BMW X1, Land Rover Range Rover Evoque, Lexus UX, and Volvo XC40. The 2021 Mercedes-Benz GLA2 50 with front-wheel drive is priced at $37,280 including the $1,050 destination charge. Versions equipped with 4Matic all-wheel-drive start at $39,280 with destination.
Turbo Power
The 2021 Mercedes-Benz GLA 250 is powered by the same 2.0-liter four-cylinder turbo that's under the hoods of the GLB 250 SUV and CLA 250 compact four-door coupe. Output is increased by 13 horsepower to 221 hp this year and maximum torque, delivered over a broad range from 1,800 to 4,000 rpm, is a satisfying 258 lb-ft A new, quick-shifting eight-speed dual-clutch automatic transmission replaces last year's seven-speed, adding a shorter first gear for better low-speed response. The 2021 GLA 250 can accelerate from zero to 60 mph in just under 7 seconds.
Official 2021 EPA fuel economy estimates for the front-drive version are 25 mpg in the city, 34 mpg on the highway, and 28 mpg combined, and 1 mpg less with 4Matic all-wheel drive. With the GLA's 14.8-gallon fuel tank, that means close to a 500-mile cruising range. The GLA 250 features an auto stop/start system that saves fuel by temporarily turning off the engine when stopped or idling in traffic. It automatically restarts the engine when the driver lifts a foot off the brake; drivers can also deactivate the system if they prefer.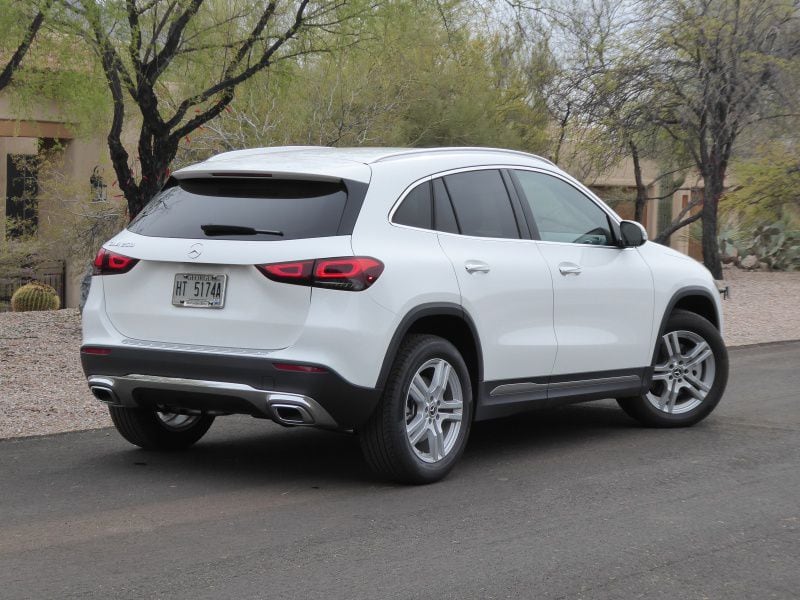 Photo by Ron Sessions
Roomier Cabin
Even though the 2021 GLA 250 is 0.3-inch shorter bumper-to-bumper than the 2020 version, there's more room inside thanks to a 3.6-inch-taller roof and 1.1-inch-longer wheelbase. Mercedes-Benz also elevated the seating position slightly, replacing the previous iteration's hatchback coupe vibe with a more SUV-appropriate one.
As the GLA 250 is one of the least expensive Mercedes-Benz offerings, many of the brand's typical luxury fitments are optional at extra cost in the diminutive SUV. Standard GLA 250 fare includes MB-Tex faux-leather seat coverings for the firm but comfortable power-operated front bucket seats. The front buckets feature three-position memory as well as manual bottom cushion extenders for long-leg support. Also included as standard are a leather-wrapped tilt/telescope steering wheel with shift paddles, basic cruise control, dual-zone automatic climate control, heated side mirrors, push-button start, and rain-sensing wipers. The long options list starts with leather seat coverings ($1,450). Multi-contour front chairs with adjustable lumbar and side bolsters add $760, heated front cushions are a $500 option, and heated and ventilated front seats add $950 to the tally. A heated steering wheel ($250), a panoramic sunroof ($1,500), and a choice of Black Linden or Brown Walnut accent trim ($325) are other optional GLA 250 selections.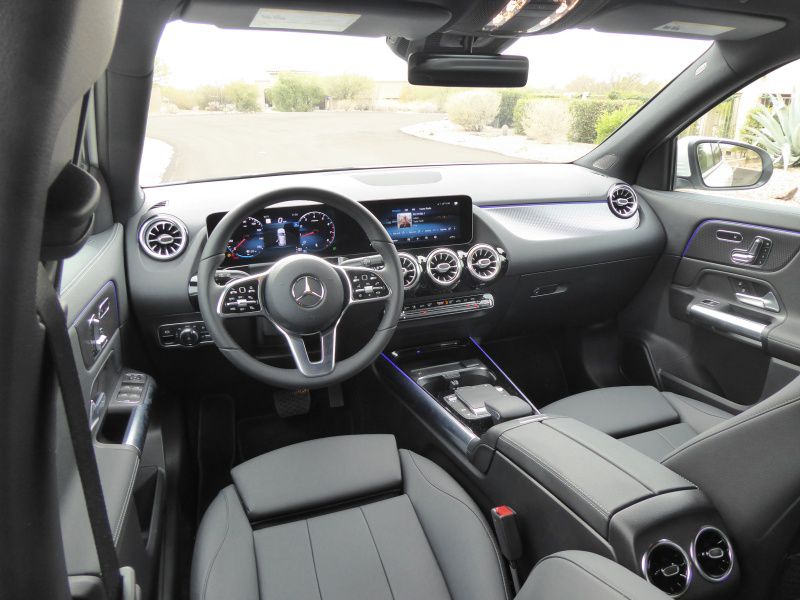 Photo by Ron Sessions
MBUX Infotainment System
The interior of the new GLA 250 is dominated by its prominent, dual high-definition full-color landscape-format displays for the driver and infotainment system. Perched on top of the dash is a pair of standard 7-inch screens, but what really makes this layout really pop are optional 10.25-inch screens that are part of a $1,750 Premium Package.
You have a number of ways to access the standard Mercedes-Benz User Experience (MBUX) content for audio, phone, and other functions on the center screen. One is using the touchpad on the center console, which takes some practice to master. You can also access MBUX content via steering wheel controls, directly on the center touchscreen, or using natural language-enhanced voice control, which is keyword activated. First, give the system a name (the default name is "Mercedes"). Having done that, you can inquire about the current weather in a particular city or perhaps say "Hey Mercedes, I'm hot," whereupon the MBUX system will drop the climate control setting by 2 degrees on the side of the vehicle the voice came from. Standard (wired via USB cable) Apple CarPlay and Android Auto cellphone mirroring for both the 7- and 10.25-inch screens means you can take your favorite mobile phone apps and icons with you on the road. Cellphone pairing for Bluetooth hands-free phone and streaming functions is a breeze with standard NFC capability.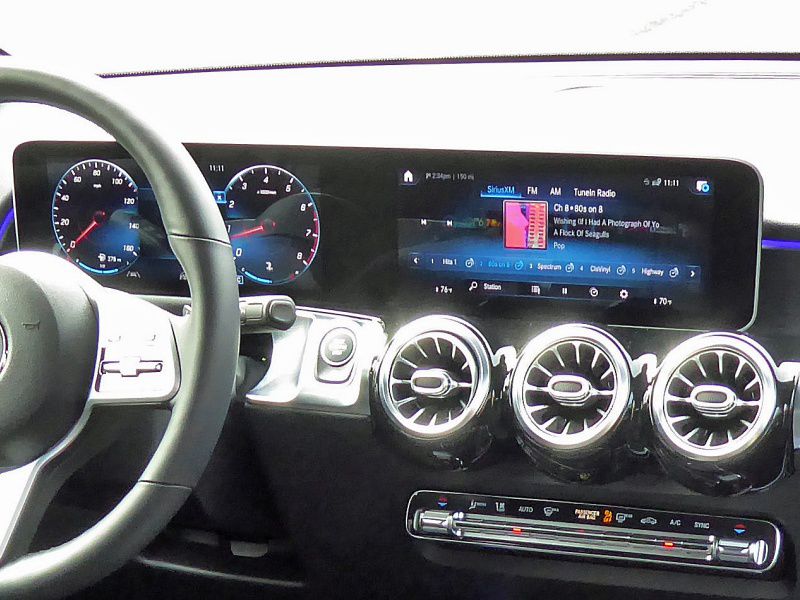 Photo by Ron Sessions
Augmented Reality
An optional ($1,295) Multimedia Package adds high-resolution navigation with topographical detail to the center screen. Included with the package is an Augmented Reality feature which, in addition to a split-screen display of the selected navigation route, works with the front camera to show a wide-screen shot of the road and traffic ahead in real-time. The display includes an animation showing lane guidance, major cross streets or highways, the direction of the upcoming turn, and other navigation instructions.
In addition to navigation with Augmented Reality, the standard AM/FM/HD Radio stereo can be upgraded to a rich-sounding $850 Burmester surround sound system with 12 speakers and 590 watts of power. A 6-month trial of SiriusXM satellite radio is $460 and a console-mounted inductive wireless device charger $200.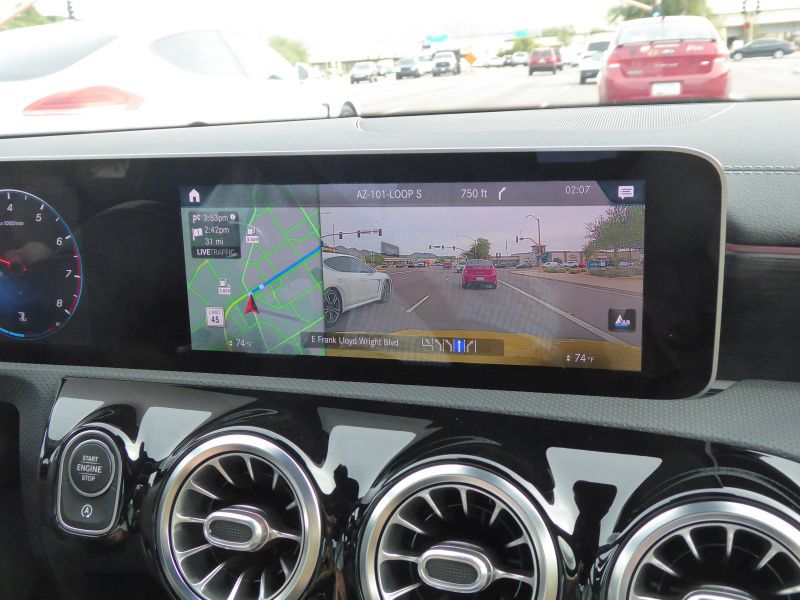 Photo by Ron Sessions
Ambient Light Show
Upping the cool factor in the new GLA 250 is a $310 ambient lighting package. The driver can select from 64 colors emanating from LEDs embedded in the console, instrument panel, doors, audio speakers, and climate control vents.
Up to two colors can be displayed simultaneously or the system can sequence through its 64-hue spectrum in a festive cabin light show, which is particularly dramatic at night. The dash-vent LEDs will also acknowledge changes in climate-control settings.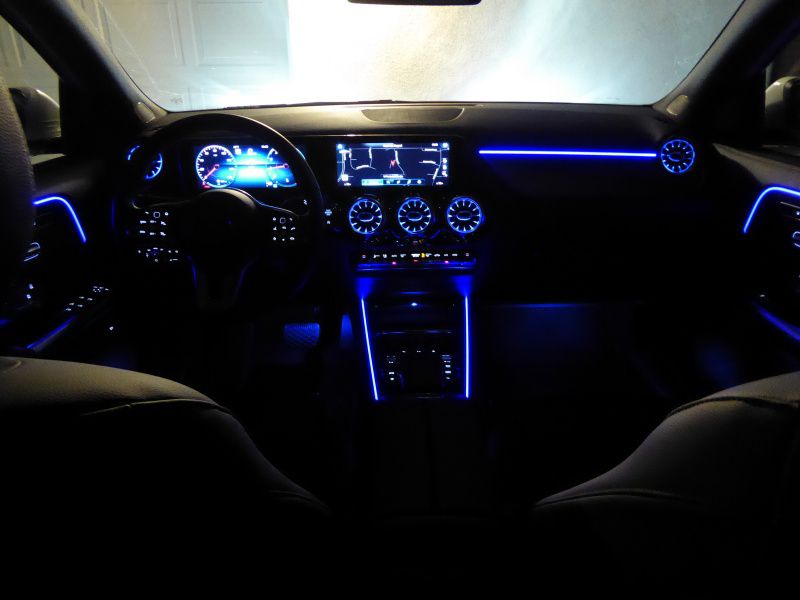 Photo by Ron Sessions
Adult-Capable Back Seat
Raising the roof and extending the wheelbase of the GLA 250 for 2021 had an even more beneficial impact on rear seat room than it did for the front. Back seat passengers now get 2.6 inches more headroom and 4.1 inches more legroom this year. Two adults can now sit back there in comfort, three in a pinch.
The rear seat backrests are split in three sections, 40/20/40, for handling a mixture of passengers and longer cargo. Adjustable rear seats that recline and slide fore and aft up to 5.5 inches are a $360 option. The optional adjustable seats include a fold-down center armrest with a pair of cup holders. Available for installing child safety seats are a pair of rear-seat ISOFIX and TOP tether anchor locations.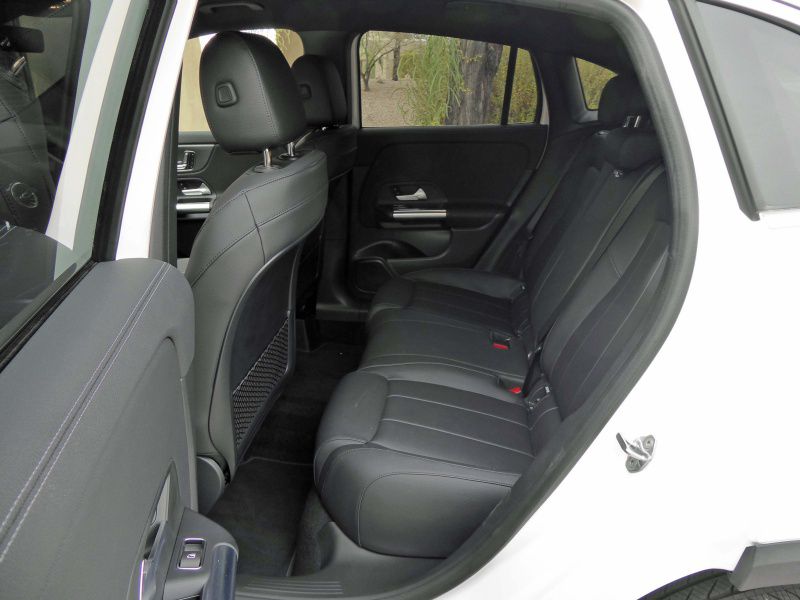 Photo by Ron Sessions
Max Cargo
The 2021 GLA 250's taller roof also boosts cargo capacity. With the rear seat up, cargo space increases by 30 percent to 15.4 cubic feet, room enough for five or six airport roller bags. Folding down the 40/20/40 split rear seat nets 50.5 cubic feet, an increase of nearly 11 percent compared to the 2020 model and sufficiently accommodating to carry a bicycle inside with the front wheel removed.
There's hidden storage in what would be the spare tire well under the cargo floor for smaller valuables such as a laptop, camera, or purse. The GLA 250 has no spare tire, instead using pricier run-flat tires. The height of the load floor itself is adjustable, the lower position better able to handle bulky items. Access to the cargo area is via a standard power liftgate.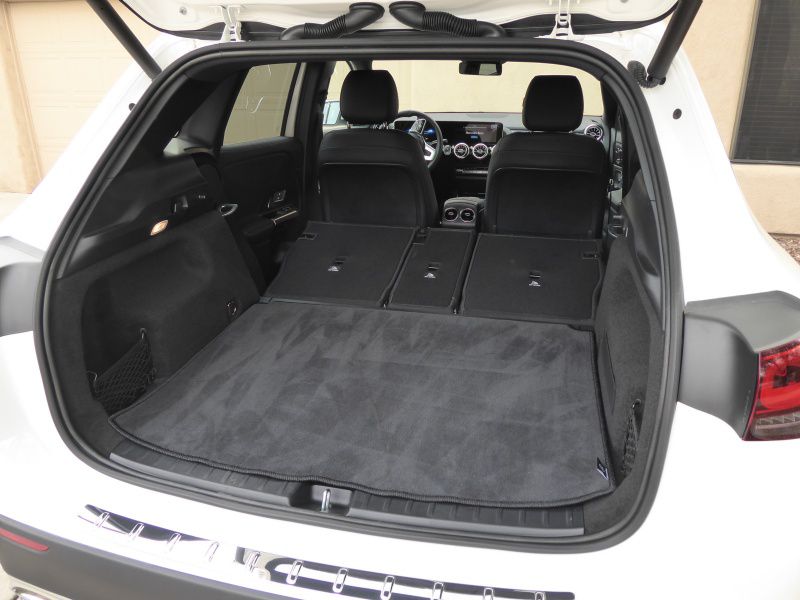 Photo by Ron Sessions
Safety and Driver-Assistive Tech
As with other Mercedes-Benz models, the GLA 250 is available with an impressive list of safety and driver-assistive technology, but unlike some other luxury brands such as Lexus, Genesis, and Volvo, pretty much everything aside from nine airbags, a backup camera, attention assist, and Mercedes-Benz emergency call service costs extra.
One option you'll want is the $1,700 Driver Assistance Package, which bundles the major chunk of the GLA 250's driver-assistive systems. It includes Distronic adaptive cruise control with active steering assist and speed adaptation ahead of curves, exits, and tollbooths, active speed limit assist that automatically adjusts to the posted speed, lane-change assist which can execute a semi-autonomous lane change with Distronic activated on a four-lane highway if the lane is clear with turn signal application, blind-spot monitoring with active braking, lane keeping with active steering and braking assist, and automatic emergency braking. A $900 Exterior Lighting Package brings automatic high-beam assist. Also available is a $1,090 Parking Assistance Package with a surround-view camera display and active parking assist that can semi-autonomously pull the SUV into a perpendicular or parallel parking spot operating the steering, gearshift, and brakes.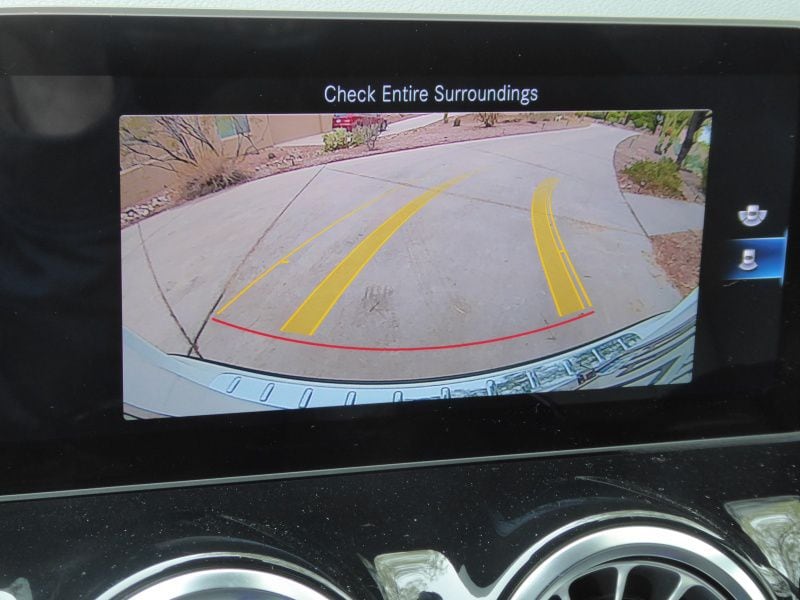 Photo by Ron Sessions
Gateway to the Mercedes Star
While keeping its trim exterior dimensions that make it an acceptable choice for urban buyers dealing with traffic congestion and limited parking, the 2021 Mercedes-Benz GLA 250 now has the elevated seat height and more generous passenger and cargo space expected of an SUV. While not quite as smooth and quiet as its larger siblings, the GLA 250's four-cylinder turbo and slick-shifting eight-speed dual-clutch automatic transmission give the diminutive SUV a peppy demeanor. On the road, it goes about its business confidently and deliberately, with direct and precise electrically boosted steering and confidence-inspiring brakes. Even with the standard run-flat tires, ride quality, while firm, is never harsh over bumps and dips.
With a starting price under $38,000, the 2021 GLA 250 provides a pathway to the Mercedes-Benz brand that won't break the bank. Keep in mind, though, that adding in luxury features commonly found in larger Mercedes-Benz vehicles such as leather seats, navigation, a sunroof, and a premium audio system, plus the brand's extensive roster of driver-assistive technology and maybe a few AMG interior, exterior, and 18-, 19-, or 20-inch wheel upgrades will push the bottom line to well over $50,000.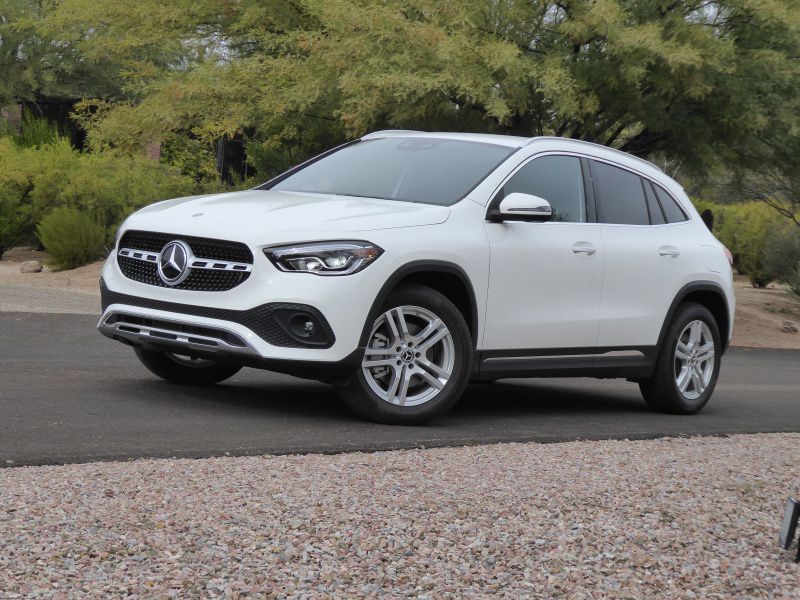 Photo by Ron Sessions