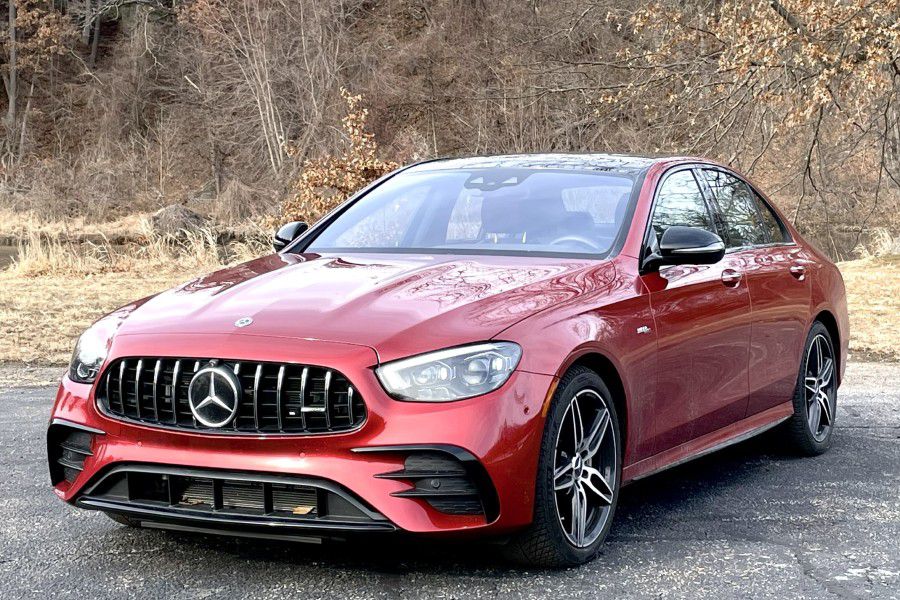 Mercedes Benz AMG E53 Front Quarter ・ Photo by Nicole Wakelin
The 2021 Mercedes-Benz AMG E53 sedan offers a combination of luxury and performance in a stylish package. When the badge says Mercedes-Benz, you know you're getting a luxury car that will turn heads and make the neighbors jealous. When you add AMG to the mix, you know that luxury car is equally likely to put a giant grin on your own face when you press your foot down on the gas pedal.
The entire E-Class lineup is updated this year, which includes a facelift for the AMG E53 with an updated exterior design, enhanced infotainment system, and new driver-assist technologies. There's also an updated powertrain with a turbocharged six-cylinder engine that includes a 48-volt hybrid system. On paper, the AMG E53 looks like a solid mix with the features and style to make it an ideal luxury sedan, but is that promise fulfilled? Read on to find out.
Two AMG Trims That Are Leagues Apart
The Mercedes-Benz AMG E53 is a sedan that's part of the vast E-Class lineup and is available only in one trim level. If you want to move up to something even more luxurious and powerful within the same family, then you're looking at the AMG E63 S sedan and a huge price increase. While the AMG E53 can be yours for a base price of $73,900, the AMG E63 S starts at $123,775. They're both a part of the E-Class family, but at the same time, they stand on their own within that family.
For its premium price, the AMG E53 gives you a 429-horsepower engine, sport suspension, active brake assist, blind-spot assist, and crosswind assist. There's also a 12.3-inch infotainment touchscreen with steering wheel touch controls, Burmester sound system, and heated, power-adjustable front seats with suede inserts. Luxury and performance are standard in every AMG E53.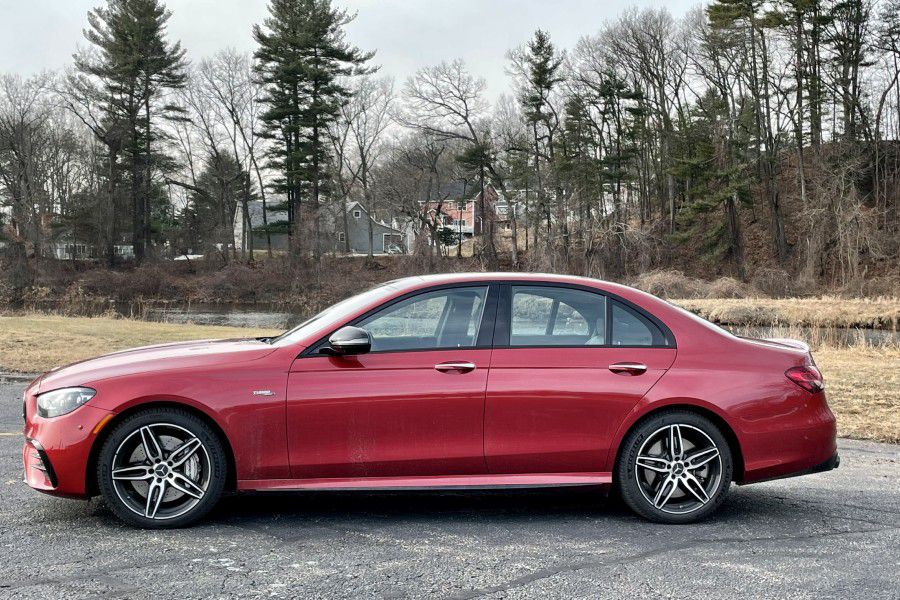 Photo by Nicole Wakelin
Powerful Engine, Hybrid Technology
Power for the AMG E53 comes from a 3.0-liter V6 turbocharged engine with 429 horsepower and 384 lb-ft of torque. This mild-hybrid engine incorporates electrification. but not to the same degree as a full hybrid. Instead, it has an integrated starter-generator that supplies up to 21 horsepower at select rpm, letting the engine coast gas-free.
Any Mercedes-Benz boasting the AMG badge comes with an implied performance focus, and the AMG E53 lives up to this expectation. Acceleration is effortless and will press you back in your seat if you use a heavy foot on the gas. There's a matching aggressive exhaust note, but there's nothing harsh about this powertrain. This is a sporty luxury sedan that never forgets the luxury part. It remains at all times well-mannered and enjoyable without the overwrought power of some performance cars that can make a vehicle unwieldy or intimidating. This is a joy to drive.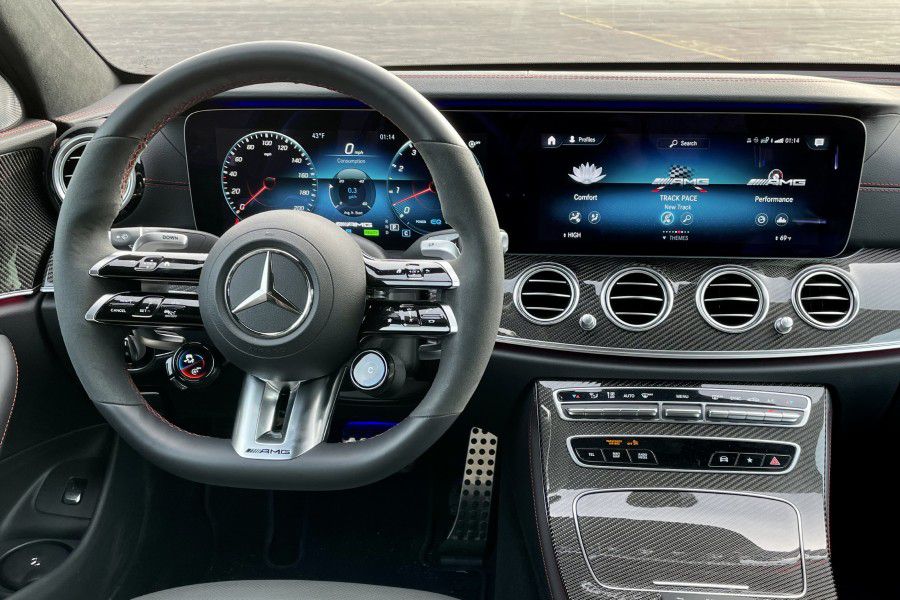 Photo by Nicole Wakelin
Crisp Handling for the Road or Track
Handling is crisp and sporty, but the AMG E53 doesn't have the tiresome tightness of other sports cars. There's a balance to be found between performance dynamics and comfort in a luxury sedan. If all you want is something with loads of power to thrash around the track, then you can find that at a far cheaper price. This is a performance car for those who want those track-worthy attributes with a ride that won't jostle your spine.
Cruising the highway or winding along country roads, the AMG E53 is responsive and sporty, but still comfortable. You won't feel stiff after a few hours at the wheel. That said, this is a performance car — and should you take it to the track, it's up for the challenge. Features including adjustable damping and ride height, along with four selectable drive modes, let you tailor the drive to the needs of the moment.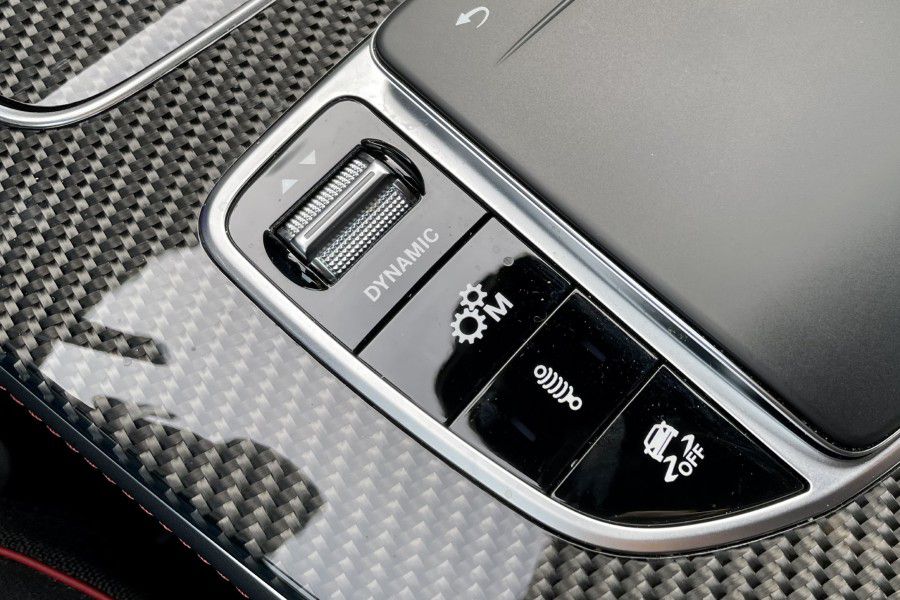 Photo by Nicole Wakelin
Smooth, Relaxing Ride
That balance between sport and luxury extends to the overall ride experience of the Mercedes-Benz AMG E53. It's quiet and relaxing without any undue noise from the engine and a welcome but not overwhelming burble from the exhaust. Road noise and wind noise are negligible, even while passing trucks at highway speeds. The Mercedes-Benz AMG E53 never forgets that it is a sedan and that sedans are made for carrying people in comfort.
Rough surfaces from pebbled pavement to the potholed roads of winter climates are no match for the suspension. It smooths out the bumps so passengers can simply sit back and relax. The ride is further enhanced by four available drive modes. There's Slippery for poor weather conditions, while Sport and Sport+ tighten things up but increase harshness in the process. Choosing Comfort mode makes the AMG E53 an ideal long-distance cruiser.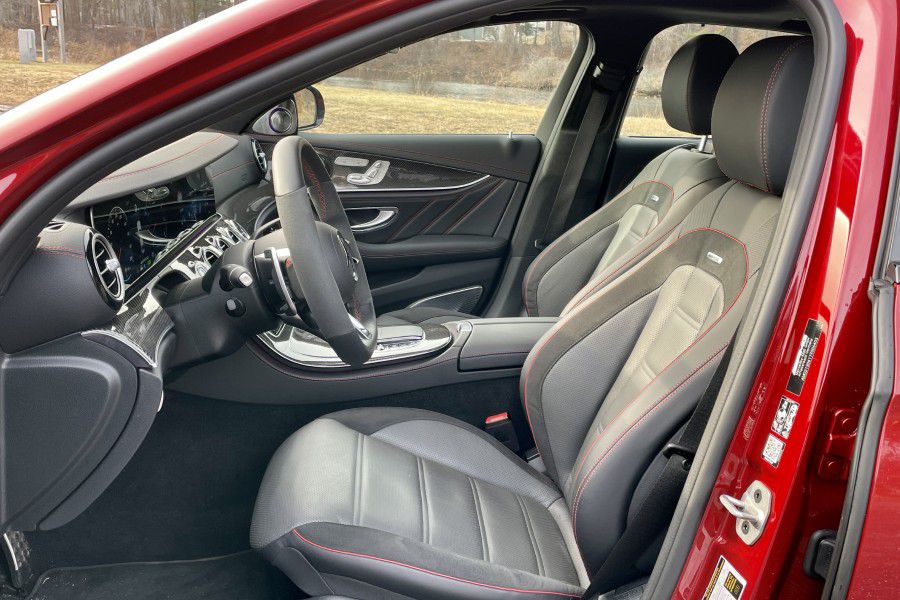 Photo by Nicole Wakelin
Luxurious Materials and Upscale Amenities
The interior of the Mercedes-Benz AMG E53 is stunning. It's a beautiful blend of luxury materials and advanced technologies. There's 64-color LED ambient lighting that runs in a wave along the dash and doors to enhance the mood. The heated front seats are power-adjustable with four-way lumbar and an elegant leatherlike trim with suede inserts. Red contrast stitching with red seatbelts are standard, or you can tone it down with black seatbelts for no charge.
Seating is comfortable and supportive with strong bolstering that won't squish on road trips while still holding you in place during more spirited driving. Available features including massage, a heated steering wheel, and even heated front armrests add to the luxury. Rear passengers also have available heated seats and enough legroom and headroom for all but the tallest adults. The interior of the AMG E53 is quiet, comfortable, and luxurious.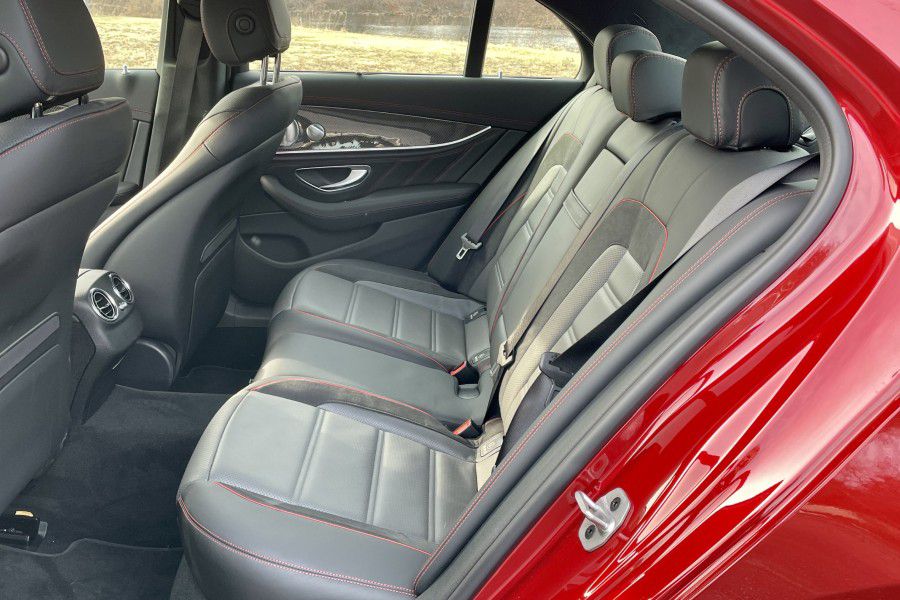 Photo by Nicole Wakelin
Plenty of Trunk Room
You're not buying a sedan if you're focused on hauling cargo; that's the territory of SUVs and crossovers. But even sedan buyers need at least some cargo room, whether it's ferrying the week's groceries home or managing luggage for a getaway. The Mercedes-Benz AMG E53 offers a roomy 13.1-cubic-foot trunk that easily does the job.
That's enough room to handle suitcases or grocery bags without having to rearrange everything ten times over to make it all fit. Additionally, the rear seats split-fold 40/20/40 so you can stow longer items that might not fit in the trunk alone. This also allows for the flexibility to still have a person or two in the rear seats and use the extra seat for cargo.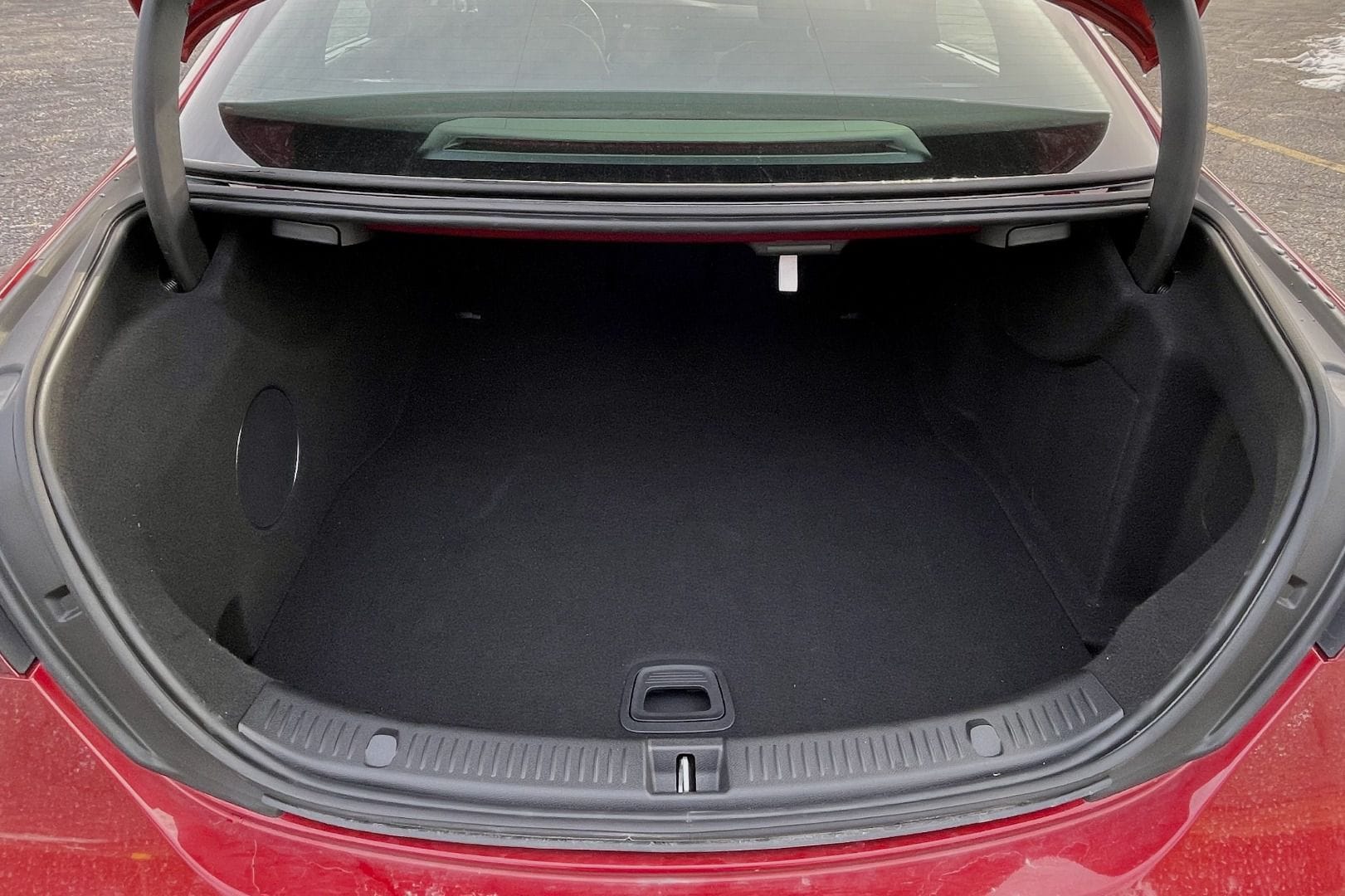 Photo by Nicole Wakelin
Numerous Advanced Safety Technologies
Standard safety on the Mercedes-Benz AMG E53 includes active brake assist, blind-spot assist, and crosswind assist. There's also attention assist, which monitors up to 70 parameters of driving behavior to detect signs of inattention or drowsy driving. It then notifies you with both an audible and visual warning so you can take a break and refocus on the road. Adaptive braking, a rear cross-traffic alert, and a surround-view camera that shows a bird's-eye view of the whole car are also standard.
There's a long list of optional features. These include a built-in dashcam, adaptive high beams, evasive steering assist, active lane-keeping and lane change assist, and congestion emergency braking. There's also active speed limit assist that detects posted speed limit signs and adjusts your cruise control settings accordingly. The Mercedes-Benz AMG E53 offers a comprehensive list of standard and available safety features.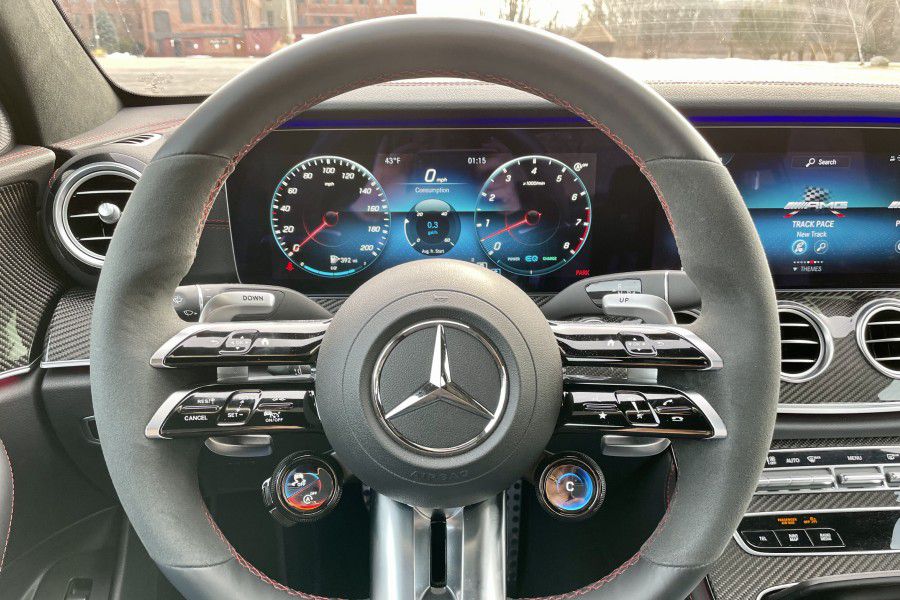 Photo by Nicole Wakelin
Updated Infotainment With Features Galore
There's really no such thing as a base infotainment system in the Mercedes-Benz AMG E53 because the system has such a wide range of standard features. There's a 12.3-inch touchscreen that can also be navigated using a touchpad controller on the center console. Additional touch-control buttons on the steering wheel that look right out of a race car are yet another way to control the system. They take a little getting used to but quickly become an intuitive control method. There's also voice control, which responds to natural language rather than requiring you to speak specific phrases.
Standard features include Apple CarPlay, Android Auto, and wireless charging with NFC pairing. Two USB-C ports and navigation are also a standard part of the system. Even audio is top-notch with a 590-watt, 13-speaker Burmester surround-sound system that includes two digital amplifiers.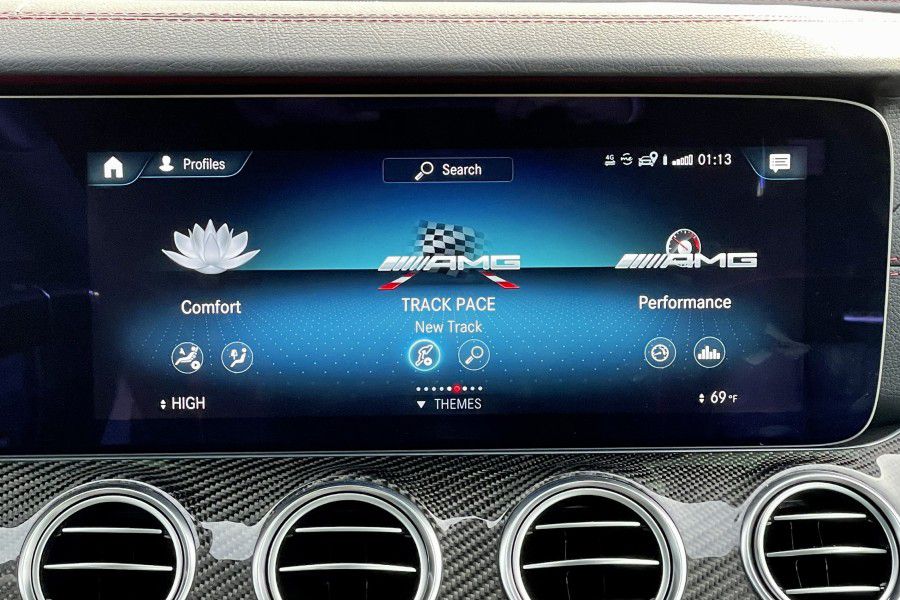 Photo by Nicole Wakelin
Final Thoughts
The 2021 Mercedes-Benz AMG E53 is at the top of its game. This year's exterior updates give it sportier, more modern styling while the interior continues to be a true luxury offering. It's comfortable, attractive, and roomy with quality materials that coddle passengers. A wide range of optional features elevate that experience even further. The updated infotainment system has key features including smartphone connectivity, a large touchscreen, and a premium audio system that fills the cabin with rich sound.
It delivers on luxury and it delivers on performance. The 490-horsepower engine is responsive with strong acceleration and no hesitation delivering the power you need for highway passing. Handling is crisp, but not tiring, and a selection of customizable drive settings let you tailor the ride to fit leisurely cruising or track day fun. The 2021 Mercedes-Benz AMG E53 offers sports-car performance and luxury-car amenities in one beautiful package.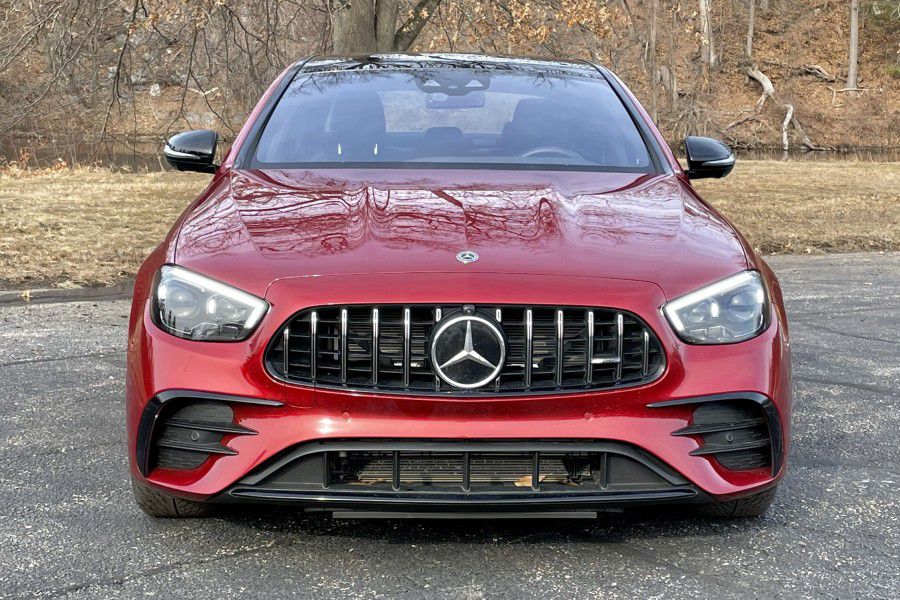 Photo by Nicole Wakelin