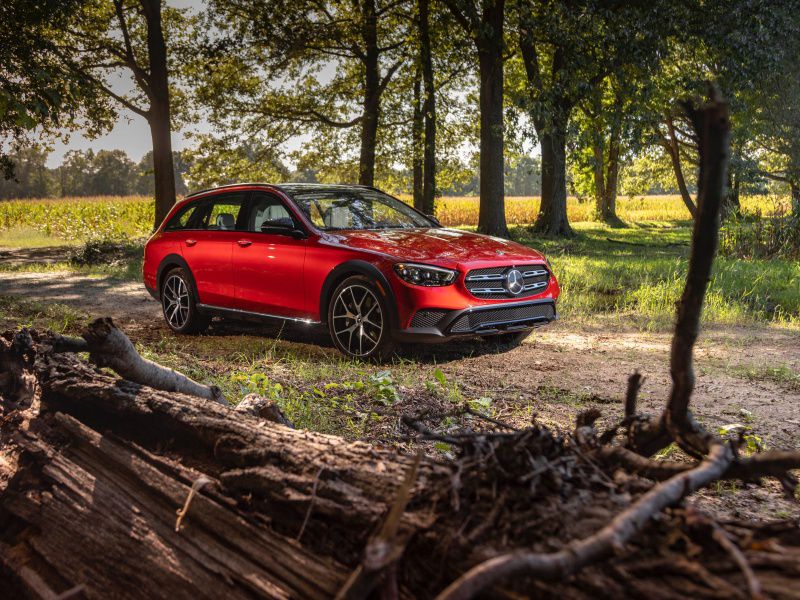 2021 Mercedes-Benz E450 All Terrain ・ Photo by Mercedes-Benz
Station wagons are nearly extinct, but the 2021 Mercedes-Benz E-Class wagon continues trickling into America, crafted in small batches for discerning enthusiasts of the classic estate body style. Still, you can't blame Benz for trying to find a way to sell more of them, so for the 2021 model year, the automaker rolls out the new E 450 All-Terrain.
In addition to the minor styling updates and technology improvements Mercedes bestows upon all 2021 E-Class models, the new All-Terrain adopts SUV design details that give it a more rugged look. Plus, all E 450 models have a new light-electrified and turbocharged 3.0-liter inline six-cylinder engine this year, complete with the company's EQ Boost integrated starter generator (ISG) and 48-volt electrical system. In the E-Class wagon lineup, the new E 450 All-Terrain is the base model, priced from $67,600. That's well below the only other version of the E-Class wagon, the Mercedes-AMG E 63 S, which kicks off at $112,450. Our test vehicle had nearly all of the upgrades and wore a window sticker reading $83,365, including the $995 destination charge.
More Packages Than Santa Claus
When buying a 2021 Mercedes E-Class wagon, you choose the All-Terrain or the AMG and then add option packages rather than trim levels. In addition to a long list of paint color, interior hue and material, wheel design, and individual option selections, there are seven packages available for the E 450 All-Terrain.
The Night Package gives the All-Terrain the popular blacked-out look, while the Exterior Lighting Package installs an LED intelligent headlight system with adaptive high-beam assist, ultra-wide high-beam illumination, and active curve illumination. The Designo Exclusive Nappa Leather Package applies premium leather in a special color with a matching simulated suede headliner. Cold weather dwellers will want the Warmth & Comfort Package for its rapid front seat heaters, heated steering wheel, and heated front armrests. The Air Balance Package makes the E-Class smell terrific thanks to an air purification and cabin fragrance system. Most E-Class buyers get the Premium Package. It installs satellite radio, a Burmester premium sound system, a rear cross-traffic warning, a surround-view camera, and parking sensors with autonomous parking assistance. Finally, the Driver Assistance Package adds no fewer than 15 advanced driving assistance systems (ADAS) to the E-Class.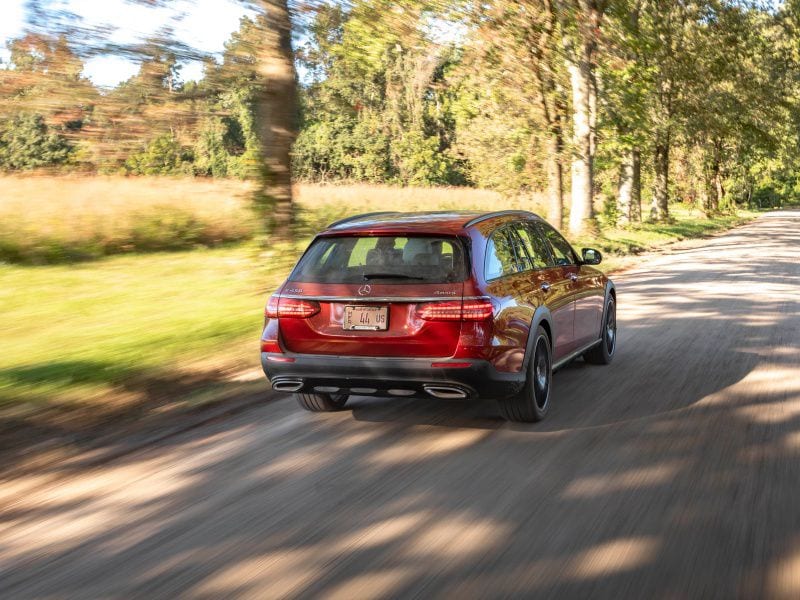 Photo by Mercedes-Benz
Rugged Look, Classy Interior
If Mercedes wants to sell more E-Class wagons, the All-Terrain treatment should do the trick. With its bolder grille and bumpers, gray overfender trim, and purposeful rocker panel cladding, it gives the car some SUV attitude.
Inside, the All-Terrain's ambiance is high-tech meets mid-century modern, with an overlay of jet-age aeronautical details. The car oozes quality and exudes class, making it a place you want to spend time even if you've got nowhere to go. With dual 12.3-inch digital displays under a single piece of glass and a clean but unconventional control layout, the E-Class appears daunting to the uninitiated. But you quickly acclimate to the transmission selector on the steering column, the seat controls on the door panels, and infotainment controls on the center console, the row of piano-key climate controls, and the swipe-and-scroll touch sensors on the steering wheel. Furthermore, the technology's user experience is an intuitive one. If you're comfortable using a modern smartphone or tablet computer, the E-Class will pose no problems.
Photo by Mercedes-Benz
Effortless User Experiences
Highlights of the Mercedes Benz User Experience (MBUX) technology include seemingly endless opportunities for customization. Naturally, the instrumentation screen is not touch-sensitive, but the steering wheel controls for it are. You'll use them to swipe, scroll, and select content.
The infotainment screen is touch-sensing, but you can also use the remarkably helpful center console controls, the touch-sensitive steering wheel controls, and the outstanding "Hey Mercedes" voice assistant. Standard features include Apple CarPlay, Android Auto, and Mercedes Me connected services including a Wi-Fi hotspot. The sensational Burmester sound system is highly recommended. New for 2021, the optional MBUX Interior Assistant is a gesture recognition system that predicts your intent based on hand movements within the cabin. As you reach to do something, it assists you by making icons on the infotainment screen larger, or preparing controls for use, or activating the cabin lighting in certain sections of the car after dark. Let's not forget the augmented video for navigation upgrade, which overlays directions on a video feed from the car's front camera as you drive to a destination. A dashcam is also new for 2021, and it does exactly what its name implies.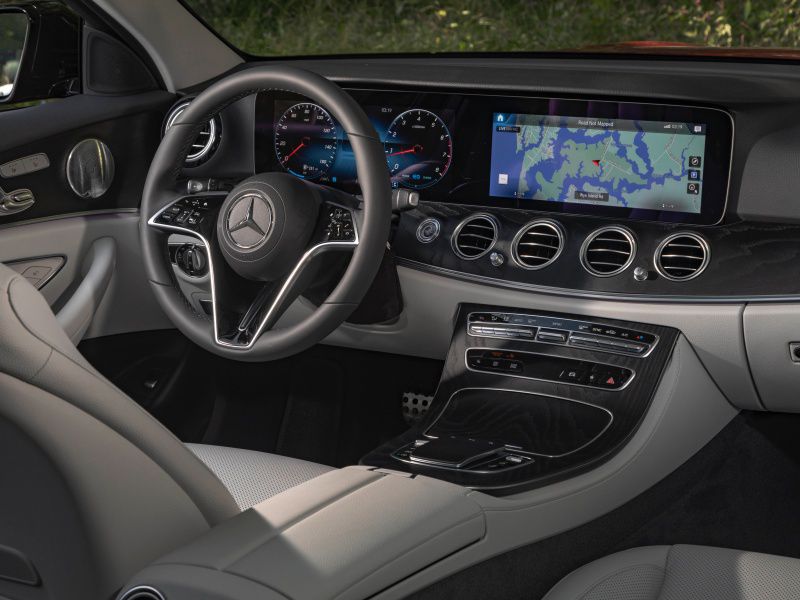 Photo by Mercedes-Benz
A Cocoon of (Front) Comfort
Comfort is easy to come by in the Mercedes E-Class All-Terrain, especially if you've opted for the massaging multi-contour front seats with rapid heating and ventilation. They are an absolute delight. Adding to this cocoon of comfort, the Air Balance air purification and cabin fragrance system, and the endlessly entertaining ambient lighting system, contribute mightily to the All-Terrain's soothing and upscale ambiance.
Though the E-Class is a mid-size car, the rear seat area isn't roomy. Adults may feel pinched in terms of leg space. The All-Terrain also lacks the dark-tinted privacy glass found on traditional SUVs, and the test car did not have side window sunshades. But the back seat cushion itself is comfortable and heated. A triple-zone automatic climate control system is optional. A jump seat in the cargo area brings the All-Terrain's passenger capacity to seven, though Mercedes recommends using it only for young children. It's a hassle to deploy and takes up space better used for underfloor storage compartments. Leave the jump seat stowed, and the cargo room measures 35 cubic feet behind the rear seat. Use the power releases in the cargo area to fold the rear seats flat, creating 64 cubic feet of volume.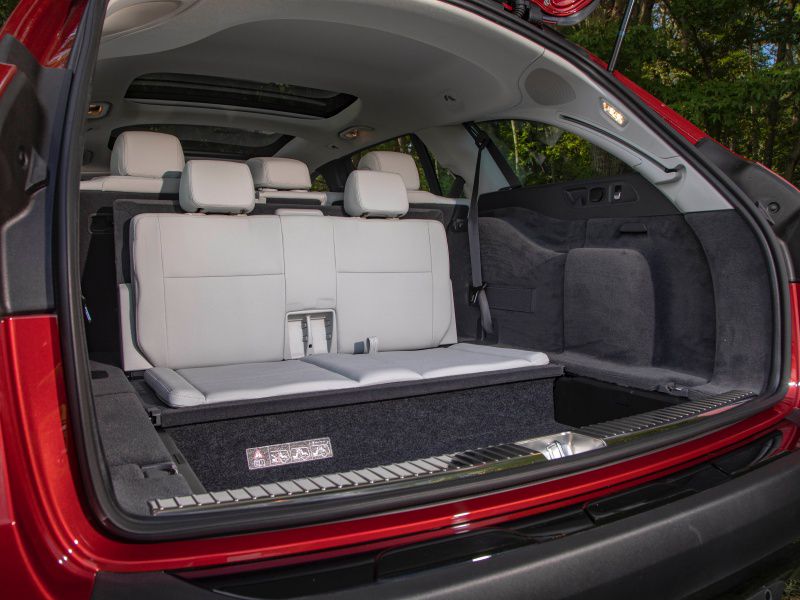 Photo by Mercedes-Benz
A Safety Net Woven of Technology
To keep everyone aboard the E-Class All-Terrain safe, Mercedes offers a brilliant collection of standard and available ADAS and safety technologies. Standard equipment highlights include Emergency Call Service that is free for the life of the car; Pre Safe Sound, which is designed to protect your hearing in a collision; and Car-to-X communication technology that can warn you of hazards in the area in which you're driving.
Every safety upgrade in the Driver Assistance Package is impressive. The list includes Pre Safe Impulse Side, which detects an impending side-impact collision and can actively position occupants for improved protection prior to impact. Active Emergency Stop Assist is also part of this package, operational with the adaptive cruise control and lane-centering assistance technology. If the driver quits holding the steering wheel and fails to retake control, this system will bring the All-Terrain to a safe stop, hazards flashing, and place an automated Emergency Call Service request for help. In use, the All-Terrain's ADAS technology works in a subtle, refined, and accurate fashion. Occasionally, a function will call attention to itself due to unexpected behavior, but most of the time this is not an issue, and the technology is easy to trust.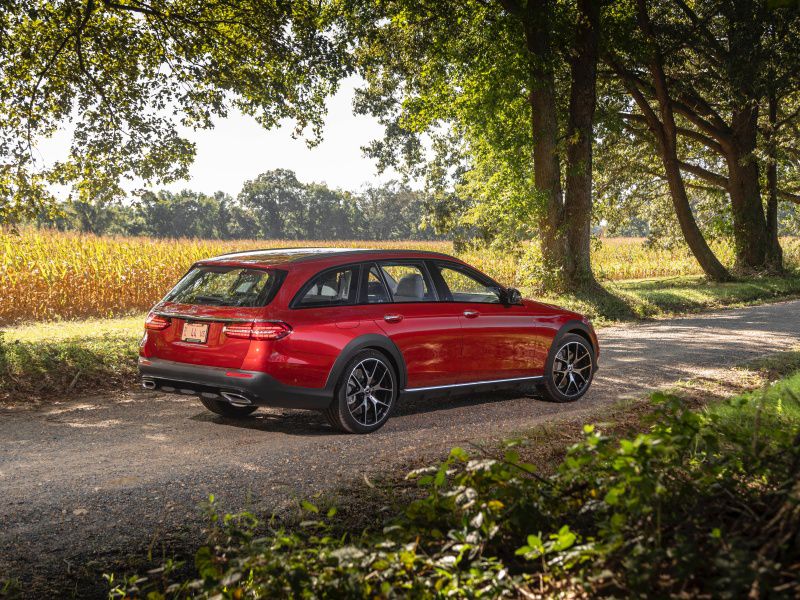 Photo by Mercedes-Benz
EQ Boosted for Efficiency…and Power
Most of the time, you're likely to want to take full command of the E-Class All-Terrain because it is rewarding to drive. The car features a turbocharged 3.0-liter inline six-cylinder engine making 362 horsepower between 5,500 rpm and 6,100 rpm, and 369 lb-ft of torque from 1,600 rpm to 4,500 rpm. It pairs with a nine-speed automatic feeding all four wheels through the automaker's 4Matic all-wheel-drive system.
Mercedes-Benz EQ Boost technology sandwiches an integrated starter generator (ISG) between the engine and transmission, reducing turbo lag and adding extra power when needed. Simultaneously, the ISG eliminates power-sapping belt drives from the engine, allows the vehicle to coast or idle engine-free for longer periods of time, and recharges the lithium-ion battery powering the All-Terrain's 48-volt electrical system. In turn, this robust electrical system further reduces the load on the engine, conserving even more fuel. According to the EPA, the E-Class All-Terrain should get 24 mpg in combined driving. We averaged 23.3 mpg, regularly switching between the different Dynamic Select driving modes and reveling in the seemingly endless power supplied by the car's mild-hybrid powertrain.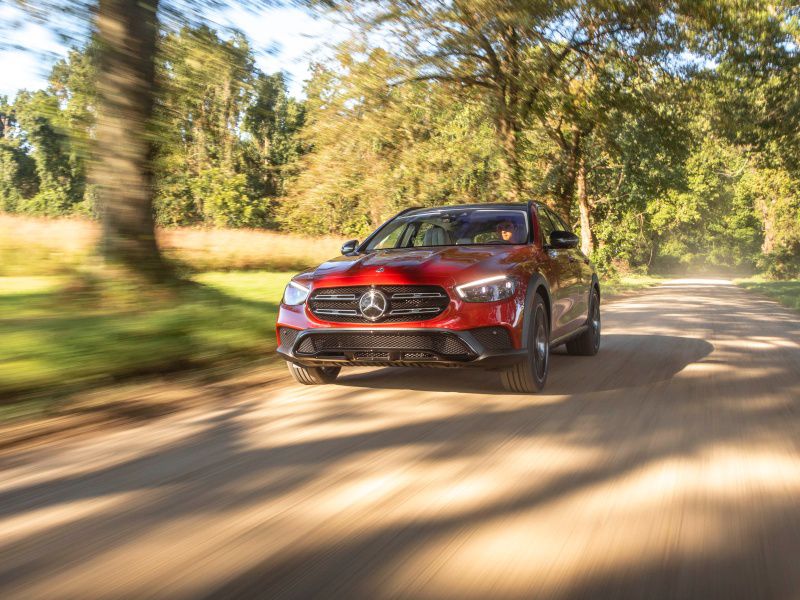 Photo by Mercedes-Benz
Worthy of Its Name
Thanks to Dynamic Select, the Mercedes-Benz E-Class All-Terrain can be anything you want it to be. Choose Eco mode for maximum gas mileage, Comfort for a soft and cushy ride, Sport for a firmer suspension and rapid-response acceleration, and Off-Road to raise the standard Air Body Control adaptive air suspension and calibrate the drivetrain for low-speed torque.
Each of these settings gives the All-Terrain a distinct personality, and you can even mix and match settings using the Individual mode. Here, I calibrated everything to Sport except the steering, because I prefer lighter effort levels. Additionally, the All-Terrain features Direct Steer, which makes the car easier to maneuver at lower speeds, and sport braking components to ensure robust stopping capability. Our test car also wore the optional 20-inch AMG wheels and larger tires, providing better grip. Running the back roads between Los Angeles and Santa Barbara was truly a delight, the All-Terrain proving worthy of its name and adapting to a wide range of situations including some light off-roading near Lake Casitas. It is a terrific all-arounder, and thanks to its lower center of gravity, is more rewarding to drive than most SUVs.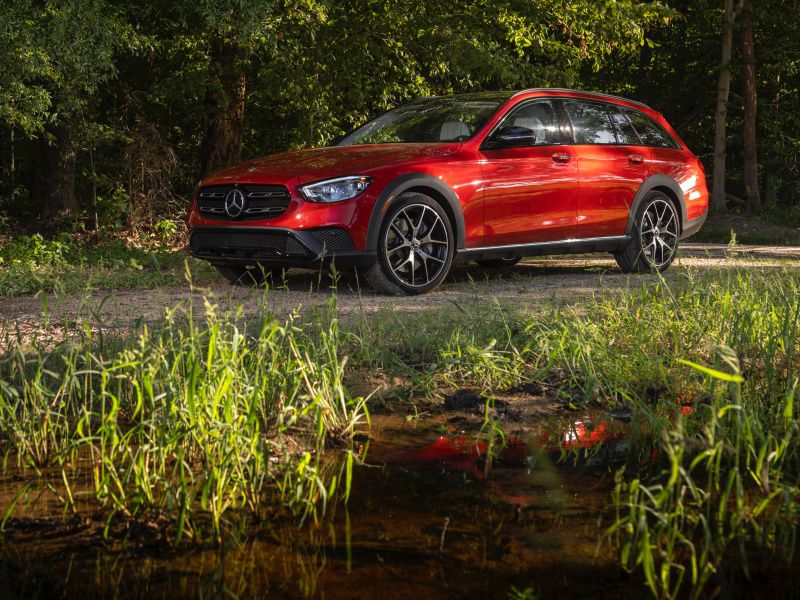 Photo by Mercedes-Benz
Few Alternatives in the Luxe Wagon Class
Midsize luxury station wagons are an increasingly rare breed. BMW recently dropped the 6 Series Gran Turismo (a sportback-style wagon thingamabob), and Jaguar has officially canceled the XF Sportbrake.
But, Audi has returned to the segment with the A6 Allroad and RS 6 Avant. In fact, these Audis are the closest competitors to the 2021 Mercedes E-Class wagon lineup. The A6 Allroad squares off against the E 450 All-Terrain, while the RS 6 Avant goes up against the AMG E 63 S. Porsche also offers an alternative to the high-powered Audi and Mercedes performance models in the Panamera Sport Turismo. Volvo is also a longtime player in the luxury wagon segment, and the V90 Cross Country is a value-oriented alternative to the Audi and Mercedes. It offers about the same size and purpose but at a lower price. And if you don't mind downsizing, you can also select the Audi A4 Allroad or the Volvo V60 Cross Country.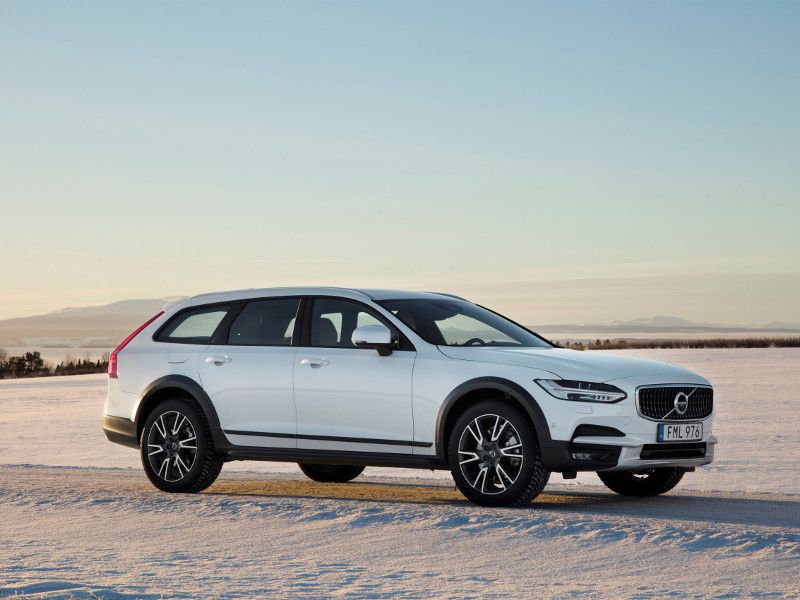 Photo by Volvo
E-Class All-Terrain Pros and Cons
The 2021 Mercedes-Benz E 450 All-Terrain is an appealing alternative to an SUV. Great to drive, equipped with subtle and effective ADAS, and brilliantly simplifying complex technology, this stylish and luxurious wagon will undoubtedly prove more popular than the car it replaces.
However, prices climb fast when you add options, rear-seat space is tight for a mid-size car, and the space reserved for storing the mostly useless rear-facing jump seat would be better used as extra storage. If you're looking for something different to drive but you still want all-wheel drive, some added off-roading capability, and the utility common to SUVs, the new Mercedes E-Class All-Terrain seems custom-tailored for you.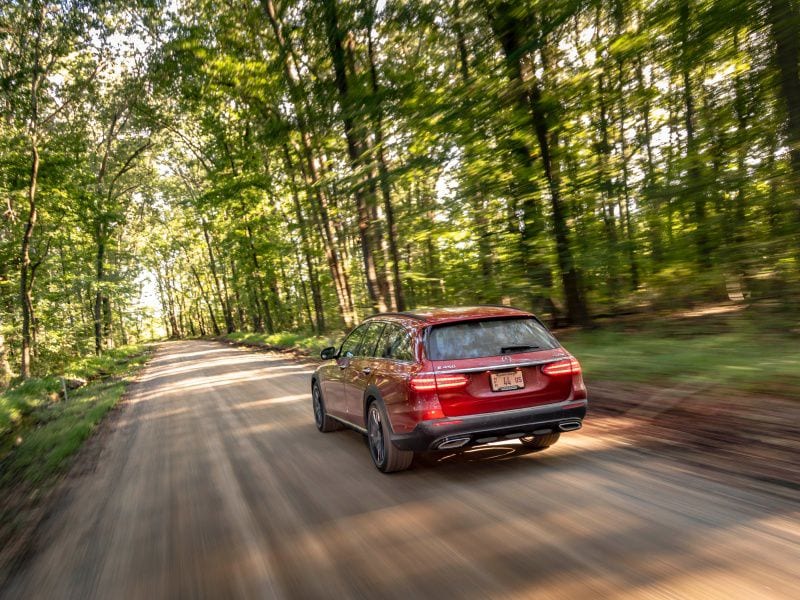 Photo by Mercedes-Benz