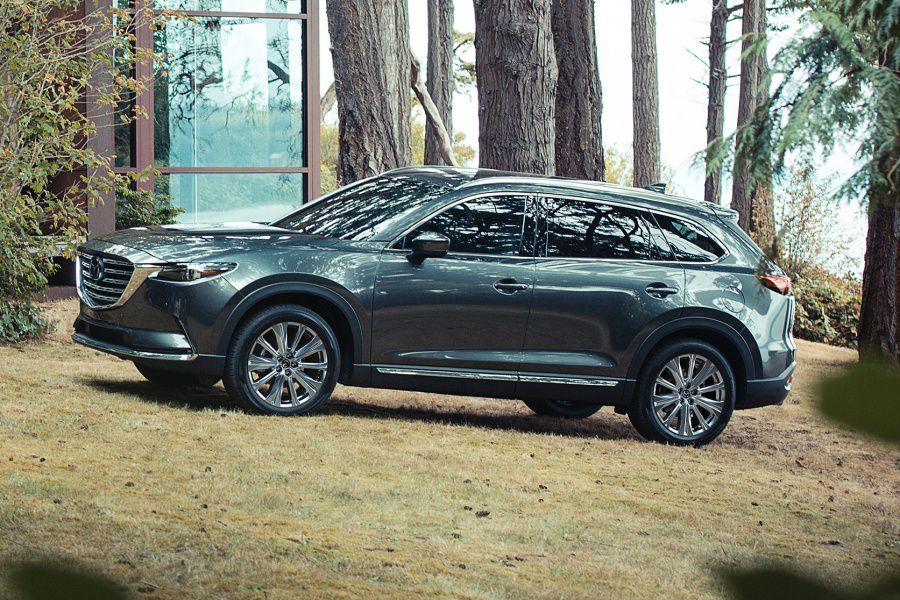 2021 Mazda CX-9 ・ Photo by Mazda
Any car company hoping to compete for the hearts and minds of modern consumers must offer at least one SUV. Mazda sells four, and the 2021 CX-9 is its largest one — a mid-size model with three rows of seats. It's the one most suitable for families, and as is true of all Mazdas, it's more stylish and enjoyable to drive than most of its competitors.
The 2021 Mazda CX-9 lineup grows in size this year, with a new Carbon Edition joining the family. It is positioned above the base Sport and popular Touring trim levels, and below the upscale Grand Touring and downright luxurious Signature trims. Additional changes to all 2021 CX-9 models include a new Mazda Connect infotainment system with a 10.25-inch display and a three-year subscription to the company's new connected services technology. Mazda also boosts the Signature trim's luxury quotient. Including a $1,100 destination charge, prices range from $35,060 for a CX-9 Sport with front-wheel drive to $47,705 for a CX-9 Signature. The Signature is the version we reviewed, and it came to $48,100 including standard all-wheel drive and an extra-cost paint job.
2021 Mazda CX-9 Trim Level Differences
Though Mazda positions the 2021 CX-9 as a premium offering and supplies plenty of standard equipment even in base Sport trim, this SUV is competitively priced. And given the number of features and the quality, this Mazda seems like a downright bargain compared to some midsize suvs.
Upgrading from Sport to Touring trim adds leather, a six-way power-adjustable front passenger's seat, rear USB ports, and a power liftgate to the generous standard equipment list. The Carbon Edition equips the CX-9 with dark-finish 20-inch wheels, unique Polymetal Gray paint, and red interior leather. It also comes with curve-adaptive headlights, a hands-free power liftgate, a heated steering wheel, ventilated front seats, heated second-row captain's chairs, rear side window sunshades, a Bose premium sound system, wireless smartphone charging, and more. Strip away the Carbon Edition's appearance elements, and the Grand Touring builds on it with navigation, a head-up display, and a surround-view camera. A second-row bench seat is standard, with captain's chairs optional. The Signature trim includes AWD plus premium Nappa leather, genuine wood trim, and second-row captain's chairs with a center console between them.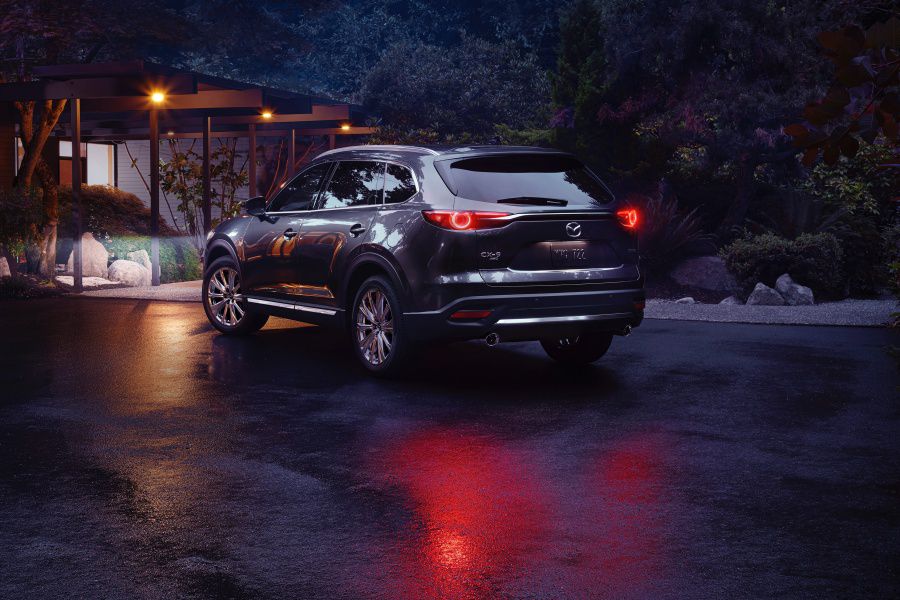 Photo by Mazda
High-Quality Interior, but Distracting Technology
With its new wheel and grille designs, the latter complete with LED accent lighting at night, the 2021 Mazda CX-9 Signature looks more expensive than it is. Only four colors are available, though, and they all cost extra except for Jet Black Mica.
Inside, changes for 2021 add quilted and piped leather upholstery and new aluminum trim accents. Quality is pervasive, with every surface exuding it. Flawless construction conveys robustness that is sometimes lacking in the CX-9's competition. Mazda emphasizes the driver in all of its vehicles, and that's true of the CX-9, too. However, the layout leaves something to be desired, Mazda's quest to reduce driver distraction sometimes adding to it instead. The lack of a touchscreen infotainment system display or a useful voice recognition system contributes to this problem, as do controls mounted on the center console in an unusual arrangement that draws focus away from the task at hand. However, there can be no quibbling with the CX-9's downright beautiful analog and digital instruments. The gauge cluster represents an absolute model of clarity.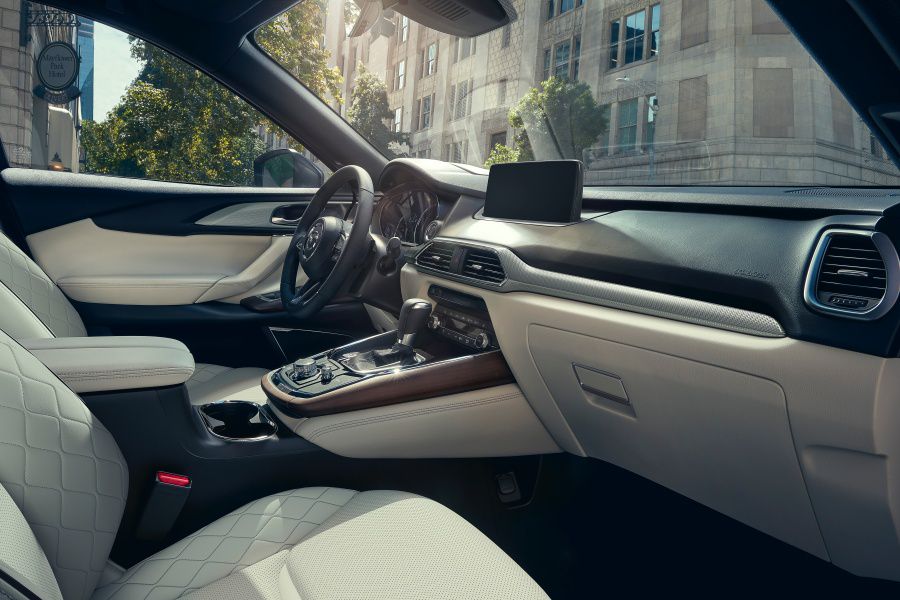 Photo by Mazda
CX-9 Seats Seven… Technically
Comfort is easy to come by in a Mazda CX-9, but if you like to sit up high for the best view out, the relationship between the throne-like driving position and the rest of the interior is odd. It's worth noting that all versions of the CX-9 except the Sport include a power front passenger's seat.
Our Signature test vehicle's second-row captain's chairs provided equally impressive comfort, and here the relationship between passengers and the cabin is a natural fit. My kids loved the center console, which easily accommodated all of their things and made them feel like they were riding in first-class accommodations. Position the sliding second-row seats midway in their tracks, and you can squeeze adults into the third-row seat. Remarkably, the seat itself offers a modicum of leg support, but otherwise, this represents a cruel seating assignment. Even children may balk. The CX-9 supplies a paltry 14.4 cubic feet of cargo space behind the third-row seat. Keep it folded, and you'll regularly enjoy 38.2 cubes of space. Maximum volume measures 71.2 cubic feet, which is small for a mid-size SUV.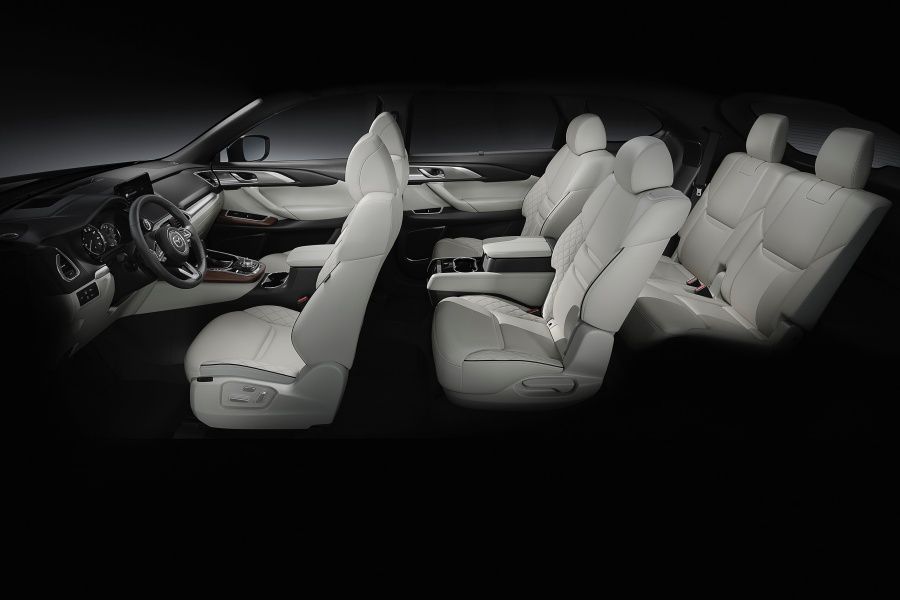 Photo by Mazda
Without Touch or Voice, Infotainment Is a Mazda Disconnect
The new Mazda Connect infotainment system uses a 10.25-inch display, boasts improved graphics, and supplies a faster response to inputs. Unfortunately, none of those inputs will be made with your fingers on the screen, because it isn't touch-sensitive. Worse, the voice recognition technology lags what competitors offer. And if you still listen to terrestrial or satellite radio, changing stations is a real pain.
That's too bad because otherwise, Mazda Connect has all of the requisite features expected by modern SUV buyers. Standard equipment includes Apple CarPlay, Android Auto, an emergency notification service, a Wi-Fi hotspot, and Mazda Connected Services. Starting with the Carbon Edition, the CX-9 features satellite radio, wireless smartphone charging, and a 12-speaker Bose Centerpoint 2 surround sound system with noise-canceling AudioPilot technology. The Grand Touring and Signature include a useful head-up display that shows a wealth of data including blind-spot warnings.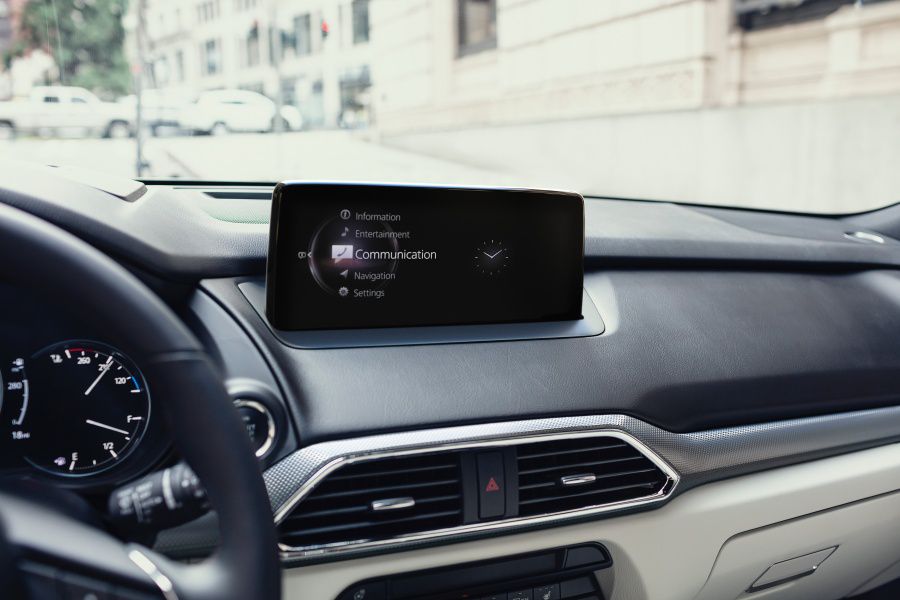 Photo by Mazda
Top-Rated Safety Is Standard
Mazda keeps it simple when it comes to the CX-9's safety systems. Everything is standard, except a few nice-to-haves that are restricted to higher trim levels. That means even the least expensive 2021 Mazda CX-9 Sport is equipped with adaptive cruise control with stop-and-go capability, A forward-collision warning with pedestrian detection, automatic emergency braking, a lane-departure warning, lane-keeping assistance, blind-spot monitoring, and a rear cross-traffic alert.
Starting with the Carbon Edition, the CX-9 adds a driver monitoring system, curve-adaptive headlights, front and rear parking sensors, and low-speed automatic reverse braking. The Grand Touring adds a surround-view camera system. Most of this technology works in a refined and accurate manner. At higher speeds, the adaptive cruise control's distance management capability can draw the driver's attention for its uneven operation. The 2021 CX-9 earns a Top Safety Pick+ accolade for the 2020 calendar year, the highest possible rating given by the Insurance Institute for Highway Safety (IIHS).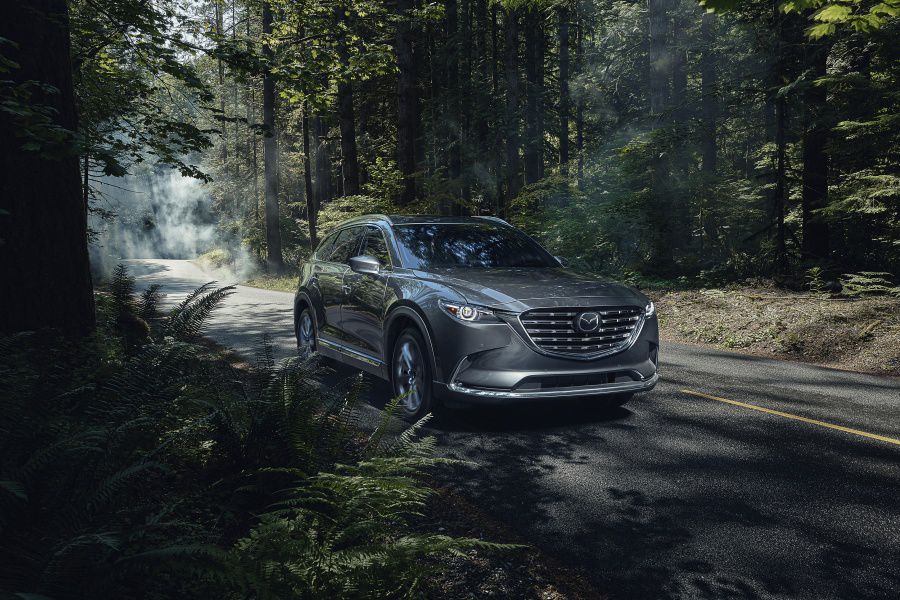 Photo by Mazda
Surfing Sweet Waves of Torque
Every 2021 Mazda CX-9 is fortified with a turbocharged 2.5-liter four-cylinder engine designed to deliver robust low-end torque for a responsive feel from behind the wheel. A six-speed automatic transmission with a Sport mode and steering wheel shift paddles is standard, powering the front or all four wheels.
On regular gas, the turbocharged engine generates 227 horsepower and 310 lb-ft of torque. Use premium fuel, and you'll enjoy 250 hp and 320 lb-ft, but the torque arrives 500 rpm later in the rev range. According to the EPA, the test vehicle should have returned 23 mpg. We averaged 20.1 mpg on a testing loop containing a mix of driving conditions. Because torque is what you're sensing as you're getting pushed back into your seat when a vehicle is accelerating, and because Mazda amplifies the engine note in a manner designed to make the drive more enjoyable, the CX-9 sounds and feels responsive. Switch into Sport mode using the switch on the center console, and you'll heighten that sensation. But surfing that swell of torque costs you at the gas pump.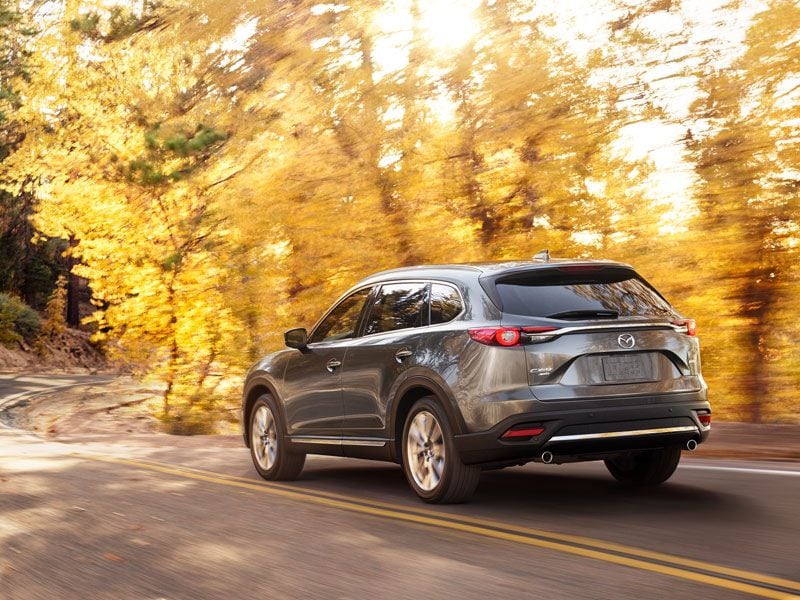 Photo by Mazda
Fun to Drive for an SUV
Mazda expertly tunes the CX-9's steering, brakes, and suspension to deliver sublime driving dynamics. In part, the SUV's MacPherson strut front and multi-link rear suspension are responsible for this. The 20-inch wheels and 255/50 tires also contribute to the CX-9's ride and handling prowess. But mostly, you can thank G-Vectoring Control Plus (GVC-Plus).
Using subtle braking inputs based on driver inputs and vehicle behavior, GVC-Plus reduces or eliminates unwanted body motions that can disturb vehicle occupants. The resulting smooth, predictable, unfettered ride and handling qualities make the CX-9 a joy to drive. Well, as much of a joy to drive as a 4,409-pound, top-heavy vehicle can be. As long as you don't expect the same thrill a sport sedan or wagon can provide, you'll likely find the CX-9 satisfying.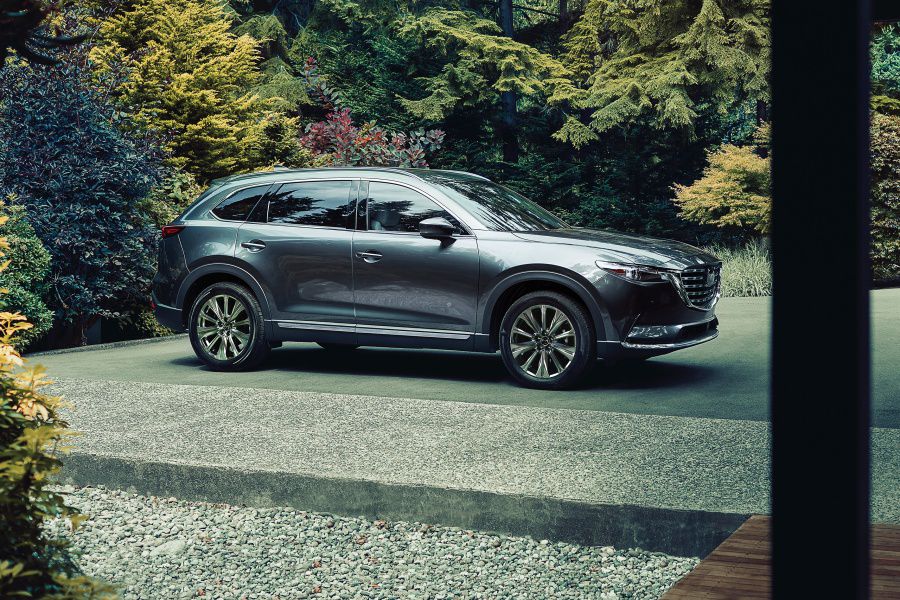 Photo by Mazda
Standing Out in a Broad Competitive Set
Size-wise, the 2021 Mazda CX-9 resides on the smaller end of the mid-size SUV spectrum. Think Chevrolet Blazer, Ford Edge, Hyundai Santa Fe, Kia Sorento, and Nissan Murano. Yes, these are five-passenger SUVs. Given the CX-9's nearly uninhabitable third-row seat, it might as well be one, too.
However, since it does technically have a seven-passenger capacity, the Mazda CX-9 can also count the Chevrolet Traverse, Dodge Durango, Ford Explorer, Honda Pilot, Hyundai Palisade, Kia Telluride, Nissan Pathfinder, Subaru Ascent, Toyota Highlander, and Volkswagen Atlas among its competitors. Finally, because Mazda wants to move its brand into premium territory, it seeks to siphon buyers who might otherwise consider an Acura RDX or MDX, Buick Envision or Enclave, Infiniti QX50 or QX60, or the Lincoln Nautilus. Additionally, Mazda wants to conquest buyers of smaller but equally priced SUVs from Audi, BMW, Cadillac, Lexus, Mercedes-Benz, and Volvo. That's quite a broad spread, but in many ways, the CX-9 is positioned as an appealing alternative to any of them.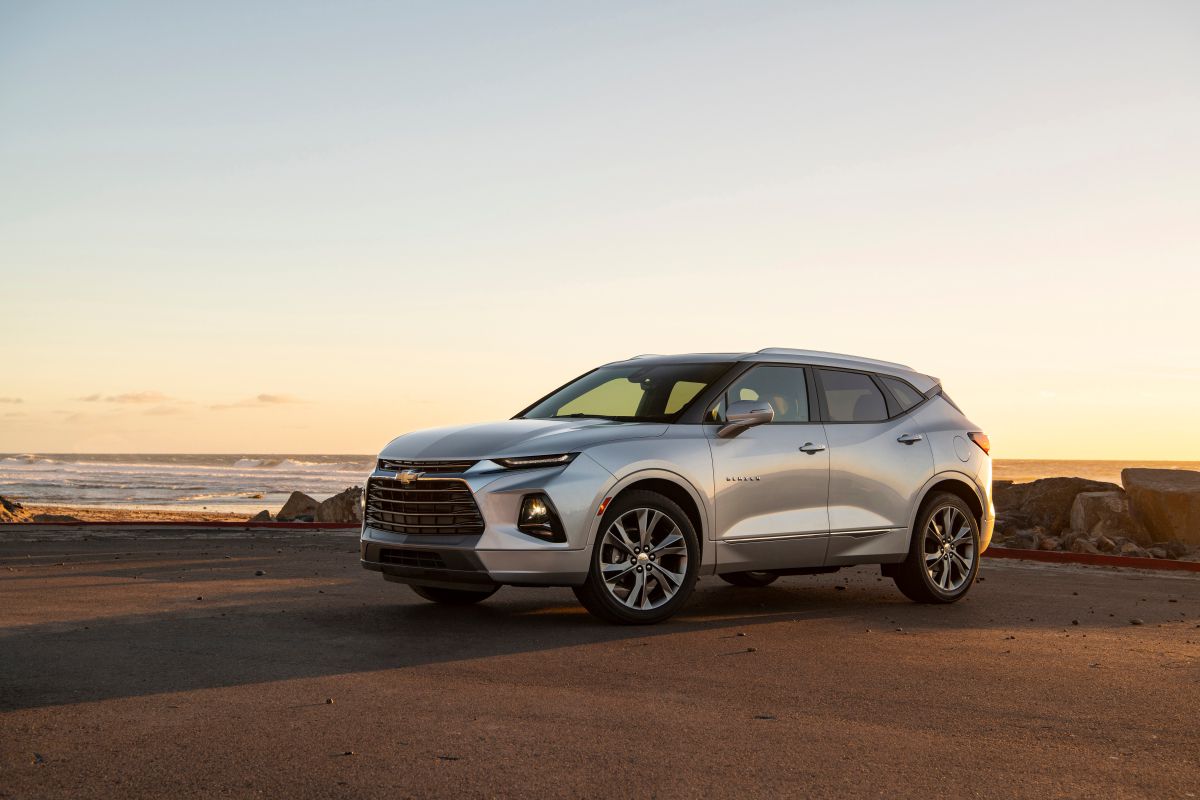 Photo by Chevrolet
Final Thoughts
One of four Mazda SUVs, the 2021 CX-9's strengths are design, driving dynamics, and a dedication to keeping its occupants safe. Utility ranks lower on the list, due to cargo volume measurements that fall short of primary mid-size three-row competitors. And Mazda Connect is frequently a source of frustration.
Nevertheless, as long as the restricted cargo space and recalcitrant technology aren't deal-breakers, the 2021 Mazda CX-9 is easy to recommend. As plush and upscale as the CX-9 Signature is, though, the Carbon Edition and Grand Touring represent real value, providing most of what makes this SUV appealing at what seem like bargain price tags.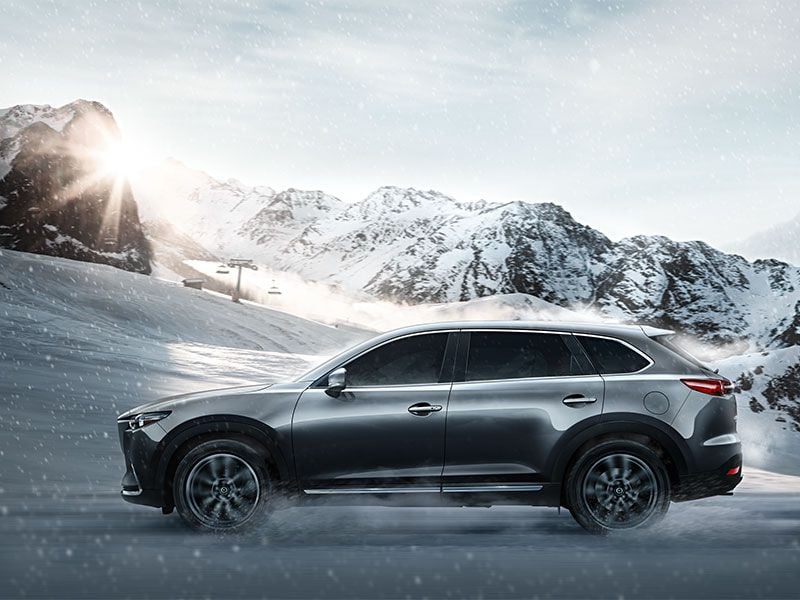 Photo by Mazda