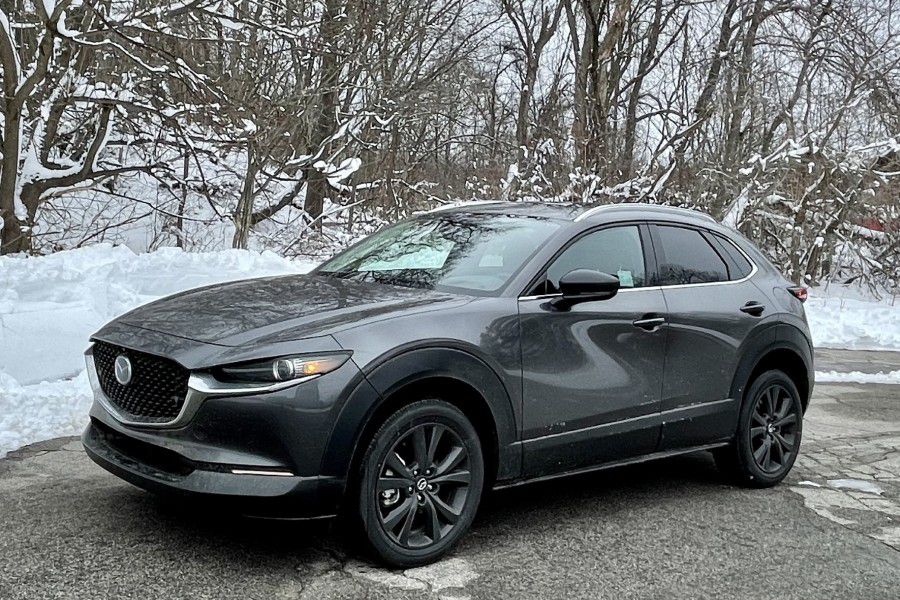 2021 Mazda CX-30 Front ・ Photo by Nicole Wakelin
The 2021 Mazda CX-30 is an upscale subcompact crossover with a wide range of features and seating for five people. This year, it has something new under the hood in the form of a turbocharged engine. The 2.5-liter turbocharged four-cylinder engine in the CX-30 is already available in other Mazdas, so although it's new to the CX-30, it's not new to Mazda.
What makes this big news is the improved performance it offers for driving enthusiasts. Mazda has long been a brand for people who like driving rather than those who see driving as a chore. Adding a more responsive powertrain to the CX-30 makes it a more appealing choice. Let's take a closer look at the 2021 Mazda CX-30 2.5 Turbo to see if its combination of power, handling, and a well-appointed interior make it the right crossover choice for you.
Three Turbocharged Trim Levels
There are four trim levels available with the CX-30's base 2.5-liter four-cylinder engine, all with a choice of front-wheel or all-wheel drive. The new turbocharged 2.5-liter engine is all-wheel-drive-only and is limited to three trims. The base 2.5 Turbo trim starts at $29,900 with standard features including dual-zone automatic climate control, an eight-way power driver's seat, heated front seats, and an 8.8-inch infotainment screen with Apple CarPlay and Android Auto.
The 2.5 Turbo Premium adds features including a Bose 12-speaker audio system, leather seats, power liftgate, traffic sign recognition, and adaptive front lighting with a starting price of $32,300. The top offering is the 2.5 Turbo Premium Plus. This adds an auto-dimming driver's side door mirror, traffic jam assist, front and rear parking sensors, a 360-degree parking camera, rear cross-traffic braking, and reverse brake support at $33,900. Regardless of which CX-30 2.5 Turbo you choose, it's a well-equipped crossover.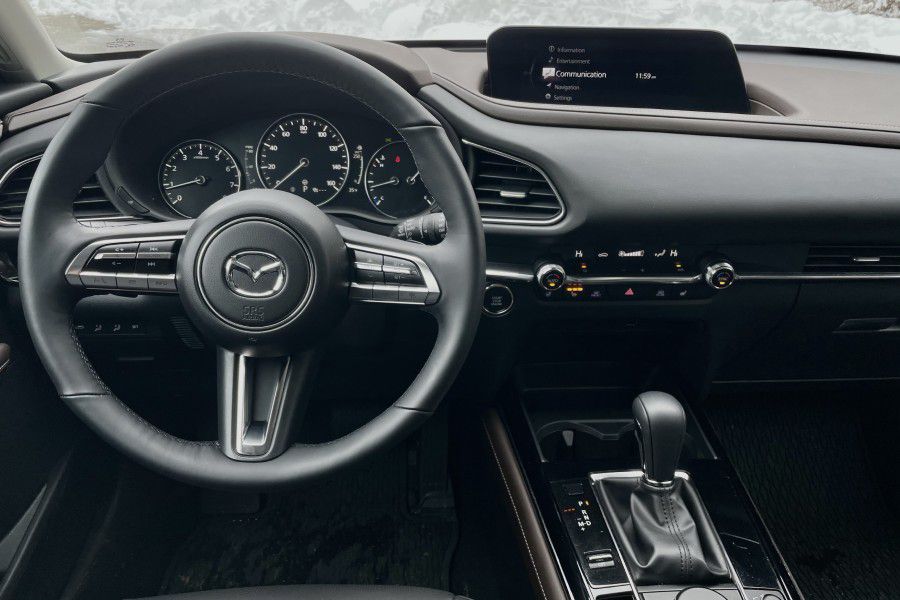 Photo by Nicole Wakelin
Turbo Power
While the base engine in the Mazda CX-30 has 186 horsepower and 186 lb-ft of torque, the turbocharged engine takes those numbers considerably higher — to 227 horsepower and 310 lb-ft of torque. This is a small vehicle, so that increase is quite noticeable and makes for a far more responsive driving experience. Press the gas and you're rewarded with an immediate response from the turbocharged engine. It makes getting onto the highway a stress-free proposition with more than ample power to get up to speed before the end of the on-ramp.
Once at highway speeds, it again only requires a light touch on the gas to get the power needed to pass slower vehicles. The six-speed automatic transmission does a fine job of managing power with smooth shifts that you'll neither hear nor feel inside the cabin. Those who crave a sporty, performance-focused crossover will find this turbocharged engine delivers.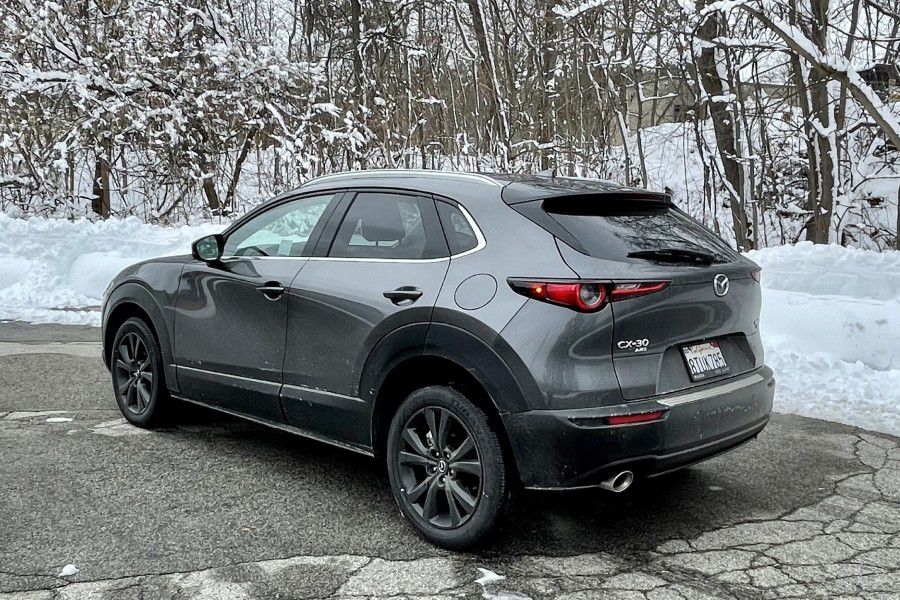 Photo by Nicole Wakelin
Sporty Handling
Any car can get you from here to there, but not every car makes the drive fun. Mazda prides itself on building cars for people who put driving enjoyment at the top of the list. Many crossovers are focused solely on being utilitarian and versatile. They're cousins to large suvs, after all, so being able to carry passengers while still managing a small amount of cargo is a priority. The Mazda CX-30, however, adds superior handling into the equation.
The CX-30 is low and wide, so there's none of the sloppy, top-heavy feeling of its competitors. It stays controlled even in tight corners with minimal body roll and solid braking that won't have the nose-diving forward during sudden stops. Steering is tight without being tiring, so whether you're cruising down the highway or whipping the CX-30 along twisting country roads, the driver is always fully engaged and in control.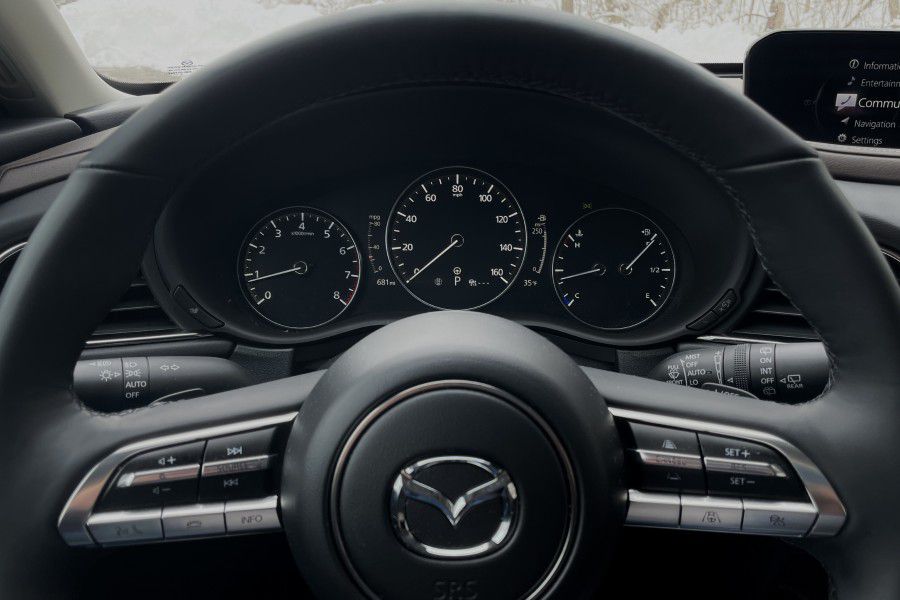 Photo by Nicole Wakelin
Remarkably Quiet Ride
The 2021 Mazda CX-30 2.5 Turbo has a comfortable ride that makes the trip relaxing for both driver and passengers. It's smooth even over rough roads and kept its composure over the snow-covered roads we encountered during a winter storm. The suspension even ironed out the uneven, icy surfaces left behind after the storm. Whether on a perfect stretch of paved highway or less ideal roads, the CX-30 never wavered.
There was a minimum of road and wind noise, which further enhanced the ride quality. Slushy roads can be distractingly loud, especially for rear passengers, but outside sounds stay outside in the CX-30. It keeps wind noise down so even when weather conditions are poor, the ride is consistently quiet, comfortable, and relaxing for everyone.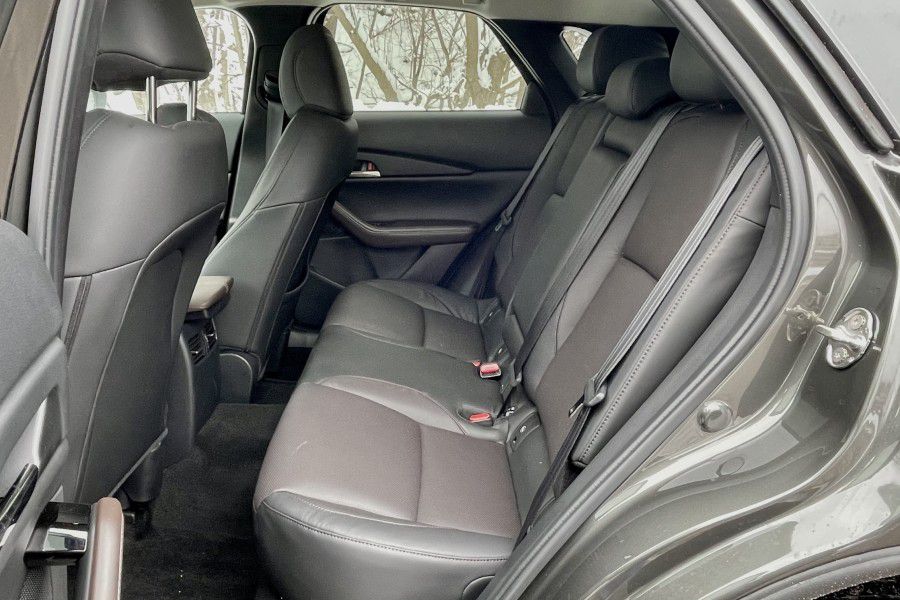 Photo by Nicole Wakelin
Beautiful, Comfortable Interior
While the Mazda CX-30 isn't a luxury crossover, one look at the interior and you'll see it's pushing into luxury-car territory. Even in base trims, it's attractive and comfortable with quality materials throughout. Once you get up to the top trims of the CX-30, they're easily capable of holding their own against far more expensive luxury brands.
In addition to looking good, the interior of the Mazda CX-30 is comfortable no matter where you sit. The standard heated front seats are supportive with strong bolstering to hold you in place on the corners, and there's plenty of room for even the 6-foot crowd. Rear seats are also spacious, although they're best suited to two adults rather than three. Although the rear seats are roomy, legroom gets tight with the front seats pushed all the way back to accommodate taller front passengers.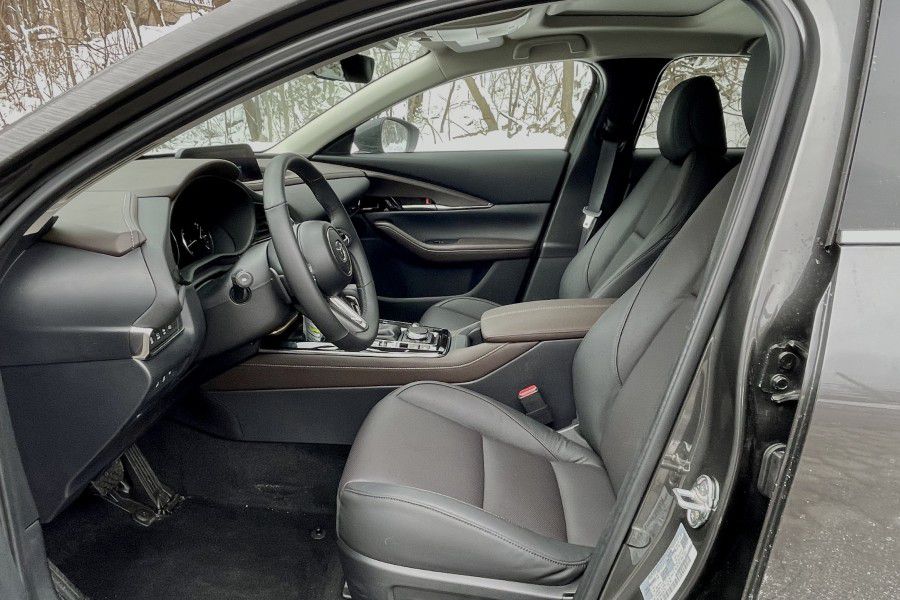 Photo by Nicole Wakelin
Cargo Versatility
The appeal of a crossover lies largely in its ability to comfortably manage passengers while still offering the flexibility to handle cargo. If your cargo needs are significant, then a full-size SUV is clearly a better option, but small crossovers aren't designed to carry huge amounts of cargo. They're more the just-right option with a good balance between passenger room and cargo capacity along with a more affordable price.
The 2021 Mazda CX-30 has room for up to 20.2 cubic feet behind the rear seats. The rear seats split-fold 60/40 for added cargo room that also accommodates longer items. The wide tailgate opening makes it easy to stow cargo and the low load floor help makes it less of a struggle when you're loading something heavy. The 2021 Mazda CX-30 easily does double duty carrying cargo, passengers, or a combination of the two.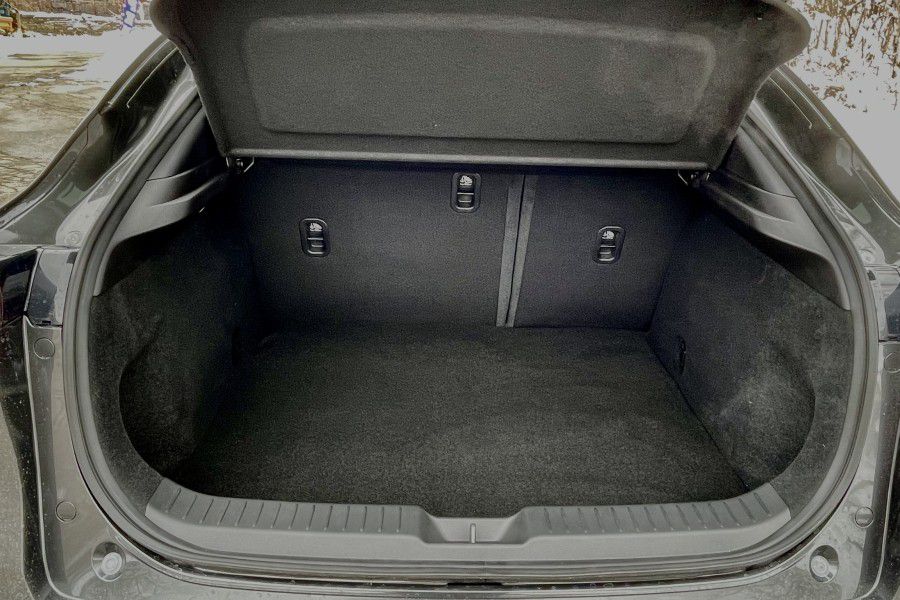 Photo by Nicole Wakelin
Fully-Featured Infotainment, No Touchscreen
Standard infotainment includes an 8.8-inch screen with Apple CarPlay, Android Auto, and HD Radio. There are also two USB ports and an eight-speaker audio system. Move up to the Turbo Premium trim and the system sees the addition of navigation, Sirius XM with a three-month trial, and a Bose 12-speaker premium audio system.
It's a solid infotainment system, but what it doesn't have is a touchscreen. Instead, features are controlled via the Commander control dial on the center console. There are also four buttons around the dial for frequently used features including music and a home button. While far better than the touchpads that control some systems, we still prefer a touchscreen. Mazda says that it becomes intuitive in a short period of time, but there is a learning curve. The system is good overall, but a touchscreen would be a big improvement.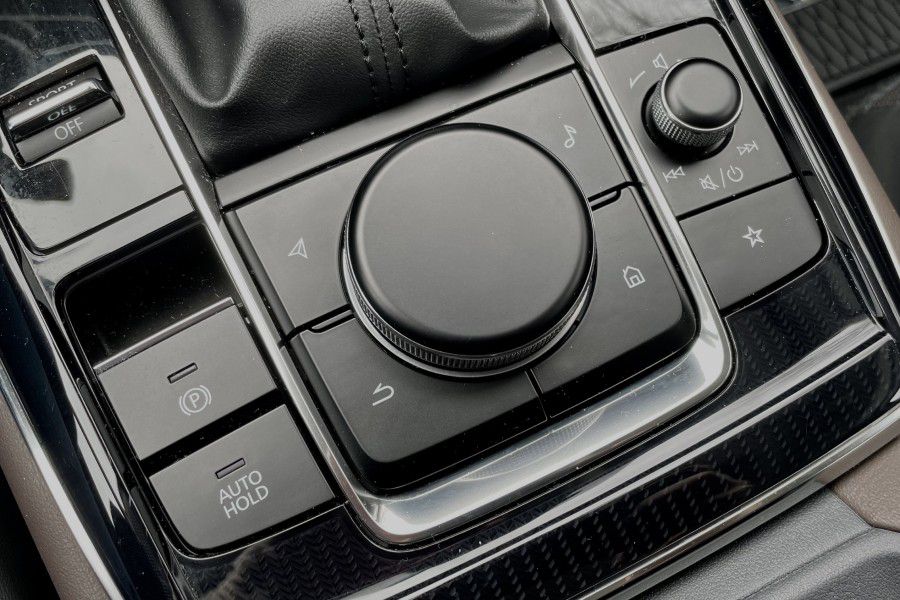 Photo by Nicole Wakelin
Wide Range of Safety Features
There is a long list of safety features on the 2021 Mazda CX-30 2.5 Turbo. Standard are automatic high beams, a lane-departure warning, lane-keeping assist, and Smart Brake Support. This detects obstacles ahead and applies the brakes if it determines there's the possibility of a collision. There's also standard blind-spot monitoring and a rear cross-traffic alert.
Moving up to the 2.5 Turbo Premium adds a head-up display and traffic sign recognition, which helps reduce the chances that you'll miss a stop sign in an unfamiliar neighborhood. The 2.5 Turbo Premium Plus trim further expands safety offerings with rear cross-traffic braking, front and rear parking sensors, and Smart City Brake Support reverse to avoid obstacles when backing up. The Mazda CX-30 is also an Insurance Institute for Highway Safety 2020 Top Safety Pick+ and received a top five-star rating from the National Highway Traffic Safety Administration.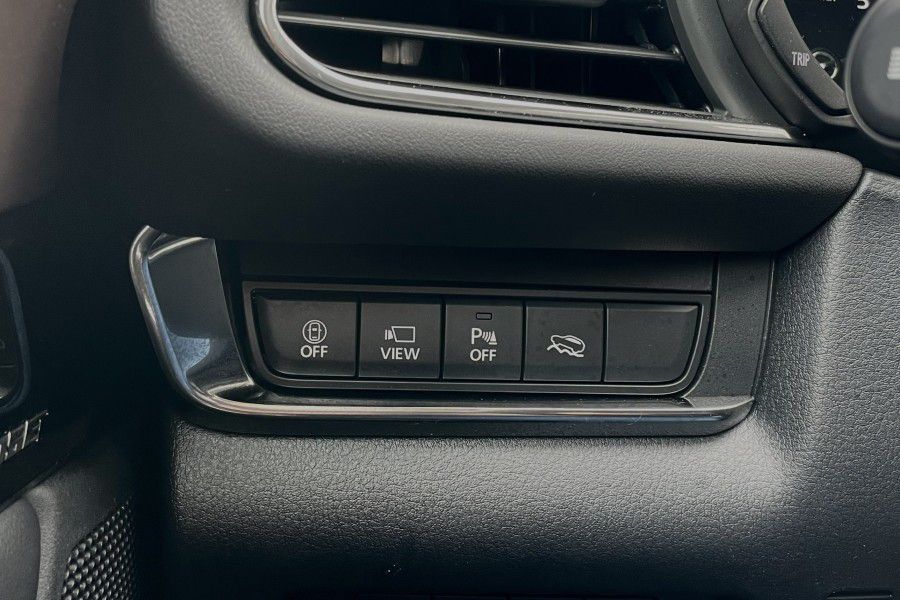 Photo by Nicole Wakelin
Final Thoughts
The 2021 Mazda CX-30 2.5 Turbo is a welcome addition to the Mazda lineup. It builds on what was already a solid offering with good handling and a smooth, quiet ride by delivering more power. The turbo takes what was a nice crossover to drive and turns it into one that's truly fun and engaging, which is what you expect from a Mazda. There's also a high-quality interior that makes the price, although higher than what's found in many competing subcompact crossovers, a more acceptable proposition.
Our main point of contention is the lack of a touchscreen. The controller is better than the touchpads found in other cars, but a touchscreen does the job with less frustration and without the learning curve. Otherwise, the 2021 Mazda CX-30 2.5 Turbo is an attractive and engaging crossover that will make you look forward to going out for a drive.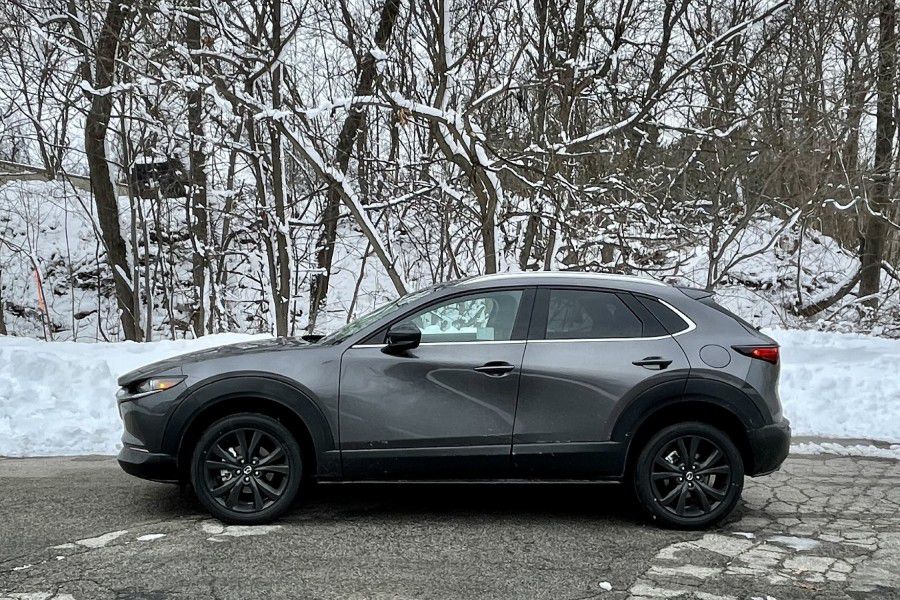 Photo by Nicole Wakelin