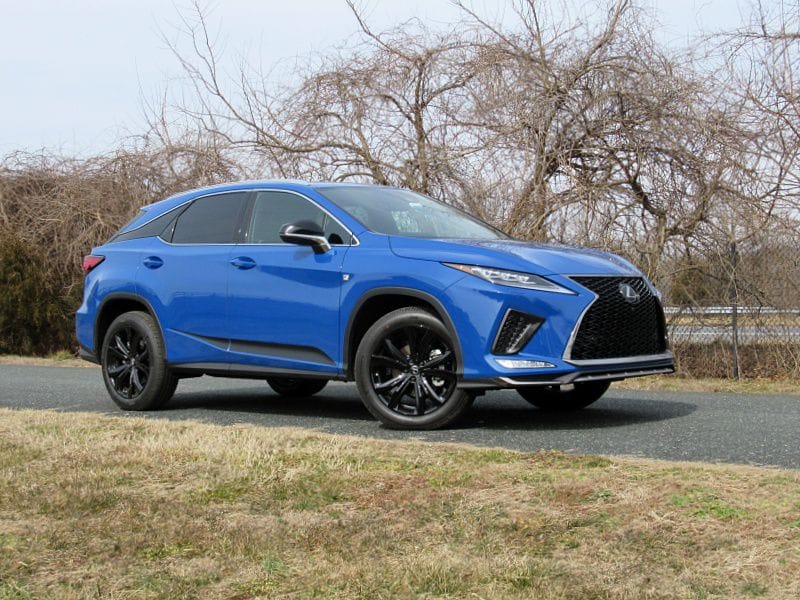 2021 Lexus RX 350 ・ Photo by Brady Holt
America's favorite luxury vehicle doesn't have gloriously superlative driving manners. It doesn't have the richest possible interior finishes. It's not an enthusiast-favorite sports sedan, a master of cushy panache, or a pioneer of advanced new tech features.
Still, the 2021 Lexus RX 350 is a wildly popular vehicle. This mid-size crossover is essentially a luxury version of the Toyota Highlander, and that means it prioritizes relative affordability and mechanical simplicity over exquisite engineering. It's comfortable, it doesn't break, and there's nothing pedestrian or anonymous in its styling. We just spent a week with the RX 350 to see how this formula performs in the real world, and to get to know this vehicle's specific pros and cons. Here's what we found.
Relatively Affordable
With its base price of $45,170, the 2021 Lexus RX 350 isn't a cheap ride. But consider that a Mercedes-Benz GLE starts at $54,750 and a BMW X5 opens at $59,400. The RX fits into a lot more budgets.
And Lexus didn't keep costs down by cutting out features. The base price includes leatherette upholstery, a power liftgate, a power tilting and telescoping steering column, rain-sensing windshield wipers, a nine-speaker sound system, six USB ports, and a long list of safety and driver-assistance features. What's more, many additional features are reasonably priced add-ons, contrary to the norm among luxury vehicles. For an extra $2,830, you can upgrade to the Lexus RX 350L, which is slightly longer and has a reshaped rear end to fit more cargo and a third-row seat. Or for a similar premium, you can switch from the standard V6 engine to the gas-electric RX 450h hybrid for superior fuel economy. Lexus also sells an F Sport performance model, which has slightly sportier styling, more bolstering on the sides of the front seats, and a slightly stiffer suspension, along with the option for adjustable suspension dampers.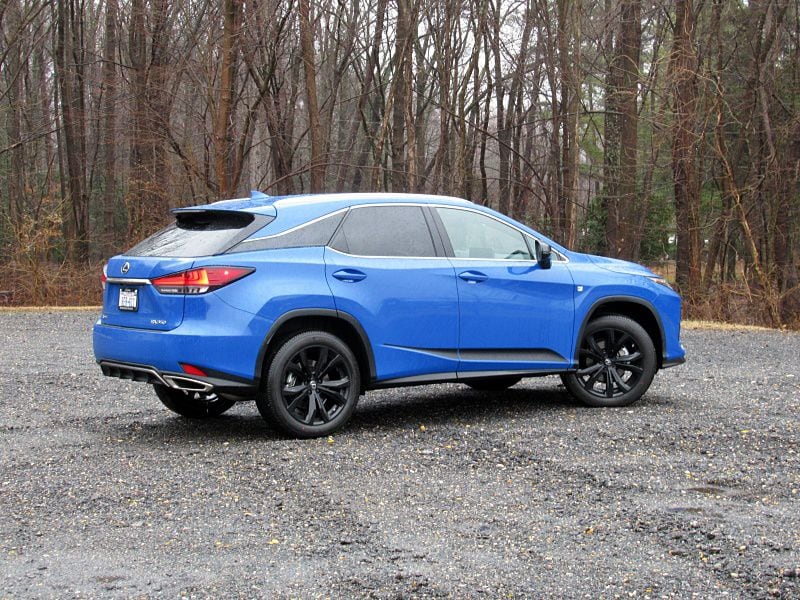 Photo by Brady Holt
Extroverted Design
Lexus went to town with the formerly conservative RX during its last redesign, which debuted as a 2016 model. It already had more of a hatchback shape — now called an "SUV coupe" — than most competing mid-size SUVs, but the 2016 RX ushered in more drama.
It starts up front with the enormous hourglass-shaped "spindle" grille that drops down from two high, slim headlights. It continues into the vehicle's hard edges and swoopy, hunched-forward roofline. Even five years later, it's both polarizing and fresh. The extended-length RX L, shown in the photo on this page, has a more upright and conventional rear end.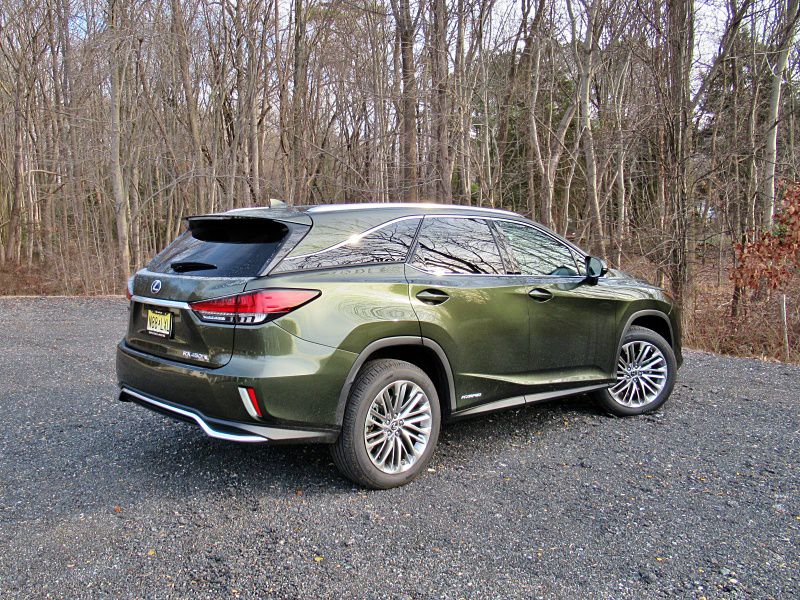 Photo by Brady Holt
Touchscreen Infotainment
A frequent complaint in Lexus vehicles has been their infotainment systems. As touchscreens became the norm, Lexus opted for a computer-mouse-style controller and then a trackpad-style one. These approaches were clunky and distracting, and the RX finally added touchscreen capability last year. (If you liked the old touchpad, it's still there, too.) The system still isn't the simplest you can find, but it's greatly improved and is compatible with Android Auto and Apple CarPlay.
The dashboard design has a modern flowing shape with the touchscreen up on the top — 8 inches on the base model with a big 12.3-inch screen available as an option. And the upholstery is delightfully plush. But some of the details are less than impressive if you're used to other luxury brands. Many buttons and sections of the lower dashboard are basic cheap plastic, and the gauge cluster's indicator lights lack the gentle, crisply rendered view of most luxury vehicles. Warning beeps are also shrill and harsh, rather than gentle and relaxing like we'd expect in a Lexus. We don't mean the RX has a poor interior; it has satisfied loyal customers without an issue. But there's room for improvement.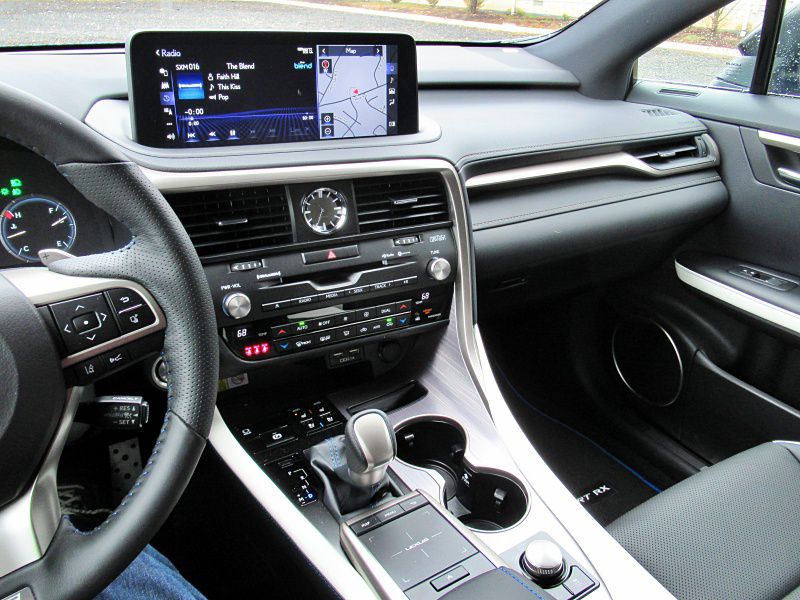 Photo by Brady Holt
Choose a Size
Partway through the current generation, Lexus introduced the extended-length RX L model, giving RX buyers a choice of sizes. Each model has its pros and cons, but neither RX is especially roomy for a mid-size SUV.
Both RX versions have comfortable front seating. We like the F Sport's additional bolstering, since it keeps you snugly in place even when you take a turn fast. Other folks will prefer the slide-right-in convenience of the flatter standard seats. In the second row, the standard RX has more legroom than the longer RX L, because the latter model needs to make room for the third-row seat. That third row is tiny even for a mid-size SUV. The main RX L advantage is cargo space: The standard RX, pictured here, has a subcompact-like 18 cubic feet of room behind its rear seat, hemmed in between a high cargo floor and steeply sloped roof. The RX L has little space behind its third row, but folding it down (a slow process) yields a less objectionable 23 cubic feet. Maximum cargo space is similar between the two models, and neither is impressive for its size: 56 cubic feet on the RX and 59 cubic feet on the RX L.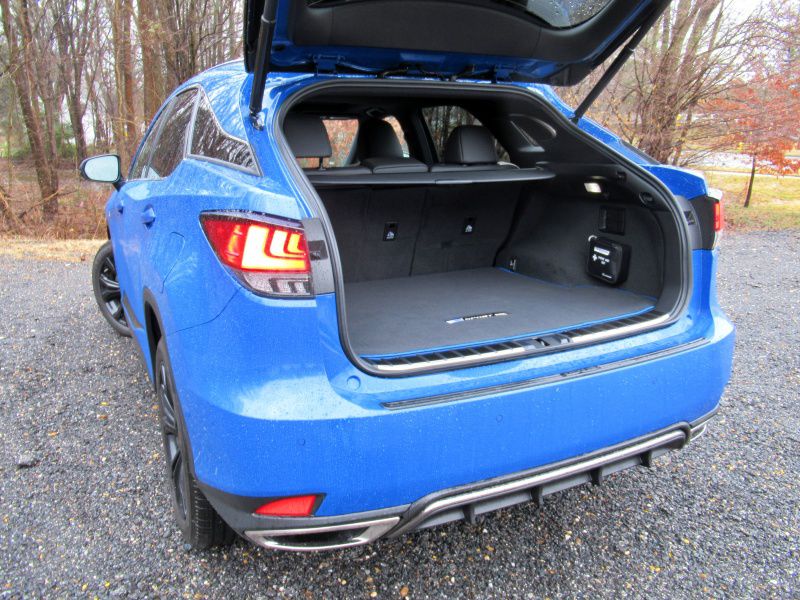 Photo by Brady Holt
A V6 in a Four-Cylinder World
These days, most luxury vehicles come standard with turbocharged four-cylinder engines. These powertrains get better gas mileage than similarly powerful V6 engines, especially in EPA testing. But the Lexus RX is sold only with naturally aspirated (non-turbo) V6 engines, providing a richer engine note and greater mechanical simplicity.
The RX 350 has a 3.5-liter V6 with 295 horsepower and 268 lb-ft of torque, paired with an eight-speed automatic transmission. Front-wheel drive is standard, and all-wheel drive is optional. The vehicle accelerates with ease if not sporty eagerness, but its gas mileage is excellent for its class: 20 mpg in the city, 27 mpg on the highway, and 23 mpg overall with front-wheel drive and 1 mpg less with AWD. Better still, it uses regular-grade fuel rather than costly premium. Our AWD test vehicle averaged a less impressive 20 mpg in mixed driving, though. The RX 450h hybrid also has a V6 engine, paired with three electric motors for a total output of 308 horsepower. It achieves EPA ratings of up to 31 mpg in the city and 28 mpg on the highway, and we averaged 29 mpg in the slightly heavier RX 450hL version. It uses premium fuel, though.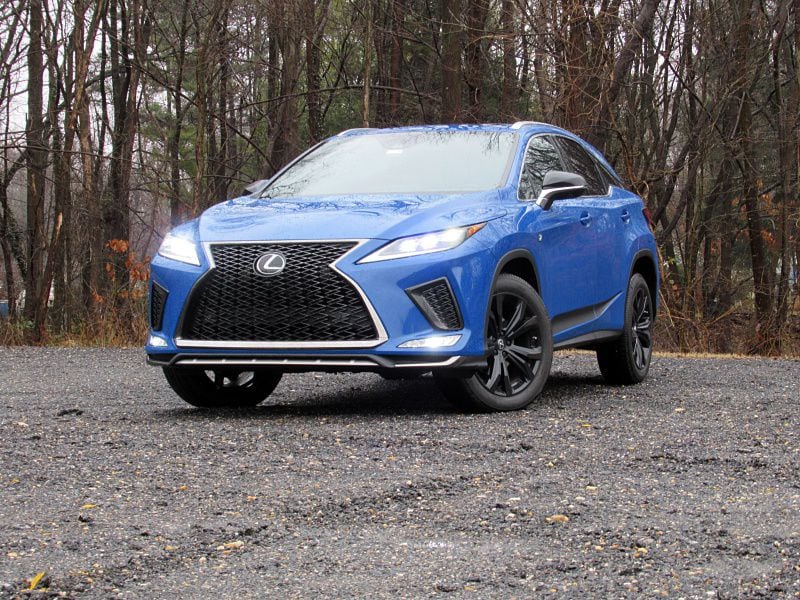 Photo by Brady Holt
Quiet Ride
The RX 350 has a well-insulated cabin that keeps things peacefully quiet even at higher speeds. However, while ride quality has improved since the current RX debuted in 2016, it still isn't dazzling, especially if you get big wheels or the F Sport's stiffer suspension.
The RX doesn't have the supreme composure of a more mechanically sophisticated luxury vehicle. On the other hand, it's more comfortable than some fancier competitors that are engineered to prioritize speed over comfort. Also, the RX has become more agile than past generations, even without F Sport add-ons. This SUV wouldn't be the first choice for a driving enthusiast, but the steering wheel now feels firmly connected to the wheels. You can also choose among different driving modes that adjust the throttle, transmission, and steering behavior, and even the tuning of the suspension on some F Sport models.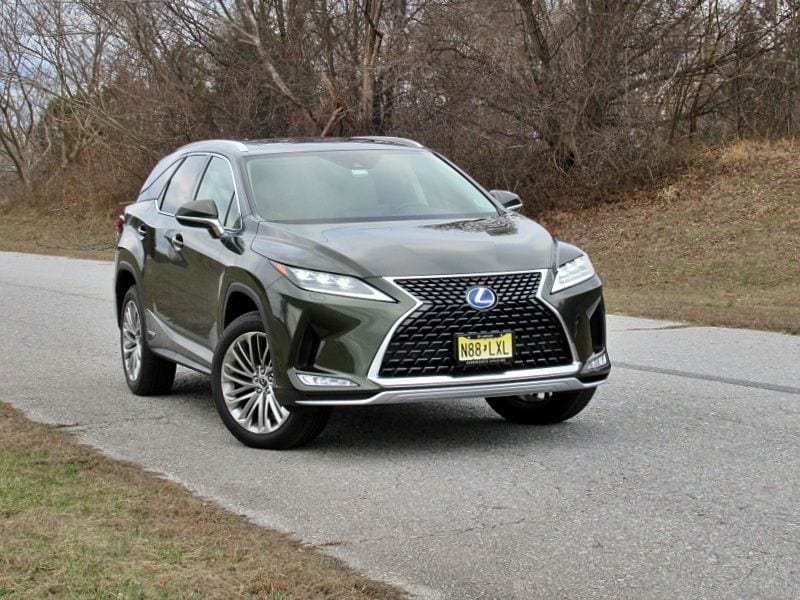 Photo by Brady Holt
Top Safety Pick
The RX earned a Top Safety Pick designation from the Insurance Institute for Highway Safety, its second-highest honor. The RX earned top marks in all crash tests, but its standard headlights only scored Acceptable and one of its optional lighting systems was judged Poor due to excess glare and too little coverage to the sides of the vehicle. The RX's ability to autonomously avoid a pedestrian scored Advanced instead of the top Superior. In National Highway Traffic Safety Administration testing, the RX earned a less impressive four out of five stars overall, including a disappointing three-star score for protecting the driver in a frontal impact.
The RX comes standard with a generous assortment of advanced safety technology. That includes a forward-collision warning with automatic emergency braking and pedestrian detection, a lane-departure warning with lane-keep and lane-tracing capabilities, blind-spot monitoring with a rear cross-traffic alert (newly standard this year), and adaptive cruise control. Optional upgrades include front and rear parking sensors, automatic rear emergency braking, a surround-view parking camera, and a head-up display.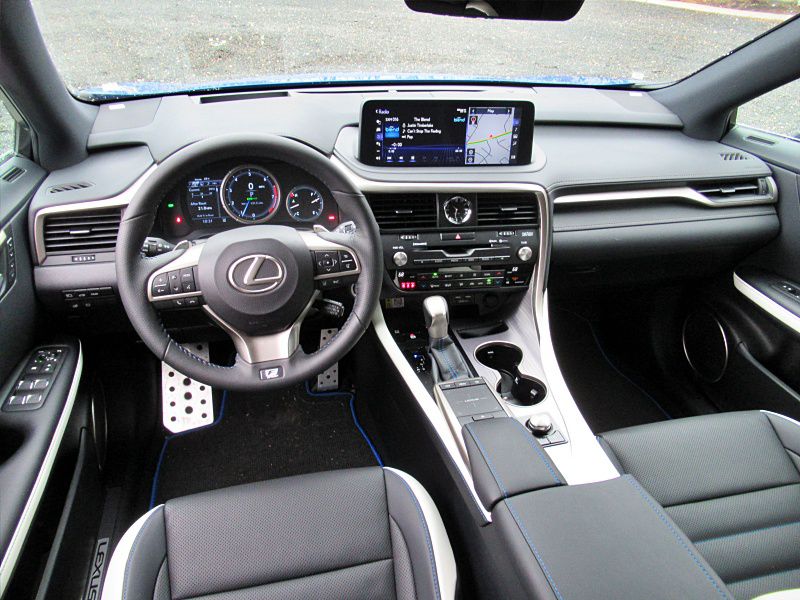 Photo by Brady Holt
Competitors to Consider
The RX isn't alone among mid-size luxury SUVs that borrow from mainstream models to keep prices in check. Its closest rivals are the Lincoln Nautilus and the Cadillac XT5. The Nautilus is our favorite of the three, with the roomiest interior, the best ride and handling, and a choice of compelling powertrains. A new upgrade this year also introduces a more modern interior design with a bigger infotainment screen, but its exterior remains less extroverted than the Cadillac or Lexus. And neither model has Lexus's reliability reputation, which is enough to make many customers overlook other RX foibles.
The all-new Genesis GV80 and newly redesigned Acura MDX are also strong mid-size luxury SUVs that cost less than a similarly sized BMW or Mercedes. The Acura is sportier and roomier, while the Genesis is more magnificently detailed inside. Also, because the RX isn't too roomy for its size, we'd also shop it against excellent compact luxury crossovers like the BMW X3, Audi Q5, Acura RDX, and Volvo XC60; you might be pleasantly surprised by how they compare with the mid-size RX.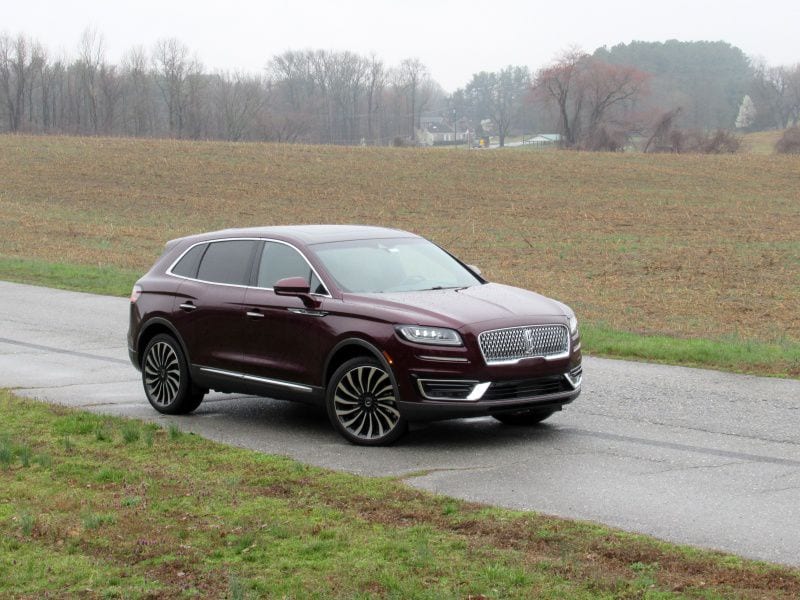 Photo by Brady Holt
Final Thoughts
If you've been buying Lexus RXs for a while without seriously checking out the competition, you might be wise to do so. From its driving experience, to its interior detailing, to its control layout, to the tones of its various beeps, another luxury SUV might wow you more than you expected. And at $45,000 and up, we want to be wowed.
But maybe you don't. Maybe as long as the RX looks upscale of a mainstream car, has enough room for cargo, and doesn't get under your skin, you'd rather not take a chance on anything else. And for many folks, it will pass that test, especially now that the infotainment system has a touchscreen. We want you to be aware of the RX's downsides — in particular, its relatively tight cargo hold, some humdrum interior materials, its angry beeping tones, and its unremarkable driving experience — but if you like it anyway, you'll hardly be alone.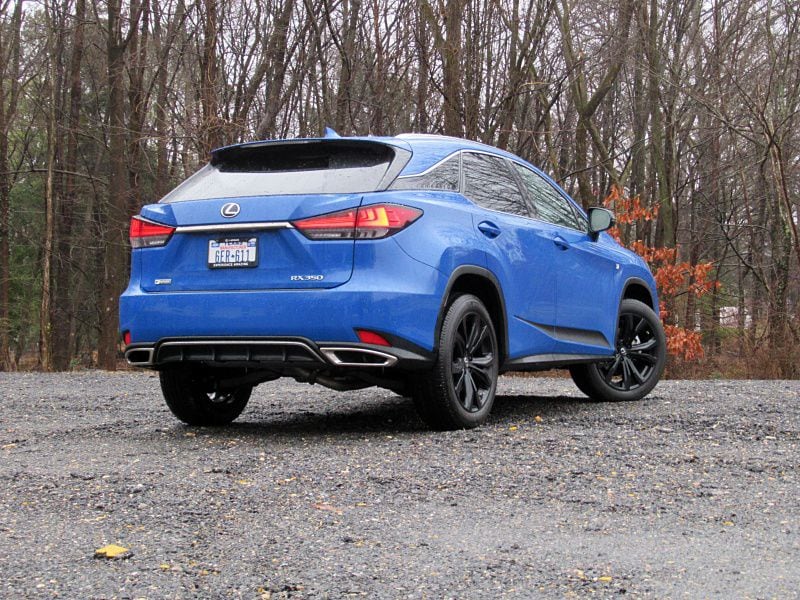 Photo by Brady Holt