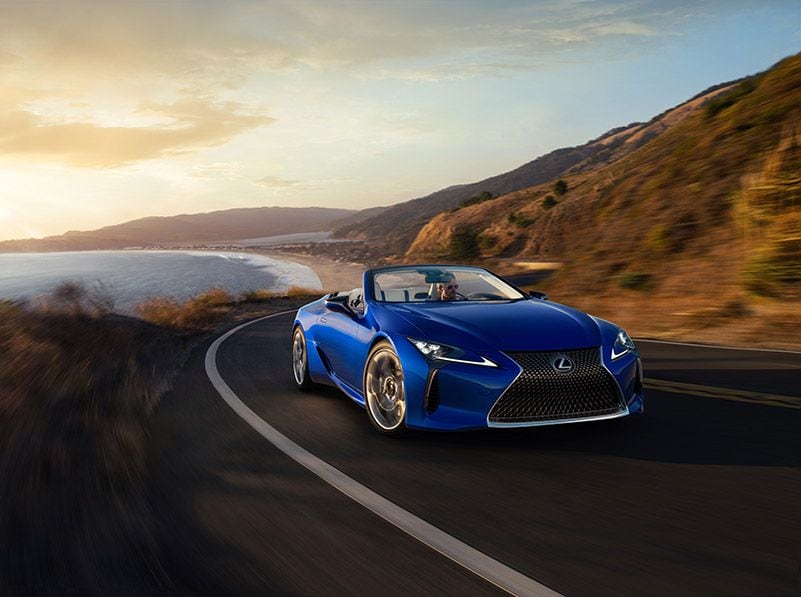 2021 Lexus LC 500 Convertible ・ Photo by Lexus
The 2021 Lexus LC 500 convertible made its global debut at the 2019 Los Angeles International Auto Show as a top-down version of the LC 500 coupe. This is a stylish, refined, and truly performance-focused convertible and it looks the part. A long sloping hood leads to a bold grille while its low, wide stance hints at its performance chops.
While Lexus is a luxury brand, there are options within the lineup that are more entry-level luxury for buyers on more of a budget. This is not one of those options. The LC 500 convertible is a premium vehicle sitting at the top of the Lexus lineup. It's powerful, well-appointed, and incredibly fun to drive if you can afford the price. Let's take a closer look at the 2021 Lexus LC 500 convertible and see if it's the right choice for you.
A Single, Well-Equipped Trim Level
The 2021 Lexus LC 500 convertible is offered in only one trim level and comes in with a starting price of $101,000, making it a true luxury car. There are options, but even without the extras, this is a well-equipped car. There's a 10.3-inch high-resolution split-screen with standard Apple CarPlay and Android Auto, a 10-way power driver's seat, aluminum scuff plates, and flush door handles that illuminate when opened.
It looks and feels every bit the luxury car even without any options, but if you simply must add a little something extra, there are 21-inch forged wheels for $2,650, a head-up display that adds $900 to the sticker, and a Touring Package with all sorts of goodies. It adds a heated, leather-trimmed steering wheel, semi-aniline leather-trimmed front seats, climate concierge with upper body heating, embossed headrests, and a Mark Levinson sound system for $5,290.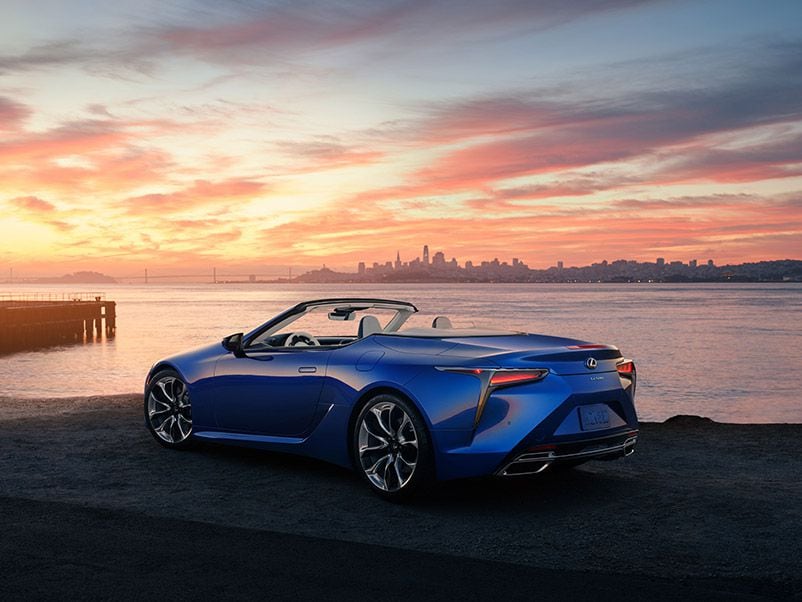 Photo by Lexus
A Soft-Top Convertible That's Quiet
Soft-top convertibles can be loud, even with that top firmly closed. It's the nature of having a piece of fabric over your head, but the LC 500 convertible suffers no such problem. It is remarkably quiet with the top up, even in highway driving passing by big, noisy trucks. The four-layer soft-top helps keep the cabin quiet and was design for minimal wrinkling, so the roof maintains its sleek lines.
When you do drop the top — which is done by lifting a somewhat hidden cover on the center console to reveal a button, feeling right out of a spy movie — it takes approximately 15 seconds to open and 16 seconds to close. Even with the top open, airflow across the top of the LC 500 is well-directed so you can enjoy the breeze and still have a conversation with your passenger.
Photo by Lexus
Ample Power Under the Hood
Many luxury cars look sporty but don't deliver when you get behind the wheel and hit the gas. The 2021 Lexus LC 500 convertible delivers on its sporty styling and then some. Power comes from a 5.0-liter V8 engine with 471 horsepower and 398 lb-ft of torque. This is paired to a 10-speed automatic transmission that shifts smoothly, even under hard acceleration.
There's ample power for highway merging and passing. You won't be worrying about having the power to merge, but keep an eye on that speedometer because this car gets up to speed in no time. Should you want a bit more control of that power delivery, there are paddle shifters with a manual mode so you can decide how high the engine revs before it shifts. While the paddle shifters are fun, the transmission is so well-tuned that most drivers will be content to let the car handle this task.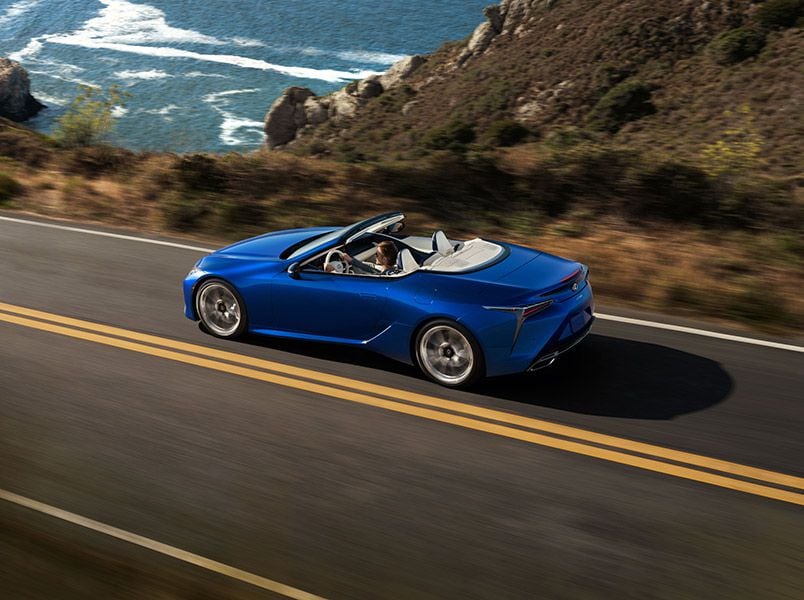 Photo by Lexus
Seating for Four, But Not Really
This is a two-door convertible that technically has seating for four passengers. Realistically, there's not really room for two people in the rear seats even with the front seats moved as far forward as possible while still allowing room for the folks up front. The good news is those two front passengers will enjoy a supremely comfortable ride in the Lexus LC 500 convertible.
There's a 10-way adjustable seat with two-way power lumbar for the driver, leather seating surfaces, and the option for a heated steering wheel so you can take advantage of that drop-top on cooler days. Seating is low, but not so much so that getting in and out of the car becomes a challenge. The seats are also heavily bolstered without becoming confining. There's just enough support there to help keep you in place in the corners without being uncomfortable for larger frames.
Photo by Lexus
Elegant and Sporty Exterior
Exterior styling of the 2021 Lexus LC 500 convertible is sporty from every angle. As the convertible version of the LC 500 coupe, the family resemblance is clear. It has the same roofline when the top is up, and even with the top down, it maintains that sleek, streamlined appearance. This look extends to the door handles, which sit flush with the door and pop out when the car is unlocked.
From the front, there's a long sloping hood with a massive front grille. Walk around back and a wide rear stance hints at its power. This is partly about style and partly about function, as it helps give the LC 500 convertible a low center of gravity, which improves handling. There are standard 20-inch wheels and a wind deflector and wind screen that make the ride more pleasant for passengers without interfering with the overall aesthetic.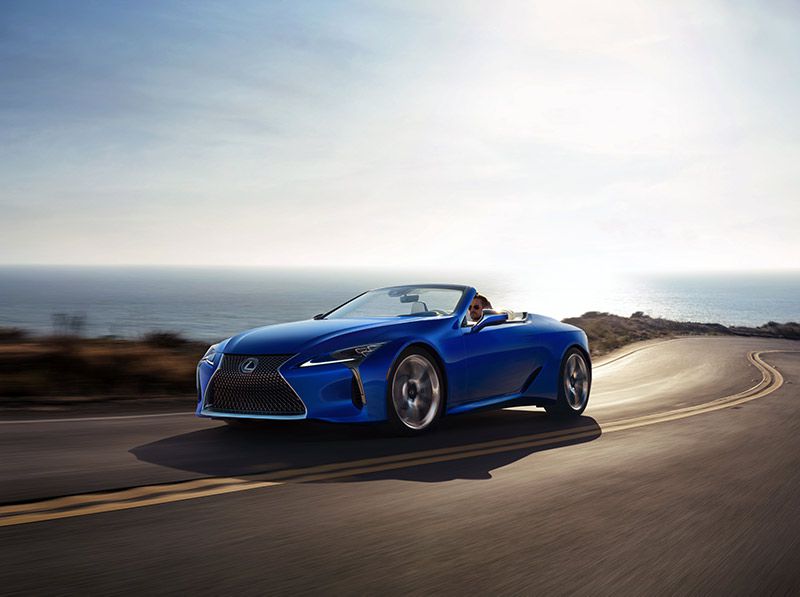 Photo by Lexus
Sports-Car Handing With a Smooth Ride
The Lexus LC 500 convertible doesn't just look sporty, it drives that way. Its powerful V8 engine delivers as expected when you press the gas and is matched by handling that makes all that power easy to manage. Steering is crisp and controlled so corners aren't just easy to handle but outright fun. This is a powerful sports car, but it's also a luxury car. It puts you in control but doesn't make you work too hard to manage that power. You can relax and enjoy the drive.
This extends to the overall ride quality. A performance car can be harsh with a stiff ride that reveals even the smallest road imperfections with a jolt up your spine. Uneven road surfaces weren't a bother in the LC 500 convertible. The suspension soaks up the bumps so passengers can focus on soaking up the sun.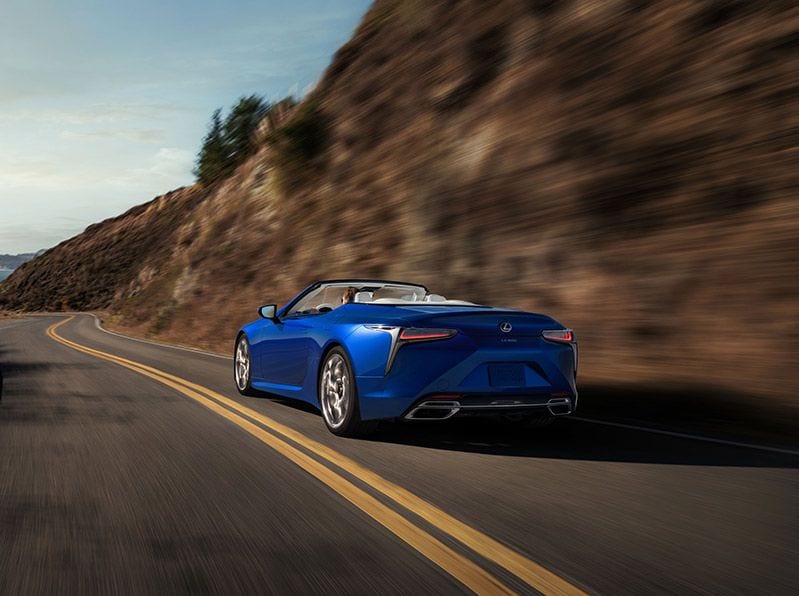 Photo by Lexus
Key Safety Features Come Standard
Standard on the 2021 Lexus LC 500 convertible is the Lexus Safety System+ suite of safety features. It includes a pre-collision system with pedestrian detection, a lane-departure alert with lane-keep assist, all-speed dynamic radar cruise control, and automatic high beams. There's also standard blind-spot monitoring with a rear cross-traffic alert.
convertibles come with the unique safety challenge of keeping passengers safe when the top is down and there's nothing over the heads of passengers. The LC 500 convertible overcomes this challenge with active roll bars. They're hidden from view to maintain the car's sleek lines when not deployed. If a rollover is detected, then the roll bars deploy to help keep passengers safe. There's also Lexus Enform Safety Connect, which is standard with three years of complimentary service providing access to Lexus Enform response centers.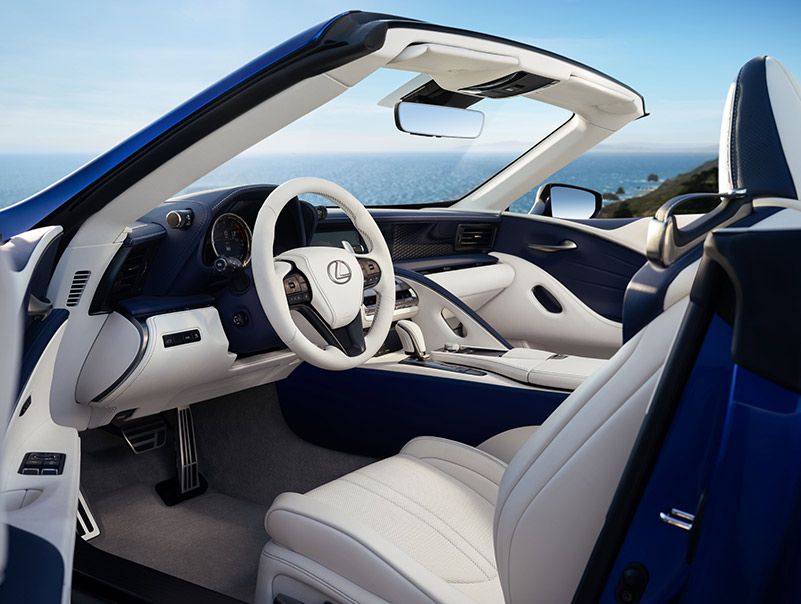 Photo by Lexus
Generous Infotainment
On the tech front, the LC 500 convertible has a 10.3-inch high-resolution split-screen multimedia display. It offers access to the audio system, climate controls, and voice-activated navigation. Android Auto and Apple CarPlay are both standard, and there's also access to Alexa through the Lexus+Alexa app. It can all be controlled through a touchpad that sits right beneath your hand on the center console.
The system is comprehensive and easy to use, but the touchpad takes a little time to master. There's a bit of haptic feedback to help you know when you've moved the cursor to the right spot on the screen, but using something that requires a delicate hand while you're driving can be tricky. Unexpected bumps in the road can have you clicking on the wrong thing altogether and make operating the system a bit frustrating until you get the knack.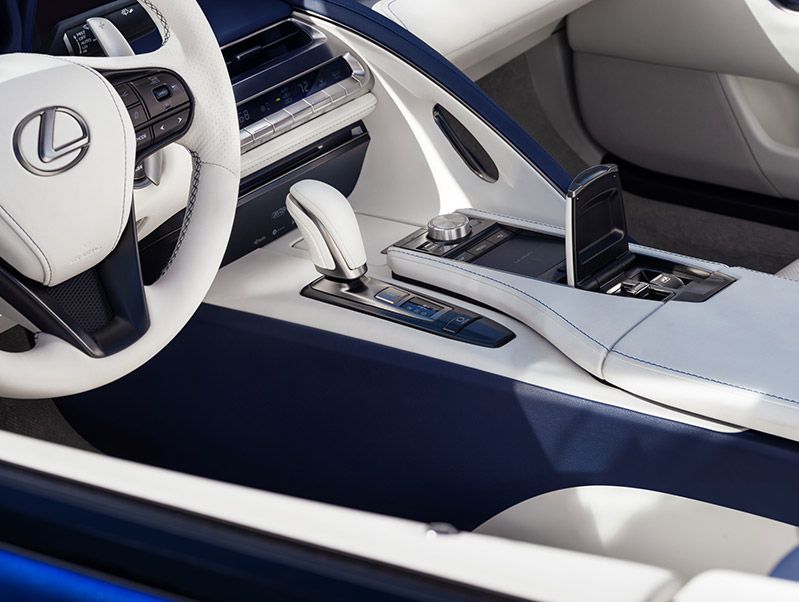 Photo by Lexus
Final Thoughts
The 2021 Lexus LC 500 convertible is a true luxury performance convertible. It has a striking exterior design that's attractive whether the top is up or down. This is the kind of car that will attract attention whether you're passing someone on the highway or simply driving through a parking lot. Inside, despite not having enough room for rear passengers, materials are beautiful and high-quality with comfortable front seating that ensures occupants feel like they're in a luxury car.
Striking visual elements and an elegant interior are combined with a powerful engine that provides exhilarating performance and crisp handling, so taking the long way home becomes quite an appealing option. It's sporty, attractive, and fun to drive, making the 2021 LC 500 convertible a worthy addition to the LC lineup.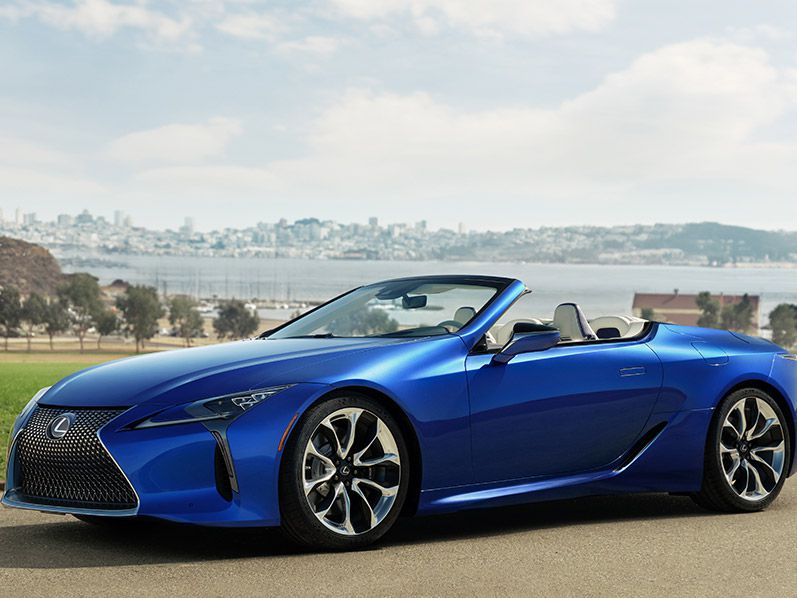 Photo by Lexus