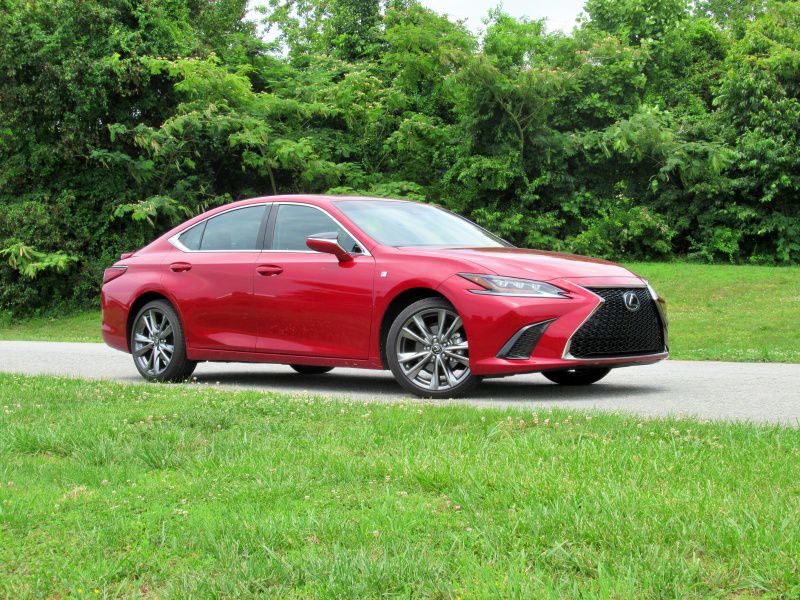 2021 Lexus ES 250 F Sport ・ Photo by Brady Holt
Speed is a defining characteristic of most modern luxury sedans. Automakers are reluctant to build high-end vehicles that can't perform on a racetrack. But there's a problem: It's more expensive to engineer and manufacture vehicles with incredible performance potential. These vehicles can also be more expensive to repair and maintain, and they often have more stiffly tuned suspensions. 
There's another option: the 2021 Lexus ES. Mechanically speaking, it's not so different from the Toyota Camry family sedan (and an even closer cousin to the larger Toyota Avalon), but it has the style and features you'd expect from a Lexus. And like a modern Camry, the ES offers a smooth, quiet ride; a solid reliability reputation; and decently agile handling. If a quiet ride, roomy interior, and elegant looks are just what you're looking for in a luxury sedan, here's how the ES stacks up. 
Three Affordable Engines
The 2021 Lexus ES is available with a choice of three powertrains. The most powerful engine is actually the least expensive: the 302-horsepower 3.5-liter V6 found in the ES 350 model, which is priced from $39,900. Next up is a new engine this year: a 203-horsepower 2.5-liter four-cylinder, which costs $40,000 but is also the first ES to include all-wheel drive instead of front-wheel drive. You can also get the gas-electric ES 300h hybrid, which combines a 2.5-liter gas engine with two electric motors for a total output of 215 horsepower. The ES 300h starts at $41,810. 
Whichever engine you choose, the ES undercuts similarly sized European luxury sedans like the BMW 5 Series and Mercedes-Benz E-Class by more than $10,000. And that's with their base four-cylinder engines, which typically make around 250 horsepower to the ES 350's 302. Lexus also provides high-end standard equipment that includes a moonroof and adaptive cruise control, which often cost extra even on pricier luxury sedans. 
Photo by Brady Holt
Economical All Around
All three of the Lexus ES engines get excellent EPA fuel economy ratings, and all three use affordable regular-grade fuel. 
The V6 ES 350 scores EPA ratings of 22 mpg in the city, 32 mpg on the highway, and 26 mpg combined in most versions (and about 1 mpg less on the F Sport model). The four-cylinder ES 250 AWD returns 25 mpg city, 34 mpg highway, and 28 mpg combined. And the ES 300h hybrid achieves an EPA-estimated 43 mpg in the city and 44 mpg on the highway. In our tests, we achieved 26 mpg in the ES 350, 30 mpg in the ES 250, and an incredible 51 mpg in the ES 300h.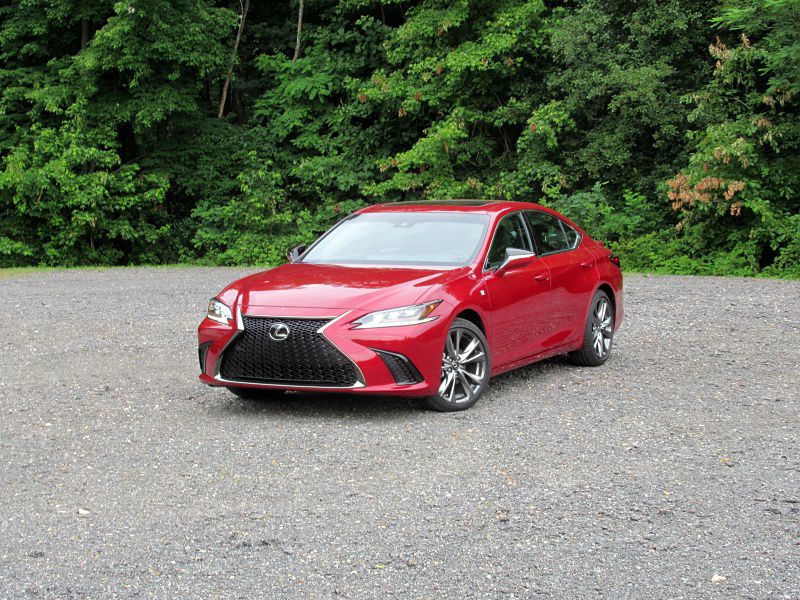 Photo by Brady Holt
Relaxed but Not Clumsy
The Lexus ES used to have a softly sprung suspension that allowed no room for handling agility, even to the point that the car sometimes felt unsettled on smooth pavement. The current generation, which debuted for 2019, is a significant improvement. The steering is responsive rather than disconnected, and the suspension is more buttoned-down — benefiting both the car's ride and its handling. The ES 350's V6 engine is also smooth, rich-sounding, and effortlessly powerful. 
The ES still doesn't drive like a world-class luxury sedan. You won't find vault-like solidity, and even on the more tautly tuned F-Sport model, the improved handling isn't sports-sedan caliber. The new naturally aspirated four-cylinder ES 250 isn't as quick as other luxury sedans' turbocharged fours, and it's not as smooth. Nor is the ES 300h hybrid, which uses the same engine. Still, if you drive the car gently, Lexus's ample sound-muffling efforts will keep the four-cylinders' racket out of the cabin, and 200-plus horsepower is plenty for many drivers. Plus, those world-class cars that drive better are either much smaller or much more expensive. If you're looking for something comfortable, quiet, and — at last — decently agile, the ES delivers.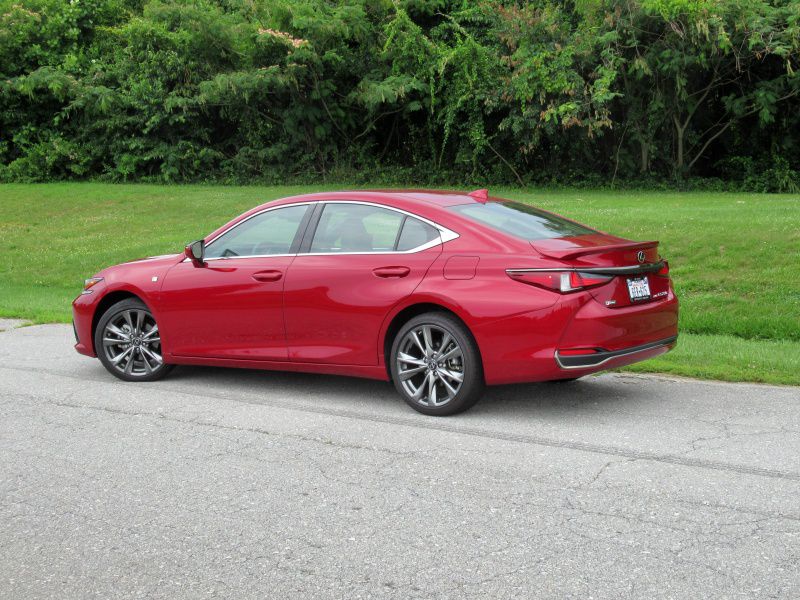 Photo by Brady Holt
Spacious and Comfortable
The ES has an uncommonly spacious interior even for its class, where styling and suspension considerations regularly cramp the rear passengers. This Lexus can easily hold four tall adults, and a fifth fits without too much squeezing. 
The F Sport model has extra-supportive front seats, which offer form-fitting bolsters without feeling too aggressive. We're big fans. The standard ES has flatter front seats, but they're comfortable as well. And while the back seat would be more comfortable if the cushion were higher, the ES easily exceeds the low standards of a $40,000 luxury sedan. In some ways, it's even better than the accommodations Lexus provides in the flagship LS; the LS has more padding on the back seat, but there's less foot space than the ES. The ES's trunk is also uncommonly generous at 16.7 cubic feet, barely trailing the LS's 16.9 cubic feet.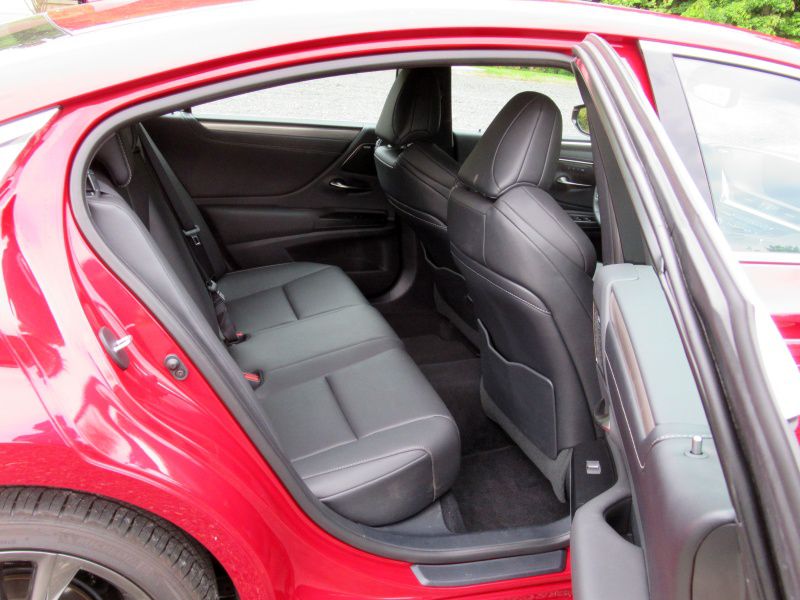 Photo by Brady Holt
Upscale Interior Styling
The Lexus ES has an upscale cabin design, and sumptuous upholstery — especially in lighter colors — provides a warm and welcoming feel. That's a contrast to the cold, sterile, high-tech vibe in some luxury sedans. Still, it's not stodgy or dull, thanks to unique curves that decorate the dashboard. 
When you spend extra, you do get some nicer details than on the ES. Some moving parts lack the extra level of mechanical precision you'd find in a top-tier luxury sedan. The gauges have old-looking warning lights. And some plastics feel more Toyota than Lexus. Another longtime Lexus complaint regards the infotainment system, which relies on a cumbersome touchpad rather than a touchscreen. It's bad enough that it takes multiple steps to perform some simple tasks, like turning the air conditioner on and off; it's worse when each of those steps requires a fussy touchpad. The 2022 ES will receive touchscreen capability, which will make it much easier to use the car's standard 8-inch screen or the optional 12.3-inch unit included on our test vehicle.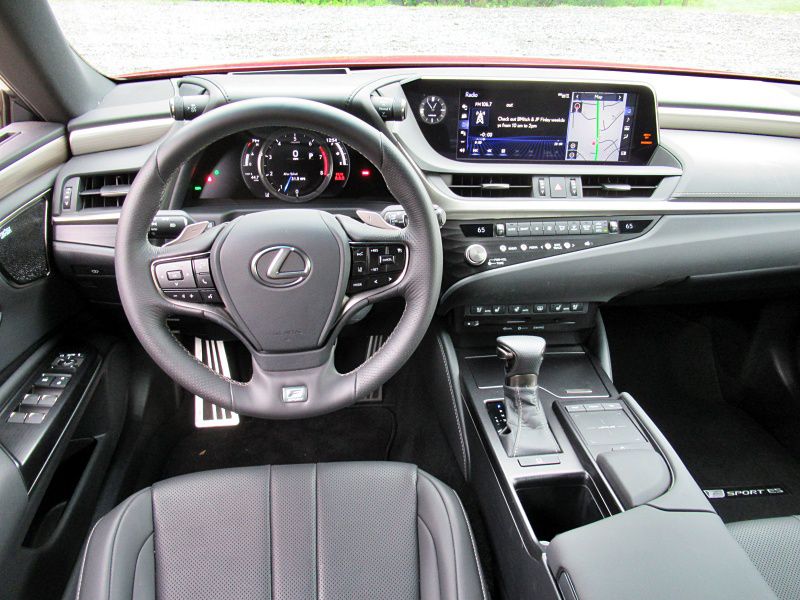 Photo by Brady Holt
Crisp Exterior Design
To our eyes, the ES strikes an excellent balance between a dynamic, modern design and a smooth, graceful, timeless one. Lexus's big hourglass-shaped grille still has its detractors, but we're getting used to it, and it integrates smoothly with the ES's slim headlights. This isn't an extra-edgy Lexus like the RX SUV, yet designers have also kept it from coming off as dull and generic.
The car is stretched nicely across the long 196-inch body, with a mix of gentle curves, crisp lines, and pleasant proportions. It's a cohesive look that closely resembles the brand's flagship Lexus LS, though the wider LS commands more presence when seen head-on. And if you equate size with luxury, the flowing body looks upscale of the smaller European luxury sedans you could buy at this price.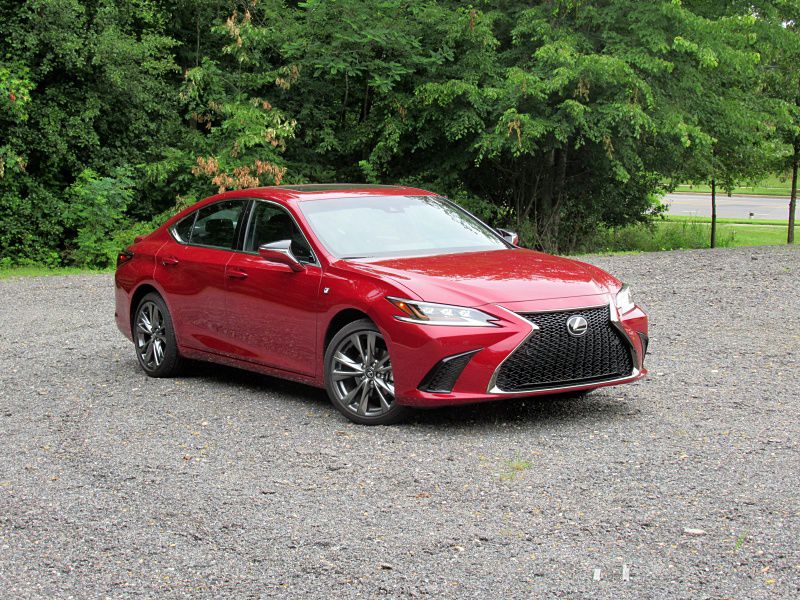 Photo by Brady Holt
Top Safety Pick
The 2021 Lexus ES earned the highest possible rating from the Insurance Institute for Highway Safety: Top Safety Pick+. That reflects the sedan's exemplary performance in crash tests and collision-avoidance evaluations, which include tests of its headlights and its automatic emergency braking and pedestrian detection. Even many luxury sedans come short of this mark, often due to underperforming base-model headlights. 
The ES also did well in National Highway Traffic Safety Administration crash testing, with a top five-star overall score. However, it earned four out of five stars in frontal-impact protection. In addition to the automatic braking we mentioned above, standard safety technology on the ES includes a lane-departure warning with lane-keeping steering corrections. Blind-spot monitoring is a widely available option, and you can also add front and rear parking sensors and a surround-view parking camera.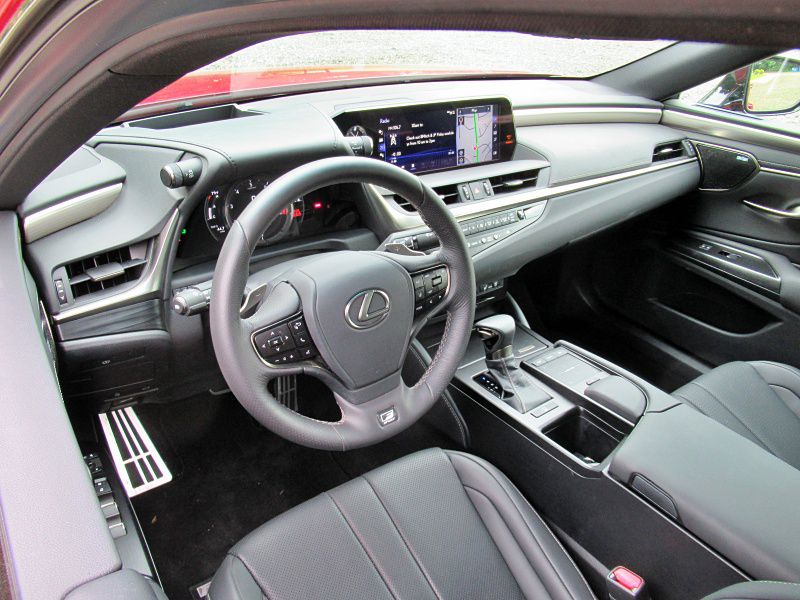 Photo by Brady Holt
Fewer and Fewer Competitors
With more people drifting toward SUVs instead of sedans, especially those who don't prioritize sporty handling, the ES has fewer competitors than it used to. Its closest recent rival, the Lincoln MKZ, was recently discontinued. Its Toyota Avalon cousin will follow suit next year. 
Still, some options remain. If you like how the ES drives but don't need a premium badge or luxurious design, or you can't stand its controls, the Avalon offers a similar experience for a few thousand dollars less — at least until Toyota stops building it. Among luxury brands, the newly redesigned Genesis G80 offers top-tier interior quality and design presence at a closer price to the ES ($47,700 rather than $50,000-plus for a German mid-size luxury sedan). The G80 is also available with higher-performance engines than the ES and more of that extra-fancy substantial feel. Still, we wish Genesis had made the ride smoother and the rear seat roomier. If rear legroom isn't a priority, other relatively affordable mid-size luxury sedans include the Acura TLX, Cadillac CT5, or Jaguar XF. None of these sedans can match the ES 300h hybrid's fuel economy; your closest alternative to that is the surprisingly upscale Honda Accord Hybrid.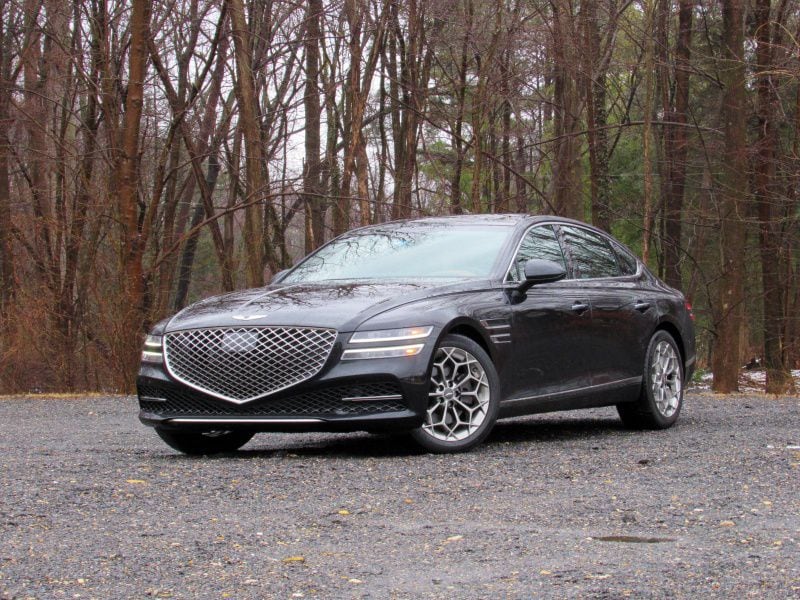 Photo by Brady Holt
A Welcome Alternative
Automotive purists may scoff at the Lexus ES. From its family-car roots, to its low-horsepower four-cylinder engines, to its imperfect interior details, it's not a car that sets out to be the greatest automobile money can buy. 
But for plenty of folks, that's going to be just fine. The ES is an uncommonly affordable, reliable, and economical way to get a roomy, comfortable luxury sedan. It offers a choice of three similarly affordable engines, including a powerful V6, an extra-economical hybrid, and a newly available all-wheel-drive option. (We'd have paired AWD with the V6 instead of a base four-cylinder, but this money-saving move let Toyota share this system with popular Camry versions for economies of scale.) And the ES definitely looks the part of a luxury sedan, with the sleek, graceful shape you won't find in an SUV. When value and comfort matter more than perfectly honed interior details and performance, the 2021 Lexus ES might be the perfect luxury sedan for you.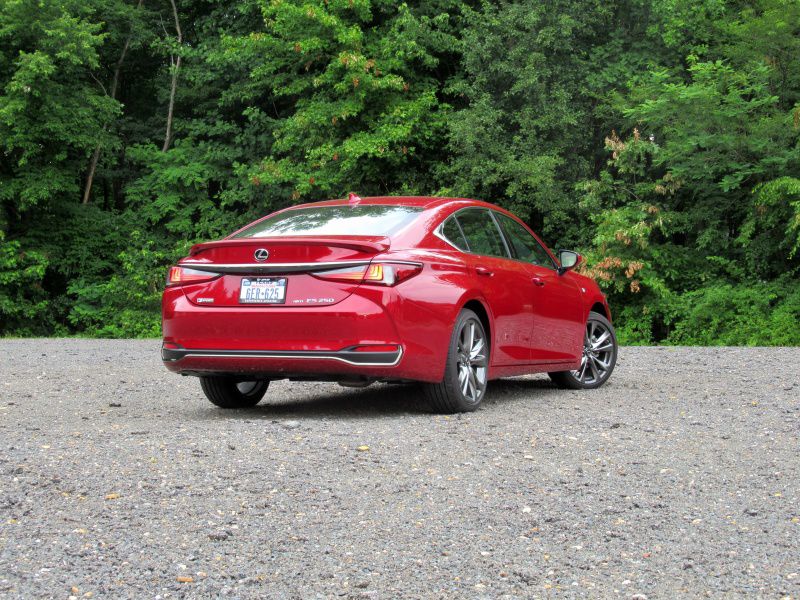 Photo by Brady Holt