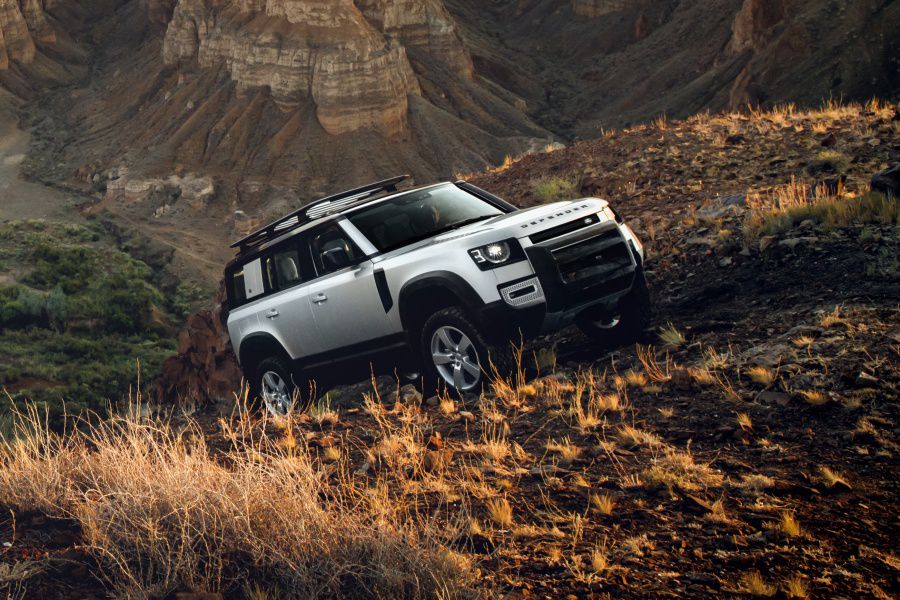 2020 Land Rover Defender 110 ・ Photo by Jaguar Land Rover
One of the hottest segments in the auto industry is off-road SUVs. Sales of the Jeep Wrangler have exploded over the last five years to over 200,000 annually. It's now the best-selling off-road SUV in the business, and its success has resulted in other car companies creating their own rugged trail-ready sport utility vehicles. The Wrangler's list of rivals will soon include the highly anticipated Ford Bronco; meanwhile, the all-new Land Rover Defender has just hit the market. 
A legendary vehicle in the off-road community, the Land Rover Defender hasn't been sold in the United States for about 25 years. Like the Jeep Wrangler, the new Defender taps into its long history, dating back to the 1940s, while offering modern-day features, comfort, and technology alongside true off-road capability. But which is best? Let's examine the 2021 Land Rover Defender and 2021 Jeep Wrangler in key areas and decide.
Styling and Design
Rugged, timeless, and authentic. The look of the Jeep Wrangler never seems to change but always seems to improve. Last redesigned in 2018, the SUV gained a few subtle curves and muscular faux front fender vents, but the look is still that of a classic Jeep. You can still see that original 1941 military Jeep in its shape, from the signature seven slot grille to the attitude of its pronounced wheelwell flares. Until the Ford Bronco arrives, the Wrangler is also the only vehicle you can buy with removable doors, and the Unlimited trim is the only four-door convertible on the market.
You can also see elements of previous Defenders in the Land Rover's lines, especially from the rear. However, Land Rover's designers didn't go full retro. They didn't stick to the script. Instead, they mixed in a few elements from the maker's other modern-day SUVs, and the overall look achieved isn't as pure or distinctive as it could have been. Purists will prefer the 2-door model to the longer, more conventional proportions of the 4-door, but both are undeniably attractive and peg the "cool meter."
 Winner: Jeep Wrangler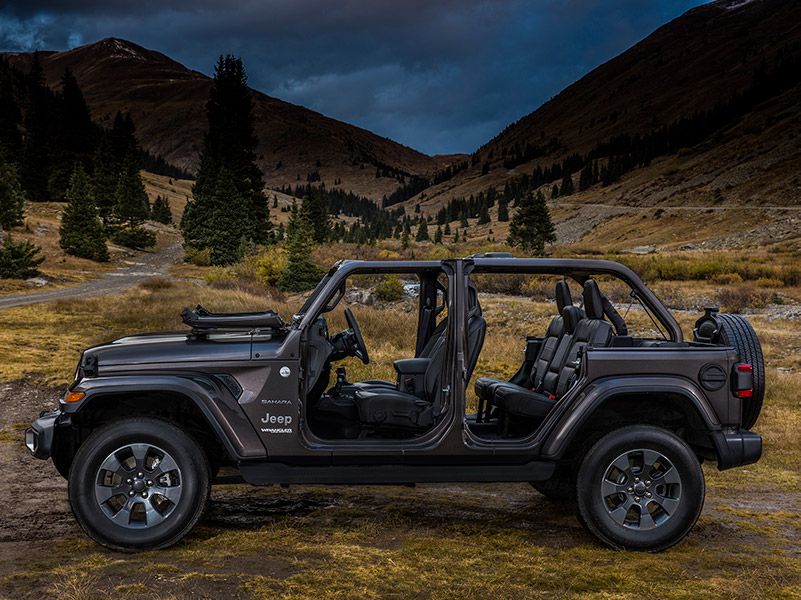 Photo by Fiat Chrysler Automobiles
Comfort and Cargo
Over the years, Jeep has greatly improved the comfort of the Wrangler. Its seats are well-shaped, its interior is welcoming, and its ride quality is surprisingly plush considering its ability to climb over almost any terrain. The Land Rover Defender, however, is the more comfortable of the two. It's more spacious inside, its seats are more supportive, and the four-door model can seat up to eight, while the Jeep's passengers capacity is limited to five. The Defender's ride quality is also a bit smoother than the Wranglers.
The Defender's 2-door and 4-door models also have the edge over the Wrangler in cargo space. Both SUVs have swing-out rear doors instead of liftgates, and both offer rear seats that fold flat easily. Land Rover offers a few funky storage accessories, including a bin that hangs off the side of the SUV like a piece of luggage and a built-in ladder so you can better access its roof rack. 
Winner: Land Rover Defender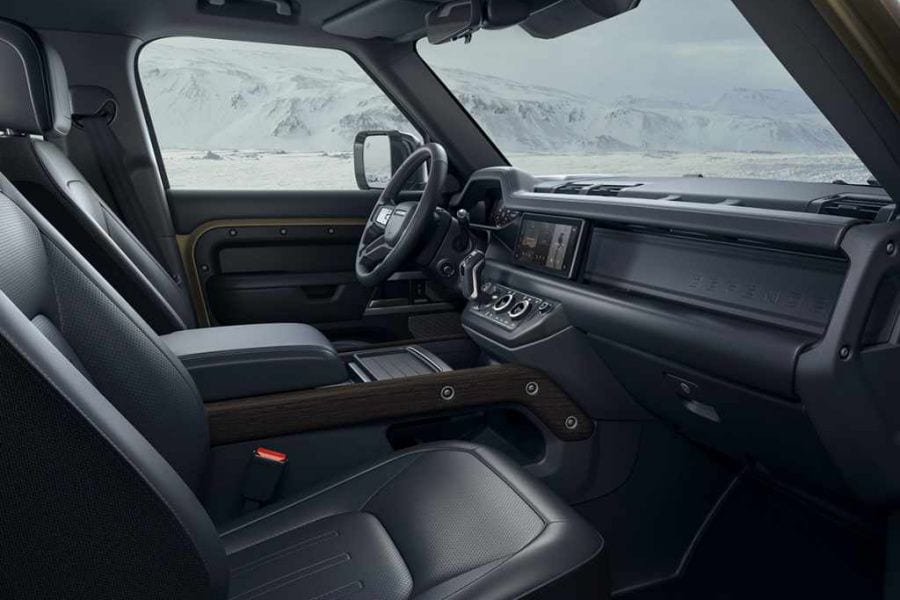 Photo by Jaguar Land Rover
Infotainment System
Jeep's optional Uconnect infotainment system is one of our favorites. It features a large 8.4-inch touchscreen, intuitive menus, and sharp responsivness. It's extremely user friendly, offers clean graphics, large touch points, and Android Auto and Apple CarPlay connectivity.
Land Rover has struggled with its infotainment technology in the past, and its systems are still behind the best. The Defender's new interface called Pivi Pro is far too slow to respond to your inputs, which make it frustrating to use, and its graphics don't make the best use of the screen space. The good news is that a massive 10-inch screen, navigation, Android Auto, Apple CarPlay, and a WiFi hotspot are all standard for the Defender.
Winner: Jeep Wrangler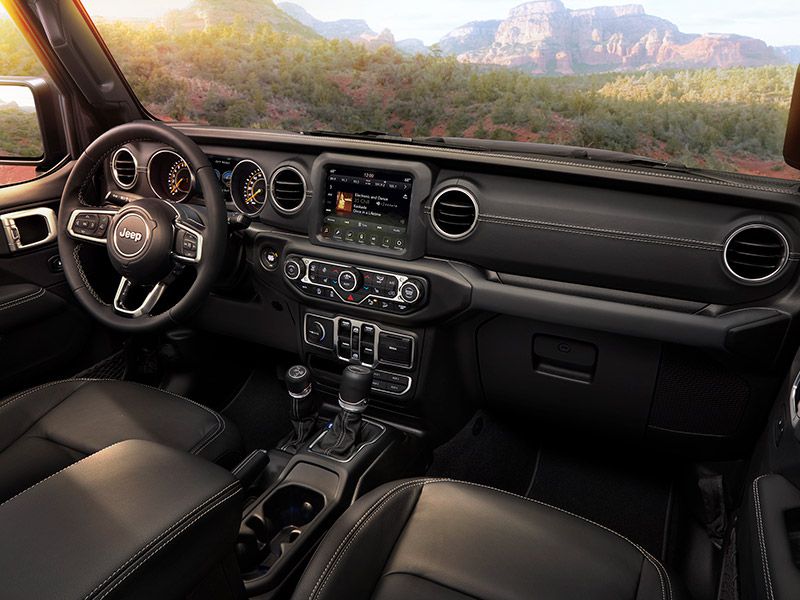 Photo by Fiat Chrysler Automobiles
Safety and Technology
Neither of these SUVs has been crash tested or given safety ratings by the National Highway Traffic Safety Administration. Only the Jeep Wrangler has been crash tested by the Insurance Institute for Highway Safety with mixed results.
Both vehicles offer a list of accident-avoidance technology, but only the Defender comes standard with automated emergency braking with pedestrian detection and lane departure warning with lane keeping assist. Adaptive cruise control is an option. The Wrangler's options list includes adaptive cruise control with stop, forward-collision warning, blind-spot monitoring, rear cross-traffic alert, and rear parking sensors.
Winner: Land Rover Defender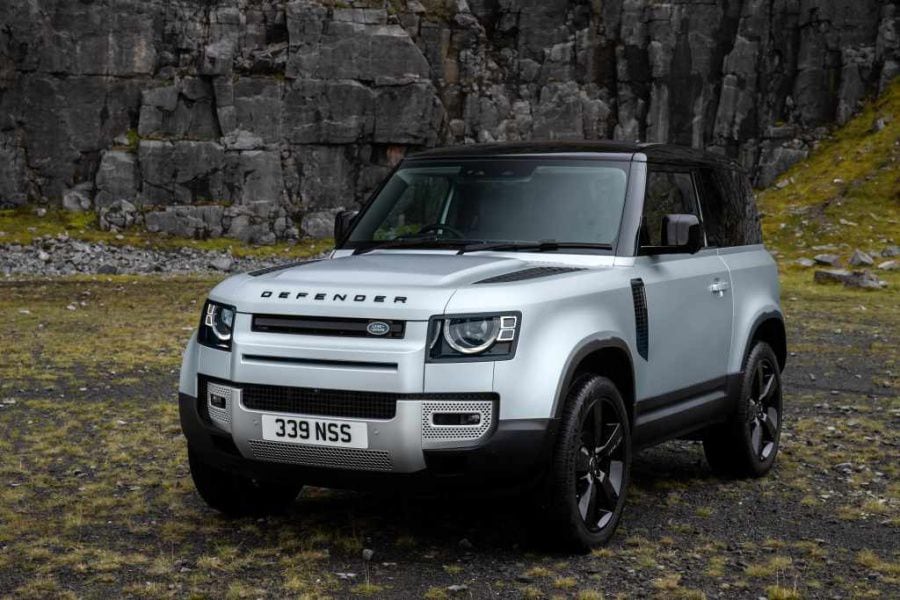 Photo by Jaguar Land Rover
Power and Performance
The Land Rover Defender is available with two engines — a standard turbocharged 296-horsepower 2.0-liter four-cylinder engine with 295 lb-ft of torque, and a 395-horsepower 3.0-liter inline six-cylinder engine with a stout 406 lb-ft of torque. All-wheel drive is standard on all models along with an 8-speed automatic transmission. With the 2.0-liter engine, the Defender accelerates to 60 mph in just 7.6 seconds. With the additional might of the six-cylinder engine, that time drops to just 5.7 seconds.
The Wrangler is offered with six different engines, including a standard 285-horsepower V6, a turbocharged four-cylinder, a 375-horsepower plug-in hybrid, a diesel, and a 470-horsepower 6.4-liter Hemi V8. A six-speed manual is standard, but most buyers go for the optional 8-speed automatic. Four-wheel drive is standard, and the Jeep's acceleration times beat the Defender's quite easily. With most powertrains, acceleration from 0-60 mph is in the 6.5 second range, and it's downright fast with a V8 engine, reaching 60 mph in just 4.5 seconds.
Winner: Jeep Wrangler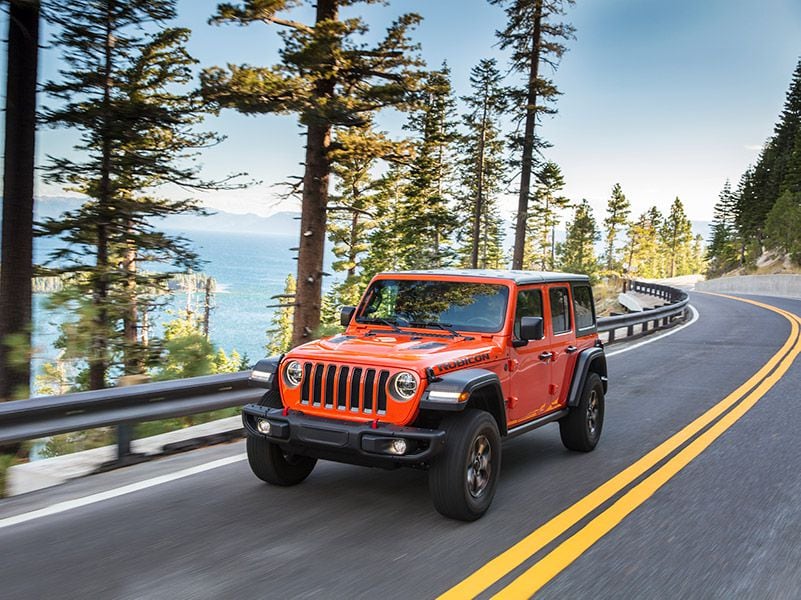 Photo by Fiat Chrysler Automobiles
Fuel Economy
With its standard four-cylinder engine, the 2-door Defender 90 model's fuel economy estimates are 18 mpg city and 21 mpg highway. With the more powerful six-cylinder engine, its city rating drops to 17 mpg, but its highway rating is 22 mpg. The longer and heavier 4-door 110 model is rated 17 mpg city and 20 mpg highway with the four-cylinder and 17 mpg city and 22 mpg highway with the six-cylinder.
Overall, the Jeep is more fuel efficient. With its standard V6 engine, its EPA estimates are 20 mpg city and 24 mpg highway with the optional automatic transmission. With the 2.0-liter turbo four-cylinder engine, it gets about 22 mpg city and 24 mpg highway. The new plug-in hybrid can be driven for up to 25 miles, and the diesel engine is rated at 22 mpg city and 29 mpg highway.
Winner: Jeep Wrangler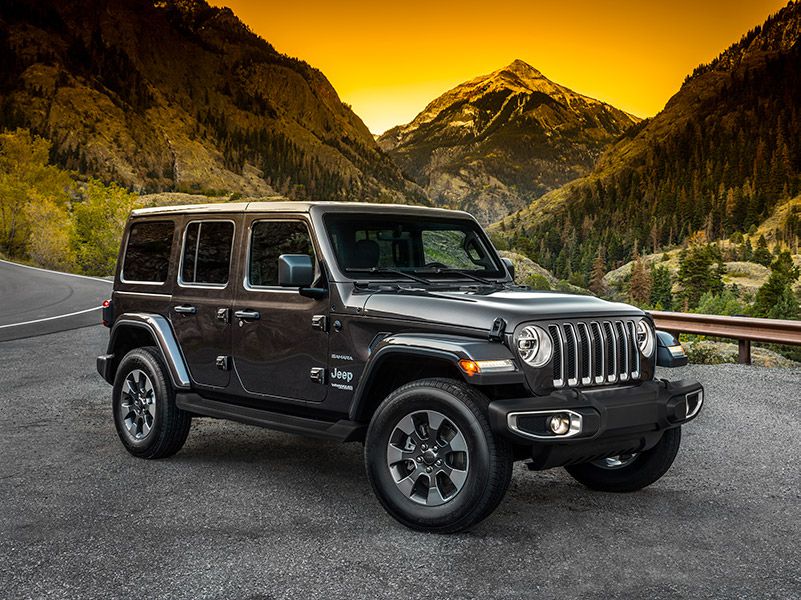 Photo by Fiat Chrysler Automobiles
Driving Dynamics
One of the reasons the Jeep Wrangler has become so popular is its excellent driving dynamics. You no longer feel like you're driving a monster truck to work. It isn't exactly a luxury sedan, but this SUV is a comfortable ride around town and on the highway. It doesn't beat you up, and it has enough acceleration and agility to be fun to drive, even with its standard V6 engine, which has plenty of low-end power. The Jeep Wrangler isn't as refined as the Land Rover Defender, but it isn't crude either, especially with the optional hard top, which keeps more noise out.
In the urbanscape, the Land Rover feels more sophisticated than the Jeep. Its powertrains are smoother, and its air suspension soaks up the road better. It's also quieter and handles more athletically than its rival. The Defender feels more car-like. Both vehicles perform impressively off-road, but the Jeep Wrangler Rubicon trim, with its locking axles and sway bar disconnect system, is still the best in the dirt.
Winner: Tie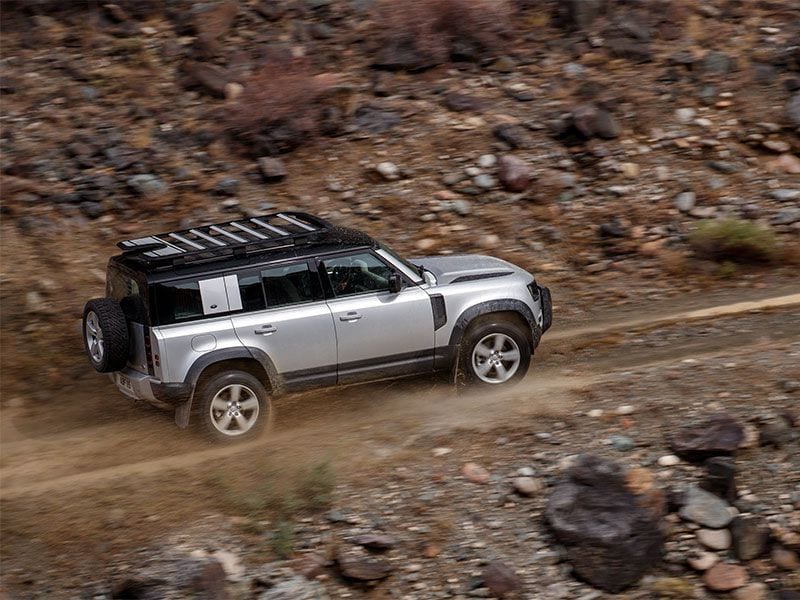 Photo by Jaguar Land Rover
Value
The base price of a 2-door 2021 Jeep Wrangler is $29,810, including a $1,495 destination fee. The more popular 4-door costs $3,500 more, and automatic transmission is a $1,500 option. Load it up with features, and a Wrangler can break the $60,000 barrier.
The Defender costs more — considerably more. Its base price is $47,450, including a $1,350 destination fee. 4-door models start at $51,850, and one with the available six-cylinder engine costs about $12,000 more. Deck out your Defender, and it can easily cost over $95,000.
Winner: Jeep Wrangler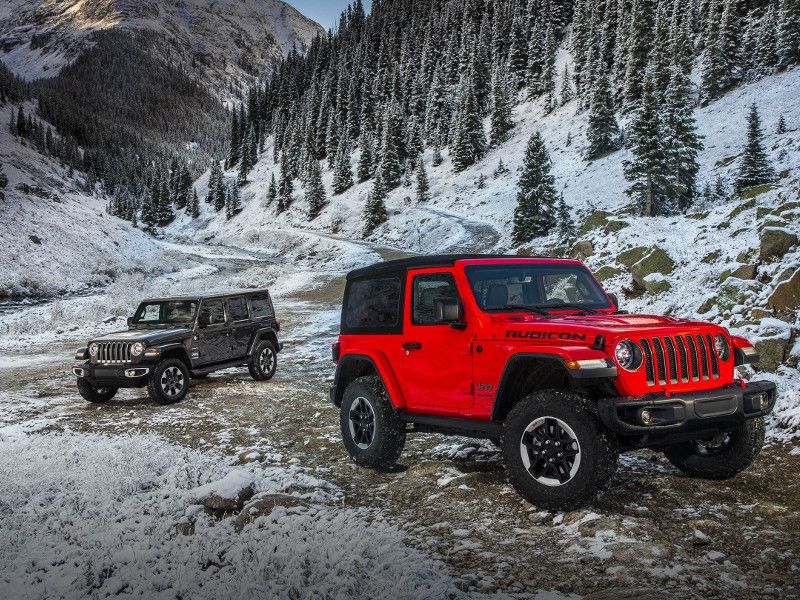 Photo by Fiat Chrysler Automobiles
Verdict
Land Rover's new Defender lives up to the hype. Few SUVs offer such a compelling combination of on-road refinement, off-road capability, comfort, and a cool design. It's an SUV we've been looking forward to for several years, and it has proven to be worth the wait. If you stick to the lower trim levels and keep the options to a minimum, it's actually a good value, especially the 2-door model.
But ultimately, the Jeep Wrangler is the victor. With its long list of trim levels and powertrains, there seems to be a Wrangler that's right for everyone. It's just as at home in the mountains as it is downtown. Plus, it offers more power, performance, and value than the Defender. It's no wonder the Jeep Wrangler only gets more popular as time goes on.    
Winner: Jeep Wrangler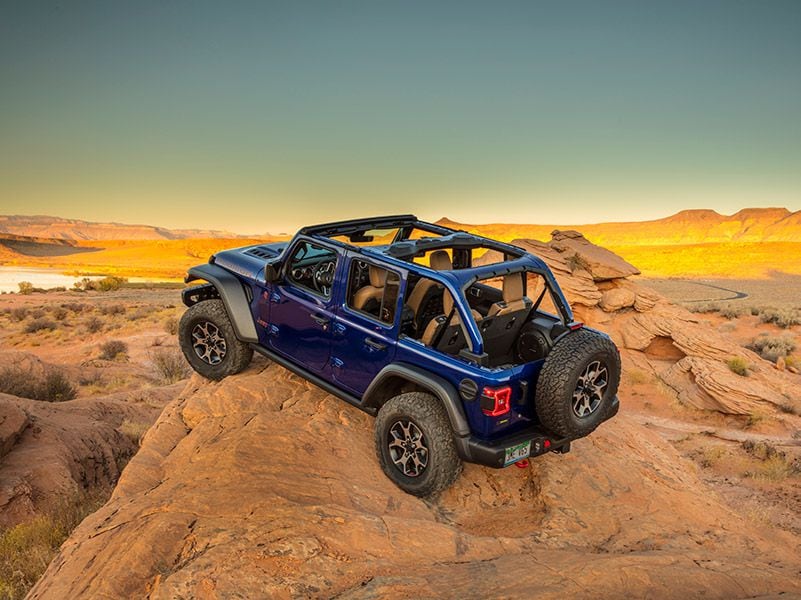 Photo by Fiat Chrysler Automobiles