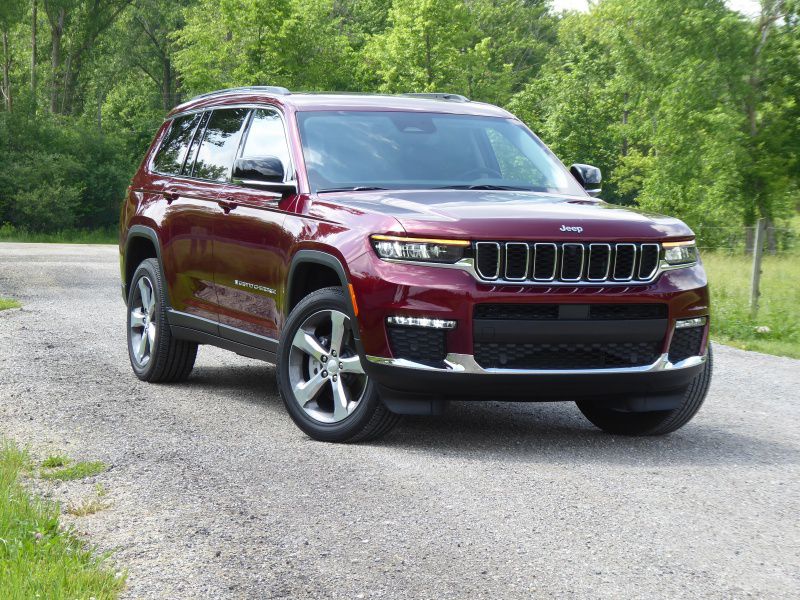 2021 Jeep Grand Cherokee L ・ Photo by Ron Sessions
Despite the worst global pandemic in a century, the Ford Explorer maintained its status in 2020 as the company's best-selling SUV. And for the 2021 model year, Ford enhanced the Explorer's wide showroom appeal with a pair of new trims: a leather-lined King Ranch edition and a raised, off-road-ready Timberline. Not to be outdone, Jeep has just introduced a stretched version of its top-selling Grand Cherokee with third-row seating and dubbed it the Grand Cherokee L.
The new Jeep gets a 7-inch wheelbase stretch and spans 15.1 inches more than the two-row Grand Cherokee, which Jeep will continue to offer alongside the Grand Cherokee L. Dimensionally, the Ford Explorer and new Grand Cherokee L are within a few inches of each other, are available with rear-wheel drive or 4-wheel drive, and offer seating for six or seven passengers.
Including the destination charge, base prices range from $36,320 to $54,330 for retail versions of the 2021 Ford Explorer (excluding the base fleet model) and $38,690 to $66,985 for the 2021 Grand Cherokee L.
Let's see how Ford's popular mid-size SUV and the newest rendition of Jeep's top-seller that's stretched to Explorer proportions stack up against one another.
Cabin Features and Comfort
The Grand Cherokee L puts those 15.1 inches of added length to good use. It offers sumptuous front bucket seats, the most second-row seat legroom in the segment, and a third-row bench for two passengers that gives more footwell space and under-thigh support than the Explorer. Overall, the Grand Cherokee L has more passenger space than the Explorer. Ingress and egress into the second row is excellent thanks to the Grand Cherokee L's wider rear doors, and access to the third row is enhanced by easy-access tip-and-slide second-row seats that pivot up and out of the way. All major touch points on the doors, console, and armrests are well-padded. The theme inside is structural simplicity, highlighted with dashes of aluminum and wood trim. Except for cloth seats in the base Laredo, all seat coverings are leather with super-soft and quilted Palermo leather hides in the range-topping Summit Reserve. 
The Explorer starts out at a lower price point and it looks it. Except for the Platinum and King Ranch trims which offer more soft-touch and wrapped surfaces, the other Explorer models have a preponderance of durable-looking, but less-aspirational, hard plastic trim. And remember that the company sells a mechanically identical but more upscale Lincoln Aviator for buyers who want more pampering. The Explorer's front seats are also comfortable and fairly supportive, covered with faux-leather in XLT and the real stuff in higher trims. Third-row access is also easy, but once there, passengers past grade school will find the lower cushions short and uncomfortable.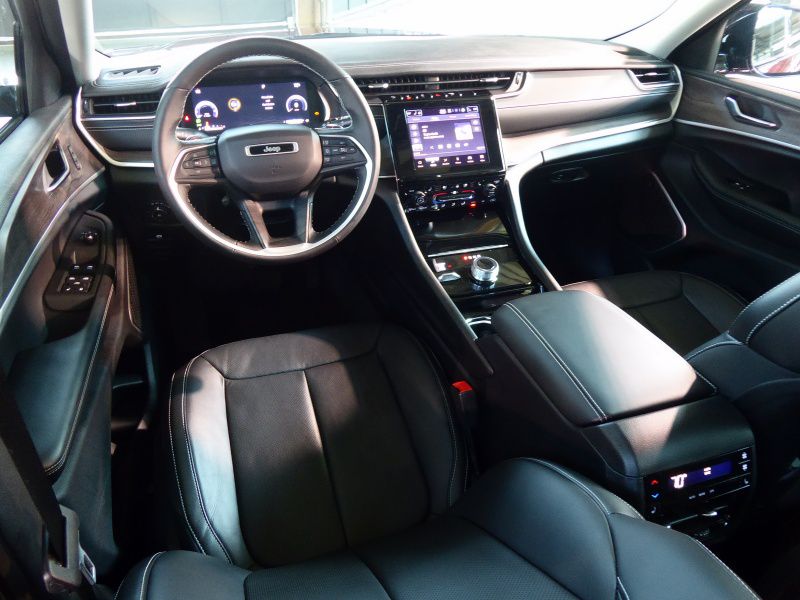 Photo by Ron Sessions
Infotainment
Both the 2021 Explorer and the new Grand Cherokee L offer the latest in infotainment technology. The Explorer brings a standard 8-inch landscape-format 8-inch infotainment touchscreen in lower trims and a portrait-format 10.1-inch touchscreen standing proud atop the center stack in more expensive models. Wired Apple CarPlay and Android Auto cellphone mirroring requiring a USB connection is standard across all models. Having learned its lesson from early SYNC systems, all current SYNC3 systems include simple rotary volume and tuning knobs for inputs as well as touchscreen, steering wheel and voice inputs. Lower Explorer trims have a basic 6-speaker AM/FM stereo with SiriusXM satellite radio, while higher trims upgrade to a nice-sounding 12-speaker B&O premium audio system with HD Radio and imbedded navigation.
The Grand Cherokee one-ups the Explorer, however, with wireless Apple CarPlay and Android Auto and over-the-air software updates to the system. While screen sizes are similar, the Jeep adds SiriusXM360 to its base 6-speaker stereo and SiriusXM Travel Link and Traffic to its mid-level 9-speaker offering. The top Jeep sound system available only on top trims is an immersive McIntosh 19-speaker surround-sound system.
Photo by Ron Sessions
Cargo Space
One of the buyer must-haves for mid-size SUVs is generous cargo space, and both the 2021 Ford Explorer and the newly stretched Jeep Grand Cherokee L have plenty of it. The Explorer offers 18.7 cubic feet of space behind the raised third-row seat, about the same as in a full-size sedan's trunk. There's also more hidden space under the cargo floor for your valuables. With the third-row seat lowered, Explorer provides 47.9 cubic feet, and with both the second- and third-row chairs down, the cargo tallies at 87.8 cubic feet.
It's a similar story for the Grand Cherokee L with a smidgeon less space than Explorer but generous nevertheless at 17.2, 46.9, and 84.6 cubic feet respectively. There's plenty of room for a tall step ladder, a couple of mountain bikes, you name it.
: Tie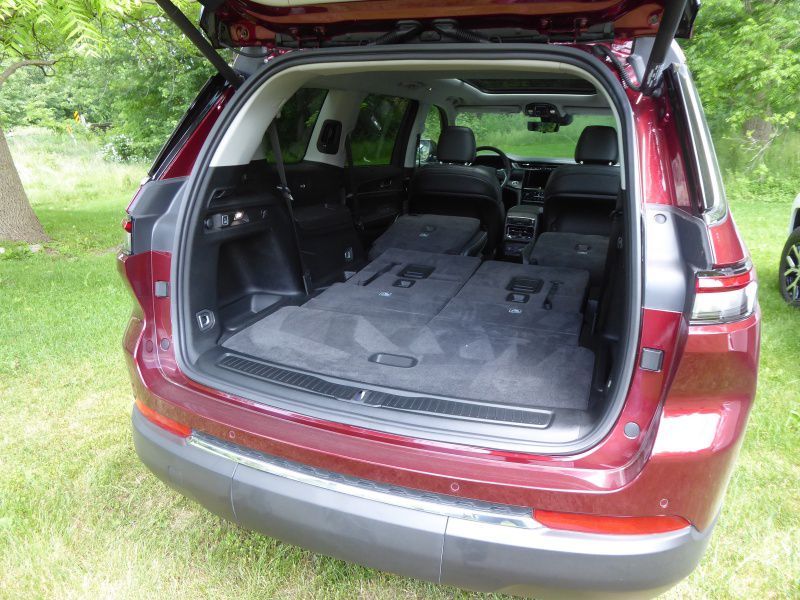 Photo by Ron Sessions
Powertrain and Fuel Economy
The new Grand Cherokee L inherits its powertrain choices from the short-wheelbase version and they are good ones. Standard is a 3.6-liter V6 with 293 horsepower and 260 lb-ft of torque while a 5.7-liter Hemi V8 pumping 357 hp and 390 lb-ft of torque is optional with 4-wheel drive on Overland, Summit, and Summit Reserve trims. Both are hooked to an 8-speed automatic transmission. The V6 gets the job done and can go 0-60 mph in less than 7 seconds, but the Hemi really brings the Grand Cherokee L to life with a hearty sound, torque all over the map, and accelerates to 60 mph in just over 6 seconds. There is a fuel economy penalty, however, with the V8 EPA rated at just 17 mpg in combined driving compared to the V6's 21 mpg.
Ford's Explorer has a wider powertrain selection with an eager 300-hp EcoBoost 4-cylinder turbo in base, XLT, Limited and Timberline trims, good for 7-second 0-60 performance. Platinum and King Ranch get a torquey, mellow-sounding 365-hp 3.0-liter EcoBoost twin-turbo V6 with a 400-hp version in the sporty ST that hits 60 mph in 5.5 seconds. Both turbo engines are paired with a 10-speed automatic. Combined EPA ratings surpass the Jeep's, with 23-24 mpg for the EcoBoost 2.3-liter, 20-21 mpg with the 3.0-liter, and 25-27 mpg in the Explorer hybrid.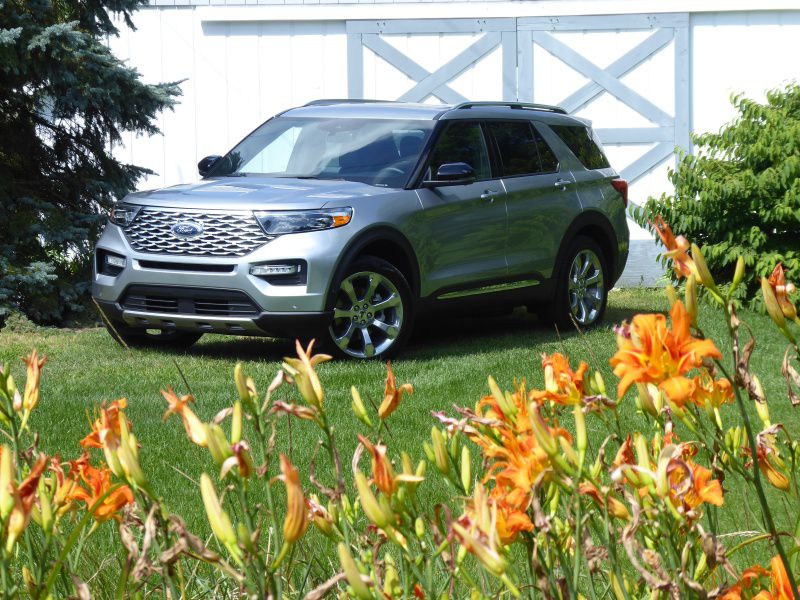 Photo by Ron Sessions
Towing
The ability to tow a travel trailer, boat, or off-road recreational toys is one the big reasons buyers choose robust mid- or full-size SUVs over smaller ones with car-based drivetrains and chassis components. Equipped with the 2.3-liter EcoBoost 4-cylinder turbo engine and Ford's factory towing package, the Explorer can tow up to 5,300 pounds. That increases to 5,600 pounds on Explorers equipped with the 3.0-liter EcoBoost twin-turbo V6, which is superior to the towing ability of most midsize suvs, including the Honda Pilot, Hyundai Palisade, and Kia Telluride.
Buyers looking to tow bigger loads, however, will want to check out the Grand Cherokee L which inherits the midsize class-leading trailering abilities of the short-wheelbase Grand Cherokee. Models with the 3.6-liter V6 are rated to tow loads up to 6,200 pounds and the Grand Cherokee L powered by the legendary 5.7-liter Hemi V8 raises that to 7,200 pounds, which is full-size SUV territory.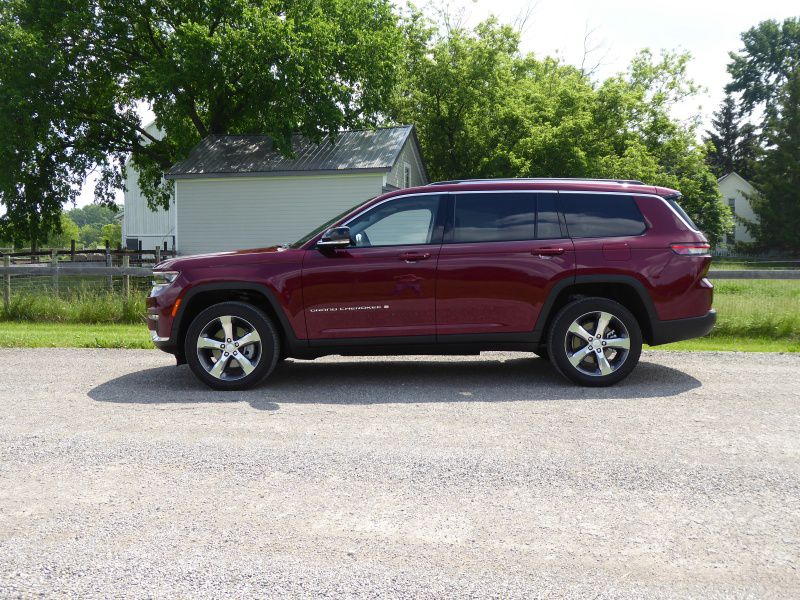 Photo by Ron Sessions
Ride and Handling
Unlike older, body-on-frame designs such as the Toyota 4Runner, the Explorer's unitized construction and stiff, jiggle-free body help give it a solid, stable feel on the road, inspiring confidence. And its 4-wheel independent suspension, wide stance, and balanced weight distribution help it drive smaller than it looks. The ST model in particular, offers a blend of handling and ride quality approaching that of larger sport sedans.
The new Grand Cherokee L also presents an agreeable balance of handling and ride quality, with steering that's precise, well-weighted, and powerful, responsive, easy-to-modulate 4-wheel disc brakes that inspire confidence, and good body control, especially with the optional air suspension that includes real-time adaptive suspension damping.
Of the two, the Explorer's slightly lower mass and lively available 400-horsepower twin-turbo ST model give it a slight performance advantage.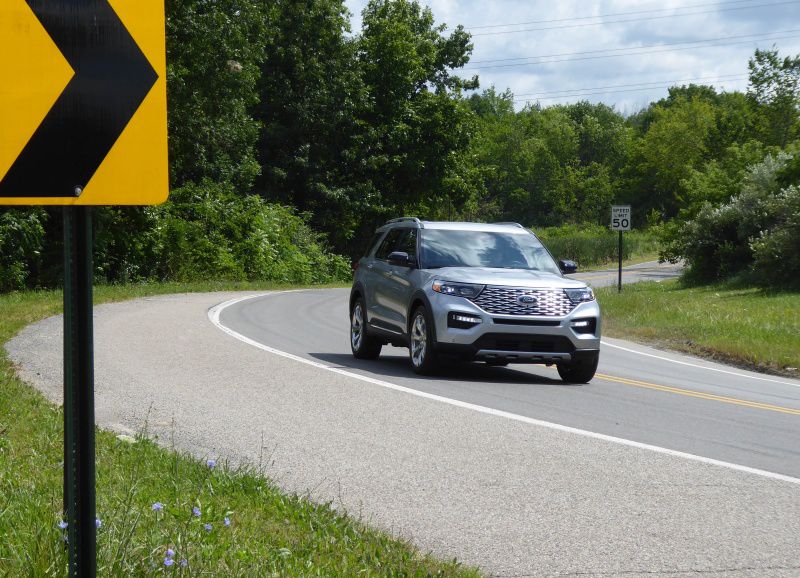 Photo by Ron Sessions
Off-Road Capabilities
Intelligent all-wheel drive is standard with ST and Platinum, and optional with all other trims which have standard rear-wheel drive. It combines traction control and the ability to apportion drive torque based on steering wheel and accelerator position, wheel speed and rate of acceleration. It also includes Ford's driver-selectable Terrain Management System that helps the driver custom tailor the system to handle certain driving conditions such as snow, sand, mud, gravel, ruts, and more.
The Grand Cherokee L, however, brings years of Jeep 4-wheel drive experience to bear with a choice of three 4x4 systems that use an active transfer case to send drive torque to the wheels with the best traction: Quadra-Trac 1 with a single-speed transfer case, Quadra-Trac II with a 2-speed transfer case and low range for crawling over difficult terrain, and Quadra-Drive II that combines the 2-speed transfer case with an electronic limited-slip rear differential. All three systems also feature driver-selectable Selec-Terrain traction management for specific weather and traction conditions such as sand, snow, rocks, mud, and more. Exclusive in the segment is the Cherokee L's Quadra-Lift 4-wheel air suspension that allows the driver to lower the ride for easier ingress or egress or raise it to a class-leading 10.9 inches for clearing off-road obstacles.
Photo by Ron Sessions
Safety and Driver Assistance
These days, carmakers are adding new life-saving safety and driver-assistive tech at a fast pace. The Explorer comes with an extensive roster of it, including standard automated emergency braking with pedestrian detection, lane-departure warning with lane-keeping assist, automatic high beams, blind-spot and rear cross-traffic monitoring. In addition, Ford's mid-size SUV can be optioned with intelligent adaptive cruise control with lane centering, speed-sign recognition, and reverse brake assist.
Benefiting from just entering the market, the Grand Cherokee L offers all this and more as standard equipment. The top Summit model also brings drowsy driver detection, a surround-view monitor, perpendicular and parallel parking assist, as well as Highway Assist that combines adaptive cruise control and lane centering to bring stress-relieving, hands-on, semi-autonomous driving on well-marked, limited-access highways.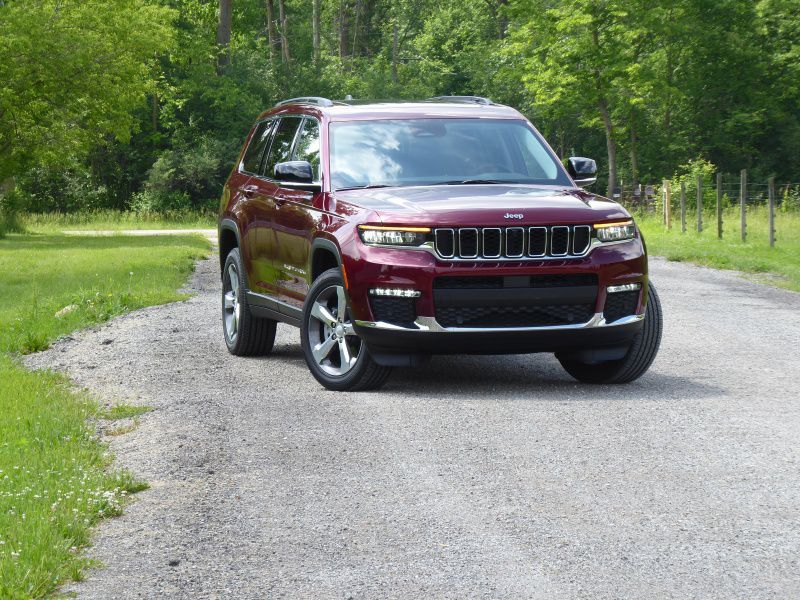 Photo by Ron Sessions
Verdict
The 2021 Ford Explorer is a solid choice for a lot of buyers looking for a roomy, comfortable mid-size SUV with generous cargo space, good handling, above-average towing ability, and surprisingly decent fuel economy.
That said, the all-new 2021 Jeep Grand Cherokee L combines the brand's legendary go-anywhere, all-weather driving capability with a stylish and well-contented cabin that can carry up to seven passengers. It also offers class-leading towing ability, tons of cargo space for toys and active-lifestyle pursuits, advanced features such as an available 4-wheel air suspension, and the latest infotainment and safety technology.
Don't fret the Grand Cherokee L's lower fuel-economy numbers with the models we've seen just yet. Arriving in the 2022 model year will be an electrified 4xe plug-in hybrid version promising electric-only driving ability for short commutes or silent off-road running with instant torque similar to the Wrangler 4xe.
: Jeep Grand Cherokee L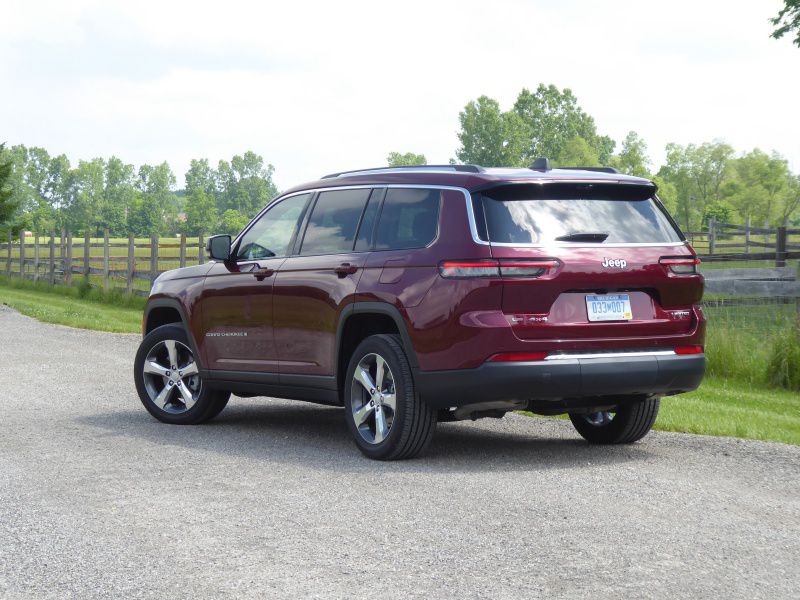 Photo by Ron Sessions