2021 Jeep Gladiator Mojave ・ Photo by FCA US LLC
While the casual driver thinks off-road is, well, off the road, those who are serious about the pastime know that having the right horse for the right course is critical to their success, fun, and, in extreme cases, their survival. A vehicle that is perfectly fitted out for rock-crawling might not have the right stuff when it comes to high-speed capability over desert sand.
And that's why Jeep has introduced the Gladiator Mojave. This pickup is the first Jeep vehicle designed to traverse desert terrain at elevated speeds, and it is the first vehicle to be emblazoned with Jeep's Desert Rated badge, signifying what it brings to the table. The logical outgrowth of Jeep's well-known and well-respected Trail Rated designation, the Desert Rated badge indicates that the Gladiator Mojave has been engineered and equipped with the powertrain, frame, suspension, and tires that will get the job done in the sand and grit of the desert. Every Desert Rated Jeep vehicle has been put to the test in five critical categories: ride control and stability, traction, ground clearance, maneuverability, and desert prowess.
Unique Exterior Design
The Jeep Gladiator has blown a refreshing air of innovation across the lookalike mid-size pickup truck segment. You won't mistake a Gladiator for anything else on the road (or off-the-road for that matter) because the Gladiator takes its own trail. It is exactly what you'd expect a pickup version of a Jeep Wrangler to look like, including Jeep staples like round headlights, seven-slot grille, removable doors with exposed hinges, and a fold-down windshield. Added to all those unique features are several innovative removable tops, including a folding soft that offers a "sunroof' and a three-piece modular hardtop.
The Mojave's 1-inch front suspension lift doesn't sound like all that much, but it does give the Jeep a little different look, a look that is accentuated by the "performance" hood with center scoop. A hood decal, unique exterior badges, orange tow hooks, special 17 x 7.5-inch wheels, and Jeep Performance Parts step sand slider side rails add even more distinction.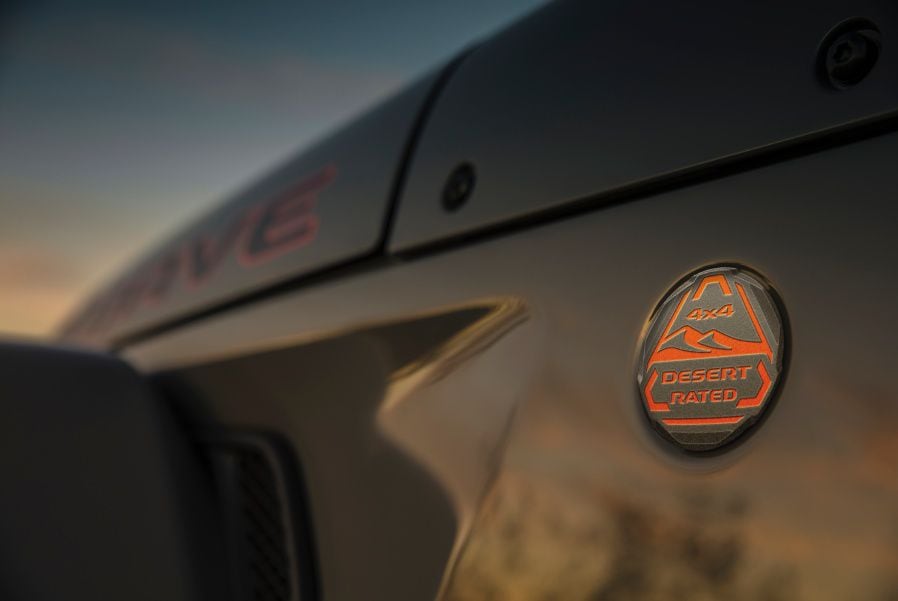 Photo by FCA US LLC
Interior That Emphasizes Comfort
The distinction offered by the Gladiator Mojave continues inside the cabin, where it offers "more aggressive" front seats with integrated upper bolsters to hold occupants comfortably in place. (After all, it is the Apex predator even in the seating department.) The seats are available in leather or cloth with orange accent stitching and embroidered Mojave logos.
The two interior color options are black and steel gray, which, you could argue, are barely colors at all. The competition-inspired leather-wrapped steering wheel has accent stitching that features a substantial rim section for extra grip, ergonomic comfort, and the control a predator demands. Of course, predators value their creature comforts too, and thus the dual-zone automatic climate control and cabin air filter don't seem out of place even on a vehicle whose doors are designed to come off. The Mojave's fourth-generation Uconnect system includes Apple CarPlay, Android Auto, and the choice of a 7.0- or 8.4-inch touchscreen with pinch-and-zoom capability. An available forward-facing off-road camera allows obstructions — in the desert or in the driveway — to be easily seen as well.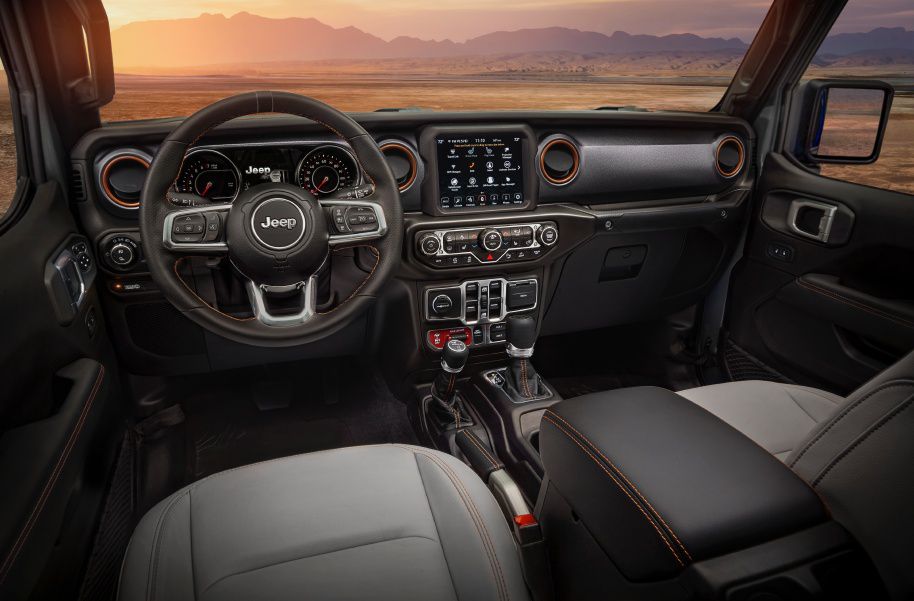 Photo by FCA US LLC
Powertrain Handpicked for the Job
The Jeep Gladiator Mojave's 3.6-liter Pentastar V6 engine delivers 285 horsepower and 260 lb-ft of torque and features engine stop-start as standard equipment in an effort to boost fuel economy. Long a staple in the Fiat Chrysler parts catalog, the 3.6-liter V6 is engineered to provide a broad torque band with a focus on low-end torque, an essential trait for extreme off-roading.
A six-speed manual transmission is standard with the 3.6-liter V6, while an eight-speed automatic transmission is optional and likely the best choice for most people. With the manual transmission, the Gladiator Mojave boasts an impressive crawl ratio of 57.3:1, while the crawl ratio is 52.6:1 with the optional automatic.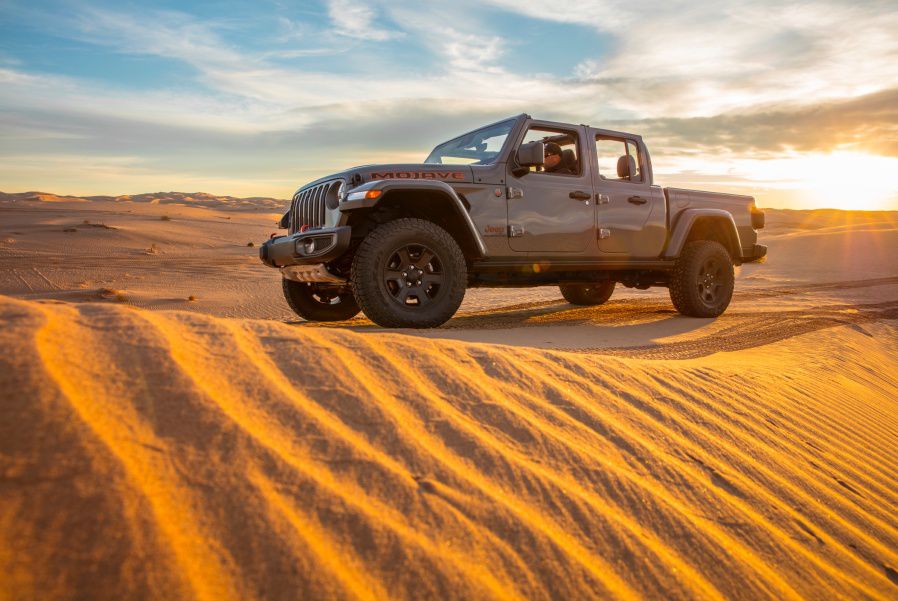 Photo by FCA US LLC
Dedicated to the Sand
To take on the rigors the desert has to offer, the Mojave uses the Gladiator's proven Command-Trac 4x4 system, which features a two-speed transfer case with a 2.72:1 low-range gear ratio, and heavy-duty third-generation Dana 44 front and rear axles with a 4.10:1 axle ratio and standard electronic-locking rear differential. Jeep engineers deemed the Command-Trac 4x4 system the right choice to provide higher 4LO (low range) operating speeds for climbing sand dunes and tackling other challenging desert terrain.
The best-in-class approach angle of 44.7 degrees, breakover angle of 20.9 degrees, and departure angle of 25.5 degrees plus best-in-class ground clearance of 11.6 inches all contribute to the Mojave's off-road credentials. Both frame and axle are reinforced to deal with the loads that come with high-speed desert crossings, and a silver front skid plate helps protect vital components. The one-inch front lift offers increased jounce travel, helpful when scurrying across the desert. Tires are 33-inch Falken Wildpeak all-terrain tires (standard) or Falken Wildpeak mud-terrains (optional).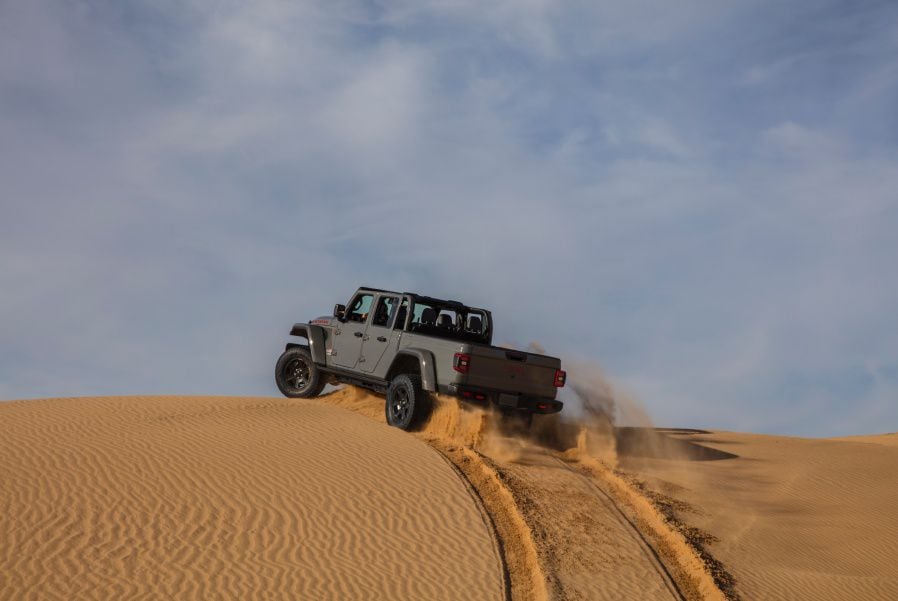 Photo by FCA US LLC
Shocks and Suspension Components
The new Desert Rated badge implies that the Mojave has highly engineered shocks and suspension able to withstand a pounding. The specially tuned Fox 2.5-inch internal bypass shocks were developed to maximize handling and comfort while resisting bottoming-out on high-speed sand runs.
Internal passages in the Fox units allow fluid to bypass the piston through regulated ports as it moves through the suspension travel. That offers a predictable ride in normal off-road driving conditions with the ability to ramp up damping force in extreme use. Front and rear external shock reservoirs keep shock fluid cool, preventing shock fade during long runs through the hot desert. The "military-grade" suspension fluid maintains its performance at extreme temperatures. The Fox front hydraulic jounce bumpers act as a secondary pair of shocks, providing additional damping force as the suspension reaches maximum compression. This softens impacts and helps to prevent bottoming out in harsh off-road situations at speed.
Photo by FCA US LLC
Purpose-Built, But No One-Note
Once you've spent some time behind the wheel, you will have no question the Gladiator Mojave is a rugged machine well-designed and engineered for its specified purpose — going fast off-road. The frame, suspension, shocks, and tires all do their parts to deliver high-speed off-road capability that can make short work of long stretches of sand.
The Fox shocks and jounce bumpers do a good job of bottom-out control as you negotiate desert terrain at high speed, but what is most amazing about the Gladiator Mojave's overall driving demeanor is its ability to provide all the off-highway capabilities Jeeps are known for while at the same time delivering good ride quality; more-than-acceptable levels of noise, vibration, and harshness; and all-around utility. The Mojave delivers a comfortable ride over gravel, washboard surfaces, and crumbled pavement, but it doesn't go all wonky when pushed to extra-legal speeds on superhighways.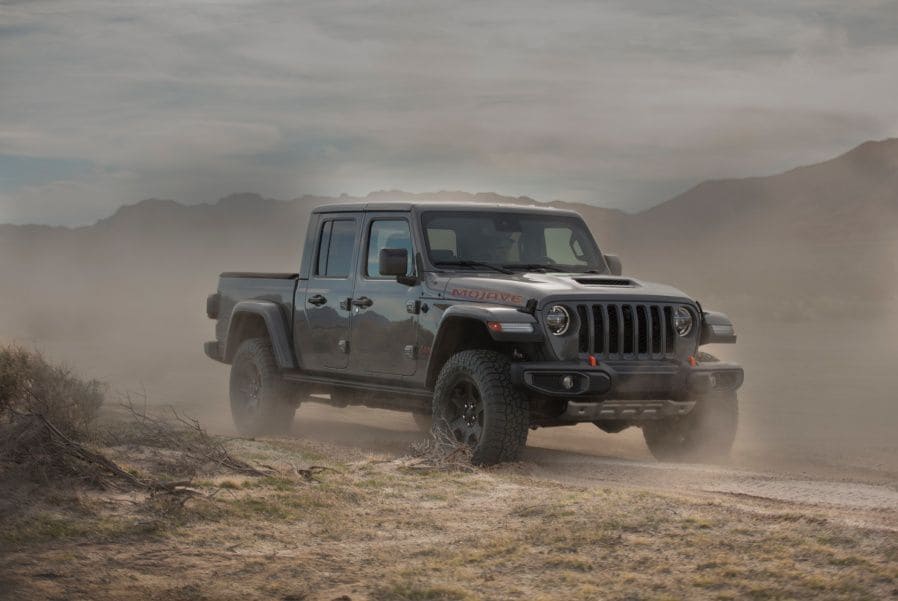 Photo by FCA US LLC
Safety and Driver Aids
In addition to the Gladiator Mojave's sophisticated suspension and rugged, torsionally rigid frame, the vehicle uses electronics to enhance its capabilities still further. Settings accessible via the Off-Road Plus button allow drivers to alter the Gladiator's characteristics to suit the terrain and conditions.
With a push of that button, drivers can adjust throttle, transmission shift points, and traction control for peak performance on high-speed passes on sand or during low-speed rock crawling. The Off-Road Plus drive mode on Mojave also features, for the first time on Jeep, the ability for drivers to lock their rear axle at high speeds while in "4H." Standard electronic stability control, electronic roll mitigation, trailer-sway control, hill-start assist, and brake traction control are among its available safety and security features.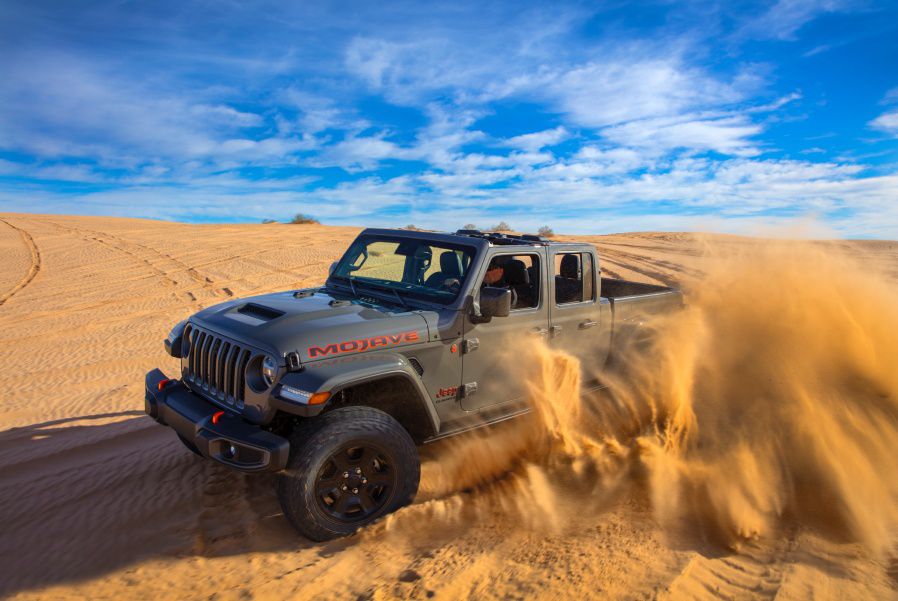 Photo by FCA US LLC
Cargo, Fuel Economy, and Towing
The Jeep Gladiator Mojave is a five-passenger mid-size pickup truck that is equipped with a V6 engine and either a manual or automatic transmission. As an off-road vehicle designed to tackle the most difficult terrain, fuel economy is not its strong suit. That literally comes with the territory.
The Mojave equipped with manual transmission turns in an EPA-rated 16 mpg city/23 mpg highway/19 mpg combined. With the automatic transmission, the EPA numbers are 17 mpg city/22 mpg highway/19 mpg combined. The Gladiator Mojave is rated for up to 1,200 pounds of payload and up to 6,000 pounds of towing capacity. Total interior volume is larger than you might expect at 103 cubic feet. The cargo box volume is 35.5 cubic feet, and the box length with the tailgate closed is 60.3 inches, while with the tailgate opened it is 81.3 inches.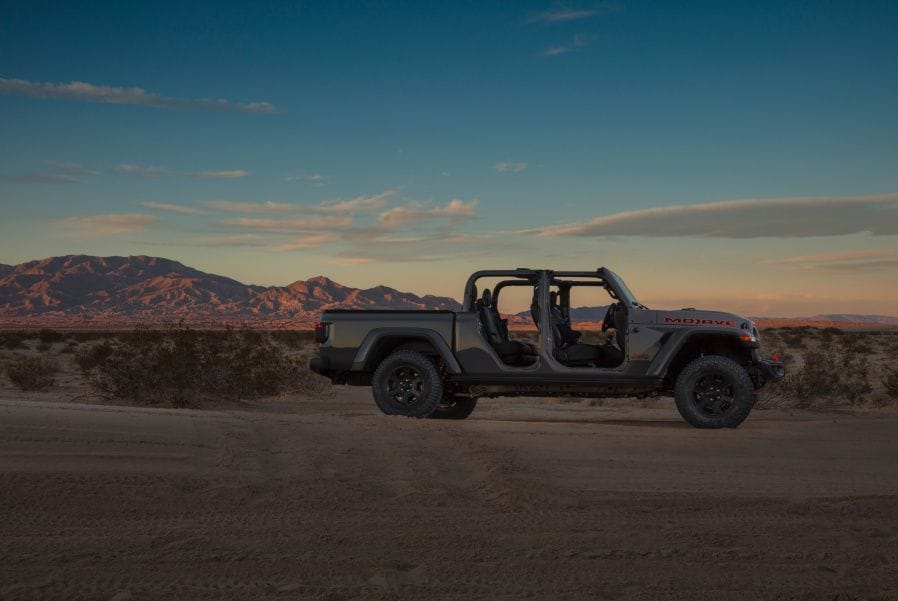 Photo by FCA US LLC
Pricing and Comparative Value
If you want a Gladiator Mojave, it is unlikely that any other truck is a good substitute for you, but the closest equivalent is probably the 2021 Toyota Tacoma TRD Pro crew cab with a 5-foot bed. It has an MSRP of $44,075, while the 2021 Jeep Gladiator Mojave has an MSRP of $43,895. The destination charge for the Gladiator is $1,495 and the destination charge for the Tacoma is $1,175.
The Tacoma is a well-regarded conventional pickup truck with a good reputation as an off-roader. The Gladiator is much more of a specialty vehicle that offers features like removable doors, a fold-down windshield, and several folding and removable roof options. If you intend to do some fast running over desert sands — or you'd like to have the capability to do so — the Gladiator Mojave has the extra level of equipment and engineering to get that job done.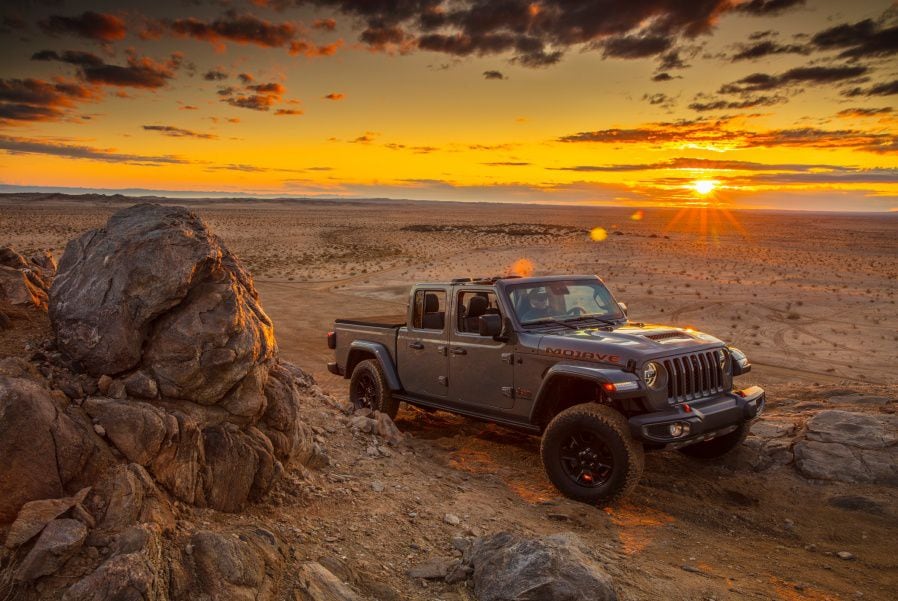 Photo by FCA US LLC