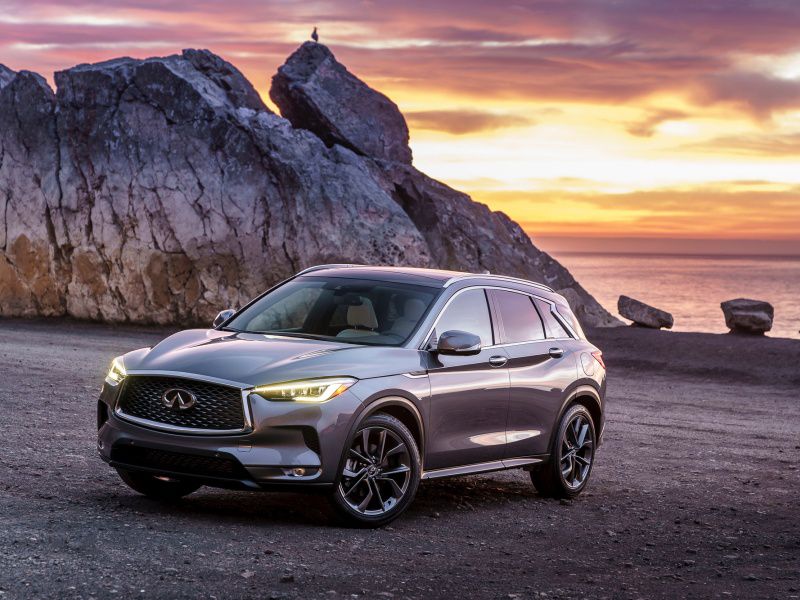 2019 Infiniti QX50 ・ Photo by Infiniti
The compact luxury SUV category is one of the fastest-growing in the industry, and the innovative Infiniti QX50 hits many of the high notes buyers in that segment want. First, of course is the luxury it provides, epitomized by its exterior and interior design. The QX50 is not just another compact crossover. Then there is its leading-edge tech. It is powered by the VC-Turbo engine, which is the world's first large-production variable compression ratio engine. To that, it adds another piece of leading-edge tech — the steer-by-wire Direct Active Steering system that takes steering to a new level. Of course, none of that matters if the QX50 falls down on its basic job of providing its drivers with good ride and handling in a luxurious environment. But the QX50 hits all those marks too.
Exterior Design
The Infiniti QX50 has an attractive if somewhat unremarkable shape. Its Infiniti grille is its most distinguishing feature, and it has a number of details that add to its visual appeal. For the 2021 model year, Infiniti added an Appearance Package to the low-line Luxe trim. It takes its cues from the Edition 30 such as 20-inch black-painted wheels, black mirror caps, dark chrome accents, black grille mesh, and graphite headliner. In short, if you are seeking a blackout treatment, the Infiniti QX50 offers it. The SUV is a practical size, and it is easy to get in and out of. A rear spoiler continuing off the roofline and a forward-leaning rear roof pillar give the QX50 some added distinction.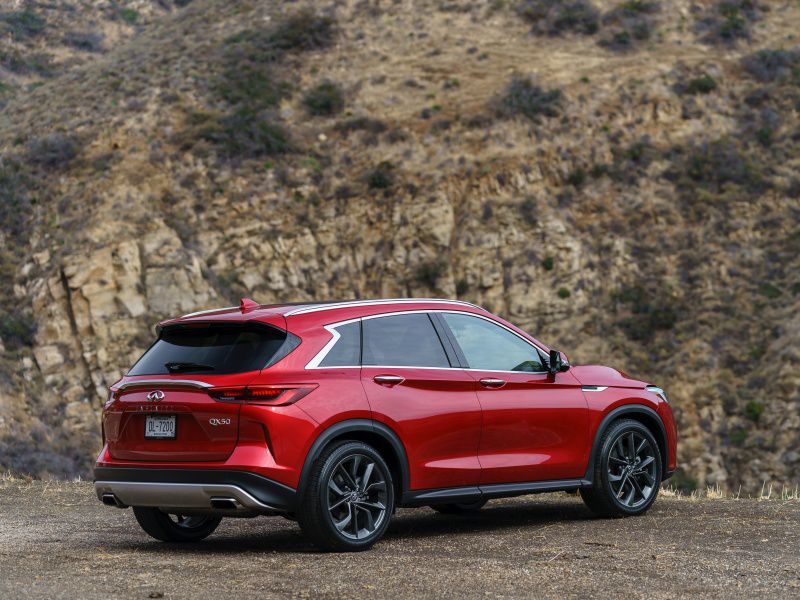 Photo by Infiniti
Interior Style
One way the QX50 expresses luxury is with the comfort of its seats. The front seats are exceptionally comfortable with a good range of adjustability, and they retain that comfort level on long drives. The sliding bench seat in the rear doesn't match the front seats in terms of comfort, but it outclasses many second-row seats. One of its advantages is that it moves forward and back nearly six inches. This enables it to accommodate cargo when necessary, and it increases legroom when cargo is not an issue. The result is five adults will have plenty of room for long-distance trips in the QX50, and it will hold a substantial amount of luggage. Another plus is the panoramic sunroof, standard in all QX50 models but the base. It and the QX50's interior color schemes make the cabin a very pleasant place to be. Adding to the ambiance are the dual display screens in the center of the dash. It is not conventional, but it is easy to get used to. The infotainment system and interior controls for heating and air conditioning are easy to understand and operate.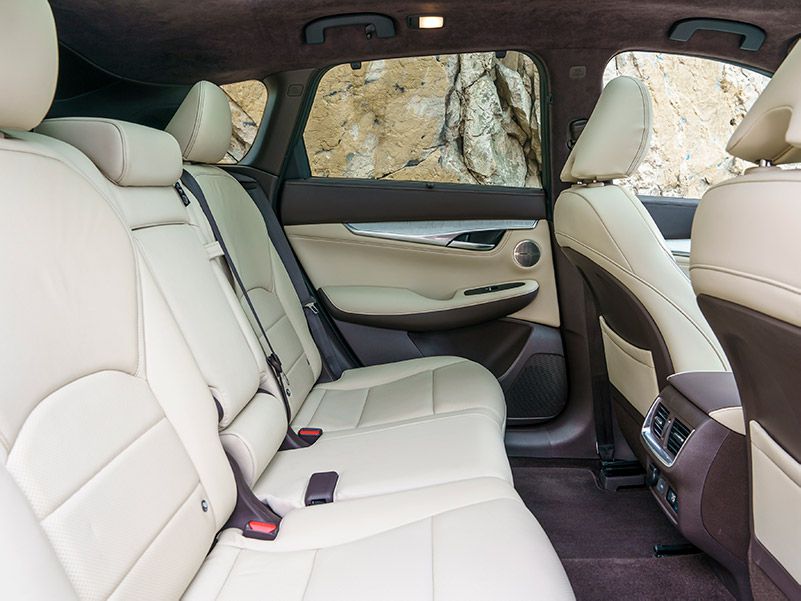 Photo by Infiniti
Powertrain
A key differentiator for the Infiniti QX50 is its innovative VC-Turbo engine. VC stands for "variable compression," and that is a concept that has theoretical advantages that can lead to greater efficiency and more power. The engine uses a complex system that enables it to run at an 8:1 compression ratio in some situations and a 14:1 compression ratio in others. Supplementing the variable compression ratio is a single scroll-type turbocharger that also contributes to efficiency and power. The engine's output is 268 horsepower and 280 lb-ft of torque from 2.0-liters of displacement. That output is laudable, but it isn't a whole lot better than similar displacement engines with single compression ratios made by other luxury brands. The VC-Turbo engine is mated with a continuously variable automatic transmission, and it, too, contributes to efficiency.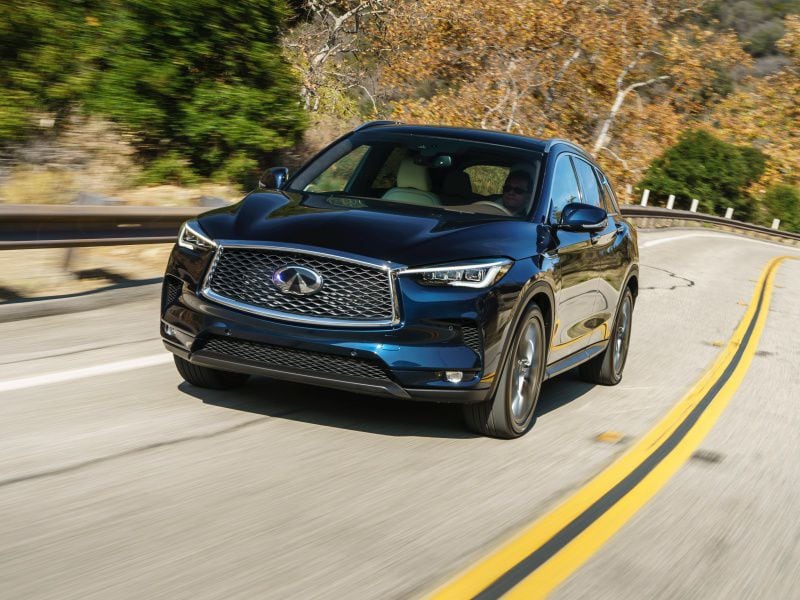 Photo by Infiniti
Driving Impressions
One thing that is very noticeable about the QX50 is its handy size. Its upright stance makes it easy to get in and out of, and it is very maneuverable in traffic. In terms of ride quality, it finds a nice balance between cutting-edge handling and boulevard ride. Though the QX50 offers more horsepower than many of its peers, it isn't noticeably faster or quicker in acceleration than the top competitors. The Direct Active Steering system adds tech to the process, but in daily use it is not markedly different from a well-engineered conventional system. In everyday driving, which is what a luxury crossover is really all about, the QX50 performs about on par with its competitors. Some, like the Mercedes-AMG, are more performance-oriented, but the QX50 does its job well.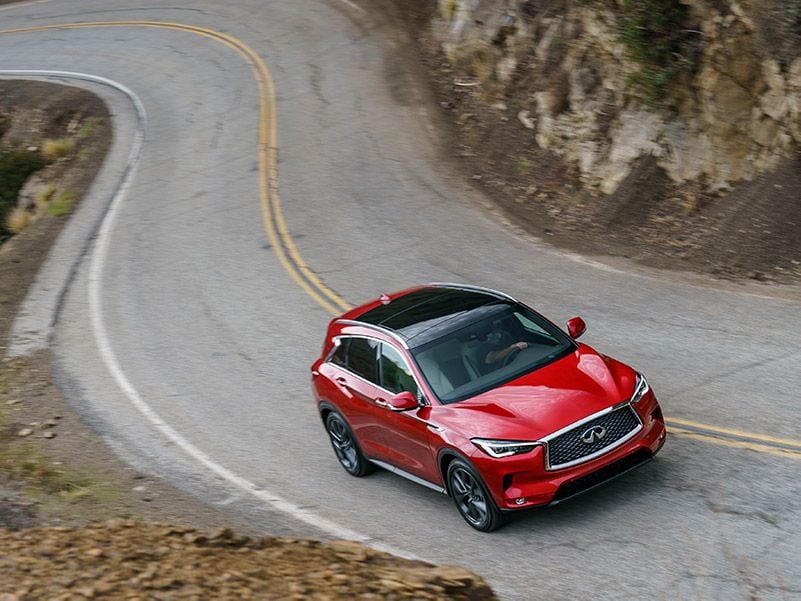 Photo by Infiniti
Infotainment & Technology
The 2021 QX50's infotainment system features two displays — an 8-inch screen up top in the dash and a lower 7-inch touchscreen. And you have the choice of how you want to control the infotainment functions. You can use the displays as touchscreens or you can use the Infiniti controller that resides on the center armrest. Occupants of the QX50 can even use a handheld device. That's a bad idea for the driver, but passengers can stream content and get access to info from smartphones and tablets. Bluetooth, Apple CarPlay, Android Auto, and Wi-Fi hotspot are standard across the lineup. A 9-inch head-up display puts a lot of info right in the driver's line of vision. An optional Bose Performance Series system with 16 speakers is the uplevel sound system.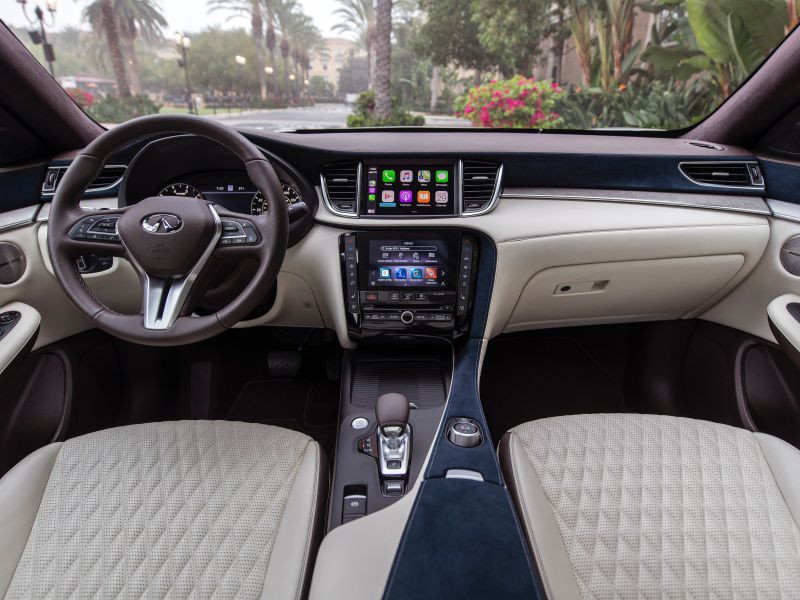 Photo by Infiniti
Safety & Driver Assists
The 2021 Infiniti QX50 offers a lengthy roster of active safety and driver-assist features. Many are standard equipment including blind-spot warning, lane-departure warning, forward emergency braking with pedestrian detection, high-beam headlight assist, rear automatic braking, rear cross-traffic alert, and rear parking sensors. Traffic sign recognition is standard on the top trims. ProPilot Assist is a semi-autonomous driving system that uses direct adaptive steering and adaptive cruise control to help the driver in heavy traffic and on divided highways.  The Around View Monitor offers a 360-degree overhead view of the QX50's immediate environs displayed on the display. The QX50 also has comprehensive passive safety equipment. The National Highway Traffic Safety Administration awarded the QX50 a 5-star overall rating in its 5-Star Safety Rating program.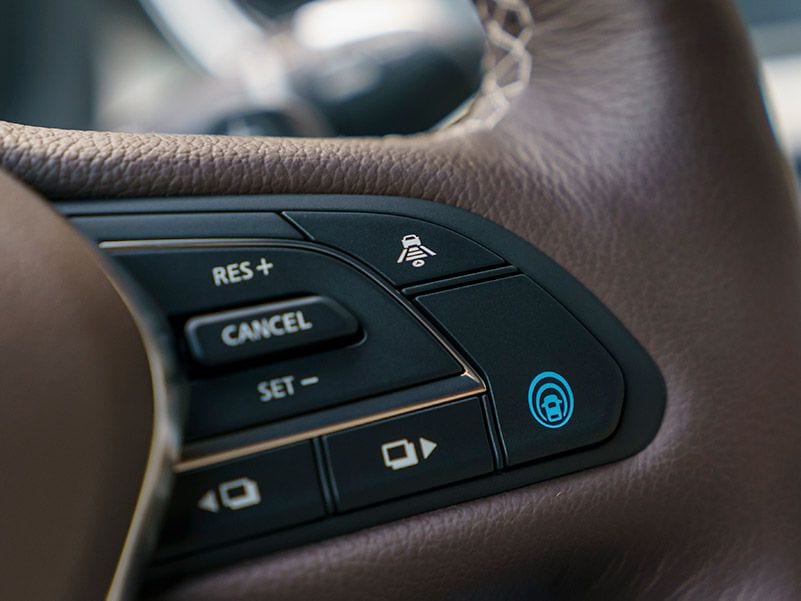 Photo by Infiniti
Fuel Economy
With its innovative engine and continuously variable automatic transmission, the Infiniti QX50 is about average in its luxury suv segment in terms of fuel economy. According to Environmental Protection Agency (EPA) figures, a front-drive QX50 with the variable-compression 2.0-liter turbocharged four-cylinder engine delivers an estimated 23 mpg during city driving and 29 mpg on the highway. All-wheel-drive drops fuel economy by about one mpg in all-around driving. In comparison, the competitive BMW X3 sDrive30i turns in 25 mpg in city driving and 29 mpg on the highway. The Mercedes-Benz GLC 300 offers 22 mpg in city driving and 29 mpg on the highway.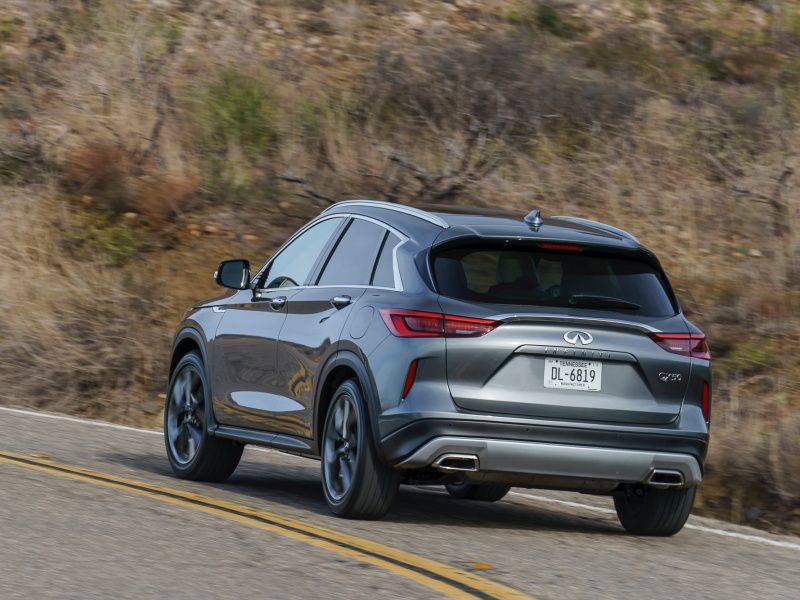 Photo by Infiniti
Cargo Space
While cargo space isn't typically as important to luxury customers as it is to folks buying mass-market brands, it is still important. And the QX50 does well in the cargo-carrying competition. It has 31.1 cubic feet of luggage space behind the second row with the second-row seats adjusted as far back as they'll go. It offers 65.1 cubic feet of space with the second-row seats folded down. The moonroof diminishes interior cargo space very slightly, but with or without the moonroof, its cargo-carrying space is better than many of the close competition. The leftover height into the rear cargo area is a convenient 27.7 inches. The rear seat is split 60/40 with fold-down seatbacks, recline, and fold-flat function.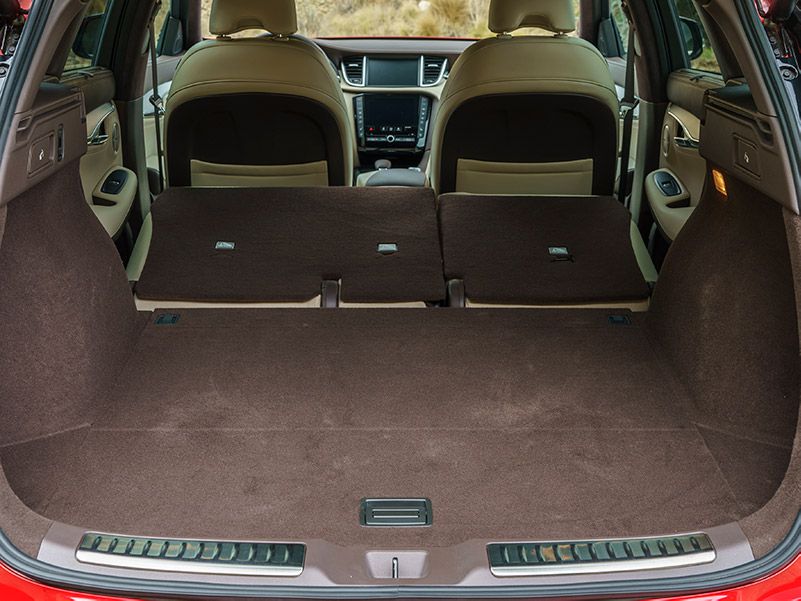 Photo by Infiniti
Trim Levels
The Infiniti QX50 is available in five trim levels: Pure, Luxe, Essential, Sensory, and Autograph. Front-drive is standard across, and all-wheel-drive is optional. With a starting price of a bit more than $40,000 including destination charge, the Pure is the QX50's base model. Its standard equipment includes 19-inch alloy wheels, imitation leather seats, a power liftgate, and a Wi-Fi hotspot. Apple CarPlay and Android Auto are standard as are a number of driver-assist and safety systems. The Luxe trim might be the sweet spot in terms of value. At about $44,000, it features roof rails, a panoramic sunroof, remote start, heated front seats, and LED fog lamps. Adaptive cruise control and blind-spot assist are also included on the Luxe trim. At a bit over $55,000, the top-of-the-line Autograph includes tri-zone climate control, motion-activated power liftgate operation, and climate-controlled seats. The seats are covered in semi-aniline leather while the headliner is Ultrasuede, and both are accompanied by natural maple trim.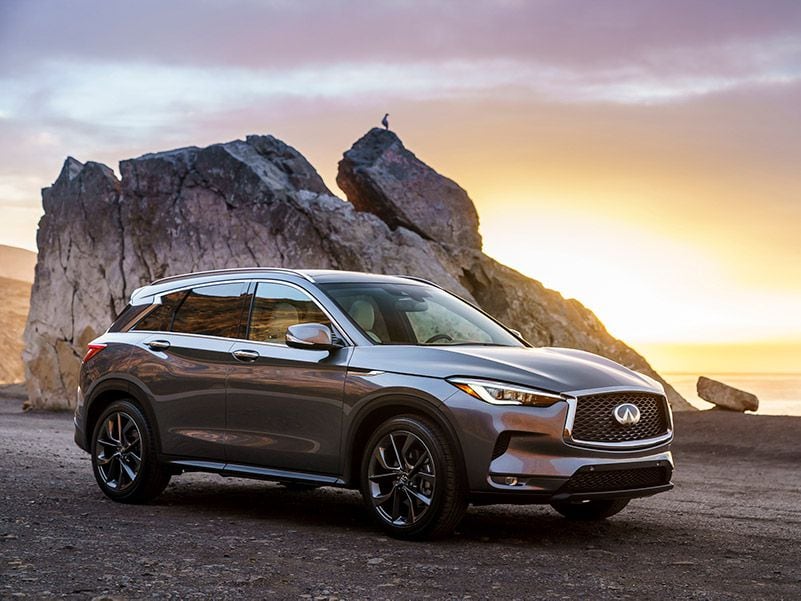 Photo by Infiniti
Pricing & Value
The Infiniti QX50 brings innovative technology and great styling to the segment. It all starts with an all-new engine type accompanied by a continuously variable automatic transmission. Other innovative tech includes ProPilot Assist and Direct Adaptive Steering. Inside the QX50 offers plenty of comfort and convenience in a cabin that is well-finished. Another big plus — the exceptionally comfortable, supportive seats. Two screens can be a bit daunting when you first approach the infotainment and controls, but the system is logical and easily understood after a day or two. We applaud the ride comfort and quiet the QX50 offers, too. There are a lot of great choices in the QX50's segment, many from luxury brands with longer histories than the Infiniti offers. We think the mid-line QX50s are the best values. At less than $50,000, you can get a very well-equipped QX50.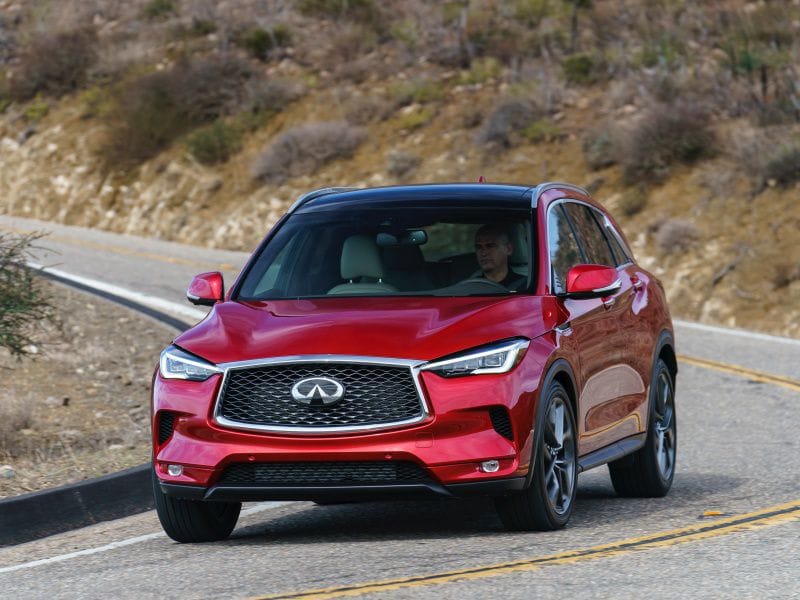 Photo by Infiniti