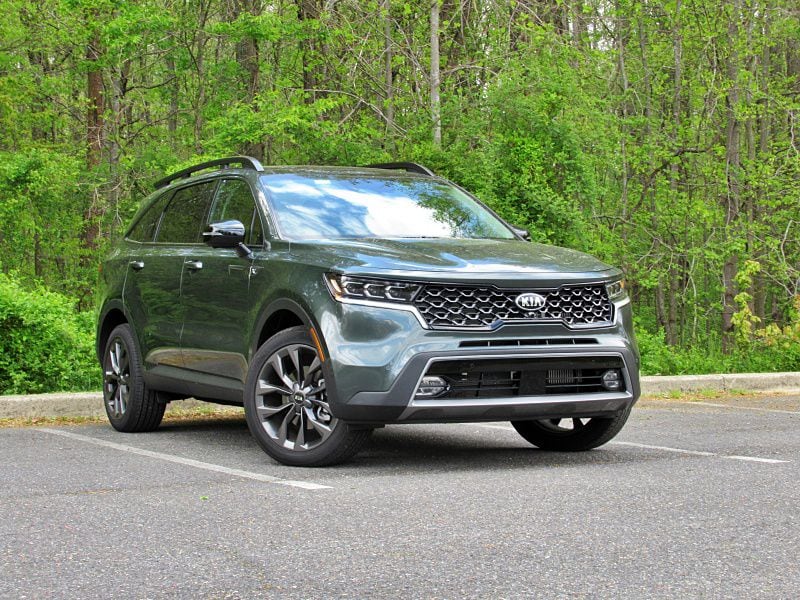 2021 Kia Sorento SX X-Line ・ Photo by Brady Holt
For more than a decade, the Kia Sorento has been a great place to go if you want three rows of seats without a lot of bulk or a high price. This mid-size crossover is newly redesigned this year with crisper styling, sharper handling, more room, and better fuel economy, including from a new gas-electric hybrid version. 
Even if you don't need a third-row seat, the new 2021 Sorento is an appealing option in its class. But if you're open to five-seaters, it faces a wider range of competitors. And the closest one is the 2021 Hyundai Santa Fe. Also updated this year, the Santa Fe shares its underlying mechanical components with the Sorento — including a new hybrid variant of its own — but puts its own stamp on the vehicle's styling, interior, and model lineup. We tested both vehicles so that we can compare them across eight categories and choose an overall winner. If you aren't already sure you want a third-row seat, keep reading to see which of these two corporate cousins might be the best choice for you. 
Pricing and Features
Hyundai kicks off this comparison with a notable head start. It's priced from $26,850, while the cheapest Sorento costs $29,390. The base Santa Fe SE and Sorento LX are similarly equipped, but the Hyundai has flashier base wheels and standard adaptive cruise control. Hyundai also provides the cost savings of three years or 36,000 miles of free scheduled maintenance. 
If you're interested in leatherette upholstery, the value gap does close. The Sorento provides it starting with the S model at $31,890, while the otherwise equivalent Santa Fe SEL ($28,800) sticks with cloth. You can upgrade to real leather by adding options to the SEL, but only for at least $34,550. On the Sorento, genuine leather requires the SX Prestige ($40,590) like our test vehicle. Another advantage is that a bigger turbocharged engine arrives at the Sorento EX ($34,990) versus the Santa Fe Limited ($38,750). The Santa Fe does have a couple of exclusive features: the ability to use your smartphone as a key, a remote-control parking assistant, and, on the tested Calligraphy model ($40,750), Nappa leather trim. Couple that with the lower price in most cases, and it wins this section.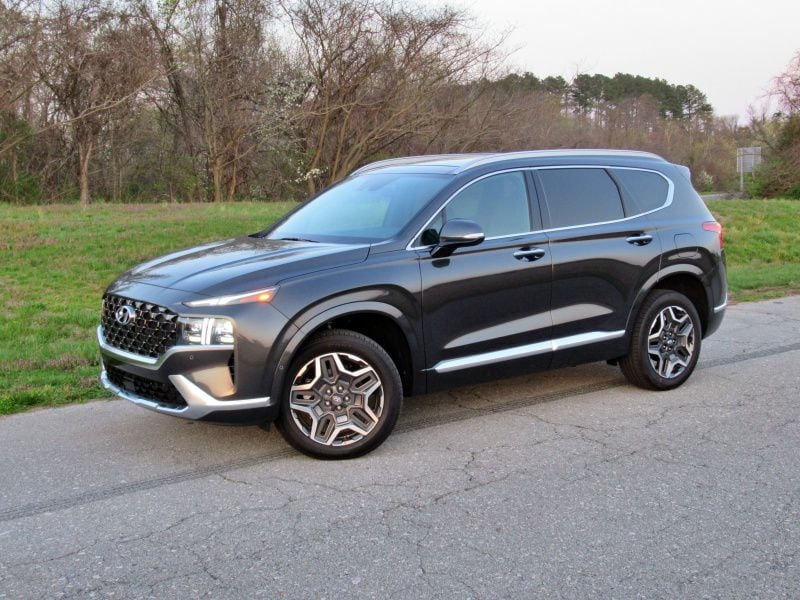 Photo by Brady Holt
Exterior Design
Except for the number of seats, the exterior design is the biggest difference between these two SUVs. For while they share a lot of components under the skin, the skin is wholly unique. 
While the previous-generation Sorento was gently rounded, the new model has sharper lines and a boxier look. It has its own unusual points — including a wave-shape on its side window trim and a unique vertical line breaking its taillights in two pieces — but it's a fairly conservative design overall. Our X-Line test vehicle, available only on the top SX trim, offers a more off-road-focused design with less chrome and a slightly higher ground clearance. The updated 2021 Santa Fe has only slight styling tweaks compared with the model sold from 2019 to 2020, but its vertically split headlights and bigger grille offer more visual drama than the conventional Sorento. Some folks will also prefer the Hyundai's rounded-off-box shape over the sharper-edged Kia's. Rather than naming a winner, we'll let you choose. 
Tie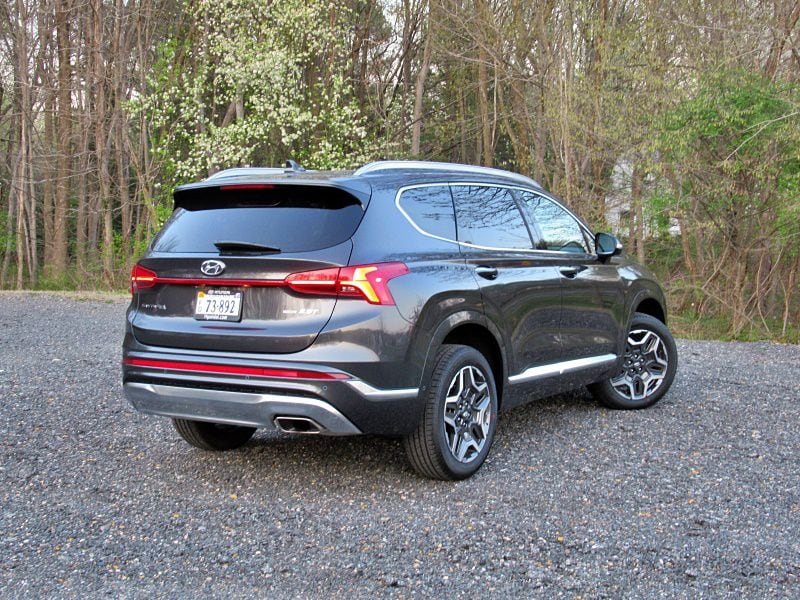 Photo by Brady Holt
Interior Design
Inside, there's once again an aesthetic difference between the blockier Sorento and a curvier Santa Fe. But there are several other factors to consider, too, and we won't choose for you which of them is the most significant. 
Between the two cousins, the Sorento has the higher-grade interior, with generally superior materials along with better fit and finish. Though our Santa Fe Calligraphy test vehicle has the fancier Nappa leather, the cabin doesn't feel as rich overall as the Sorento. The console's trim is shiny smooth plastic rather than textured, the turn signal stalk is roughly finished, and expanses of the door panel are low-grade. This is still a nice interior overall, but not as opulent as the Sorento's. However, the Hyundai's superior ergonomics bring this category to a tie. The Sorento relies heavily on touch-sensitive controls, especially on models with the available 10.25-inch touchscreen instead of the standard 8-inch unit. The Santa Fe complements those same two screen options with more physical buttons and knobs, which are less distracting to use. Its new push-button gear selector also frees up more console storage space. Overall, you'd choose the Hyundai for function and the Kia for panache. 
Tie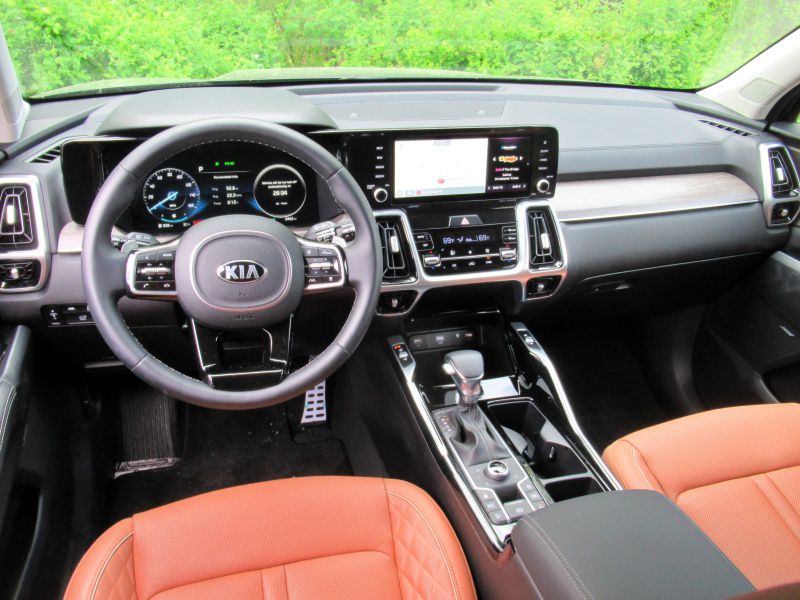 Photo by Brady Holt
Passenger Accommodations
We come now to the biggest difference between these two cousins: Every Sorento has a third-row seat, boosting its maximum capacity to seven. Every Santa Fe seats five. The Sorento's third row is low and small, but we found that even taller adults can wedge in there in an emergency. 
Fortunately, unlike the previous-generation Sorento, Kia didn't have to sacrifice second-row legroom to fit in a third row; as long as you slide the seat back, there's generous second-row space. The Santa Fe is equivalently generous and offers heated rear seating that the Sorento lacks, and both SUVs have comfortable front seats with available heating and ventilation. The other notable difference is that most Sorento trim levels come only with two second-row captain's chairs, while base models come with a three-passenger second-row bench like the Santa Fe's. Many buyers will prefer captain's chairs, but in the Sorento, it means a fifth passenger needs to squeeze into the third row. In the Santa Fe, they'd be more comfortable in the center-rear position. Still, seating up to seven is a valuable perk, and it gives the Sorento the win in this category.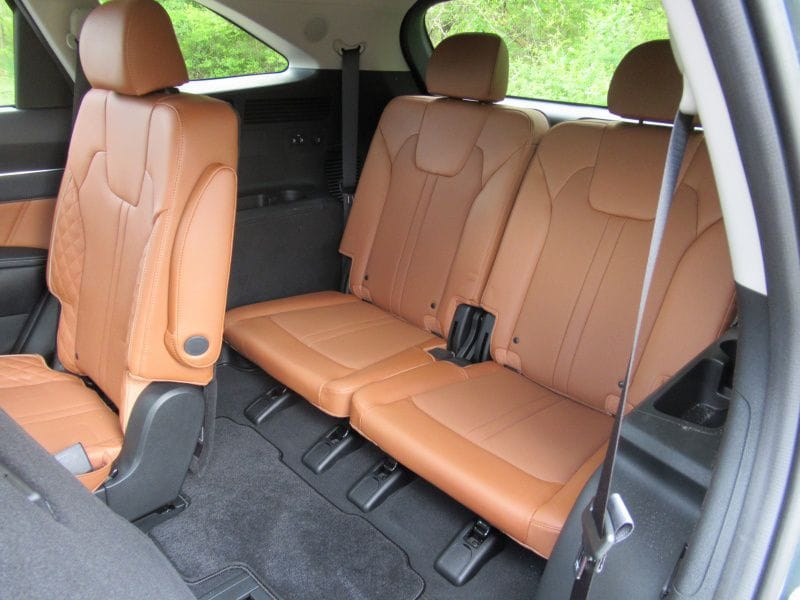 Photo by Brady Holt
Cargo and Utility
The Sorento and Santa Fe are about the same size, so it's not surprising that they have similar cargo and towing capacities. The Sorento has just 12.6 cubic feet of space behind its third-row seat, but we expect most buyers will keep the third row folded down, providing a generous 38.4 cubic feet. Dropping down the second row yields 75.5 cubic feet. The Santa Fe trails those numbers slightly with 36.4 cubic feet behind its second row and 72.1 cubic feet behind the front seats. 
The Sorento also has an edge when it comes to towing. Both vehicles are rated to tow 2,000 pounds with their base engines and 3,500 lbs with the available turbos. But you get the turbo at a lower starting price on the Sorento than the Santa Fe. Still, we'll call this category an overall tie because of the issue we described on the previous page: If you want to fit five people in a Sorento with captain's chairs, someone's getting banished to the third row. That also cuts cargo space nearly in half. So while the Sorento is slightly roomier when carrying four people or fewer, the Santa Fe trounces it at carrying five.  
Tie
Photo by Brady Holt
Driving Experience
Both the Sorento and Santa Fe drive well for mid-size SUVs. They're on the small side for the segment but feel even smaller, nimbler, and more maneuverable. They're not quite sporty, but they never feel bulky and they corner with agility while still offering a smooth ride. 
The two models also have nearly identical powertrains, both new this year. Base models have a 2.5-liter four-cylinder engine that makes 191 horsepower and 181 lb-ft of torque — low for a mid-size SUV but competitive with popular compact models like the Honda CR-V and Toyota RAV4. The available turbo — replacing a smaller turbo in the Santa Fe and a V6 in the Sorento — is much stronger, making 281 hp and 311 lb-ft of torque. Since this more powerful engine is available in a wider range of Sorento models, yet limited only to top-of-the-line Santa Fes, we'll give this otherwise close-matched category to Kia. Both vehicles also have a smooth gas-electric hybrid powertrain that combines a 1.6-liter turbocharged four-cylinder engine with electric motors to generate about 227 horsepower. In a curious distinction, the Sorento Hybrid is sold only with front-wheel drive, while the Santa Fe Hybrid comes only with all-wheel drive.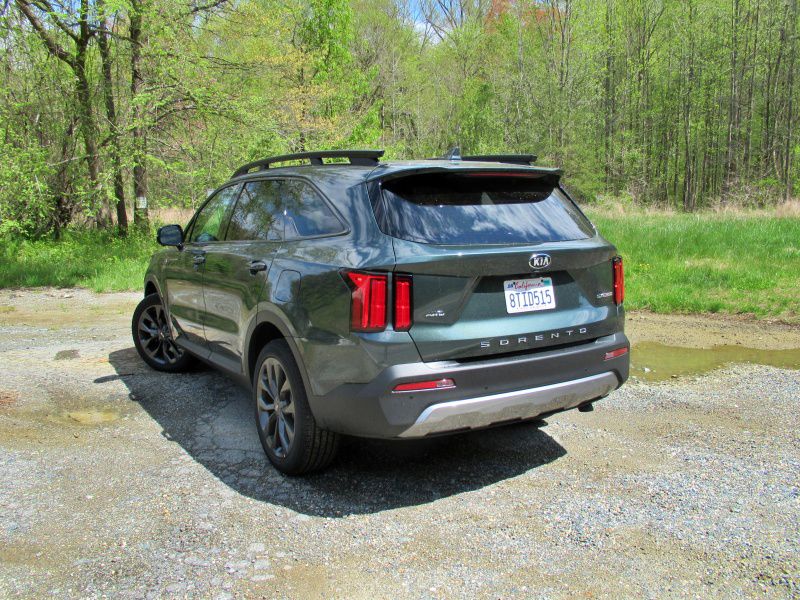 Photo by Brady Holt
Fuel Economy
Since they're the same size and have the same engines, it's not surprising that the Sorento and Santa Fe have similar fuel economy. Still, the most-efficient Sorento trumps the thriftiest Santa Fe. 
Both SUVs get an EPA-estimated 26 mpg in mixed driving with front-wheel drive and 24 mpg with front-wheel drive with their base engine. The far more powerful turbo isn't far behind: 25 mpg with front-wheel-drive and 24 mpg with all-wheel drive. Our AWD turbo test vehicles were in this same ballpark; our Santa Fe got 25 mpg and our Sorento got 24 mpg, though not tested in scientifically replicable situations like the EPA's. When it comes to hybrids, though, the Sorento wins big for ditching all-wheel drive: It's pegged at 37 mpg, compared with 32 to 34 mpg on the Santa Fe Hybrid (depending on trim level). You may value the extra traction of AWD, but when it comes to fuel consumption, the Kia carries the day.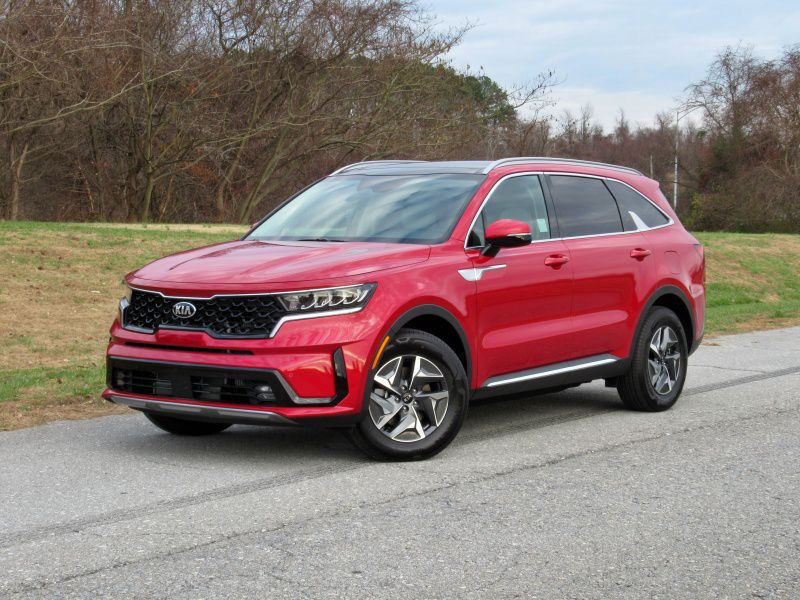 Photo by Brady Holt
Safety
Both the Santa Fe and Sorento earned a Top Safety Pick status from the Insurance Institute for Highway Safety, thanks to top grades in crash tests. The IIHS only faulted their most common headlights for poor illumination; in both cases, upgraded headlights on higher-end models earned top scores. Neither SUV has been tested by the National Highway Traffic Safety Administration. 
Both SUVs come with a long list of standard safety features, but we'll give Hyundai the win because its safety features are available even more broadly. Both come standard with automatic emergency braking and lane-keeping steering assistance, and blind-spot monitoring joins the lineups on all but the base models. On upper trim levels, the cars also share a rare blind-spot camera that displays in the gauge cluster when you use the turn signal. However, the Santa Fe wins this category for having more standard safety tech. Specifically, its driver-assist system incorporates bicyclist recognition, turning-vehicle detection, and adaptive cruise control on all trim levels; the Sorento saves that for the EX and up.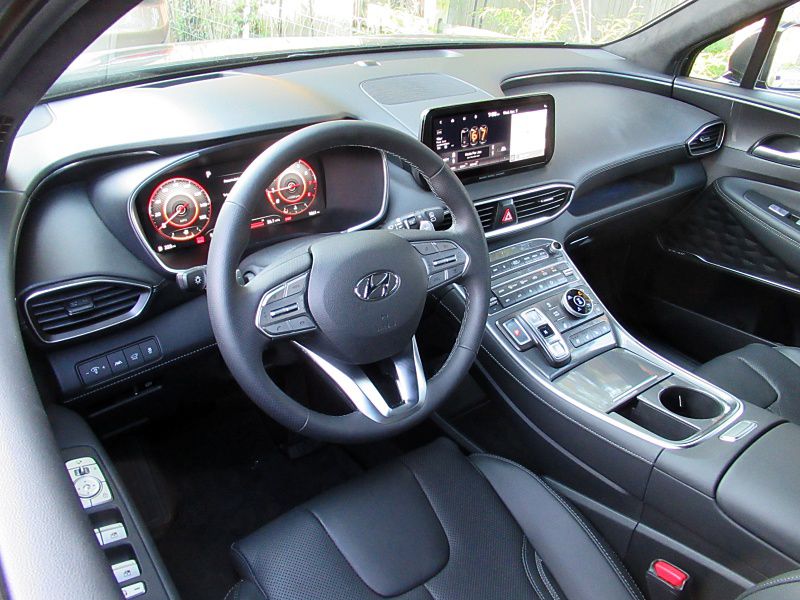 Photo by Brady Holt
Final Thoughts
If you want the convenience of three-row seating or prefer the Kia Sorento's styling, there's a lot to like about this practical, comfortable, luxuriously finished, fuel-efficient, and affordable crossover. The Sorento Hybrid is also a winner if you're comfortable sacrificing AWD for a lower price and better gas mileage. 
Still, the Santa Fe offers a similar driving experience to the Sorento, and equivalent room for four passengers and cargo. And while there's no third row, if you're carrying five people, they'll fit more comfortably in the Santa Fe than in most Sorento models. We'd happily recommend either of these mid-size SUVs — both are compelling vehicles that cost less than most competitors — and this comparison was a close call. But while the Sorento has certain features at great prices, the Santa Fe usually costs less. When it's this difficult to choose a winner, assuming you don't have a strong preference between how the two SUVs look, we're inclined to let the price tag break the tie.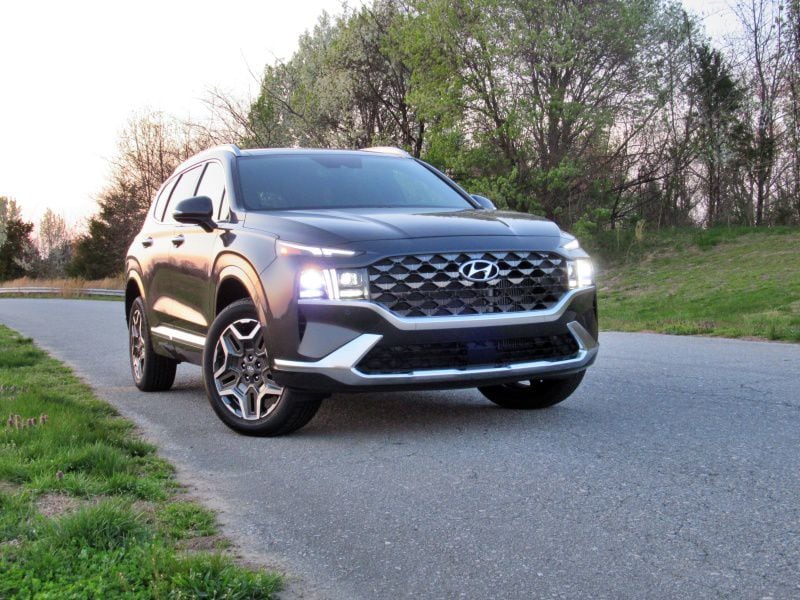 Photo by Brady Holt