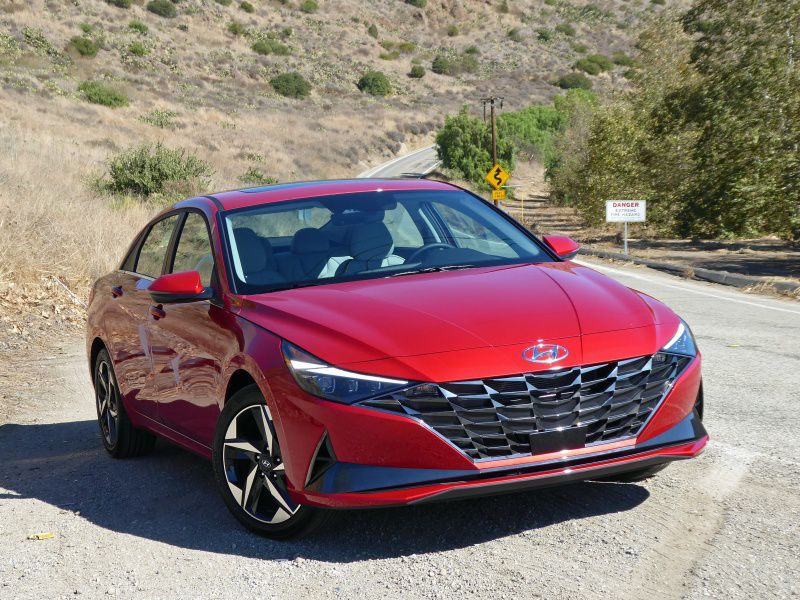 2021 Hyundai Elantra ・ Photo by Ron Sessions
The all-new, seventh-generation 2021 Hyundai Elantra will not be ignored. In a segment long dominated by the Honda Civic and Toyota Corolla, the new Elantra brings expressive design, luxury features, and technology uncommon among compact sedans. And despite its new low-slung styling, the 2021 Elantra offers a wider cabin and more rear-seat legroom. For 2021, the Elantra model lineup expands to include its first-ever hybrid and performance-oriented N-Line offerings, each of which will be covered under separate reviews.
For 2021, the standard Elantra is available in SE, SEL, and Limited trim. Including the $995 destination fee, the base SE pricing is $20,645, the midlevel SEL stickers at $21,895, and the range-topper Limited goes for $26,445.
Parametric Trapezoidal Design
Hyundai design really turned up the jets on the new Elantra with artful, angular trapezoidal surfacing, cascading crystal shapes, and daringly angular styling. It starts with the involving, parametric detailing in the Elantra's mask-shaped grille, the ever-evolving segments of which segue into wing-like headlamps that flow outboard up and over the fenders.
The drama continues along the Elantra's flanks where a trio of deep creases intersects to form an eye-catching Z-shaped origami side sculpture in the doors. Other razor-sharp folds continue rearward from the Elantra's fastback roof, composite decklid (easier to shape), and rear quarters that angle in for a forceful finish. It's all set off by a bold, wide-angle upper-case letter "H" shaped LED parting light signature that looks particularly fetching at night. All the design lacks are rocket-powered shoes. Hyundai calls it Sensuous Sportiness. The bold styling puts an exclamation point on the 2021 Elantra's longer, lower and wider proportions.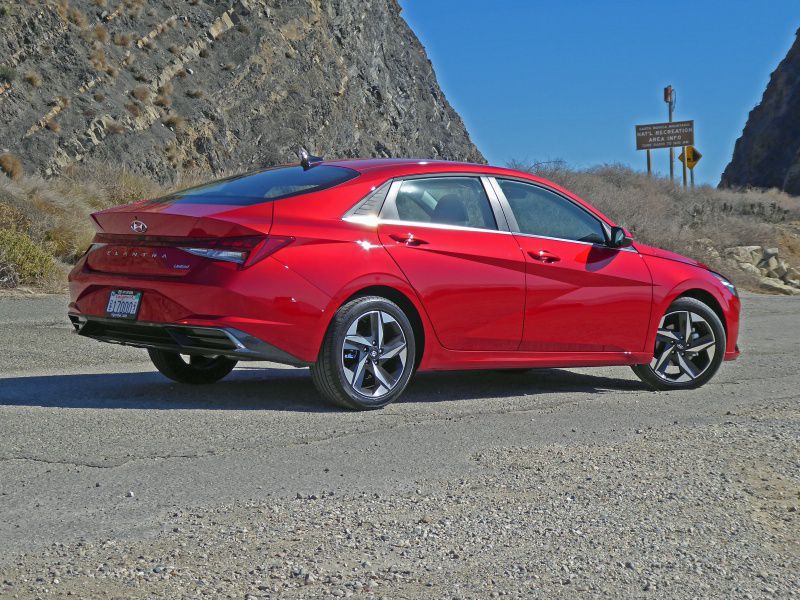 Photo by Ron Sessions
Immersive Cocoon
As if to emphasize the new Elantra's added roominess, the dashboard features narrow horizontal chrome strips integrating the climate control face-level vents with lower bolsters that sweep into the doors. The driver's dash section has a cockpit theme with the digital TFT/LCD instrument display and infotainment screen wrapping around the driver and an unexpected Corvette Stingray-like flying buttress angling down from the instrument panel to the console. Hyundai calls it a passenger "cornering" grip.
Otherwise, the console has all of the useful features you'd expect such as covered storage with a padded center armrest, a traditional shifter, an available wireless charger, and nifty reconfigurable cup holders with a reversible insert that can flip for tall or short beverages. SE and SEL models come with reasonably bolstered cloth seats, while the Limited upgrades to heated leather front buckets, including a power driver's seat with adjustable lumbar support. The SE rolls with standard air conditioning, while the SEL and Limited bring dual-zone automatic temperature control. The manual tilt/telescopic steering wheel is urethane on the SE and SEL and leather-wrapped on Limited, which also gets a standard power sunroof. Standard on all trims is driver-selectable, 64-color ambient lighting.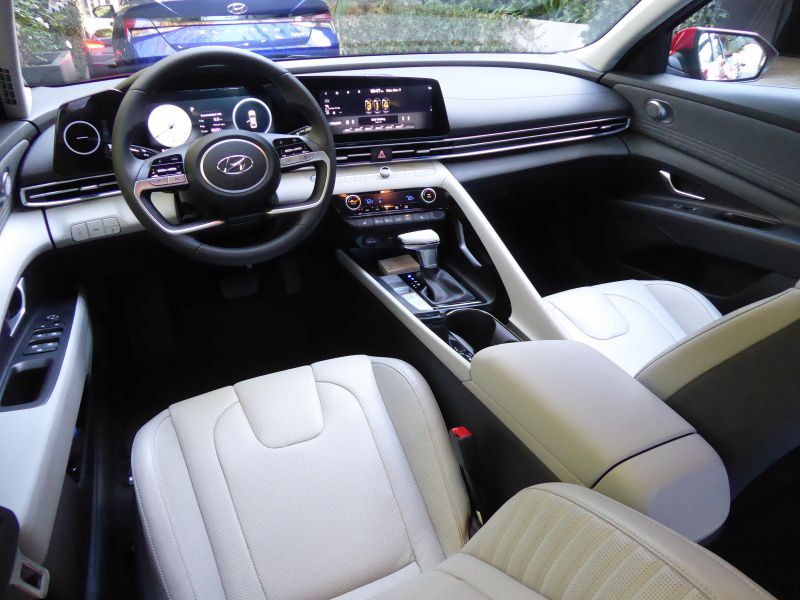 Photo by Ron Sessions
Screen Test
In the top Limited trim, the large 10.25-inch driver information and center infotainment displays nestle under a single slab of curved glass, wrapping around the driver, cockpit-style. The 10.25-inch all-digital driver information screen is driver-configurable. The base SE and midlevel SEL come with a more traditional 4.2-inch driver display with a smaller 8-inch infotainment touchscreen.
The base 8-inch infotainment touchscreen includes the first wireless applications of Apple CarPlay and Android Auto. SE models get a four-speaker AM/FM stereo with HD radio, while the SEL gains a six-speaker premium stereo with SiriusXM satellite radio. This head unit has easy-to-use analog knobs for audio volume and tuning and an array of hard shortcut buttons flanking the screen for common functions. On the Limited, the 10.25-inch screen has Apple CarPlay and Android Auto cellphone mirroring via USB cable; wireless capability for the big screen will be phased in later. The Limited gains an eight-speaker Bose audio system with a subwoofer and center channel plus SiriusXM traffic and weather. It also provides embedded navigation with dynamic voice recognition that knows your location, providing context to your voice requests to adjust climate control, seats, and other functions.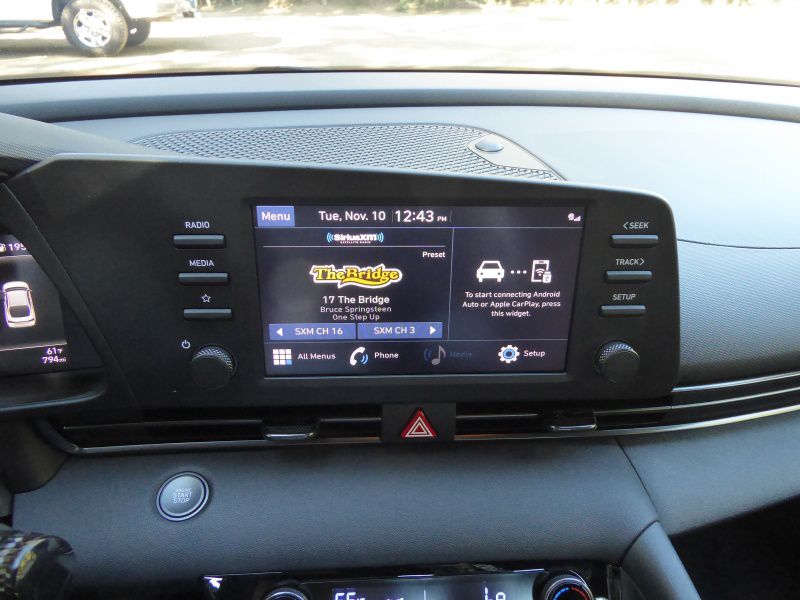 Photo by Ron Sessions
Sounds of Nature
One of the cool features of the navigation system on the large 10.25-inch touchscreen in the Limited trim is what Hyundai calls Sounds of Nature. From the infotainment main startup screen, scrolling right gets you to a menu with a bunch of options, including Sounds of Nature.
Clicking on that icon takes you to a menu of calming selections for your drive. You can choose from a display image and soundtrack of birds in a rain forest, crunching down a snow-filled path, the mesmerizing warmth of a crackling fire in a hearth, pulsing waves on an ocean beach, the animated chatter of a busy café, and so on. It's just another unexpected gem you didn't know you needed but may find yourself partaking of in the Elantra's surprisingly quiet cabin. Who knew you could relax by a crackling fire in your compact sedan?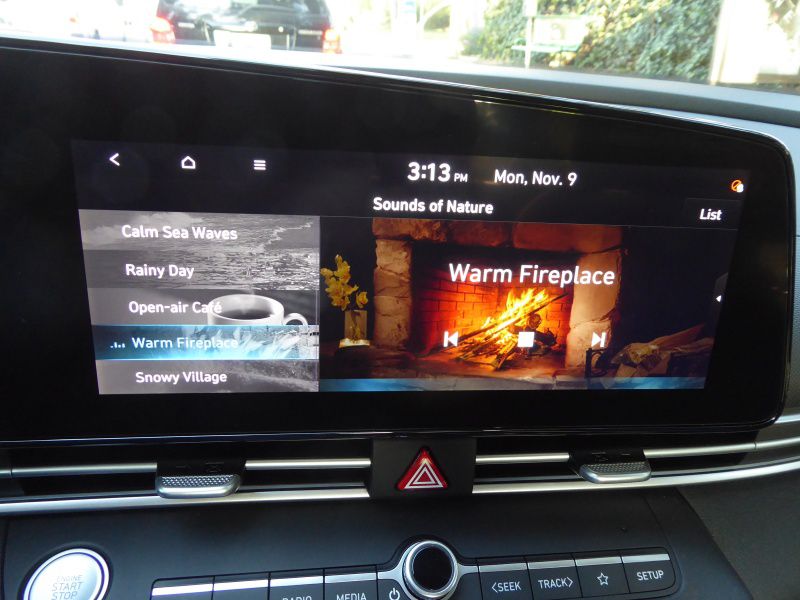 Photo by Ron Sessions
Digital Key and Blue Link
As if you didn't have enough apps on your phone, but here are two that should enjoy widespread use. Introduced last year in the mid-size Sonata sedan, Hyundai's digital key technology has been expanded to include the 2021 Elantra. The dedicated mobile app allows your Android cellphone (sorry, Apple users) to function as a vehicle remote in addition to the one that comes with the car. It uses secure Near Field Communications and Bluetooth to enable a host of remote vehicle access functions such as door locking and unlocking and engine starting. The car can then be driven in lieu of a physical key. It's standard on the Elantra Limited, optional on the SEL.
The Elantra owner can share the digital key function with friends and family, tailoring which functions are available and for how long. The digital key function can be revoked by the owner at any time. Meanwhile, Blue Link connected car services, standard on all but the base Elantra SE, enables owners to remote start their Elantra, set the climate control temperature, remote lock and unlock doors, and locate the car via the My Hyundai smartphone app. It also works with smartwatches as well as Google and Amazon voice-activated assistants.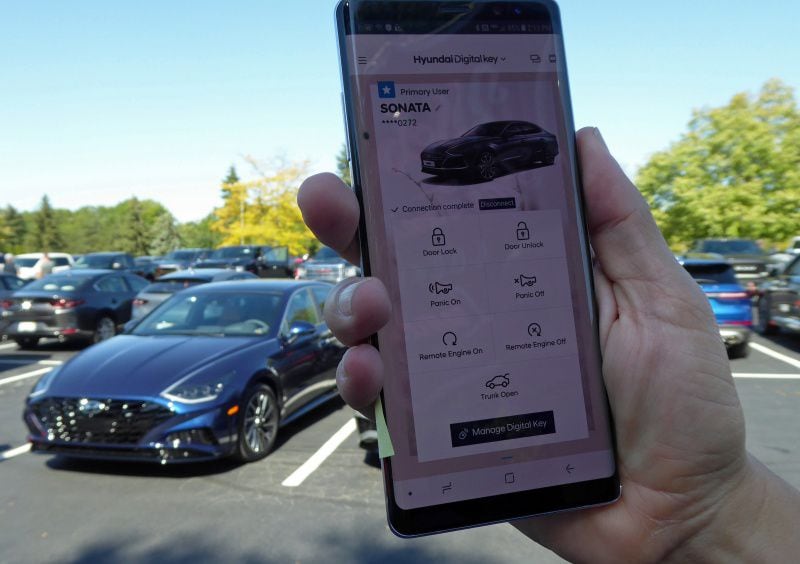 Photo by Ron Sessions
Social Distancing
The 2021 Elantra's longer wheelbase was put to good use, increasing rear legroom by more than 2 inches. Even though the new Elantra's coupe-like roof is an inch lower than last year's model, rear headroom is maintained due to a lower seating position. Two six-footers can sit back there, three if they're really close friends.
Standard in SE and SEL is a one-piece folding rear bench with pass-through to the voluminous 14.2-cubic-foot trunk that's roomier than that of the Toyota Corolla and Mazda3 four-doors. The Limited adds a 60/40 split-folding, which enables carrying longer items in the trunk on one side while maintaining seating for a rear passenger or two. Rear-seat fold-down release levers are in the trunk.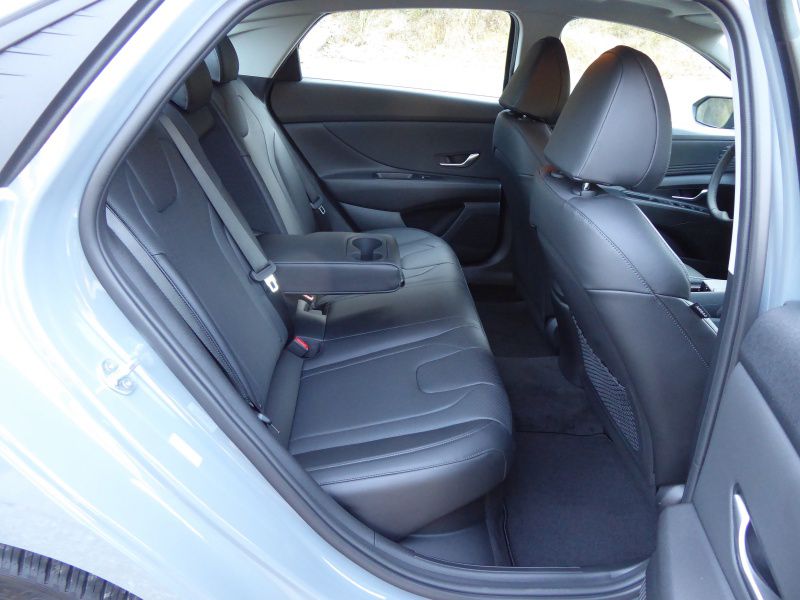 Photo by Ron Sessions
Your Electronic Wingman
Fully autonomous driving may be decades away, but in the meantime, automakers are offering an impressive array of electronic driving aids and safety systems that have the driver's back and (literally) eyes in the back of their head. Hyundai is one of the best in this regard, providing in the mass-market compact Elantra sedan standard technology that often costs thousands of dollars extra in many luxury vehicles.
In addition to six airbags and a backup camera, the 2021 Elantra comes standard with forward-collision assist with automatic emergency braking, lane-keeping assist, lane-following assist that keeps the car lane-centered, automatic high beams, a driver-attention warning, and blind-spot and rear cross-traffic monitoring. Another bit of technology trickle-down from more expensive Hyundai and Genesis products is the Elantra's Safe Exit Warning system that uses the blind-spot rear sensors to warn occupants exiting the vehicle of approaching vehicles or bicyclists from the rear. The Limited trim adds rear parking sensors with rear collision avoidance assist, adaptive cruise control with stop and go, and highway drive assist that enables (hands on the wheel) semi-autonomous distance following and lane centering on well-marked limited-access highways.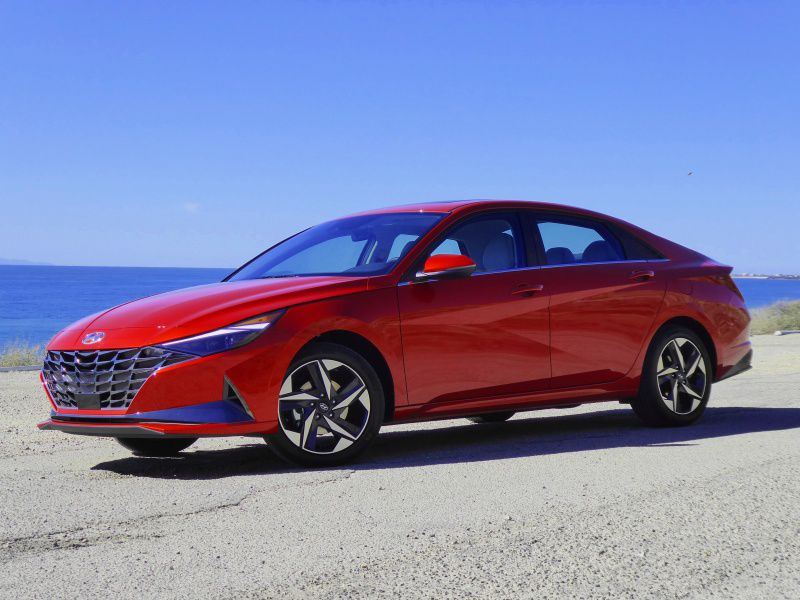 Photo by Ron Sessions
Good Vibrations
Carried over with minimal changes from 2020, the naturally aspirated gasoline-powered Elantra models are powered by a Smartstream Atkinson Cycle 2.0-liter four-cylinder engine with dual continuously variable valve timing. It makes 147 horsepower at full song and 132 lb-ft of torque at 4,500 rpm. That tops the output of the base Toyota Corolla 1.8-liter four-cylinder but trails that of the Nissan Sentra 2.0-liter and Honda Civic base 2.0-liter fours. The Elantra 2.0-liter is paired with a wide-ratio, continuously variable automatic transmission programmed for maximum efficiency when cruising and simulated step shifts when accelerating. This engine offers no manual-transmission option.
The efficiency of the Smartstream 2.0-liter is borne out by its impressive EPA ratings. The base Elantra SE with 15-inch wheels is EPA-rated at 33 mpg city/43 mpg highway/37 mpg combined, with the larger-tired SEL and Limited trims with this engine rated at 31 mpg city/41 mpg highway/35 mpg combined. These top the EPA-estimated fuel economy of the base Corolla, Sentra, and Civic. In 80 miles of driving on busy LA city streets and freeways plus twisty two-lane canyon roads, our Elantra Limited achieved 36.5 mpg. The 2021 Elantra can accelerate from 0 to 60 mph in just over 8 seconds, more than fast enough to keep up with traffic.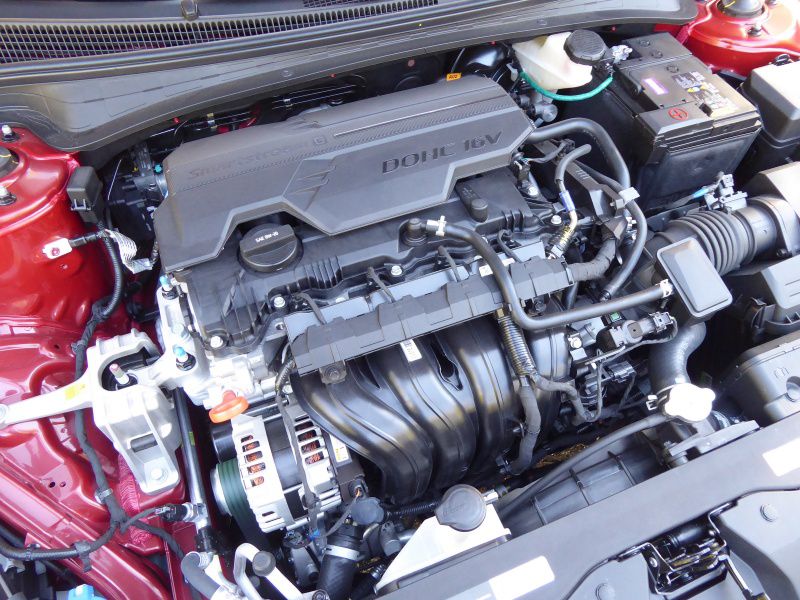 Photo by Ron Sessions
Driving Dynamics
The 2021 Elantra is based on the third-generation Hyundai K platform. The SE, SEL, and Limited trims with the 2.0-liter naturally aspirated engine employ the latest iteration of the brand's strut-front, torsion-beam rear suspension. All models feature confidence-inspiring four-wheel disc brakes with crisp pedal feel. As for rubber, the base SE rolls on smallish 195/65R15 tires, SEL gains wider 205/55R16s, and the Limited upgrades to grippier 225/45R17s. All trims ride on stylish alloy wheels; no steel rims with cheap-looking hubcaps here.
For this report, I drove two different Limited models, both equipped with Kumho Majesty Solus all-season tires. Overall, the Elantra delivered firm ride quality and good vertical body control but remained compliant enough to take the sting out of rough patches. Body stiffness was excellent. The Elantra Limited exhibited confidence-inspiring grip in twisty sections with good front/rear balance and flat cornering. Upon startup, you'll notice how smooth the Smartstream 2.0-liter base gas engine is, both at idle and on the road. Ditto for road noise, which overall was also quiet, although some tire sizzle did creep in from the rear of the car — especially over asphalt surfaces with high aggregate content. The Elantra's low dash afforded good forward visibility over the hood.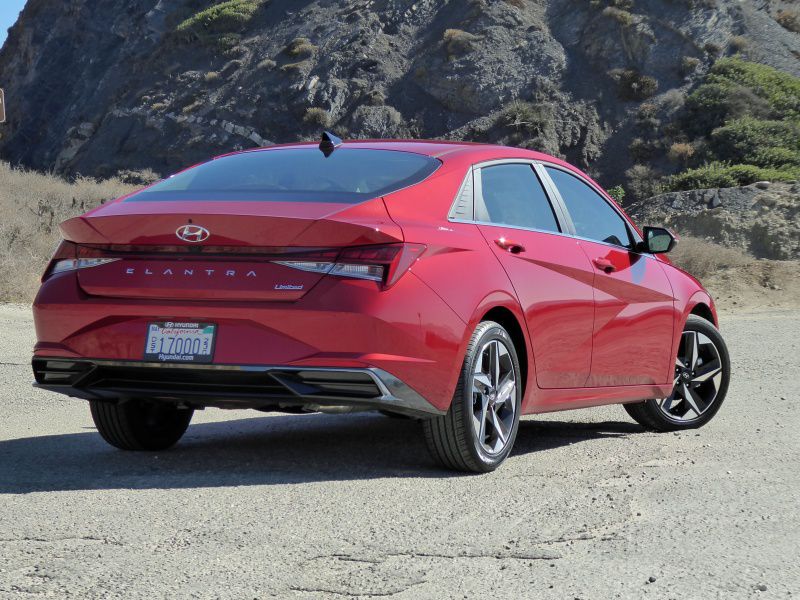 Photo by Ron Sessions
A Looker Packed With Tech
Recently, once-popular compact sedans such as the Ford Focus and Chevrolet Cruze have disappeared, from the U.S. market, leaving buyers with fewer choices. The 2021 Hyundai Elantra aims to fill that void with an all-new compact sedan offering that not only brings aspirational design but also an expanded lineup that now includes a gas-electric hybrid and two performance-oriented variants.
As is now a Hyundai tradition, the 2021 Elantra is loaded with the latest tech and offers many standard or optional features that are often found only in more expensive or premium-brand vehicles. Bolstering its strong price/value proposition, the 2021 Elantra continues to offer the best new-car warranty in the business with 10-year/100,000-mile powertrain and five-year/60,000-mile bumper-to-bumper coverage.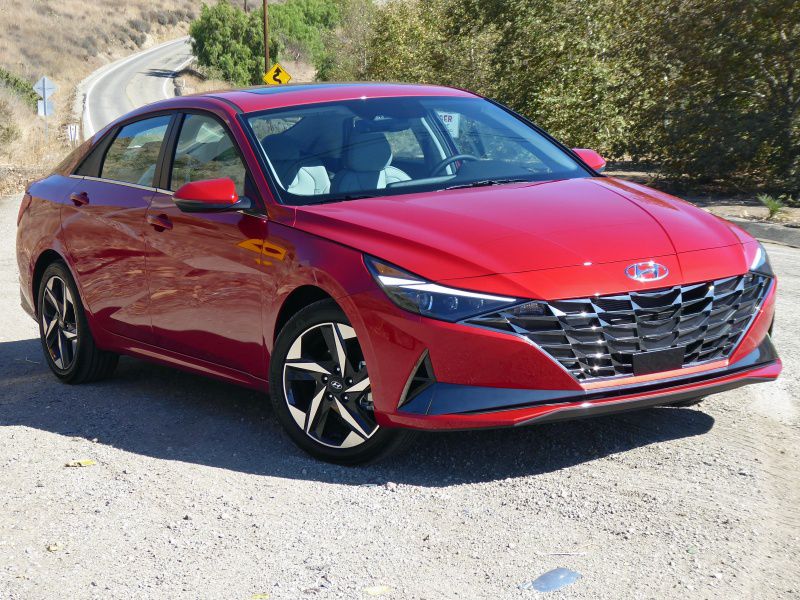 Photo by Ron Sessions