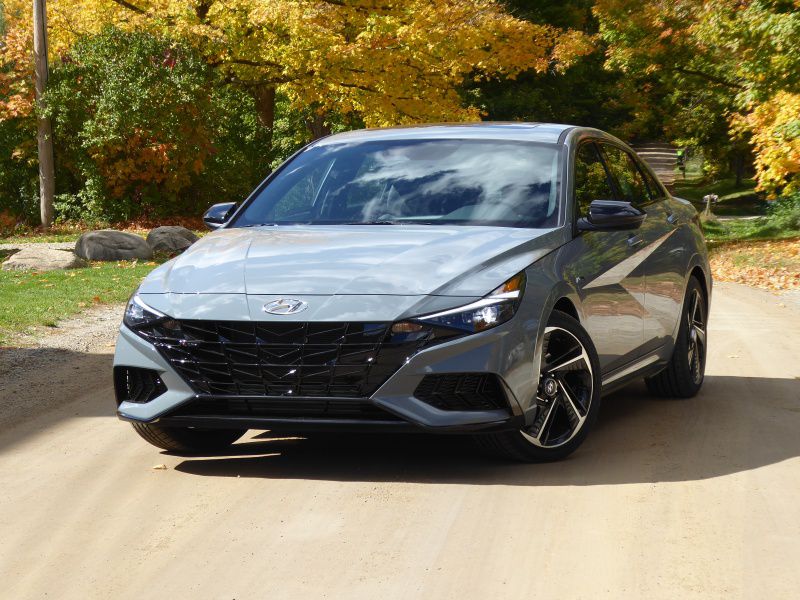 2021 Hyundai Elantra N Line ・ Photo by Ron Sessions
Sometimes, just a little bit more is just right. That's the premise of the 2021 Hyundai Elantra N Line sedan, which builds upon the aspirational good looks and advanced technology of Hyundai's freshly redesigned compact four-door with performance tweaks meant to catch the eye and the attention of driving enthusiasts.
The N Line is just one offering of an expanded Elantra lineup that includes three well-equipped gas-engine versions and a first-ever gas-electric hybrid. Including the $995 destination charge, the price for the sporty turbo-powered Elantra N Line is $25,095 with manual transmission and $26,195 equipped with the dual-clutch automatic. New for 2021 the Hyundai Elantra N Line competes against front-wheel-drive hot compacts that include the Honda Civic Si and Volkswagen Golf GTI.
Subtle Enhancements
You won't find any big wings, scoops, winglets, ground-effects panels, or other trappings of typical sport compact cars on the new Elantra N Line. With the regular-issue Elantra SE, SEL, and Limited sedans, Hyundai was already working with the sleekest, most eye-catching compact four-door in the market today.
The enhancements for the new N Line are all subtle in scope. Wheel size for the N-Line's offset five-spoke alloys increases to 18 inches. A thin, modestly sized rear spoiler visually extends the rakish slope of the deck lid and coupe-like roof. Pert, dual exhaust outlets peek from beneath the rear fascia. Small, discreet N-Line badges on the dark-chrome grille and front fenders mark a small sedan that underpromises and overdelivers.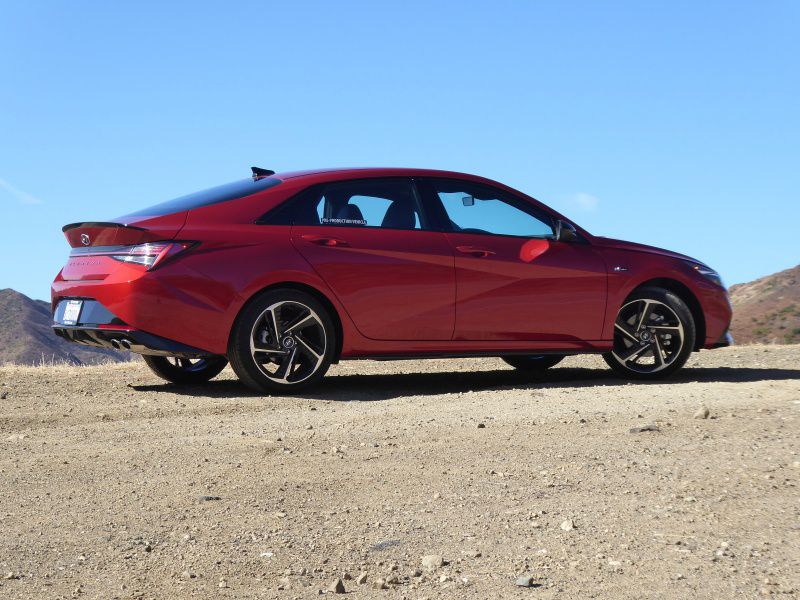 Photo by Ron Sessions
Turbo Engine
As with last year's Elantra Sport, the new N Line version of Hyundai's compact four-door sedan adds urgency under the hood. With a 201-hp turbocharged 1.6-liter Smartstream four-cylinder replacing the base Elantra's naturally aspirated 147-hp 2.0-liter in the N Line, power jumps by 37 percent. Torque improves even more, up 48 percent from the base Elantra's 132 lb-ft to the N Line's 195 lb-ft. More importantly, the turbocharged 1.6-liter develops its maximum torque at just 1,500 rpm, boosting tip-in throttle response and around-town performance without making you rev the engine. It is mated to a slick-shifting seven-speed dual-clutch automatic or a six-speed manual gearbox. This is one compact Hyundai sedan that has the hardware to challenge the Honda Civic Si.
The N Line 1.6-liter turbo gets an EPA rating of 28 mpg city/34 mpg highway/31 mpg combined with the seven-speed dual-clutch automatic and 25 mpg city/34 mpg highway/28 mpg combined backed by the six-speed manual. In an afternoon drive that encompassed 125 miles of residential stop-and-go, curvy back-road two-lane highways, and fast-moving freeways, the six-speed manual N Line averaged 27.5 mpg.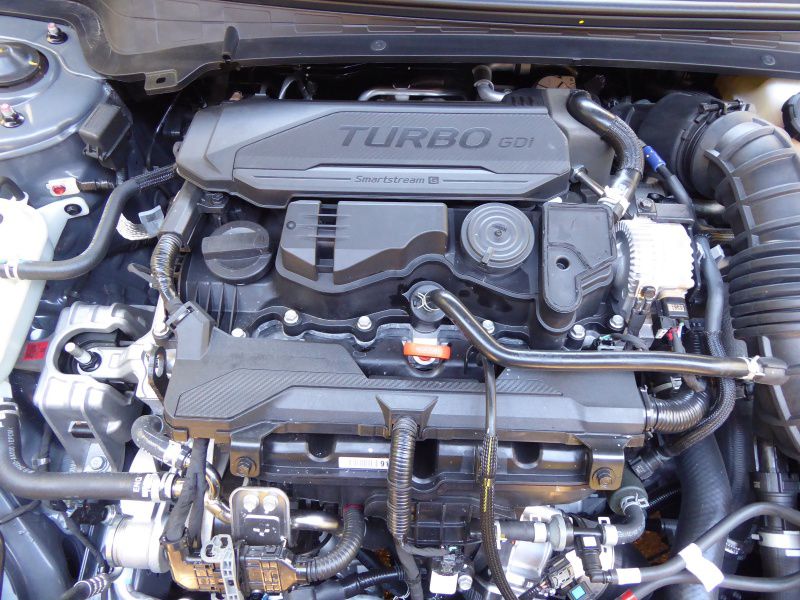 Photo by Ron Sessions
Shifty Business
As a sporty alternative to automatic transmissions, manual gearboxes are getting harder to find in today's cars. Part of that reason is that automatics have gotten so good of late, offering quicker performance and better fuel economy than their manual counterparts do. Still, there's something innately involving about selecting the right gear for a particular road speed and mastering the timing of shifter movement and clutch pedal action that ties the driver to the mechanical soul of the car. Done well, on a fun-to-drive road, it's a satisfying bit of choreography.
For 2021, Hyundai brings this choice back for the new Elantra N Line. The N Line manual shifter gets the job done but doesn't quite offer the smooth actuation, well-defined gates, or shorter throws of the stir sticks in the Honda Civic Si or Volkswagen Golf GTI. Nevertheless, it's still a fun way to exercise the N Line's 201-hp turbo four. Almost as involving is the N Line's other transmission choice, a seven-speed dual-clutch automatic. Although the DCT can surge a bit accelerating from rest, especially when pointed uphill, this gearbox choice offers a smoother overall powertrain feel and quicker shifts than humans can manage — plus zero left leg fatigue during mind-melting gridlock.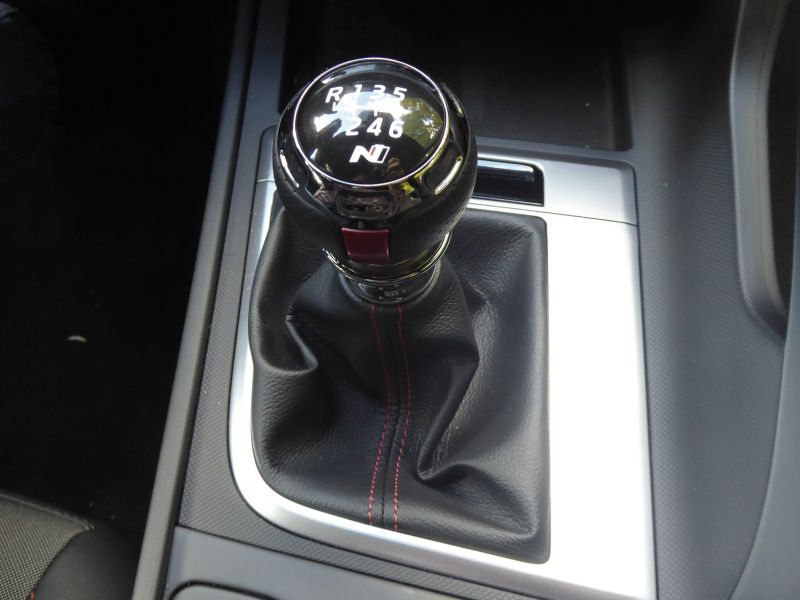 Photo by Ron Sessions
Cockpit and Controls
The new Elantra's swoopy exterior design continues with a cabin that is both sporty and upscale-looking. For the N Line, the interior gives the same feeling of spaciousness offered by other Elantra trims, with a low-and-away horizontal-themed dash that sweeps into the doors. Offering a cockpit effect, major controls and the infotainment screen tilt slightly toward the driver. A large passenger "cornering grip" on the center console separates the driver and front passenger sections.
The N Line has its own set of sporty analog gauges featuring a large central speedometer and smaller offset tachometer. The driver display is a small 4.2-inch TFT-LCD unit for the trip computer, alerts and other basic notifications. N Line also upgrades from a urethane to a leather-wrapped steering wheel. Other N Line niceties include a standard power-operated sunroof, pushbutton start, keyless entry (with small buttons on the exterior door handles), and dual-zone, set-and-forget automatic climate control.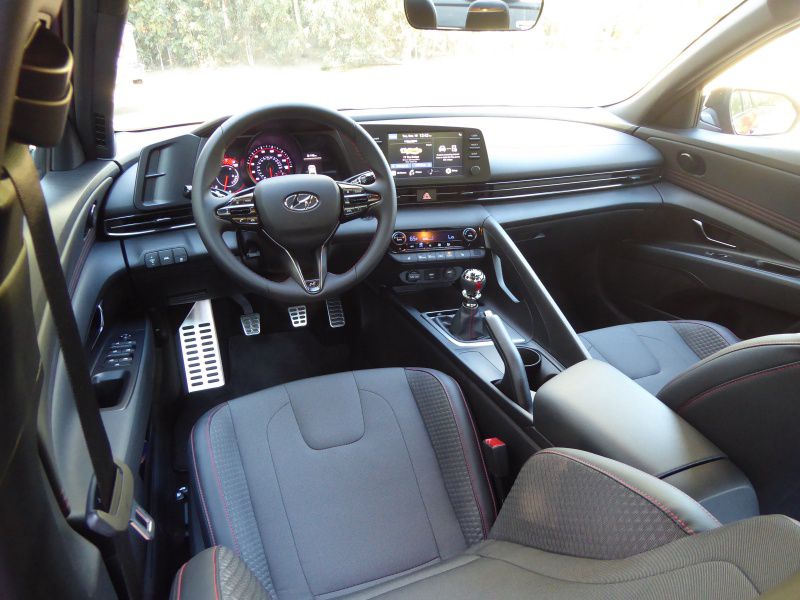 Photo by Ron Sessions
Front Seats
As with all 2021 Elantras, the N Line offers a low seating position comparable to many sport sedans. The N Line's special sport bucket seats come with additional bolstering and lateral support for sporty driving.
Seat coverings in the N Line are a leather-and-cloth mixture with attractive contrasting-color stitching as well as dimpled side "wings" that grip one's torso and thighs. Comfort is good for an all-day drive, with no hard wires or lumpy hot spots to cause discomfort or posterior surprises when getting in or out. The N Line's driver's seat is power-operated, while the front passenger seat has all manual adjustments including seat height. Both front seats are heated.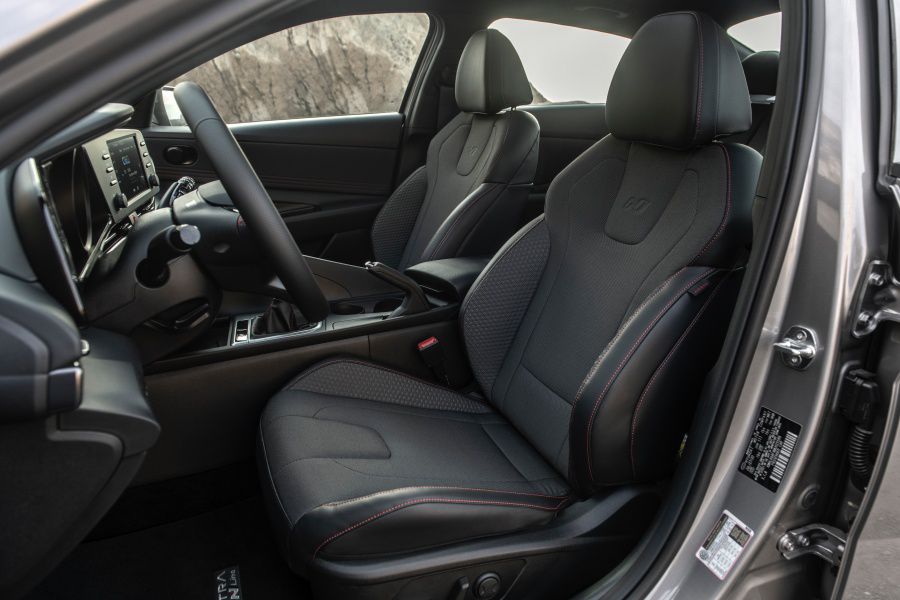 Photo by Hyundai
Infotainment
The new Elantra N Line features an 8-inch high-definition touchscreen display. It's not the top-of-the-line 10.25-inch display only available in the Elantra Limited, but it has some features that make it desirable. The biggie is wireless Apple CarPlay and Android Auto. Even though Hyundai thoughtfully includes dual USB ports (one USB-A and one USB-C) in a console bin ahead of the shifter that's big enough to hold several mobile devices, the wireless feature eliminates the potentially messy tangle of USB cables. Also, your phone can then be safely sequestered in a briefcase, purse, or backpack. The console bin also includes a standard wireless phone charger. Connecting a phone for mirroring is as easy as clicking on the onscreen widget
While a bit old-fashioned looking, the 8-inch head unit comes with dirt-simple analog volume and tuning knobs on the head unit plus hard shortcut buttons for major functions bookending the screen. The N Line's audio system is a decent-sounding six-speaker AM/FM stereo with HD Radio and SiriusXM satellite radio included. Also working with your smartphone, Hyundai's Blue Link connected car services lets drivers remotely lock and unlock doors, start the engine, adjust climate control settings, and even find the car in a parking lot with the MyHyundai smartphone app.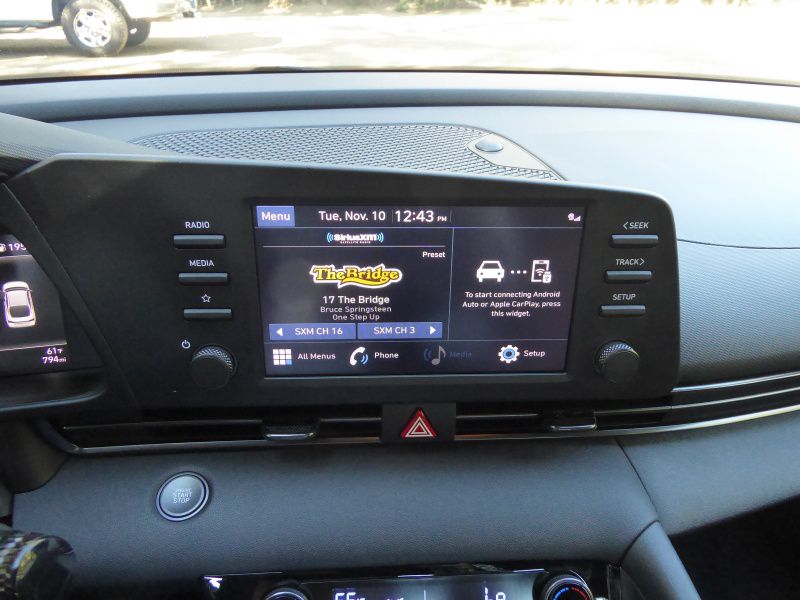 Photo by Ron Sessions
Fold-Down Back Seat
With help from the 2021 Elantra's longer wheelbase, the sedan's rear seat offers generous legroom. And even though the sloping, coupe-like roof sits lower than before, headroom for rear-seaters remains comparable to other compact sedans thanks to a lowered rear seat cushion. That low-set cushion can still handle a pair of six-footers, three if they're close friends, but their knees will stick up some.
The rear seatback folds down for trunk access and is split 60/40, handy when one needs more space for longer items such as a stepladder or big-screen TV box, but still requires some seating for a rear passenger. At 14.2 cubic feet, the Elantra's trunk is larger than that of most compact sedans. A pair of rear seatback release levers is located just inside the trunk opening.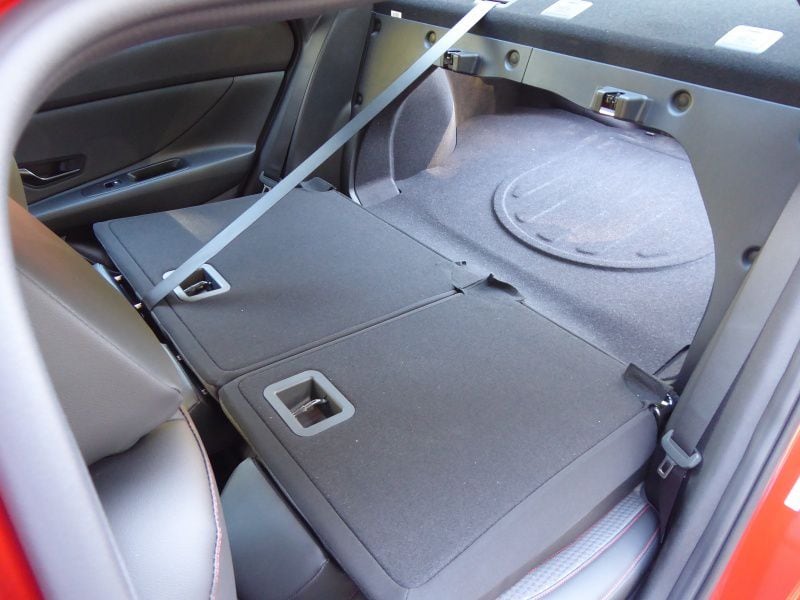 Photo by Ron Sessions
N Line Dynamics
The front-wheel-drive Elantra N Line benefits from the all-new, stiffer platform that underpins every 2021 Elantra. Hyundai reinforced suspension mounting points to reduce compliance and improve responsiveness. The new platform is also more than 100 pounds lighter than in last year's Elantra, aiding fuel economy.
Compared with the regular Elantra, the N Line upgrades to a more sophisticated multi-link rear suspension that improves control over uneven or high-crown roads. Slightly stiffer springs and anti-roll bars and wider, stickier 225/40R18 tires available for the N Line include Goodyear Eagle F1 summer tires on manual-transmission models and Hankook Ventus S1 all-seasons with the dual-clutch automatic gearbox. Larger front brakes, stiffer powertrain mounts, and dual exhausts round out the principal N Line upgrades. Despite the slightly stiffer suspension, the end result is a more playful, turbo-powered version of the striking Elantra sedan that has more power and grip to exercise the surprisingly balanced new-generation Elantra chassis.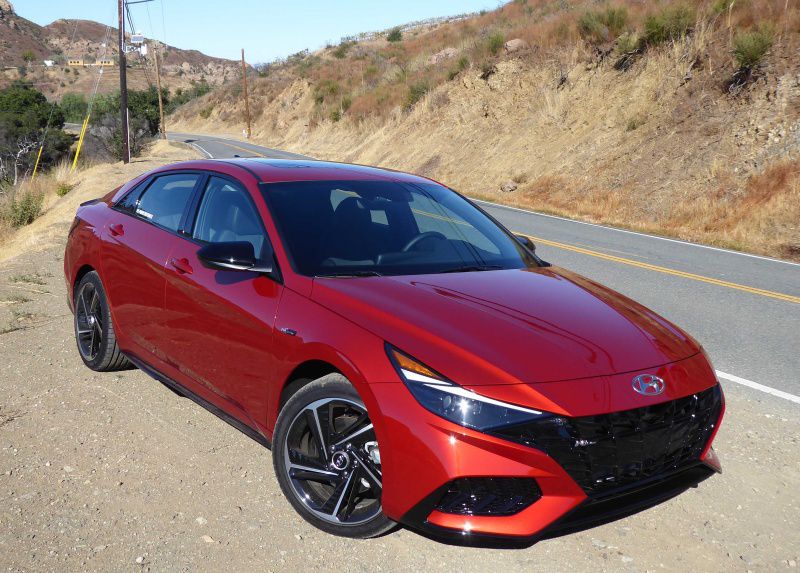 Photo by Ron Sessions
Safety and Driver-Assistive Tech
In the new Elantra N Line, Hyundai offers a large roster of standard SmartSense safety and driver-assistive technology. These features include forward automatic emergency braking, lane-keeping and lane-following (centering) assist, automatic high beams, a driver-attention warning, a rearview camera with dynamic guidelines, blind-spot and rear cross-traffic monitoring, rear occupant alert (a reminder to check the rear seat for children and pets when exiting the car) and a safe exit warning system (that warns exiting passengers of approaching traffic).
Adaptive cruise control, parking sensors, and a 360-degree surround-view camera are not available with the N Line. Conventional cruise control is, however, standard. As of this writing, the National Highway Traffic Safety Administration and Insurance Institute for Highway Safety haven't published crash test results for the 2021 Hyundai Elantra sedan.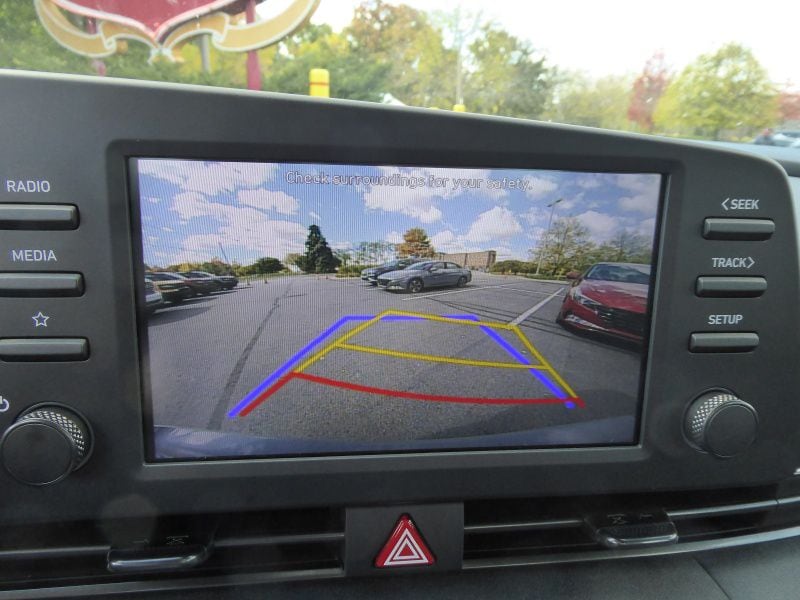 Photo by Ron Sessions
The N of the Line
The new N Line trim puts a sporty stamp on the impressively sleek and stylish 2021 Elantra sedan. Turbocharging, a choice of a manual or quick-shifting dual-clutch automatic transmission, slightly stiffer suspension, stickier rubber, and a few discreet styling touches give the N Line just a bit more attitude to go with the new sedan's striking good looks.
It's not for everybody, but Hyundai officials estimate that the N Line will constitute about 8 percent of 2021 Elantra sales. And if the N Line's well-executed tweaks aren't enough, look for a 276-horsepower version of the compact four-door, the Elantra N, arriving with a decided growl later this year. All Elantra models are backed by coverage unsurpassed in the business with a five-year/60,000-mile bumper-to-bumper warranty and 10-year/100,000-mile powertrain coverage.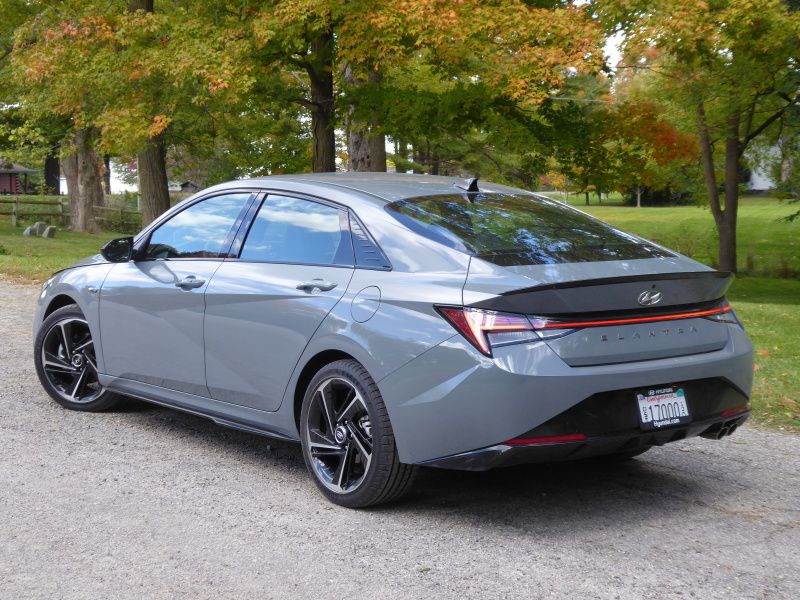 Photo by Ron Sessions