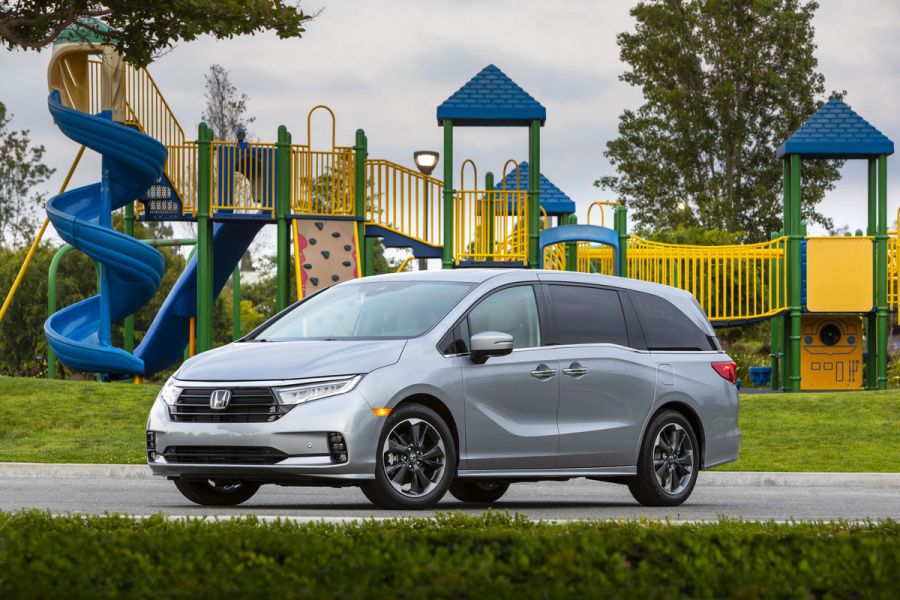 2021 Honda Odyssey ・ Photo by Honda
When you find out you're having a baby, your nesting instincts kick in. You start preparing for a life spent more at home than out with friends. You might move from an apartment to a house that has more space for raising a family. And you may come to the realization that you need a bigger car.
But a minivan like the 2021 Honda Odyssey? Ugh. Gross. What're you, your parents? Take it from a father of four, you need a minivan. It will save your back when you're loading babies and toddlers into reverse-facing child safety seats — remember, they are lightest on the day you take them home for the first time. It will save apologies when your child throws open the door and dings the vehicle next to yours — remember, this doesn't happen with a minivan's sliding doors. It will easily accommodate Grandma and Grandpa — remember, they're going to be visiting far more often. And it will haul more cargo than even the largest full-size SUV while returning the gas mileage of a mid-size crossover. So yeah, you might not want a minivan. But you probably need one. And there is good reason to make it a 2021 Honda Odyssey.
Price
You can buy a 2021 Honda Odyssey for as little as $31,790 or as much as $48,820, plus a destination charge of $1,120. That's the span between the base LX and the top-of-the-line Elite, with the EX, EX-L, and Touring fleshing out the gap between them.
Each version of the Odyssey makes a compelling case for purchase. The Odyssey EX ($35,190) is necessary to get the minivan's Magic Seat second-row chairs, a 12-way power driver's seat, triple-zone climate control, remote engine starting, blind-spot monitoring, Apple CarPlay, Android Auto, and more. Next up is the leather-lined Odyssey EX-L ($38,460), which also features a power rear liftgate and numerous convenience details. The Odyssey Touring ($42,500) adds Wi-Fi, navigation, a rear-seat entertainment system, and both CabinWatch and CabinTalk technologies. For this review, we tested the Odyssey Elite. It adds an onboard vacuum, wireless charging, a premium sound system, heated and ventilated front seats, a hands-free power tailgate, and more.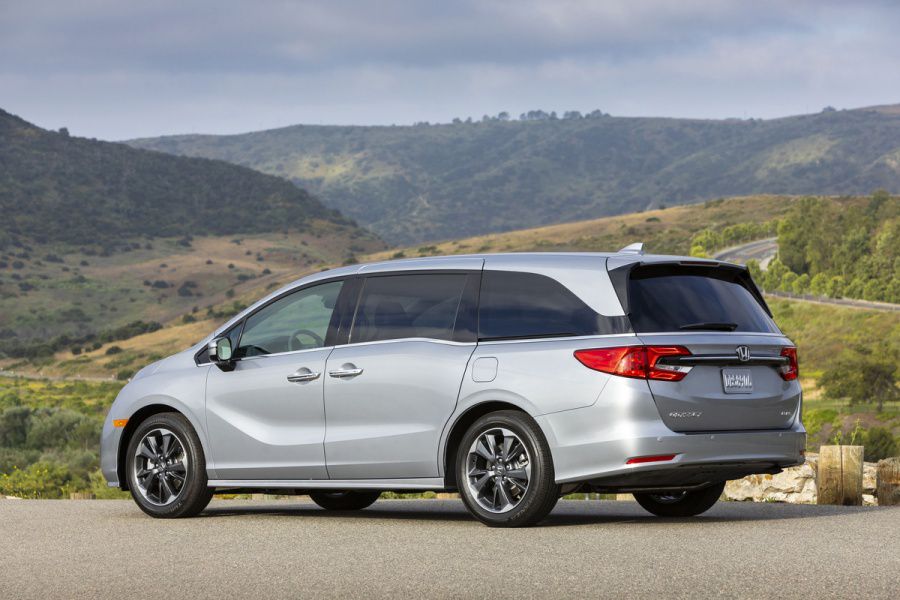 Photo by Honda
Quality and Design
For 2021, the Odyssey gets minor styling updates. The grille and front bumper are new, and all trims have standard LED headlights. Around back, a gloss black trim element with a chrome strip is located beneath the back window. New wheel designs debut for the EX-L, Touring, and Elite.
Changes to the interior are largely limited to finishes and upholstery details. Controls and displays remain the same as in 2020, right down to the infotainment system's lack of a tuning knob. The layout on the center of the dashboard, which includes transmission buttons and switches, looks cluttered at a glance but is fairly well organized. With the Elite trim, which has perforated leather with contrast stitching and piping, the Odyssey is about as close to becoming an Acura as is possible without switching the badges. Quality is the rule here, rather than the exception.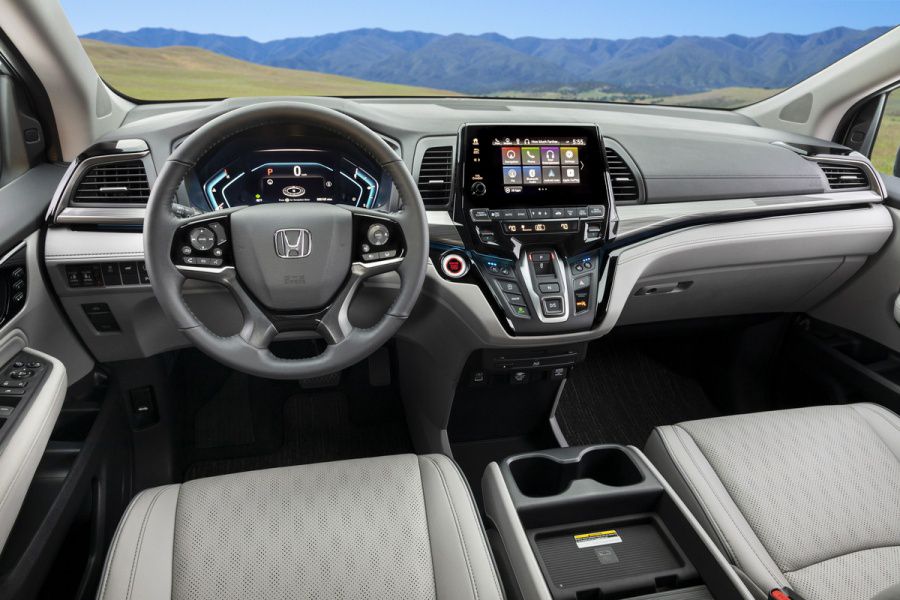 Photo by Honda
Quality and Design
One of the great things about minivans is that all three rows of seats are usable by grown human beings. Large sliding side doors make loading and unloading passengers easier, and excessive contortions are unnecessary to access the third-row seat.
The Odyssey's 12-way power-adjustable driver's seat supplies excellent thigh support. The Elite trim includes a heated steering wheel and heated and ventilated front seats, too. It would be nice if the front passenger's seat offered height adjustment, but my better half didn't complain about this omission too much. Honda's Magic Seat second row has a removable center section; taking it out drops the minivan's passenger capacity from eight people to seven. The seats slide to either side to maximize pass-through space to the third row, or you can position them together to place children in a safer location toward the middle of the vehicle. You need to remove them to maximize cargo space, though, and they're heavy and awkward to lift. Cargo volume expands from 38.6 cubic feet behind the third-row seat to as much as 89.2 cubic feet behind the second-row seat and a maximum of 144.9 cubic feet with the second-row seats removed.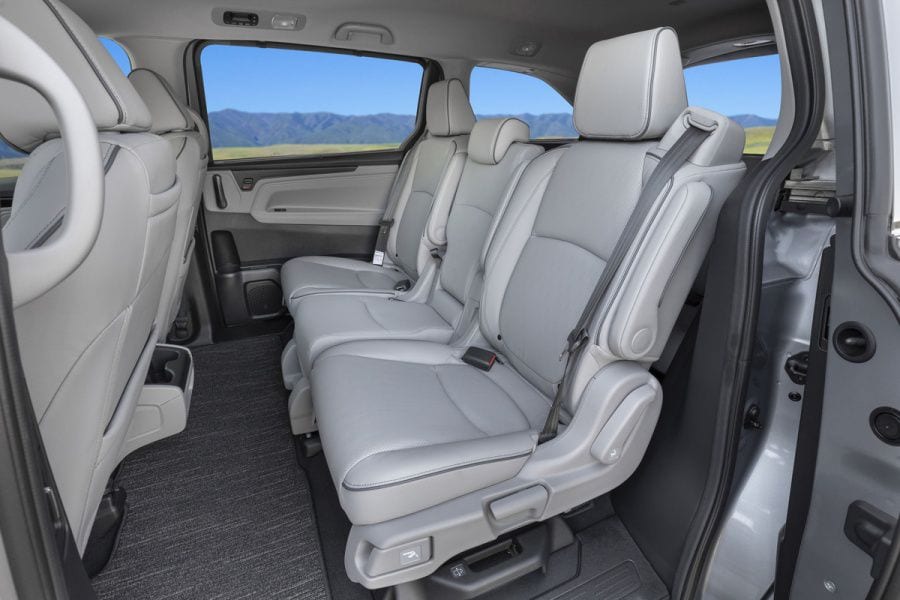 Photo by Honda
Infotainment System
Honda offers a ton of tech on the 2021 Odyssey. Starting with the EX, the minivan has an 8-inch touchscreen infotainment system that adds Apple CarPlay, Android Auto, satellite radio, text-messaging support, and more. These features are in addition to standard Bluetooth calling and music streaming.
Upgrade to the Touring and the Odyssey is equipped with navigation, HondaLink subscription services including a Wi-Fi hotspot, a CabinWatch in-car camera, a CabinTalk in-car PA system, and a rear-seat entertainment system with a 10.2-inch viewing screen, HDMI connections, and wireless headphones. The Elite trim enhances the Odyssey with wireless smartphone charging and a premium sound system. During our testing, everything worked well except for the voice recognition technology. It is not a natural voice recognition system like the digital assistant built into your smartphone. Also, the Elite's wireless charger takes up space on the otherwise roomy center console.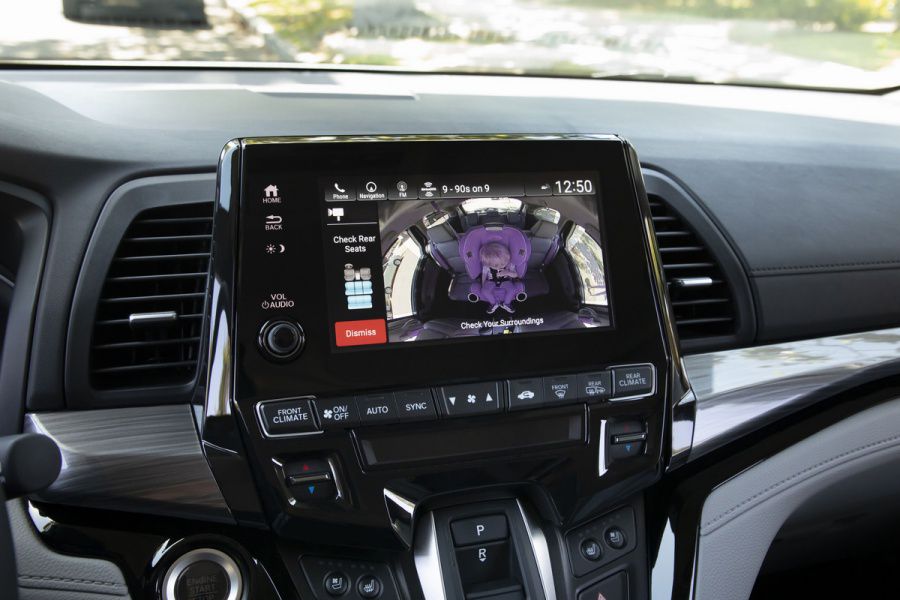 Photo by Honda
Safety Ratings and Technology
For 2021, every version of the Odyssey includes Honda Sensing as standard equipment. This collection of driving aids and collision avoidance technologies also expands thanks to a new radar unit that supports pedestrian detection, a stop-and-go function for the adaptive cruise control, and a traffic sign recognition system. If you want blind-spot monitoring with a rear cross-traffic alert, you'll still need to choose the EX trim or higher.
In use, Honda Sensing is effective if not entirely refined. The adaptive cruise control isn't as smooth as it could be when adjusting to changing traffic conditions ahead, and the wobbly steering wheel alert from the lane departure warning system ought to be a more subtle vibration instead. No doubt, now that LED headlights with automatic high-beams are standard on every Odyssey, drivers will love the bright light pattern after dark. The 2021 Odyssey earns top five-star ratings in every National Highway Traffic Safety Administration test except rollover resistance, in which it scored four stars. Safety ratings from the Insurance Institute for Highway Safety should carry over for 2021, likely with improved headlight performance thanks to the newly standard LEDs.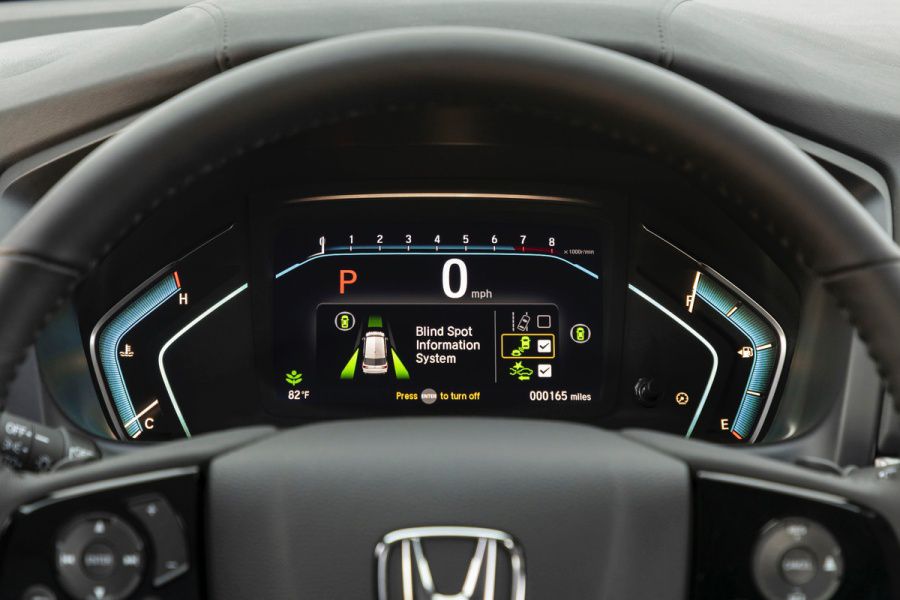 Photo by Honda
Mileage and Performance
Honda makes no changes to the 2021 Odyssey's powertrain. With this minivan, you get what Honda provides, which is a wonderful 3.5-liter V6 engine making 280 horsepower and 262 lb-ft of torque. A 10-speed automatic transmission drives the Odyssey's front wheels. All-wheel drive, which is available in the 2021 Chrysler Pacifica and 2021 Toyota Sienna, is not available on the Odyssey.
Acceleration is strong and satisfying, and the engine is refined when revved. During a 140-mile driving loop, the 10-speed automatic transmission never delayed or missed a shift, though when driving in Econ mode, the entire powertrain felt a little bit lazy, which is to be expected. There is also a Snow mode and a Sport mode for when the kids are running late to school. You might even be inspired to use the paddle shifters on the steering wheel. (Not really.) According to official EPA fuel economy estimates, the Odyssey should get 22 mpg in combined driving. I averaged 21.8 mpg on the testing loop.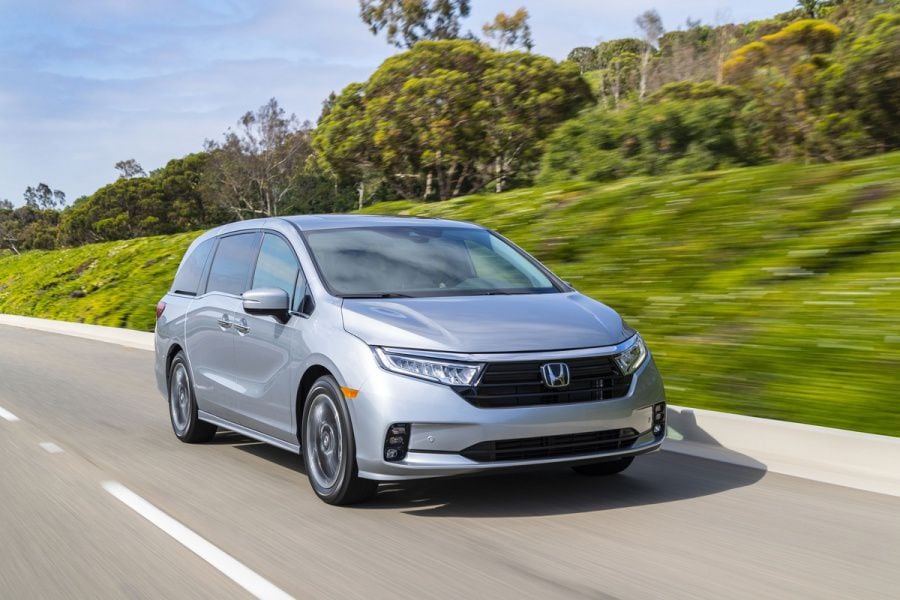 Photo by Honda
What It's Like to Drive
Among the vehicles that share the Honda Odyssey's platform (Acura MDX and the Honda Passport, Pilot, and Ridgeline), this minivan likely has the lowest center of gravity. And that translates into a vehicle that is unexpectedly enjoyable to drive.
From perfectly weighted and responsive steering to a suspension that is equal parts soft and secure, the Odyssey proves compliant, composed, and capable of taking a corner with enthusiasm and grace. But this is true of most any Honda, each one equipped with entertaining driving characteristics that are baked into the engineering from the start and that can put a satisfied smile on a driver's face. For 2021, Honda installed a new electronic brake booster in the Odyssey, and the result is a palpable improvement in pedal response and feel. However, on a hot day with four passengers aboard, a trip over local mountains to the beach produced brake heating, rumble, vibration, and a hint of fade.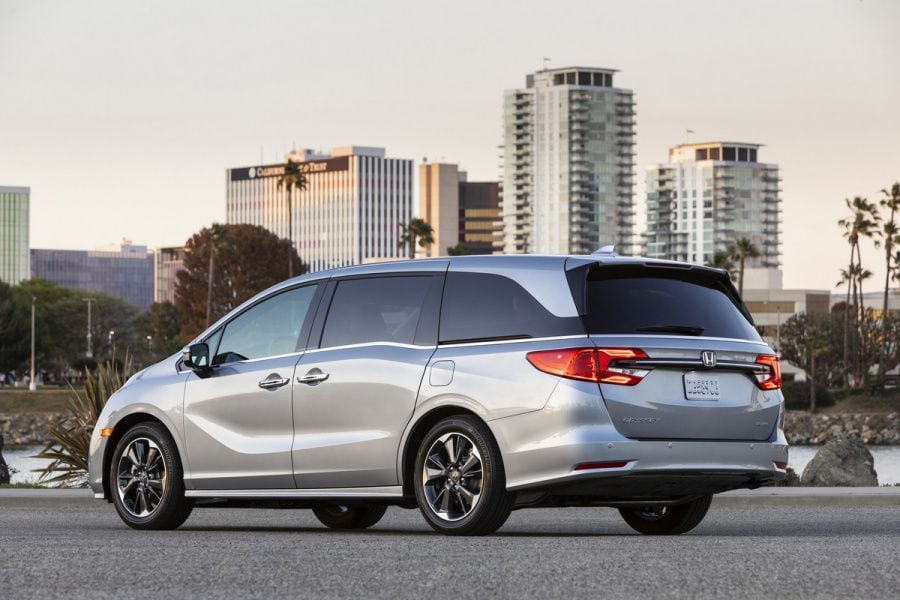 Photo by Honda
Odyssey Competitors
The last time Honda redesigned the Odyssey was for 2018, so another new one won't arrive until 2023 at the earliest (and more likely for 2024). That gives the few remaining minivans on the market some time to chew into Honda's retail sales dominance in the segment.
For 2021, the Chrysler Pacifica gets a more significant makeover than Honda has bestowed upon the Odyssey. In addition to nicer styling and a new luxury-oriented trim level, all-wheel drive arrives as an option. Toyota is debuting a redesigned Sienna for 2021, equipped solely with the same hybrid powertrain found in the Highlander Hybrid. It will also offer all-wheel drive, as well as major improvements in safety and infotainment. Kia is planning a new Sedona for 2022, styling and equipping it to blur the lines between a crossover and a minivan. Early information on the Carnival, which is the minivan's name in global markets, looks promising. By the time the next-generation Odyssey goes on sale, it will need to address the strengths of all three of these competitors.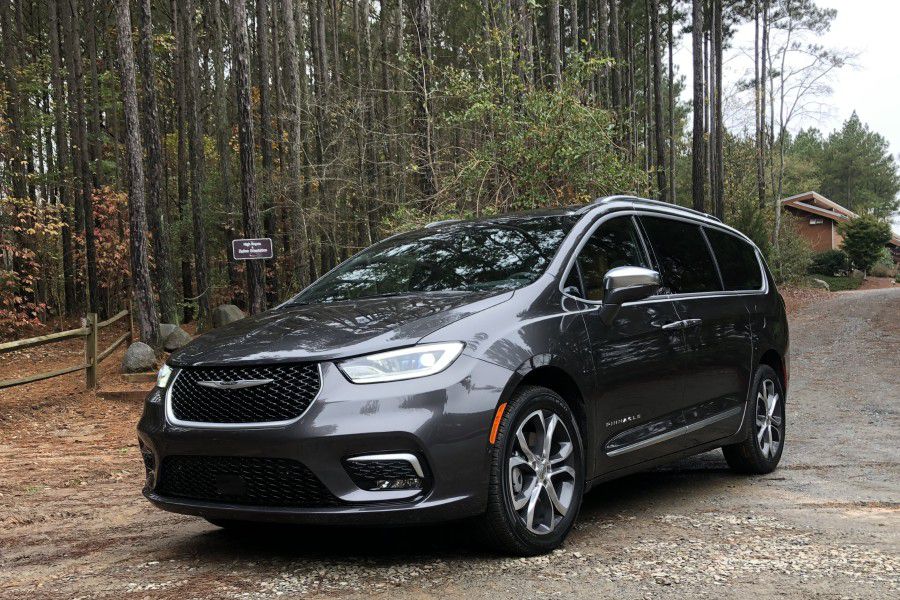 Photo by Nicole Wakelin
Staying Competitive
Honda says the Odyssey is the top-selling minivan when it comes to retail sales. In other words, while some strong-selling minivans fill airport rental car lots or are assigned to government bureaucrats, individual buyers choose the Odyssey more. 
There is good reason for this minivan's popularity. Honda's combination of style, comfort, safety, utility, reliability, and resale value is tough to duplicate. No doubt, the changes to the 2021 Honda Odyssey, coupled with this vehicle's long-standing positive reputation, will keep it high on the consideration lists of people who have, finally, realized that they need a minivan.
Photo by Honda