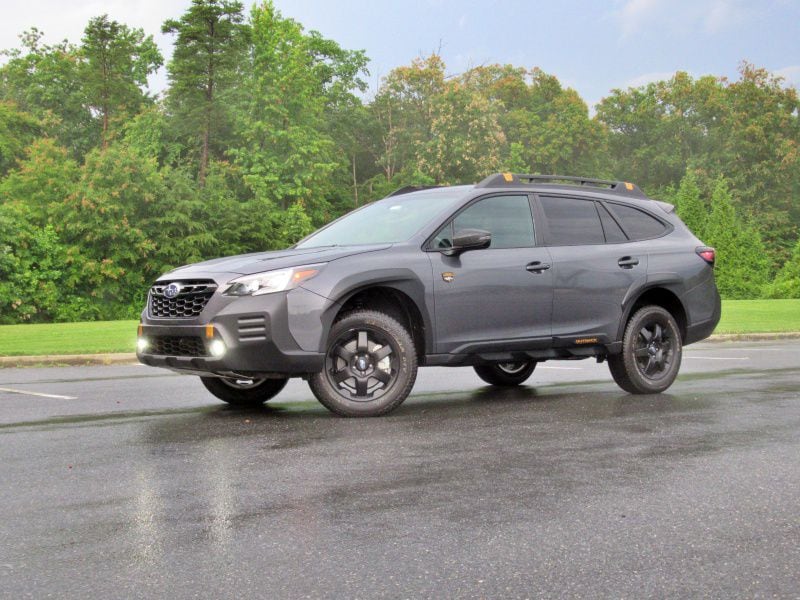 2022 Subaru Outback Wilderness ・ Photo by Brady Holt
If you're cross-shopping the Honda CR-V and Subaru Outback, you might draw scoffs from some auto experts. That's because, strictly speaking, the CR-V is a compact crossover and the Outback is a mid-size model. Plus, the CR-V is a traditional SUV-looking crossover, while the Outback has a station wagon body with longer, lower proportions. 
Still, our research has revealed that you're not alone in considering both SUVs. And there are good reasons to cross-shop these models. They're both comfortable, safe, and spacious, and despite their different sizes, they're even similarly priced. But which is best? To answer that question, we tested both the CR-V and the Outback and compared them across eight categories. We'll help you decide which is the better fit for your life, and we'll tell you our own overall winner. 
Pricing and Features
The 2021 Honda CR-V starts at $25,350, comfortably undercutting the 2022 Subaru Outback's base price of $26,945. Still, the Outback's value quotient is stronger than it looks. 
First of all, every Outback includes all-wheel drive, which costs an extra $1,500 on the CR-V. Subaru also provides a touchscreen infotainment system with Android Auto and Apple CarPlay (absent from the base CR-V) and a sturdy roof rack (not included on any CR-V). If you want to add those to your CR-V, the price gap may narrow or even tilt in the Subaru's favor. Still, the CR-V has a lower base price, and it also has a lower entry point to get blind-spot monitoring ($27,860 versus $30,545) or leather upholstery ($30,450 versus $33,595) along with some other features. What's more, we regularly see Subarus at dealerships with hundreds of dollars worth of overpriced extra-cost options. When price is paramount, the Honda beats the Subaru.  
Honda CR-V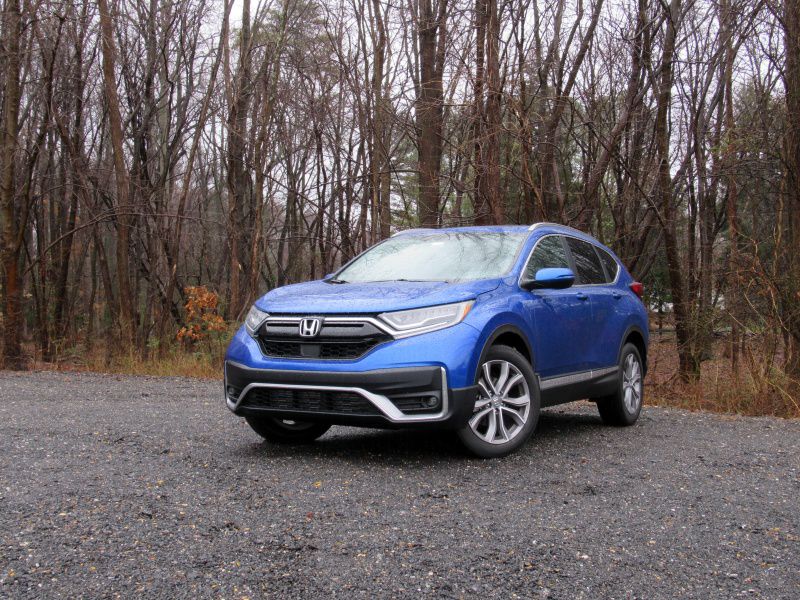 Photo by Brady Holt
Exterior Design
In some ways, the Outback looks less like an SUV than the CR-V. It's literally a station wagon version of the Subaru Legacy mid-size sedan, just with higher ground clearance and some body cladding. On the other hand, it's a wagon that looks ready for rugged use. While its overall shape is simple and graceful, Subaru protects the bumpers, lower door panels, and wheel wells with sturdy plastic. Combined with the plus-size roof rack, the Outback looks like a car that means business. And the effect increases on this year's all-new off-road-themed Wilderness model, which has even more cladding and even higher ground clearance. 
The CR-V, meanwhile, has a boxy SUV silhouette. Honda dresses up this box with artfully detailed vertical taillights and chrome trim, and the slightly squared-off front bumper provides a slight hint of toughness. Still, though, this Honda doesn't really pretend it would love to plow through mud. And this Subaru doesn't pretend to be pretty. You'll choose for yourself which aesthetic suits you. 
Tie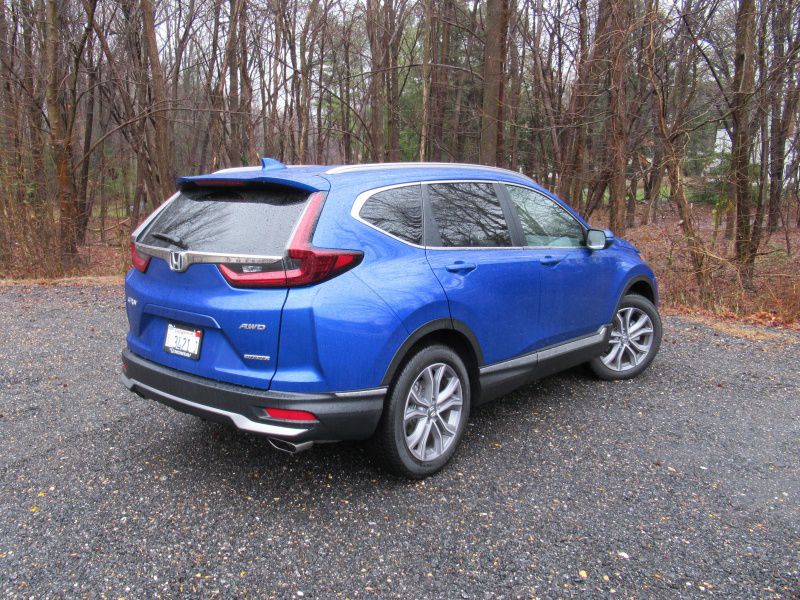 Photo by Brady Holt
Interior Design
Inside, the CR-V aims to look fancy with false-wood trim and flush touch-sensitive infotainment controls on most trim levels. It's functional, too; a dashboard-mounted gear selector frees up extra console storage, including a reconfigurable open area. Still, execution comes up short. We'll mostly fault the infotainment system; it's just an old-fashioned radio on the LX model, while the rest of the lineup has a small 7-inch screen, cluttered icons, and sluggish responses on other trim levels. A few interior materials could be nicer, too. 
The Outback's interior isn't perfect, either, but it gets our nod. Despite its rugged aesthetic, it has generally richer interior materials than the CR-V, along with more advanced infotainment. The base trim level has two 7-inch touchscreens stacked atop each other, while other Outbacks have one big 11.6-inch screen. It looks high-tech and mostly works well, though we wish it had physical controls for the seat heaters and a few other functions that are buried in the screen. Overall, though, the Outback feels fancier and also has better-executed technology than the CR-V. 
Subaru Outback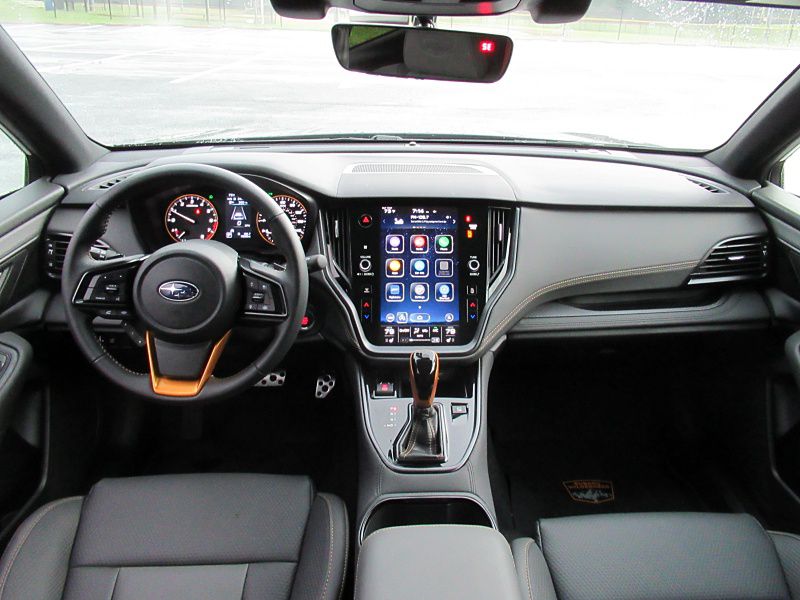 Photo by Brady Holt
Interior Space and Comfort
The CR-V is significantly smaller than the Outback, measuring 182 inches long versus the Subaru's 191 inches. Still, with a shorter nose, higher-mounted seats, and a lower floor, Honda packs in more passenger and cargo space. It provides a whopping 39.2 cubic feet behind the rear seat — more than many mid-size SUVs — and 75.8 cubic feet with the rear seat folded down. 
The Outback isn't quite as roomy, but we find its seats more comfortable and supportive than the Honda's. It's also wider, in case you want additional distance between the driver and the front passenger. And the Outback's cargo capacity isn't far behind the CR-V's, especially with the rear seat folded: 32.5 cubic feet behind the rear seat and 75.7 cubic feet with the seat folded. Another difference to note is that the Outback has the driving position of a sedan, just elevated a couple inches higher off the ground; the CR-V has a more SUV-like setup with a higher seat and shorter nose sticking out in front. You'll choose for yourself based on which driving position you prefer, and whether better seats trump extra cargo room. 
Tie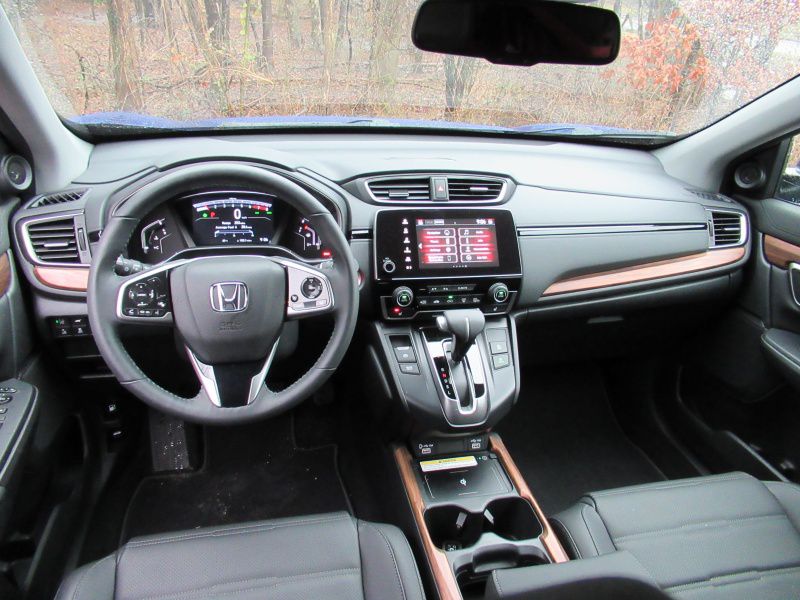 Photo by Brady Holt
Capability
The CR-V has a class-competitive ground clearance of 7.8 inches with front-wheel drive and 8.2 inches with all-wheel drive. But there's little contest between these two crossovers when the going gets tough. 
The standard Outback has 8.7 inches of ground clearance and Subaru's torque-vectoring all-wheel drive with the X-Mode terrain selections. Then there's the Wilderness model, which we also tested. It has 9.5 inches of ground clearance, all-terrain tires, a skid plate, a retuned suspension for better low-speed off-road driving, and revised X-Mode settings. The CR-V will handle slippery conditions, but that's about it. It can't tow as much as the Outback, either: The Subaru can tow 2,700 pounds with its base engine and 3,500 pounds with an optional turbo engine; the CR-V tows 1,500 pounds with its base engine and isn't rated to tow at all if you choose its gas-electric hybrid powertrain. 
Subaru Outback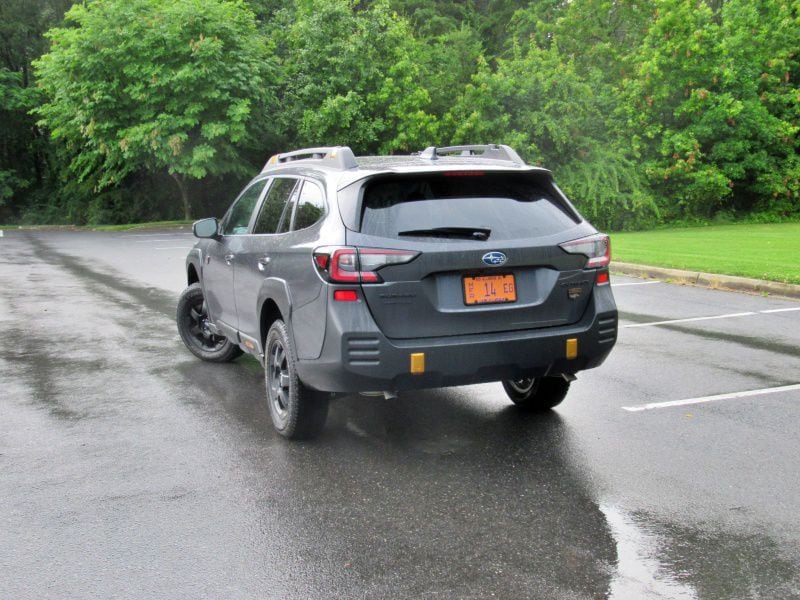 Photo by Brady Holt
Driving Experience
The CR-V drives nicely for a compact crossover. Its 190-horsepower turbocharged engine is decently peppy and quiet, and it has a smooth ride and moderately agile handling. Still, the mid-size Outback meets the standards of a higher vehicle class. 
As the bigger vehicle, the Outback feels more solid and substantial than the CR-V. Yet it never feels bulky or cumbersome, either; it's easy to drive, too, but it feels more expensive. The other advantage is under the hood: The base Outback engine is a naturally aspirated 182-horsepower four-cylinder that's about as quick as the CR-V, while upper-trim models get a 260-horsepower turbocharged four that blows it away. The Wilderness model isn't quite as agile as the standard Outback, but the difference isn't huge. 
Subaru Outback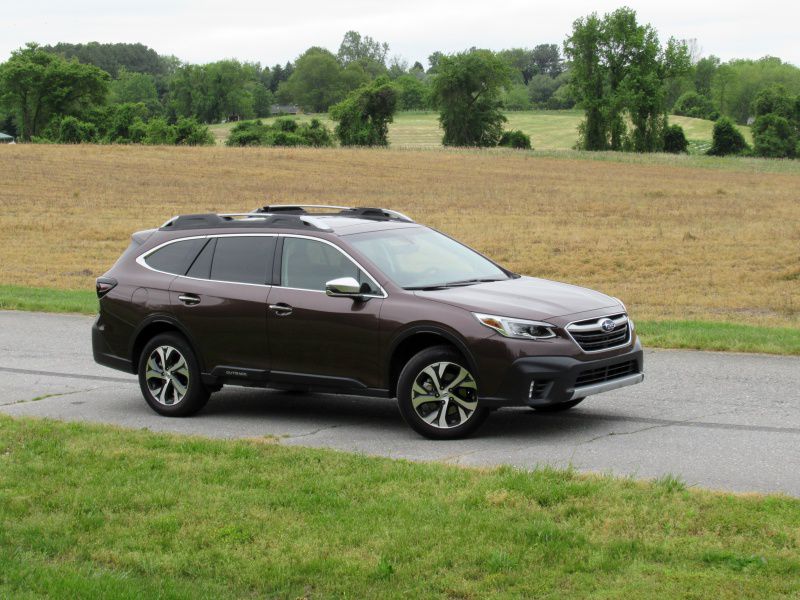 Photo by Brady Holt
Fuel Economy
The Outback gets exceptional gas mileage for a mid-size crossover. It gets an EPA-estimated 29 mpg in mixed driving with its base engine and 26 mpg with the turbo; the turbo-only Wilderness model, which is less aerodynamic and has different transmission tuning, dips to 24 mpg. We matched that 24 mpg in a Wilderness and saw 27 mpg in the standard turbo model. 
In an apples-to-apples comparison, the CR-V only ties the Outback's EPA ratings. In other words, the AWD gas-only CR-V gets the same 29 mpg as the base Outback. But you can also make the CR-V more economical by selecting front-wheel drive (EPA-estimated 30 mpg) or a gas-electric hybrid (38 mpg). We hit the EPA estimates in both an AWD CR-V and a CR-V Hybrid. 
Honda CR-V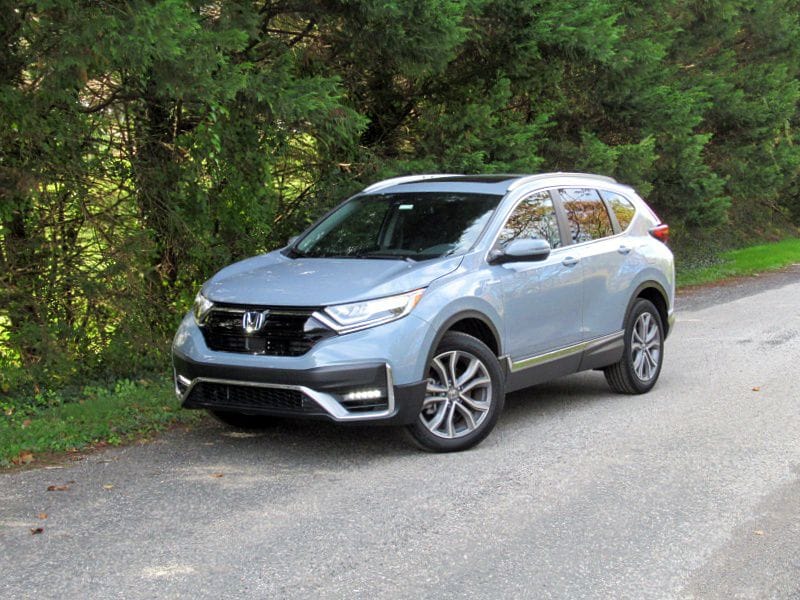 Photo by Brady Holt
Safety
Both the CR-V and Outback have outstanding safety records, with near-perfect crash-test scores and lots of standard safety and driver-assist features, including automatic emergency braking, lane-keeping steering, and adaptive cruise control. Both have optional blind-spot monitoring with a rear cross-traffic alert, though only the Outback is available with rear automatic braking or a forward-vision camera. 
The Outback also edges out the CR-V's safety scores. They have identical crash-test performance, but the Outback got the highest possible Top Safety Pick+ score from the Insurance Institute for Highway Safety; that compares with the CR-V's Top Safety Pick status, a tier below it. The difference is just that the Outback has brighter headlights on its base model. It's a narrow advantage, but it goes to the Subaru. 
Subaru Outback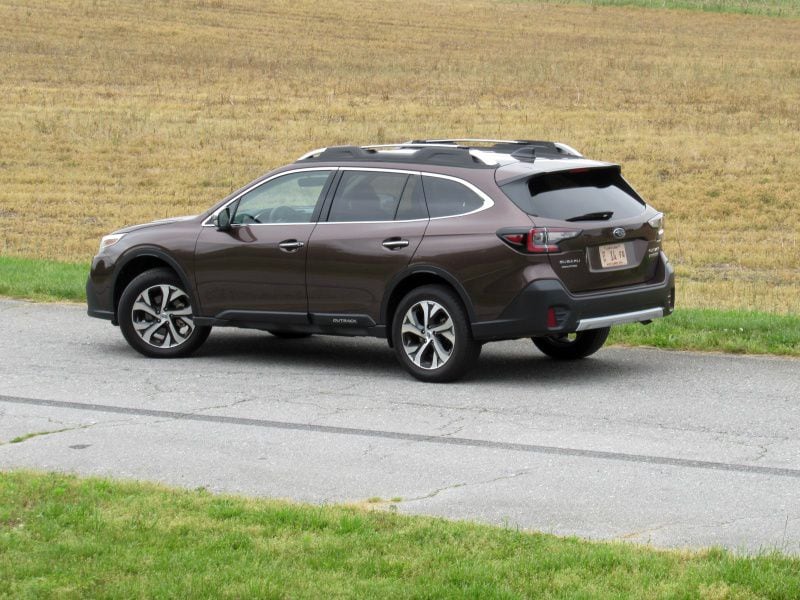 Photo by Brady Holt
Final Thoughts
The Honda CR-V gives you a lot for the money. It's roomy and agile, yet fuel-efficient — all at a lower price than the Subaru Outback. And it looks more like other SUVs: boxy yet elegant rather than long and rugged. 
But the Outback comes off as a higher tier of vehicle, with a more solid feel, richer interior materials, better-shaped seats, an available extra-powerful engine, and a bigger, more responsive infotainment screen. It also has more off-road capability, even if you skip the Wilderness. Despite all those advantages, it's not even that much more expensive than the Honda. If you're on a tighter budget, would consider the fuel-sipping (but pricier) CR-V Hybrid, or aren't interested in extra off-road capability, the Honda delivers more space for the money in a well-rounded overall package. But to us, the Outback's slightly higher price is money well spent. And if you want to combine Subaru capability with an SUV shape and a lower price than the CR-V, the Subaru Forester is another option to consider; however, it feels downscale of both the CR-V and the Outback. 
Subaru Outback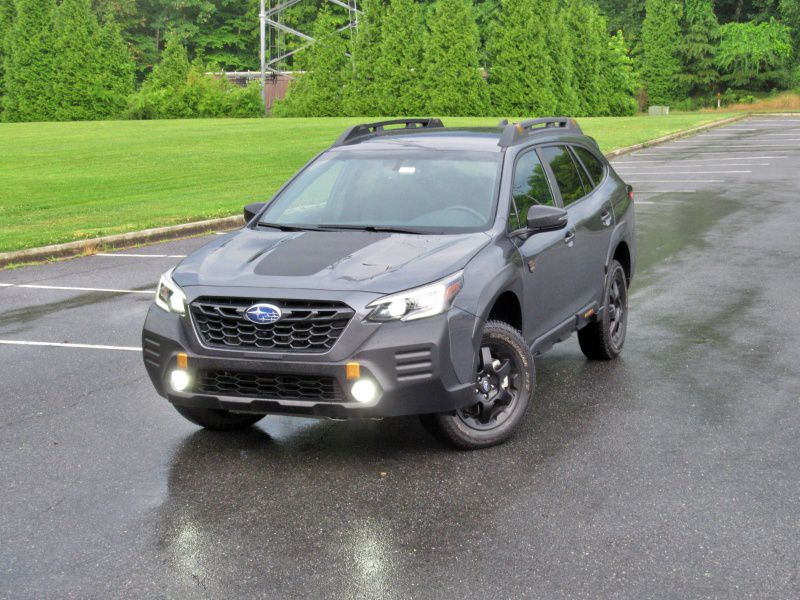 Photo by Brady Holt