2021 Honda CR-V Hybrid ・ Photo by Ron Sessions
Compact SUVs now comprise the largest segment for new vehicles in the U.S. with scores of entries and millions of sales every year. The RAV4 is currently the best-selling Toyota and the fourth-best-selling vehicle in the U.S. after the Ford F-150, the Chevrolet Silverado, and the Ram lineup of full-size pickup trucks. Right behind the RAV4 is the CR-V, Honda's best-selling vehicle and the fifth-best-seller overall in the U.S.
The fifth-generation Toyota RAV4 was all-new for 2019 and included both gas and hybrid models, with a plug-in RAV4 Prime model also making its debut for the 2021 model year. The current Honda CR-V, also in its fifth generation, first broke cover in the 2017 model year with a hybrid variant joining the lineup for 2020. It's the first electrified Honda crossover SUV available in the U.S. Both hybrid models come standard with all-wheel drive. Let's see how the hybrid versions of the two top-selling crossover SUVs stack up to each other.
Styling and Design
Beauty is in the eye of the beholder and largely depends on your personal taste. Both the CR-V and RAV4 are contemporary looking, with the newer RAV4 adopting a more aggressive, truck-like exterior design trickling down from the Tacoma and 4Runner. In profile, the RAV4's large, rectangular wheel flares and upturned bumpers wouldn't look out of place on a Jeep Cherokee. The CR-V, on the other hand, has softer, contemporary styling cues that fit right in with its Civic and Accord stablemates, but scaled up for more roominess and cargo-toting capability.
Both crossover suvs are a far cry from the diminutive, almost dainty-looking runabouts that marked Toyota and Honda's first car-based small crossovers in the mid-1990s. From behind the wheel, the CR-V Hybrid with its aluminum and wood trim looks and feels like a well-equipped, classy mid-size sedan, while the RAV4 Hybrid's kit with rubber-tipped switchgear and meatier-looking controls takes on a more rugged, masculine, truck motif.
Tie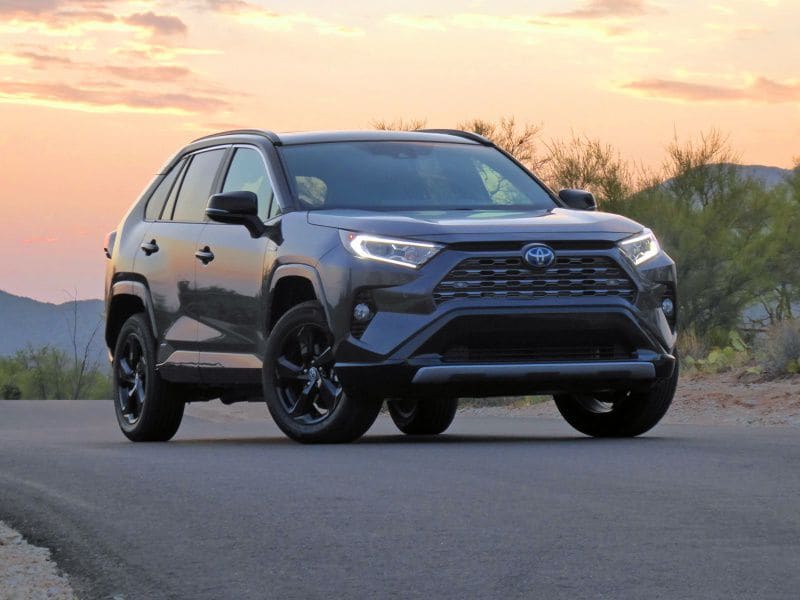 Photo by Ron Sessions
Comfort and Cargo
Both the CR-V and RAV4 Hybrids are surprisingly roomy for their size. The CR-V's rear doors open wide, almost to 90 degrees for easier ingress and egress. The CR-V also has about 2.5 inches more rear legroom than the RAV4. Overall, the CR-V tops the RAV4 in passenger space.
The RAV4 Hybrid has comfortable, supportive front seats. Seat coverings are cloth or SofTex synthetic leather; real leather is not available. The RAV4 also doesn't offer a power front passenger seat, and heated front seats are relegated to upper trims, as is a leather-wrapped steering wheel. However, top RAV4 trims have the option of ventilated front and heated outboard rear seats. The CR-V Hybrid front seats are also comfortable, but interior kit is more upscale. A power moonroof, a leather-wrapped steering wheel, a power driver's seat, and heated front seats are standard, and leather seating, a power front passenger's seat, and a heated steering wheel are standard on all but the base EX. At 37.6 cubic feet of cargo space, the RAV4 Hybrid tops the CR-V Hybrid behind the rear seat, but with the rear seats folded flat, both hybrid compact crossovers offer a voluminous 69 to 70 cubic feet.
Honda CR-V Hybrid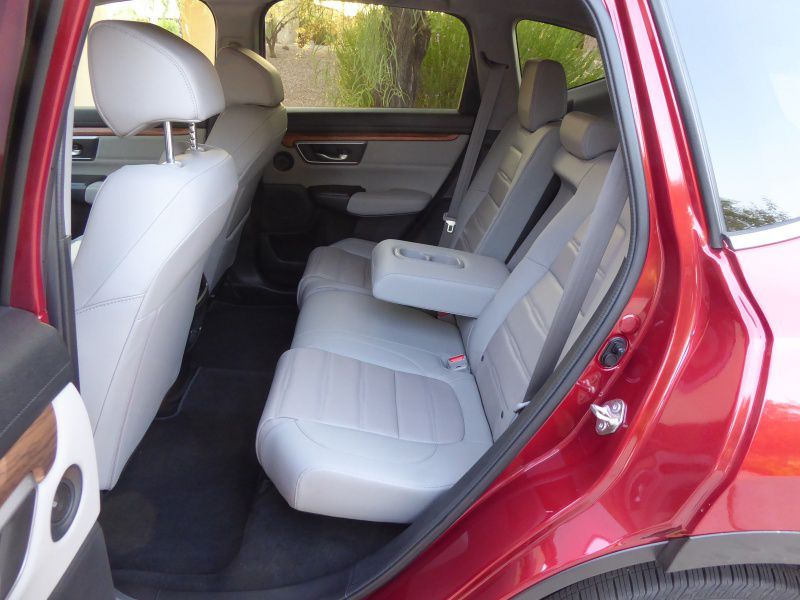 Photo by Ron Sessions
Infotainment System
The CR-V Hybrid shows its age a bit with a smallish 7-inch touchscreen. It also lacks a rotary tuning knob, although it does have a volume knob. An eight-speaker AM/FM stereo with SiriusXM and HD radio is standard, although in-vehicle Wi-Fi is not available. The top CR-V Touring trim brings a nine-speaker premium sound system, satellite-linked embedded navigation with traffic information as well as a wireless phone charger.
The RAV4 Hybrid has both volume and tuning knobs for quick adjustments without the eyes-off-the-road need to find and tap screen arrows. It is available with a standard 7-inch touchscreen or optional 8-incher exclusively on the XSE and Limited trims along with dynamic embedded navigation. The standard six-speaker AM/FM stereo has SiriusXM but no HD radio and can be upgraded on top trims to a bangin' 11-speaker JBL system. In-vehicle Wi-Fi is available. Both the CR-V and RAV4 Hybrids come standard with Apple CarPlay and Android Auto cellphone mirroring, the RAV4 adding Amazon Alexa voice-activated capability as well.
Toyota RAV4 Hybrid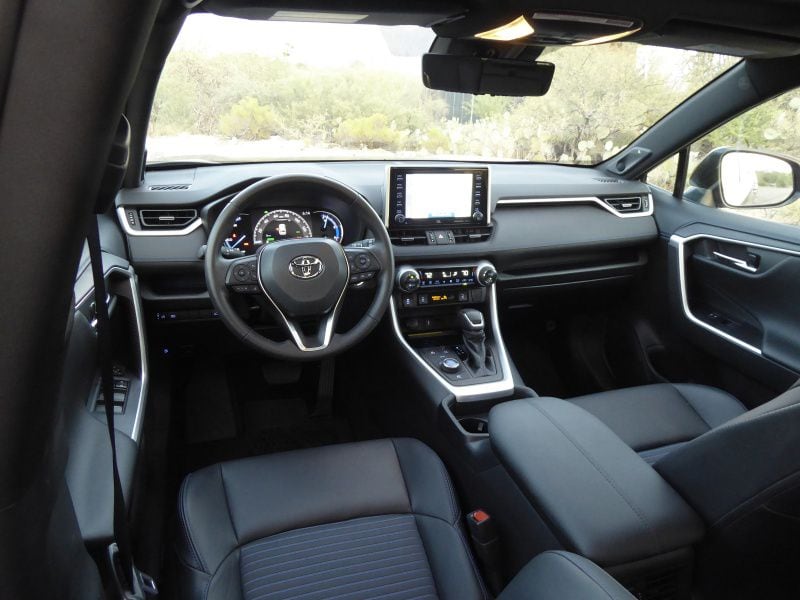 Photo by Ron Sessions
Safety and Technology
The CR-V Hybrid comes standard with a forward-collision warning, lane-departure warning, collision mitigating braking, road departure mitigation, lane-keeping assist, and adaptive cruise control. Also standard are blind-spot and rear cross-traffic monitoring as well as six airbags, automatic high-beam control, and a multi-angle backup camera. Neither an overhead 360-degree monitor nor road sign assist is available on the CR-V.
The RAV4 Hybrid ups airbags to eight and comes with a pre-collision system with pedestrian protection, lane departure alert with steering assist, lane tracing assist, automatic high beams, adaptive cruise control, and road sign assist. Also included are a backup camera, front and rear parking assist sensors with automated braking on the Limited, and blind-spot and rear cross-traffic alerts on all but the base LE. An overhead 360-degree monitor is optional on the Limited. Both the CR-V and RAV4 Hybrids achieve an IIHS 2020 Top Safety Pick rating when equipped with optionally upgraded headlamps. The 2021 CR-V Hybrid is rated by the National Highway Traffic Safety Administration with five stars overall, five stars for front and side impacts, and four stars for rollover resistance. The 2021 RAV4 Hybrid gets five stars for side impacts and overall, but just four stars for front impacts and rollover resistance.
 Honda CR-V Hybrid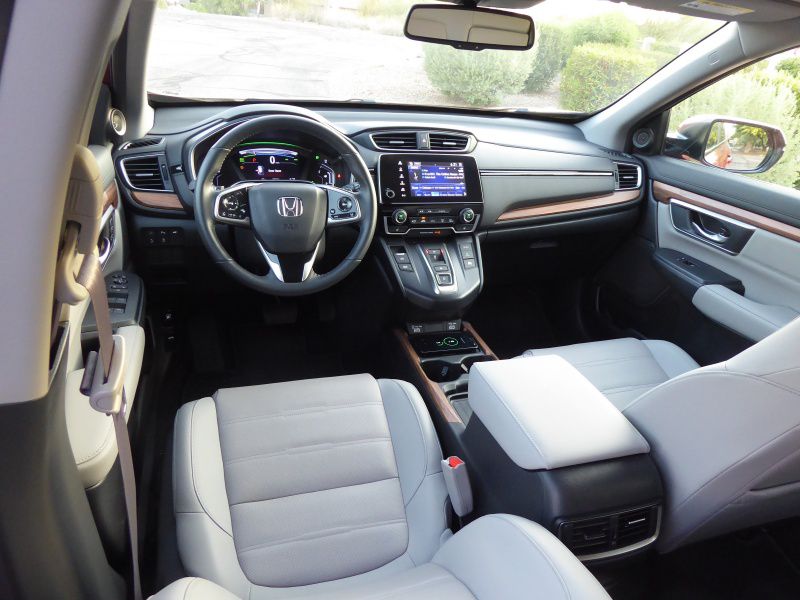 Photo by Ron Sessions
Power and Pwerformance
The CR-V Hybrid uses the two-mode hybrid system from the Honda Accord. Its 143-horsepower 2.0-liter four-cylinder gasoline engine combines with two motor-generators for a total system output of 212 hp and 232 lb-ft of torque. The all-wheel-drive hybrid's rear wheels are driven mechanically via a clutch and driveshaft. The system output numbers make the hybrid the most powerful version of the CR-V, but the added 201 pounds of the 1.4kWh lithium-ion hybrid battery erase any performance advantage. The CR-V Hybrid can accelerate to 60 mph in just over 7.5 seconds.
The all-wheel-drive RAV4 Hybrid combines the urgings of a 176-hp 2.5-liter four-cylinder and three electric motors, one driving the rear wheels in lieu of a mechanical driveshaft, for a combined system output of 219 hp. With a zero-to-60 mph capability in just under 7.5 seconds, the RAV4 Hybrid is about a half-second quicker than the 203-hp gasoline-only version. That would make the hybrid the quickest version of the RAV4 if not for the all-new 2021 RAV4 Prime plug-in hybrid with 302 combined system horsepower on tap and the ability to squirt to 50 mph in just over 5.5 seconds.   
 Toyota RAV4 Hybrid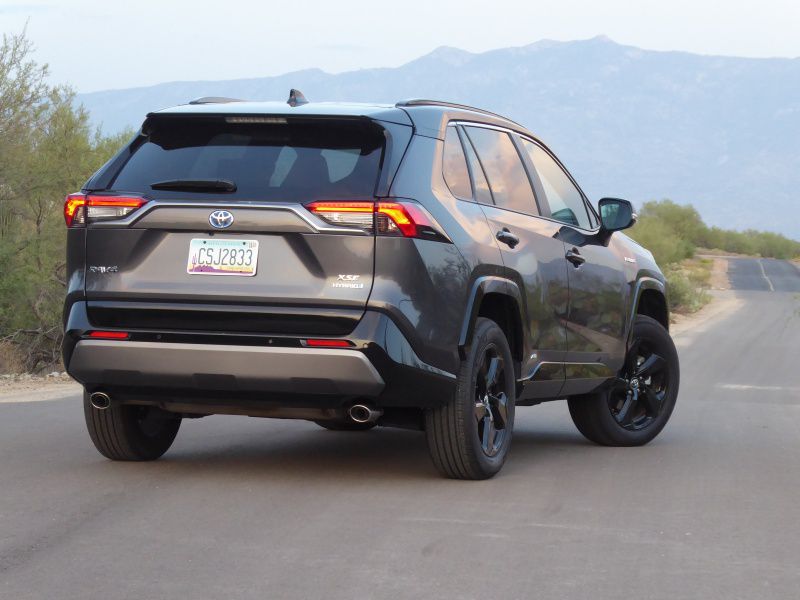 Photo by Ron Sessions
Fuel Economy
Aside from the small, and unexpected, performance gains, buyers generally go the hybrid route seeking improved fuel economy. In that regard, both the CR-V Hybrid and RAV4 Hybrid deliver, posting roughly 33 percent gains in EPA estimated combined fuel economy over their gas-powered versions.
The RAV4 Hybrid does just a bit better than the CR-V Hybrid, however, with the RAV4 Hybrid netting EPA numbers of 41 mpg city/38 mpg highway/40 mpg combined and the CR-V Hybrid achieving a 40 mpg city/35 mpg highway/38 mpg combined rating. Those small differences were amplified in real-world driving of the test vehicles. In a week of driving that included 110 miles of interstate driving, much of it at the posted 75 mph, the CR-V Hybrid displayed a 35.2 mpg average reading in the vehicle's trip computer. Observed fuel economy in the RAV4 Hybrid, driven about the same distance as the CR-V but more on 55-mph rural two-lane roads, was an impressive 43.4 mpg.
 Toyota RAV4 Hybrid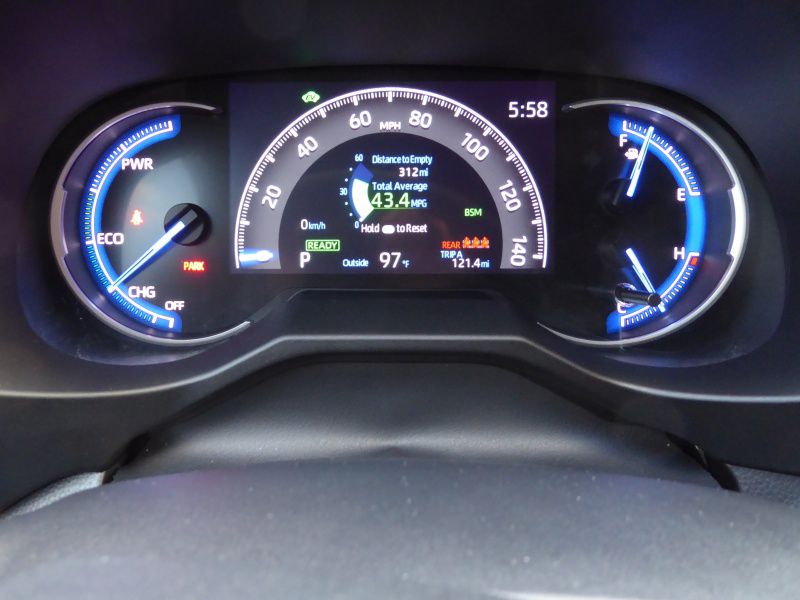 Photo by Ron Sessions
Driving Dynamics
If there is one area the CR-V Hybrid could be improved, it's in outward visibility. The CR-V's tall front fenders, while giving the crossover a substantial look from the front, impede forward vision a bit for low curbs, bicyclists and short-statured pedestrians, especially to the opposite-side. The RAV4 is much better in this regard with good outward visibility to the front due to low hood corners, free-standing side mirrors and thin pillars with added front quarter windows.
While the RAV4 Hybrid is a bit peppier than the CR-V Hybrid especially at higher speeds and credibly balances ride and handling, the CR-V Hybrid is just more rewarding to drive with better body control and sharper, more responsive steering. Both compact crossover hybrids offer a firm brake pedal with decently blended mechanical and regenerative braking. And both the CR-V Hybrid and RAV4 Hybrid offer a pleasingly smooth, turbine-like electric motor drive-off feel when accelerating from rest.
 Honda CR-V Hybrid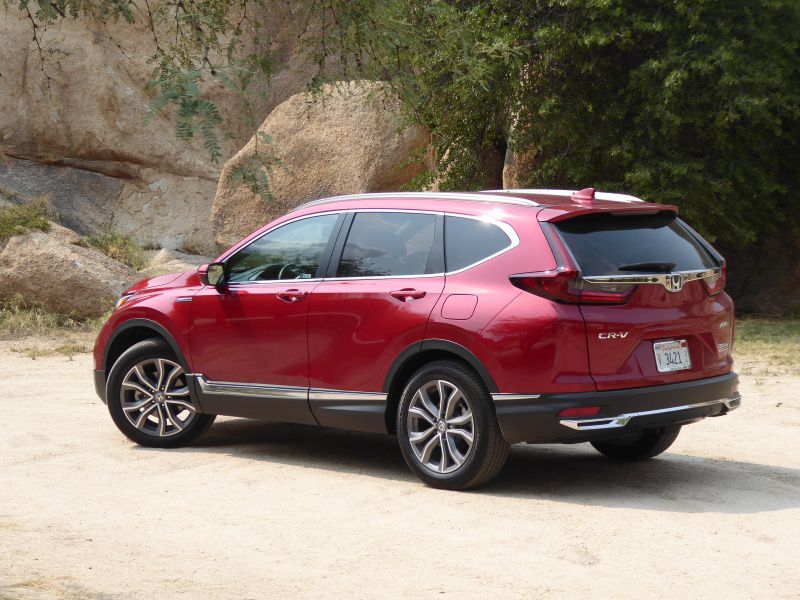 Photo by Ron Sessions
Value
Both compact crossover hybrids are well-contented with a long list of standard comfort and convenience amenities. Honda dropped the entry CR-V Hybrid LX trim for 2021, keeping the more popular and better-equipped (including the $1,120 destination charge) $31,710 EX, $34,270 EX-L, and $37,470 Touring models in the lineup.
The RAV4 Hybrid model range is a bit wider, including (with the $1,175 destination charge) the more basic $29,675 LE and $30,970 XLE, midlevel $33,675 XLE Premium, sporty-looking $35,625 XSE, and range-topping $38,205 Limited. Overall, the CR-V Hybrid offers just a bit more standard content for the dollar than the RAV4 Hybrid, especially when you get to the top trim levels.
 Honda CR-V Hybrid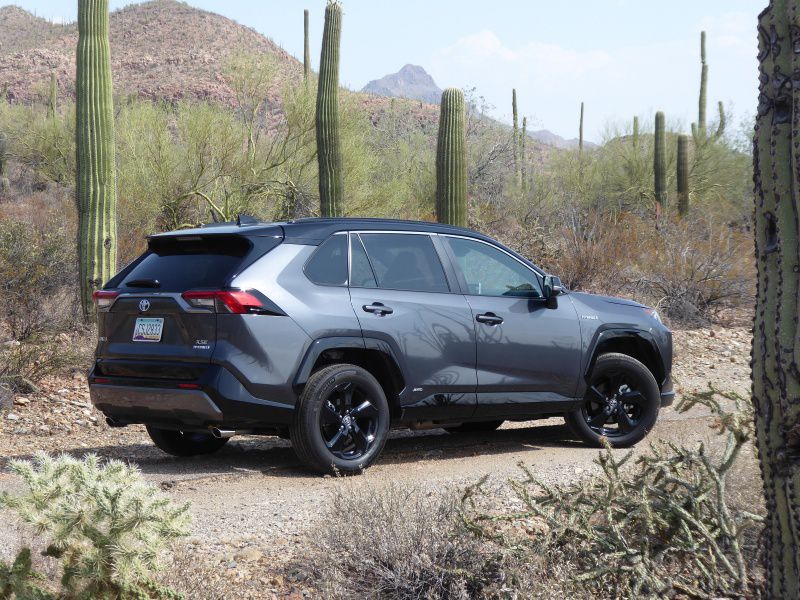 Photo by Ron Sessions
Verdict
For buyers looking for a compact crossover SUV that gets excellent gas mileage and better-than-expected performance, the 2021 Toyota RAV4 Hybrid and Honda CR-V Hybrid are two strong choices. Both offer an extensive roster of standard safety and driver-assistive tech, comfortable transportation for five passengers, and plenty of cargo space.
The RAV4 Hybrid has a slight edge in fuel economy and acceleration, a more up-to-date infotainment system, and the square-jawed hunky exterior styling of a rugged, truck-based SUV. The CR-V Hybrid, on the other hand, offers more cabin space, a longer list of standard comfort and convenience features, more precise handling, and a handsome, contemporary appearance that fits right in with the Accord and Civic sedans.
Tie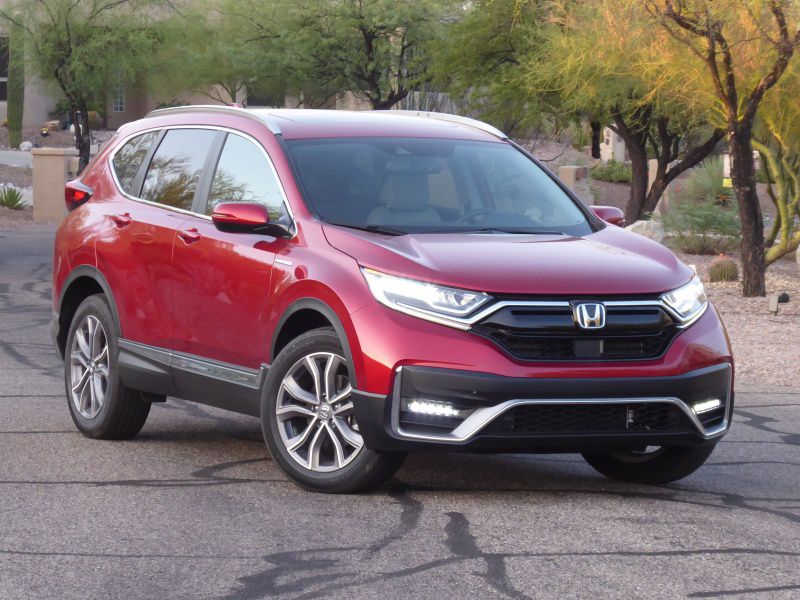 Photo by Ron Sessions