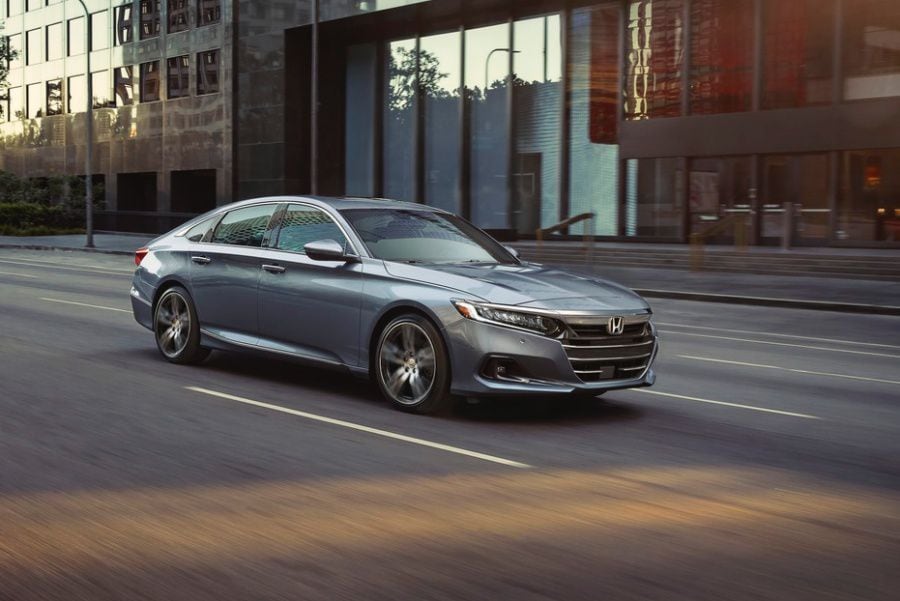 2021 Honda Accord Touring 2.0T ・ Photo by Honda
Yes, the American market has encountered a tectonic shift from cars to crossovers and trucks. But the Honda Accord is still an icon, and the 2021 Accord is the best iteration yet. If there were a dictionary definition of "midsize sedan," the Honda Accord's picture would accompany it. It is the sedan that every other sedan is measured against —figuratively and literally. Many of the Accord's rivals in the segment closely mimic its dimensions. Even though the sedan market has dwindled, the Accord still has lots of competitors. Most prominent among them are the Toyota Camry, Nissan Altima, Hyundai Sonata, and Chevrolet Malibu. As you can see, this is a hotly contested class that gives buyers many good choices. In this 2021 Honda Accord road test and review, we'll tell you how the current Accord fares.
Exterior Style
The Honda Accord has been known for its many considerable virtues over the years, but distinctive exterior design is not one of them. The Accord has always been handsome and contemporary, but buyers didn't crave it for its looks. Instead, like a movie protagonist's sidekick, the Accord was well-regarded for its steadfastness and loyalty. Things haven't changed for the 2021 model year. The Accord is a good-looking car, but there is little that is distinctive about it. And that is intentional. Accord buyers typically don't want to stand out. What is clear about the Accord's exterior design is that it works. The car is the right size, and that is obvious because all the competitive sedans are almost exactly like it. Its four doors offer easy entry and exit, and its large trunk is very accessible. In fact, it hits just about every functional note you can think of. Does it set your heart singing? That's a different story.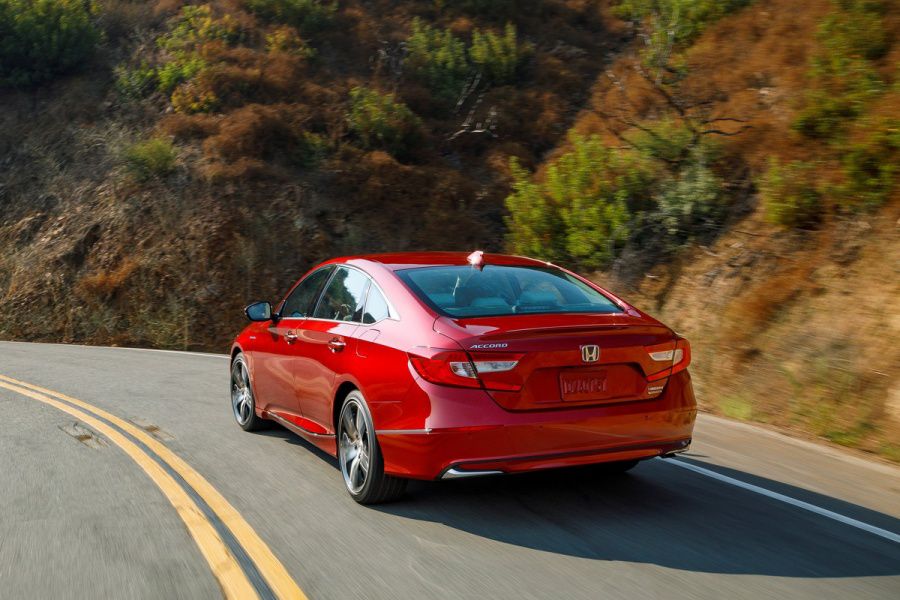 Photo by Honda
Interior Accommodations
Hondas have always been noted for their functionality. Previous editions of the Accord had interiors that were serviceable but far from luxurious. But with the current Accord generation, the car's interior has come a long way. It has lost none of its functionality, but there is a new emphasis on delivering interiors that are attractively styled. This means you can purchase an Accord with a leather-clad interior that could easily be mistaken for the interior of a luxury sedan. But you don't have to go to that expense to get a nice interior. Even the base Accord LX has a well-drawn instrument panel, intelligent storage, and a reasonably large infotainment display. Several of its trims come with cloth-covered seats, which have their own brand of charm. The Accord is billed a five-passenger vehicle, and that isn't just a pipe dream. Five adults can occupy the Accord without the fear that a fist-fight will break out.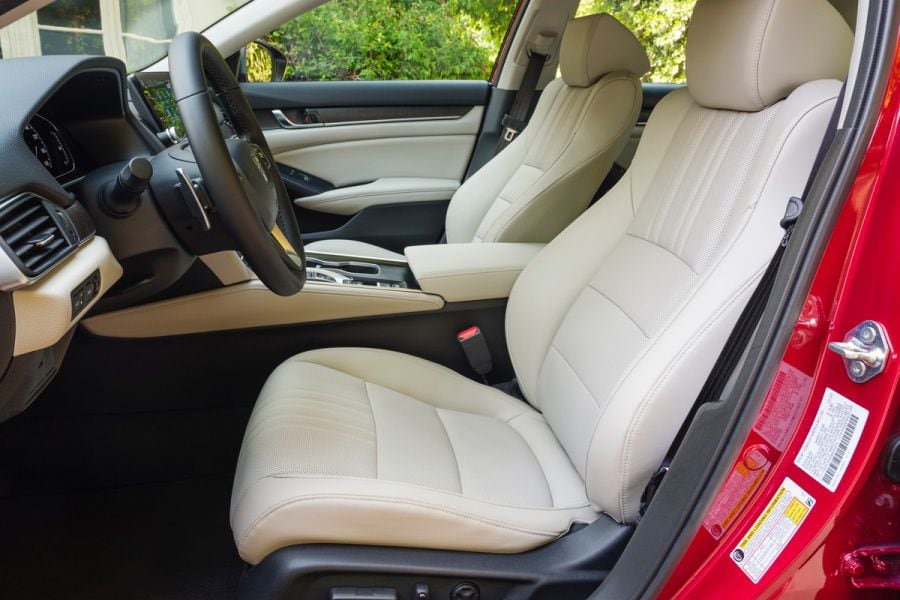 Photo by Honda
Powertrains
Through the years, Honda has gained a reputation for engineering highly efficient engines, and the current Accord demonstrates that quite clearly. In this generation, the Accord eschews naturally aspirated engines and V-6 designs, favoring turbocharged 4-cylinders. The only deviation from that is the naturally aspirated 2.0-liter 4-cylinder that is a key part of the Accord Hybrid powertrain. Total output of the hybrid powertrain is 212 horsepower. Four of the Accord's trims employ a 1.5-liter 192-horsepower turbocharged 4-cylinder engine, a very heady amount of base power. The uplevel Sport 2.0T and Touring 2.0T have a 2.0-liter 252-horsepower 4-cylinder teamed with a conventional 10-speed automatic transmission. The smaller-displacement turbo four is mated to a continuously variable automatic transmission, which isn't nearly as irritating as early generation CVTs were. The Accord is a front-drive vehicle, and that configuration is partly responsible for its voluminous interior.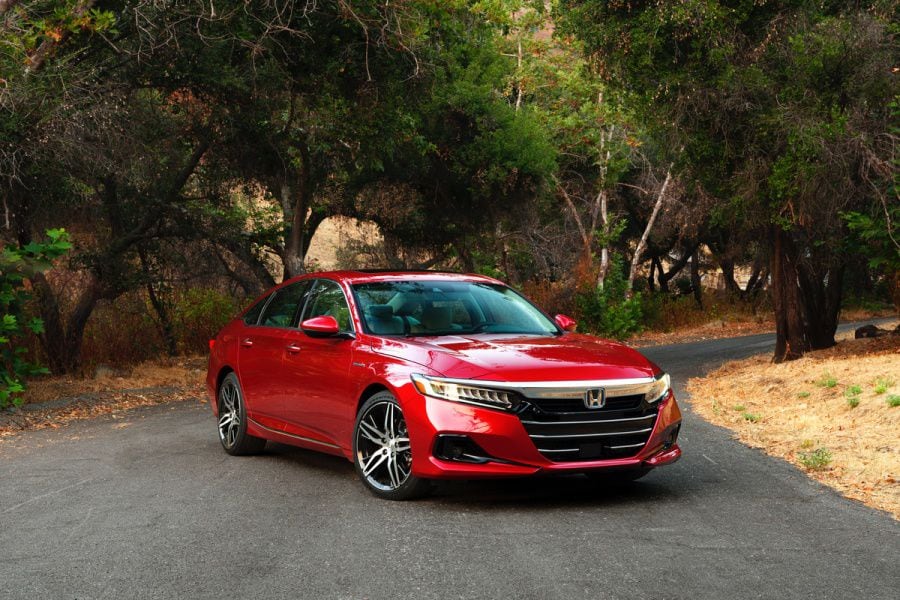 Photo by Honda
Infotainment & Technology
In past years, one of the Accord's few Achille's heels was its infotainment system. The lack of a simple volume knob plagued it in a recent iteration, but Honda designers and engineers have learned their lesson. While innovation is good, having familiar controls can oftentimes be even better. As infotainment and instrument display screens continue to grow in size, the Accord offers 8-inch touchscreen displays across the entire lineup. Apple CarPlay and Android Auto are standard across the board, and standard wireless Android Auto and Apple CarPlay start with the EX-L trim and continue on up the ladder. Sport and Sport Special Edition trims are equipped with a 180-watt audio system with eight speakers. Top of the line audio in the Accord is a 450-watt system with 10 speakers including a subwoofer. It's standard in EX-L and Touring trims.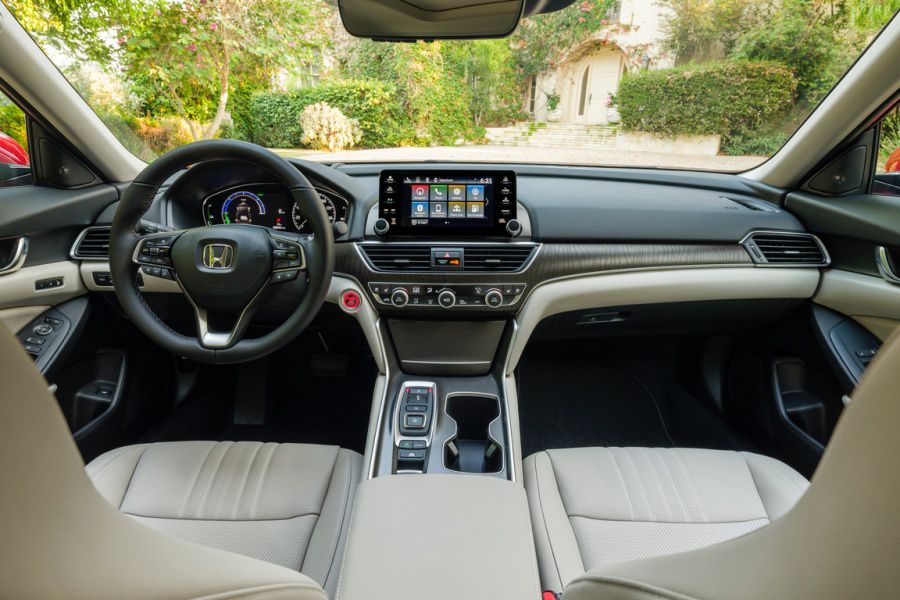 Photo by Honda
Interior Space & Cargo-Carrying Ability
Those who really want space for cargo buy a crossover or a pickup truck. That said, midsize sedans like the Accord have a reasonable amount of cargo capacity. First, there is plenty of room for five occupants — two in the front bucket seats and three more in a rear bench seat. The Accord has a 60/40 split-folding rear seat on all but the LX trim, and it significantly increases the versatility and carrying capacity of the vehicle. Tall loads are an issue, but long loads like 2x4s are easily accommodated. The Accord offers 105.6 cubic feet of passenger volume, and it has a 16.7 cubic foot trunk. Both measures are fairly typical of sedans in its size class. A security system with remote entry and trunk release is a nice standard feature. Active noise cancellation, which is standard across the lineup, helps keep the interior quiet… or at least you think it's quiet.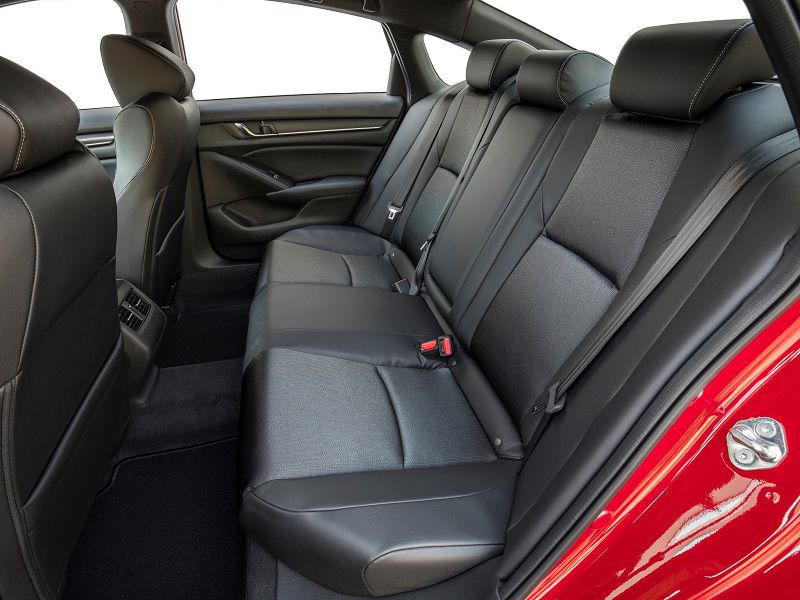 Photo by Honda
Safety & Driver Aids
The Accord is equipped with the Honda Sensing suite of standard safety technologies. Road Departure Mitigation System, Collision Mitigation Braking System, forward collision warning, and lane departure warning are among the top features of the suite. Lane-keeping assist, adaptive cruise control, traffic sign recognition, and automatic high-beam headlights are additional standard Honda Sensing features. Sports Special Edition and higher trims are equipped with rear seat reminder, blind-spot monitor, and rear cross-traffic warning. The legally required rear backup-camera system offers multiple angles with dynamic guidelines. A head-up display is standard on Touring trims but not on other models.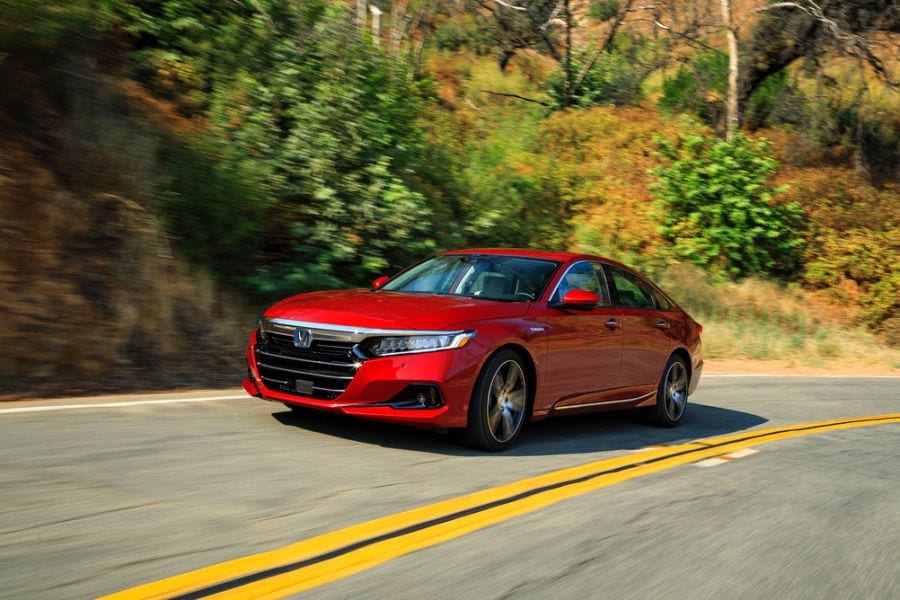 Photo by Honda
Driving Impressions
In the crowded midsize sedan market, one of the Accord's secret weapons is its fun-to-drive nature. It might be a little more stiffly suspended than competitors in the segment, but it pays off in more precise handling and overall feel. Touring trims have an adaptive damper system to aid handling, but even Accords without it handle better than most competitive sedans. The steering effort is a trifle light for some tastes, but most Accord drivers like its feel. Even with the base 192-horsepower 4-cylinder engine, power is not a problem. And the 2.0-liter turbo motor in Sport 2.0T and Touring 2.0T makes things that much more pleasant. Many will also prefer the more powerful engine's conventional automatic transmission to the continuously variable transmission in the less expensive trims. At the same time, the CVT performs just fine. Most Accord owners with the CVT don't even realize they have a transmission with a different technology. The Accord Hybrid performs very much like a conventional model with the 1.5-liter turbocharged engine.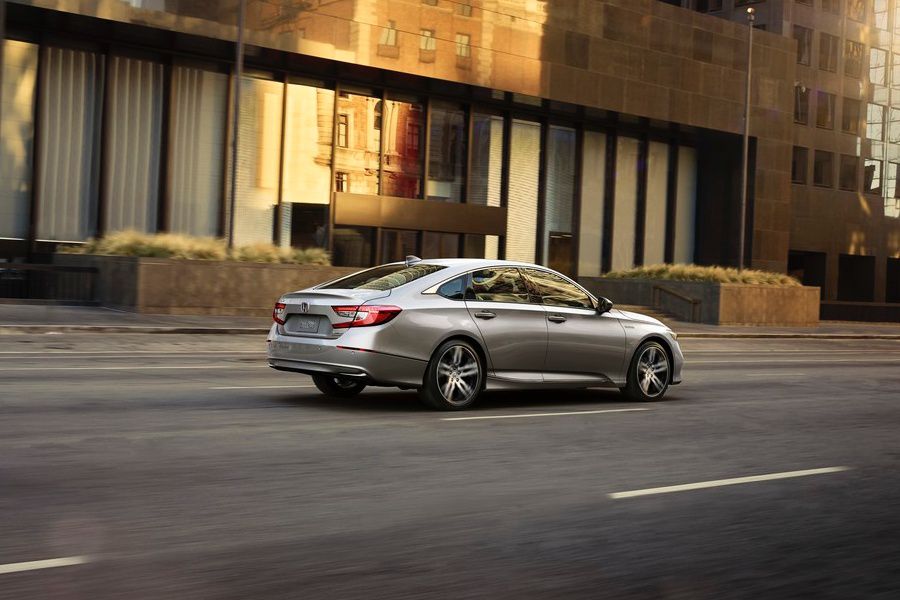 Photo by Honda
Fuel Economy
For a car of its size and class, the 2021 Honda Accord has decent fuel economy. According to U.S. government testing, a base Accord LX with the CVT transmission has an EPA rating of 30 mpg city/38 mpg highway/33 mpg overall. Accords with the 2.0-liter turbocharged 4-cylinder are considerably thirstier — 22 mpg city/32 mpg highway/26 mpg overall. The Accord Hybrid is the picture of consistency. It delivers 48 mpg city/48 mpg highway/48 mpg overall In comparison the 2021 Hyundai Sonata with the base 2.5-liter 4-cylinder engine is EPA-rated at 28 mpg city/38 mpg highway/32 mpg overall. The Toyota Camry in base LE trim has an EPA rating of 28 mpg city/39 mpg highway/32 mpg overall. The Camry Hybrid LE delivers 51 mpg city/53 mpg highway/52 mpg overall. The hybrids' stellar fuel economy should be weighed against their higher initial costs.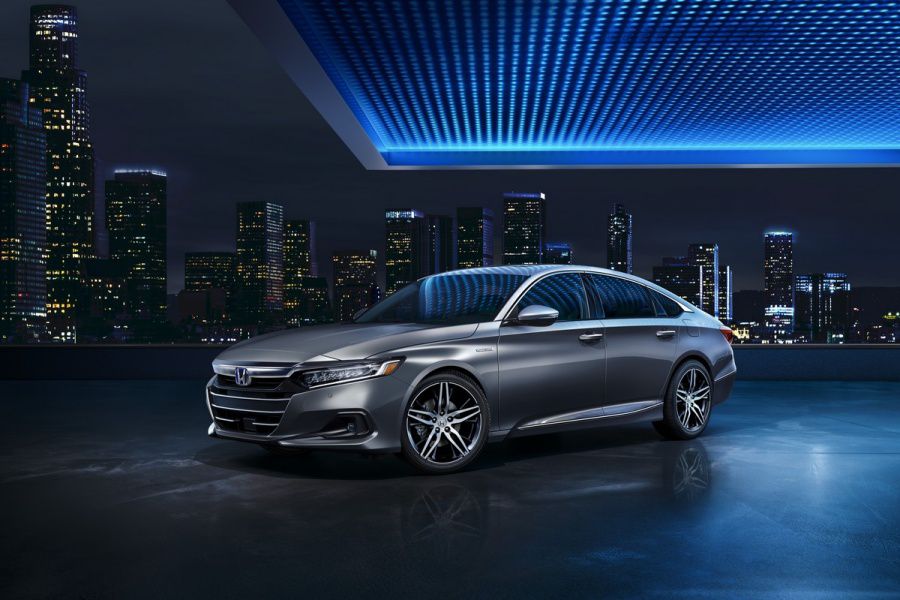 Photo by Honda
Pricing & Value
Because of its strong reputation and good resale value, the Honda Accord is often priced slightly higher than key competitors. The least expensive Accord LX has a suggested starting retail price of $25,985 (with destination charge.) Swinging to the other end of the scale, the top-of-the-line Accord Touring has an MSRP of $37,915 including destination. The top hybrid trim costs about $500 less. You can purchase a very well-equipped mid-level Accord EX-L for just a trifle over $32,000.
In comparison, the least expensive Toyota Camry LE has a suggested starting retail price of $26,040. And the cheapest Hyundai Sonata SE trim has a suggested starting retail price of $24,955. The highest-priced Camry and Sonata models are slightly less expensive than the highest-priced Accord. That said, the Accord remains one of the absolute best values not only in the midsize segment, but in the entire auto market.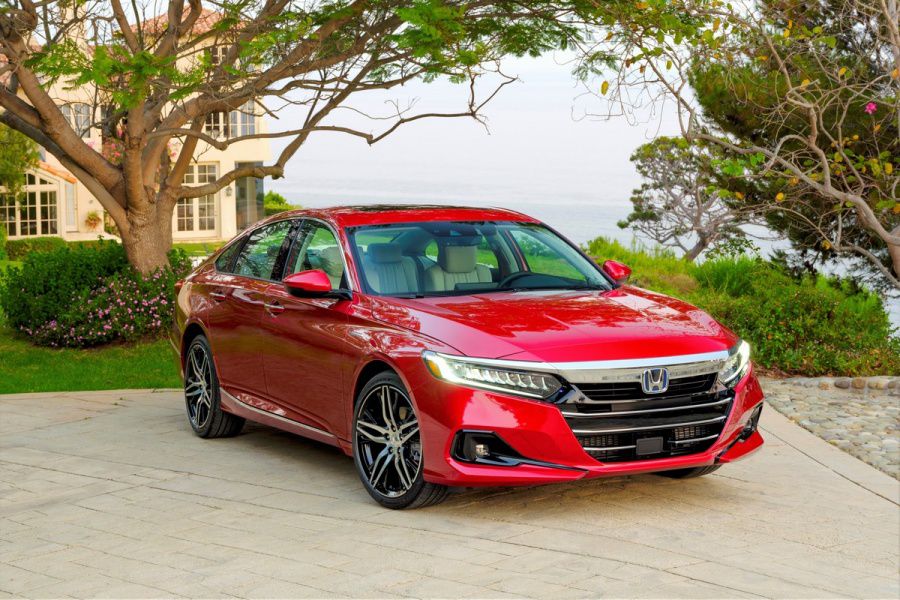 Photo by Honda