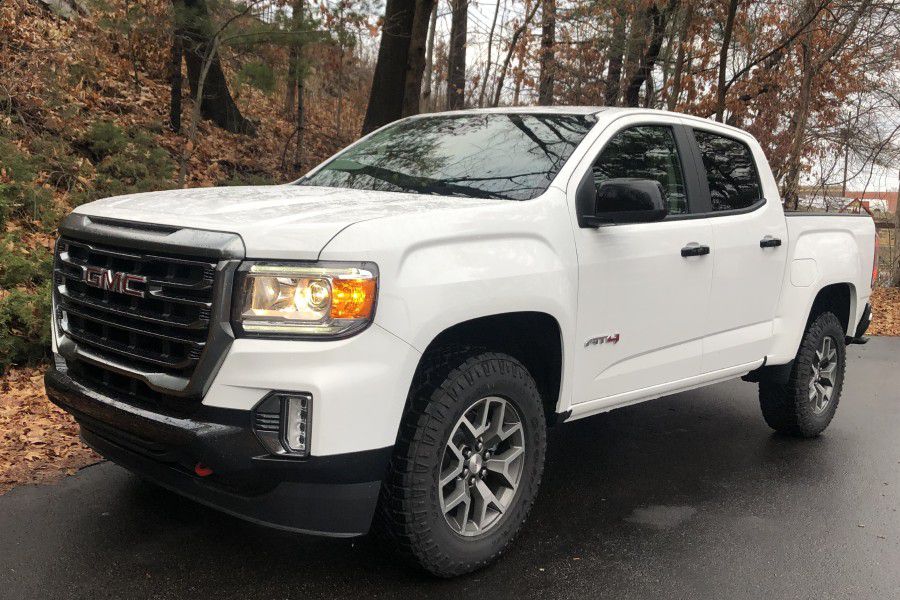 2021 GMC Canyon AT4 Front ・ Photo by Nicole Wakelin
The 2021 GMC Canyon is a midsize truck with the versatility to carry cargo combined with premium features. GMC is an upscale automaker, and the interiors of its vehicles are never basic even in base trims. The Canyon lineup offers four trims with this year's big news being the addition of the AT4. This badge is reserved for the most off-road-worthy vehicles in the GMC lineup and is being developed as a sub-brand, much like the Denali is used on the most luxurious GMCs.
The AT4 has an upscale interior and enhanced capability designed to appeal to the off-road set. If you plan to take your truck to the office one day and out onto the dirt the next, then the AT4 is for you. Let's take a closer look at the 2021 GMC Canyon AT4 to see if it's the right choice for your off-road adventures.
The AT4 trim is equipped for off-road adventures.
Pricing for the 2021 GMC Canyon starts at $26,400, but the AT4 sits higher in the four-trim lineup with a price of $38,200. It includes a crew cab with seating for five and a short or long bed depending on your cargo needs. Four-wheel drive is standard along with a host of additional off-road features. These include 17-inch wheels with 31-inch Goodyear Wrangler DuraTrac tires, an off-road tuned suspension system, advanced hill descent control, an automatic locking rear differential, and a transfer case skid plate for added protection driving across more rugged terrain.
The AT4 also has its own unique styling that makes it stand out from the rest of the Canyon lineup. This includes a bolder exterior with dark chrome accents, a larger grille, and bright red recovery hooks. Inside, there's contrast stitching with AT4 headrest embroidery. The 2021 GMC Canyon AT4 has added capability and looks the part.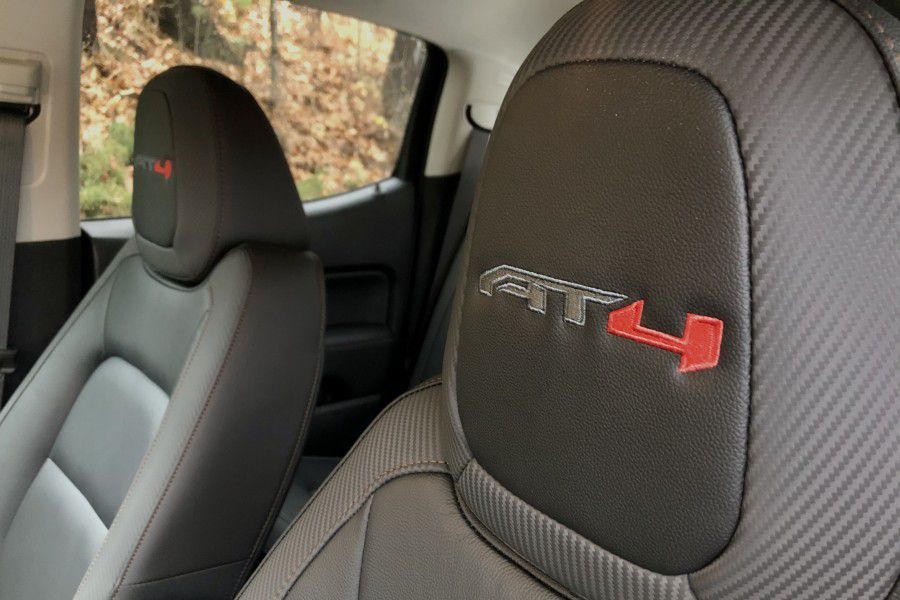 Photo by Nicole Wakelin
A choice of two engines.
There's a choice of two engines for the AT4 starting with a 3.6-liter V6 with 308 horsepower and 275 lb-ft of torque paired with an 8-speed automatic transmission. Optional on select configurations of the AT4 is a 2.8-liter turbocharged 4-cylinder diesel engine with 181 horsepower and 369 lb-ft of torque. This is paired with a 6-speed automatic transmission.
We spent our time with the V6 engine and found it a powerful and responsive choice. It easily accelerated up to highway speeds with minimum noise intruding into the cabin. There is engine noise, but it's a welcome reminder that the engine is doing its work rather than something annoying. The transmission shifts smoothly in the background, delivering power when you need it with no harsh shifts, even under heavy acceleration. The Canyon AT4 is a composed and responsive truck.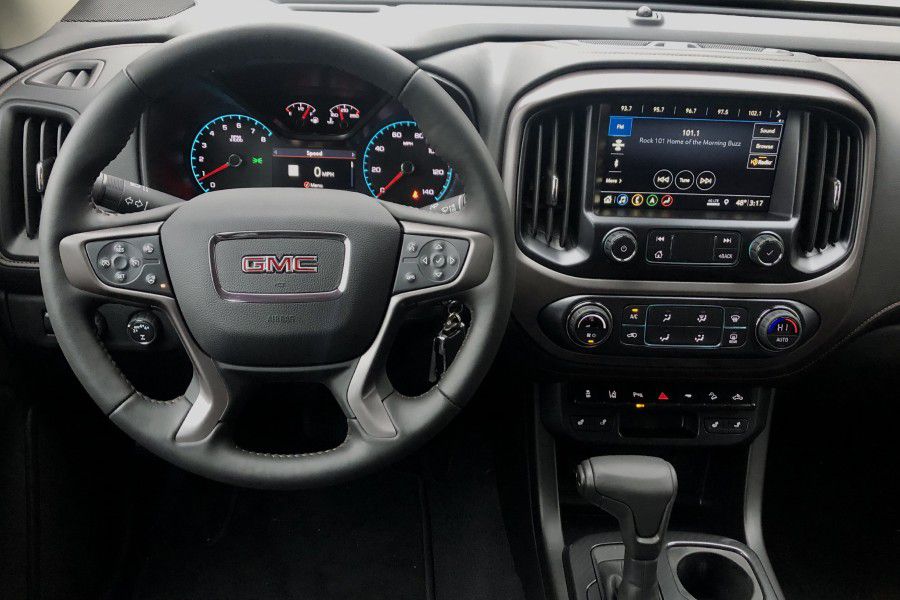 Photo by Nicole Wakelin
The capability to manage cargo.
In addition to solid off-road capability, the 2021 GMC Canyon AT4 is also ready to carry a heavy payload or tow along additional cargo that might not fit in the bed. The short bed is 5-feet 2-inches and has a maximum payload of 1,609 pounds while the long bed is 6-feet 2-inches and can handle up to 1,475 pounds. The AT4 offers a choice, so you can pick whichever bed works best for your cargo needs.
When it comes to towing, equipped with the gas engine, the Canyon AT4 has a maximum tow rating of up to 7,000 pounds. Choose the diesel engine and that number increases to 7,600 pounds with plenty of torque to make managing the load easy. Whether your plans call for an off-road adventure or managing cargo, the 2021 GMC Canyon AT4 is up to the task.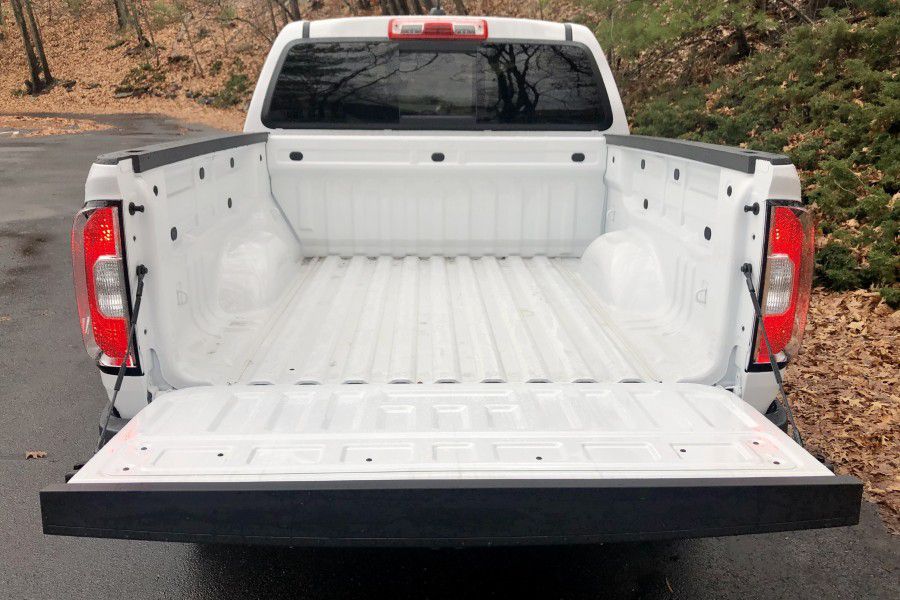 Photo by Nicole Wakelin
The capability to go off-road, too.
The GMC Canyon AT4 stands out from the rest of the Canyon lineup for its focus on off-road capability. It adds key standard features that ensure you'll get through more rugged terrain whether its sand, rocks, or snow. This includes 31-inch Goodyear Wrangler DuraTrac tires with 17-inch aluminum wheels, an off-road tuned suspension with advanced hill descent control, four-wheel drive with an automatic locking rear differential, and a transfer case skid plate. This is all standard on the AT4, but if that's not enough, there's also the AT4 Off Road Performance Edition package.
This adds a suspension leveling kit, removes the front air dam to improve the approach angle by 35 percent to 30 degrees, and adds rocker panel protectors and performance front and mid skid plates. There are also unique gloss black exterior accents. No matter your plans, the AT4 is equipped to handle the rigors of off-roading.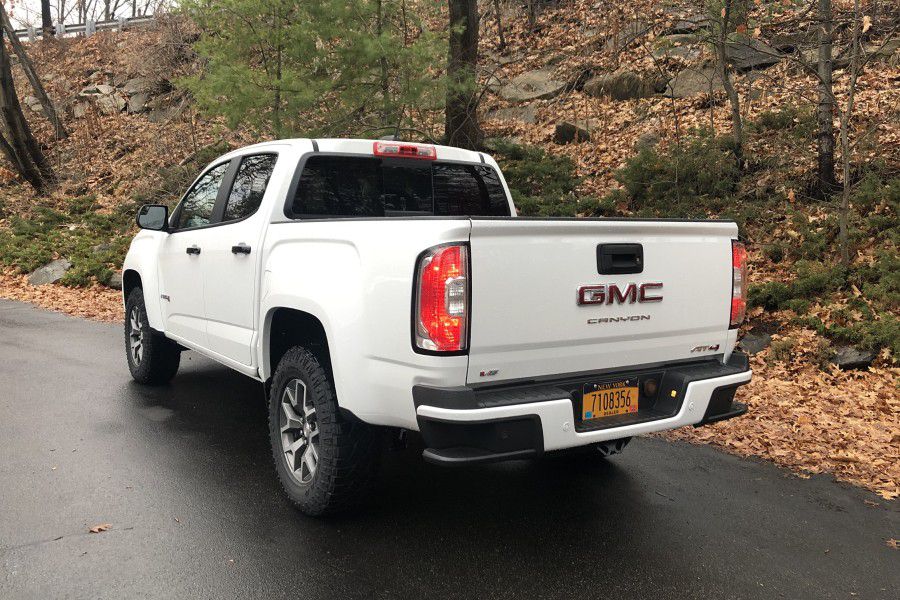 Photo by Nicole Wakelin
Controlled handling and a smooth ride.
Off-road vehicles don't always make for the most pleasant on-road drives with their big tires and off-road suspension systems, but the 2021 GMC Canyon AT4 is surprisingly smooth. There's minimal bounce and sway, even over rough road surfaces, and both tire and wind noise are kept to a minimum. The only thing you do hear — and this is mostly under heavy acceleration — is the throaty sound of the engine as a pleasant background rumble.
The AT4 also handles well, even at highway speeds. Changing lanes quickly, it maintains its composure and never feels sloppy or uncontrolled. Take it off the pavement and that impressive control is maintained. There's a good balance here between the ruggedness of an off-road vehicle and the comfort of a more upscale ride. The Canyon AT4 manages both from moment-to-moment without any hesitation.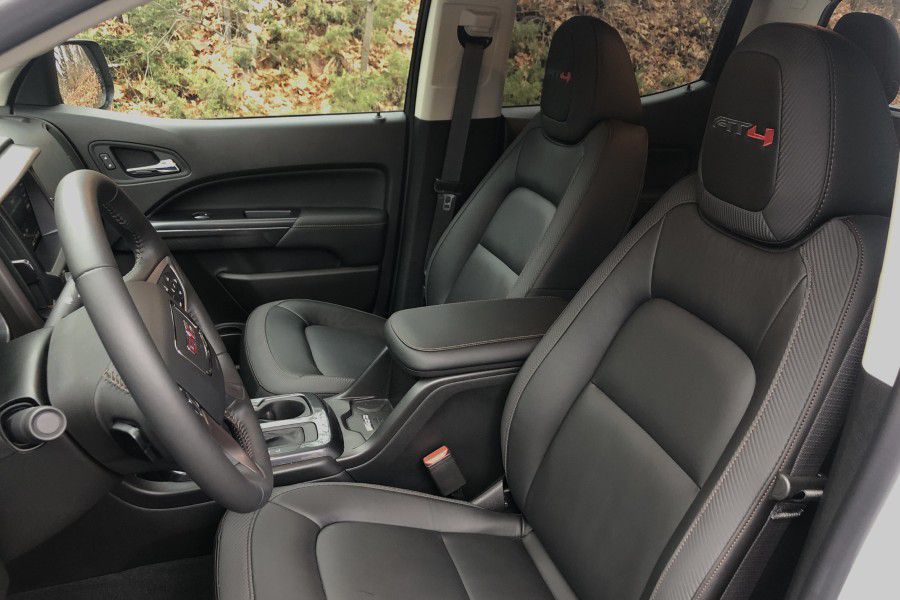 Photo by Nicole Wakelin
A spacious interior
The interior of the 2021 GMC Canyon AT4 is comfortable and spacious. Midsize trucks can pose a challenge for passengers, especially those on the tall side, but there's even room for them to get comfortable. Front seats are wide and accommodating, and long legs have plenty of room to stretch out. Take a seat in the back and there's once again no shortage of room to spread out. The Canyon AT4 feels bigger inside than it looks on the outside, with a rear seat that easily manages three adults without complaint.
Standard features including automatic climate control, heated driver and front passenger seats, and soft-touch surfaces throughout lend the Canyon AT4 a more upscale feel. Available leather seating surfaces, power front passenger seat, and a heated steering wheel further the impression and make this a pleasant, welcoming space for passenger and driver alike.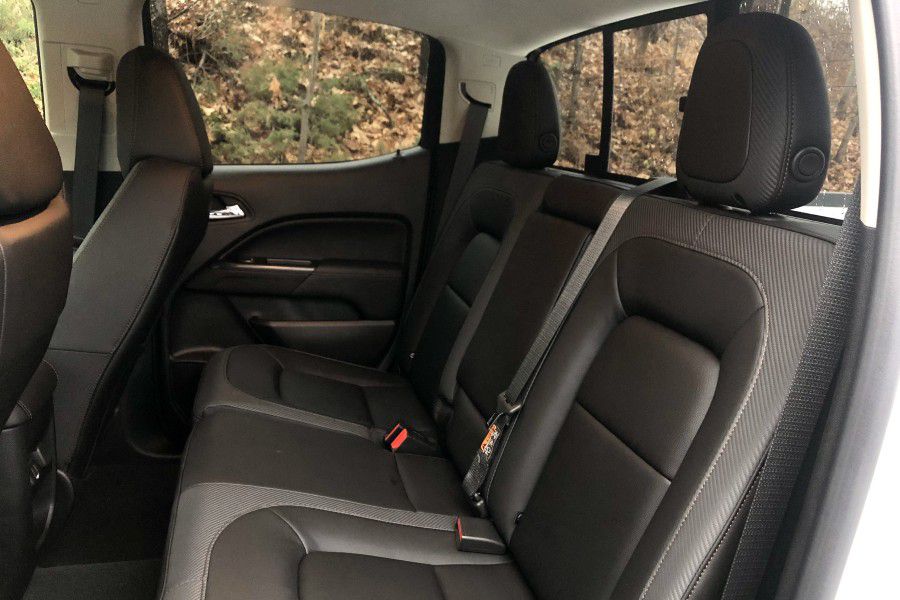 Photo by Nicole Wakelin
Fully featured infotainment system.
The standard infotainment system features an 8-inch touchscreen with both Apple CarPlay and Android Auto, 6-speaker audio system, AM/FM/SiriusXM radio, dual front USB ports, one rear USB charging port, and 4G LTE Wi-Fi hotspot capability. Available upgrades include navigation, 7-speaker Bose audio system, and Qi wireless charging. Though we're a fan of wireless charging for its ease of use, the charging pad in the Canyon is surprisingly small and won't accommodate even more modest smartphones. It's wise to check if it's suitable for your phone rather than face disappointment.
Overall, the GMC infotainment system is easy to use with a minimal learning curve and clear icons at the bottom of the screen to help you access the information you need more quickly. The menus are easy to learn so even passengers unfamiliar with the system will be able to use it without frustration.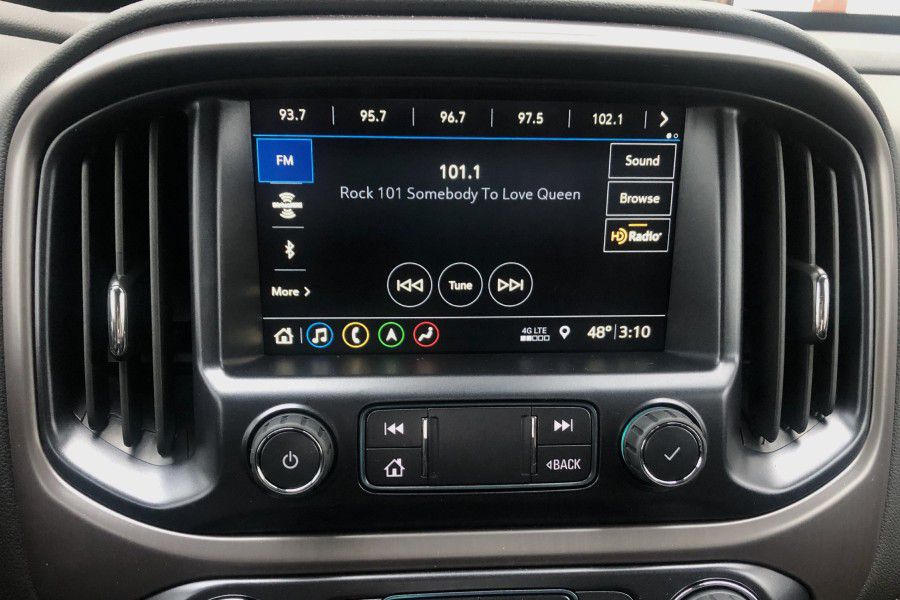 Photo by Nicole Wakelin
A wide range of safety features.
There's no shortage of safety features on the 2021 GMC Canyon AT4, as many of them come standard. This includes electronic traction control, a rear vision camera, electronic stability control with traction control, and teen driver technology. The teen driver feature is customizable and associated with a specific key fob with features designed to help new drivers develop good driving habits. It also provides a report card of your teen's driving so you can help them improve.
Additional available features include lane departure warning, an HD rear vision camera, and rear park assist, which sounds an alert if you're backing up too close to an object to help avoid low-lying items that might be out of view. Forward collision alert, which warns of potential front-end collisions or if you're simply following too closely, is also available. It's a comprehensive offering of standard and available features to keep you safe on the road.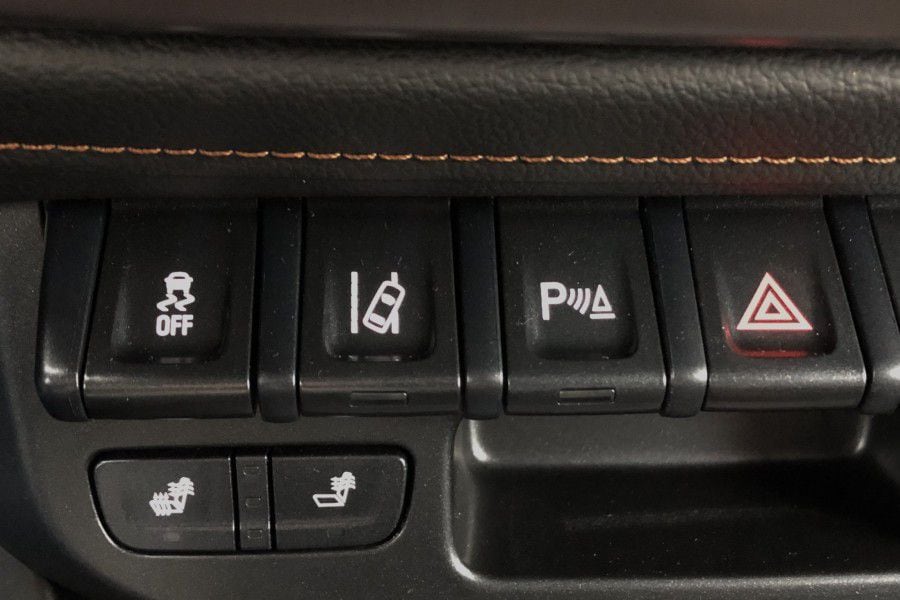 Photo by Nicole Wakelin
Final Thoughts
The 2021 GMC Canyon AT4 gives off-road enthusiasts a new midsize truck option. It has key upgrades, including an off-road suspension system and skid plates, that make it off-road worthy whether you plan to occasionally hit the dirt or make it a regular part of your week. Since this is a GMC, it also has a richly appointed interior that doesn't skimp on passenger comfort.
There's plenty of room for five passengers with comfortable and supportive seats, and chrome accents and available leather trims give the Canyon an upscale feel. A choice of two engines includes a diesel ideal for those who tow more often and need a high tow rating. The 2021 GMC Canyon AT4 is a great choice for those who want the versatility of a midsize pickup for managing people and cargo, with a spacious and attractive interior and off-road capability.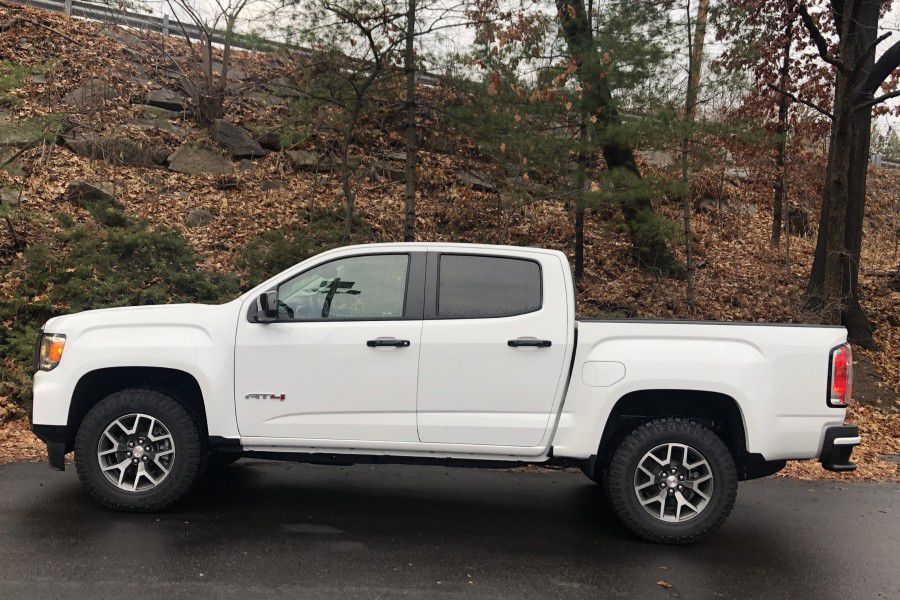 Photo by Nicole Wakelin