2021 Genesis G80 ・ Photo by Ron Sessions
As previewed by the G90 flagship, the redesigned 2021 Genesis G80 mid-size luxury sedan rolls with the brand's new oversize pentagonal shield grille and narrow horizontal twin hash-mark LED lighting, front and rear. It also gets its own slippery fastback roofline. The 2021 Genesis G80 is bookended by the full-size flagship G90 and the soon-to-be-updated compact G70 in the brand's salon of sedans, although with the bigger-than-life grille affixed to all three, each could be construed as a range-topper in its own right. More importantly, the Genesis brand now has its own distinctive look, recognizable at a distance, one that owes nothing to any of its major European competitors such as BMW, Audi, or Mercedes-Benz.
There are five 2021 G80 trims. Including the $1,025 destination charge, they consist of the $48,725 2.5T Standard, $53,325 2.5T Advanced, $56,725 2.5T Prestige, $60,125 3.5T Standard, and $66,125 3.5T Prestige. All trims are available with a choice of rear- or all-wheel drive, with AWD a $3,150 upcharge for the Standard and Advanced trims and $2,550 extra for Prestige models. Pricing for the base G80 last year was $5,150 less at $43,575. Major mid-size luxury competitors include the BMW 5 Series that starts at $55,195, Mercedes-Benz E-Class priced from $55,300, and the Audi A6 starting at $55,945.
Longer, Lower, Wider
While the 2021 G80 rides on the same 118.5-inch wheelbase as last year's model, all-new sheetmetal transforms the look of the new luxury sedan in dramatic fashion. The new G80 is only incrementally longer than the 2020 model, but it adds an inch and a half of body width and shaves roof height by 0.6 inches.
The overall effect is a much more streamlined body that's longer, lower, and wider, flowing rearward from the large pentagonal grille cleanly and without surface excitement to a tapered rear, and accented both coming and going by a unique double-hash light signature.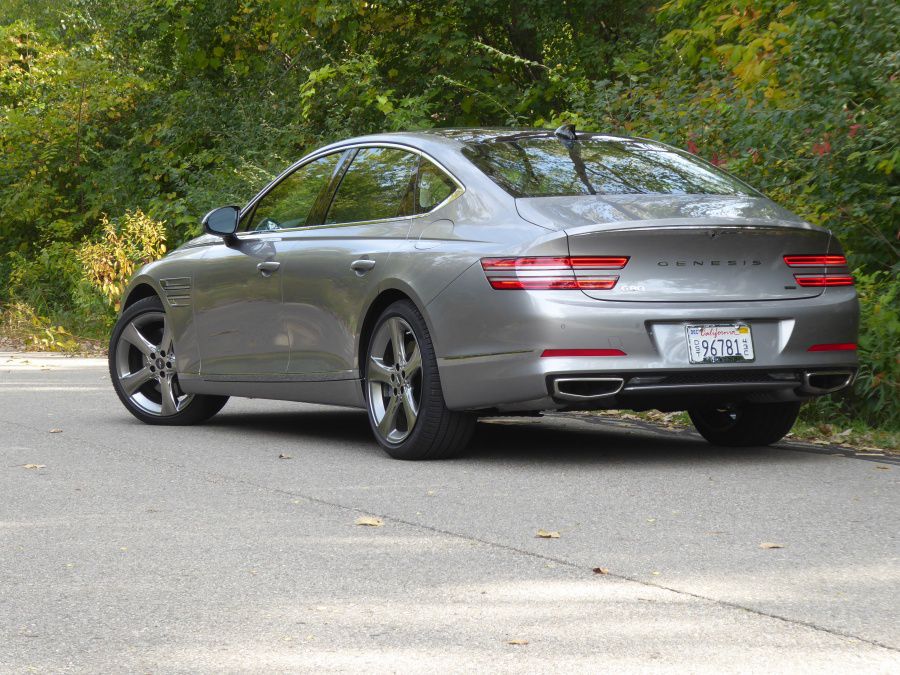 Photo by Ron Sessions
Zen-tastic Cabin
The G80's sleek exterior segues into a calming interior with sweeping horizontal shapes and reduced button clutter. The low cowl and thin windshield pillars lend a sense of spaciousness and enhance outward visibility. Materials are top-notch.
The 2.5T Standard offers standard faux-leather seating with power heated front buckets with memory settings. Also standard on the base 2.5T are faux-leather door panel inserts and stitched dash upper coverings, dual-zone automatic climate control, adjustable ambient lighting, push-button start, piano black trim, and a leather-wrapped power tilt/telescopic steering wheel. Moving up to the 2.5T Advanced trim or any 3.5T trim gains three-zone climate control, matte-finish wood trim, and ventilated front seats. The 2.5T Prestige model adds leather seat coverings, a heated steering wheel, power driver's seat lateral bolsters, and a manual bottom-cushion extension. All AWD trims come with a heated steering wheel. The Prestige models feature Hyundai's Ergo Motion driver's seat, offering massage functions via the pulsations from seven air chambers and firmer support when the sport driving mode is selected. All 3.5T trims upgrade to Nappa leather seat coverings and a microfiber-lined faux-suede headliner and front windshield pillars. Regardless of seat trim, all of the G80's chairs offer cushy comfort for all-day motoring. The 3.5T Prestige model comes with a first-ever 3D instrument panel spanning 12.3 inches, which gives the effect of varying depth to different screen elements.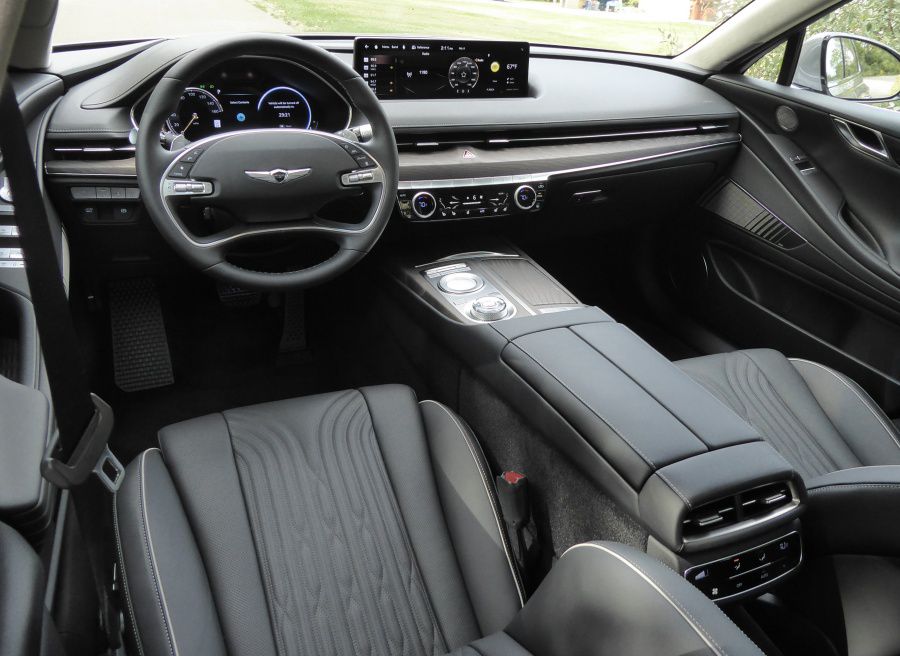 Photo by Ron Sessions
Taking a Broad View
In this connected age, infotainment screens are trending larger. Easily three times as wide as it is tall, the G80's standard 14.5-inch panoramic landscape-format infotainment screen is nearly a half-foot wider than the previous G80's screen and covers much of the dashtop center. Although it's a reach for most drivers, the big infotainment screen is still touch-sensitive. The screen also features a handwriting-recognition feature, allowing occupants to, for instance, jot down a destination address or phone number rather than peck away at menus.
Standard with the big high-definition center screen are embedded navigation, Apple CarPlay, and Android Auto cellphone mirroring. There are three USB ports for connecting portable devices, two up front and one for rear passengers. The base 12-speaker AM/FM premium audio comes with standard HD radio and three months of SiriusXM satellite radio. The Advanced or Prestige models upgrade to an immersive 1,050-watt 21-speaker Lexicon surround-sound system with a pair of underseat subwoofers and a five-speaker center sound bar that lets the user select on-stage or concert hall sound profiles. A wireless device charger is standard in all Prestige trims as well as all 3.5T models.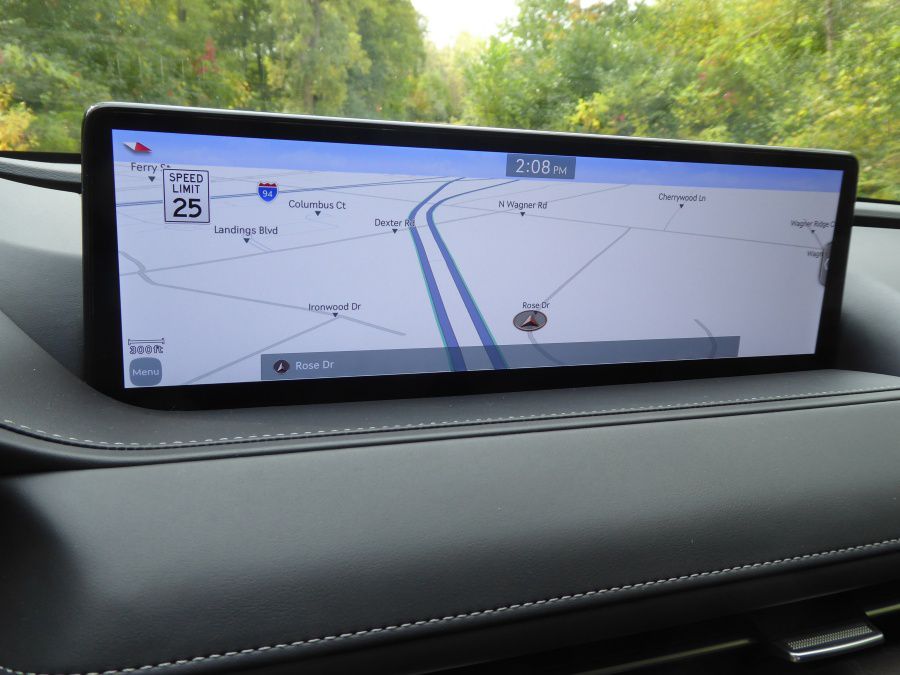 Photo by Ron Sessions
Remote Infotainment Controller
The primary controller for the infotainment system is a stylish rotary knob that you swipe, toggle, or rotate. It's a long reach and except for the fact that it fits nearly flush with the console surface, it looks nearly identical to the control wheel for the automatic transmission shifter.
Just ahead of the infotainment controller are Mercedes-Benz-style analog roller wheels for adjusting volume and tuning as well as hard shortcut buttons for menu, home, and the all-important back function. The infotainment system can also be accessed via steering-wheel buttons, voice control, or with a long reach, the touchscreen itself.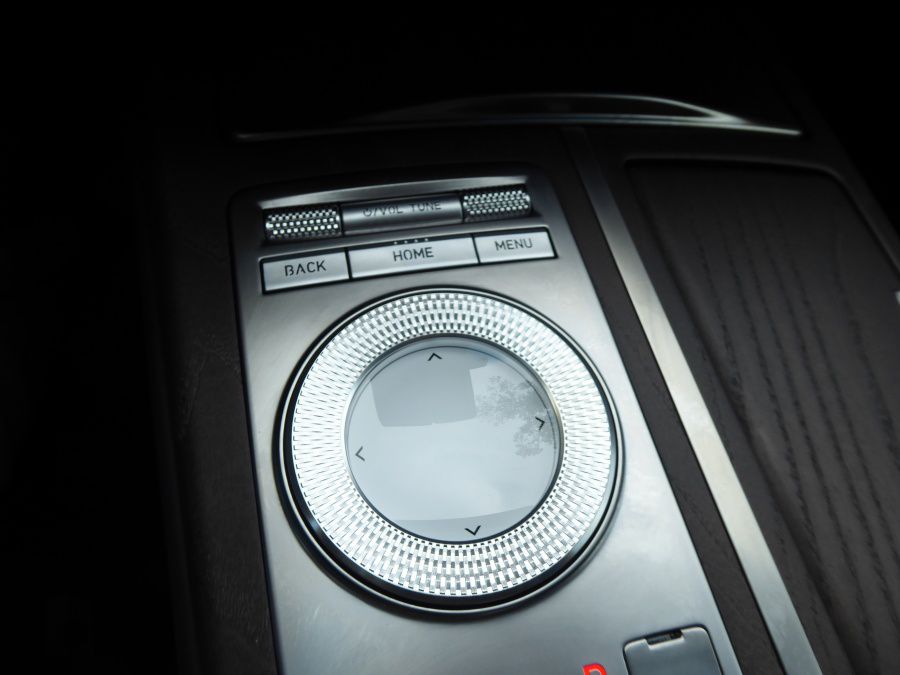 Photo by Ron Sessions
New Powertrain Choices
Lurking behind the G80's prominent pentagonal protuberance are two new engine offerings. The 2.5T gets the model's first four-cylinder, the same turbocharged engine, transversely mounted and detuned slightly, that powers the front-drive Kia K5 2.5 GT and Hyundai Sonata N-Line.
Rated at 300 horsepower and 311 lb-ft of torque, the new 2.5-liter turbo makes slightly less power but significantly greater low-end and midrange torque than last year's naturally aspirated 3.8-liter V6. At an EPA estimated 22 to 23 mpg in the city and 30 to 32 mpg on the highway, the 2021 G80's four-cylinder turbo far outdistances the 2020 G80 3.8-liter V6's estimates of 16 mpg city and 25 to 28 mpg highway. While peppy and efficient, the 2021 Genesis four-cylinder is a bit grainier and more coarse-sounding than the 3.5T's 3.5-liter V6. The Genesis 2.5T can hit 60 mph from rest in just under 6 seconds, slightly quicker than the four-cylinder Audi A6 or BMW 530i. The new 3.5-liter twin-turbo V6 is a stroked version of the 3.3-liter biturbo V6 in last year's G80 Sport. The new V6 offers a segment-appropriate 375 hp and 391 lb-ft of torque from just 1,300 rpm. The G80 3.5T V6 can hustle to 60 in 5 seconds flat, a half-second or so behind the A6 V6 and BMW 540i. EPA estimates are 18 to 19 mpg city and 26 to 27 mpg highway.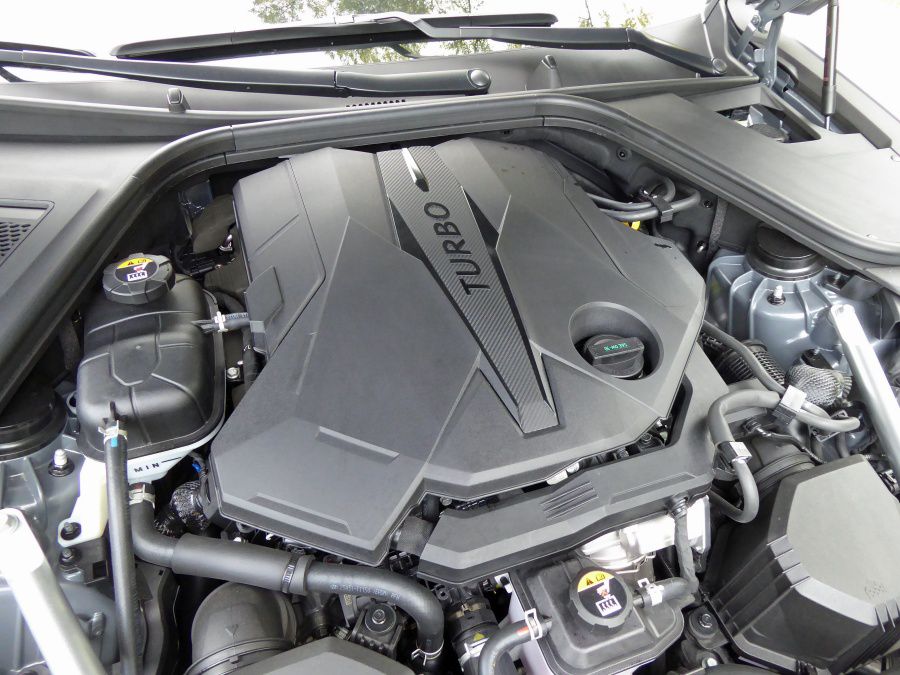 Photo by Ron Sessions
Twisto Shifter
Rather than a console-mounted fore-aft shift lever or a row of buttons on the dash, the new G80 uses a rotary-dial gear selector. It takes up less space than a console shifter, leaving more room for cubbies, a dual cup holder and a wireless device charger, but it does look a lot like the slightly larger controller for the infotainment screen. The driver twists the rotary knob for Park, Neutral, or Drive and pushes a button nestled in the center of the knob for Park.
The smooth-shifting eight-speed automatic transmission shares the same wide-ratio gearing as last year's G80 Sport 3.3T for quick acceleration from rest and relaxed cruising at speed. The four-cylinder has a shorter final-drive ratio than the V6 does. Standard paddle shifters enable manual shift control for mountain and sporty driving.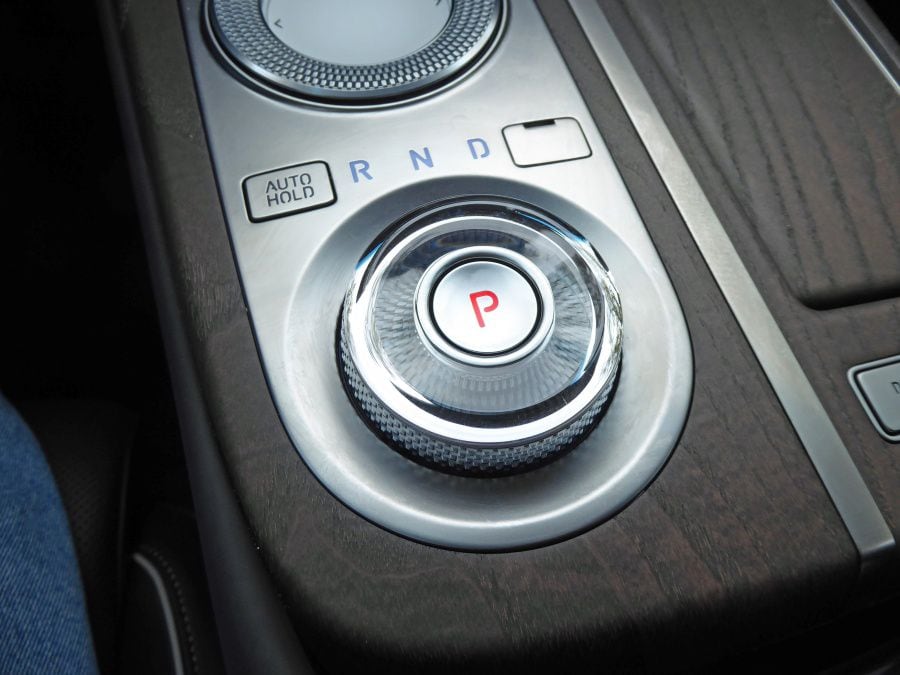 Photo by Ron Sessions
Spread-Out Space
Genesis reworked the cabin, repositioning the front seats to add nearly 4 inches of rear legroom. That's good news for a pair of adults who get a cushy fold-down center armrest as well as rear climate controls, manual window shades for the rear doors, and a power shade for the rear window on Advanced and Prestige 2.5T and all 3.5T models. Despite the half-inch-lower roof, rear headroom is nearly the same as in the previous G80 due to a lower bottom cushion. Three adults can squeeze in back there in a pinch. The outboard rear seats are heated in all AWD models as well as the Prestige trim.
The rear seatbacks are split 60/40 and for the first time fold down for increased space for longer items. This is an important addition because the G80's swoopy fastback shape and tapered decklid steal some trunk space, reduced to 13.1 cubic feet this year from a generous 15.3 cubic feet in the 2020 model. Long rear doors aid rear-seat ingress and egress. Opening up the cabin further in 2.5T Advanced and Prestige trims as well as all 3.5T models is a panoramic sunroof arching over both the front and rear seats. Taking a cue from premium luxury sedans, a new power door-closer feature that snugs front and rear doors shut without slamming is included with the Prestige trim and all 3.5T models.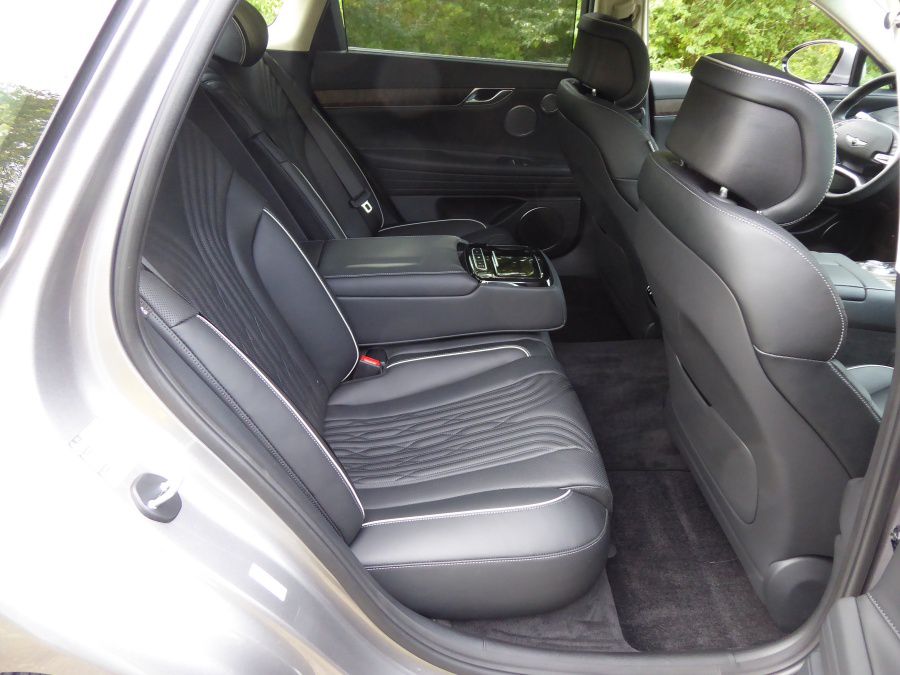 Photo by Ron Sessions
Extensive Safety and Driver-Assist Tech
The 2021 G80 offers a comprehensive suite of standard safety and driver-assistive features, many of which are extra-cost on the G80's major European competitors. There are now 10 airbags, including the segment's first front-center airbag that protects the opposite-side front-seat occupant in a side impact. Also standard are adaptive cruise control with AI machine learning, semi-autonomous Highway Driving Assist (not hands-free), blind-spot and rear cross-traffic monitoring, lane-departure warning, lane-keeping assist, lane-following assist, forward collision avoidance with pedestrian and cyclist coverage, a driver attention warning, safe-exit assist (from the back seat), automatic high beams, a backup camera, and front and rear parking sensors.
Prestige RWD 2.5T and all AWD trims add an ultrasonic rear occupant alert, and Prestige 2.5T and 3.5T bring a surround-view monitor, a blind-spot view monitor (in the driver's gauge panel), remote smart parking assist and rear parking collision avoidance assist. Prestige AWD 3.5T adds a head-up display. The Insurance Institute for Highway Safety has not yet rated the 2021 G80 for crash performance. However, all of the Genesis brand's 2020 models achieved a Top Safety Pick+ rating from IIHS.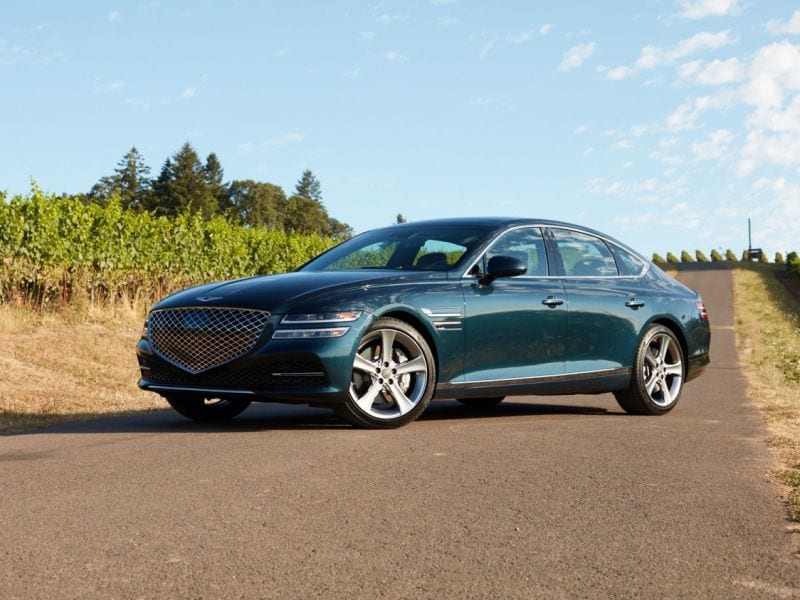 Photo by Genesis
On the Road
While the four-cylinder G80 2.5T mixes ample performance with impressive fuel economy and is a tremendous value in the segment, the twin-turbo V6 3.5T delivers an even more convincing blend of effortless luxury and invigorating acceleration. Both engines have ample torque for good throttle response delivered over a broad speed range, but the V6 just sounds more luxury segment appropriate doing so. Genesis enhances both engines' sound via the audio speakers.
The 3.5T brings standard adaptive shocks, driver-adjustable with selectable drive modes, which do a credible job of reading the road to firm up for sporty driving and backing off to take the sting out of sharp bumps and potholes. The new G80 rolls on 18-inch alloys on the Standard 2.5T trim only, 20s on all 3.5T trims but the Standard 3.5T rear-wheel drive, and 19s on everything in between. The 2021 G80 is more luxury-focused than sporting. That's not to say the new G80 is overly cushy compared to its European rivals, but it does leave room for a possible future G80 Sport model with enhanced performance capabilities — as was available on the previous generation model from 2018 to 2020.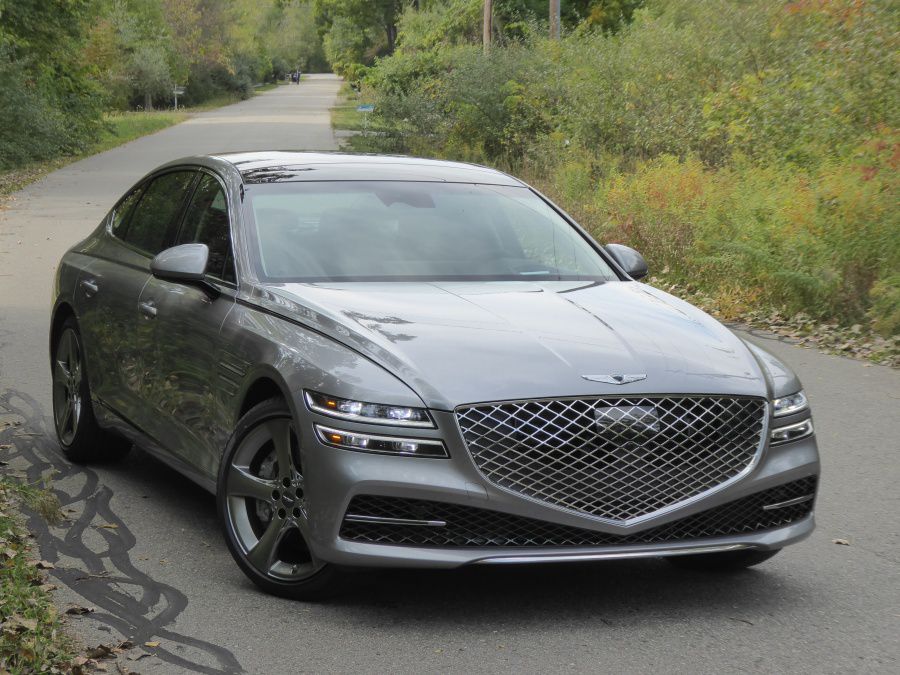 Photo by Ron Sessions
Primed for Success
Offering a uniquely Korean take on luxury, the 2021 Genesis G80 is roomy, stylish, very well-equipped, and as delightful to drive as it is to ride in. Like other Genesis offerings, the G80 is value-priced relative to the competition — especially when you consider its extensive list of standard equipment, much of which can be extra cost at other premium brands.
The redesigned G80 also continues with the brand's impressive warranty that far outdistances its European competitors with bumper-to-bumper coverage for five years or 60,000 miles and powertrain coverage for 10 years or 100,000 miles. Regular maintenance is also complimentary for three years or 36,000 miles.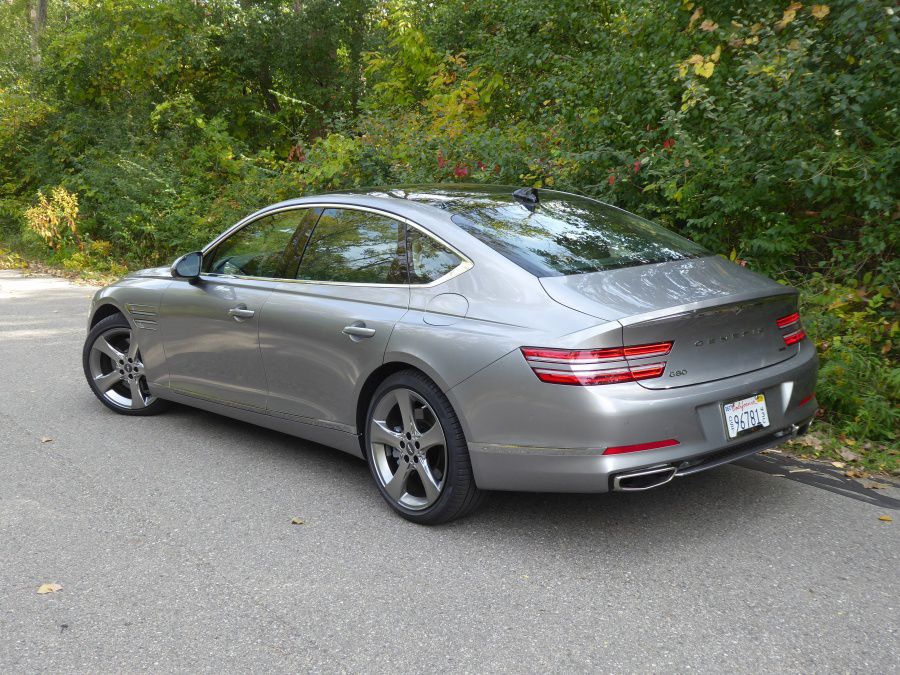 Photo by Ron Sessions