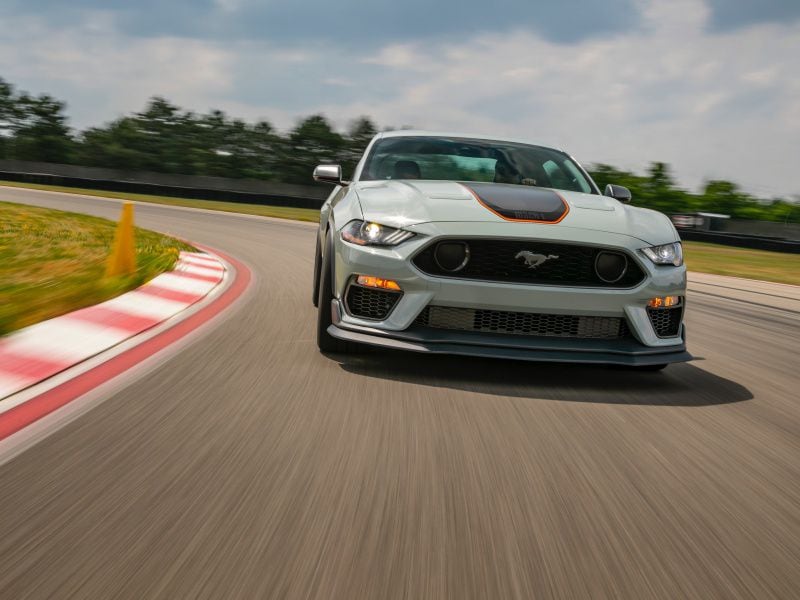 2021 Ford Mustang Mach 1 ・ Photo by Ford
Ford refers to its Mustang sports coupe as one of its icons. And an exemplary trim level for this iconic vehicle is the Mustang Mach 1, which is back for 2021 after 17 years on the shelf. When you look at the basic specifications of the new Mach 1 — which comes standard with a V8 engine and manual transmission (with a cue ball shift knob no less) — you might think, "Oh, I get it. Old-school Mustang." But while the new 2021 Ford Mustang Mach 1 does offer a slew of features that will make muscle car fanatics feel right at home, it is also filled with go-fast technology that is new-as-tomorrow.  For instance, consider its electronic launch control and selectable drive modes plus safety and driver aids that a Mustang driver of 1969 would have never even dreamed of. In many ways, the 2021 Mustang Mach 1 is to the original Mustang Mach 1 what a movie about the 1960s is to the real 1960s. It's better than you remember it because it's better than it really was.
Exterior Style
While many of us weren't looking, 50 years has elapsed between the introduction of the first Ford Mustang Mach 1 and the 2021 Mach 1 we just drove and tested. But despite the fact that half a century has gone by, the Mach 1 of today still looks like the Mach 1 of 1969. Now, we're not saying the new car is a line-for-line copy of the Mach 1s that came before it; but the classic broad-shouldered styling that exaggerates the rear fenders and the exceptionally long hood are still there for all to admire. Of course, a Mustang isn't a Mustang without its fabled grille, and the 2021 Mach 1 delivers the shark nose, mesh, and even the pseudo running lamps of the original. The prancing SMU-like Mustang still has its accustomed place in the grille as well, though the pony has been tamed a bit with its low-gloss treatment. One considerably more modern touch is the Mach 1's wheels — 19-inchers as wide as 11 inches. They make a styling statement of their own.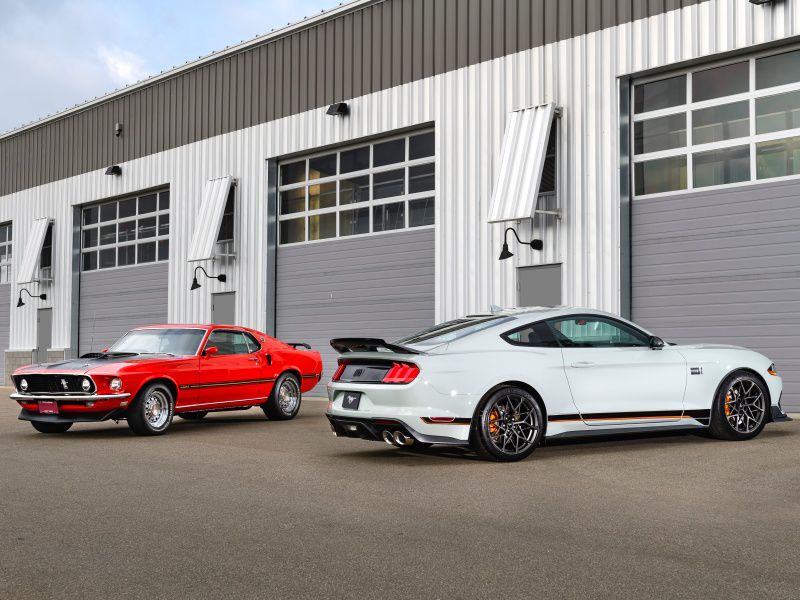 Photo by Ford
Performance Engineering
There is more to the new Mach 1 than simply channeling classic Mustang design language. The car's engineering and design teams worked hand-in-hand to ensure the entire envelope — especially the car's expressive front end — meet the elevated performance goals established for the car. This means it must deliver proper airflow to critical components while avoiding front-end lift that can kill handling at high speeds. To accomplish this, the teams designed and engineered a front end unique to the Mach 1 that includes a two-piece upper grille, lower grille and valance, plus aggressive new side grilles. The side grilles deliver air to two heat exchangers, one to cool engine oil and one to cool transmission oil. Complementing that are a rear-axle cooling system and a lower diffuser straight from the Shelby GT 500.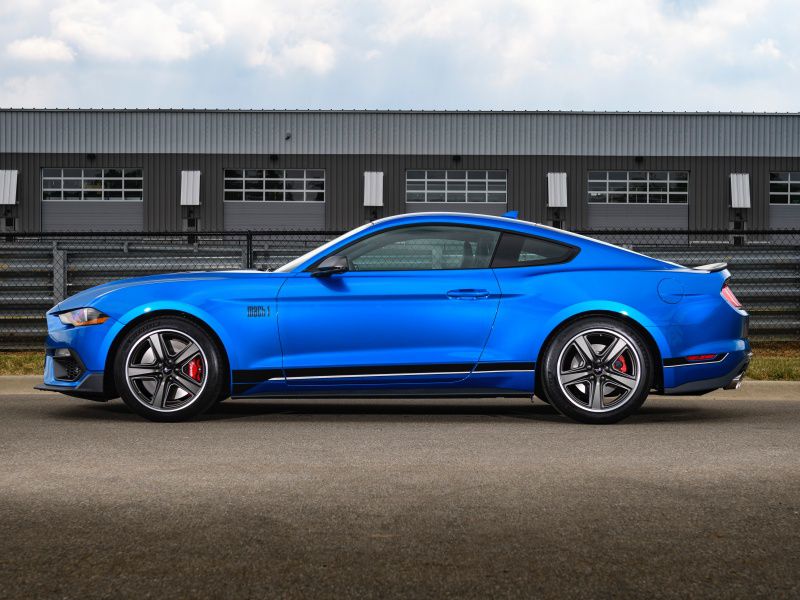 Photo by Ford
Tailoring Airflow
When a car has a top speed of 168 miles per hour (according to Ford's estimates), aerodynamics becomes a critical part of the overall equation. A front splitter optimized to the fascia contributes to performance, working in concert with a fairly subtle rear spoiler. Fitted with a longer underbelly pan tuned for aero, the basic Mach 1 delivers 22 percent more downforce than a Mustang GT with Performance Pack Level 1. When equipped with the Handling Package, the Mach 1 ups that to a 150 percent downforce improvement. To get there the Mach 1's Handling Package incorporates a larger, higher-downforce front splitter and new front-wheel lip moldings. The Mach 1's low-gloss-finished swing spoiler with a Gurney flap and rear tire spats are sourced from the Shelby GT500.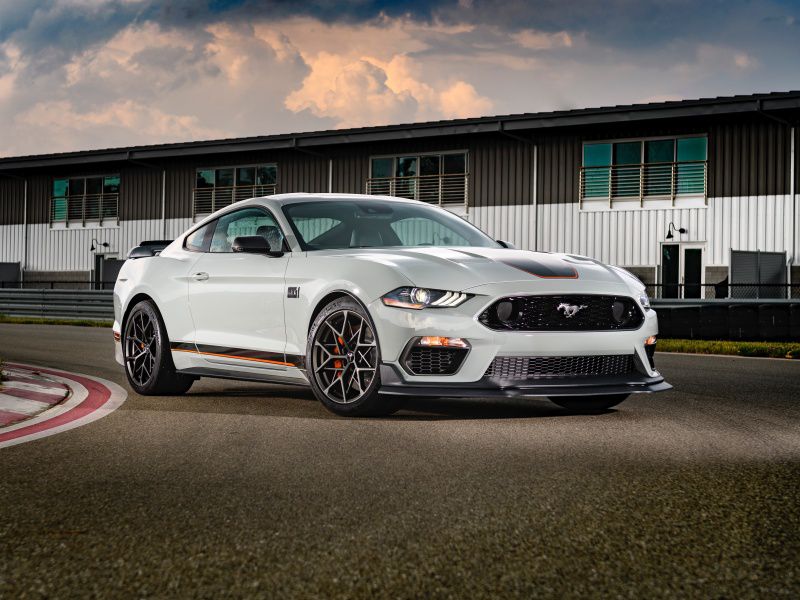 Photo by Ford
Potent Powertrain
The 5.0-liter V8 engine has been familiar to Mustang fans for years, but it gets a new iteration in the 2021 Ford Mustang Mach 1. Borrowing liberally from the Shelby GT parts bin, the specially tuned engine offers 480 horsepower at 7,000 rpm and 420 lb.-ft. of torque at 4,600 rpm. In comparison, the 5.0-liter V8 in the Ford Mustang GT is rated at 460 horsepower at 7,500 rpm with the same 420 lb-ft of torque at 4,600 rpm. Shelby GT components fitted in the Mach 1 engine include the intake manifold, oil filter adapter, and engine oil cooler. Engine oil cooling capacity is up 50 percent, Ford says. Another key bit of Shelby-tested componentry is the Tremec 3160 6-speed manual transmission. For the Mach 1 installation, the manual has been given rev-matching capabilities. In this form, the Mach 1 has a mashup of GT350 oil cooler and Mustang GT twin-disc clutch and short-throw shifter. For those eager to forgo a clutch pedal, the 2021 Mach 1 also offers a 10-speed SelectShift automatic transmission that has been tuned to work optimally with the high-torque engine's characteristics.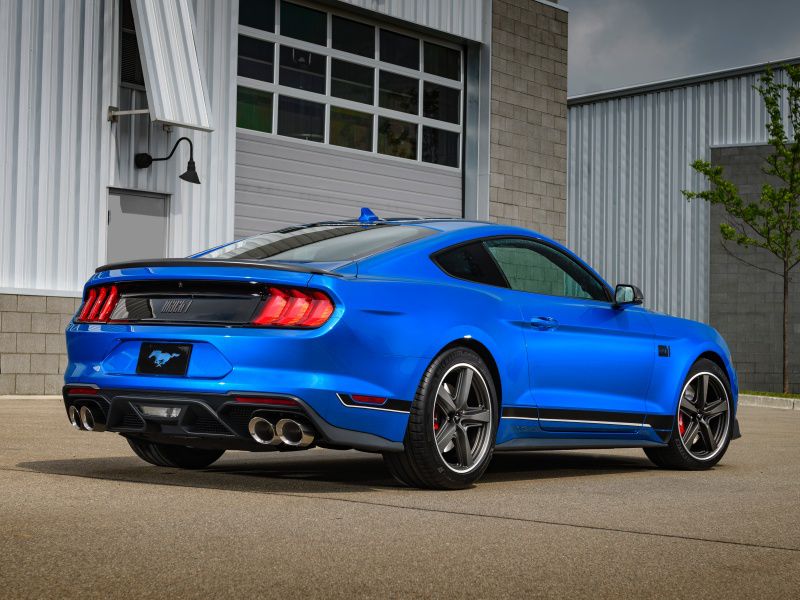 Photo by Ford
Sweet Suspension
The pony cars of years gone by, including various iterations of previous Mustang Mach 1s, could go like stink in a straight line, but when it came time to negotiate a corner, things could get very busy and not in a good way. Mustang engineers worked hard to make certain that today's Mach 1 drivers don't have the same experience. The front suspension is a double-ball-joint independent MacPherson strut design with a 33.3 millimeter tubular stabilizer bar. At the rear is an independent integral-link suspension with coil springs, 24.0 mm solid stabilizer bar, and mono-tube shocks. The rear subframe has stiffer bushings and a rear toe-link straight from the Shelby GT500. The whipped cream on the hot fudge sundae is the quick-adapting MagneRide magnetic damping system. In comparison to the Mustang GT, the Mach 1 has stiffer, bigger-diameter swaybars at the front and rear, the GT500 rear subframe, and standard MagneRide.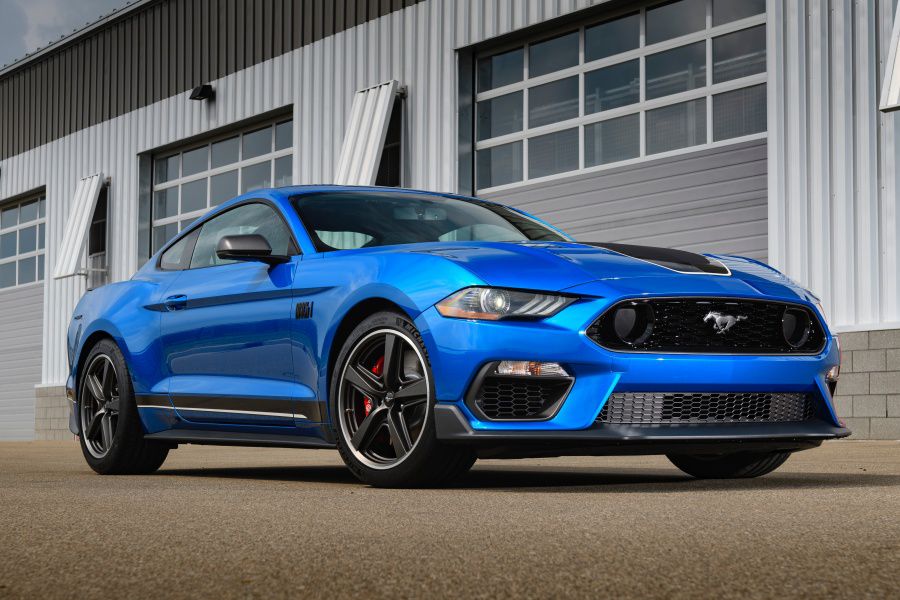 Photo by Ford
Steering, Brakes, Tires, and Wheels
The ability to turn is ably assisted by the Mustang Mach 1's three-mode electric power-assisted rack-and-pinion steering. With a stiffer steering I-shaft, pull-drift compensation, and active nibble control, the steering also sports a new EPAS calibration. Pull-drift compensation adapts to changing road conditions, compensating for slight directional shifts caused by factors that include crowned pavement and crosswinds. Active nibble control is a system that identifies and cancels unwanted vibration in the steering system. The front brakes use 15-inch vented rotors with Brembo 6-piston calipers while the rear brakes have vented rotors. With the handling package, the Mach 1 rides on 305/30R19 Michelin Pilot Sport Cup 2 tires in the front and 315/30R19s in the rear. They are fitted to rich-looking, lightweight 9-inch by 10.5-inch front and 19-inch by 11-inch rear "Tarnished Dark" aluminum wheels.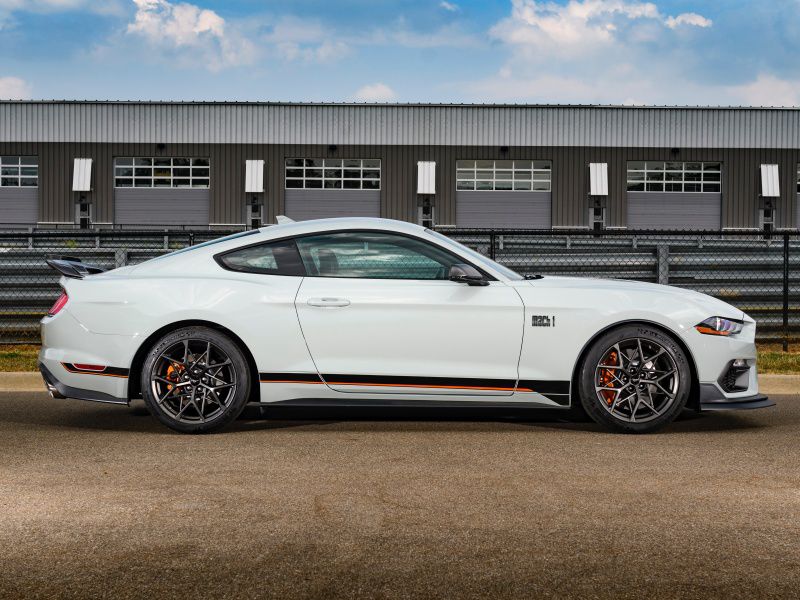 Photo by Ford
Safety and Driver Aids
A lengthy list of active and passive safety equipment is available on the Mustang Mach 1, and the vast majority of it is standard. Ford Co-Pilot Technology includes automatic high beams, blind-spot information system with cross-traffic alert, lane-keeping system, pre-collision assist with automatic emergency braking, rear-view camera system, auto on-off headlights, and rain-sensing windshield wipers. A four-sensor, four-channel antilock braking system and AdvanceTrac electronic stability control are also on the standards list. The optional Ford Safe & Smart Package includes adaptive cruise control, voice-activated touchscreen navigation system with pinch-to-zoom capability, and SiriusXM Traffic and Travel Link.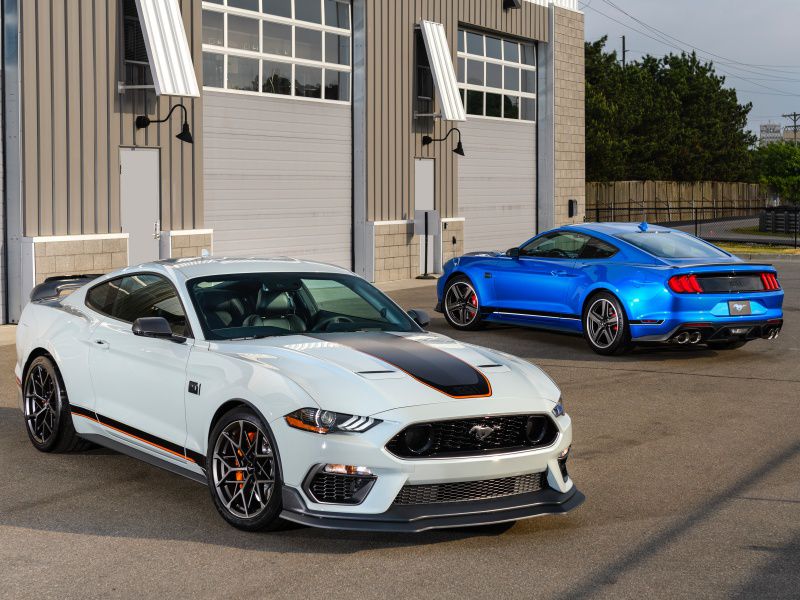 Photo by Ford
Driving Impressions
Say what you will about the speed and smoothness of a modern electric vehicle, there is an irreplaceable visceral thrill to accelerating hard with classic V8 power, snicking through the gears manually or clicking quickly through the gears with a modern 10-speed automatic. The Ford Mustang Mach 1 just pulls and pulls and pulls, throwing you back in your seat as it rockets toward triple-digit speeds (on a closed course with a professional driver at the wheel.) What we discovered in our lengthy drive is the Mach 1 is a good all-around ride. With the help of line lock, you can warm up your rear tires (or just make a scene) then blast through the quarter-mile with the benefit of driving apps that include launch control, acceleration timer, accelerometer, brake performance, and lap timer. If you're interested in going fast in more than just a straight line, the Mach 1 is a willing companion. Its giant tires and supple, magnet-assisted suspension plus communicative steering make all that a pleasure. And on those occasions you just want to do some around-town errands, the Mach 1 will provide a comfortable ride and no more drama than you want it to produce.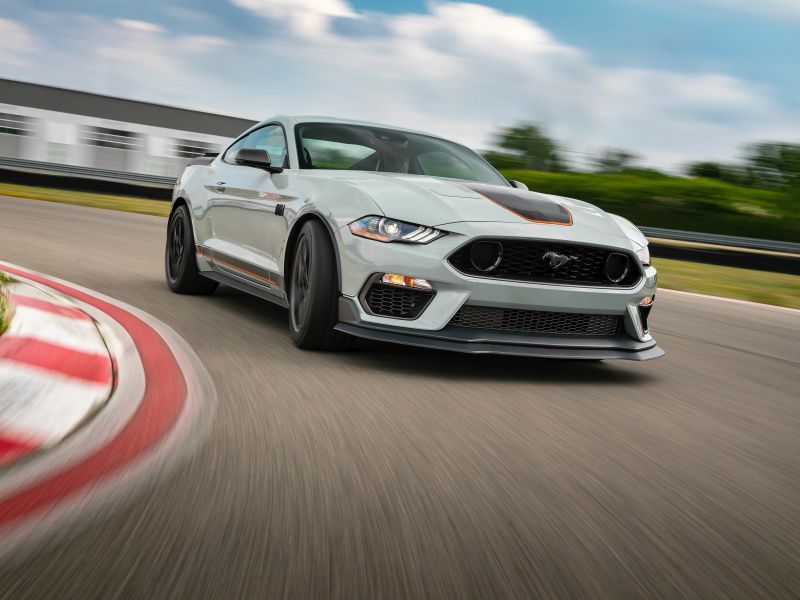 Photo by Ford
Interior and Infotainment
Inside, you can make the car what you want it to be. If you're comfortable with simple cloth-covered seats to save weight and money, you can go there. Or you can fill the car with leather buckets with a heritage-inspired accent stripe or even delete the back seat entirely. We don't have to tell you the rear-seat area is not designed to hold adults for any period of time, but the front seats are roomy and super-supportive. The Mach 1's interior features a unique "Dark Spindrift" instrument panel with aluminum accents and the opening "splash screen" on the 12.3-inch all-LCD instrument cluster is Mach 1-themed. Old-school muscle car aficionados will appreciate the white cue ball shift knob. To remind you that you're driving a special car, an engraved badge displays its unique chassis number. The infotainment system with the B&O sound system by Bang & Olufsen gets you exceptional sound through 12 speakers, including a subwoofer in the trunk.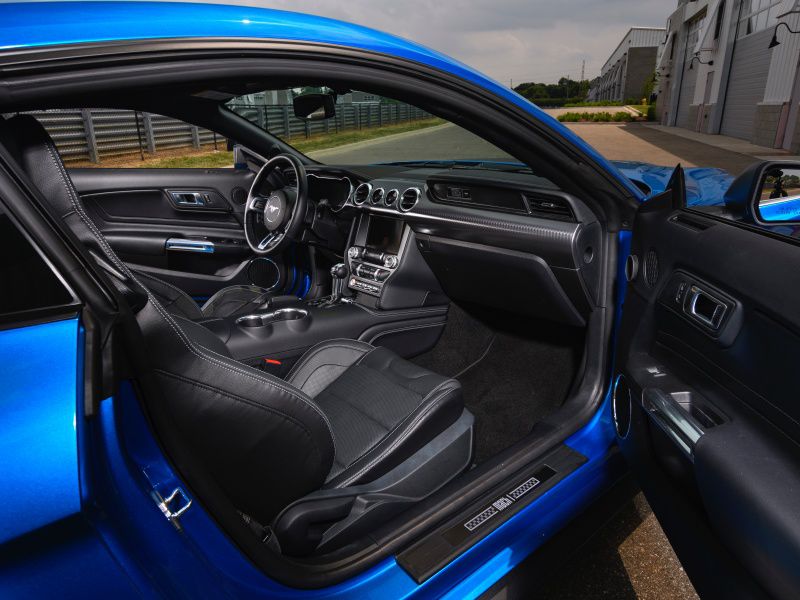 Photo by Ford
Pricing and Value
The 2021 Mustang Mach 1 slips into the lineup between the Mustang GT and the Shelby GT500. And there seems to be plenty of room for a coupe with a performance pedigree like the Mach 1 offers. The least expensive Mustang Mach 1 has an MSRP of $51,720 plus a $1,195 destination charge. If you go all-in with the Deluxe Package 700A, the Handling Package, and some other goodies here and there, you can run the price up to $70,000 or so. With just 20 fewer horsepower and a base price of a little over $40,000, the Mustang GT might be regarded by many as the better bargain, but once they drive the 2021 Ford Mustang Mach 1 and experience all its added benefits, they just might change their minds.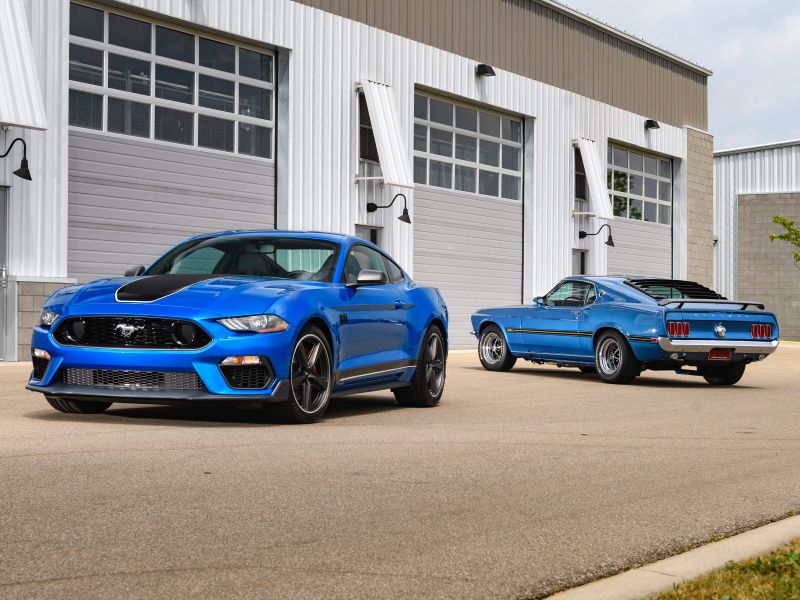 Photo by Ford