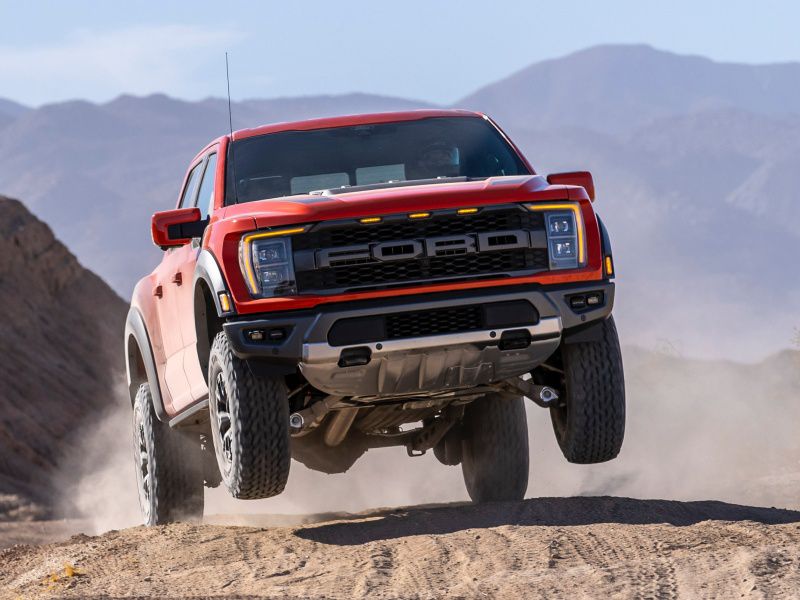 2021 Ford F-150 Raptor ・ Photo by Ford
The Ford F-150 is the best-selling full-size pickup in the United States. It has a mind-boggling number of configurations with a variety of beds, cabs, and engines. There's even a new hybrid version of the F-150 and an upcoming EV. Its trim lineup includes everything from more modest work trucks to luxury trims loaded with wood and leather accents.
Then there's the specially tuned off-road-ready Ford F-150 Raptor. While the off-road trims of many vehicles add a feature or two here and there and call it done, the Raptor is wholly designed to manage the most rigorous of off-road adventures. It's perfectly suited to desert racing with the features and durability to handle high speeds and punishing terrain. Let's take a closer look at the 2021 Ford F-150 Raptor to see if this is the right off-road racer for you.
Not the Most Affordable Truck
You can get behind the wheel of an F-150 for just under $30,000. That's for the base XL trim, which has a minimum of features. The Raptor sits at the top of the eight-trim lineup and comes in with a much higher starting price of $64,145. Yes, that's double the price of the base trim, but it has a considerably long list of standard features.
The interior has leather-trimmed 10-way power front seats, a 12-inch infotainment touchscreen, and ambient lighting. Outside, there's a unique front grille, skid plates to protect key components off road, sport-tuned shocks, and standard four-wheel drive. It's powered by a high output V6 engine with an impressive 450 horsepower and 510-lb-ft of torque. This is anything but a base trim. Sure, you can add options if you want even more features, but the F-150 Raptor comes with a long list of standard features for the price.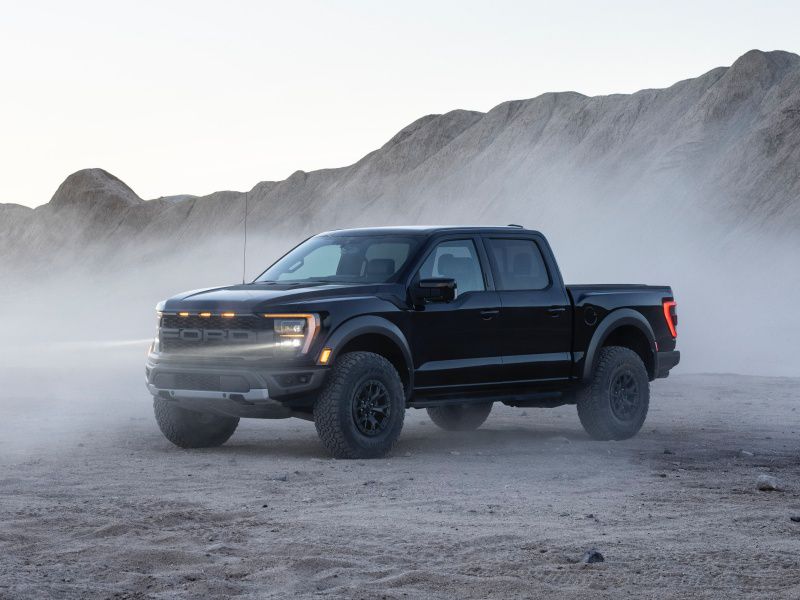 Photo by Ford
An Impressive Amount of Power
Power for the Ford F-150 Raptor comes from a 3.5-liter twin-turbocharged high-output V6 engine. This carry-over from last year offers a total of 450 horsepower with 510 lb-ft of torque. It's paired to a 10-speed automatic transmission with paddle shifters, should you prefer a bit more control of all that power. This year's Raptor doesn't have the most powerful engine you can get in a truck, but it still has more than enough power to get this capable truck up to speed.
All it takes is a light foot on the gas to get the Raptor moving. Get a little more aggressive and the Raptor responds in kind. It is not well-mannered when it comes to power — and that's a good thing. It's exactly the kind of response you want when you're making a run across the desert or need to make your way up another sand dune.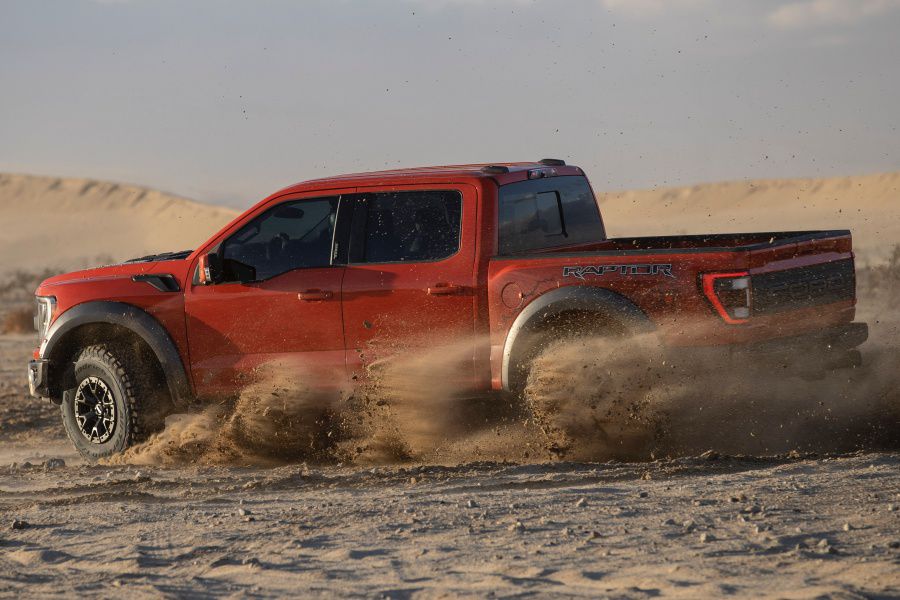 Photo by Ford
Designed for Off-Road Driving
The Raptor is an off-road truck. It's bouncy over rougher road surfaces, and quick maneuvers at highway speeds produce a considerable amount of roll. It's noticeably more than what you get in other trims of the F-150, but the Raptor is built for off-roading. It has more suspension travel, has off-road tires, and has features specifically designed to provide the best handling off road. That makes it less than ideal on road.
Is that a bad thing? Well, if you're buying the Raptor for leisurely drives to the office, you might find the ride unsettling. There are other trims in the lineup that are surely more to your liking. If, on the other hand, you're buying the Raptor because you love to go off road on the weekends, then you won't be disappointed. There, it shines, capably handling high-speed desert driving with impressive handling and responsive steering.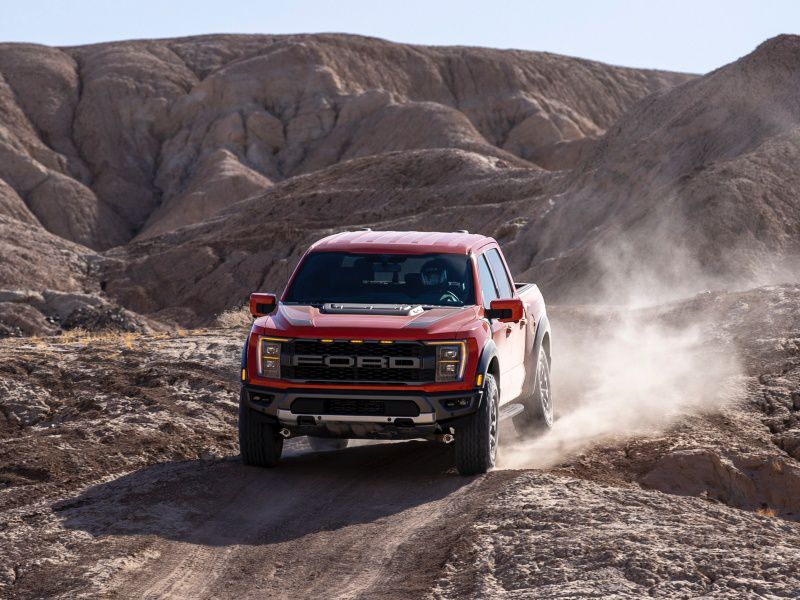 Photo by Ford
A Long List of Off-Road Features
Off-roading can be tough on a truck, so the Raptor has standard features designed to manage rigorous adventures. You can do more and go farther than you can in a typical truck without the fear that it won't be up for the challenge. Standard features include a new wider front skid plate for better protection. The front and rear bumpers are made of steel, and the dual exhaust tips are tucked high up against the truck to prevent accidental damage. There are also 17-wheels with all-terrain tires that are available beadlock-capable.
Sport-tuned front and rear Fox Racing Shox are standard. These have an internal bypass with electronic control and damping that helps resist heat buildup and improves reaction time running desert terrain. There's a five-link rear suspension with extra-long trailing arms, a Panhard rod, 24-inch coil springs, and Trail Control with 1-pedal drive to make crawling over rocks easier.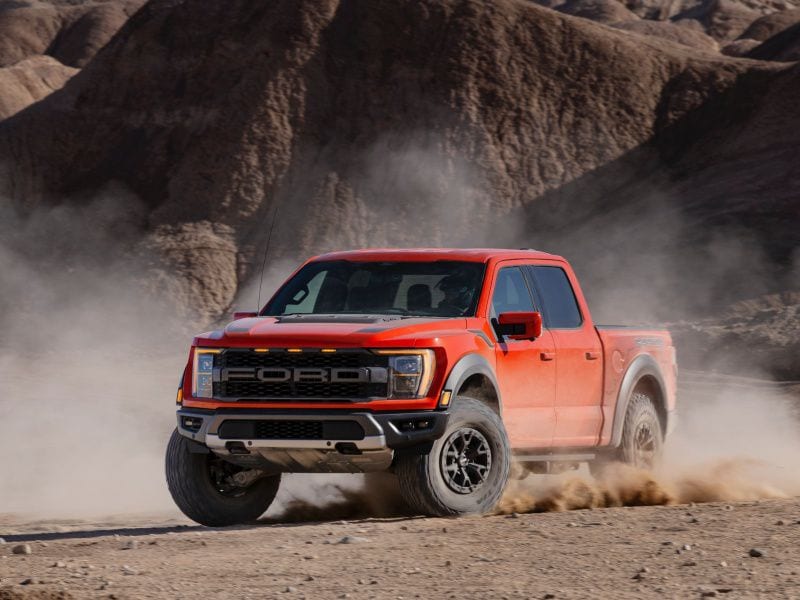 Photo by Ford
A Tough but Attractive Interior
The inside of the Raptor combines a healthy dose of durability with high-end features. This might be a truck designed to head off road and get covered with dirt and sand, but you're going to be comfortable no matter where you drive. There are Raptor-branded all-weather rubber floor mats, a unique leather-wrapped steering wheel with thumb pads, and front bucket seats with a flow-through center console.
Those seats are leather-trimmed and 10-way power adjustable for the driver and front passenger with power lumbar with standard heat and ventilation. Ambient lighting completes the look. It's a comfortable and attractive interior that fits the rugged intent of the Raptor. Although trim qualities are high, there's nothing delicate about this truck. It's ready to stand up to outdoor adventures so you won't worry about having a little mud on your shoes or dirt on your clothes.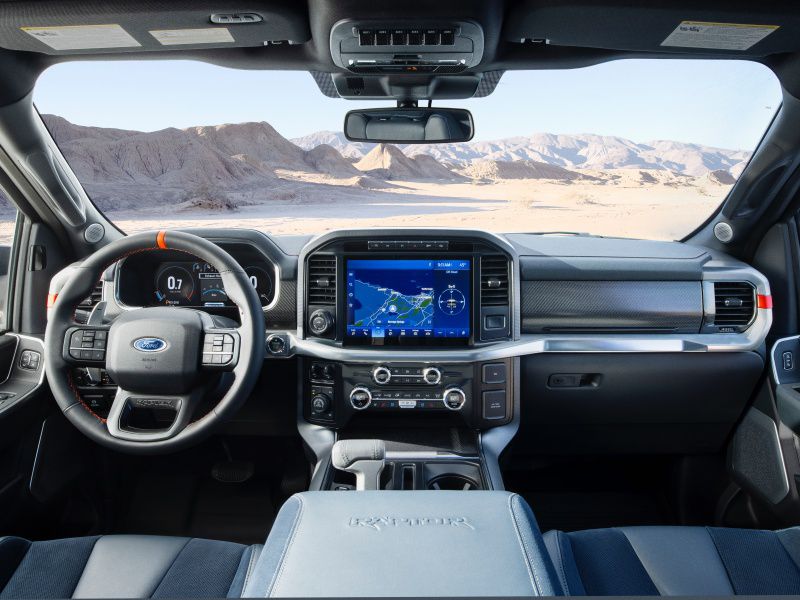 Photo by Ford
The Capability to Tow and Manage a Payload
You might buy a Raptor because you want a vehicle that's off-road capable, but one of the reasons you buy a truck is for its ability to tow and manage a payload. The Ford F-150 Raptor has the capability you need, whether you're carrying along supplies for weekend explorations or getting work done.
The 2021 Ford F-150 Raptor has a maximum payload rating of 1,400 pounds and a maximum tow rating of 8,200 pounds. This is an increase of 200 pounds on both counts over the previous model year. There are other configurations of the Ford F-150 that offer higher maximum ratings, but they can't match the off-road capability of the Raptor.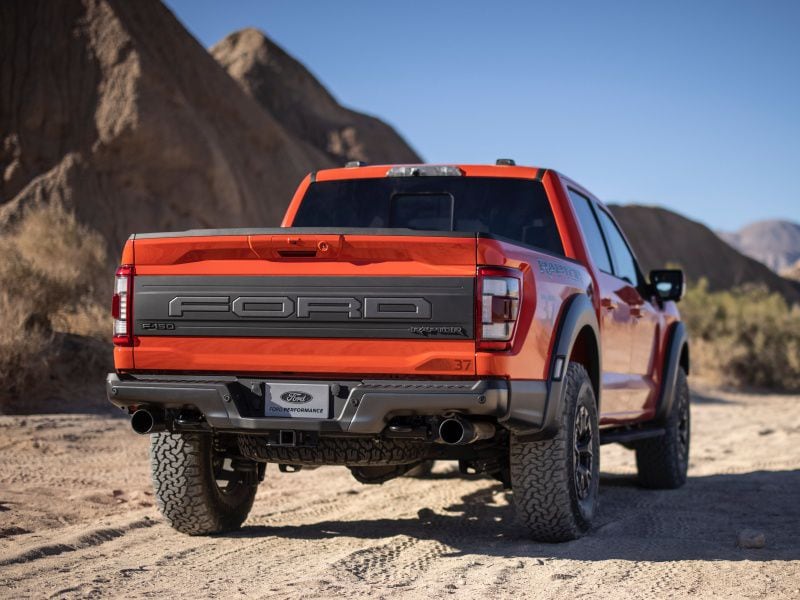 Photo by Ford
Infotainment With Key Features and a Large Screen
Standard infotainment includes a massive 12-inch touchscreen with SYNC 4. There's wireless Apple CarPlay and Android Auto, as well as Amazon Alexa compatibility along with Wi-Fi hotspot connectivity. This allows you to use your Raptor as a hotspot for up to 10 devices within a 50-foot radius of your truck. The system uses over-the-air updates to stay current. This also gives Ford the ability to add more capabilities to the system in the future.
The large standard screen size makes it easy to use with clear icons and logical menus. It's highly customizable as well, so you can decide what you want to see on the screen. Whether it's music, navigation, or your connected wireless device. What you see is entirely up to you. Additionally, there's enhanced voice control that recognizes more natural commands. Upgrades include a premium 18-speaker B&O Unleased sound system that audiophiles will love.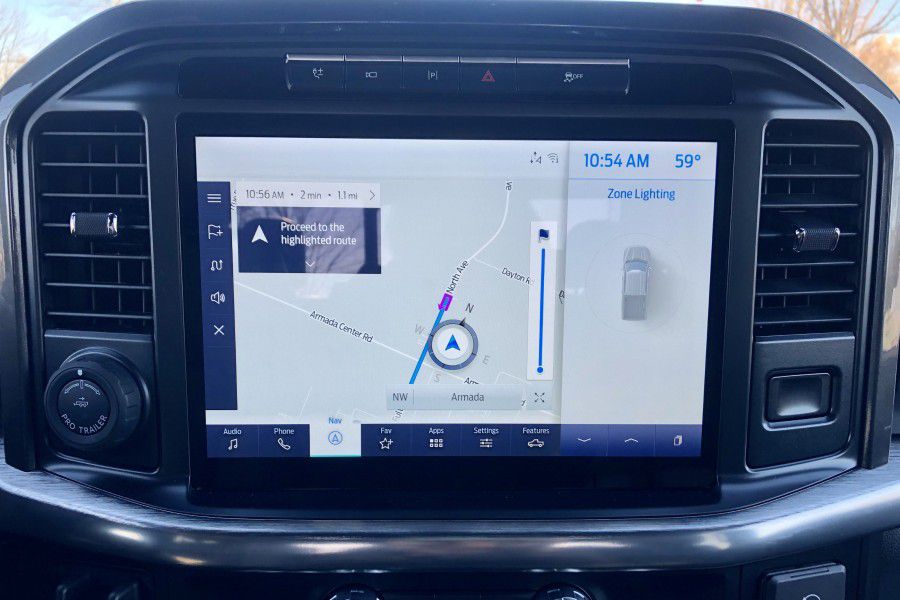 Photo by Nicole Wakelin
Good standard and available safety features.
There is no shortage of safety features with standard Ford Co-Pilot360 technologies. The list includes forward collision warning and dynamic brake support, hill start assist, pre-collision assist with automatic emergency braking with pedestrian detection, blind-spot warning with rear cross-traffic alert, and reverse brake assist.
There are also features that are especially helpful for making towing a trailer safer and easier. These include a rearview camera with dynamic hitch support that shows a sight line on the screen to help you lineup the hitch ball with the trailer tongue. Additionally, the blind-spot information system includes trailer tow coverage that will notify you not just if there's a vehicle in the truck's blind spot, but also if there's anything in the trailer's blind spot. It's a comprehensive offering of safety features that helps in everyday driving and even more so when you're towing a trailer.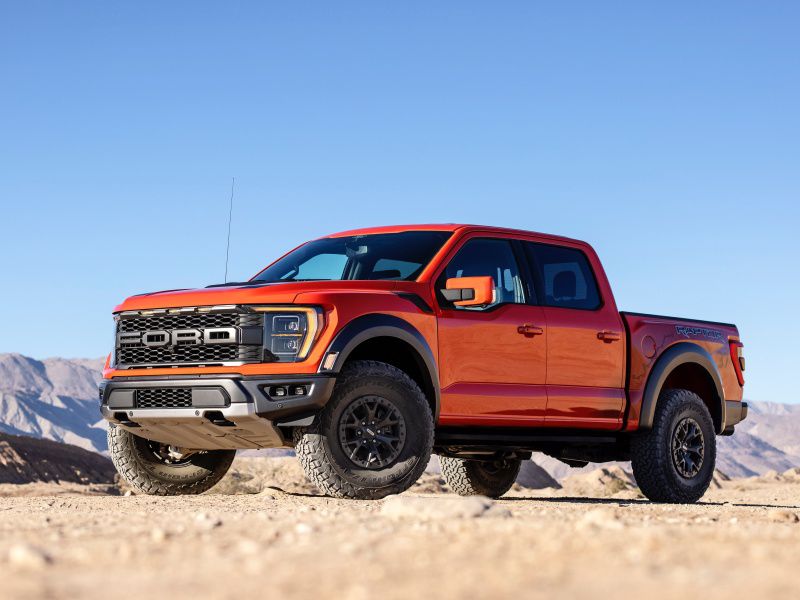 Photo by Ford
Final Thoughts
The 2021 Ford F-150 Raptor isn't for everyone. It's not for people who plan to spend their days driving on the pavement with no particular off-road aspirations. Instead, this is a truck for people who have solid plans for off-roading, especially if that time in the dirt includes racing over desert sands. The Raptor can easily tackle dunes, washboard tracts of packed dirt, and even crawl over rockier terrain. If desert racing is something you long to try, then this is the truck for the job.
It combines that off-road prowess with a comfortable and attractive interior that makes even longer drives less of a chore. There's also a wide range of standard and available safety features and the latest SYNC4 infotainment system. It might be tough and ready for the most rugged of driving conditions, but it has all the features you need to make that drive in comfort.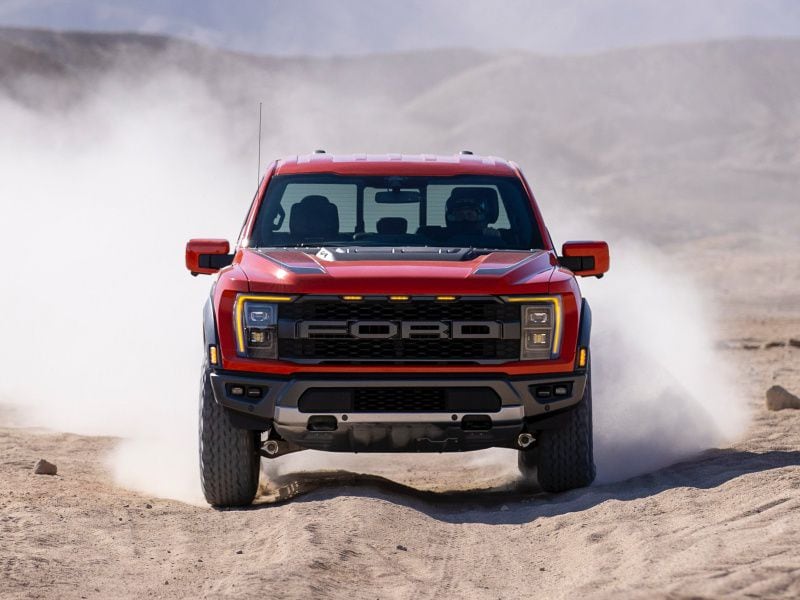 Photo by Ford