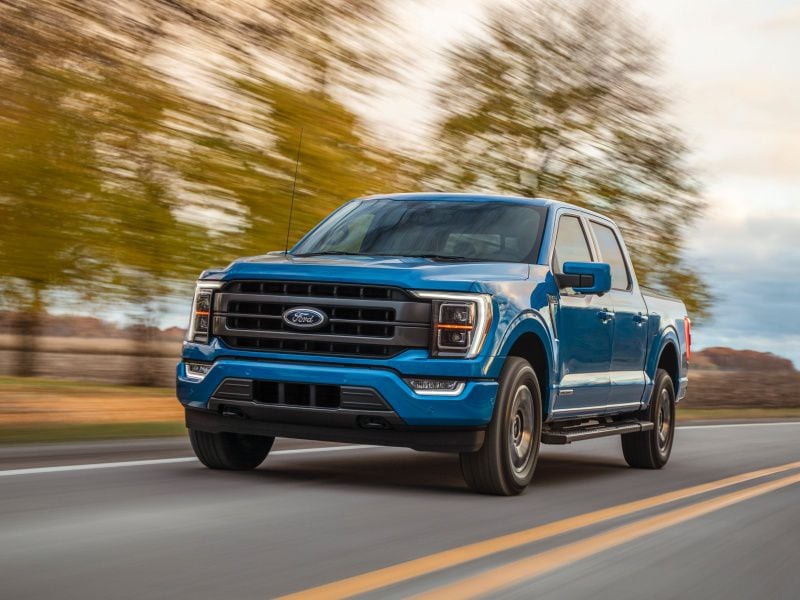 2021 Ford F-150 ・ Photo by Ford
For four decades, the Ford F-150 has been the best-selling vehicle in the U.S. Now, the redesigned 2021 Ford F-150 has arrived, ready to carry this torch of tradition.
A full-size, light-duty pickup truck, the F-150 embodies the American spirit, reflecting a work-hard-and-play-hard character that is enduringly appealing. Given its ability to effortlessly serve on worksites while looking good on Friday nights and to easily accommodate both strict budgets and money-is-no-object splurges, it's not surprising that the F-150 is this country's top choice in transportation. With its redesign, the 2021 F-150 adds a hybrid model to the lineup. But don't let this designation fool you into thinking the new Ford F-150 Hybrid is a pickup truck version of a Prius. After all, Ford doesn't call its new electrified F-150's powertrain "Powerboost" without a good reason.
The Price May Not Be Right
To get the Powerboost hybrid in an F-150, you need the SuperCrew cab style. Adding the Powerboost option to the XL SuperCrew short bed with two-wheel drive costs an extra $4,495. This upgrade also requires the Trailer Tow Package, which means the most affordable and bare-boned version of the 2021 Ford F-150 Hybrid costs $43,815.
The XL trim is the most basic version of this popular pickup. Upgrades include the XLT, Lariat, King Ranch, Platinum, and Limited trim levels. They're all available with Powerboost, and if you install the option on the F-150 Limited (it costs $1,900 for this trim), the truck's price rises to almost $75,000. Our test truck wasn't quite that spendy. We examined a 4WD Lariat with options that included four-wheel drive and the Powerboost hybrid powertrain, a spray-in bedliner, a power tailgate, power running boards, a panoramic sunroof, locking rear under-seat storage, and a useful interior work surface, among many others. All in, the test truck rang up to $68,960, including a destination charge of $1,695.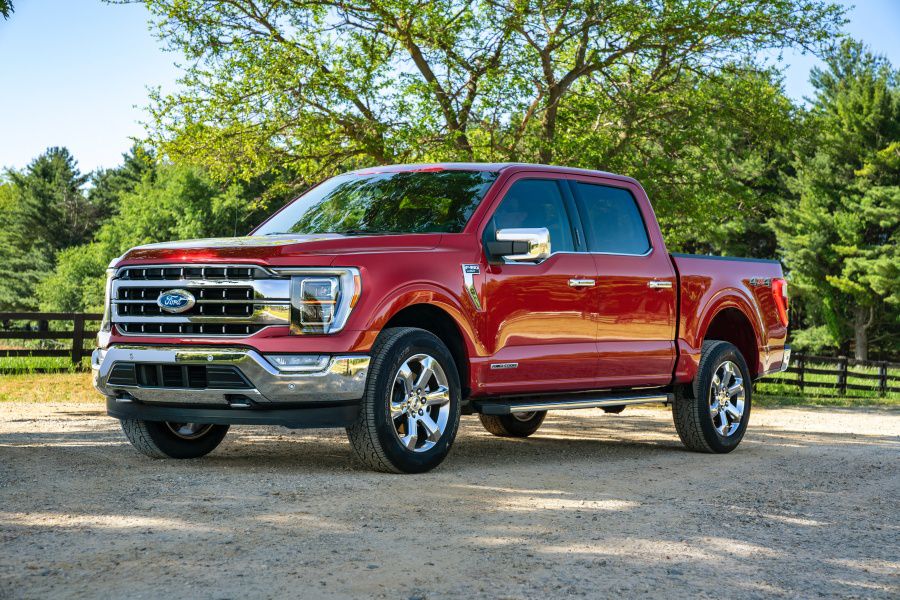 Photo by Ford
Good Looks and a Modern Cabin
At a glance, it's tough to tell the difference between the old F-150 and the new F-150. While Ford redesigned the entire truck, styling changes are most evident in front. Overall, the new F-150 has more character and refinement, and the result, as my grandfather used to say, is a good-looking rig.
Inside, familiar switchgear decorates a more modern cabin. A sizeable 12-inch touchscreen infotainment system dominates the center of the dashboard, and the controls are logical and intuitive, though some buttons are too small to use while wearing gloves. Interior materials, tones, and textures reflect something other than industrial-grade. However, our test truck's chrome, textured dashboard accent looked exactly like the plastic it was. And the collapsing transmission shifter (to accommodate the interior work surface) felt a little loose and rickety.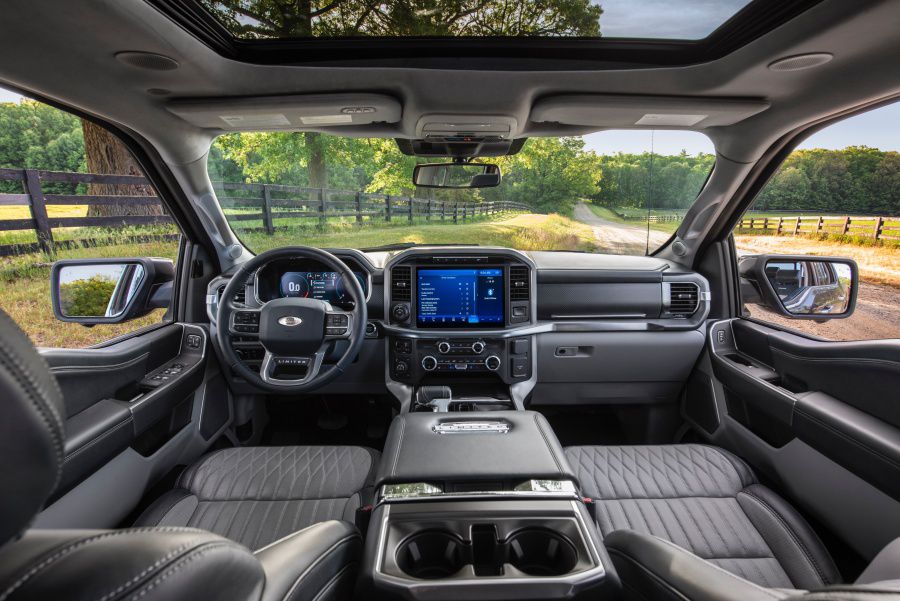 Photo by Ford
Ready for Road Trips and Work Sites
Comfort is easy to find within the new F-150 Hybrid. From the available power-deploying running boards that make entry and exit so much easier to the test truck's 10-way power-adjustable front seats with heating and ventilation, you'll be a happy camper. Add a heated steering wheel and padding in all of the places you'll rest your arms, and this truck is ready for long road trips. Passengers will like the rear-seat accommodations, too. There is no shortage of legroom or headroom, and the heated cushions supply exceptional leg support.
Storage is everywhere, and if you fold the transmission selector down, you can deploy the optional interior work surface. It transforms the center console into a table, perfect for eating or working on a laptop. However, after a while, your back might not forgive you for your twisted sitting position as you work. With our test truck's spray-in bedliner, tailgate work surface, and ProPower Onboard outlets delivering 2.4 kW of electricity, it was ready for any worksite. All it lacked was the optional 7.2-kW ProPower Onboard setup and exterior Zone Lighting to keep all of the sawing and sanding going well after dark. As if the neighbors will appreciate that.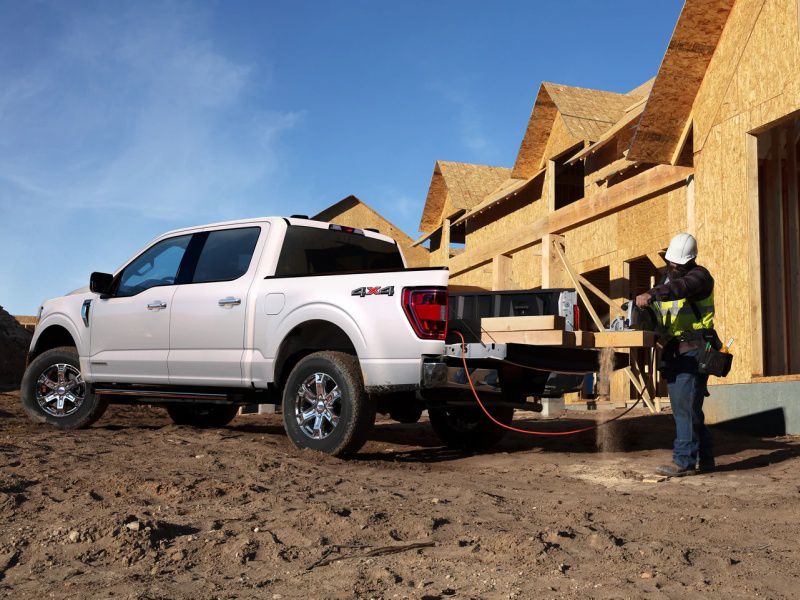 Photo by Ford
Infotainment That Easily Syncs With Your Life
In addition to the new 12-inch touchscreen display standard in most versions of the truck, the F-150 also gains Ford's Sync 4 infotainment technology. It's a significant improvement, delivering speedy responses, a sophisticated look, and over-the-air update capability so that it stays current over a lifetime of ownership. Highlights include wireless Apple CarPlay and Android Auto, premium SiriusXM 360L satellite radio, FordPass connected services including a 4G LTE Wi-Fi hotspot, and more. It also pairs with your choice between two optional Bang & Olufsen premium sound systems. The test truck had the more affordable one, and it was sensational. For a truck. Additionally, if you regularly tow a trailer, you should know that the F-150 offers one of the most comprehensive trailering technology collections that you can get on a modern pickup truck.
I have two complaints about the F-150's Sync 4. First, the screen suffers from glare. And second, that glare makes it even harder for my tired, aging eyes to read Ford's trendy selection of a thin, delicate font on a white background. It's almost as bad as when website designers think tiny gray text is somehow easier to read on a smartphone.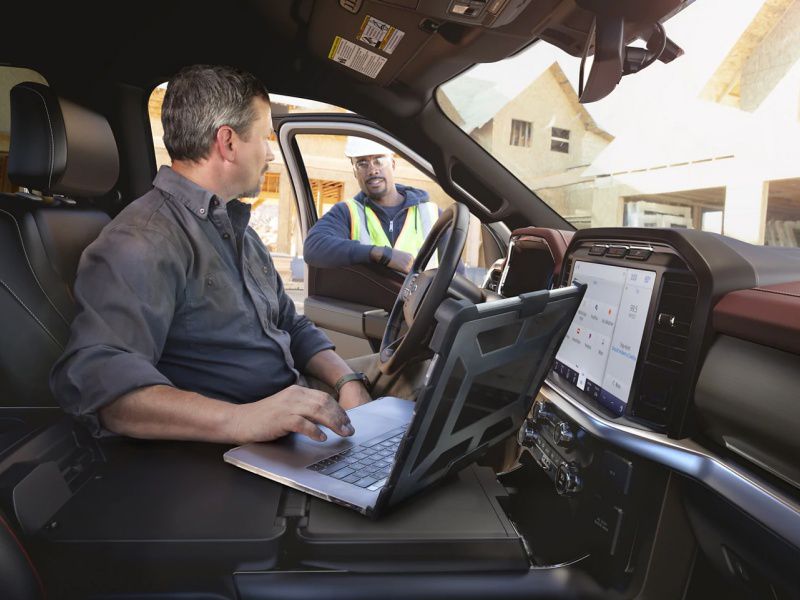 Photo by Ford
Assessing the F-150's Driving-Assistance Systems
Our test truck's Co-Pilot360 Active 2.0 Prep option package prepares the F-150 for Active Drive Assist. That's Ford's upcoming Level 2+ hands-free driving assistance system, which will download to the truck via an over-the-air software update when it's ready later this year. The package also includes Active Park Assist 2.0, which is available now and takes full control of the F-150 for parking in parallel and perpendicular spaces. The driver just sits there, monitoring the system to make sure everything is working as it should.
These features frost a densely layered safety technology cake. Three underlying tiers of Ford Co-Pilot360 build upon one another with advanced driving assistance systems that were the exclusive domain of luxury brands just a few years ago. The Co-Pilot360 Assist 2.0 technology includes adaptive cruise control with stop-and-go capability as well as lane-centering assistance. This Level 2 technology aims to make highway driving less stressful, but I preferred driving the truck without them. It didn't help that the traffic sign recognition technology read a 55-mph sign meant for 18-wheelers and suddenly braked for a driving restriction that didn't apply to the F-150.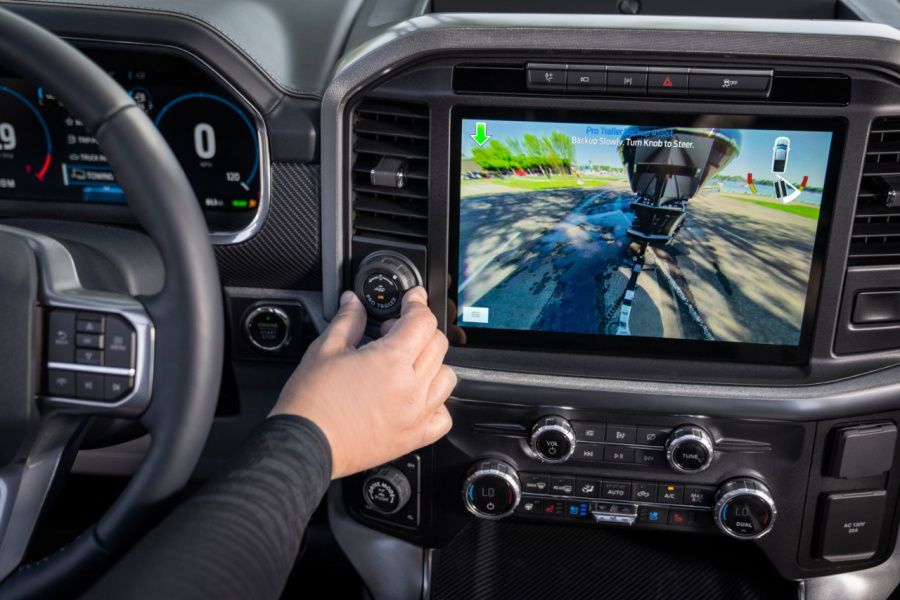 Photo by Ford
Ford F-150 Hybrid Horsepower, Gas Mileage, Towing, and Hauling
The 2021 Ford F-150 Hybrid makes 430 horsepower and 570 lb-ft of torque. That makes it the most potent version of the F-150 you can buy. It's also the most fuel-efficient version of the F-150, rated to get 25 mpg in combined driving with 2WD and 24 mpg with 4WD. As typically happens, our 4WD test truck missed these marks, averaging 21.5 mpg on our evaluation loop.
To create the Powerboost hybrid powertrain, Ford builds on its already satisfying twin-turbocharged 3.5-liter V6 engine by integrating a 35-kW electric motor into the 10-speed automatic transmission and juicing it with a 1.5-kWh lithium-ion battery pack that recharges when the truck is coasting and braking. In addition to making significant power and returning good gas mileage, a Ford F-150 Hybrid can tow as much as 14,000 pounds of trailer and haul up to 3,325 pounds of payload. These ratings definitively put all other light-duty pickups on the bench.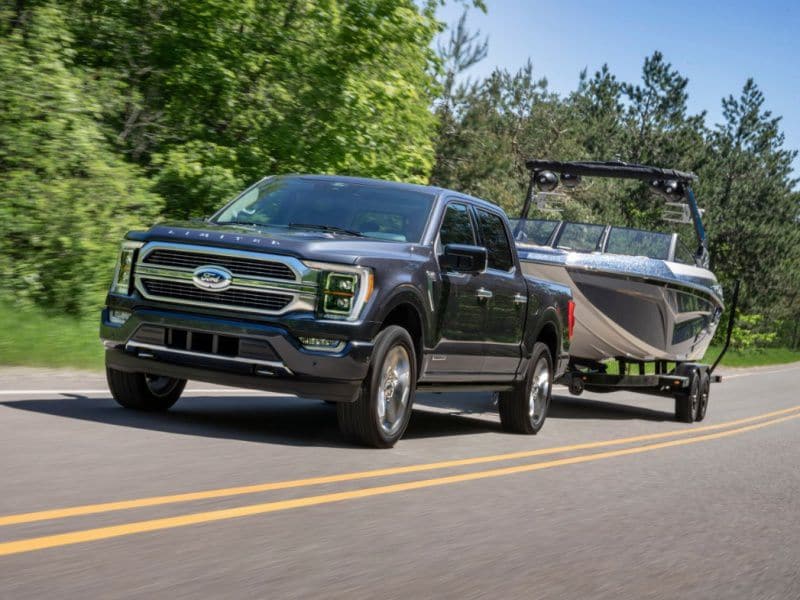 Photo by Ford
Quirks to the Ford F-150 Hybrid's Driving Dynamics
On paper, the Ford F-150 Hybrid sounds like the perfect pickup truck. It doesn't come cheaply, though. It missed its EPA fuel economy target during our testing. And the driving experience suffers quirks that could lead to long-term dissatisfaction. In addition to the sticky and grabby regenerative brakes that recharge the truck's battery pack, the F-150 Hybrid's engine shut-down timing can lead to delays when the driver requests more power.
To maximize fuel economy, the F-150 Hybrid attempts to coast without the gas engine as often as possible. But when the driver steps back on the accelerator, a momentary delay can cause irritation. This delay is evident in various environments: urban, suburban, off-road, and when rounding curves and corners. And it happens frequently, but not consistently, which makes it hard for the driver to predict and expect. Undoubtedly, though, the F-150 Hybrid supplies robust acceleration and gas-free driving at lower speeds under light powertrain demands. The test truck's FX4 suspension feels appropriately firm both on and off of the pavement, but on the freeway still allows a little too much body motion for our preferences. We spent part of an afternoon exploring a local off-highway vehicle park, and, with the help of the FX4 Off-Road Package, the F-150 Hybrid handled the rocks, ruts, puddles, and holes without breaking a sweat.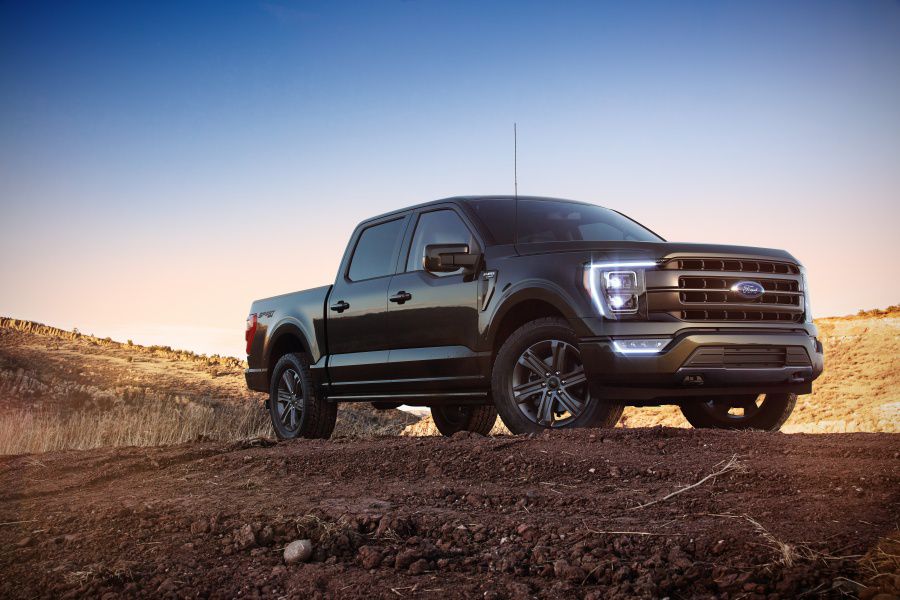 Photo by Ford
The First Drops of the Electrified Truck Deluge
If you're looking for an electrified pickup truck, you can choose a RAM 1500 eTorque with its comparatively simplistic mild-hybrid powertrain, or you can select the Ford F-150 Hybrid, which offers full gas-electric hybrid operation.
However, the landscape is changing, and fast. Ford is planning an F-150 Electric, GMC is about to relaunch the Hummer brand as a fully electric truck, and Jeep confirms the Gladiator will soon get electrification. Beyond these models, you've got startups like Bollinger and Rivian rushing to get their electric trucks to market, and Tesla will manufacture its wild Cybertruck in Texas. From this perspective, the Ford F-150 Hybrid represents those first few splatters of raindrops before the storm arrives.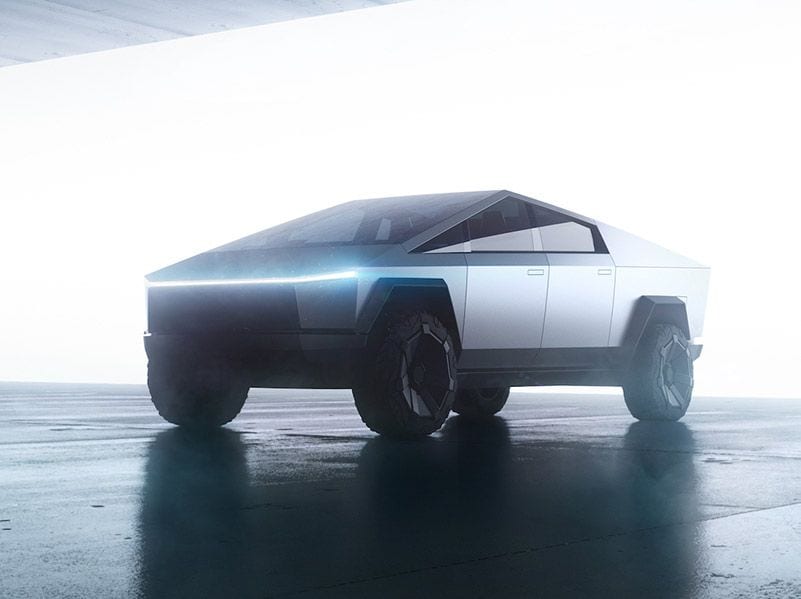 Photo by Tesla
Ford F-150 Hybrid Pros and Cons
The redesigned 2021 Ford F-150 is a terrific example of a light-duty pickup truck. Its underlying engineering, its leading-edge technology, its thoughtful and practical details, and its rugged good looks are sure to keep it at the top of its segment.
If you're choosing the F-150 Hybrid, make sure to assess the truck's engine shut-off timing and regenerative braking feel to see if these characteristics are going to bother you over time. You might be willing to accept them to benefit from the Powerboost's prodigious power, low-speed electric driving, good real-world fuel economy, and robust 2.4-kW and 7.2-kW ProPower Onboard electrical outlets in the cargo bed. Or, you might want to save yourself thousands of dollars and stick with the still-satisfying twin-turbo Ecoboost 3.5-liter V6. That's the great thing about full-size pickup trucks. There is no shortage of choice, even within the same model line.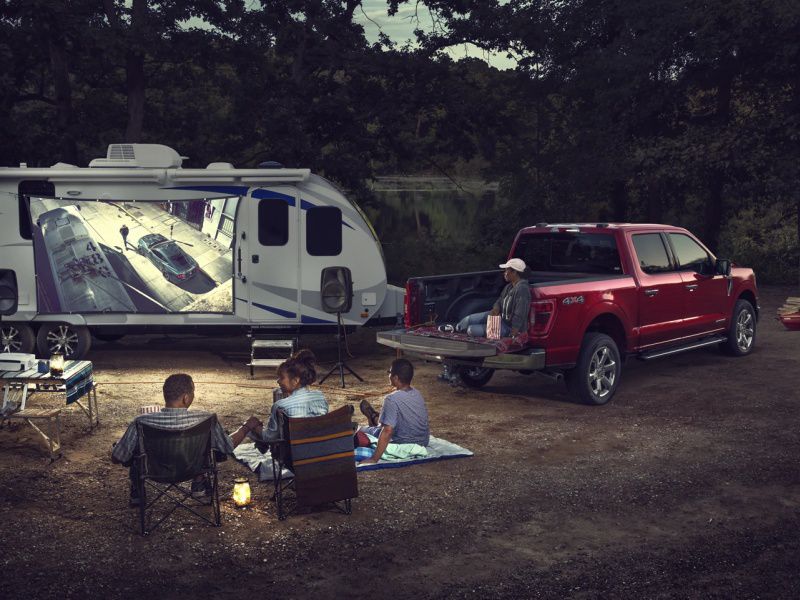 Photo by Ford