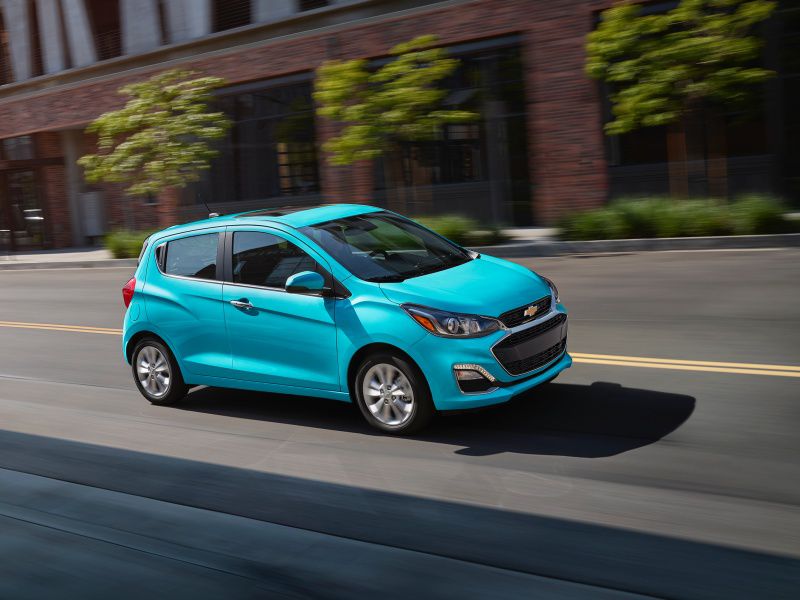 2021 Chevrolet Spark ・ Photo by Chevrolet
The 2021 Chevrolet Spark is one of the smallest and least expensive vehicles available in the American market. In fact, not only is the vehicle itself small, but the class it's in is also small. The Spark has just one real head-to-head competitor, the Mitsubishi Mirage. Virtually all the other compact vehicles in the U.S. market are at least 20 inches longer than the Spark, and it should be noted that in automotive terms, 20 inches in length is a big difference. What this means in practical terms is that the Chevy Spark is well-suited for congested urban environments where parking spaces tend to be small and difficult to find. The Spark is one of the few cars available in America that has less than 100 horsepower, but that is certainly no issue in cities. Of course, the Spark's small size and limited horsepower also translate into an inexpensive vehicle price. With a base MSRP of under $14,000, the 2021 Spark is one of the least expensive new cars available in the market. In many cases, the buyers of the Spark have no new-car alternative and are considering the little Chevy versus a used car.
Exterior Style
In an American market that is so thoroughly enamored of SUVs, the Chevrolet Spark manages to look like a diminutive SUV rather than a sedan or hatchback. At the same time, it has some coupe-like lines, and its designers disguised its two rear doors to give it a sleek side view. The front end has the Chevrolet emblem centered in a dual-level grille opening flanked by large headlights. The overall effect is good-looking and doesn't give the impression that this is a cheap car. At the rear, dual-element tail lamps continue the Chevrolet look designed to connect the Spark to other, larger-scale Chevy vehicles. From a functional standpoint the rear doors make entering the rear seat an easy process, aided by the car's reasonably high roofline. The hatch opening is also reasonably large, enabling easy loading into the cargo compartment.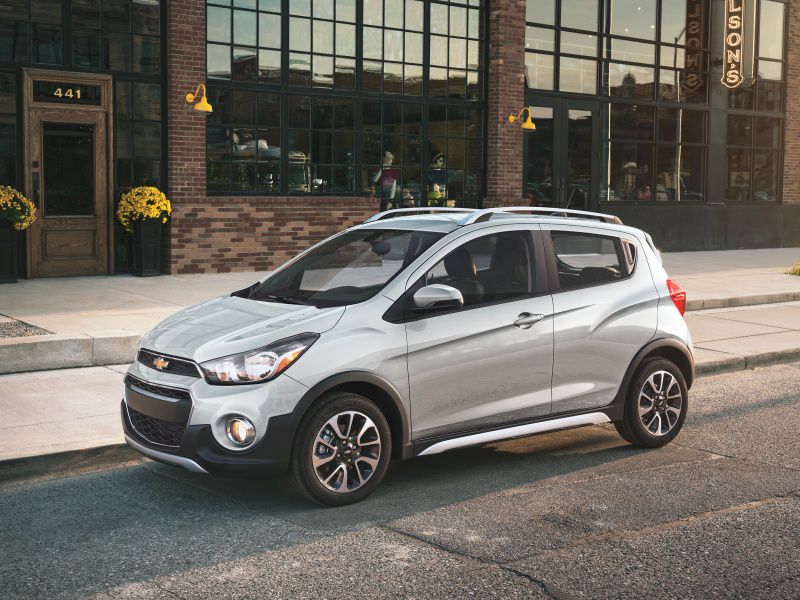 Photo by Chevrolet
Interior Accommodations
What immediately struck us when we entered the Spark's cockpit is that it doesn't look or feel like a cheap car. The interior could easily be mistaken for the interior of a mid-grade compact crossover suv, though on a bit smaller scale. Due to the car's stance, getting in and out of the front seats is easy and convenient. Further, the seats, while perhaps a trifle narrow, are quite comfortable. We like the fold-down armrest as well. While the Spark is billed as a four-seater, it is most comfortable for two and, if necessary, a third-wheel friend riding in the back seat. The rear-seat area might be a bit tight for a child seat, but two seven-year-olds on booster seats should be okay. Depending upon your needs, you might find it useful to keep the rear seat folded and use the Spark as a two-passenger vehicle with plenty of cargo-carrying space for its length.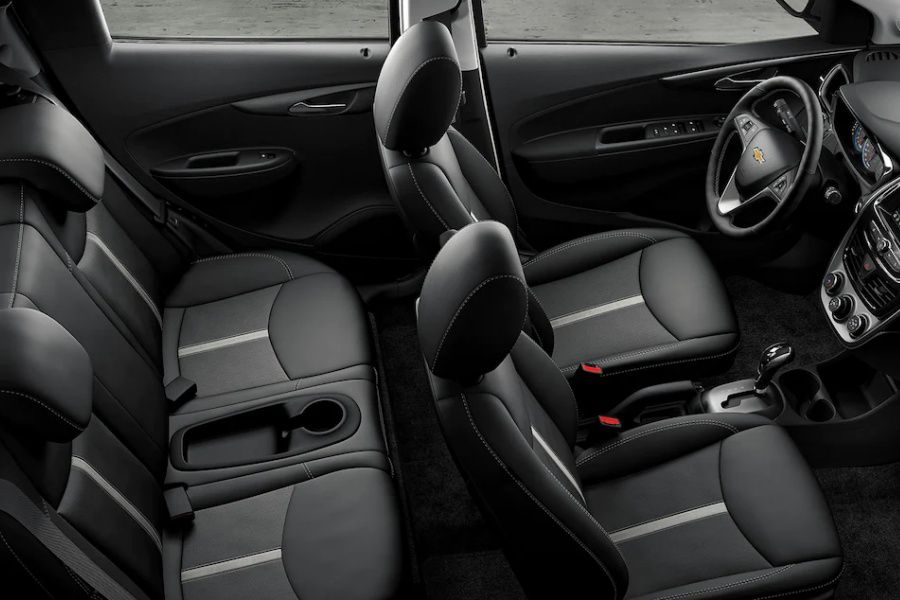 Photo by Chevrolet
Powertrain
While many vehicles offer several engine options, the powertrain choice in the Chevrolet Spark is exceedingly simple. The hatchback's only engine is a normally aspirated 1.4-liter 4-cylinder engine that delivers 98 horsepower and 94 lb-ft of torque. While that might not seem like a lot, the competitive Mitsubishi Mirage has a 78-horsepower 3-cylinder engine. Where your choices come in is with the transmission. The base model has a standard 5-speed manual transmission. The optional alternative — a continuously variable automatic transmission — makes driving easier but adds more than $1,000 to the Spark's purchase price. (Getting the CVT will also probably make the car easier to sell and more valuable when it comes time to change cars.) The Spark is a front-wheel drive vehicle. That configuration not only benefits interior space for passengers and cargo, but also helps the Spark handle inclement weather.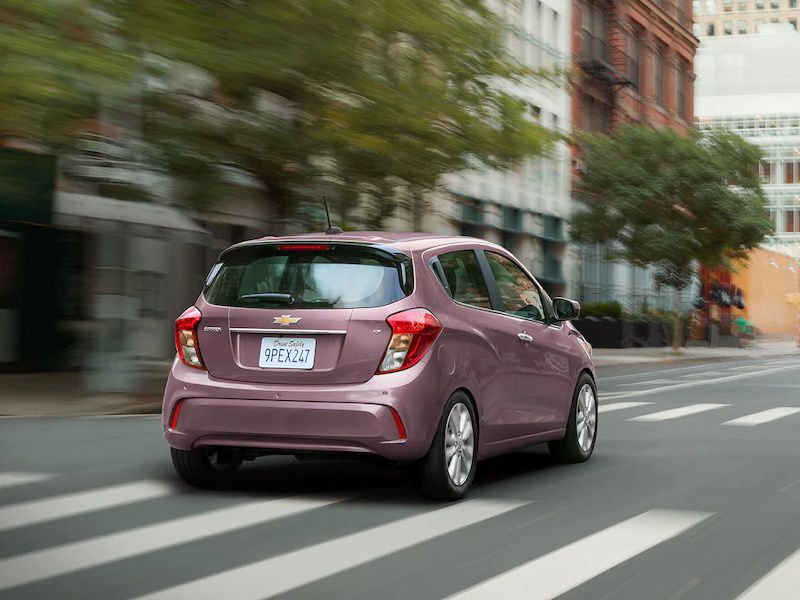 Photo by Chevrolet
Infotainment and Technology
One place the inexpensive Chevrolet Spark really shines is in its infotainment offering. Chevrolet infotainment systems have gained a positive reputation as being easy to use with large, clearly marked icons. Happily, the Spark is true to that tradition. It offers a standard 7-inch color touchscreen, which is quite a bit larger than one might expect given the car's low cost. Further, the system features standard Apple CarPlay and Android Auto compatibility, so when you're looking for an obscure downtown address the system can help you. Two USB ports and an auxiliary audio input jack are also standard. And the Spark has a built-in Wi-Fi hotspot with available 4G LTE data. The datalink has a 3 gigabyte or one-month free trial. Typically, connectivity is high on the priority list of urban-dwellers, and the Spark delivers.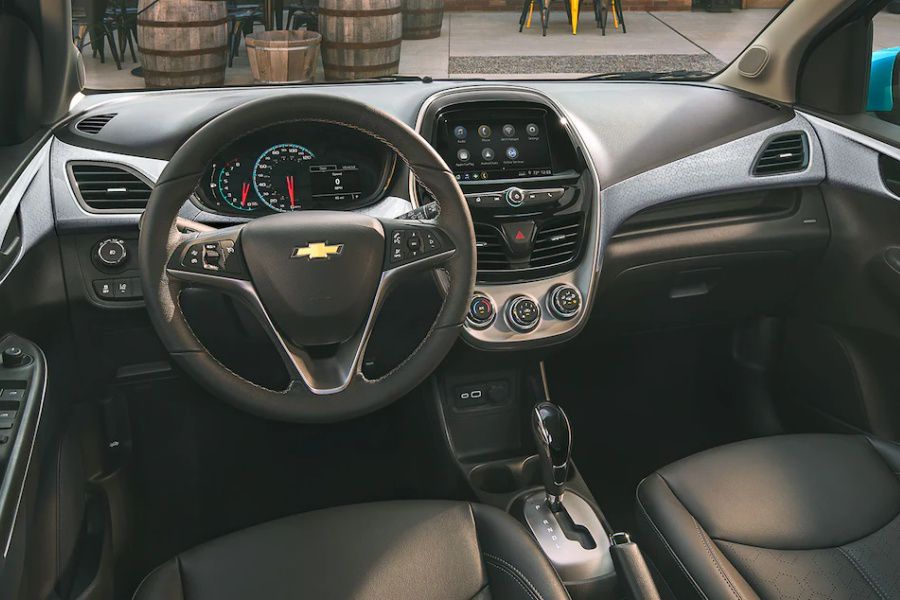 Photo by Chevrolet
Surprising Cargo Capacity
For its length, the 2021 Chevy Spark has impressive cargo-carrying ability. But you can only fit so much stuff into a vehicle that is less than 145 inches long. In comparison, the 2021 Kia Soul hatchback is 165 inches in length. The Chevrolet offers a maximum of 27.2 cubic feet of cargo space with the rear seats folded. The Mitsubishi Mirage offers almost twice that — 47.0 cubic feet. The aforementioned 2021 Kia Soul, which is significantly more expensive than the Spark, offers 62.1 cubic feet of total cargo area with the rear seats folded. With the rear seats in use, the Spark has 11.1 cubic feet of luggage space, while the Mirage has 17.1 cubic feet and the Soul has 24.2 cubic feet. A benefit to the Spark's compactness, however, is its light and easy-to-close liftgate.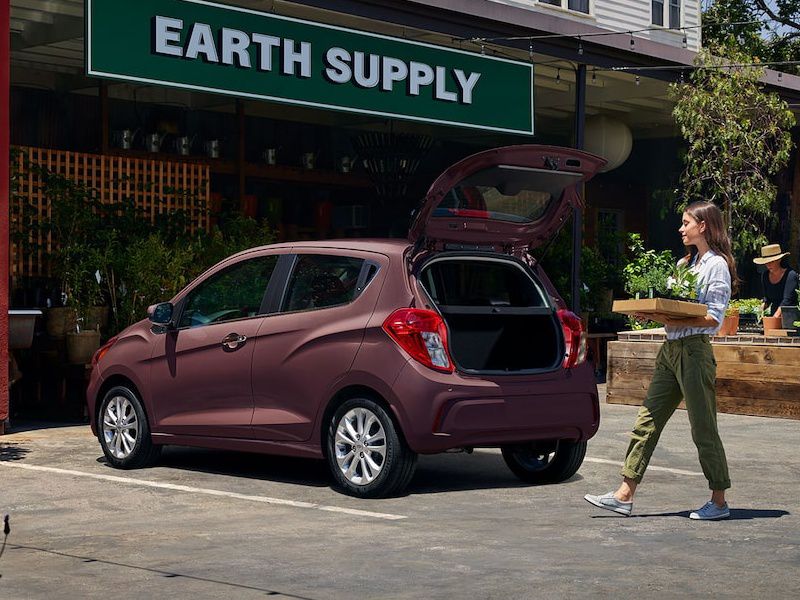 Photo by Chevrolet
Safety and Driver Aids
Since the Chevy Spark caters to budget-conscious shoppers, you might assume that it doesn't have a lot of the standard driver-assistance features found in pricier rides. The Spark does have 10 standard airbags, including frontal and knee airbags for the driver and front passenger. The hatchback also has seat-mounted side-impact and roof-rail-mounted head-curtain airbags for all outboard seating positions. The safety array includes Chevy's Passenger Sensing System, too. As required by law, a rear vision camera system is also standard. For those who want even more driver aids and safety equipment, a Driver Confidence package is available on the uplevel 2LT trim with CVT transmission. It includes forward collision alert, automatic emergency braking, and lane departure warning. Rear parking assist is standard on the 2LT trim as well.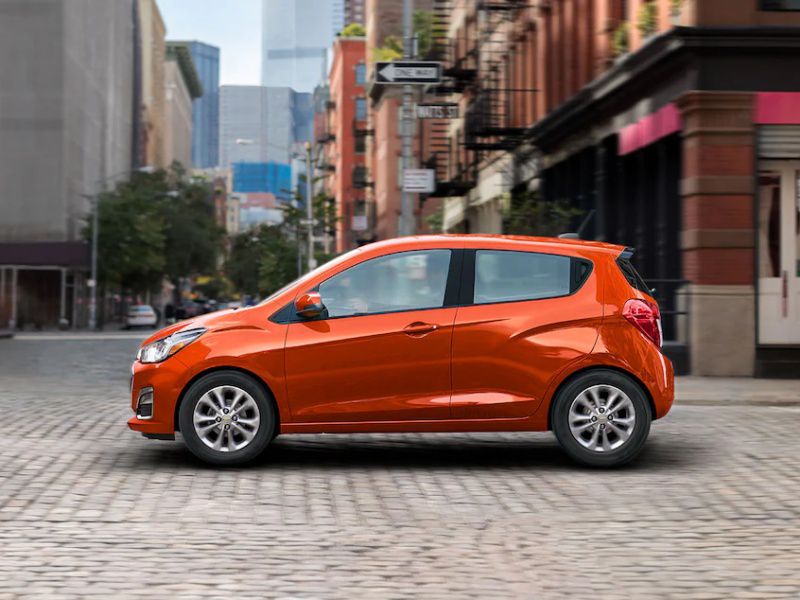 Photo by Chevrolet
Driving Impressions
The Chevy Spark is really in its element in the city. Its narrow width, short wheelbase, and short overall length make it extremely maneuverable for tight and busy streets. The dimensions of the Spark give it an advantage in tight (and limited) parking spaces. The Spark is one of few vehicles that still has rear drum brakes, but they work just fine in combination with its front disc brakes. Stops are sure and without drama. The Spark's acceleration is also a non-event. Certainly, the car cannot be labeled as fast, but it seems reasonably quick if you are in the right gear of the manual transmission. And the CVT is an alternative that offers good fuel economy without the weird engine droning that some continuously variable transmissions can lead to. The Spark isn't our first choice for a long-distance cruise, but once it's up to highway speed, the ride is fairly quiet and uneventful.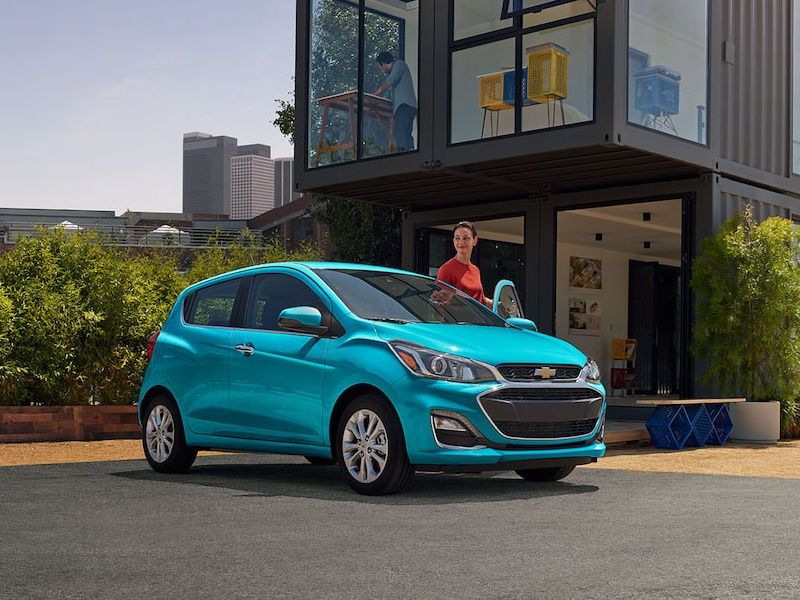 Photo by Chevrolet
Fuel Economy
Since the Chevrolet Spark is so small and it fitted with a fairly low-horsepower engine, you might think it would offer out-of-this-world fuel economy. But the reality is, the Spark's mileage is not stellar. According to U.S. government testing, a base Spark with manual transmission has an EPA rating of 29 mpg in the city, 38 mpg on the highway, and 33 mpg overall. Switching to the CVT doesn't change the numbers all that much — 30 mpg city/38 mpg highway/33 mpg overall. In comparison, the 3-cylinder Mitsubishi Mirage is EPA rated at 33 mpg city/41 mpg highway/36 mpg overall. The significantly larger and more powerful Kia Rio with a base price of about $17,000 has an EPA rating of 33 mpg city/41 mpg highway/36 mpg overall. The Rio also offers 120 horsepower.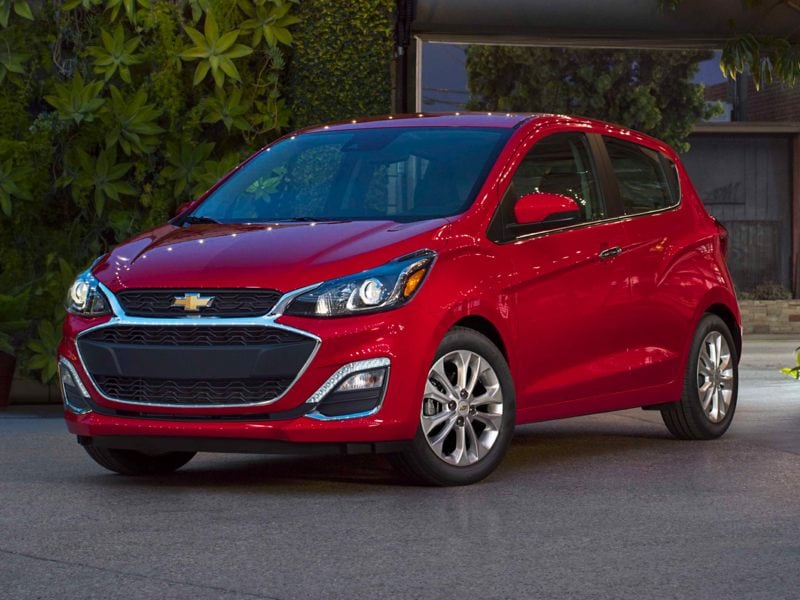 Photo by Chevrolet
Pricing and Value
If you are looking for an inexpensive new car or if you live in a city and value pracrticality over flashiness, the 2021 Chevrolet Spark could be a good choice for you. It has a low entry-level price, and you can opt for the ACTIV version that gives the car an SUV-like sensibility. It includes raised suspension, roof-mounted luggage rack, heated front seats, and what Chevrolet describes as a "rugged look." With a manual transmission, the Spark has an MSRP of $17,595 with the $995 destination charge included. The somewhat comparable Mitsubishi Mirage Carbonite Edition has a list price of $17,990 including a $995 destination fee. AIf you're willing to spend in the $18,000 range, however, the larger Kia Soul LX is a better choice. With an MSRP of $18,765 with a $1,175 destination included, it has a more powerful engine and significantly more interior and cargo space. That said, the 2021 Chevrolet Spark is a good choice for the budget-conscious, practical city-dweller.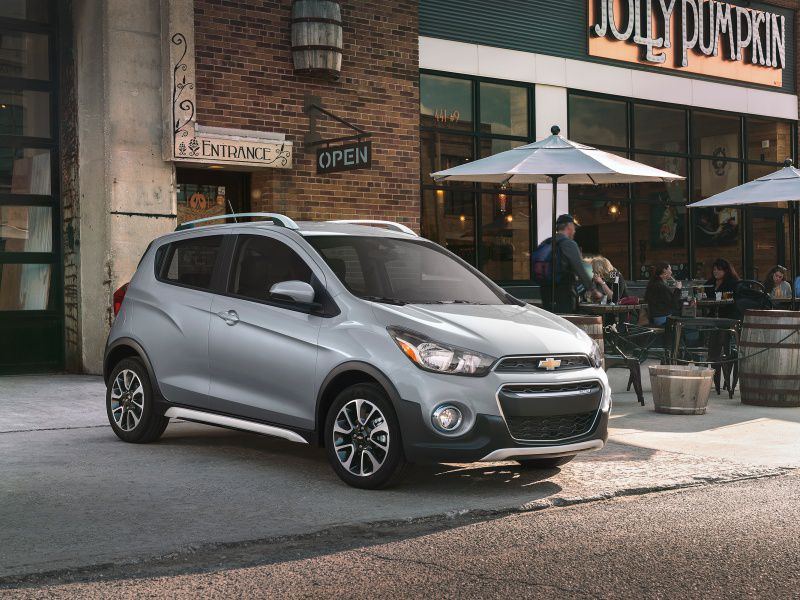 Photo by Chevrolet