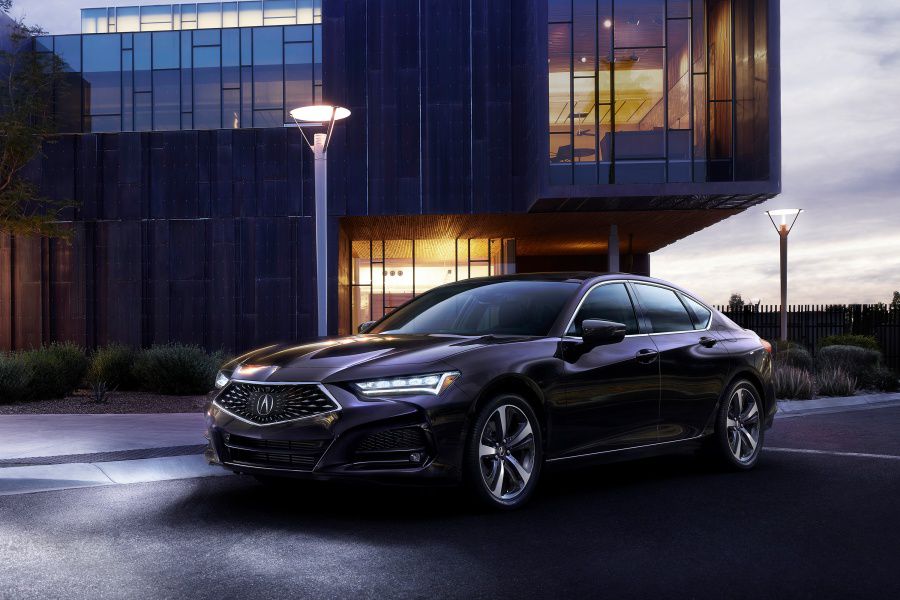 2021 Acura TLX Advance ・ Photo by Acura
Jon Ikeda is a sedan guy. Acura's VP and Brand Officer, the man intent on returning the company to its precision-crafted performance heritage, Ikeda likes cars. And he isn't alone. Though more and more consumers choose SUVs, Acura knows some people don't need or want the added utility and bulk associated with that type of vehicle. And it plans to attract that customer with the redesigned 2021 Acura TLX.
Purposely overlapping with both compact and mid-size competitors, the new 2021 TLX emphasizes design and performance. From its faithfully reproduced Acura Precision Concept lines and proportions to its dedicated Acura platform and improved dynamics, the new TLX is not a compromise in the way its predecessor was. Instead, this sports sedan is a fully-realized example of where Acura is heading in the future. And though it is not perfect (no car ever is), it reflects a passion for driving that has been missing from Acura sedans for quite some time. To learn more and sample the new TLX for ourselves, we headed to Malibu, California, for a day of driving on the kinds of roads for which this car is built.
2021 Acura TLX Price List
When you buy a 2021 Acura TLX, you'll stick with standard 2.0T equipment or upgrade with the Technology, A-Spec, or Advance option packages. Prices start at $38,525, including a destination charge of $1,025. In early 2021, a TLX Type S will join the lineup, adding even more power and capability.
With the Technology Package ($42,525), the TLX adds 19-inch wheels, parking sensors, leather, ambient cabin lighting, a navigation system, a premium sound system, an upgraded climate control system, and blind-spot and rear cross-traffic warning systems. The A-Spec Package ($45,275) has Shark Gray paint for the wheels, fog lights, sport appearance packages inside and out, simulated suede seat inserts, ventilated front seats, and a high-end 17-speaker audio system. For this review, we briefly drove a TLX A-Spec. Choose the Advance Package ($47,325) for a machined wheel finish, an adaptive damping suspension, remote engine starting, real wood trim, 16-way power sport seats, a heated steering wheel, heated rear seats, and a surround-view camera. The TLX Advance is the car we spent most of our time driving. Acura's Super Handling All-Wheel Drive (SH-AWD) adds $2,000 to each price above.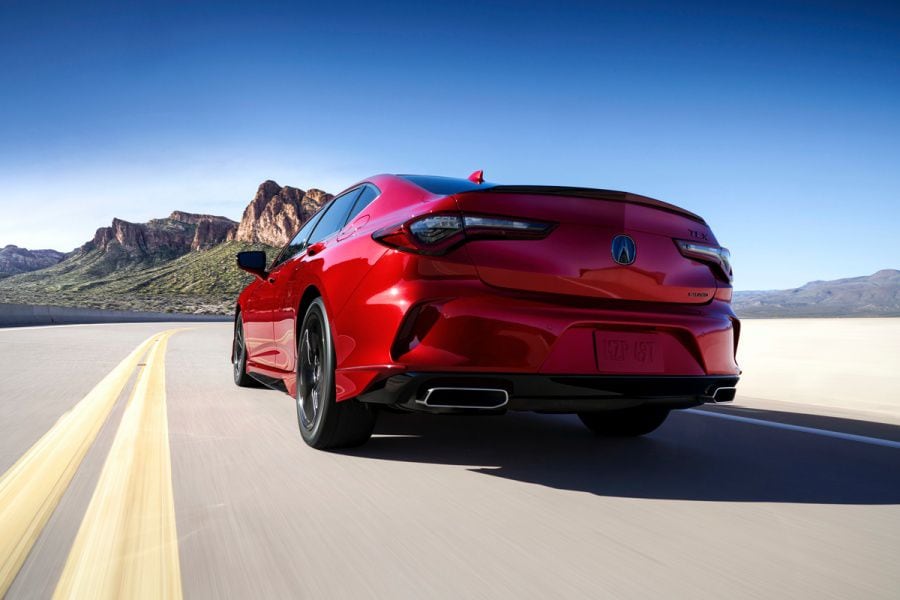 Photo by Acura
Form Does Not Follow Function
Despite its front-wheel-drive architecture, the 2021 Acura TLX boasts the dashboard-to-axle ratio of a rear-drive platform. With a dramatically tapered body, it's one of those rare designs that gets everything right. From the overall proportions to the small details, nothing looks out of place.
Inside, Acura takes interior design themes from its RDX SUV and applies them with lower and broader strokes. As is true of the exterior, style takes precedence over function, so while there is little in the way of practical storage for smaller items, the interior makes up for it with a palpable sense of drama. A-Spec versions use red-on-silver gauges that are hard to read, the hazard flasher button looks like an afterthought, and Acura's True Touchpad Interface approach can be a cause of consternation. But, despite its flaws, the 2021 TLX interior is better than the previous car's.
Photo by Acura
Need space? Acura as an SUV for that.
Equipped with 16-way power adjustment, wrapped in premium perforated leather, and featuring both heating and ventilation, the front seats in the Acura TLX Advance are mighty comfortable. Plus, from either front seating location, the car feels much larger than it is. And, with the Advance Package, the thick-rimmed, flat-bottomed, leather-wrapped steering wheel is also heated.
While the front seats are great places to spend time, the back seats are comparatively cramped, victims of the car's dramatic design. The legroom is tight, and occupants sit inboard, nestled in deeply sculpted seats that provide excellent support. Hard plastic front seatback trim does taller passengers no favors. Acura provides rear air conditioning vents (but no USB ports), and in the TLX Advance, the rear cushions are heated. Cargo room measures 13.5 cubic feet, a reduction compared to the previous car, which offered 14.3 cubes. With the new TLX, however, the trunk lid hinges are enclosed, so you can pack the trunk full without worrying that you'll crush something when using the lid's interior handle to swing it shut.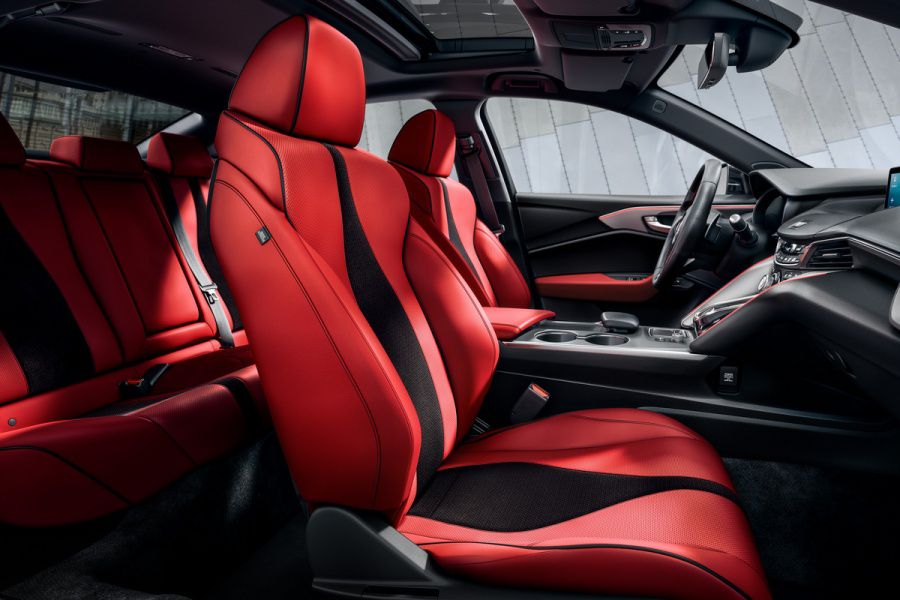 Photo by Acura
Infotainment Marked 'Do Not Touch'
In theory, using a touchscreen while driving is distracting. But so is using alternative solutions that require an equal amount of your attention or fail to work in the intended manner. That's the case with Acura's True Touchpad Interface infotainment system, which the company introduced in the 2019 RDX SUV just as Audi, BMW, Mercedes-Benz, and Lexus decided that touchscreens aren't so bad after all.
In the new TLX, the technology gets a next-generation operating system and a handful of improvements, including new stereo volume and tuning knobs alongside the touchpad control surface. Despite the changes, it takes some time to acclimate to this system's operation, and even then, it remains distracting. Alternatively, you can use the TLX's voice recognition technology to issue commands, and most of the time, I found success. The A-Spec and Advance trims have a 17-speaker ELS Studio 3-D audio system. Acura set it up to maximize sound quality, but even after changing everything to the factory defaults and switching to a Pandora stream through my phone, it sounded pretty terrific. The Advance also includes a head-up display, and it remains faintly visible even when wearing polarized sunglasses.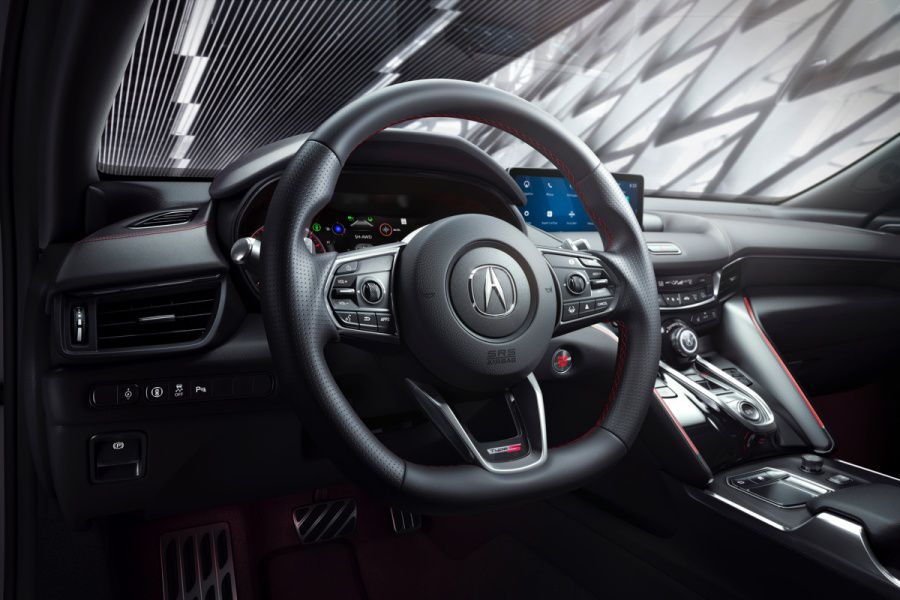 Photo by Acura
Upgraded Structure, Airbag Design, AcuraWatch Tech
Acura engineered the TLX to excel in crash tests, including the new frontal oblique assessment that the National Highway Traffic Safety Administration (NHTSA) is getting ready to roll out. From the addition of more high-strength steel to the car's Advanced Compatibility Engineering architecture to creating a new airbag design that reduces brain trauma during a collision, this car is built for safety.
AcuraWatch is standard, a collection of advanced driving assistance systems. New features debuting with the 2021 TLX include traffic jam assistance to ease stress during the daily commute, a driver monitoring system, and improved pedestrian detection capability. Upgrade to the Technology package, and the car comes with blind-spot and rear cross-traffic monitoring. With all AcuraWatch systems active on the freeway, the car's driver-assist technology behaves in a more refined and sophisticated manner than it did in the previous-generation TLX. However, there are still areas ripe for fine-tuning, especially concerning the lane-keeping system, which continually makes small but noticeable corrections that can irk drivers enough to switch them off.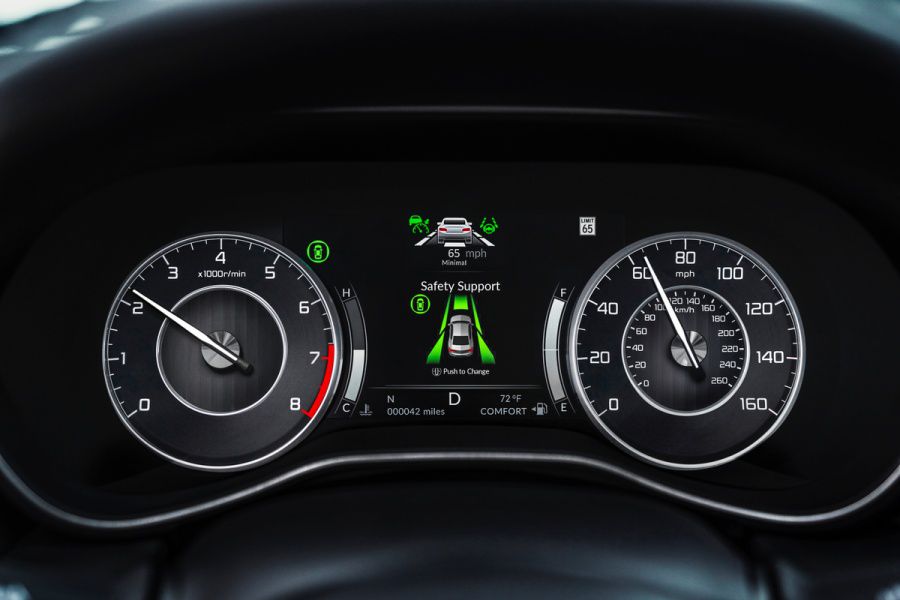 Photo by Acura
Turbocharging and Torque-Vectoring
Replacing both of the old TLX's four-cylinder and V6 engines, the 2021 TLX is equipped with a standard turbocharged 2.0-liter four-cylinder engine making 272 horsepower and 280 lb-ft of torque. That's less power but more torque than the previous model's optional V6 engine.
A 10-speed automatic transmission with paddle shifters sends the power to the car's front wheels, and Acura's Super Handling All-Wheel Drive (SH-AWD) is an option. With SH-AWD, up to 70 percent of the engine's power can go to the car's rear wheels, and when conditions require it, all 70 percent is delivered to a single rear wheel to produce a torque-vectoring effect. Drivers choose among Comfort, Normal, and Sport driving modes. A new Individual mode allows TLX owners to mix and match settings to their personal preferences. Overall, this is an entertaining drivetrain. When manually shifting, it would be nice if the transmission matched revs, but otherwise, there is plenty of power. My fuel economy average during testing was 21.4 mpg, coming in well below the EPA rating of 24 mpg in combined driving.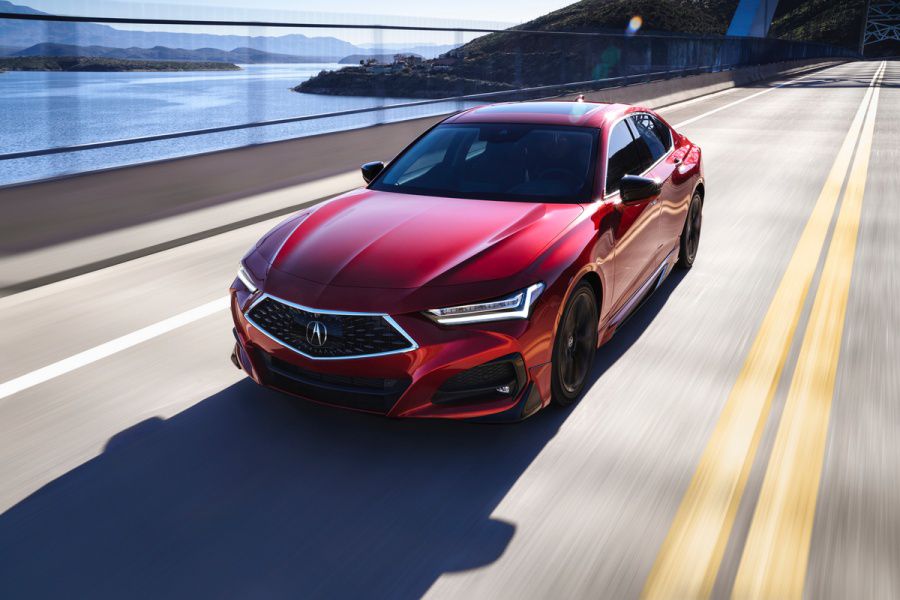 Photo by Acura
Effortless Sports Sedan Handling
In terms of ride and handling, the main difference between the TLX Advance and other models is its adaptive damping suspension. It provides a smooth and controlled ride, soft with the car in Comfort mode and firm when you've chosen Sport mode.
Comparatively, the A-Spec felt too stiff and busy when driving on imperfect pavement in the city. But on twisty mountain roads, I preferred the A-Spec, which felt more natural and less artificial. Either way, handling impresses thanks to SH-AWD and standard Agile Handling Assist, which applies subtle braking pressure to a front wheel to tuck the car's nose tighter into a curve. Weight distribution improves with the new TLX, but the car has gained some weight. Also, Acura installs all-season tires on this car, and they start to give up their grip well before the car loses any composure.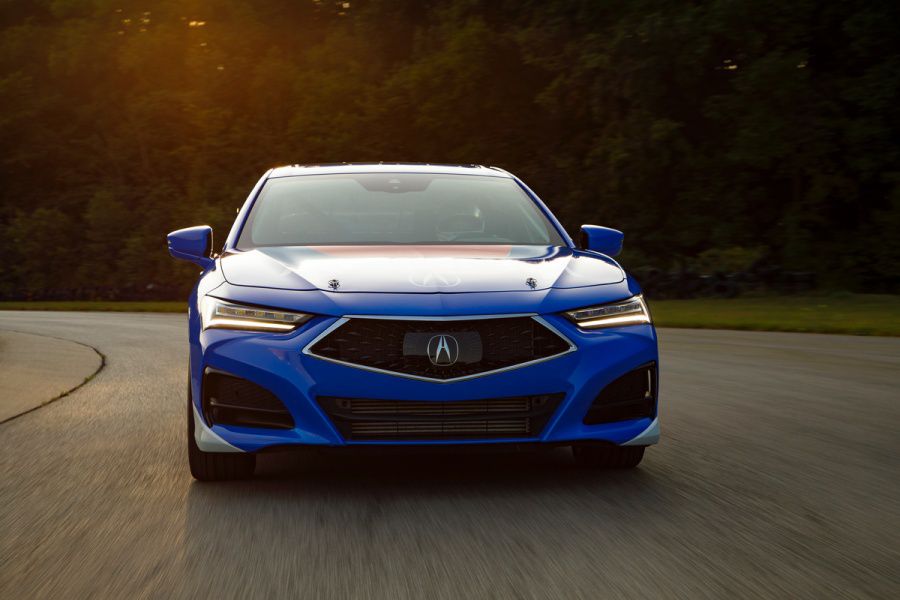 Photo by Acura
Long List of Compact and Mid-Size Competitors
As was true of the previous-generation TLX, this new car is parked in a sweet spot between traditional compact and mid-size sport-luxury sedans. As such, the 2021 Acura TLX competes with everything from the Alfa Romeo Giulia to the Volvo S60, priced in line with the smaller models but feeling more like the bigger ones from the front seats.
When the 2021 Acura TLX Type S arrives just in time for spring, it will pack more power, more capability, and more presence. Expect a base price of at least $55,000, if not more. But that will still represent a bargain compared to some competitors like the BMW M340i, which quickly closes in on $70,000 with all of the extras.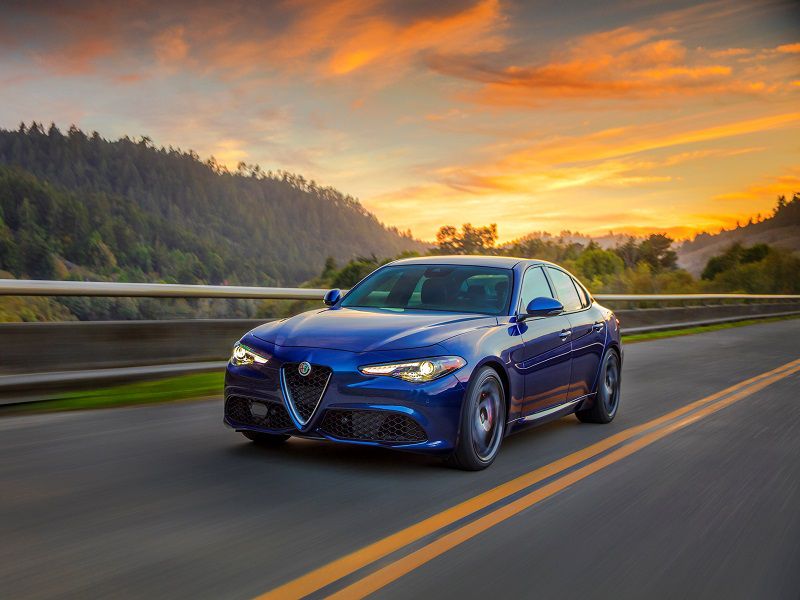 Photo by Fiat Chrysler Automobiles
Acura Again Focuses on Being Acura
Until 2015, when Jon Ikeda took the reins at Honda's luxury brand, Acura lacked focus. Now, it is clear that Acura is intent on providing its customers with alluring design, enthralling dynamics, unassailable quality, and undeniable value in the four most popular luxury segments in America — plus the flagship NSX sports car, of course.
To date, the RDX compact crossover suv has embodied Acura's ongoing transformation. Now, the TLX gets its turn. Next up, and soon, is the 2021 MDX three-row crossover followed by an all-new ILX small sedan. No doubt, the four core cars and SUVs will all have the True Touchpad Interface. But otherwise, Acura will be back on course and delivering the precision-crafted performance for which it was known 30 years ago. It's about time.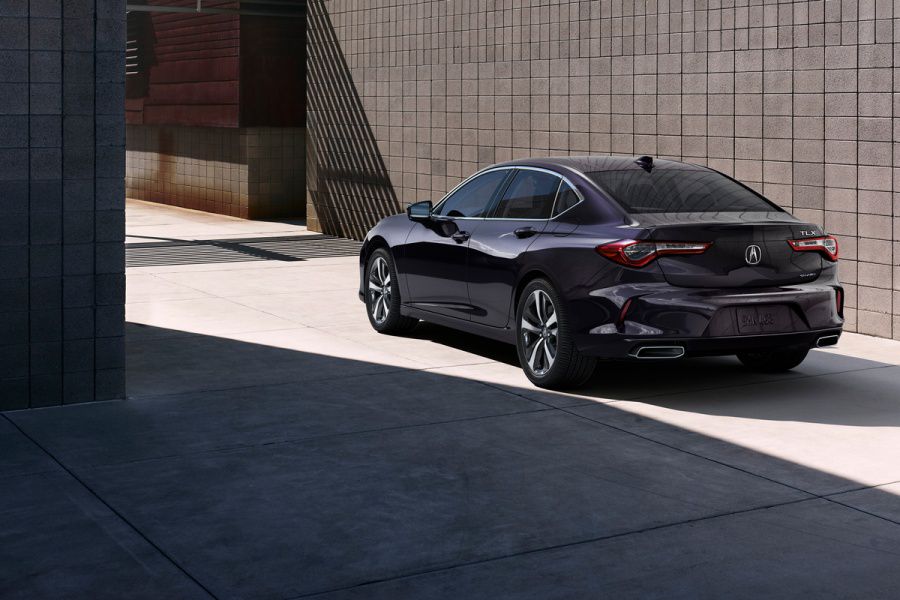 Photo by Acura