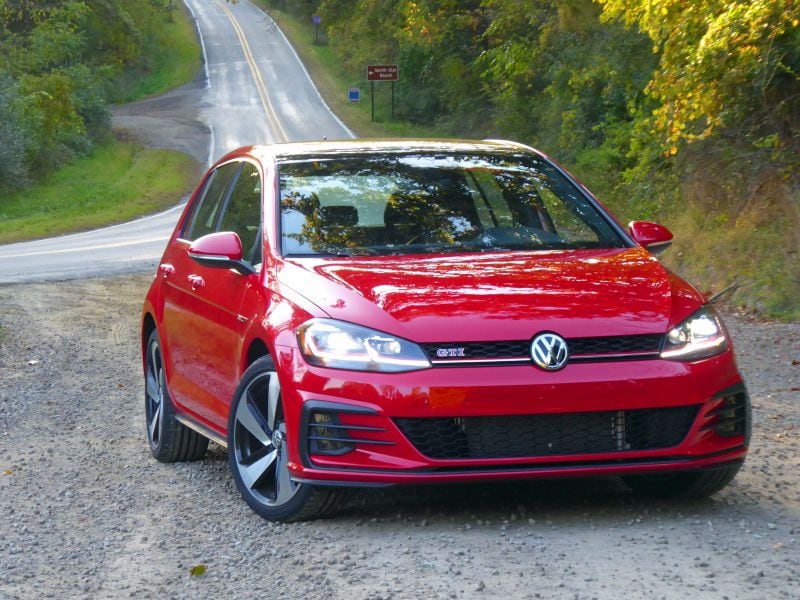 2020 Volkswagen Golf GTI ・ Photo by Ron Sessions
When Volkswagen's unassuming hot hatch first broke cover nearly 40 years ago as the Rabbit GTI, who knew that the 90-horsepower nine-second 0-60-capable front-drive small car would develop such a lasting legacy? Fast forward to 2020, the renamed Golf GTI now is in its seventh generation, pumping 228 enthusiastic horsepower. The GTI inspired a vibrant class of fast-and-fun hatchbacks and small sedans that have included the Honda Civic Si, Honda Civic Type R, Subaru WRX, and Hyundai Veloster N, just to name a few. The Volkswagen Golf GTI has become the hot-hatch class standard.
For 2020, the Volkswagen GTI model lineup includes the $28,595 base S, the $32,195 midlevel SE, and the $36,495 range-topping Autobahn. Destination charges add $920. A dual-clutch automatic is an $800 upcharge over the base manual transmission. All models are equipped exclusively with front-wheel drive.
Original Hot Hatch
Call it a compact urban runabout with attitude, the Volkswagen Golf GTI successfully blends small-car practicality with sport sedan performance. The key is its trim size, measuring just 168 inches nose to tail, which combines with its hot-hatch personality to make it the equal of many other performance sedans costing twice as much.
The Golf GTI is just as suitable for a Costco run as it is dicing with a BMW 3 Series on a challenging back road. The five-door hatchback is easy to park and maneuver in tight city spaces and its low-key exterior doesn't attract unwanted attention. Its square, upright shape means plenty of space for passengers and cargo inside a small, unobtrusive footprint. A generous glass area delivers good sightlines to all quarters.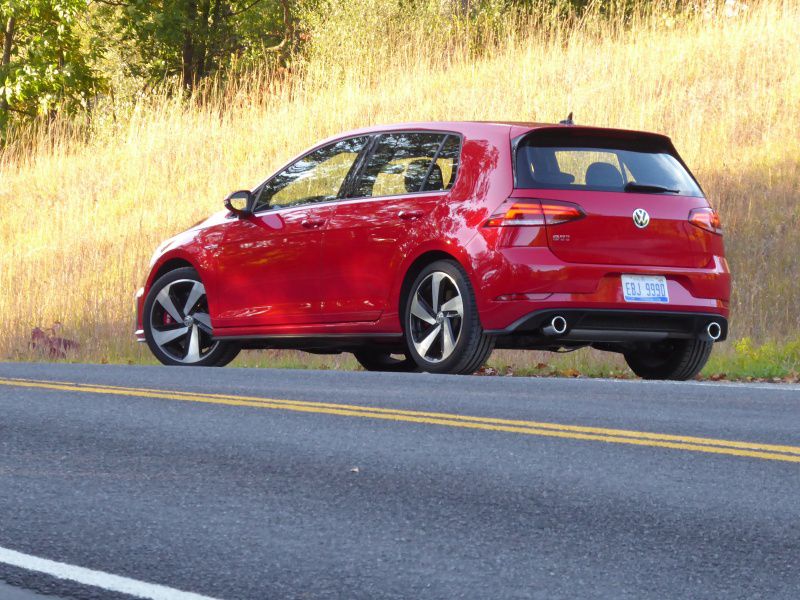 Photo by Ron Sessions
Turbolicious
All GTI trims are powered by a direct-injected, 2.0-liter four-cylinder turbo engine rated at 228 horsepower and 258 lb-ft of torque running on premium unleaded fuel. The engine can also be fueled with regular unleaded, but power output is slightly diminished.
This is a sweet engine that reaches peak torque at just 1,500 rpm. When cruising, its broad torque band means one doesn't have to downshift to accelerate to merge or pass — just squeeze on the right pedal a little harder. The GTI is as satisfying to drive in town as it is on a winding back road. The engine emits an authoritative but not overbearing engine intake sound at wider throttle openings as you rev the engine up through the gears. Idle quality is creamy as well. An automatic-equipped GTI can hit 60 mph in just under 6 seconds, with manual-transmission versions accomplishing the same in another tenth or two. EPA fuel economy estimates are 24 mpg city/32 mpg highway/27 mpg combined with either transmission. I managed 29 mpg over 160 miles during a week behind the wheel of a six-speed manual GTI driving on a mix of twisty two-lane back roads and interstates.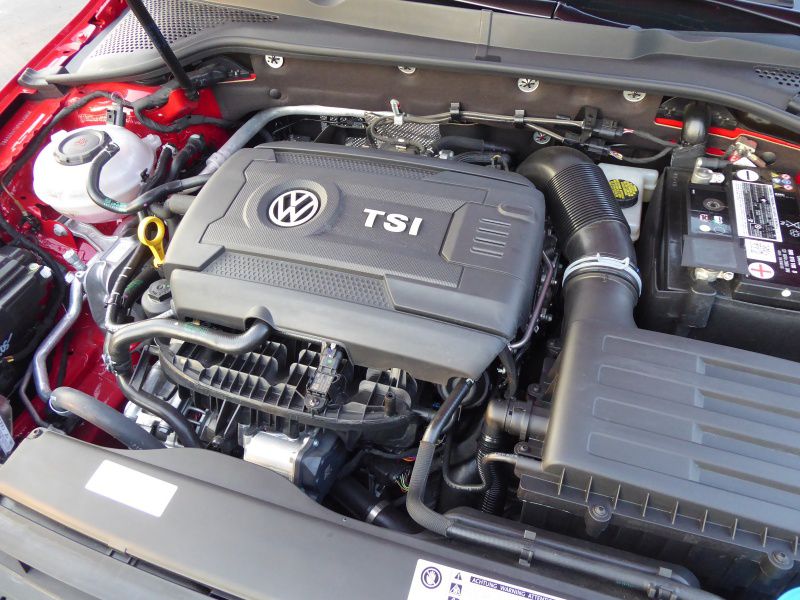 Photo by Ron Sessions
Stick Shiftiness
Manual transmissions are rapidly disappearing in today's cars. The GTI's standard six-speed shift-it-yourself gearbox is one of the great ones, operated via a buttery smooth, precise short-throw shifter with well-defined gates. A dimpled golf-ball pattern on the shifter (appropriate for a VW Golf) adds a bit of whimsy. Clutch action is velvety too, with smooth, progressive takeup. It makes friends easily.
Although the optional seven-speed dual-clutch automatic will deliver slightly faster acceleration times, the six-speed manual makes the GTI driving experience more engaging. That said, the GTI's available dual-clutch automatic reels off quick, seamless shifts that keep the turbo four-cylinder in the thick of its torque curve. Steering-wheel shift paddles make manually selected upshifts and downshifts just a thumb flick away for performance or mountain driving, or you can just select the drive mode you want with the console switch and let the well-programmed DCT pick the ratios for you. A standard hill-hold system works well to prevent drifting back on steep inclines.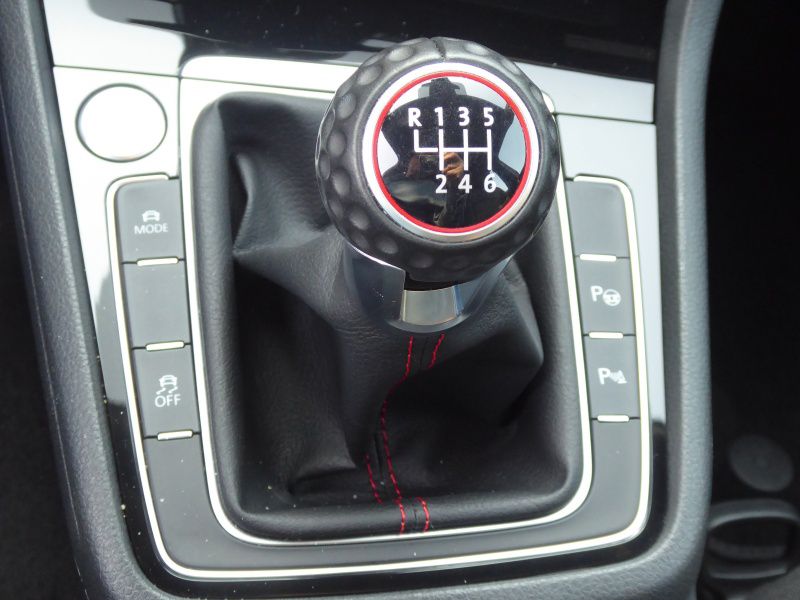 Photo by Ron Sessions
Gimmic-Free Cabin
The GTI is nicely finished inside. It's not fancy or over the top, but it has durable-goods quality materials throughout. A leather-wrapped steering wheel is standard as are paddle shifters on models with automatic transmission. VW's innovative digital cockpit as found in the Jetta is not available, but the driver-centric dash features classy white-on-black analog gauges and first-rate switchgear.
S and SE models get a manually adjustable driver's seat with manual lumbar adjustment and power recline, while the Autobahn upgrades to a full power driver's seat. Nifty Clark Plaid cloth seats are available only in the base S model, with the SE and Autobahn upgrading to leather hides and red accent stitching. The front sport buckets are super-supportive and well-bolstered, as comfortable as they are good-looking. The cabin is spacious up front with plenty of spread-out room. I had to move the seat up to operate the clutch pedal and I'm 6 feet 2 inches tall with long legs. There's ample headroom as well, even with the factory sunroof. All models get rain-sensing wipers, heated front seats, and basic cruise control, plus neat red ambient accent lighting. The SE and Autobahn add KESSY keyless entry and push-button start and a panoramic sunroof. The Autobahn gains dual-zone climate control.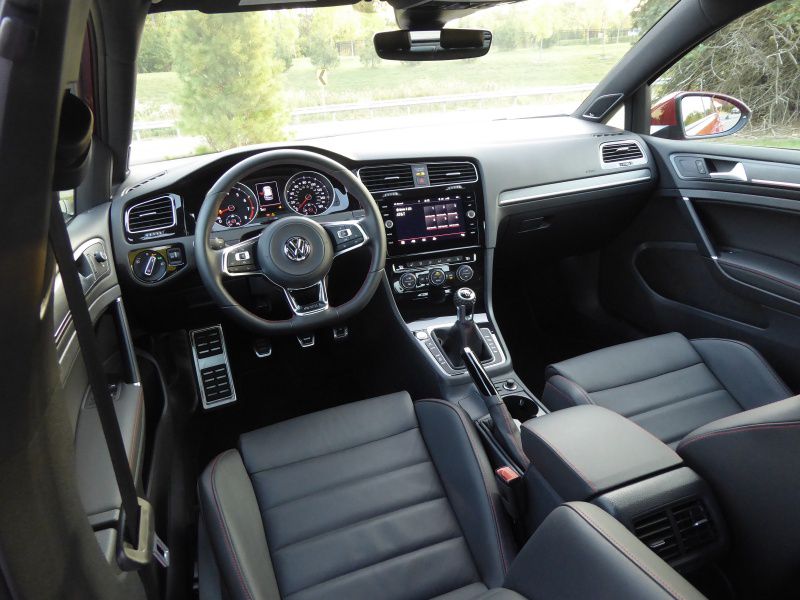 Photo by Ron Sessions
MIB2 Infotainment
A six-speaker AM/FM stereo with a 6.5-inch color touchscreen is standard, with the SE upgrading to an AM/FM/CD unit with HD radio, SiriusXM, and an 8-inch touchscreen. The Autobahn adds an embedded navigation with sharp detail plus an eight-speaker Fender stereo with a subwoofer and a rich, well-articulated sound.
The touchscreen's large tiles are easy to see and tap while driving. It's flanked by virtual shortcut buttons for radio, media, voice, phone, navigation, apps, vehicle and the ever-important home menu, plus analog knobs for volume and tuning. The system can also be accessed via steering-wheel controls and voice commands. All GTIs come with standard Apple CarPlay and Android Auto cellphone mirroring courtesy of VW's App-Connect, enabling users to run smartphone apps on the center touchscreen. However, just one USB port in the center console means when using Apple CarPlay or Android Auto for media or maps, no one else can charge their mobile device. VW's standard Car-Net includes remote access via phone for locking/unlocking doors, remote engine starting, flashing lights, and honking the horn, speed and distance alerts when someone else is driving the car, parking info, and more for five years. There's also in-car Wi-Fi linkable to an existing data plan.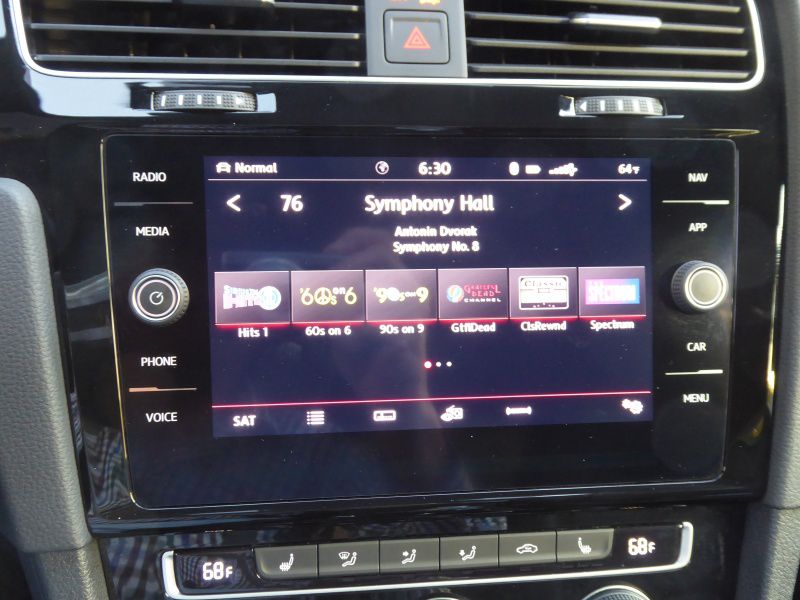 Photo by Ron Sessions
Visibility and Safety
For 2020, Volkswagen makes automatic emergency forward braking, a blind-spot monitor and rear cross-traffic alert standard on all GTI trims. This is in addition to a backup camera (not a 360-degree overhead view), six airbags, tire-pressure monitoring, an automatic post-collision braking system, and an intelligent crash response system.
Autobahn models add adaptive cruise control, automatic high beams, a lane-keeping system, parking sensors, and a parking steering assistant. Overall, the Golf GTI's generous glass area results in good outward visibility to the front, sides, and rear. Thin windshield pillars, added front quarter windows, and free-standing door-mounted side mirrors help reduce cross-car blind spots.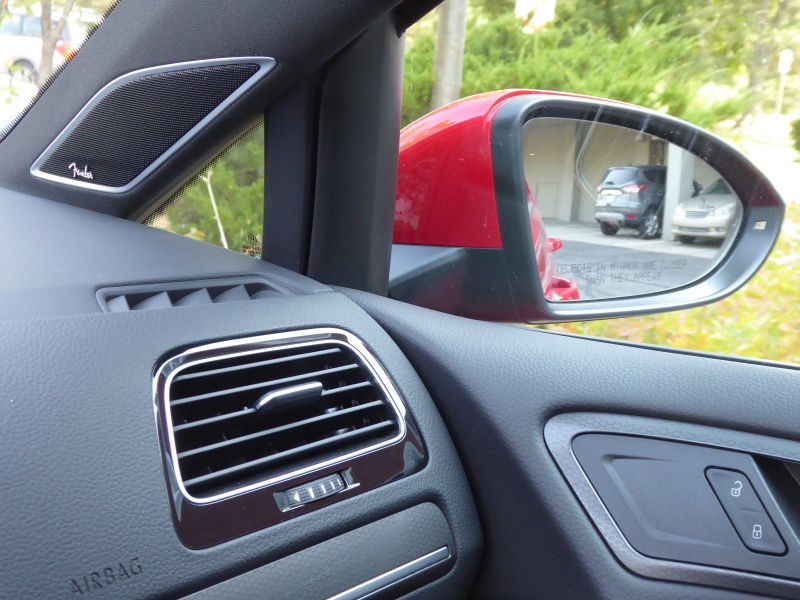 Photo by Ron Sessions
Take Your Seats
The Golf GTI easily accommodates a pair of six footers in the aft section. And you're not sitting low with your knees in the air. The middle seat lacks legroom, however, as the floor tunnel and front-seat center console steal foot space.
The GTI's relatively tall roof and boxy shape make for plenty of headroom. There's a pass-through door for skis in the middle under the fold-down armrest.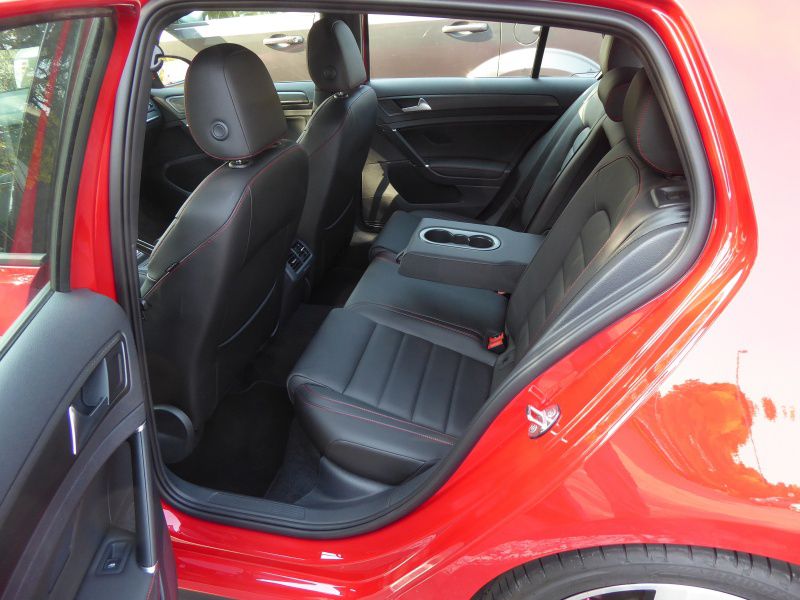 Photo by Ron Sessions
SUV-Like Cargo Hold
The Golf GTI's squared-off roof and upright flanks enable it with cargo space akin to that of small crossover SUVs such as the Hyundai Kona, Chevrolet Trax, Honda HR-V and Nissan Rogue Sport. Its 22.8 cubic feet of trunk space (floor-to-roof) behind the back seat tops that of any full-size sedan and the Golf's 52.7 cu ft of space with the 60/40 split rear seat folded offers a nearly flat floor and yawning room for skis, ladders, bicycles, big-screen TV boxes and more.
The cargo floor height can be adjusted in two positions for handling bulky cargo or increasing concealed underfloor space around the spare tire for small valuables such as a camera, purse, tablet and so on. A neat detail is the way the cargo lift back door is raised. You simply push on the rear VW emblem and it pivots out, doubling as a lift back door handle.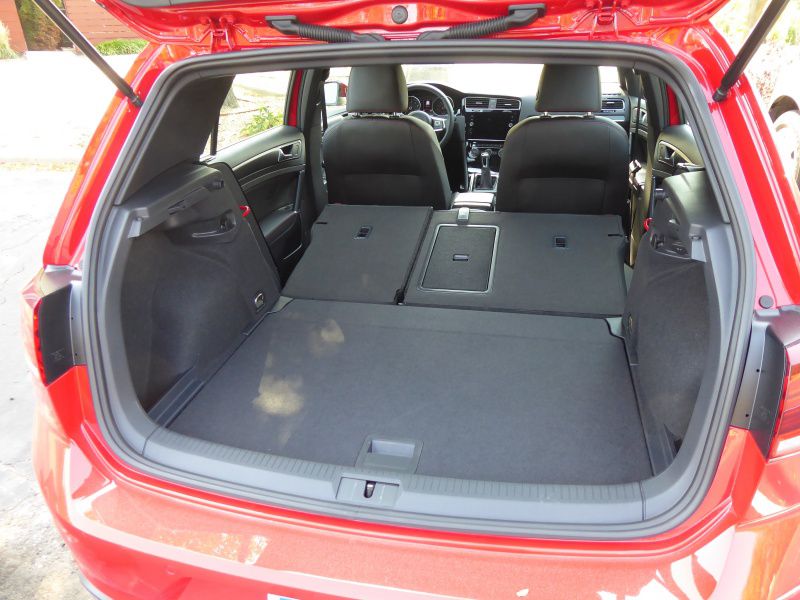 Photo by Ron Sessions
Getting a Grip
The Volkswagen GTI doesn't shout out its performance cred. Rather, it wins you over with each passing mile behind the wheel. Regardless of the 0.6-inch-lowered sport-tuned chassis (compared with the standard Golf), the GTI's ride quality is firm but remarkably pliant. Even with the conventional high-pressure gas shock absorbers in the base S and midlevel SE grades, vertical body motions are damped without making the car feel oversprung or jouncey. The Autobahn model's adaptive shocks take wheel control to the next level by individually adjusting the damping of each shock individually in real-time, based on road surfaces and driving conditions. Upsized anti-roll bars tame body roll in hard corners without annoying side-to-side head toss.
Calm and composed at speed and stable on the freeway, the GTI's nicely weighted variable-boost electro-mechanical steering dives into corners with enthusiasm. The standard VAQ limited-slip front differential scrabbles seamlessly for traction, reducing the effects of torque steer. Powerful four-wheel vented discs inspired by the Golf R model make the GTI feel autobahn-ready with good top-of-pedal response and fade-free performance. 225/40R18 all-season rubber is standard on all trims with grippier summer performance tires a no-cost option on Autobahn models.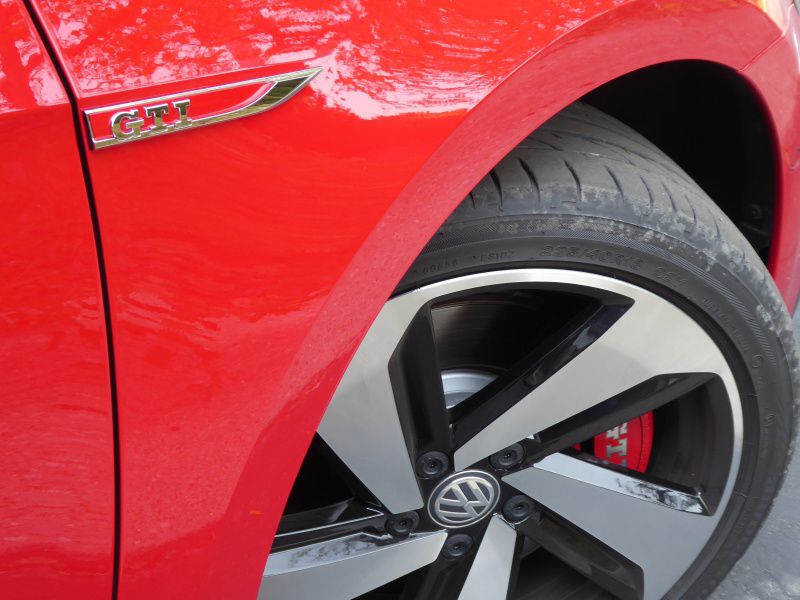 Photo by Ron Sessions
The Complete Package
The Volkswagen GTI, the original hot hatch, is the one to beat. It's a well-rounded performance car with good bang for the buck. Yet it's a great urban car that's easy to maneuver and park with plenty of room for passengers and cargo alike. It's value-priced in base S trim, or capable of challenging sport sedan standards such as the BMW 3 Series in range-topping Autobahn trim. The midlevel SE model, however, is a particularly compelling value, if you can do without the fancy adaptive shocks, Fender stereo, navigation system, and added driver-assistive features.
Warranty coverage is four years or 50,000 miles bumper to bumper, including the powertrain. That's down from the six years or 72,000 miles of previous years when VW was digging itself out from under the diesel emissions scandal, but that's still competitive with most other car companies, especially given that the coverage is transferrable to the next owners within that time period. The GTI also comes with two years of free routine maintenance coverage. Sitting on the fence? The 2021 VW GTI will get an upgraded MIB3 infotainment system. Expect an all-new eighth-generation Golf GTI for the 2022 model year in the U.S. But why wait?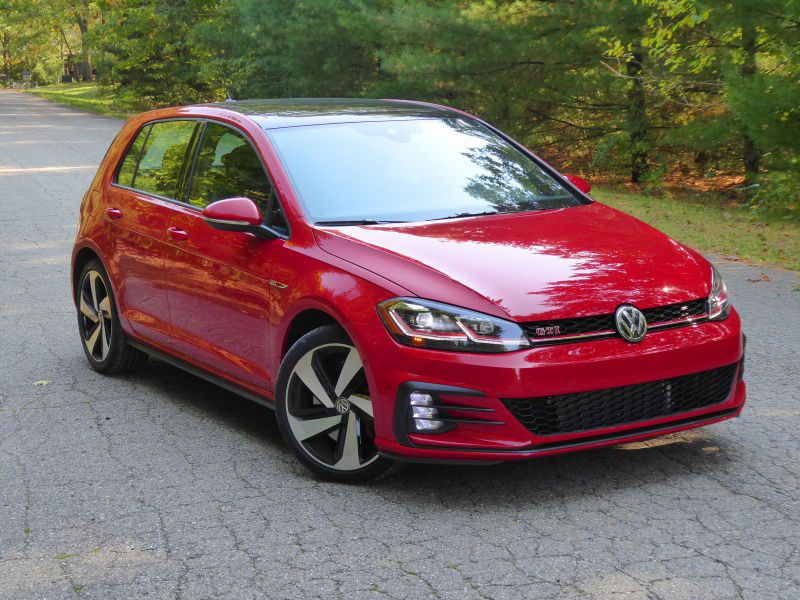 Photo by Ron Sessions