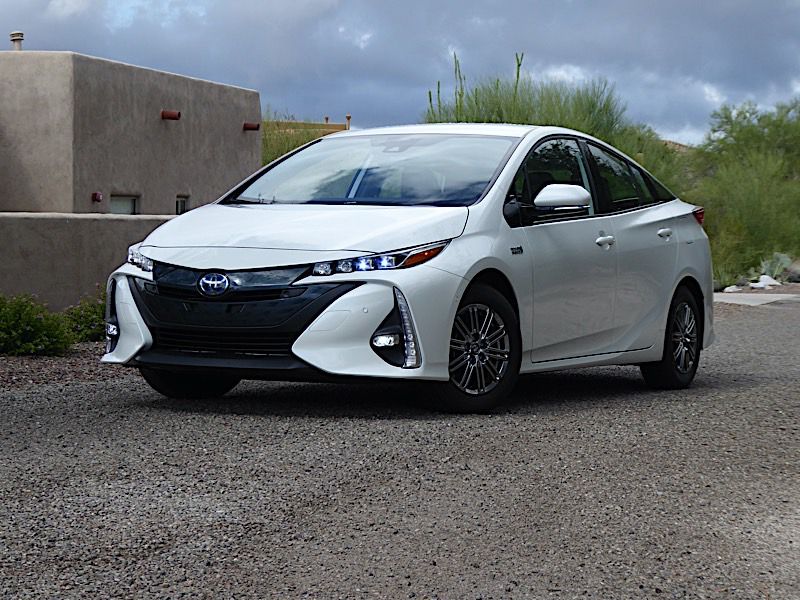 20priusprimefrontbeauty1sessions ・ Photo by Ron Sessions
In case you just started shopping and haven't kept tabs on the Toyota Prius, the Prime is not an Amazon product but a special plug-in version of the Prius hybrid. Its larger lithium-ion battery enables it to run on electricity alone in EV mode for the first 25 miles. After that, the Prime works much like the regular-issue Prius, combining the output of a small gas engine and electric motor to stretch 11.3 gallons of regular unleaded to deliver a real-world driving range of 640 miles. Compare that to similarly priced EVs that at best can travel just over 200 miles before having to pit for electrons. There is one caveat, however. You must plug the Prime into the grid and top off the battery to get the 25 electric-only miles.
The 2020 Toyota Prius Prime is available in three trim levels. Including the $955 destination charge, these consist of the $28,705 base LE, $30,605 midlevel XLE, and $34,605 range-topping Limited. The Prius Prime is also eligible for a federal tax credit of up to $4,500.
Prime Design
The Prime has different styling and features than the standard Prius liftback. It measures nearly 3 inches longer front to back, helping to make room under the cargo floor for a larger 8.8-kWh hybrid battery. With a look inspired by the Toyota Mirai fuel-cell car, the Prius Prime features large daytime running lamp-cradling side scoops, a blacked-out front fascia, and an almost insect-like bank of eight LED headlamps.
At the rear, the Prime sports a composite wave-form hatch and horizontal LED taillight signature. The Prime's rear glass dips down in the middle to form a concave shape that enhances both aerodynamics and rearward visibility.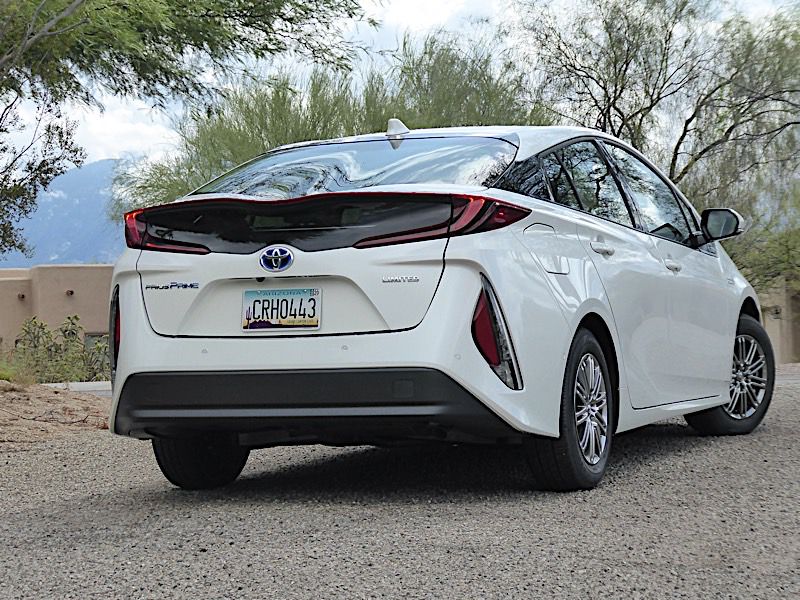 Photo by Ron Sessions
Underhood
The big draw for the Prime is its EPA-estimated 133 MPGe fuel-economy rating, which takes into consideration the 25 miles of all-electric driving with every tankful of gas. So theoretically, a Prius Prime driver can be an infrequent visitor to gas stations if one's regimen typically consists of short (under 25-mile) hops followed by convenient home-recharging sessions. With a regular household 120-volt outlet, recharging will take about 5.5 hours, or with a 240-volt outlet similar to the one for your home's clothes dryer or stove, topping off the 8.8-kWh lithium-ion battery can be accomplished in just over two hours.
The beauty of the Prime or any plug-in hybrid is the freedom from range anxiety. After running on electrons for the first 25 miles on a full charge, the Prime's 121-hp 1.8-liter four-cylinder gas engine and motor-generator automatically kick in to keep the hybrid battery charged. The Prime's EPA estimated fuel economy is 55 mpg city/53 mpg highway/54 mpg combined. I managed an indicated 52 mpg over a week of mostly around-town driving.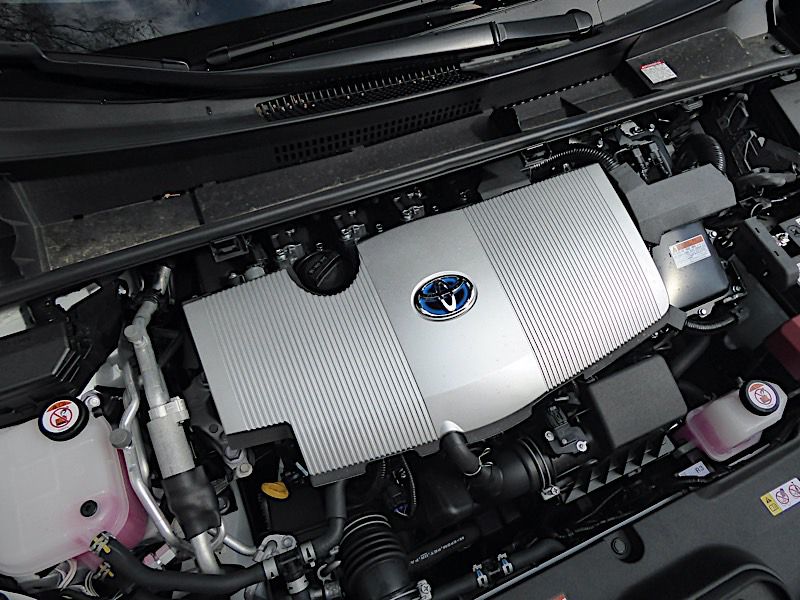 Photo by Ron Sessions
Front and Center Dash
Now into its fourth model year, the 2020 Prius Prime's interior still looks futuristic with a sweeping wraparound dashboard that blends seamlessly into the front doors. A driver-customizable color screen in a center-mounted visor-like binnacle atop the dash houses the hybrid system power meter, fuel-economy meter, EV/hybrid mode indicator, drive mode indicator, speedometer, fuel gauge, exterior temperature readout, clock, and an assortment of vehicle status, telltales, and warning lamps. Below that, also centered in the dash, is the infotainment screen flanked by shortcut buttons for some frequently accessed climate-control and audio system functions as well as the pushbutton start/stop button. New piano-black trim for 2020 replaces gloss white for interior pieces on the steering wheel and dash.
The relatively cushy front buckets are manually operated and cloth-covered in LE models and heated, power-operated, lumbar-adjustable, and faux-leather-trimmed in XLE and Limited trims. All trims share a faux leather tilt/telescoping steering wheel as well as power mirrors, door locks, and auto up/down windows. A console-mounted Qi-compatible wireless device charger is standard in the XLE and Limited.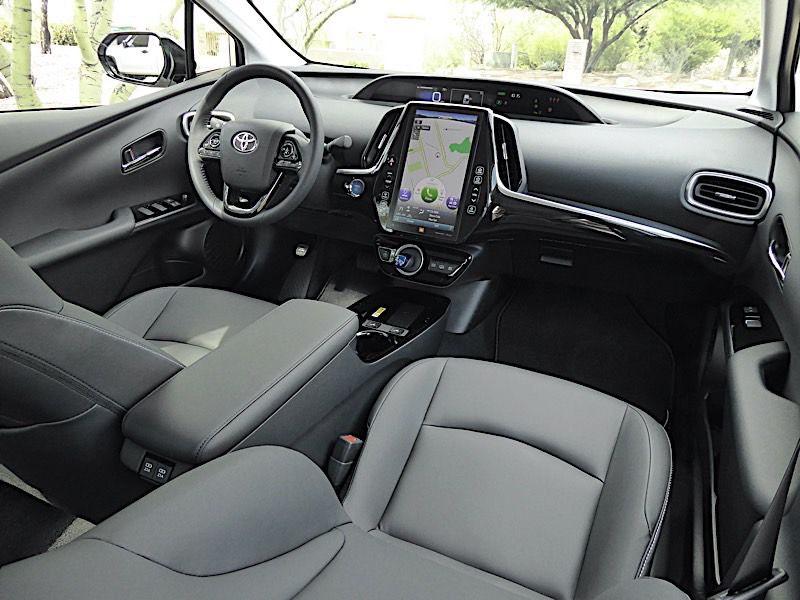 Photo by Ron Sessions
Joystick Shifter
Unlike the conventional fore-aft "PRNDL" automatic shifters used for decades, or the push-button shifters used in electric cars and some gas-powered ones, the Prius Prime has a joystick shifter. It sprouts out of the lower part of the dash with Reverse, Neutral, and Drive ranges selectable from the left side of the gate and a "B" setting that increases battery regeneration during deceleration; it's available only after first choosing Neutral. A dedicated Park button to the left of the joystick and a foot-operated parking brake keep the car from rolling away. The joystick shifter takes a few moments to get used to, but operates seamlessly once mastered.
To the right of the joystick are the drive mode selector buttons, including one to cycle between hybrid and EV modes and another for EV automatic mode.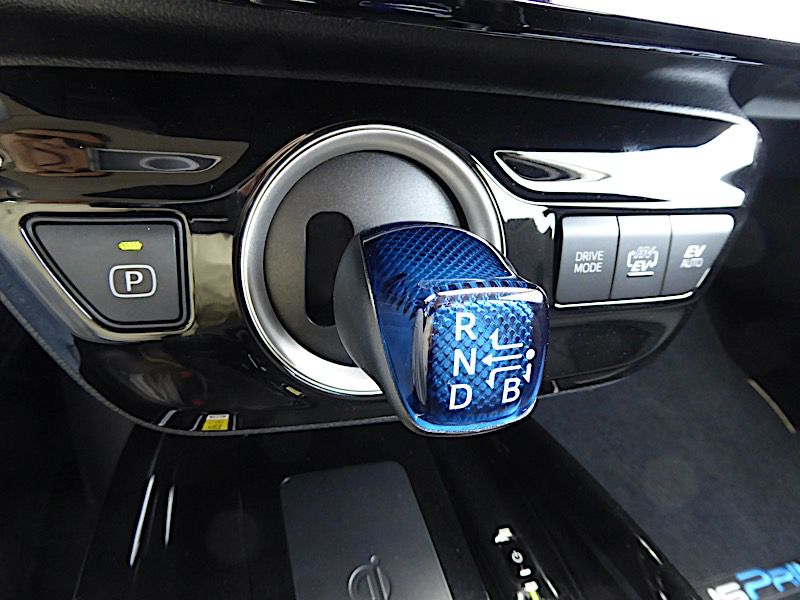 Photo by Ron Sessions
Big Screen
Tesla may still be the 800-pound gorilla with its gigantic 17-inch infotainment screen in the Model S, and certainly more large screens are on the way from other carmakers. But the Prius Prime's 11.6-inch portrait-format vertical touchscreen (except in the base Prime LE, which makes do with a 7-inch unit) for audio, navigation, climate control, and app management really sets the standard for popularly priced hybrids. The Prime's HD display dominates most of the available dash space in the center of the car.
Standard infotainment features on the LE include Apple CarPlay (but not Android Auto) cellphone mirroring, in-car Wi-Fi by Verizon, and a six-speaker AM/FM/CD stereo with SiriusXM, Siri Eyes Free, Amazon Alexa compatibility, and a phone-based Scout GPS navigation app. The XLE and Limited models bring the large touchscreen with embedded navigation, plus HD radio with traffic and weather. The Limited also gets a 10-speaker JBL premium audio system, along with a color head-up display with navigation, speedometer, battery charge, hybrid system status, and safety system alerts.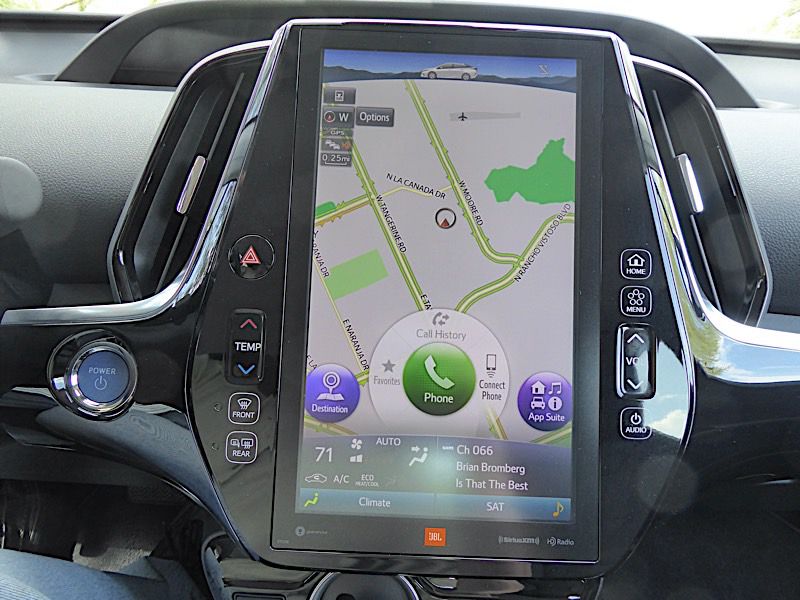 Photo by Ron Sessions
Sun Advisory
New for 2020 are slide-out extensions for the sun visors.
When pivoted out to the front side windows, the visor extensions can help cover more of the glass area, blocking blinding sun glare — and maybe even reducing sunburned ears and necks on long trips in sunny climes.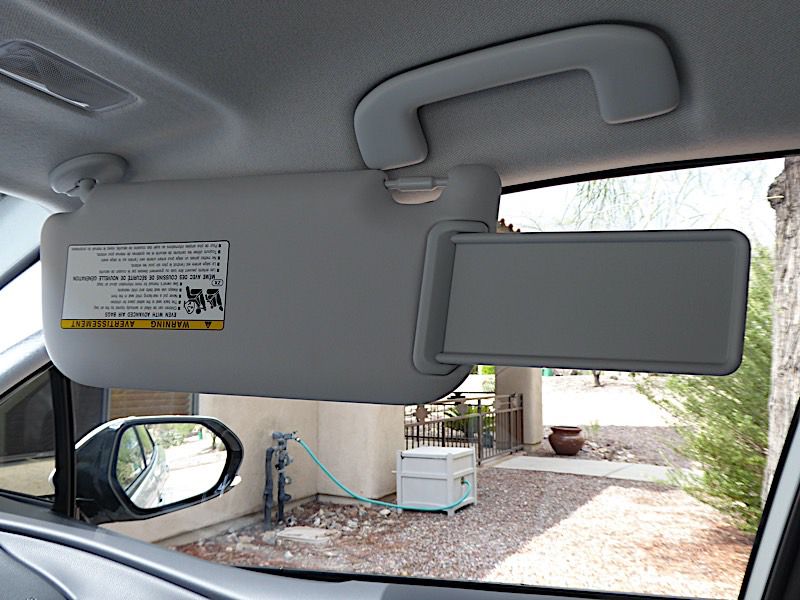 Photo by Ron Sessions
New Three-Across Rear Seating
After three years of configuring the Prius Prime as a four-seater with a pair of adult-sized bucket seats and a fixed center console, the 2020 model now seats five passengers with the same three-across rear bench as the regular Prius. Foot room is on the short side for the middle rear passenger due to the front center console.
The rear seatbacks are split 60/40 and fold nearly flat to increase cargo capacity. The new rear seat retains the console, but it's part of a fold-down center armrest with storage and two cup holders. Also new for the 2020 Prius Prime is a pair of 2.1-amp USB ports for powering the rear passenger's mobile devices. LATCH lower anchors for child safety seats are included for the back seat.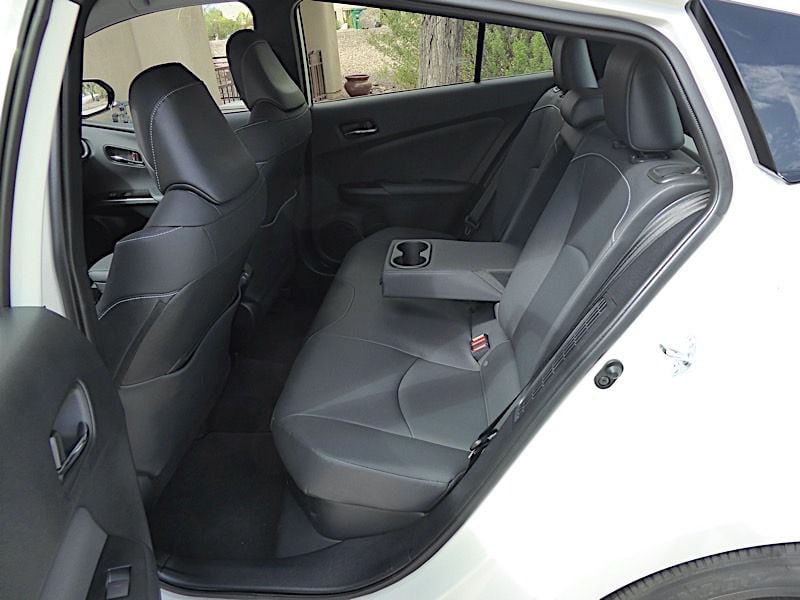 Photo by Ron Sessions
Cargo
If the larger battery in the Prius Prime has one downside, it's reduced cargo space. Compared to the standard Prius Liftback, the Prime offers around 5 to 7 cubic feet less room back there. The Prime's 8.8-kWh battery has nearly twice as many li-ion cells under its raised cargo floor as the hybrid battery in the base Prius.
Still, with 19.8 cubic feet of capacity available through its large hatch opening, the Prime offers as much storage space in the wayback as many small crossover SUVs. Also note that the Prime's big battery takes space that might be used to carry a spare tire, so there's just a tire repair kit back there.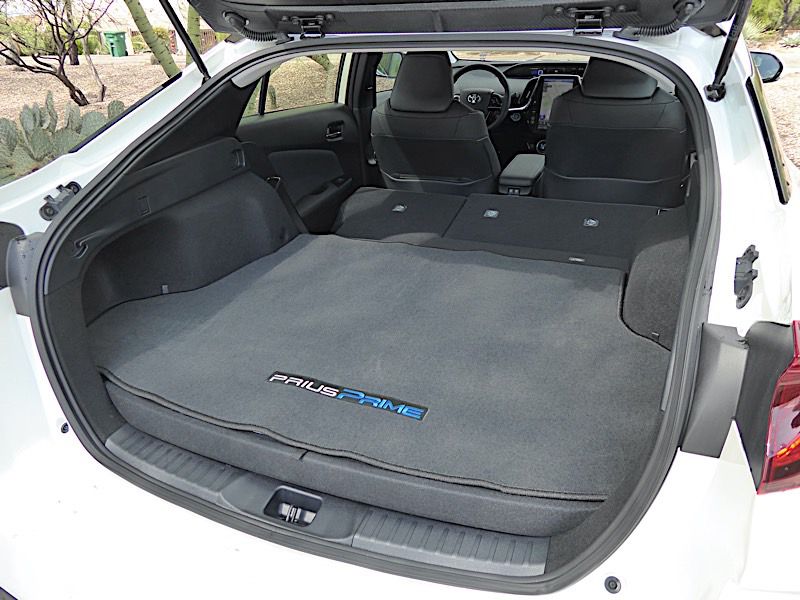 Photo by Ron Sessions
Prime Safety Tech
All Prius Prime trim levels come standard with both the Star Safety System and Toyota Safety Sense Plus. Among the included technologies are a pre-collision warning with pedestrian detection and automatic emergency braking, full-speed dynamic cruise control, a lane-departure alert with light steering assist, a backup camera, and automatic high beams.
A three-year complimentary subscription to Safety Connect is standard. Its features include roadside assistance and emergency assistance, accessed via a button above the rearview mirror, as well as a stolen vehicle locator and automatic collision notification. The Limited model adds standard sonar parking assist as well as blind-spot monitoring and rear cross-traffic alert systems. The Prius Prime was a 2019 Institute for Highway Safety Top Safety Pick.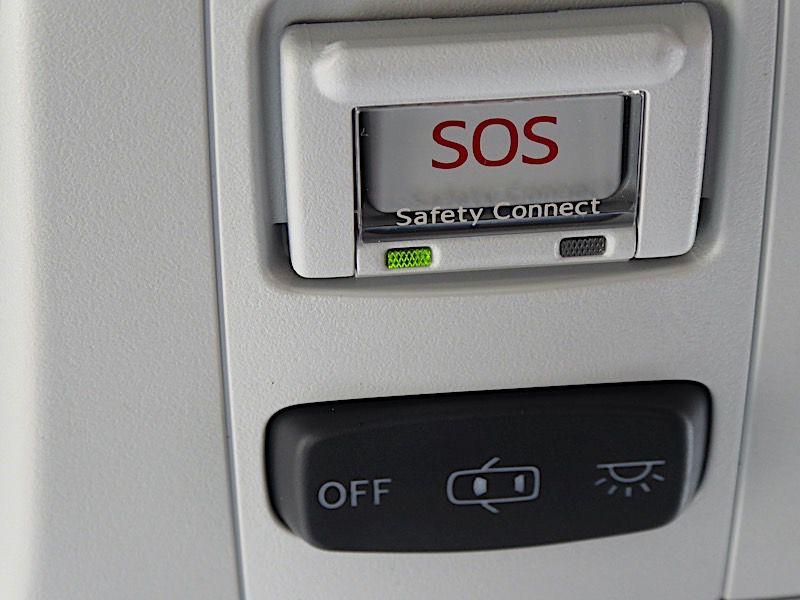 Photo by Ron Sessions
Prime Time for a Plug-In
The Prius Prime can operate just like an EV for short hops around town of less than 25 miles and largely avoid gas stations, but it works just like a conventional gas/electric hybrid the rest of the time — providing fuel economy above 50 mpg and more than 600 miles of anxiety-free cruising range on long trips.
And if you haven't driven a Prius recently, you may be pleasantly surprised how the 2020 Prime performs and drives. Its steering feels light but crisp, body motions are well controlled, and braking response is more natural and progressive than in previous Prius models. The icing on the cake is a longer Toyota warranty for the hybrid battery, which increased from eight years or 100,000 miles to 10 years or 150,000 miles.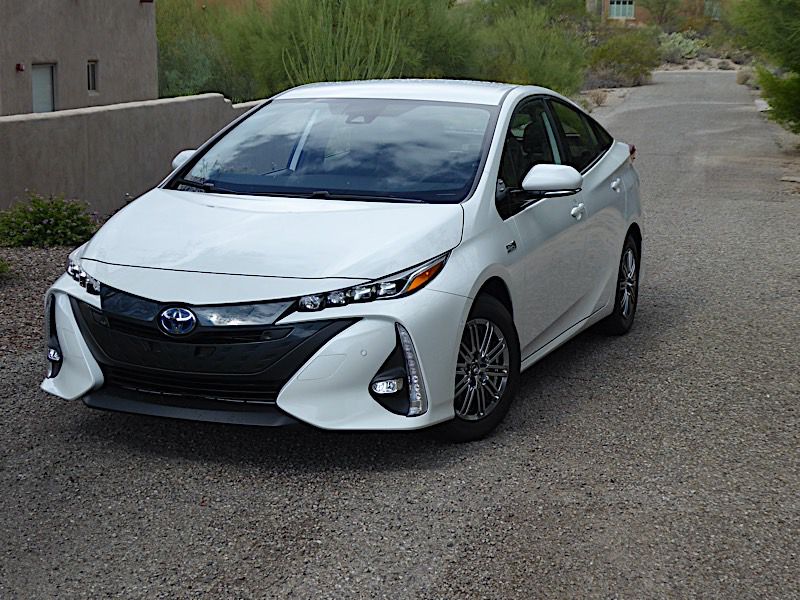 Photo by Ron Sessions