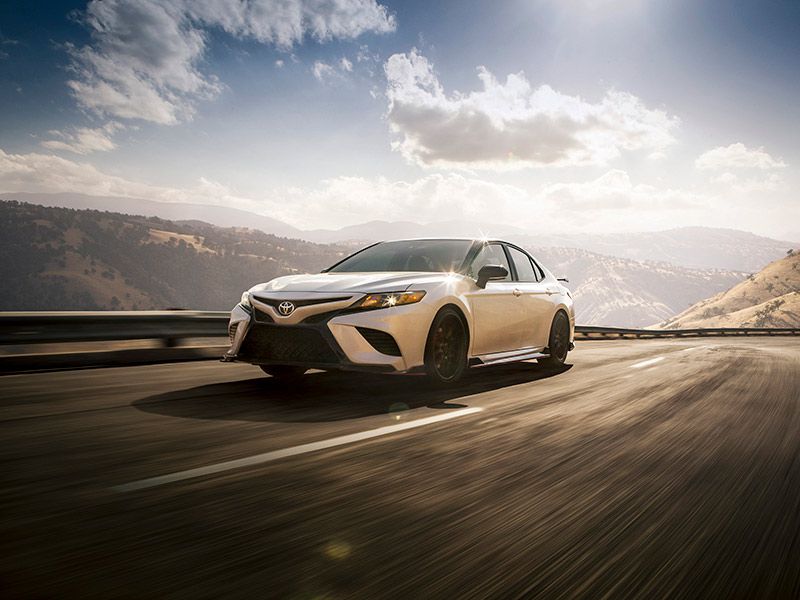 2020 Toyota Camry TRD ・ Photo by Toyota
When it comes to mid-size sedans, the Toyota Camry is the king. According to Toyota, it has been America's best-selling passenger car for the past 17 years. Americans love their Camrys. The sedan is family-friendly, reliable, and, now in its eighth generation, quite stylish. But when it comes to performance and fun-to-drive dynamics, the Camry is usually isn't at the top of the list. That changes with the new 2020 Toyota Camry TRD.
TRD stands for Toyota Racing Development and it's the automaker's in-house performance division. Think of it like AMG at Mercedes, BMW's M Division, or Dodge's SRT. TRD has been increasing the performance of the brand's pickups and SUVs since the 1990s, and now it has turned its attention to the popular Camry for the first time, dialing up its performance and fun factor. The new Camry TRD offers a track-tuned suspension, over 300 horsepower, and a more aggressive design inside and out, including a large rear spoiler and red seatbelts. Is it a true sports sedan? You bet it is.
Good Value
Built in Georgetown, Kentucky, the 2020 Toyota Camry is now available in seven trim levels. With a starting price of $32,125, including a $955 delivery charge, the new Camry TRD sits near the top of the range, though the Hybrid XLE, XLE V6, and XSE V6 still cost more. Some Camrys are available with all-wheel drive, but the TRD is not. Like its top rivals — the Honda Accord Touring and the soon-to-be-released Hyundai Sonata N-Line — the Camry TRD is front-wheel drive.
A smooth and refined 3.5-liter V6 is standard. Although turbochargers are now more popular than ever, this engine makes its 301 hp and 287 lb-ft of torque the old fashion way, without turbos or superchargers. Those are big output numbers for the mid-size sedan class. This is the same V6 used in other Camry models, so the TRD doesn't offer a power increase, but it is louder. It's also the least expensive Camry to provide a V6. A specially tuned TRD cat-back dual exhaust system is throatier both at idle and when accelerating. A well-tuned eight-speed automatic is also standard, along with paddle shifters.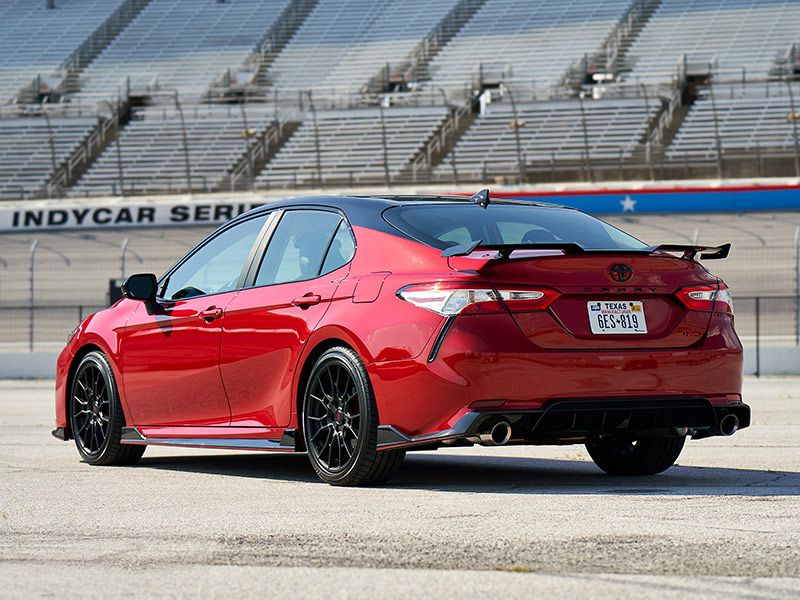 Photo by Toyota
Plenty of Curb Appeal
You may have seen the 2020 Toyota Camry TRD pacing a recent NASCAR race. TRD is also responsible for Toyota's motorsports efforts, including the Camrys that compete in NASCAR's top division. To intensify the Camry's appearance, and improve its aerodynamics and high-speed vehicle stability, the TRD's body kit includes a deep front splitter, side aero skirts, a large rear spoiler, and a rear diffuser. The front splitter is low enough to hit some parking blocks, but it easily clears most driveways. The side aero skirts look cool, but they can catch your ankle or shin when you're climbing in and out. That big rear spoiler looks like it would block your rear vision, but it doesn't.
Up front is a large gloss black front grille with a sport mesh insert, while the rear gets polished exhaust tips and red TRD badging. Black trim, red pinstriping, and red brake calipers are also standard, along with a 0.6-inch suspension drop, and 19-inch matte-black alloy wheels wrapped in Bridgestone Potenza 235/40R19 summer tires that provide impressive grip. Toyota certainly got the stance right. Our test car's sexy Supersonic Red paint is also exclusive to the TRD and costs an extra $425.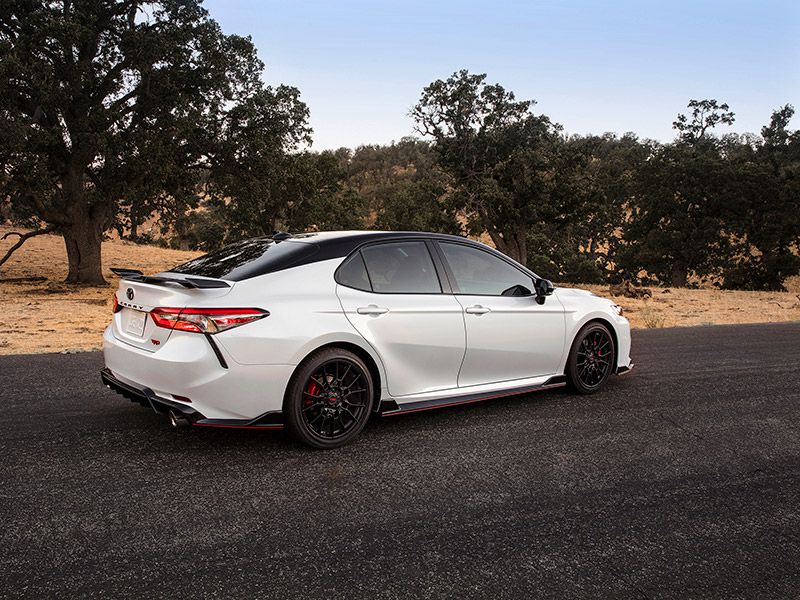 Photo by Toyota
Big Power and Fuel Economy
The 2020 Camry TRD may not have more power than other V6-powered Camrys, but it's plenty quick. Any Camry with a V6 is among the quickest mid-size sedans around, and the TRD launches hard and rips to 60 mph in about 5.6 seconds before covering the quarter-mile in about 14.2 seconds at over 100 mph. That's quicker than most American muscle cars from the 1960s. Turn off the traction control system and floor the gas when the light turns green, and the Camry TRD screeches its tires and pushes you back in the seat. Its eight-speed automatic is well-tuned and geared perfectly. No complaints.
It's an excellent powertrain combination that also delivers good fuel economy. The Camry TRD is rated at 22 mpg in the city and 31 mpg on the highway. We averaged 24 mpg in mixed driving around Los Angeles. Not bad considering it's putting out over 300 hp, and its V6 runs happily on less-expensive regular-grade gasoline to keep operating costs down.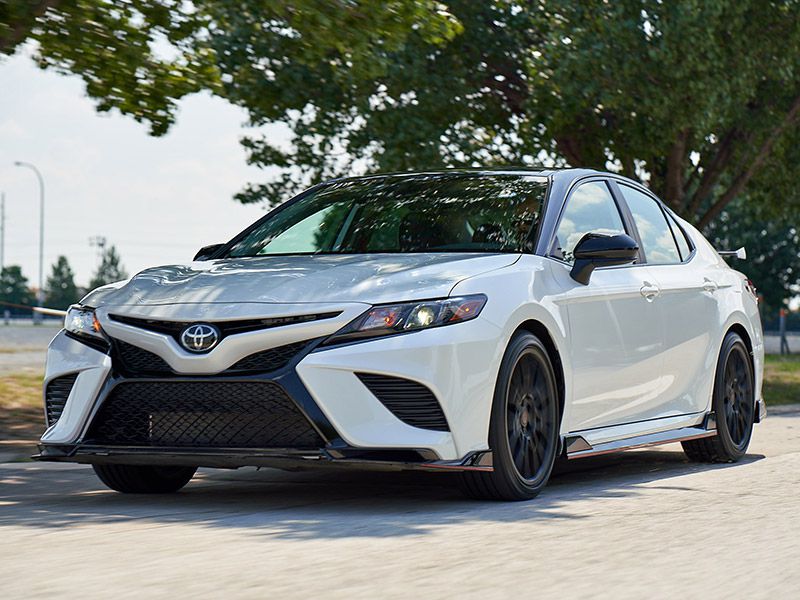 Photo by Toyota
Sports Sedan Handling
Toyota says its special team of TRD engineers tuned the chassis of the Camry TRD at the company's proving grounds in Arizona, Japan, and Texas, and that the testing including extensive time on the racetrack to improve the sedan's body control, handling agility, and steering precision. This is the most fun-to-drive Camry ever. It's also one of the most fun-to-drive mid-size sedans out there.
Special hardware includes thicker underbody braces to increase torsional rigidity, stiffer coil springs and sway bars, unique shocks, and larger front brakes. Its ride is still compliant, but you certainly feel the road. Its steering is direct, but it isn't too heavy, and the four-wheel disc brakes provide awesome stopping power. The pedal is still a bit too soft, but it's better. At 75 mph, the interior is quiet enough, although you can still hear the engine. The V6 sounds good, but the TRD exhaust does drone slightly on the highway. Some might find it bothersome. This is an issue we have also mentioned on some TRD-tuned Toyota pickups and SUVs.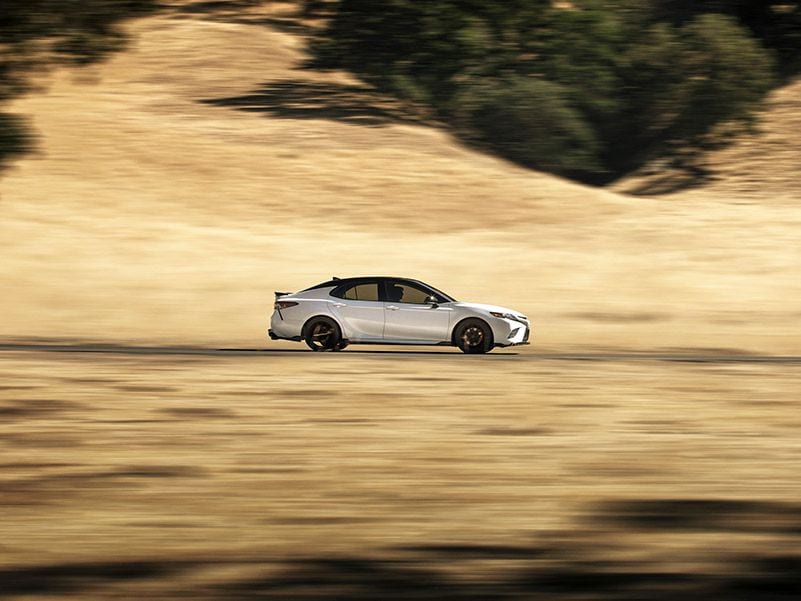 Photo by Toyota
Racy But Comfortable Interior
Every Camry TRD also comes with a souped-up interior. Red and black upholstery is standard, along with red stitching, seat belts, and TRD logos on the headrests, floor mats, and shifter. It sounds like it's overdone, but it's quite tastefully executed. Even the red seat belts don't feel over the top.
The rest of the interior is basically the same as every other Camry, which is to say an exceptional blend of modern design, thoughtful ergonomics, and high quality. It's one of the best interiors in its class, with tight build tolerances, near-perfect control placement, and simple and attractive gauges. The Camry's shifter works with a satisfying heft, visibility is very good, and five passengers fit comfortably. If you want all the Camry TRD has to offer but want more rear-seat space, check out the Avalon TRD. It's basically the same thing, just longer.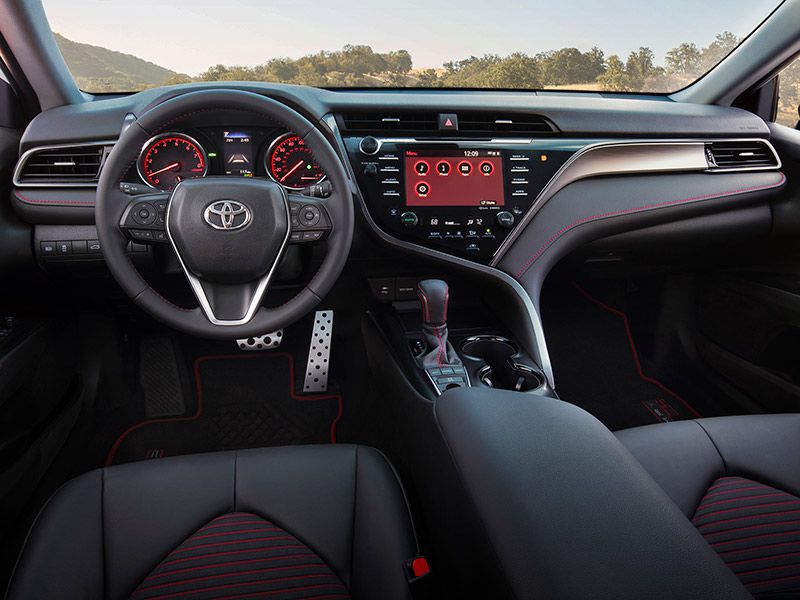 Photo by Toyota
Well-Thought-Out Storage
Storage inside the Camry's interior is also generous and well-thought-out. The center console bin is large, and its door pockets are big and have slots for water bottles. Its two front cupholders are well-sized and well-placed so tall drinks don't interfere with any of the switchgear. Your oversized commuter coffee mug shouldn't be a problem in this sedan.
The 2020 Toyota Camry TRD also offers 15.1 cubic feet of trunk space, which is smaller than most of its rivals, including the Honda Accord and Hyundai Sonata. If more is needed, every Camry TRD comes standard with a 60/40 split-folding rear seat, which easily drops flat for your larger items. Surprisingly, a power-operated trunk lid is not available.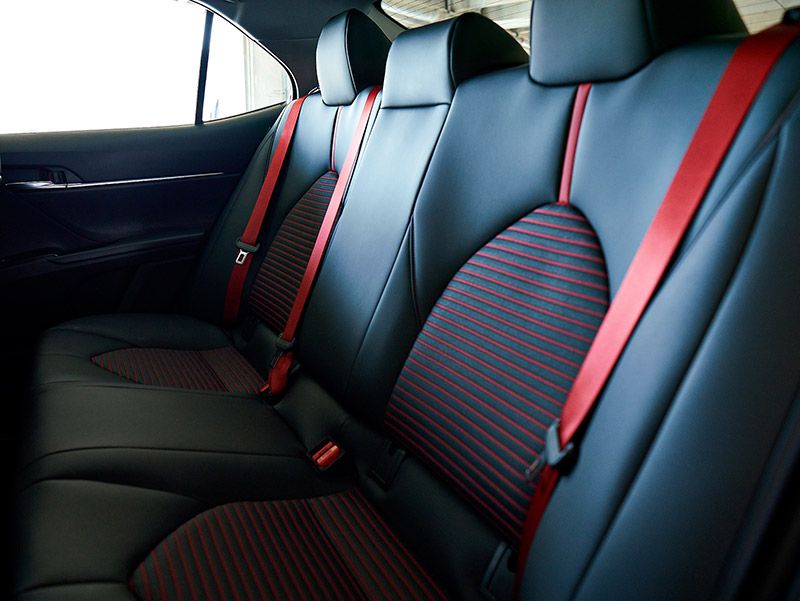 Photo by Toyota
Sufficient Interior Tech
With simple menus, quick responses, and an intuitive interface, Toyota's infotainment system is one of the best. The system makes it very easy to switch back and forth between features, but navigation isn't offered on the TRD. Neither is the Camry's larger 8-inch touchscreen. The screen in the Camry TRD is 7 inches. Apple CarPlay and Android Auto compatibility are standard, and there's a sufficient number of USB ports, but wireless phone charging and onboard Wi-Fi should also be offered. They aren't.
Toyota also saves some other sweet tech for the more expensive XLE V6 and XSE V6 models. They get a standard birds-eye-view camera, which makes parking much easier, and a color head-up display. Neither is even available on the TRD.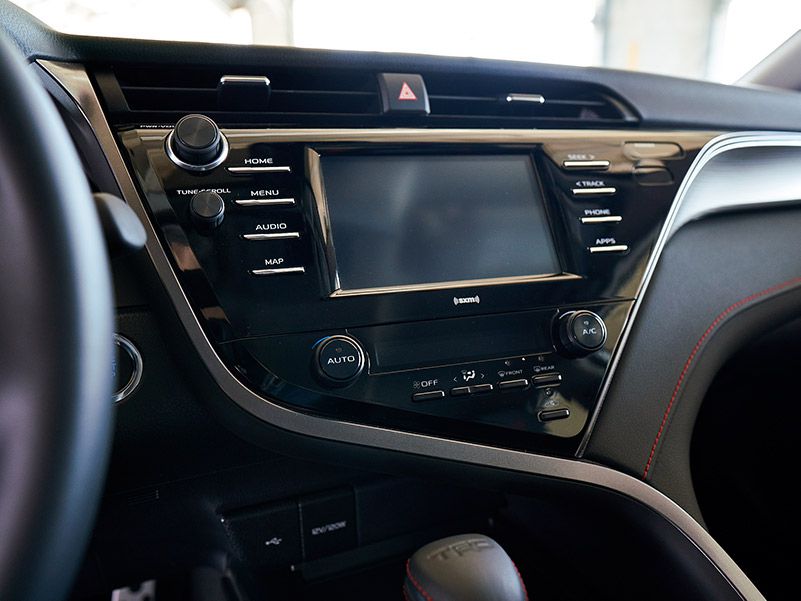 Photo by Toyota
Long List of Advanced Safety Systems
The Toyota Camry is one of the safest cars available. It has received a five-star overall crash test rating from the National Highway Traffic Safety Administration, and the Insurance Institute for Highway Safety has awarded it a Top Safety Pick+ rating, its highest honor.
Like all other Camrys, the TRD gets a long list of advanced safety systems and active driver aids. Standard features include a lane-departure alert with steering assistance, automatic emergency braking with pedestrian detection, dynamic cruise control, and 10 airbags. But once again, some systems available on other Camry models are not offered on the TRD, including a blind-spot monitor, a rear cross-traffic alert, and rear automatic braking.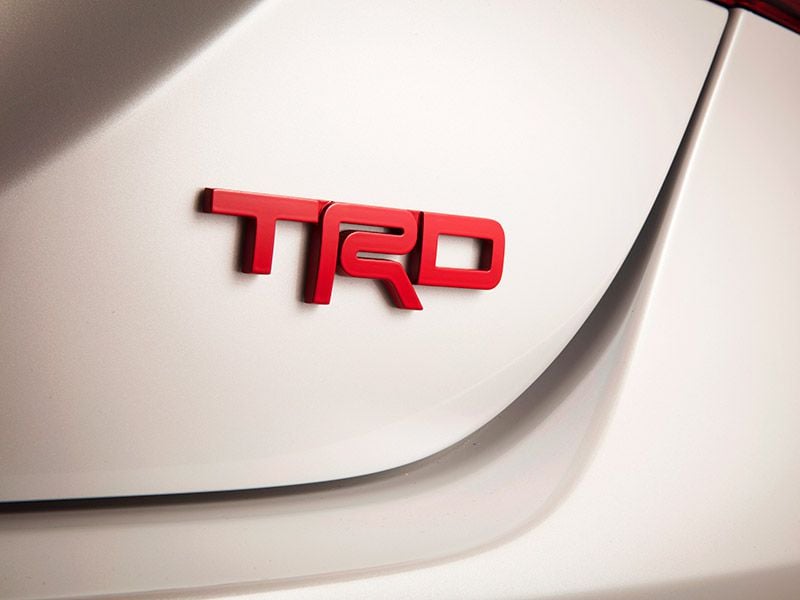 Photo by Toyota
Final Thoughts
With its special paint color and a $500 appearance package, which added a black roof and other dark exterior trim, our test car cost $32,920. That makes the Camry TRD a pretty strong value considering its performance, safety, and exceptional build quality. It also looks properly racy with its hunkered-down stance, big tires, and serious rear spoiler. The design packs a visual punch that's unique in the segment. The Avalon TRD has a larger rear seat, but it performs about the same and costs over $10,000 more.
More importantly, Toyota hasn't spoiled the Camry's comfort and practicality in search of performance. The TRD is still comfortable and as family-friendly as any other Camry, from its spacious interior to its impressive fuel economy. If you're looking for a powerful, fun-to-drive mid-size sedan that doesn't break the bank, the 2020 Toyota Camry TRD is an exceptional choice.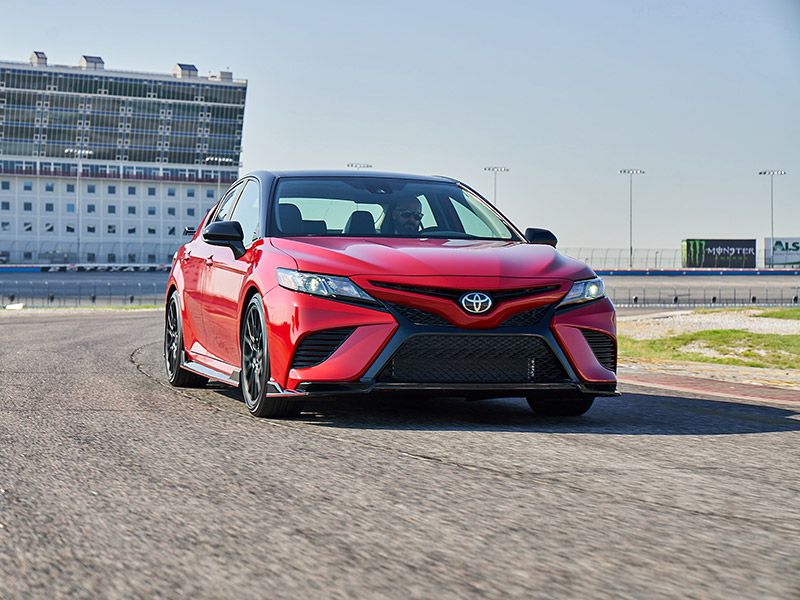 Photo by Toyota