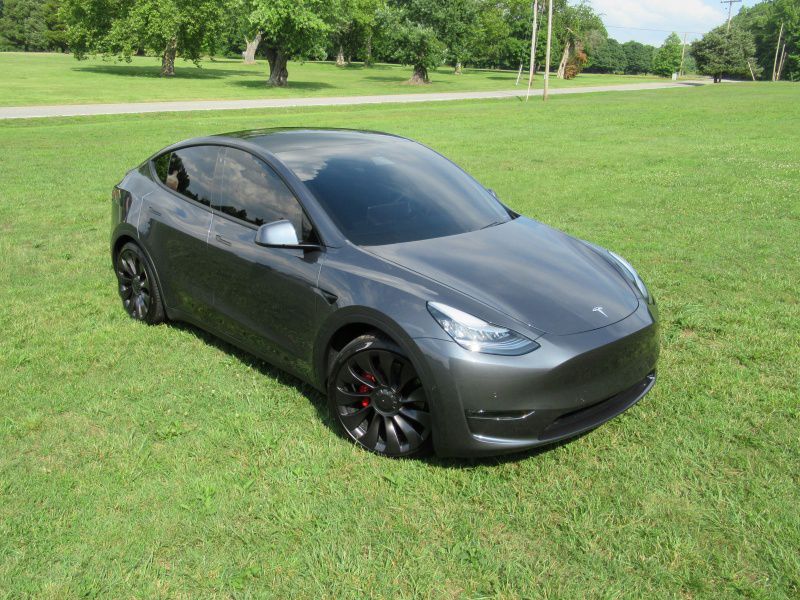 2020 Tesla Model Y ・ Photo by Brady Holt
The Tesla Model 3 took the automotive industry by storm when it arrived as a 2017 model. This compact luxury sports sedan brought the magic of the company's larger, pricier Model S to the masses — it's a stylish, speedy, fully electric car that can travel hundreds of miles per charge and yet is now available for less than $40,000. Tesla continues to prove that electric cars can be not only easy to live with, but also desirable for more than their eco-friendly credentials.
This appealing combination helped the Model 3 buck an industrywide shift away from four-door sedans in favor of higher, roomier crossover SUVs. Last year, the Model 3 outsold every other luxury-brand vehicle in the U.S. — even those vaunted crossovers. But this year, Tesla began selling a new model that follows the trend toward higher and roomier: the 2020 Tesla Model Y crossover, which currently starts at $52,990. For this review, we borrowed a Model Y from a generous owner: Philip Garner, president of skincare company Garner's Garden and a first-time EV customer. Here's what we found. 
A Taller Model 3
Many luxury crossovers look more like cars than trucks, and the Model Y takes that theme farther than most. It's a slightly taller Tesla Model 3 that uses the same rear-wheel-drive-based platform (equipped with all-wheel-drive on all current Model Ys), the same electric motors, and the same batteries.
Even the aesthetics are similar. The Model 3 already looks more like a hatchback than a sedan, with its aerodynamic roof swooping back toward the rear of the vehicle. And the Model Y looks more like a hatchback than an SUV, also dipping down toward the rear end. This rounded-roofline approach makes it look like a slightly inflated Model 3, and given that they have similar front- and rear-end designs as well, it's easy to confuse the two Teslas from some angles. The Y is about 2 inches longer, 3 inches wider, and 6 inches taller than the 3, but since they're similarly proportioned, you won't easily notice the difference from the outside. Unlike the larger Tesla Model X crossover, the Model Y has conventional doors rather than swing-up gullwings, and a conventional windshield instead of one that sweeps up into the roof.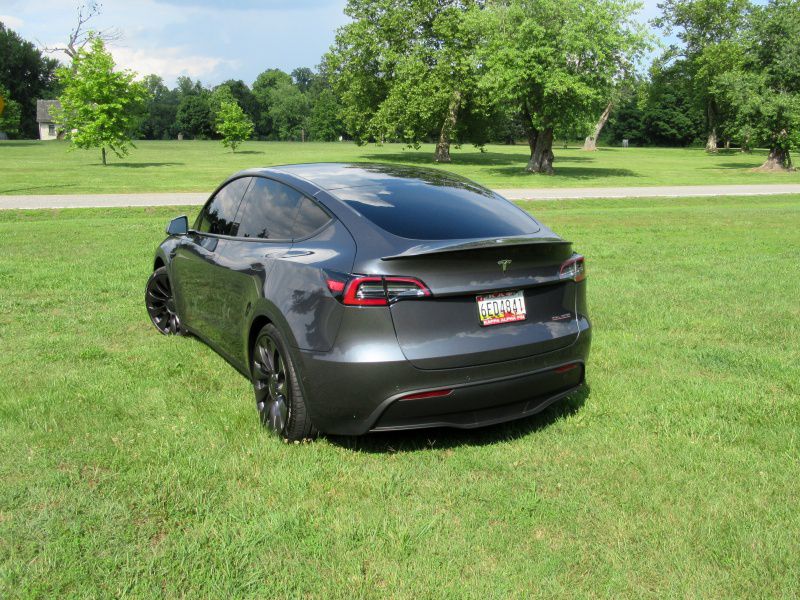 Photo by Brady Holt
Usefully Spacious Interior
The Model Y's extra inches are instantly apparent inside the vehicle. You get a more commanding view from the driver's seat, in contrast to the sportier, lower-slung Model 3. And the rear seat improves from decently usable to generously spacious, with ample leg and foot space. Headroom is a bit pinched under the sloping roof, but it's better than some sporty-looking small luxury crossovers. And a flat rear floor makes it easier to fit someone in the center-rear position.
For cargo, Tesla doesn't quote a spec for the Model Y's volume behind its rear seat, but we can tell it's a significant gain over the Model 3's 15-cubic-foot enclosed trunk. Plus, the Y's open space means a dog can ride in the back — Philip's reason for picking the Y over the 3. Folding down the rear seat opens up an open 68-cubic-foot cargo hold, above average for a compact luxury crossover. The sloping roofline cuts into the ability to hold tall, bulky items, though, and also makes us skeptical of a promised seven-seat version of the Model Y. A small trunk in the front, where a gasoline car's engine would be, offers secure, enclosed storage space.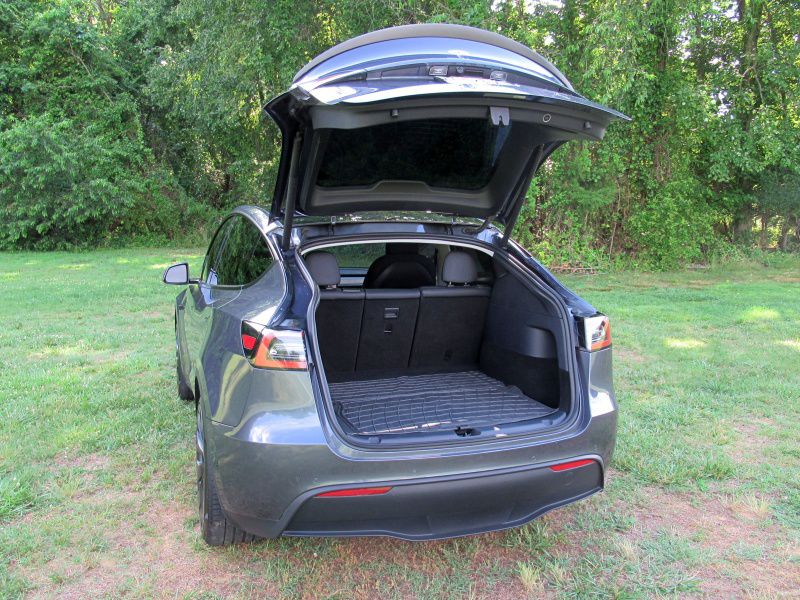 Photo by Brady Holt
Two Choices: Fast or Faster
The 2020 Tesla Model Y is currently sold in two configurations: Long Range ($52,990) and Performance ($60,990). Both are among the fastest SUVs you can buy, with 0-60 times of 4.8 seconds and 3.5 seconds, respectively. Our tested Model Y Performance will reach 60 mph quicker than a six-figure Porsche 911 Carerra. Don't forget to breathe as the Model Y explodes forward in near silence. (If that sounds too dramatic, you can put the car in "Chill Mode" for gentle throttle tuning.) 
The Model Y includes nearly all its available features as standard equipment: the Autopilot suite of advanced driver aids, simulated leather upholstery with heated and 12-way power-adjustable front seats, a panoramic glass roof, rain-sensing windshield wipers, a navigation system, and a 14-speaker stereo. The few options include extra-cost colors ($1,000 to $2,000 for anything but white), $1,000 for a tow hitch rated for 3,500 pounds, $1,000 for a two-tone black and white interior, and $7,000 for additional autonomous-driving tools. The Performance model also offers a Performance Upgrade at no extra charge, which our test car included: flashy 21-inch alloy wheels, a lowered suspension, stronger brakes, a higher top speed, and aluminum alloy accelerator and brake pedals.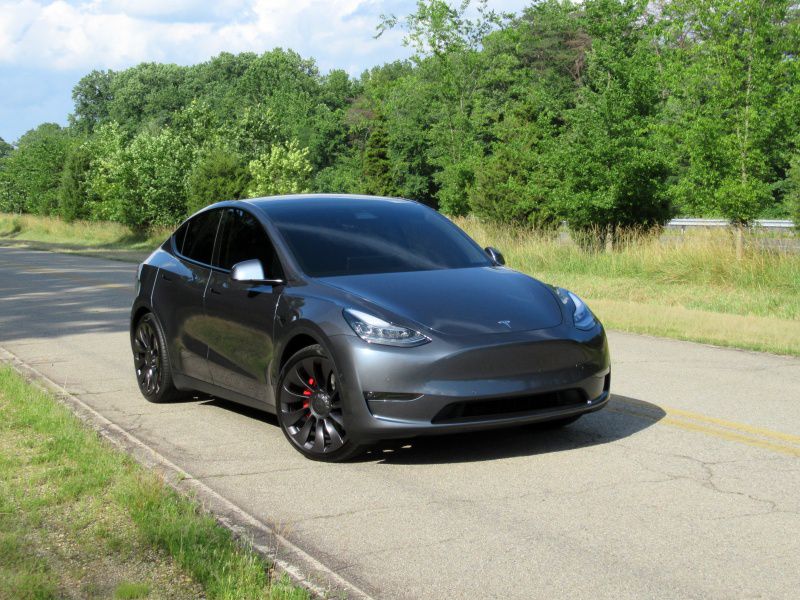 Photo by Brady Holt
Plenty of Range
The 2020 Model Y isn't yet available in the same Standard Range configuration as the Model 3, which starts at $37,990 with 250 miles of range per charge compared to $46,990 for the Long Range and $54,990 for the Performance. That means the Model Y costs $6,000 more than the comparable Model 3, and we'd expect a similar gap once the Standard Range Y appears next year.
Of the Model Y configurations already available, the Long Range manages an estimated 316 miles per charge, while the Performance is right behind at 315 miles. However, the Performance's range drops to 280 miles with the Performance Upgrade. Not only are these class-leading ranges, but Tesla also provides an exclusive perk for road-trippers: access to its proprietary network of Supercharger stations, which can provide a hundred miles of range in a matter of minutes. Phil told us he picked Tesla over the Jaguar I-PACE because of the Supercharger network. When you're at home, you can charge more cheaply (though more slowly) on a 240-volt car charger: about 30 miles of range per hour. You can even top off using any 120-volt household outlet for about 6 miles per hour.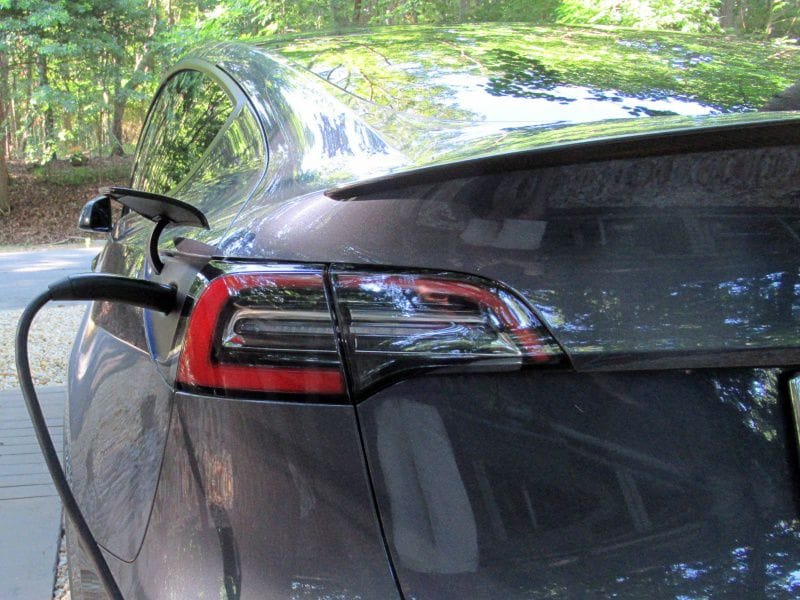 Photo by Brady Holt
Sporty Handling, Too
With its rear-wheel-drive-based platform and low center of gravity — thanks to the electric batteries spread across the floor — the Tesla Model Y handles with remarkable agility for an SUV. Since it's wider, higher, and heavier than the Model 3, you don't feel quite the same intimate connection to the road, but this crossover is unquestionably responsive.
A tradeoff is a bumpy, noisy ride. That's particularly true with the Performance Upgrade on our test car, with its big 21-inch wheels and lowered suspension, but we've seen the same complaints on other Model Y models as well (which use already-large 19-inch wheels). There's no engine noise, but the Y does still let in more road rumble and wind rush than many competing luxury crossovers.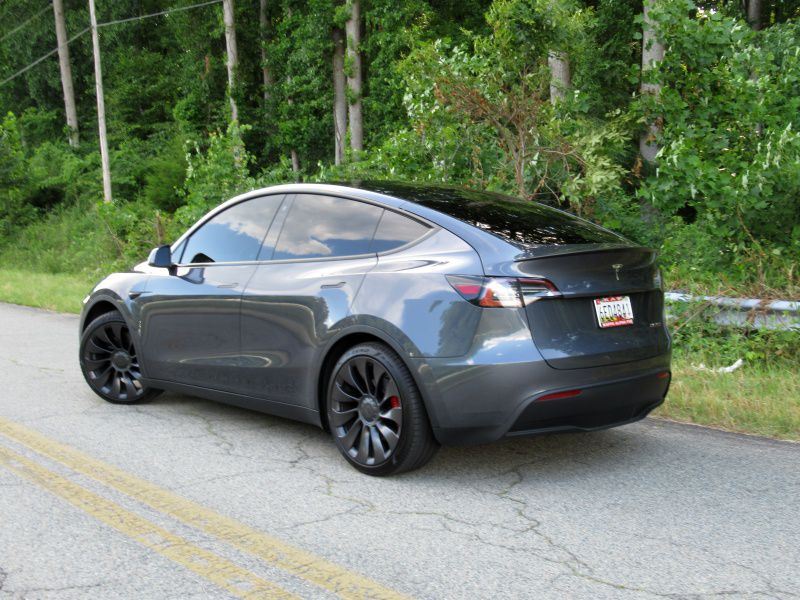 Photo by Brady Holt
Unique Interior
The Tesla Model Y shares its dashboard design with the Model 3, but they're unlike any other car on the market. Only a steering column and a huge 15-inch touchscreen stick out from the dashboard, which is adorned only with a strip of wood trim. There are no buttons, knobs, or dials except on the steering wheel. There's no gauge cluster. Even the air vents are hidden.
This means you need to look at or interact with the infotainment screen for nearly any function. You tap or slide your finger on the screen to adjust the audio volume or climate temperature, and you navigate to the correct menu to manually set the headlights or windshield wipers. The steering wheel has some physical buttons, but you use the screen to set their functions. The touchscreen is attractive, and its functions are intuitively designed. Tesla makes good use of the screen's size for clever, unique functions and for an available satellite view on the navigation system. But the tradeoff to its uniquely high-tech vibe is that simple functions are more distracting to execute.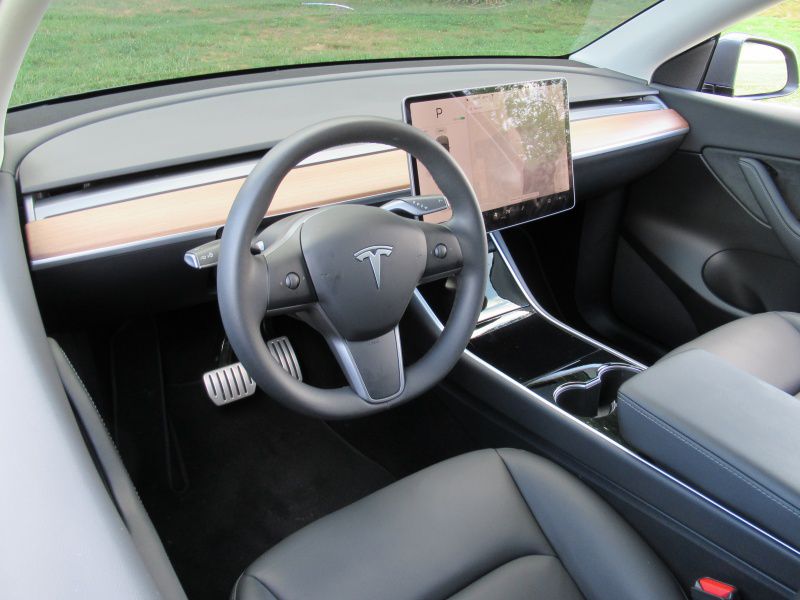 Photo by Brady Holt
Driverless Technology
Tesla is famous for its standard Autopilot technology and its optional "Full Self-Driving Capability" package. But while the technology is indeed impressive, it's more common than Tesla might want you to think.
Autopilot includes adaptive cruise control that can vary your speed based on the speed of a car in front of you, automatic emergency braking that can slam the brakes to avoid or mitigate an impact, and lane-keeping steering corrections that keep the vehicle in its lane. These are indeed fantastic features and Tesla executes them well, but they've become common even among non-luxury vehicles. The Model Y's big infotainment screen has a unique display showing the vehicles and other obstacles, lane markings, signs, and traffic signals that it's "seeing," but other cars see them, too. And even with "Full Self-Driving," which lets the vehicle execute more complex maneuvers like changing lanes and automatically following GPS directions, Tesla warns against actually taking your hands off the steering wheel. Other capabilities include self-parking (also available on a number of other cars) and driverless summoning (rarer but not Tesla-exclusive).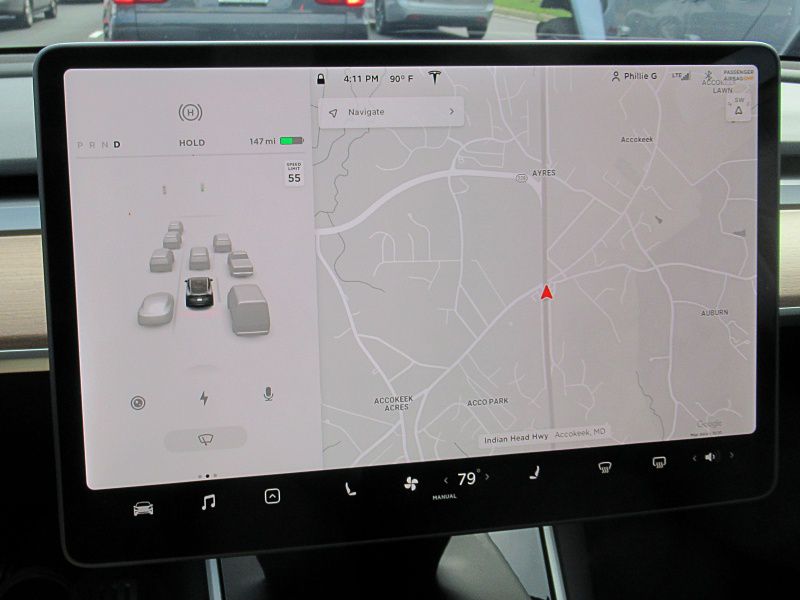 Photo by Brady Holt
Upcoming Competitors
The Tesla Model Y doesn't yet have any direct competitors. There are smaller, less spacious, lower-performance electric cars like the Hyundai Kona EV, Chevrolet Bolt, and Kia Niro EV, which are basically tall economy hatchbacks — pleasant and efficient, but without a high-end look or feel. There are the Jaguar I-PACE ($69,850) and Audi e-tron ($74,800) that compete more directly with the larger Tesla Model X ($79,900). And then there's the in-house competition from the less spacious but less expensive Tesla Model 3 sedan.
But the Model Y's segment is going to heat up soon. On the way are the BMW iX3, Ford Mustang Mach E, Mercedes-Benz EQC, and Volvo XC40 Recharge. Of those, the Ford threatens to rival the Tesla's performance and style focus, while the others — more closely derived from established gasoline-powered crossovers — will provide more opulently finished interiors and more luxury features. And unlike Tesla, most automakers still qualify for $7,500 federal tax credits. No one else will match Tesla's Supercharger network, though.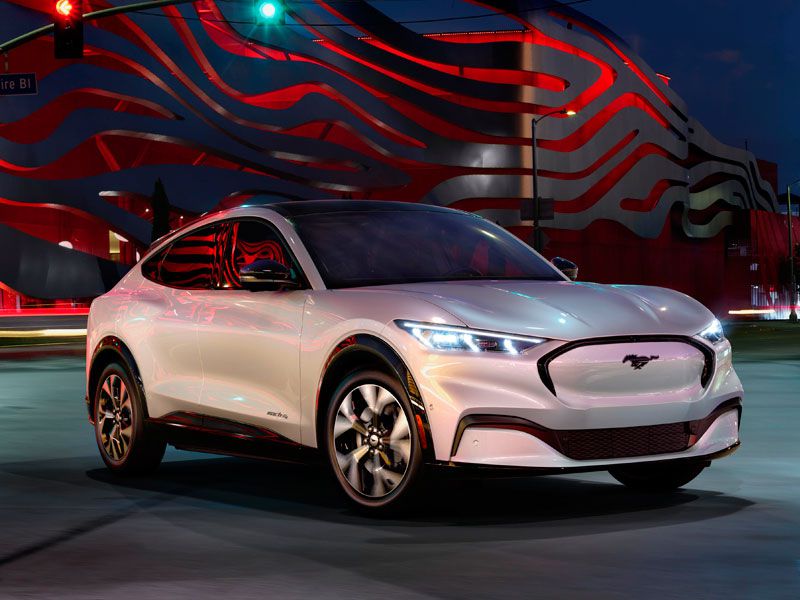 Photo by Ford
Caveats to Consider
The Model Y isn't a traditional luxury suv. Tesla has focused its resources on high-range batteries, potent motors, sporty handling, and unique features and displays — even a "Toybox" section of the infotainment system whose features include a drawing tablet and flatulence pranks. The Model Y lacks the lavish interior trimmings or the meticulous fit and finish that established carmakers invest heavily on. There are cheap plastics on the steering wheel (one of the few touchpoints in the sparse interior). Our early-production test vehicle had notable exterior panel gaps, and the doors and front trunk didn't consistently close smoothly. And as we mentioned, the ride is bumpy and noisy by luxury standards.
Plus, owning any electric car forces some lifestyle changes. Gasoline cars can go farther than even long-range electrics on each fill-up, refilling a gas tank is quicker than using even a Tesla Supercharger, and gas stations are far more numerous than public chargers. Some owners will have no problem recharging nightly at home and planning road trips around charging stops. But it's a limitation to consider before jumping in.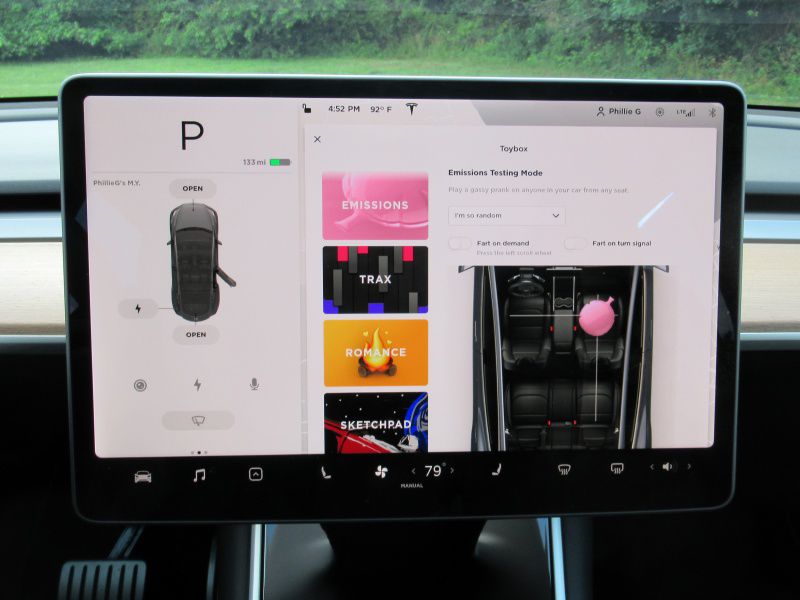 Photo by Brady Holt
Unconventional But Desirable
To some prospective Model Y buyers, resolving issues like panel gaps is a basic engineering prerequisite — something to take for granted on any modern automobile, particularly one costing more than $50,000. For others, though, they're secondary to the overall Tesla experience.
The 2020 Tesla Model Y delivers astonishing performance with a high-tech flavor. At the same time, eliminating gasoline reduces its operating cost, maintenance requirements, and carbon footprint. And while the Model Y is more expensive than the Model 3, it provides most of the same benefits along with a roomier interior. Phil told us he's owned lots of luxury cars, but his new Model Y is his favorite yet. If you're ready to embrace the EV lifestyle and don't mind the Model Y's specific quirks and imperfections, there's a good chance you'll feel the same way.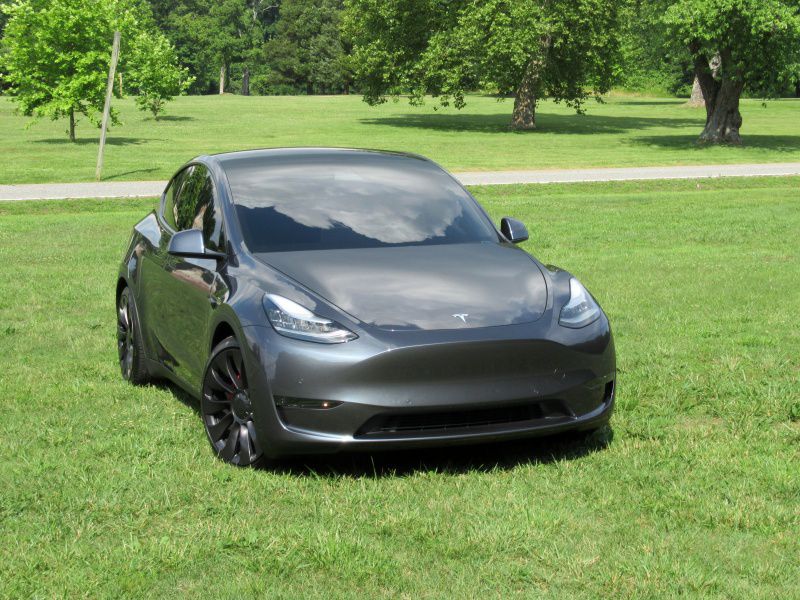 Photo by Brady Holt