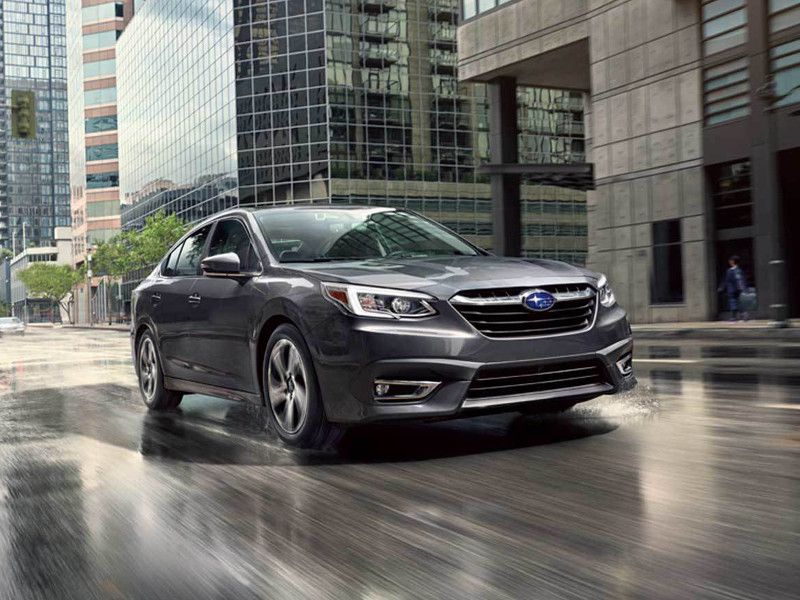 2020 Subaru Legacy driving in the city ・ Photo by Subaru
The all-new 2020 Subaru Legacy marks the seventh generation of this mid-size sedan. In addition to a fresh look, there are changes throughout the Legacy to strengthen its appeal. This includes a turbocharged engine for the first time since 2012. The Legacy is also the only affordable mid-size sedan in the U.S. with all-wheel drive as a standard feature, which makes managing poor road conditions easier. There's standard EyeSight Driver Assist Technology, too, with new features for 2020.
Inside, there are upgraded materials that make this five-passenger sedan look and feel more comfortable. The highlight of that interior is an all-new 11.6-inch tablet-style touchscreen for the infotainment system. Standard on select trims, it includes navigation, Apple CarPlay, Android Auto, SiriusXM, and a suite of apps to keep you connect and informed. Let's take a closer look at the redesigned 2020 Subaru Legacy to see if it's the right sedan for you.
Six Well-Equipped Trim Levels
There are six Legacy trims, including two with the turbocharged engine. The first four trims feature the standard 2.5-liter engine, starting with the base Legacy at $22,745. It has all-wheel drive, EyeSight, Apple CarPlay, and Android Auto. The Premium at $24,995 adds the 11.6-inch tablet-style infotainment screen, dual climate control, and a leather steering wheel and shifter. The Sport gets a blacked-out appearance package, two-tone interior, and rear spoiler at $26,945, while the Limited adds a leather interior, additional standard safety gear, and Harman Kardon audio at $29,745.
Your two turbocharged options start with the Limited XT from $34,195 with dual stainless exhaust tips, moonroof, and special badging. Lastly, the Touring XT — priced from $35,895 — brings heated and ventilated seats trimmed in Nappa leather, power-folding side mirrors, and a Harman Kardon audio system. A wide range of pricing and features makes it easy to find the right Legacy for you.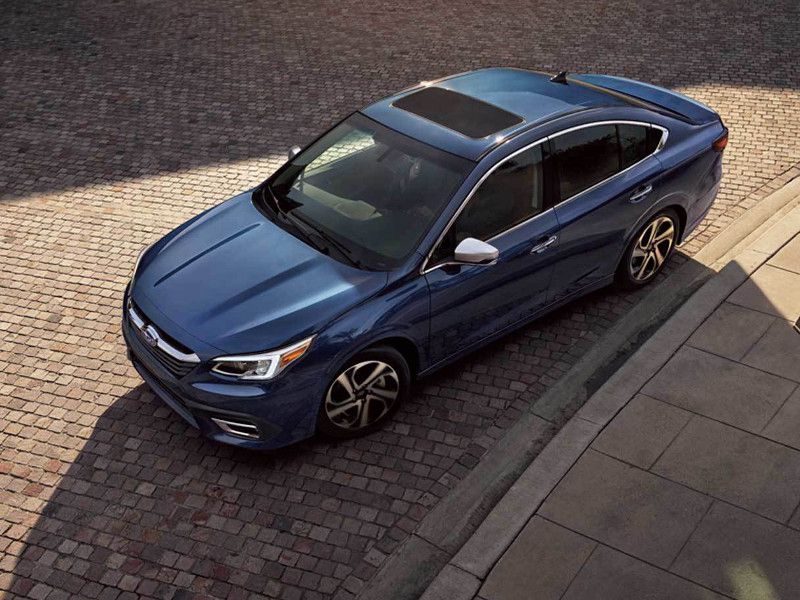 Photo by Subaru
The Return of a Turbocharged Engine
Big news for the Legacy is the return of a turbocharged engine for the first time since 2012. Available on two trims, the 2.4-liter four-cylinder engine boasts 260 horsepower and 277 lb-ft of torque paired to a continuously variable automatic transmission. It takes the Legacy from 0 to 60 mph in 6.1 seconds and makes it a fun car to drive. It easily gets up to speed and has no issue with giving you extra power for passing.
Your second powertrain choice is the standard 2.5-liter four-cylinder with 182 horsepower and 176 lb-ft of torque. This is also paired to a continuously variable automatic and has a 0-60 time of 8.4 seconds. No, it's not as quick, but it's far from sluggish. The turbocharged engine provides a more spirited drive, but the 2.5-liter never feels underpowered or lacking. It also has the benefit of better fuel economy, so it's easier on your wallet.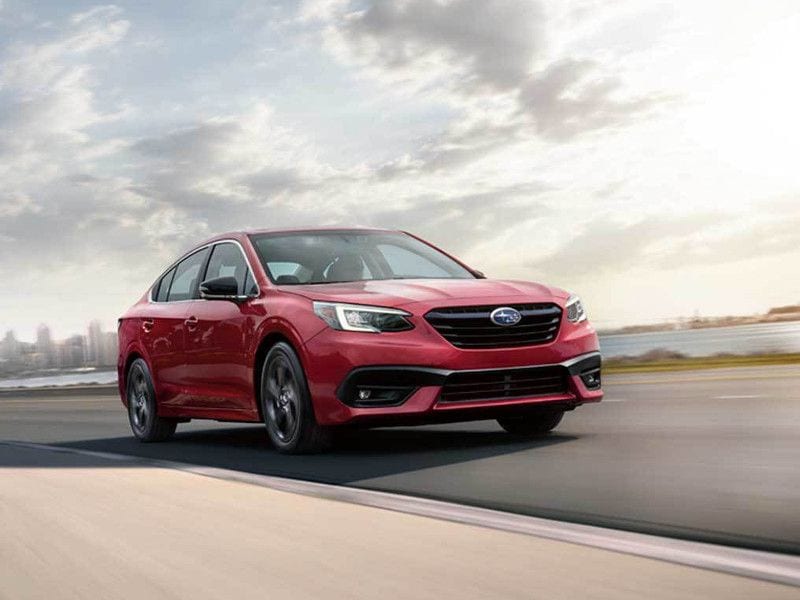 Photo by Subaru
Fuel economy makes the Legacy a cost-effective choice.
Fuel economy is always important, but especially so in an affordable sedan. The Legacy is an ideal commuter car, and that means lots of mileage that can add up fast, especially if fuel economy isn't good. The Legacy helps maintain its initial affordability with good fuel economy on both of its available engines. The 2.5-liter four-cylinder engine is your best option for maximum efficiency with an EPA-estimated 27 mpg in the city, 35 mpg on the highway, and 30 mpg combined.
If you want the extra performance provided by the turbocharged 2.4-liter four-cylinder, then fuel economy will suffer, but only slightly. This engine achieves an EPA-estimated 24 mpg in the city, 32 mpg on the highway, and 27 mpg combined. The Subaru Legacy's fuel economy makes it easy on your budget so any rise in gas prices won't be so hard to handle.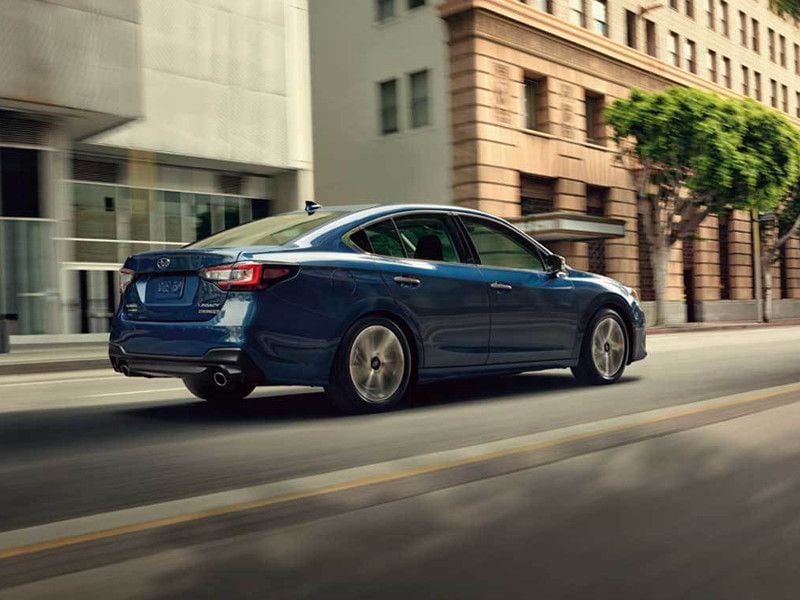 Photo by Subaru
Confident and Composed Handling
Along with its strong performance, especially with the turbocharged engine, the Legacy offers good handling. This is due in part to a stiffer front suspension system and a frame that is both stiffer and lighter than in the outgoing model. Subaru also lowered the Legacy's center of gravity to further improve its handling. While this isn't a sports car, it has surprisingly responsive steering for a sedan, especially one at this price point.
It stays composed during sharp, quick maneuvers on the highway and is easy to control even over rough or uneven pavement. This makes it relaxing to drive and relaxing for passengers with a smooth, composed ride that lets everyone enjoy the trip. Especially for a longer road journey, the Legacy takes the work out of driving, letting the driver stay in control without becoming tiresome.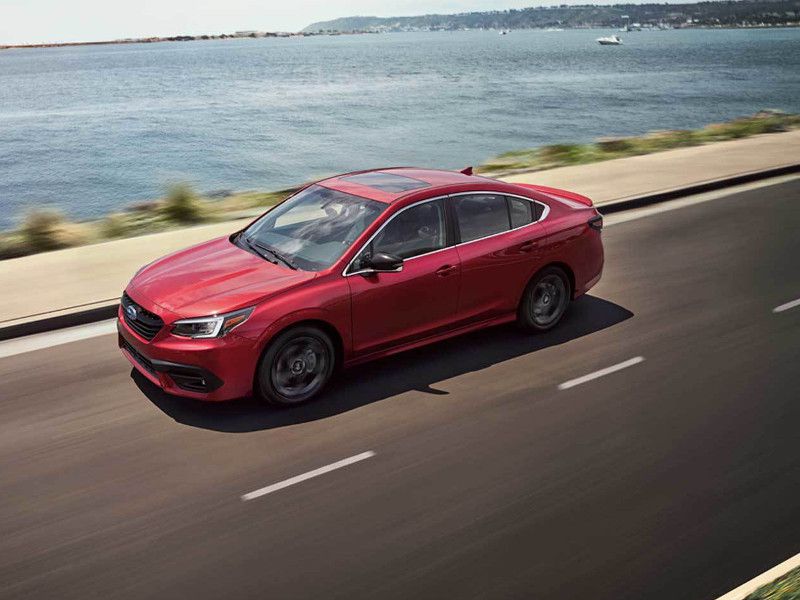 Photo by Subaru
A Comfortable Interior With a Smooth Ride
While vehicles like crossovers and SUVs have to make a compromise between passenger comfort, the capability to carry cargo, and maybe even go off-roading, sedans have no such issues. They're focused on passengers, so the expectation is they'll be quiet and comfortable. The Legacy meets those expectations with a roomy interior and upscale materials. Front passengers of any size will have no issues finding a comfortable seating position with an open and airy cabin. Three adults fit in the rear seats with ample room to be comfortable on all but the longest trips, even with the front seats pushed back.
Adding to passenger comfort is a quiet ride with minimal road and wind noise. It's easy to carry on a conversation and easy to relax on road trips. It's also a smooth ride, even over rough and uneven pavement, with a suspension system that absorbs most bumps and dips.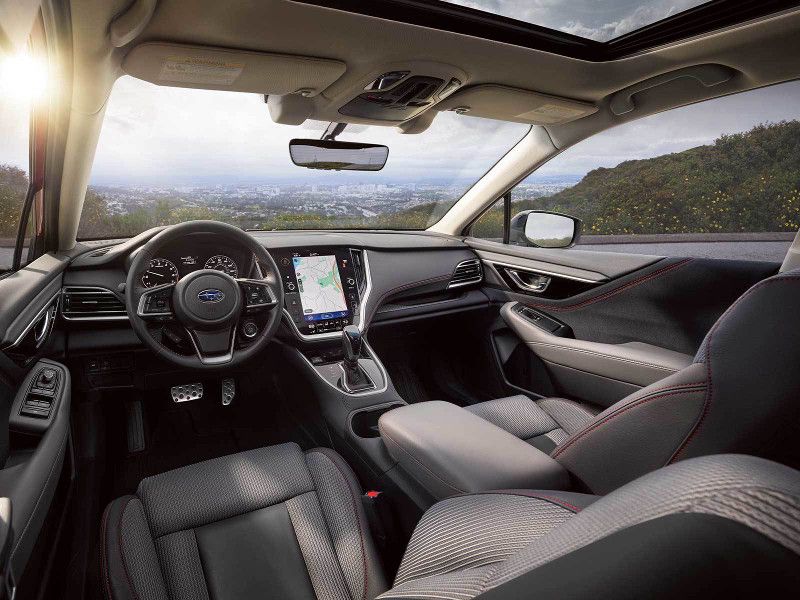 Photo by Subaru
The Largest Infotainment Screen Available in a Subaru
The standard infotainment system features Subaru Starlink with dual 7-inch touchscreens that put audio functions on top while the bottom screen controls climate, EyeSight, and other vehicle systems. Apple CarPlay, Android Auto, and SiriusXM are standard along with two USB ports. Just one step up from the base model sees the addition of a vertical 11.6-inch high-resolution touchscreen that gives the Legacy a modern and high-tech vibe. There's also available high-speed LTE Wi-Fi for the first time.
Also found in the Subaru Outback, the Legacy's crossover/wagon counterpart, this is the brand's largest infotainment screen. The generous size makes using the system less distracting and easier, especially if it's equipped with navigation, which is optional or standard depending on the trim. The system is easy to use, allowing you to swipe through screens just like you do on your smartphone. There's a minimal learning curve, and even passengers unfamiliar with the system will find it easy to figure out.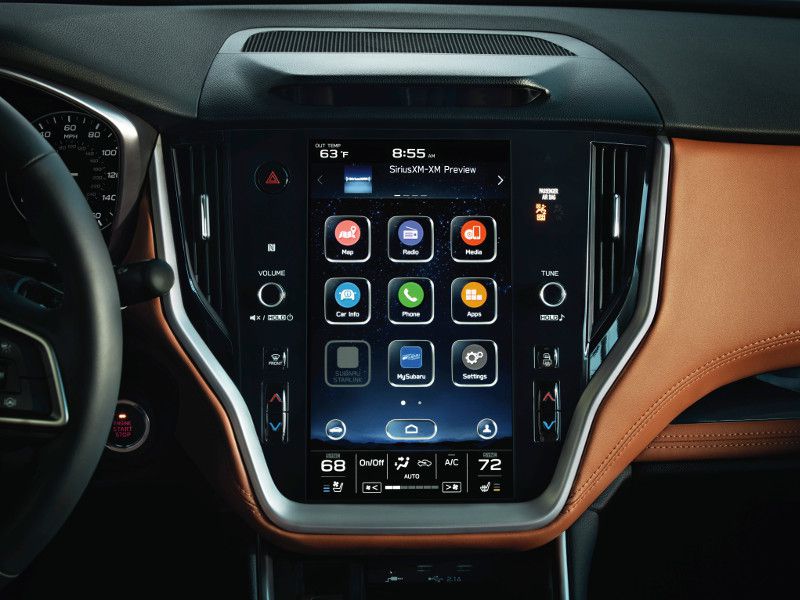 Photo by Subaru
There's a solid suite of standard and available safety features.
The 2020 Subaru Legacy has not yet been crash-tested by either the Insurance Institute for Highway Safety or the National Highway Traffic Safety Administration. Though we don't have crash test data at this time, the Legacy comes equipped with a wide range of standard and available safety features to keep you and your family safe on the road. There's EyeSight Driver Assist Technology, which includes lane-centering for the first time in the United States. It provides steering assist whenever the advanced active cruise control is engaged to help keep you in your lane.
Additional standard features include automatic emergency braking, the EyeSight Assist Monitor with a head-up display of warnings, and LED headlights with high beam assist. Available features include blind-spot detection with lane-change assist and a rear cross-traffic alert, reverse automatic braking, and the DriverFocus Distraction Mitigation System to warn you when you aren't paying attention.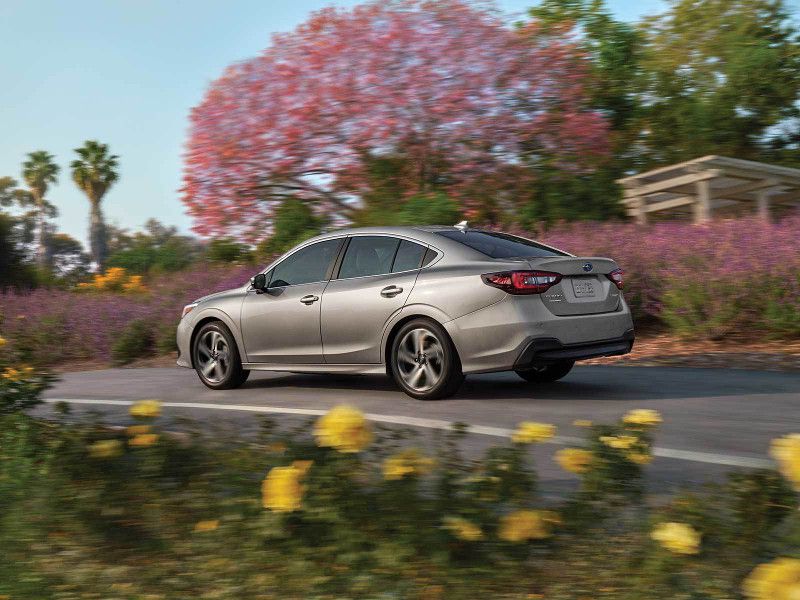 Photo by Subaru
Plenty of Room in the Trunk
Cargo isn't usually your priority when you're buying a sedan, but it still matters. Groceries need to find a way home and luggage still needs to be stowed, so having a trunk that's too small to manage cargo is a challenge. The 2020 Subaru Legacy has a 15.1-cubic-foot trunk, which is enough to hold four full-size roller bags. That should easily manage a week's vacation or a weekend getaway.
Standard mounting brackets on the Legacy's roof make installing a roof rack quick and easy. This makes the sedan even more versatile, so you have room for additional luggage or large items that won't fit inside like canoes and large sporting equipment. The Legacy is first and foremost a sedan made for passenger comfort, but it doesn't ignore the need for those people to take cargo along for the trip.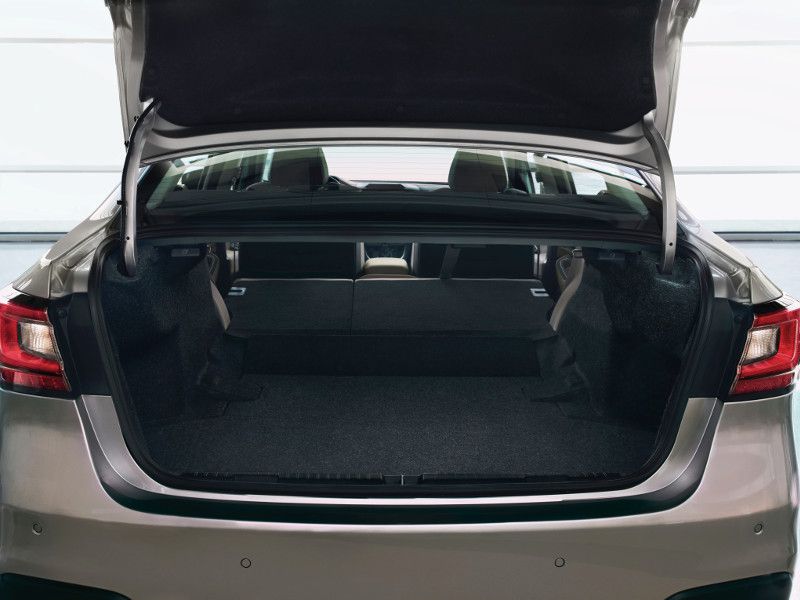 Photo by Subaru
Final Thoughts
The 2020 Subaru Legacy continues to be a strong contender among those shopping mid-size sedans, starting with its wide range of trims and affordable pricing. The addition of a turbocharged engine, while not as fuel-efficient, is a great option for those who like a more performance-oriented drive. Combined with solid handling and a smooth ride, it makes the Legacy an enjoyable car to drive or to ride in as a passenger.
Adding to the Legacy's appeal is a strong suite of standard and available safety features, even on the base trim. And finally, that massive 11.6-inch infotainment screen keeps technology in the Legacy front and center, providing key smartphone connectivity features and an easy to master interface. In all, the 2020 Subaru Legacy has lots to offer today's mid-size sedan shopper.
Photo by Subaru