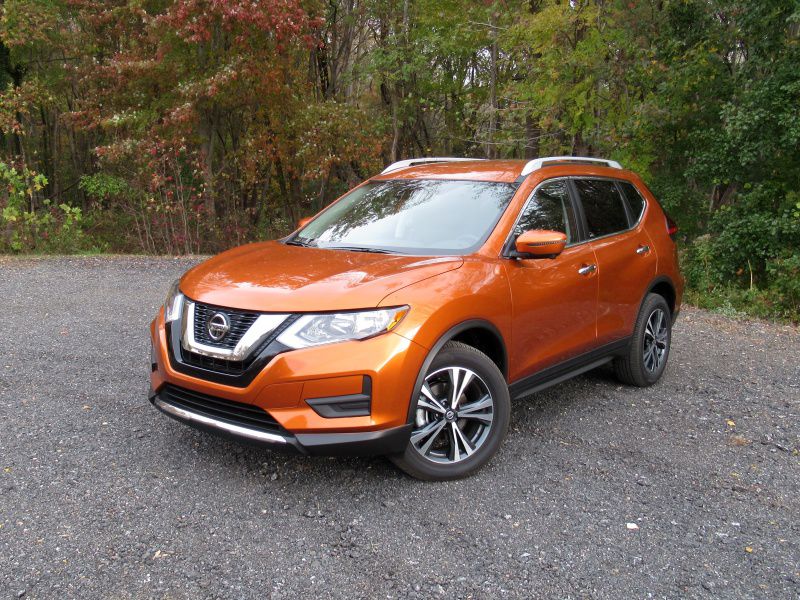 92020NissanRogue ・ Photo by Brady Holt
The Nissan Rogue is likely in its final months before a comprehensive redesign, but that doesn't mean buyers have gotten tired of it. Nissan's compact crossover SUV was one of America's best-selling vehicles last year, finding more buyers than any vehicle in the country except for a few big pickup trucks and two of its closest competitors: the Toyota RAV4 and the Honda CR-V.
Buyers are choosing wisely. While fresher competitors may offer fancier, higher-tech interiors and more powerful engines, the 2020 Nissan Rogue continues to be a class standout. The Rogue brings a spacious interior, user-friendly controls, pleasant driving manners, and advanced safety technology — all at reasonable prices, starting at $25,300. If you're not dedicated to having the hottest new model, read on to see if the Rogue could still be the best compact crossover for you.
Handsome Styling
The current-generation Rogue dates back to the 2014 model year, making it one of the oldest compact crossovers. But the vehicle has aged well, still striking the perfect balance between boxy and curvy. The Rogue sits confidently high off the ground, so it doesn't look like a mere hatchback like some small crossovers. But its gentle lines, without trendy sharp creases or butch-looking effects, combine with tasteful chrome trim to create a classy vibe. You can also choose to dress up the Rogue with Monarch Orange paint, which drew positive feedback on our test vehicle.
The Rogue also continues to benefit from a 2017 update that brought a bolder, more cohesive front end — it made the headlights flow more cleanly into a larger grille — and more attractive taillights (with more red and less white). You wouldn't buy a Rogue when you want to stand out, both due to its fairly conservative design and the fact that Nissan has sold some 1.5 million Rogues that look nearly identical to this one. But nor should its looks turn you off.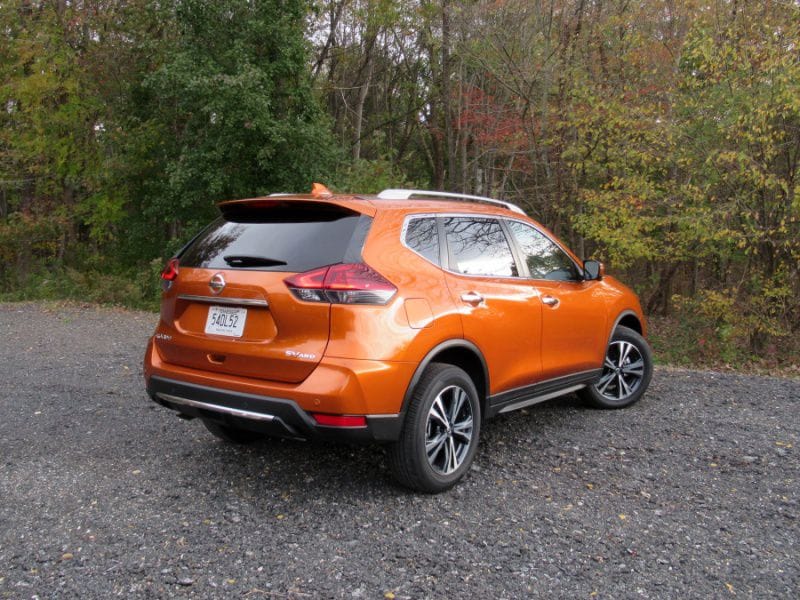 Photo by Brady Holt
Functional Dashboard Design
The Nissan Rogue's interior was on the plain side back in 2014, and it looks even more so here in 2020. The high, upright dashboard lacks the slimming techniques used by many new competitors — namely, perching the infotainment screen atop the dashboard rather than raising the entire dash to surround it. And rather than woodgrain or metallic trim, the Rogue uses shiny black plastic that's begun to look dated. Opting for light-colored upholstery brightens up the dashboard, because the passenger side of the dash uses the same color as the seats; our test car's black interior bordered on dour.
But while the Rogue's interior doesn't look fancy, it's hard to argue with its functionality. It has clear buttons and simple knobs, all easy to figure out quickly and to operate without distraction. We wish some newer models were similarly user-friendly. Nissan also keeps things modern by providing a 7-inch touchscreen as standard equipment, and the system is compatible with Android Auto and Apple CarPlay on every Rogue model. Several competitors offer larger screens, but the Rogue's is at least easy to use.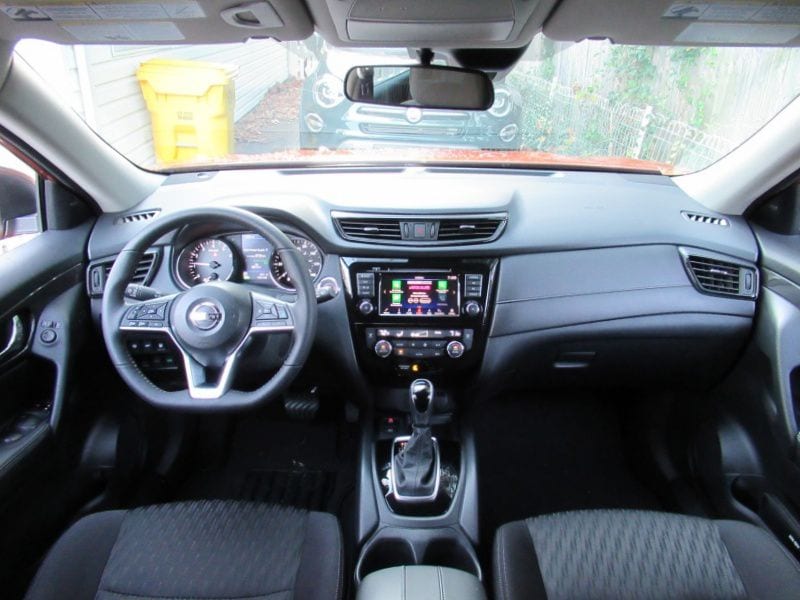 Photo by Brady Holt
Generous Space
The Rogue's user-friendliness extends to its spacious interior. It's one of the roomiest vehicles in the compact crossover class, with a high seating position and ample front and rear legroom. Our tested Rogue even fit a rear-facing child seat with uncommon ease — we barely had to adjust the front seat to make enough room, and the exposed LATCH anchors are a welcome departure from vehicles that bury them in the seat cushions.
The Rogue's cargo capacity is also among the best in the class, and better even than some mid-size crossovers. Nissan provides 39 cubic feet of cargo space behind its rear seat, and 70 cubic feet with the rear seat folded down. We also appreciated the "Divide-N-Hide" cargo floor, which provides an adjustable height (to choose between a flush surface with hidden storage space below it, or the largest possible open space). It also lets you block off parts of the big cargo hold so small items can't fall over or roll around. However, the Rogue's towing ability is low for this class at just 1,102 pounds.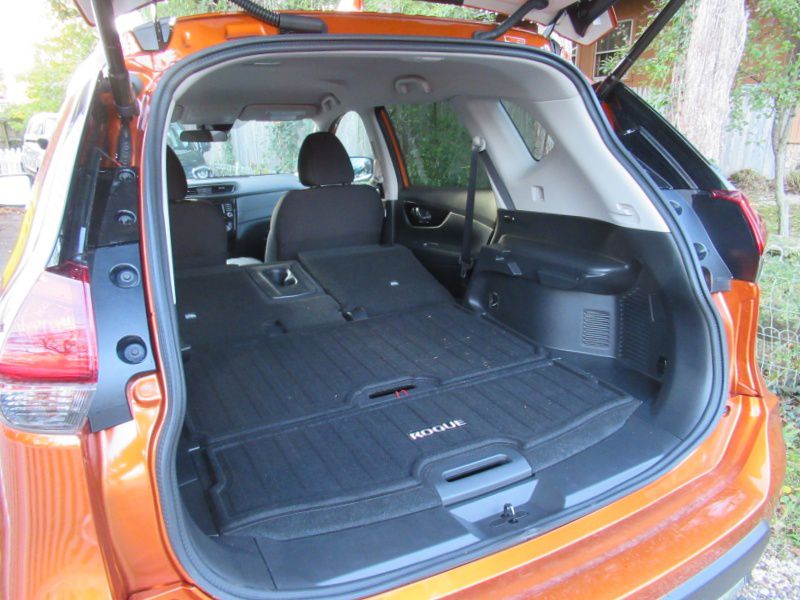 Photo by Brady Holt
Economical Engine
Despite its age, the 2020 Nissan Rogue is one of the most fuel-efficient compact crossovers. In EPA testing, it returned 26 mpg in the city, 33 mpg on the highway, and 29 mpg overall with front-wheel drive, and about 1 to 2 mpg less with all-wheel drive. That's not best-in-class, but it compares reasonably well with any crossover except a gas-electric hybrid, a powertrain the Rogue no longer offers.
One of the reasons for the Rogue's economy is that it's down on power. Its 2.5-liter four-cylinder engine makes just 170 horsepower and 175 lb-ft of torque, on the low side for the class. And the engine makes a racket when you try to get moving in a hurry. This isn't the crossover for folks with a lead foot. The good news is, if you typically drive gently, you can use the vehicle's selectable "Eco" driving mode. The engine revs less in Eco mode than in Normal or Sport, which keeps the vehicle quieter when you're not trying to accelerate hard.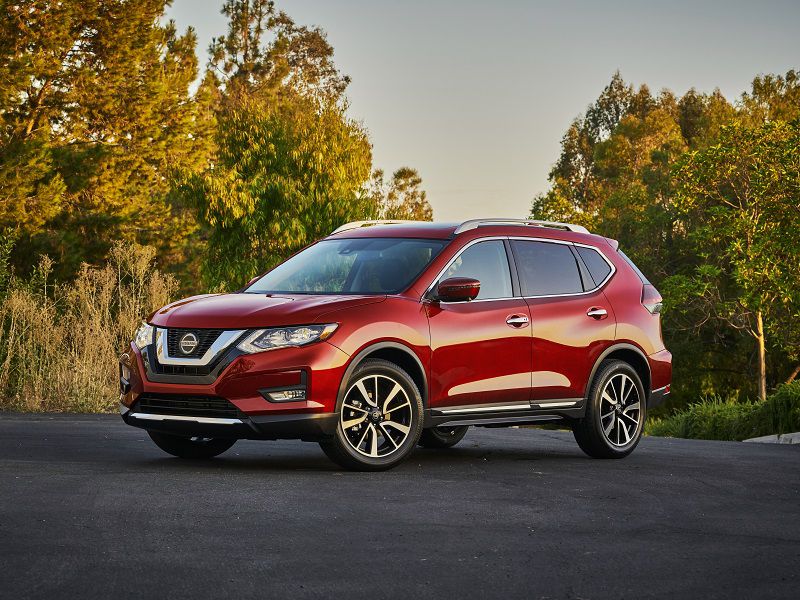 Photo by Nissan
Pleasant Driving Experience
Once you've selected Eco mode, the Rogue is a pleasant compact crossover to drive. It rides smoothly, handling bumps without upsetting passengers, and it stays steady on the highway. Except for engine roar under acceleration (mostly in Normal and Sport modes), the Rogue stays respectably quiet.
Also, while it's no performance machine, the Rogue handles with respectable composure for anything this tall and roomy. The steering is light and natural, sending the vehicle where it's pointed without fuss — and it doesn't feel loose and disconnected from the wheels like in some SUVs. Overall, the Rogue is maneuverable and easy to drive, impressive for such a spacious vehicle.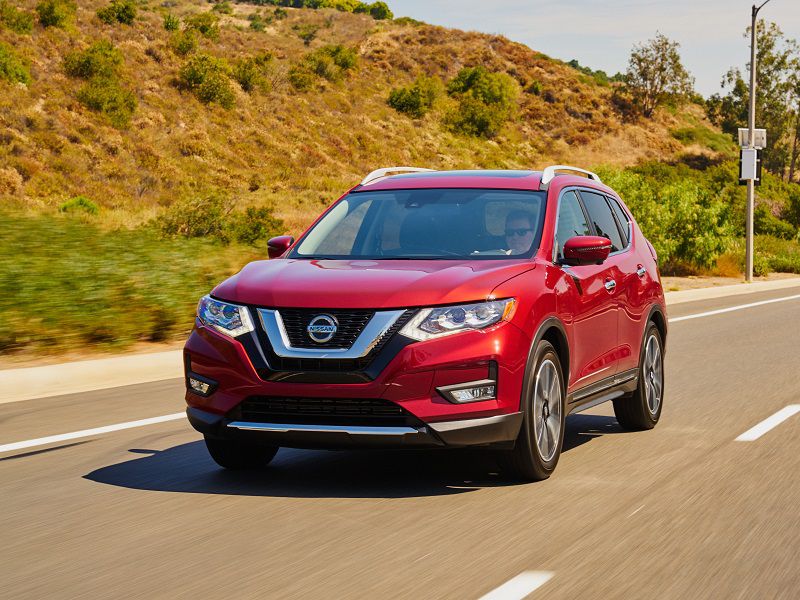 Photo by Nissan
Affordable Pricing
The 2020 Nissan Rogue starts at a reasonable $25,300, with generous standard equipment even on the base S model — including up-to-date safety and infotainment technology. However, we'd pay the extra $1,420 for the midlevel SV, like our test vehicle. It dresses up the Rogue's exterior and interior, and it also provides even more safety gear, along with useful convenience features like a power-adjustable driver's seat and a hands-free power liftgate.
We're inclined to skip the top SL model, which jumps to $31,690. You can get nearly all the same features on the SV for several thousand dollars less, with the main exception being leather upholstery. The Rogue doesn't really feel like a luxury car even with leather, and if you're really dedicated to cowhide, competing crossovers offer it at a smaller price premium. But stick with the S or SV and the Rogue will give you a lot of features for your money. All-wheel drive is available on every Rogue trim level for a low $1,350.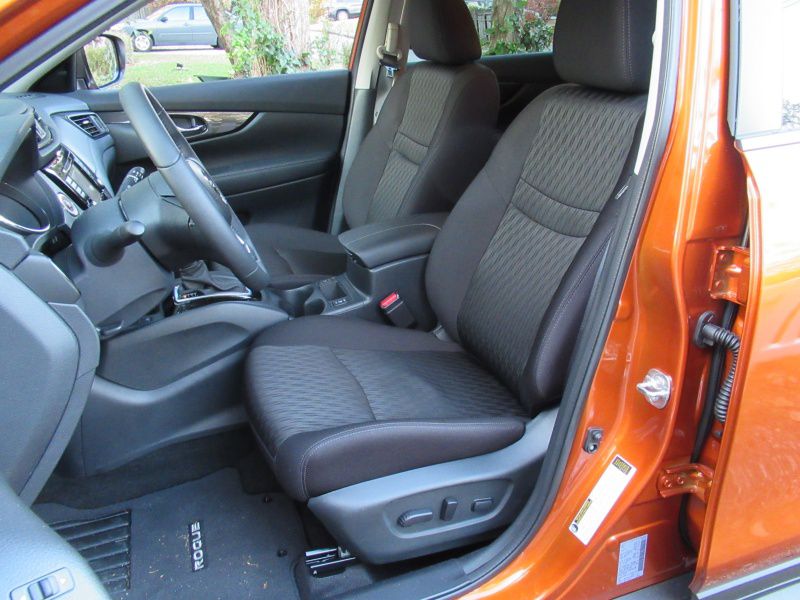 Photo by Brady Holt
Up-to-Date Safety
Despite the Rogue's age, Nissan has kept its safety up to date by retrofitting it with advanced safety features — an uncommon number of which are standard on every Rogue. These include a forward collision warning with automatic emergency braking and pedestrian detection; blind-spot monitoring with a rear cross-traffic alert, and a lane-departure warning with automatic steering assistance. Optional on the Rogue SV and standard on the SL are Nissan's ProPilot Assist adaptive cruise control — which can maintain a safe following distance from other traffic and includes full stop-and-go capability that's useful in rush-hour traffic — and a surround-view parking camera.
The Rogue also did well in crash testing, earning top scores in most Insurance Institute for Highway Safety evaluations and four out of five stars from the National Highway Traffic Safety Administration. Some competing crossovers do even better, but the Rogue continues to be a strong choice for safety — particularly considering how much crash-avoidance technology it provides at no extra cost.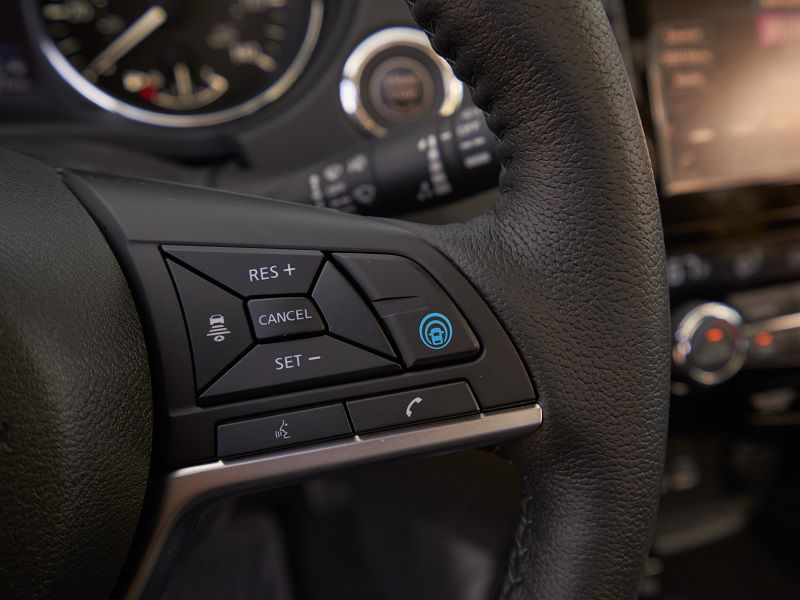 Photo by Nissan
Plenty of Competitors
The compact crossover segment is the hottest in the auto industry, and the Rogue faces many strong competitors. We'll start with the Subaru Forester, which also focuses on family-friendly safety and utility over sporty performance and a flashy interior. Between the two, the Subaru scores even better in crash tests and has especially good outward visibility, but the Rogue has more room and arguably looks fancier.
The best-selling Toyota RAV4 brings an off-road vibe and a more powerful engine, but the Rogue is roomier and — in Eco mode — quieter. The Honda CR-V is similarly spacious and has a more luxurious interior design, but the Rogue has more user-friendly controls. The newly redesigned Ford Escape brings relatively agile handling and an optional powerful engine, but it's not as roomy as the Nissan. The Rogue is also generally less expensive than these competitors, though they edge it out for fuel efficiency. Going the other direction, the Hyundai Tucson and Kia Sportage offer even more features for the money plus a pleasant driving experience, but they use more fuel. Also consider Nissan's own Rogue Sport, which looks like the Rogue but is smaller, less powerful, and less expensive.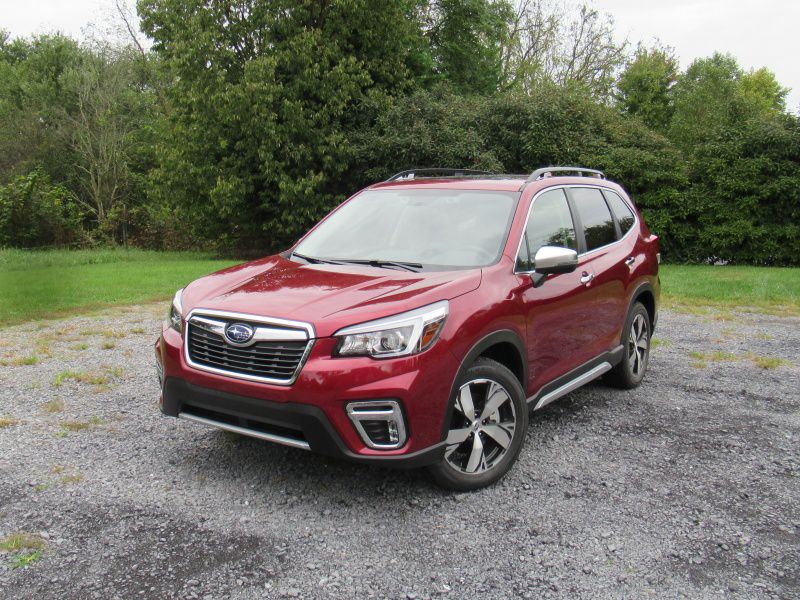 Photo by Brady Holt
Still Likable
You can buy competing compact crossovers that edge out the Rogue in various ways — cars with incrementally better crash-test scores and EPA fuel economy ratings, more horsepower, and fresher interiors. But it remains a likable, thoroughly competent, user-friendly compact crossover, with more interior space and better fuel economy than many of its newer rivals, along with up-to-date safety technology.
If the next-generation Rogue can provide a more modern interior decor and a peppier, quieter engine, without interfering with the current model's strengths, this vehicle's appeal will grow even further. But it's already a compelling package, and as dealers try to clear out inventory of this outgoing model, you should be able to get a 2020 Nissan Rogue at an especially great price.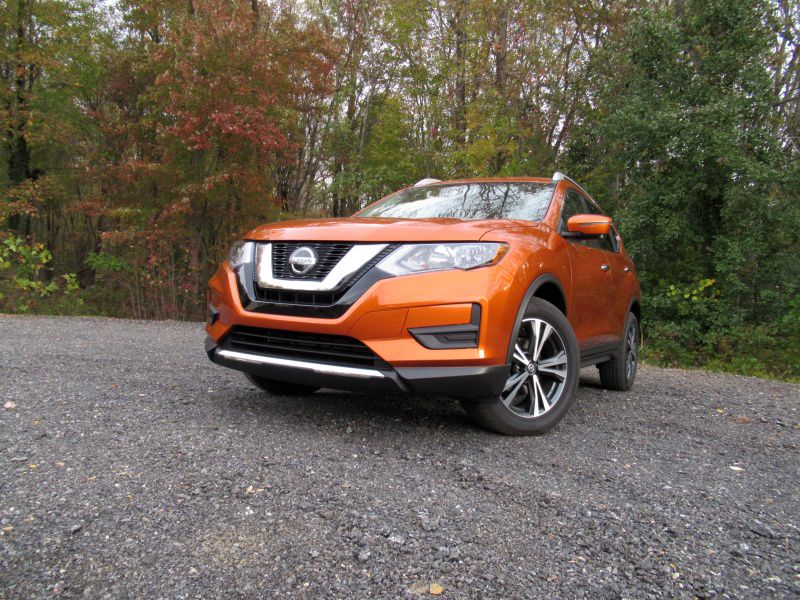 Photo by Brady Holt