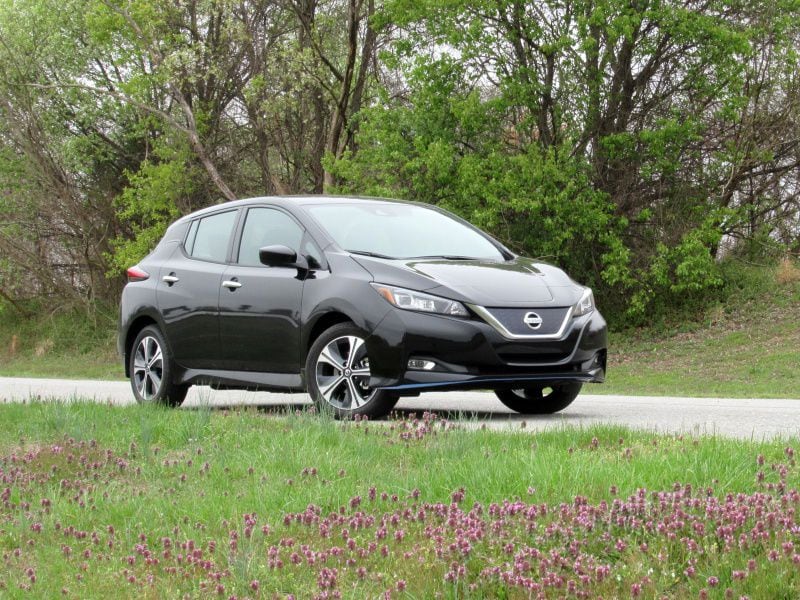 2020 Nissan Leaf Grey Front Three Quarter BH ・ Photo by Brady Holt
When most people think about electric cars today, they're likely picturing a Tesla. The company's cutting-edge vibe, long ranges per charge, sports-car driving experience, and luxury-car style make sure its lineup gets noticed. But Teslas are also priced like luxury cars. Even the company's entry-level Model 3 compact sedan starts at $40,000 and rises quickly. What's more, unlike most of today's electric vehicles, you can no longer get a Tesla with a $7,500 federal tax credit — Teslas have sold so well, the company already burned through its allocation of tax credits.
If you're looking to eliminate gasoline from your life without a luxury price tag, we present the 2020 Nissan Leaf: the least expensive fully electric vehicle (EV) sold in the U.S. It starts at $31,600, which falls to $24,100 after you factor in that tax credit. The five-door Leaf is more of a compact economy car than a luxury car, and it needs to recharge more often than Teslas do. But if a relatively spacious and affordable EV sounds appealing, keep reading.
How far will it go?
One of the biggest hurdles to an electric vehicle is its range per charge. Not only can the typical gasoline-powered vehicle cover 400 miles or more between fillups, but it's generally easy to find a gas station and refuel in five minutes. By contrast, most Leafs can travel an EPA-estimated 149 miles per charge, while the extra-cost Leaf Plus hits 215 miles (or 226 on its base trim level). We still wouldn't pick a Leaf for a cross-country road trip, but that's enough extra margin to run errands on your way home from work.
You can fully charge the standard Leaf in eight hours using a 240-volt outlet, the most common car charger for home installation or public stations; the Leaf Plus's larger battery needs 11.5 hours. Public fast-charging stations can give 80 percent charge in 40 to 60 minutes depending on your battery and the charger's capacity. You can even get about 4 miles of range per hour on a 120-volt household outlet, which adds up to a slow full recharge but can top you off if you're plugged in overnight. Remember, you won't often run the battery all the way down to zero, so you won't often need the maximum recharging time.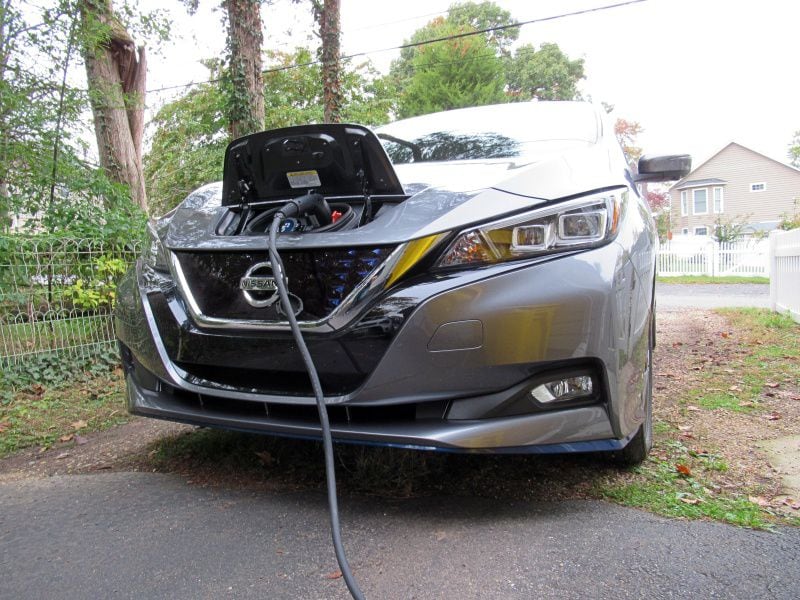 Photo by Brady Holt
The Affordable EV
As we said, the 2020 Nissan LEAF is the least expensive EV on the market, with a base price of $31,600 ($24,100 after its federal tax credit). Nissan hiked the price this year from 2019's $29,900, but that accounts for a host of new standard safety and infotainment features. The base Leaf S model's high-end equipment includes advanced driver-assist technology, an 8-inch touchscreen infotainment system, and automatic climate control. The Leaf SV ($34,190) is dressed up with alloy wheels, fog lights, and a leather-wrapped steering wheel, and it also adds adaptive cruise control, a navigation system, and a six-speaker sound system.
The longer-range Leaf Plus costs roughly $6,000 more than the standard model: $38,200 for the S Plus (which brings a few extra features compared to the base S) and $39,750 for the SV Plus. There's also a $43,900 SL Plus with leather upholstery, which is no longer available on the standard Leaf, and other luxury add-ons that are optional on the SV. These include heated seats, a heated steering wheel, and a premium Bose sound system.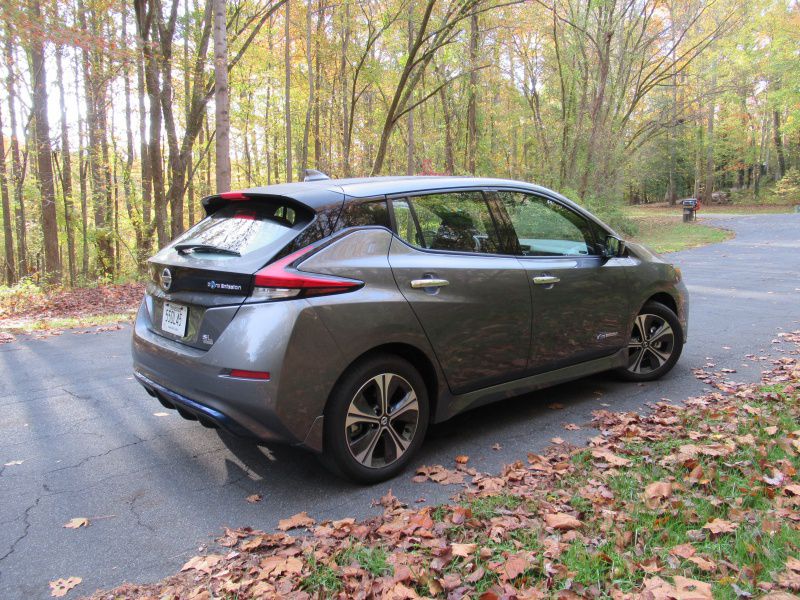 Photo by Brady Holt
Easy to Drive
The 2020 Nissan LEAF has easygoing driving manners, with light, natural-feeling steering, a smooth ride, and agreeably agile handling. Its suspension is tuned to take the edge off bumps sooner than to carve corners, but like in a Tesla, the battery pack keeps its center of gravity low and central — providing excellent stability and balance.
It's also quick. The standard Leaf makes an unremarkable 147 horsepower, but that figure disguises its hearty 236 lb-ft of torque. What's more, unlike a gasoline engine, an electric motor keeps peak torque available in an instant and never roars with the effort. The Leaf Plus has 215 horsepower and 251 lb-ft of torque, but the real-world difference is minimal. The Leaf is easy to drive just like any other car, but you can also activate its "E-Pedal" that essentially brakes the car simply when you lift off the accelerator — and helps recharge the battery while you do so. However, we prefer competitors that offer a wider range of "regenerative braking" modes rather than the Nissan's on/off switch.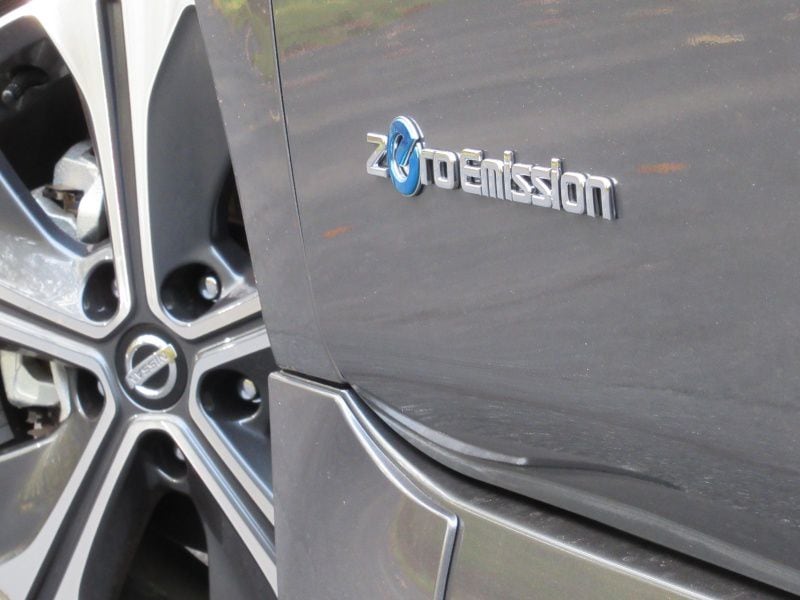 Photo by Brady Holt
Doesn't Scream 'Electric'
Last redesigned in 2018, the Nissan LEAF is a cleanly styled five-door hatchback with attractive lines and no obvious cues that it's an electric car. That's a blessing and a curse compared to the first-generation Leaf, which stood out more from other traffic but was harder to call "pretty." The old model had no front grille — because electric cars don't need an opening for air to help cool the engine — but today's Leaf wears the familial Nissan front end anyway. The charging port remains on the front of the car, but it's subtle now; the original Leaf made it a prominent styling statement.
The Leaf's interior also lacks the aggressively high-tech feel that you'd find in a Tesla or even a hybrid like the Toyota Prius. It looks and feels like a conventional economy car's, and not a daring one at that. The design uses mostly simple rectangles, with a conventional 8-inch touchscreen infotainment system in the middle of the dashboard. Few cabin materials are fancy, and the SL Plus's leather upholstery is more sturdy than opulent. Only the gear selector has an electric-car vibe — the small round knob carries over from the original Leaf.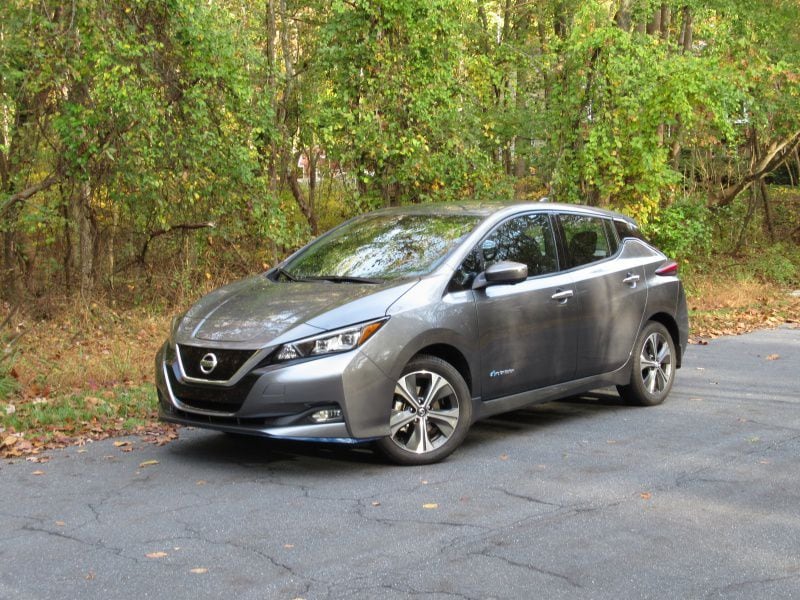 Photo by Brady Holt
User-Friendly Controls
A big plus side to the Leaf's unimaginative interior design is that everything is easy to figure out. While Tesla famously moved nearly all controls into a giant touchscreen, Nissan declined to reinvent the wheel. You get buttons, knobs, and stalks for common functions, with simple physical controls for anything you'd need to use quickly. No submenus, no taking your eyes from the road to hunt for what you need. We do wish Nissan had made a more elaborate and comprehensive display for the Leaf's range and efficiency data, though.
For 2020, Nissan added the 8-inch infotainment system as standard equipment even on the base Leaf, a welcome upgrade. That's still barely half the size of a Tesla Model 3 screen, but it works well for what it is. Android Auto and Apple CarPlay smartphone integration are now standard equipment as well.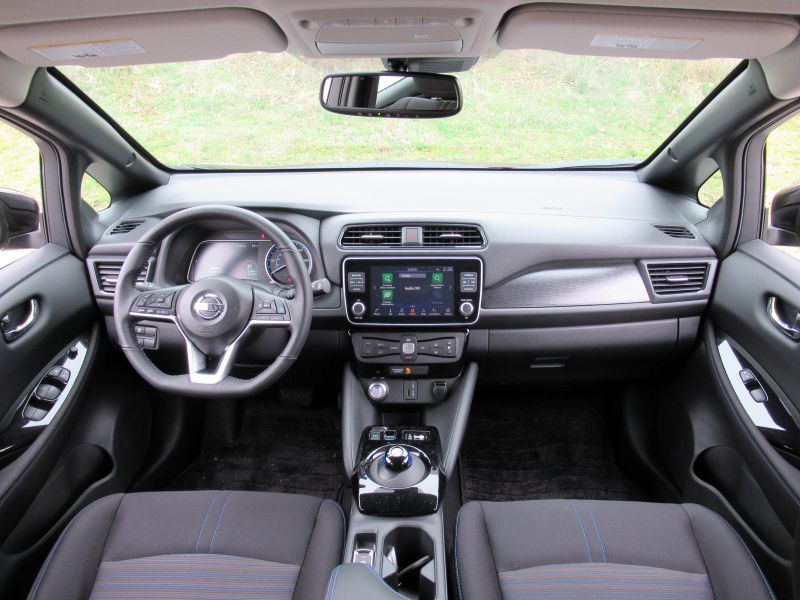 Photo by Brady Holt
Spacious Interior
The Nissan Leaf's function-focused design continues into its spacious interior. As an upright hatchback, it has more passenger and cargo space than a Tesla Model 3 sedan, with an open and airy feel. There's enough legroom and headroom for four adults to sit comfortably, and a fifth will fit in a pinch.
The Leaf provides a generous 24 cubic feet of cargo space in its deep trunk, and you can fold the rear seat down in a 60/40 split to expand capacity. However, the folded rear seatbacks are high above the cargo floor, so you don't get the convenient flat surface that's common in modern hatchbacks and crossovers. The Leaf Plus and standard Leaf have the same interior volume; the Plus's higher-capacity battery didn't need to intrude into the cabin.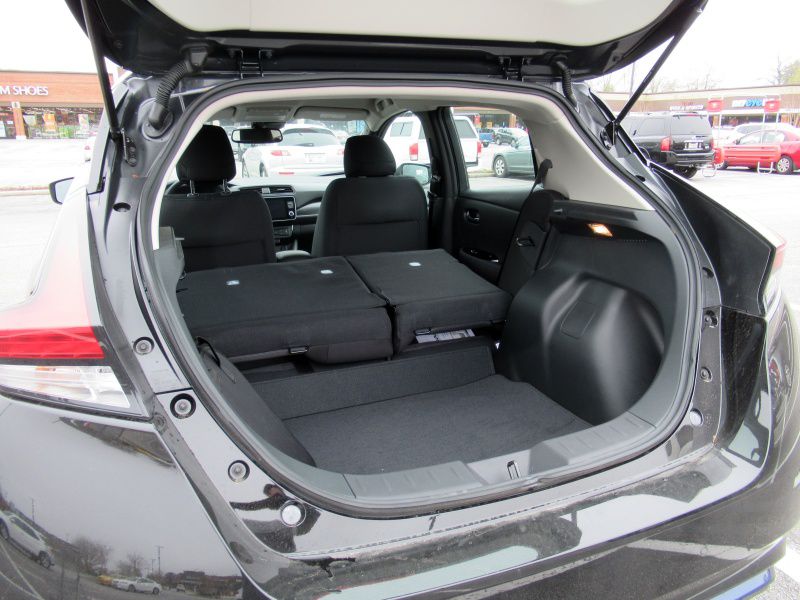 Photo by Brady Holt
Safety Comes Standard
We mentioned that the 2020 Nissan LEAF now has more standard safety and driver-assistance features. To be precise, this technology includes front and rear automatic emergency braking with forward pedestrian detection, blind-spot monitoring with a rear cross-traffic alert, and a lane-departure warning with automatic steering corrections. Extra-cost additions include adaptive cruise control (standard on all but the S and S Plus) and Nissan's ProPilot Assist (optional on the SV and SV Plus, standard on the SL Plus), which extends the adaptive cruise control and other systems to stop-and-go traffic conditions.
The 2020 Leaf hasn't been crash-tested by the National Highway Traffic Safety Administration or the Insurance Institute for Highway Safety.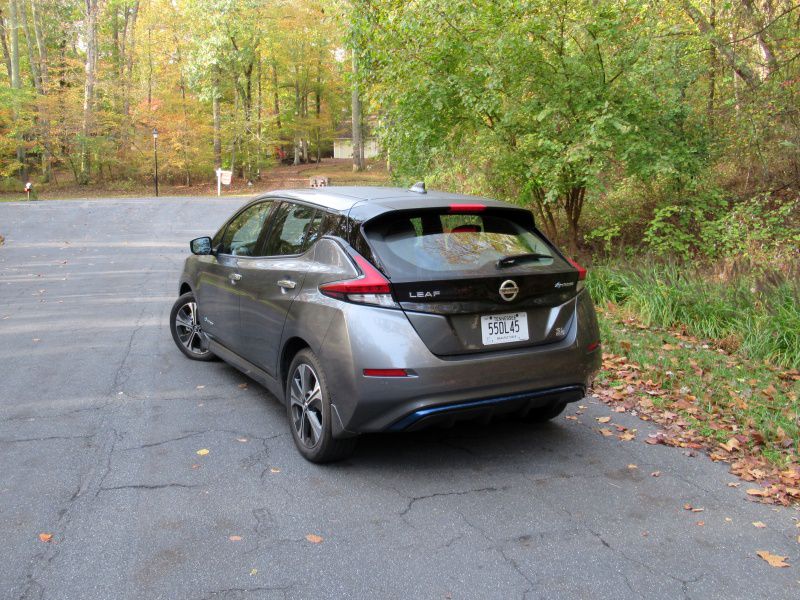 Photo by Brady Holt
Other Fuel-Savers to Consider
The Hyundai Ioniq Electric is the next-least-expensive EV after the Leaf, starting at $33,045. Its 170-mile range slots between the standard Leaf and the Leaf Plus. Between the two, the Leaf feels roomier but the Ioniq feels more high-tech thanks to some new updates this year. However, the Leaf is available nationwide and the Hyundai is only sold in a handful of states.
If you'd like to pay up for more range, alternatives to the Leaf Plus include the Hyundai Kona Electric, Kia Niro EV, Chevrolet Bolt, and the Tesla Model 3. Each beats the Leaf's range and feels higher-tech. Of these, the Bolt and Niro are the most spacious, while the Hyundai and especially the Tesla are the most upscale and sporty. While they all have similar sticker prices to the Leaf Plus, the Chevrolet and Tesla no longer qualify for the $7,500 federal tax credit like the Nissan, Hyundai, and Kia. Another fuel-saving option is a plug-in hybrid, which gives you a modest amount of all-electric range (often 25 to 50 miles) before a gasoline engine turns on; this lets you use little to no gas while commuting, while still allowing long trips. Leaders include the Honda Clarity, Hyundai Ioniq PHEV, and Toyota Prius Prime.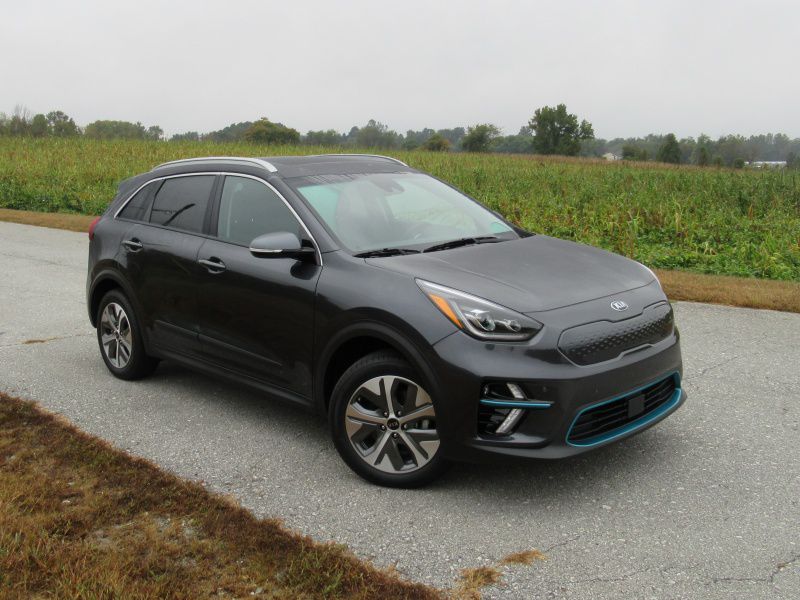 Photo by Brady Holt
A Low-Effort Way to Eliminate Gasoline
The Nissan LEAF doesn't make it cool to drive an electric car. It doesn't look like it's from the future or provide sports-car-like performance. Instead, it goes about the business of a useful, decently affordable compact car — all without ever burning any gasoline.
Our choice from the lineup is the Leaf SV with the standard 149-mile battery. It provides a host of useful features and enough range for everyday use, at prices that deeply undercut nearly every competitor. True, it's not ready for a long road trip. But for drivers who don't need to take their electric car on across five states, the Leaf is a sensible, economical choice.
Photo by Brady Holt