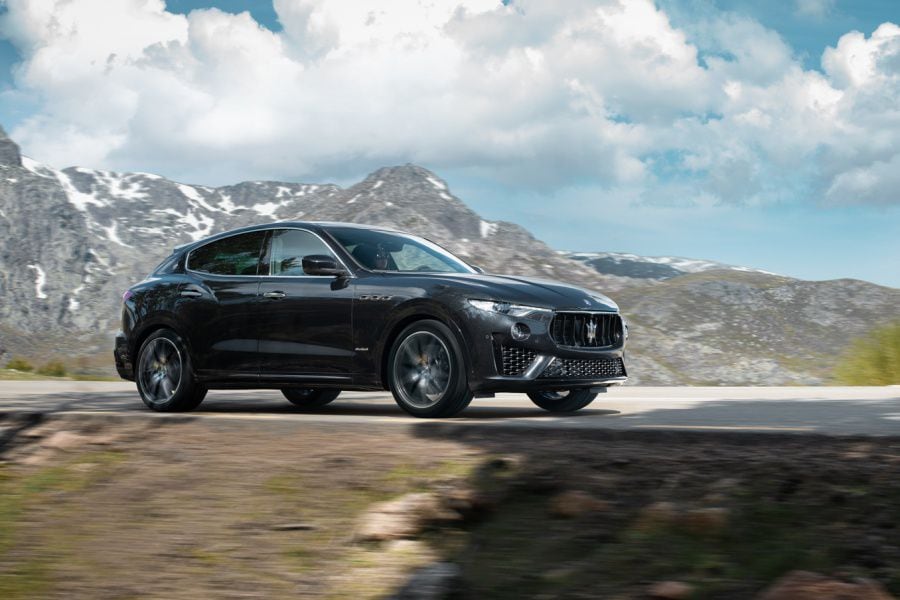 Large 14766 MaseratiLevanteSQ4MY19GranSport ・ Photo by Maserati
Alfieri, Bindo, Carlo, Ettore, and Ernesto. They were the Maserati brothers, and they started their car company way back in 1914. The Italian automaker began building winning race cars in the 1920s, and has enjoyed an image and reputation for building some of the fastest and most beautiful cars ever since. Now part of Fiat Chrysler Automobiles, which also owns Fiat, Dodge, Ram, Jeep, Alfa Romeo, and Chrysler, Maserati created its first SUV, the Levante, in 2017.
Sexy, luxurious, family-friendly, and fast, the 2020 Maserati Levante remains one of finest SUVs to come out of Italy, a list that also includes the Alfa Romeo Stelvio and the Lamborghini Urus. Levante is a Spanish word that translates to "I raised," and the five-passenger mid-size crossover offers a unique combination of style, size, luxury, and high performance, including a twin-turbo V8 developed by Ferrari. It competes with the BMW X5, Porsche Cayenne, Mercedes-Benz GLE, and Range Rover Sport.
Available in Four Trim Levels
Built in Turin, Italy, the Maserati Levante hasn't changed much over the last four years, and the SUV hasn't received any updates for 2020. It's offered in four trim levels: Base, S, GTS, and Trofeo, which is Italian for trophy. Each is equipped with all-wheel drive and an excellent eight-speed automatic transmission. There isn't a hybrid model, but there are several powerful engines available.
Prices start at $77,185, including a $1,495 destination charge, for the base Levante model and $88,185 for the Levante S. Both come standard with a smooth and responsive twin-turbo 3.0-liter V6, which makes 345 horsepower in the standard model and 424 hp in the S. Maserati says the base model accelerates to 60 mph in 5.8 seconds, while the S is nearly a full second quicker. Both can also be dialed up with either the Grandlusso and Grandsport packages, which add a long list of features, including an audio system upgrade and body-color side skirts, for about $5,000. The Grandlusso even gets special Ermenegildo Zegna silk and leather upholstery, and you don't get more Italian than that.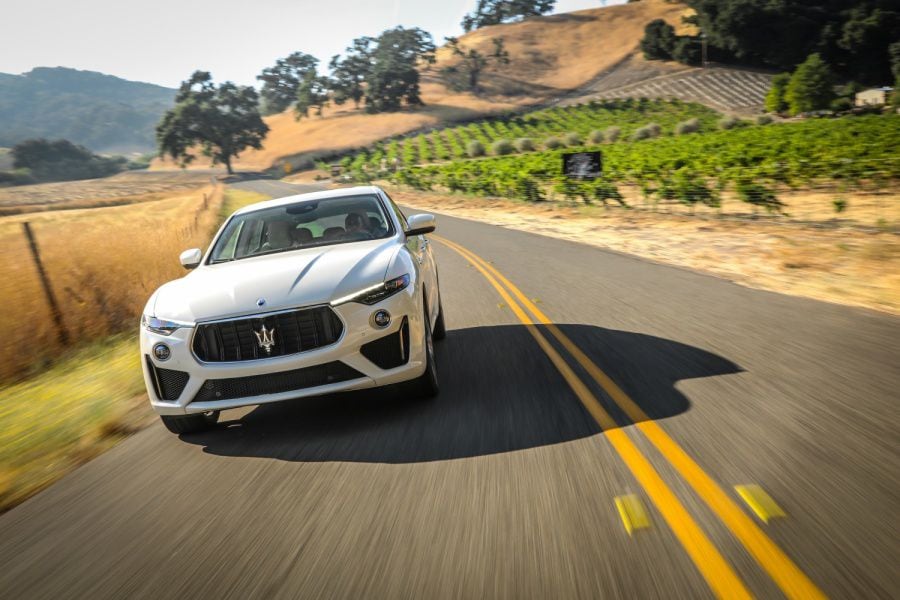 Photo by Maserati
Two V8-powered Models
Maserati also offers two V8-powered Levante models with over 500 hp, but the price goes up considerably. For $124,785, you can step up to the Levante GTS, which packs quite a bit more performance than the S. In this model, Maserati's twin-turbo 3.8-liter V8 pumps out 550 hp, dropping its 0-60 mph time to 4.0 seconds. That's quick enough to spill your morning cappuccino.
But wait, there's more. Trofeo is Maserati-speak for high performance, and the 2020 Levante Trofeo is one of the quickest and most powerful suvs out there. It's also one of the best-handling. Under the hood is a 590-hp version of the 3.8-liter V8, That's an incredible 156 hp per liter, Maserati's highest specific output ever. Developed in association with Ferrari, the V8 is also assembled by Ferrari in Maranello, Italy, along with the brand's other gas engines. Our Levante Trofeo test car had a base price of $171,475 and the big 4800-lb SUV blasted to 60 mph in just 3.8 seconds.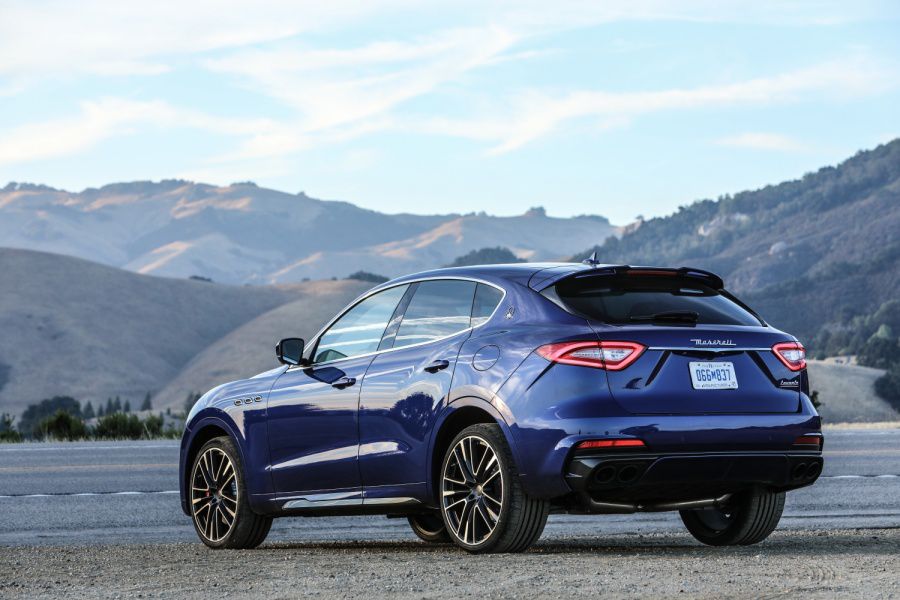 Photo by Maserati
Power, Power, and More Power
The Levante Trofeo is the second-most-powerful Maserati ever. Only its 630-hp V12-powered supercar, the MC12 Versione Corse, has had more oomph under the hood. It's fun to hustle this big SUV through traffic as its twin-turbo V8 is incredibly responsive, making 538 lb-ft of torque at just 2,500 rpm. And it carries that wave of power all the way up to 5,000 rpm. It's also smooth and refined, even as it climbs to its lofty 7,000-rpm redline. And it sounds amazing, with a throaty V8 rumble from a set of four very large exhaust pipes. But it isn't too loud.
Thrust off the line is strong enough to get the endorphins flowing, and turbo lag isn't a problem at any speed. The Levante's automatic transmission is also well geared and pleasingly responsive, and its large aluminum paddle shifters are perfectly placed and feel just right if you choose to click through the gears manually. The SUV also has a Corsa sport mode, which quickens throttle response even further, reprograms the transmission for faster gear changes, stiffens the suspension, and dials back the traction and stability control systems.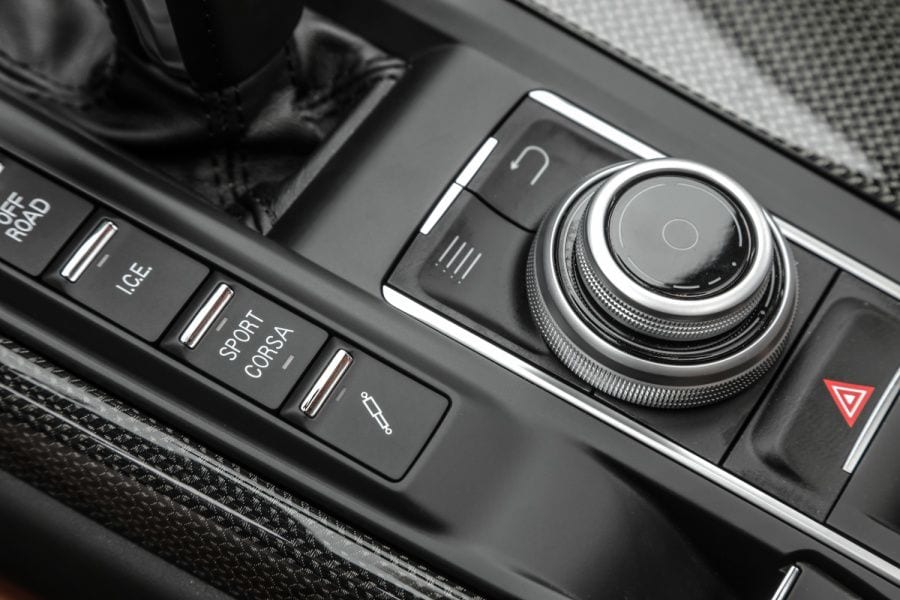 Photo by Maserati
Firm But Comfortable Ride
Our 2020 Maserati Levante Trofeo test vehicle was also impressively athletic and surprisingly agile for such a large, heavy SUV. If it weren't for the tall seating position, you'd swear you were driving a full-size sports sedan like the brand's Quattroporte. There's a ton of grip on the road, and the Trofeo's standard air suspension — which has six height settings — is very well controlled with little body roll when you throw it into a corner.
The Levante's ride is firm, but it isn't uncomfortable. The steering is heavy but responsive and well-isolated, despite the SUV's massive low-profile 22-inch high-performance summer tires. This is a great road-trip car, though those big tires have a tendency to follow grooves in the road, and the Maserati's lane-keeping assist system is overly aggressive. It doesn't want you to change lanes even when you're trying to. Radar cruise control and autonomous steering are standard. Although most buyers will never explore the Levante's over-Earth capabilities, the SUV does have an Off-Road mode that reprograms its all-wheel drive system and increases the height of its suspension to increase ground clearance.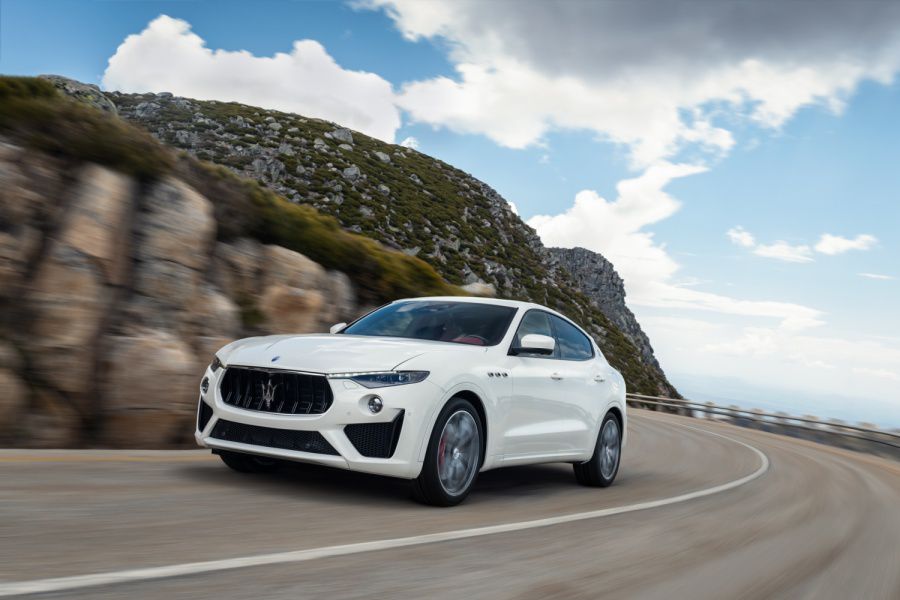 Photo by Maserati
Average Fuel Economy for the Class
Fuel economy is about average for this class, which isn't exactly filled with fuel-sippers. As expected, the V6-powered models are the most efficient of the bunch, with fuel economy ratings of 15 mpg in the city and 21 mpg on the highway. For comparison, Porsche's V6-powered Cayenne is rated 19 mpg city and 23 mpg highway.
With the V8, the Maserati is rated at 14 mpg city and 18 mpg highway. I averaged 18.1 mpg on a 600-mile road trip and 16.2 mpg during a week of mixed driving. I continuously used the Trofeo's start/stop feature, which shuts off the engine at idle to safe fuel; it's smooth enough not to be a bother. For comparison, Porsche's V8-powered Cayenne Turbo is rated at 15 mpg city and 19 mpg highway.
Photo by Maserati
Well-Appointed and Comfortable
Much like its exterior, the Levante's interior is very well-appointed and packed with some desirable Italian flair. Everything is covered in leather or carbon fiber. All the surfaces are soft to the touch, and all the knobs and switches function with precision. Nothing feels cheap or flimsy inside the Maserati, and the thick, leather-wrapped steering wheel feels good in your hands. For a sporting touch, its doors have no window frames, but they are heavy and won't stay open on inclines.
This is one of our favorite interiors in the segment. The Trofeo's seats are firm but large, well-shaped, and extremely comfortable. Its seat heaters could fry an egg. Outward visibility is excellent in all directions, and the Levante's side mirrors are large enough to minimize blind sports. The SUV shares its infotainment system with other FCA vehicles, including RAM trucks and Jeeps, and it's also a favorite. It's quick to respond and easy to navigate, and it features a screen that is large enough but doesn't dominate its dashboard. There are five USB ports.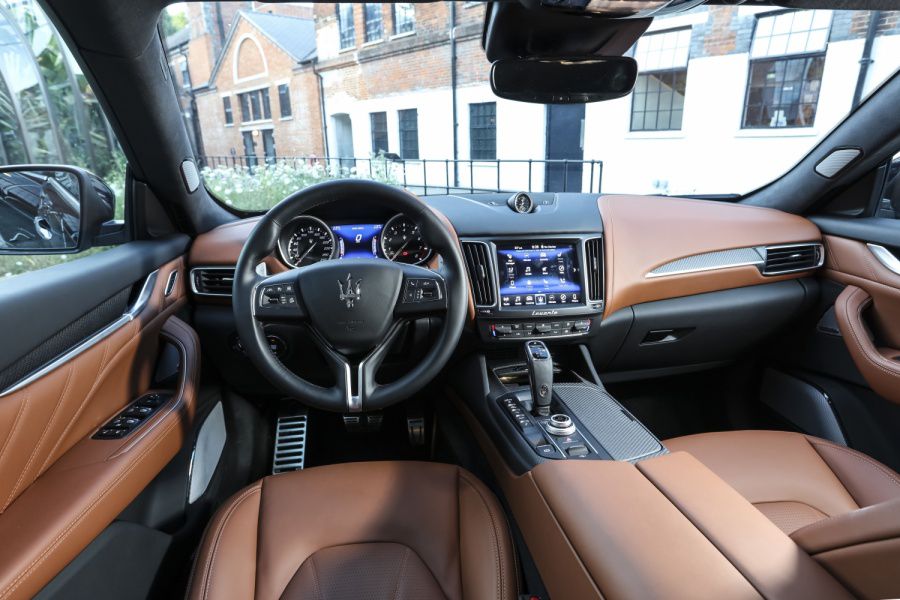 Photo by Maserati
Extremely Family-Friendly
With a generous 118-inch wheelbase and an overall length of 197 inches, the Maserati Levante is quite a bit bigger than it looks. Those dimensions give it plenty of interior space. The SUV seats five comfortably, though a third row isn't available. Rear air conditioning vents, along with a huge sunroof and power rear sunshades, are standard.
Young parents will appreciate the Maserati's easy-to-reach LATCH connectors in the outboard seats and easily accessed upper tether anchors on the seatbacks. Crash-test scores for this model are not available. Storage inside the Levante's cabin is also plentiful. The center console bin is deep, its door bins have slots for water bottles, and there's a large, felt-lined, covered cubby ahead of its shifter. Its well-placed front cupholders can handle two large morning coffees.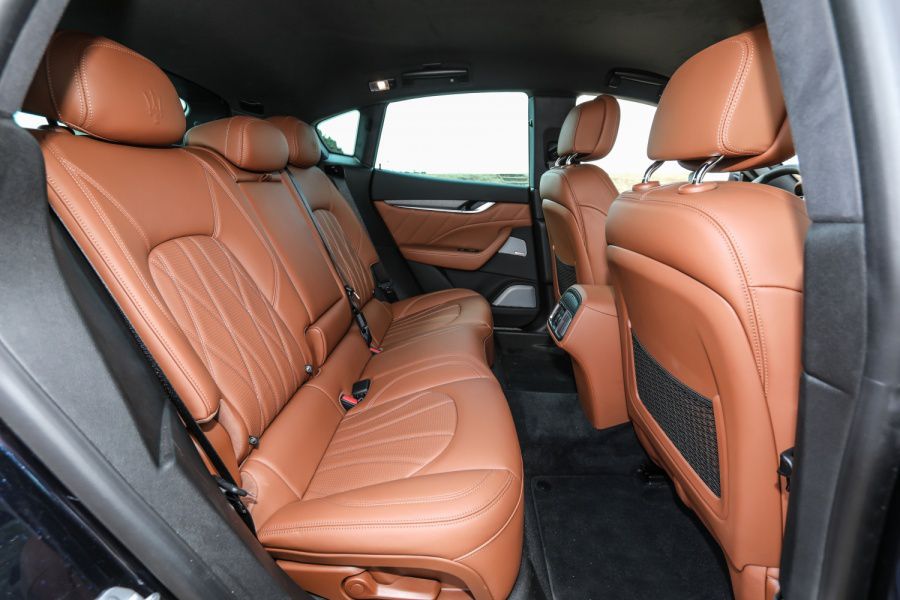 Photo by Maserati
Decent Cargo Volume
Cargo space behind the Levante's rear seat measures 20.5 cubic feet, and it's easily accessed by its standard power liftgate. That's enough room for when you burn the credit card at Costco. Plus, the truck's air suspension can lower the vehicle to make loading items easier.
The second row is split 60/40, and it easily folds flat to open up 57.4 cubic feet of space, which is about average for the mid-size luxury SUV class. However, the Porsche Cayenne offers a little more.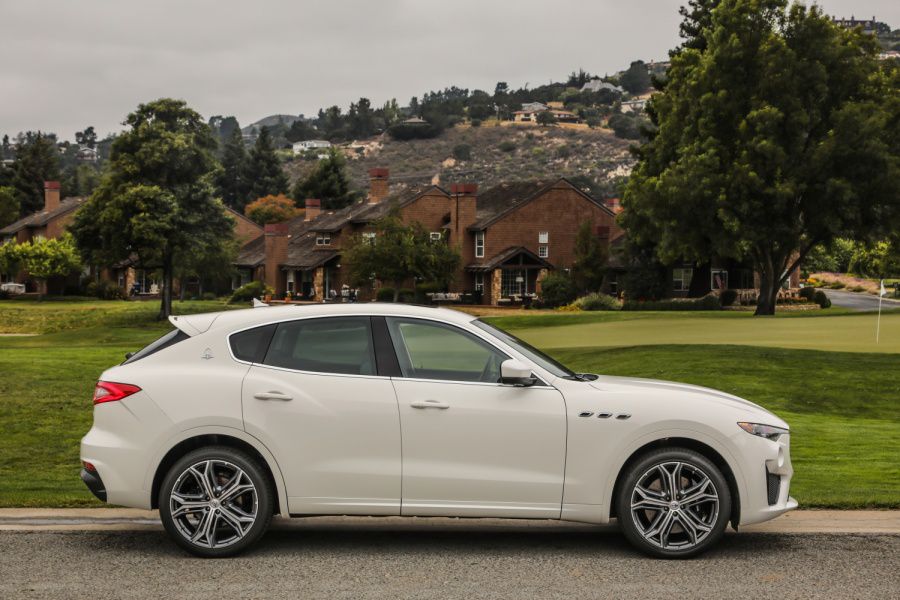 Photo by Maserati
Final Thoughts
It's no secret that Ferrari is hard at work developing its first SUV. The storied Italian automaker is late to the game, but it's expected to come up with something as mouthwatering as its sports cars. We're as eager to see it as you are. In the meantime, the fast and family-friendly 2020 Maserati Levante is as close as you can get to a Ferrari suv right now. It packs all the right elements, including Italian style, exclusivity, luxury, and thrilling performance. Ferrari even builds its engines.
The all-wheel drive Levante is powerful and sporty, but it's also a luxury cruiser with all-weather security and a big backseat. It looks fantastic and it feels special. If you're shopping for a fun-to-drive mid-size luxury suv, the 2020 Maserati Levante is a compelling overall choice.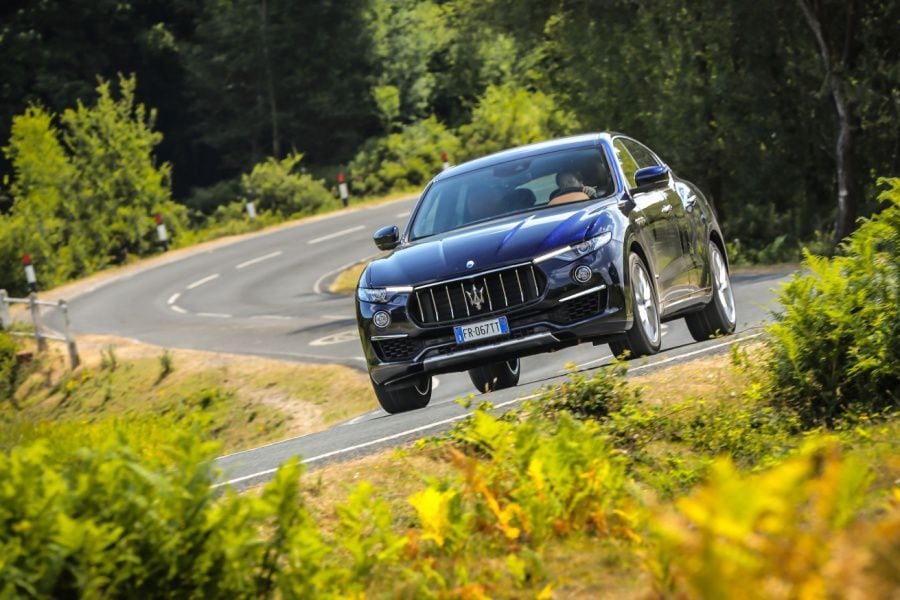 Photo by Maserati