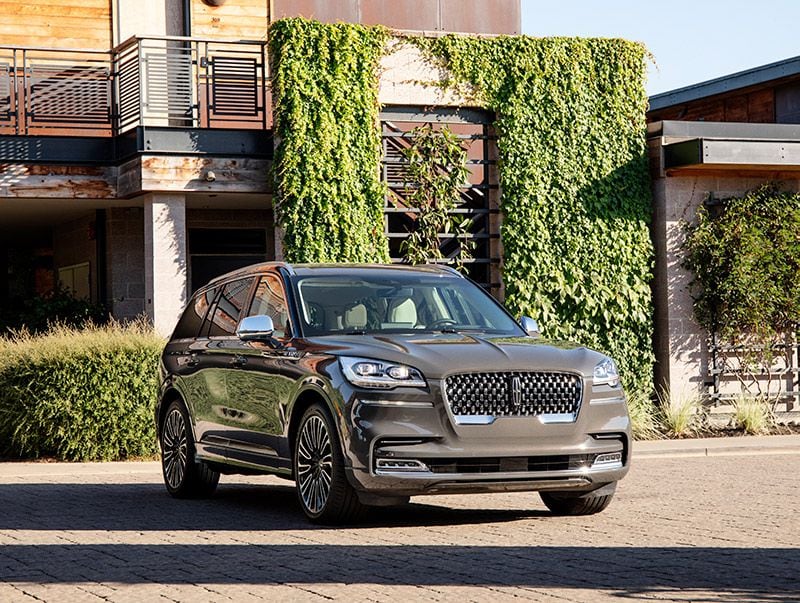 2020 Lincoln Aviator hero ・ Photo by Lincoln
The 2020 Lincoln Aviator is an all-new three-row SUV with room for up to seven passengers. It's available in a range of four trims, including the Grand Touring, which is a plug-in hybrid. This trim sits near the top of the model lineup just beneath the ultra-luxurious Black Label. While that might be the plushest of the trims, Lincoln is a luxury brand, so you'll get a luxury experience no matter which trim you choose.
The Grand Touring takes that luxury experience and adds a rechargeable electric hybrid powertrain for improved overall fuel efficiency. While hybrids are becoming commonplace, plug-in hybrids don't share the same widespread acceptance. The notion of plugging in your car every night is still a new idea. The 2020 Lincoln Aviator offers plenty of reasons to adopt the plug-in lifestyle. Let's take a closer look and see if this is the right plug-in hybrid for you.
Two Well-Equipped Grand Touring Variants
The Aviator lineup starts with the Standard trim at $51,100 followed by the Reserve at $56,190. Once you reach the Grand Touring plug-in, pricing hits $68,800. It includes a wide range of standard features designed to create a luxury experience including quad-zone climate control, a leather-wrapped steering wheel, premium leather seats with a heated cushions for the driver and front passenger, and a 14-speaker premium audio system.
Sitting above the Grand Touring is the Black Label at $77,695, which is again a gas-powered option, but Lincoln does offer the Grand Touring with the Black Label upgrades for $87,800. This adds a 28-speaker premium audio system, heated and ventilated first-row and second-row seats, and 30-way adjustable front seats with power thigh extenders and massage functionality. The Aviator Grand Touring is a premium offering that becomes even more luxurious as a Black Label, but at a higher price point.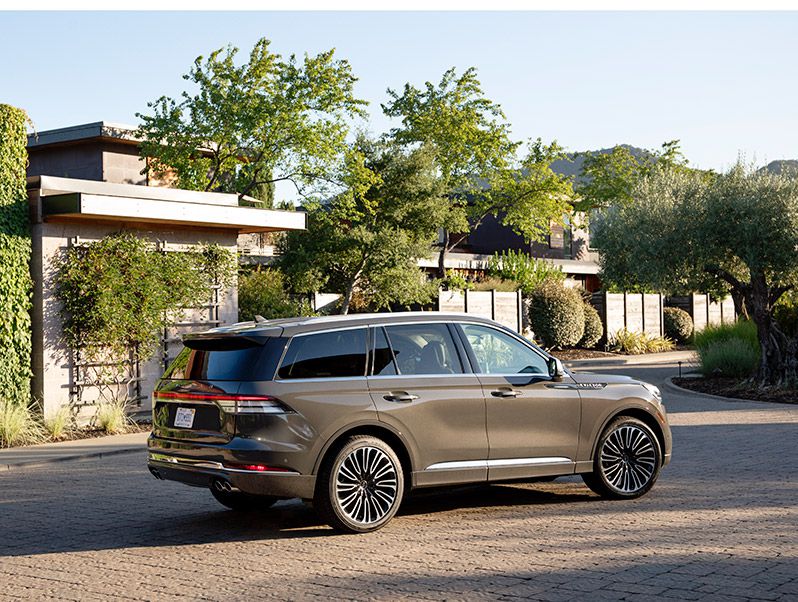 Photo by Lincoln
Spacious and Upscale Interior
There are other plug-in hybrid options, but not all of them are luxury vehicles. The Aviator Grand Touring never forgets that it's a Lincoln and that Lincoln is all about luxury. As soon as you open the door, you're greeted with an elegant and well-appointed interior adorned with attractive leathers. It's downright plush with comfortable and roomy front seats that are adjustable to the perfect position whether you're petite or on the larger side.
Second-row captain's chairs provide an equally enjoyable ride with the ability to recline and relax while someone else does the driving on longer trips. Even the third row, while not spacious or well-suited for large adults, is roomy enough for most adults on shorter trips. Available amenities include heated and ventilated seats along with massage, further adding to the luxury vibe and making the 2020 Lincoln Aviator Grand Touring a welcome respite from the world.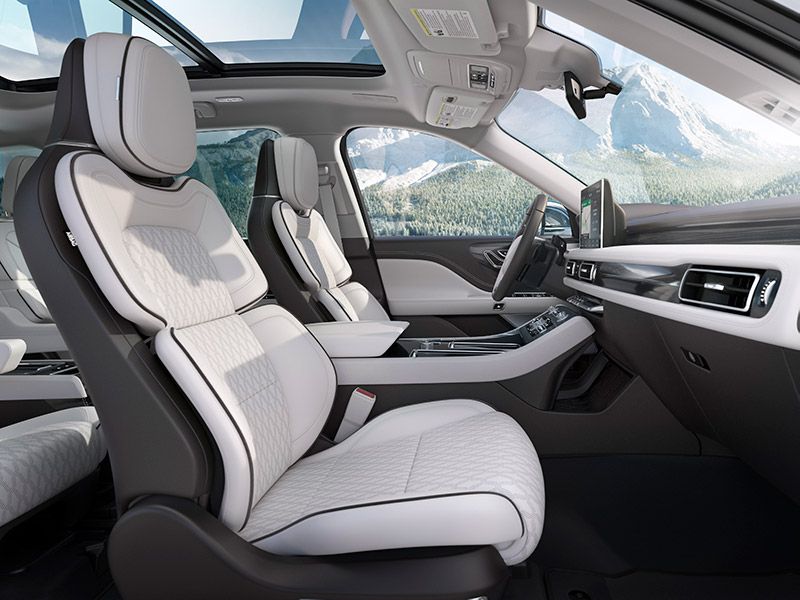 Photo by Lincoln
Comprehensive Infotainment System With a Large Touchscreen
Connectivity is a key consideration for today's busy families, so the 2020 Lincoln Aviator Grand Touring offers a fully featured infotainment system. This includes a standard 10.1-inch touchscreen featuring SYNC 3 with SiriusXM, voice-activated navigation, four USB ports, 4G LTE Wi-Fi connectivity, Apple CarPlay, Android Auto, and a 14-speaker Revel audio system. The Grand Touring Black Label adds a wireless charging pad and a 28-speaker Revel audio system. It's easy to use with a minimal learning curve that removes frustration and reduces driver distraction.
The Aviator also has new phone-as-key technology. This allows smartphones to access and operate the vehicle without needing a key fob. It's a convenient way to give any authorized user access to the vehicle anytime. Keys can be added and removed and even personalized for family members who might need to use the car but don't have a key fob.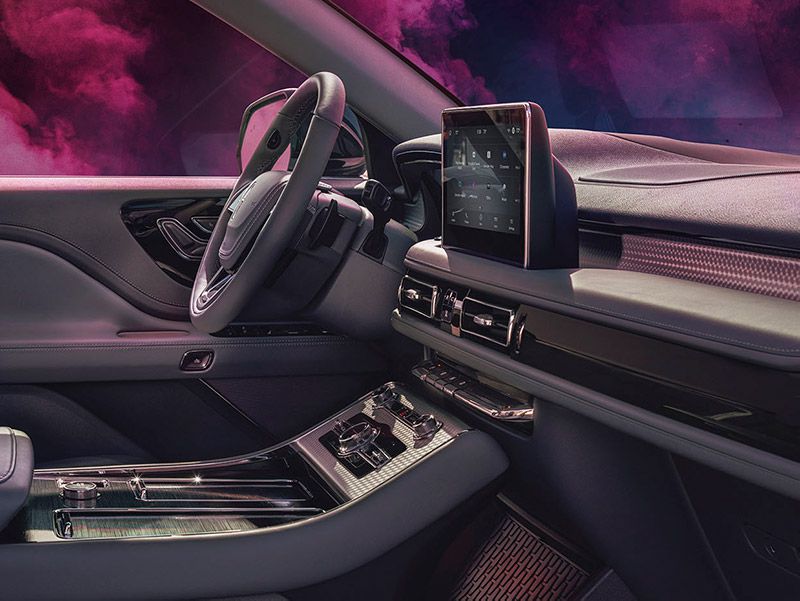 Photo by Lincoln
Powerful Hybrid Powertrain
The Lincoln Aviator Grand Touring is powered by a direct-injection, twin-turbo 3.0-liter V6 engine and electric motor for a combined 494 system horsepower with 630 lb-ft of torque. Those are impressive numbers. This is a large vehicle, but this powertrain gives it plenty of get-up-and-go to merge with highway traffic. When extra power is need for passing, the Aviator Grand Touring has no problem. Meanwhile, the 10-speed automatic transmission works quietly in the background to ensure smooth power delivery.
There's often a misconception that hybrid cars are underpowered or lackluster when it comes to performance. While that may once have been the case when the technology was still in its infancy, today's hybrids are vastly improved. Many offer a spirited driving experience that will have you enjoying your time behind the wheel.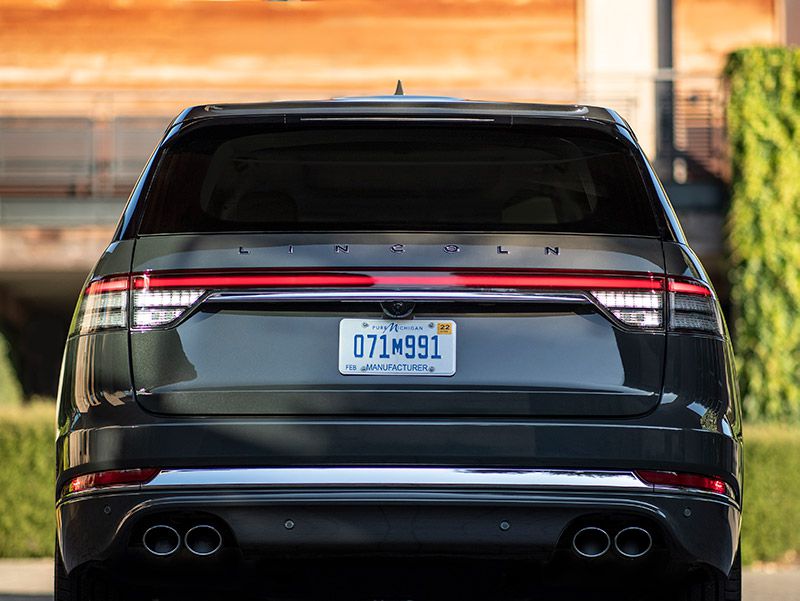 Photo by Lincoln
Money-Saving Fuel Efficiency
Buying a plug-in hybrid helps reduce emissions, which is good for the environment. It also helps reduce your overall fuel costs, which is good for your wallet. The 2020 Lincoln Aviator Grand Touring plug-in hybrid gets an EPA-estimated 56 MPGe based on its gas and electric usage, making it a fuel-efficient choice. Considering that this isn't a small vehicle, that's a healthy figure. The EPA gives it a rating of 23 mpg on gasoline only, so simply plugging in and charging your Aviator can more than double your fuel economy.
The total range for the Aviator is 460 miles combined with 21 miles of pure electric driving. Keep in mind you can increase that all-electric range thanks to regenerative braking. Any time you use the brakes, you're helping recharge the battery in small increments. This further improves your fuel economy and makes the Aviator Grand Touring a great choice for longer drives.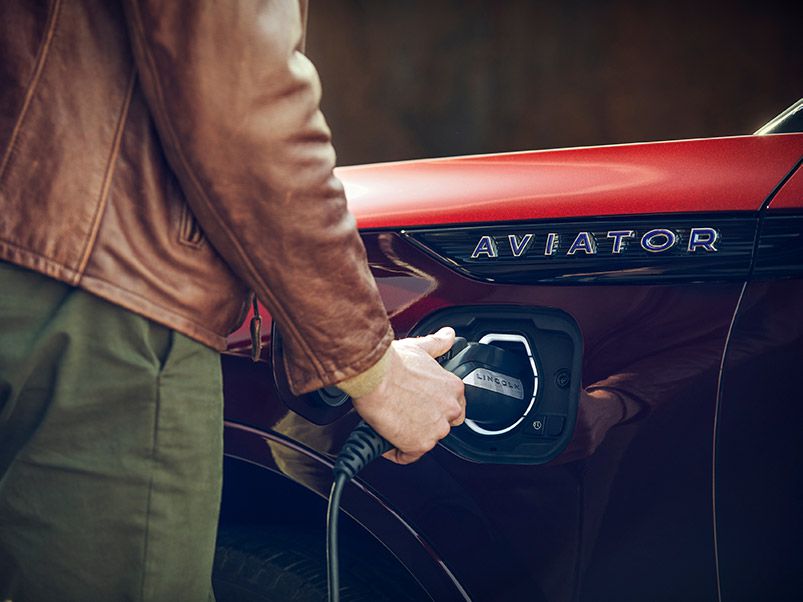 Photo by Lincoln
The Smooth Ride of a Luxury Car
One of the big reasons you buy a luxury car is its ride. These are vehicles designed to coddle passengers in a quiet and comfortable interior that keeps the outside world firmly on the outside. The Lincoln Aviator delivers on that luxury-car promise with seating that lets passengers sit back and relax. Even heavy rain and windy weather won't intrude into the quiet of the cabin. Longer road trips are made less taxing for the driver thanks to minimal road and wind noise.
Adding to the driver experience is easy handling that won't grow tiresome after hours on the road. While the Aviator responds well to steering inputs, it's not crisp or sporty, so those who crave more of a performance focus in their luxury vehicle may find it lacking. Overall, however, the Aviator provides the easy, unfussy drive experience typical of a luxury vehicle.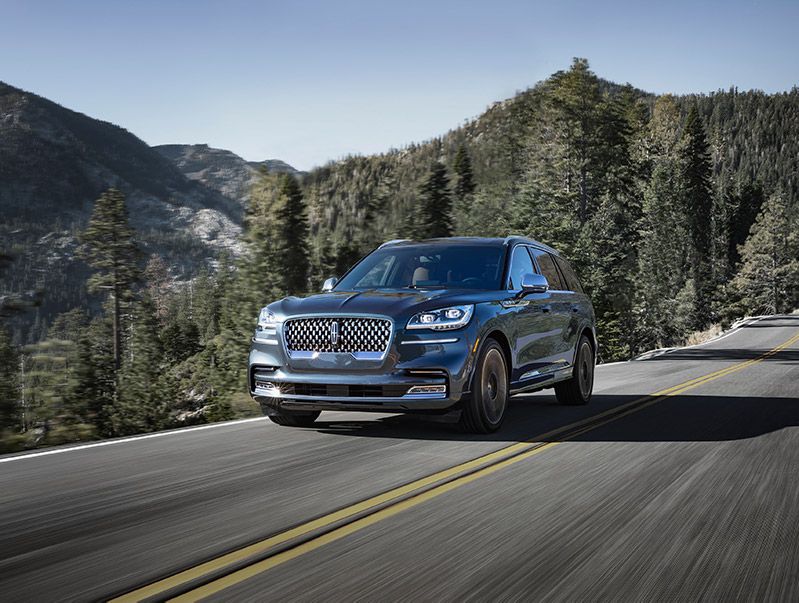 Photo by Lincoln
Plenty of Room for All Your Cargo
A large SUV does double-duty by carrying people or cargo, all depending on your needs of the moment. The 2020 Lincoln Aviator Grand Touring plug-in hybrid has plenty of room for cargo with 18.3 cubic feet behind the third-row seat. Fold that row down and cargo capacity expands to 41.8 cubic feet behind the second row. Fold the second row too and there's 77.7 cubic feet for cargo, making the Aviator quite the workhorse.
On those occasions when your cargo needs are simply too bulky to fit inside the car, or you need to haul a full load of people and cargo, then you can take advantage of the Aviator's towing capability. It can manage up to 5,600 pounds of cargo when properly equipped. That's less than the 6,700 pounds of non-hybrid models but still a significant amount of towing capability.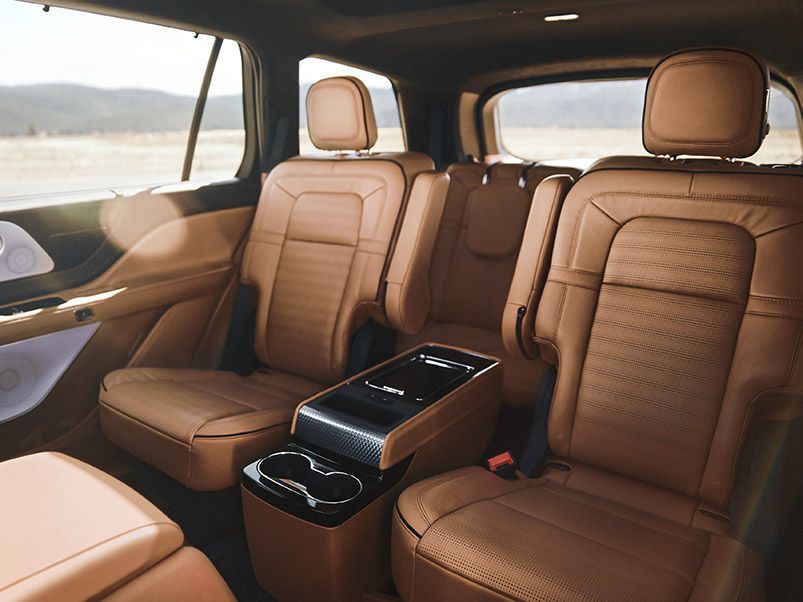 Photo by Lincoln
A Suite of Advanced Safety Features
A wide range of standard and available safety features help keep you and your family safe in the Aviator. The Grand Touring includes pre-collision assist with automatic emergency braking, a forward collision warning, and dynamic brake support with pedestrian detection as standard features. There's also blind-spot detection with a cross-traffic alert along with both forward and reverse sensing to make maneuvering through tight parking lots easier.
All seating positions also feature a seatbelt reminder, which makes it less likely that a child will manage to unbuckle without parents knowing in the middle of a trip. The system warns the driver and shows exactly which position is unbuckled so you know who the culprit is and can make sure they buckle up quickly. The Aviator offers key advanced safety features without requiring them as part of an option package, so you don't have to spend more just to be safe.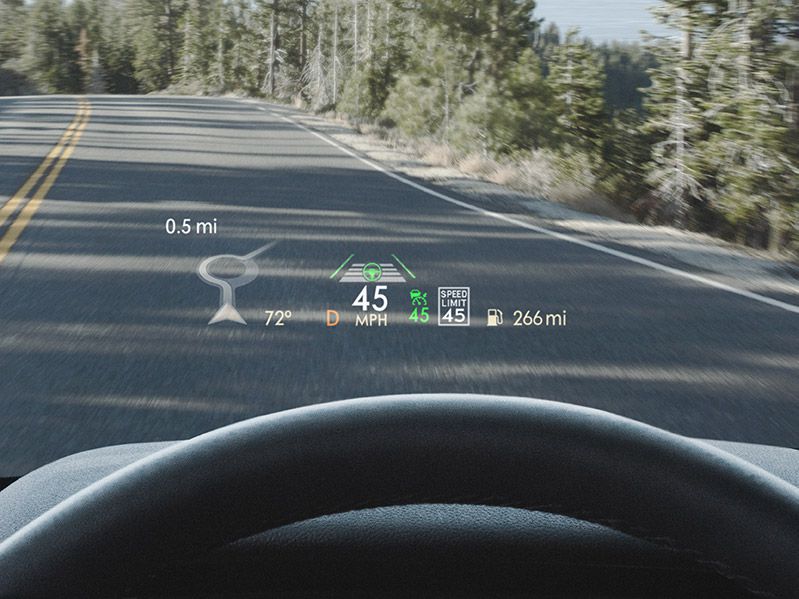 Photo by Lincoln
Final Thoughts
The 2020 Lincoln Aviator Grand Touring plug-in hybrid is a well-equipped luxury car with the style, comfort, and convenience features luxury buyers crave. The ride is smooth and compliant, and it has ample power for highway driving. It's also an efficient plug-in hybrid, which is still something not widely found in today's vehicles. While hybrids are plentiful, plug-ins lag in popularity partly because they require a shift in thinking.
It may feel weird to plug in a car, but it quickly becomes second nature. The benefits are worth the change in mindset as there's a cost savings to be had when you use electricity rather than gas. There's also the benefit of reduced vehicle emissions to limit your impact on the environment. Those who want a luxury SUV and are ready to make the move to a plug-in will find the 2020 Lincoln Aviator Grand Touring a top choice.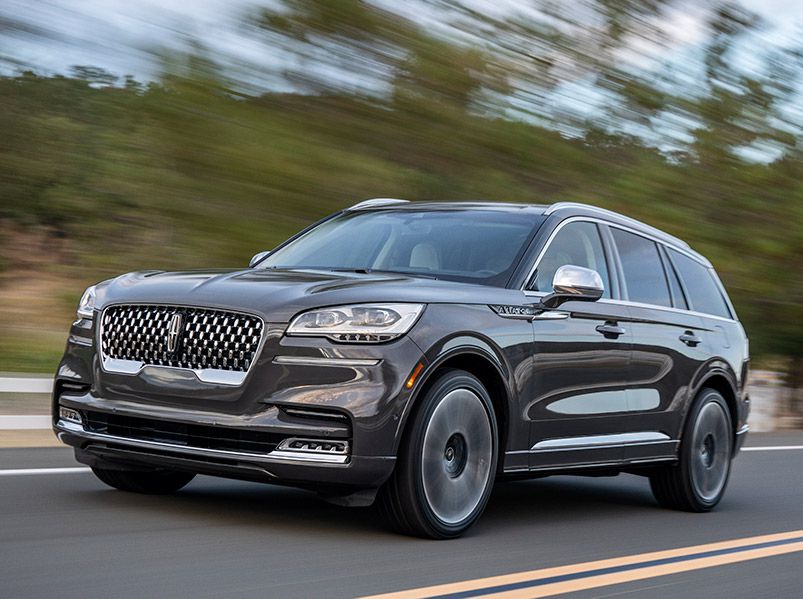 Photo by Lincoln