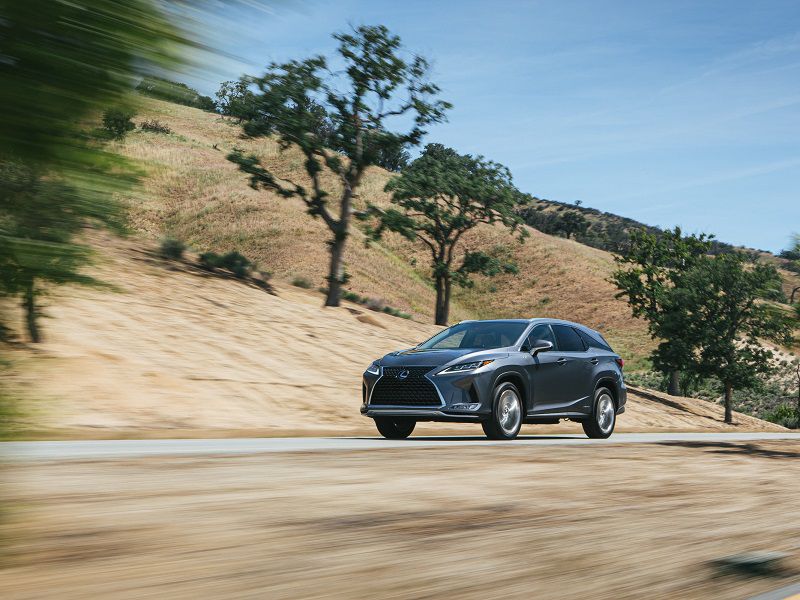 2020 Lexus RX 450hL Grey Driving Front Three Quarter ・ Photo by Lexus
If you're shopping for a 2020 Lexus RX, you're not alone. The RX Shoppers Society is quite a large club. The SUV been extremely popular for over two decades, and it continues to be a hot seller. It's consistently the luxury brand's best selling model.
Two years ago, Lexus finally added a third row to the popular SUV, expanding its appeal even further. The new Lexus RXL offered seating for seven, up from five, and it was 4 inches longer to accommodate the additional passengers. Today it's available in two configurations: the hybrid-powered RX 450hL, which we reviewed last year, and the more affordable RX 350L like our test vehicle. Both versions are built in Japan, and the 2020 Lexus RX 350L has proven to be a consistent favorite in the extremely hot luxury SUV class. It competes successfully against the BMW X5, Mercedes-Benz GLE, Audi Q7, Acura MDX, Infiniti QX60, and the new Lincoln Aviator and Cadillac XT6.
Additional Seating Capacity Adds Cost
With front-wheel drive, prices for the 2020 Lexus RX 350L start at $48,325, including a $1,025 destination charge. That's about $3,000 more than the five-passenger RX 350. Adding all-wheel drive costs another $1,000. Both the RX 350 and RX 350L are powered by a very smooth 3.5-liter V6. Despite its lack of turbochargers, which have become nearly ubiquitous in this class, it makes an impressive 290 horsepower in the RX 350L. Although the RX 450hL hybrid packs 308 total horsepower, its additional weight makes it a bit slower off the line.
An eight-speed automatic transmission is standard along with an 8-inch touchscreen, power front seats, a dual-zone automatic climate control system, and keyless entry. Apple Carplay and Android Auto are also standard. Our test car was equipped with the optional 12.3-inch touchscreen, which is the largest in this class, heated and ventilated front seats, power seats, and a power tilt and telescopic steering wheel. Disappointingly, a panoramic sunroof is only available on the five-passenger models. However, more comfortable second-row captain's chairs, which drop the vehicle's seating capacity to six, are standard on the RX 450hL and optional on the RX 350L.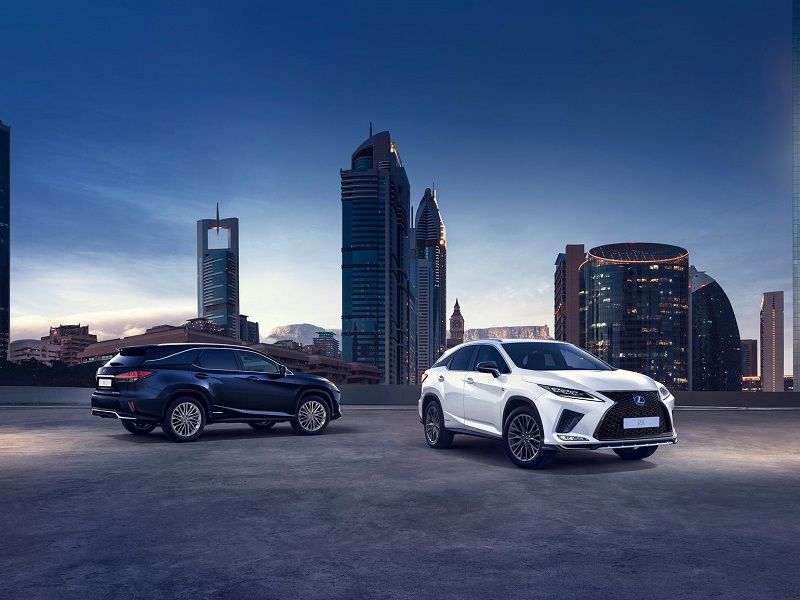 Photo by Lexus
Radical Exterior Design
Although the five-passenger RX 350 and RX 450h are available with the F Sport sport package, it isn't offered on the seven-passenger L models. This will disappoint buyers looking for a bit more performance and more aggressive exterior design. F Sport upgrades include a sport-tuned suspension, perforated leather, F Sport badging, paddle shifters, and larger 18-inch wheels.
Don't sweat it too hard, though, because the exterior of the broad-shouldered RX 350L is anything but boring. Not with that gaping Darth Vader grille and radically flared fenders. Over the last few years, Lexus' designers have gone hog wild, creating some of the most striking designs on the road. The SUV's angular styling has proven so successful, it has made its way across the entire Lexus line including its $100,000 LC super coupe. Lexus continues to get the details right. We like the SUV's oversized dual exhaust pipes and beautifully integrated rear spoiler, which add sporting flair to its derriere. Although the RX 350L is 4 inches longer than the RX 350, they share the same doors and wheelbase. Usually such surgery would create a bit of a Frankenstein, but the additional length behind the SUV's rear tires actually enhances its proportions.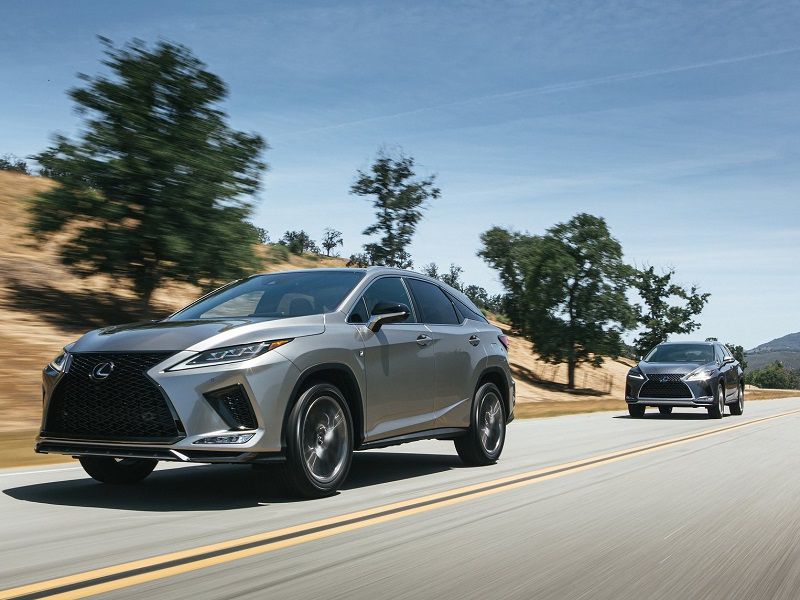 Photo by Lexus
Solid Performance
Lexus says our all-wheel drive RX 350L test vehicle can accelerate from 0 to 60 mph in 7.7 seconds. Around town, the RX is quick, easy to maneuver, and satisfyingly athletic on its standard 18-inch wheels and tires. This year, Lexus has retuned the SUV's suspension, reducing body roll and increasing its steering response. But it's still not very sporty. This RXL performs well, and its handling is more than enough for most buyers, but its German competitors are still more fun to drive.
The 2020 RXL does come standard with Lexus' Drive Mode Select system, which allows you to tune the car's personality with the twist of a knob on the console. There are three modes — Eco, Normal, and Sport — with the car defaulting to Normal mode every time you start the engine. Eco mode helps you maximize fuel economy, but we like Sport mode, which increases the SUV's throttle response and livens up the driving experience.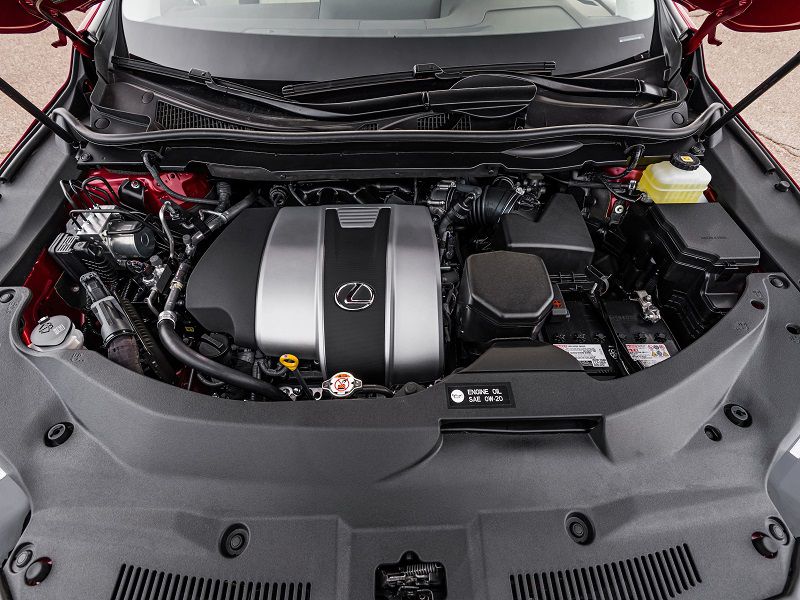 Photo by Lexus
Great for a Family Road Trip
The suspension changes Lexus has made to the 2020 RX also include new shock absorbers for a smoother ride. And the improvement is noticeable. Out on the highway at 80 mph, the 2020 Lexus RX 350L is compliant, composed, and quiet. This is the perfect vehicle for a family road trip. You can drive it for hours in complete comfort. There's also plenty of cargo space inside the RXL, with 16.3 cubic feet behind the third-row bench seat, which is split 50/50, and 33.4 cubic feet behind the second row. A power-folding third-row seat is standard.
Overall, fuel economy is about average for this class. With front-wheel drive, the RX 350L is rated at 19 mpg city and 26 mpg highway, while those numbers dip to 18 mpg city and 25 mpg highway with all-wheel drive. We averaged 20 mpg during a week of mixed driving. The more fuel-efficient RX 450hL hybrid is rated at 29 mpg city and 28 mpg highway.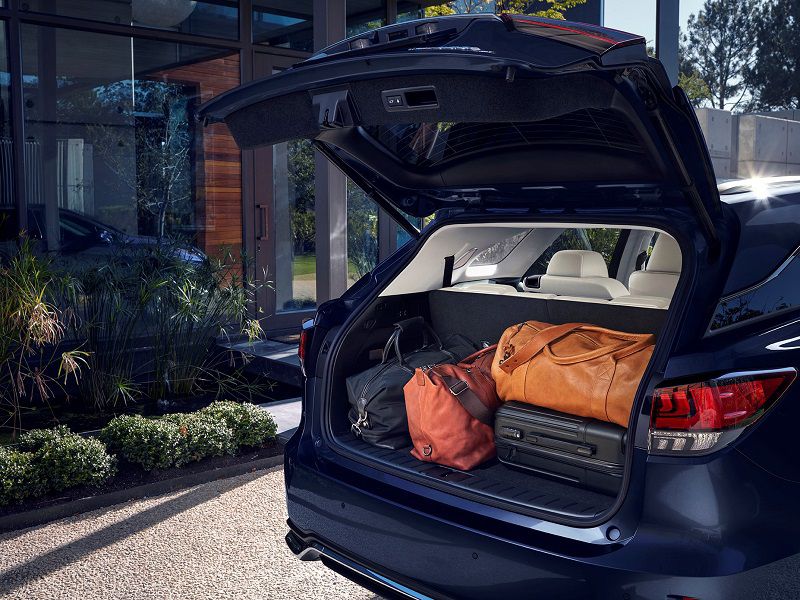 Photo by Lexus
Family-Friendly Space and Safety
Passengers in the second row can spread out and enjoy the rear air conditioning vents, adjustable headrests, and reclining seats. The 2020 Lexus RX 350L offers plenty of second-row legroom, and headroom isn't an issue, even with the optional sunroof. If you stick with the standard bench seat, three can fit across comfortably. The third row is tight, however, and it's best left for small children and short rides. This is common in the class; third-row space in competitors like the Acura MDX, Audi Q7, and BMW X5 isn't much better.
Younger families will appreciate the RX's easy-to-reach LATCH connectors in the outboard seats and three easily accessed upper tether anchors. And the Lexus earned an overall safety rating of five stars from the National Highway Traffic Safety Administration and has been named a Top Safety Pick from the Insurance Institute for Highway Safety.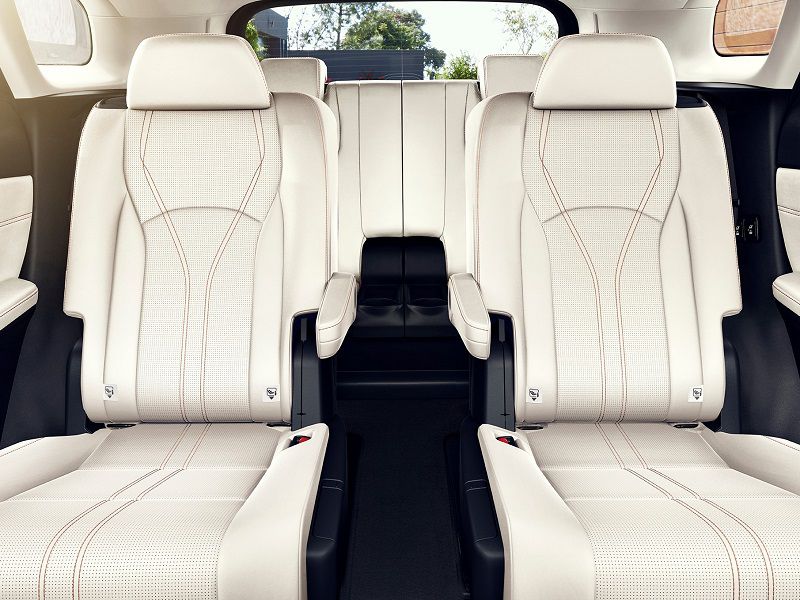 Photo by Lexus
Advanced Safety Systems
Lexus offers a long list of valuable active safety systems and driver aids on the RX, though some are extra-cost options. The brand's pre-collision system is standard. It warns if vehicles, pedestrians, or bicyclists are in your path, and it will apply the brakes to avoid an accident. All-speed adaptive cruise control, a lane-departure alert with steering assist, automatic high beams, and 10 airbags are also standard, along with LED taillights. However, triple beam LED headlights are optional, as are a blind-spot monitor and rear cross-traffic alert braking, which warns you if a vehicle approaches from either side when you're backing out of a parking space and will apply the brakes if needed.
With the Lexus Enform Remote mobile app, which is complimentary for the first year, you can use your phone to remotely start the engine, lock and unlock doors, check your fuel level, and find your vehicle in a parking lot. You can also receive instant alerts if a preset speed or mile limit is exceeded, a feature surely appreciated by parents of teenagers. And every Lexus comes with 24-hour roadside assistance for the first three years of ownership.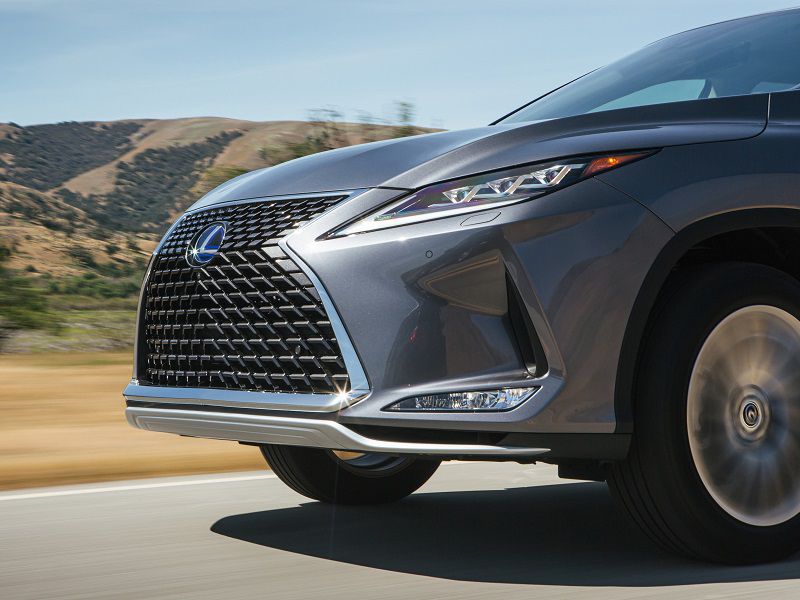 Photo by Lexus
Beautifully Crafted Interior
Whether or not you're a fan of the Lexus' expressive exterior, you'll love its interior, which perfectly combines the beautiful materials and high build quality you expect from the brand with a dynamic design. The heated front seats in our test vehicle were extremely comfortable and covered in soft, buttery leather. The analog clock in the center of the dash is an appreciated old-school touch.
Another nice touch is the automatic electronic parking brake, which engages and disengages for you when you put the SUV in and out of gear. Visibility is good, and the outside mirrors are generously sized. Our only interior gripe is the reach to the RX's touchscreen; it should be closer to the driver.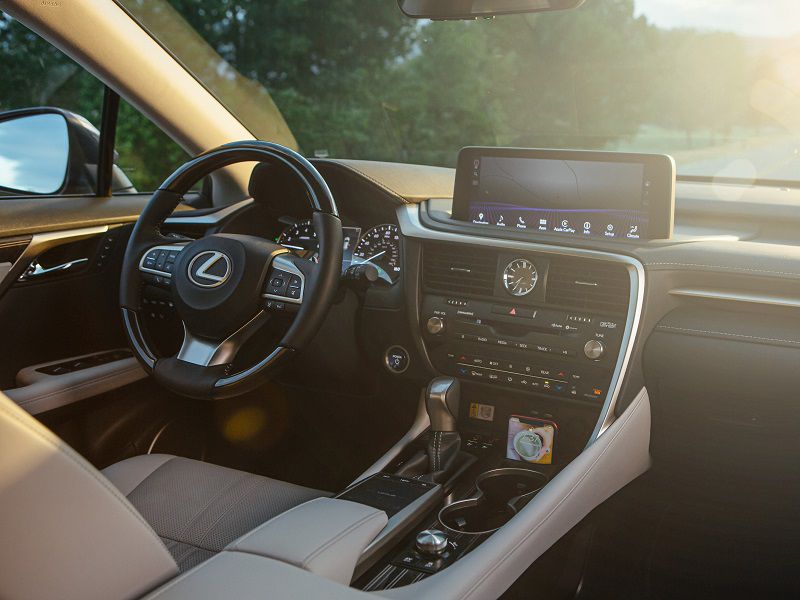 Photo by Lexus
Cupholders and Interior Storage Hit the Mark
Storage inside the Lexus' interior is also sufficient and well thought out. The center console bin is large and felt-lined, and the sizable door pockets have slots for water bottles.
The SUV's two front cupholders are also quite large, and they're well placed so tall drinks don't interfere with any of the switchgear. They accommodate cups with handles and they're height-adjustable. Lexus calls them self-gripping and says they can keep the beverage from spinning so you can unscrew the bottle cap with one hand while you drive, but we couldn't get it to work. The two second-row cupholders are part of a center pull-down armrest.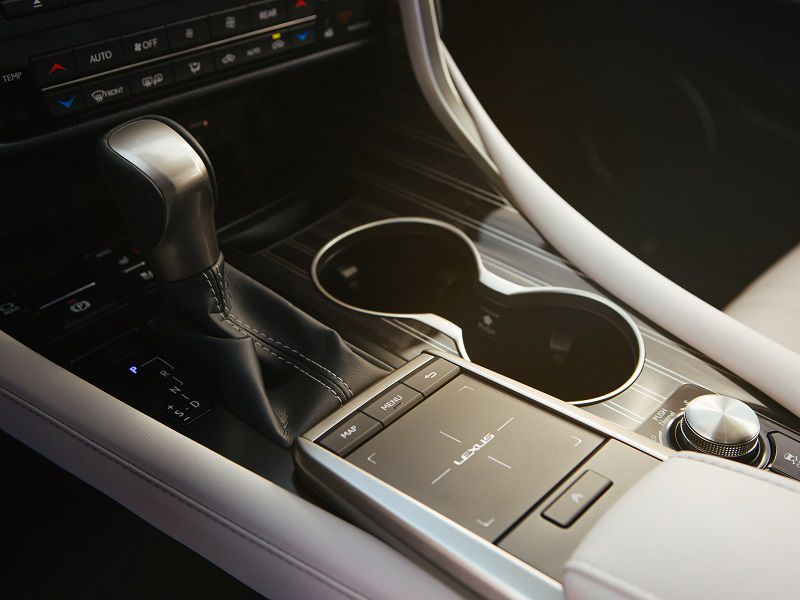 Photo by Lexus
Final Thoughts
Although it isn't as fun to drive as some of its German rivals, the family-friendly 2020 Lexus RX 350L delivers a unique combination of luxury, performance, and style, which has made it one of the most popular luxury SUVs available.
Plus, the RXL offers a long list of safety technology and driver aids, its overall safety ratings are exceptional, and Lexus' reputation for reliability remains the envy of the industry. If you're looking for a mid-size luxury SUV, with three rows of seats, the 2020 Lexus RX 350L is a very desirable overall choice.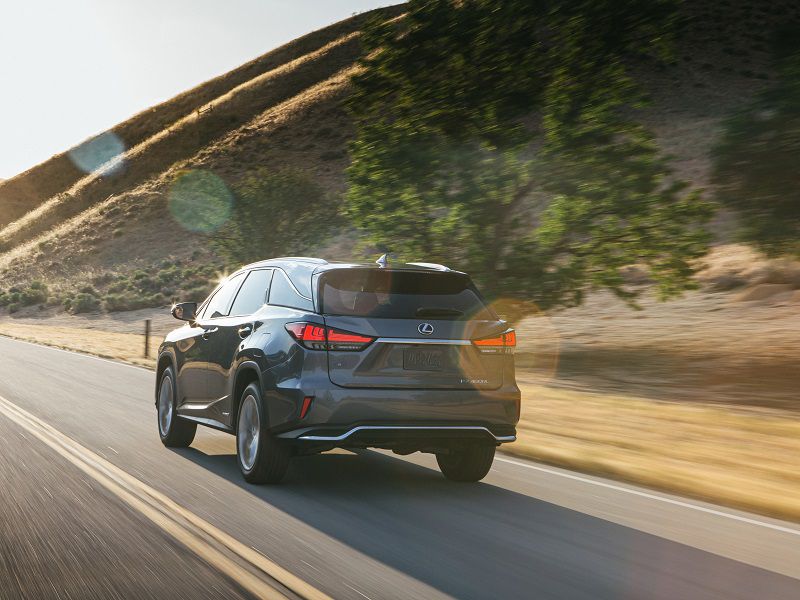 Photo by Lexus