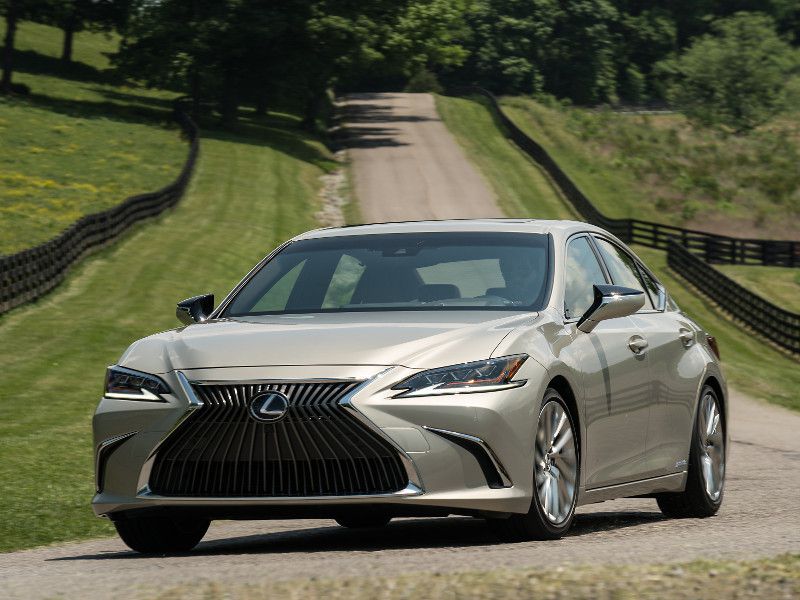 2020 Lexus ES 300h ・ Photo by Lexus
For most modern luxury sedans, sporty performance is an essential ingredient. They count on speedy acceleration and high handling limits to distinguish them from humble mainstream-brand vehicles, not just their richer interior trim, flashier looks, and higher-end features. But if you're looking for a relaxing luxury car rather than an exhilarating one, the 2020 Lexus ES 300h is one of the best values on the market.
Considering its base price of just $39,900, the ES mid-size luxury sedan boasts an uncommonly roomy interior and a graceful aesthetic. And the ES 350 model has a refined and powerful V6 engine. But as long as you don't plan to floor the accelerator, don't miss the ES 300h (priced from $41,760). It shares most of the ES 350's strengths but swaps in a fuel-sipping gas-electric hybrid powertrain. It won't go as fast as the ES 350, but it's not slow, either. What's more, the latest ES generation has superior handling and a more modern infotainment system than its predecessor. If you're interested in a spacious and refined entry-luxury sedan that gets 44 miles per gallon, read on.
How It Works
Like other hybrid vehicles, the Lexus ES 300h pairs a gasoline engine with an electric motor to reduce fuel usage. The electric motor helps provide power during acceleration, which means the gasoline engine can be smaller and less fuel-thirsty. Also, the gasoline engine can shut off entirely in some conditions, leaving the car powered exclusively by electricity.
In this Lexus, a 2.5-liter gasoline four-cylinder engine joins two electric motors for a total of 215 horsepower. The gas engine recharges the 1.6-kWh battery during the times it's running, and friction from braking also contributes some charge. The car can automatically choose its power sources — the engine, the electric motors, or both simultaneously — based on how fast you're accelerating, the battery charge level, and other factors. There's also an "EV" (electric vehicle) mode that lets the driver lock in all-electric driving with the engine switched off, up to about 30 mph under relatively gentle acceleration.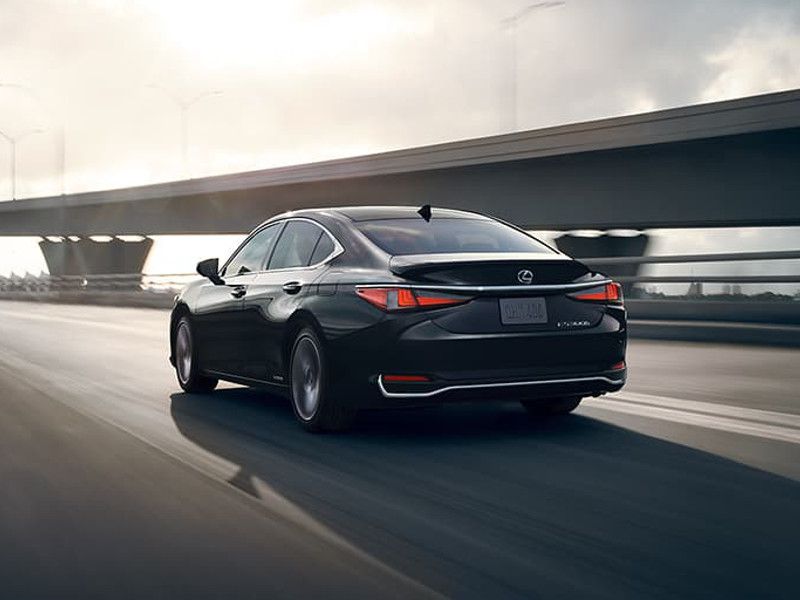 Photo by Lexus
A Clear Success
The V6-powered Lexus ES 350 has EPA ratings of 22 mpg in the city, 32 mpg on the highway, and 26 mpg overall. That's quite good for a spacious and powerful luxury sedan. But the ES 300h blows those figures away, especially in stop-and-go conditions: 44 mpg city, 43 mpg highway, and 44 mpg overall. That also edges out the competing Lincoln MKZ Hybrid, which manages 42 mpg city, 39 mpg highway, and 41 mpg overall.
What's more, you can do even better if you use the throttle gently to maximize your time under all-electric propulsion. Doing so, we averaged a whopping 51 mpg during a week of mixed city, highway, and suburban driving. You don't have to drive the ES 300h with such studious attention, of course — but doing so will pay big dividends. Like other hybrids, the ES 300h's biggest advantage over gas cars is in city driving; that's because the electric motors can help more at low speeds than on the highway, and because gasoline cars are more efficient on the highway than in the city.
Photo by Lexus
Decently Quick, Too
While some hybrids are on the slow side, the 2020 Lexus ES 300h is decently quick when you do need to put your foot to the floor. Its 215 horsepower compares favorably to the Lincoln MKZ Hybrid's 188 hp, and while the Lexus' four-cylinder engine isn't silky smooth, the cabin is carefully soundproofed to muffle any ruckus.
What's more, the ES's last redesign — for the 2019 model year — greatly improved its steering and handling. While the car was once a cushy cruiser with steering that felt disconnected from the road, the current ES brings much more precision and composure. You can't get the ES 300h with the even more agile F Sport trim level that's available on the ES 350 V6, but every 2020 Lexus ES is much more of a driver's car than before. At the same time, the ride quality has remained pleasant. You don't get quite the vault-like feel of a similarly sized BMW or Mercedes-Benz, but the ES does cost more than $10,000 less.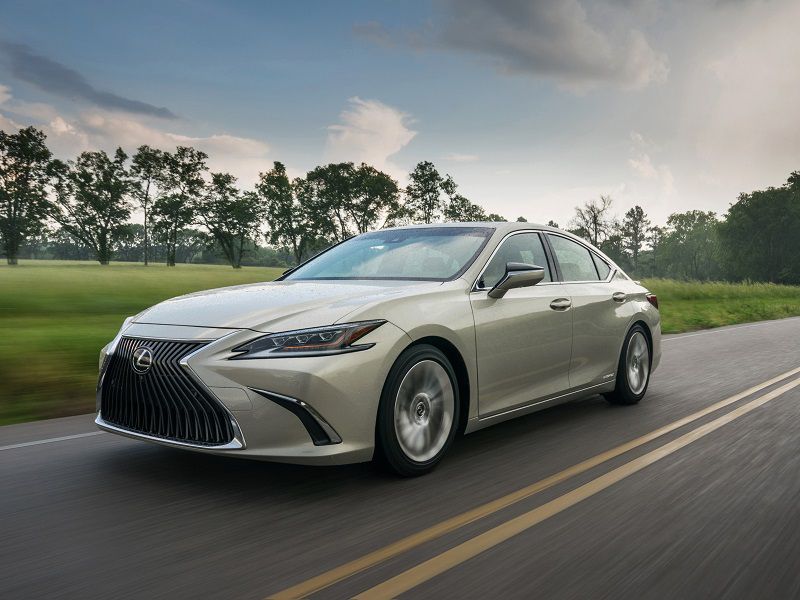 Photo by Lexus
Appealing Price
As we mentioned, the Lexus ES is relatively affordable for a mid-size luxury sedan. At $39,900 for the gas-only ES 350 and $41,670 for the ES 300h hybrid, it's less expensive even than a compact BMW 3 Series, much less the mid-size 5 Series. Lexus keeps costs lower by sharing its under-the-skin mechanical components — such as the engine, transmission, and suspension — with the less-expensive Toyota Avalon. But if spaciousness and value are your priorities over maximum mechanical sophistication, you'll appreciate this approach.
The ES 300h comes in a choice of three trim levels: base, Luxury ($44,615), and Ultra Luxury ($45,610). Every ES 300h includes power-adjustable front seats, a moonroof, and an array of safety features. The Luxury replaces imitation-leather upholstery with genuine cowhide, and adds heated and ventilated front seats. The Ultra Luxury has even fancier upholstery and a hands-free power trunk. Our Ultra Luxury test car's extra-cost options included wireless smartphone charger, a head-up display, a navigation system, a larger dashboard screen (12.3 inches instead of the standard 8 inches), and LED headlights, among other features, for a total of $54,405.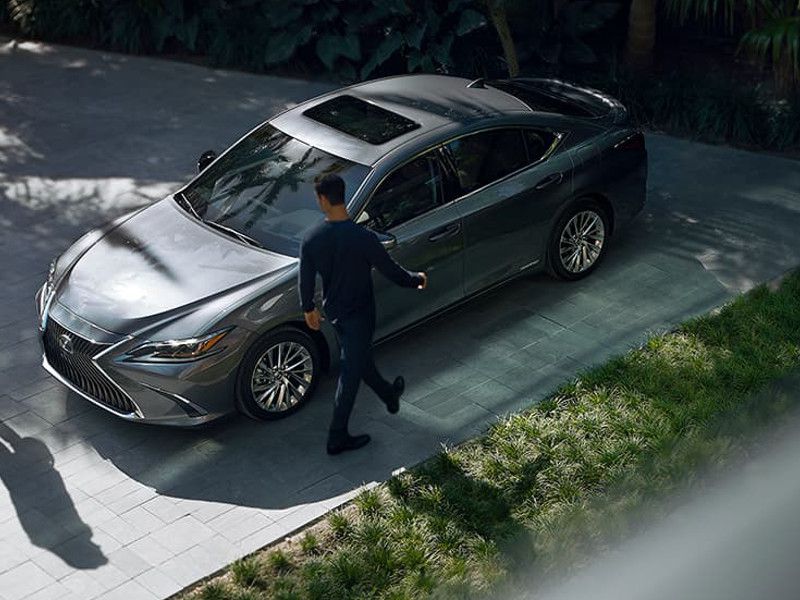 Photo by Lexus
Graceful Yet Dynamic Design
The latest Lexus ES strikes an excellent balance between an athletic, modern design and a smooth, graceful, timeless one. Lexus's big hourglass-shaped grille still has its critics, but we think it flows nicely on the ES 300h, integrating smoothly with the slim headlights. The car is stretched nicely across the long 196-inch body, with a mix of gentle curves, crisp lines, and pleasant proportions. It's a cohesive look that closely resembles the brand's flagship Lexus LS.
Few details distinguish the ES 300h hybrid from the gas-only ES 350. Aside from the different number on the trunk's nameplate, the exterior Lexus logos are tinged in blue on the hybrid, and there are small "Hybrid" badges on the bottoms of the rear doors. And as we mentioned, the F Sport model isn't available on the hybrid, so you can't get its sportier grille design, wheels, or red upholstery.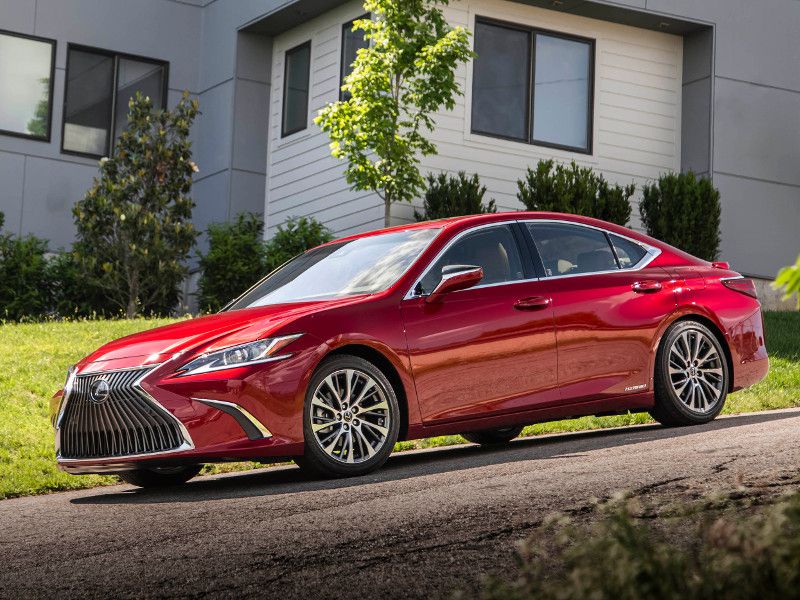 Photo by Lexus
Spacious, Modern Interior
The Lexus ES boasts a roomy interior, with generous space in the front and rear seating areas. The current ES has a more comfortable rear seat than its predecessor, thanks to additional foot space below the front seatbacks. The V6 ES 350's F Sport model has extra-comfortable front seats that aren't available on the ES 300h hybrid, but they're still pleasant as well. You also get an above-average 16.7 cubic feet of trunk space.
The interior design is modern, almost aggressively so, which some buyers will find fresh and others might find too busy. Sumptuous upholstery keeps it warm and welcoming rather than cold and high-tech, but numerous curves and other shapes adorn the dashboard. Like many Lexuses, the infotainment screen operates via a touchpad located between the front seats, which complicates some operations compared to a touchscreen of physical buttons. The system supports Apple CarPlay smartphone integration, and — new for 2020 — the equivalent Android Auto system for Google-based devices.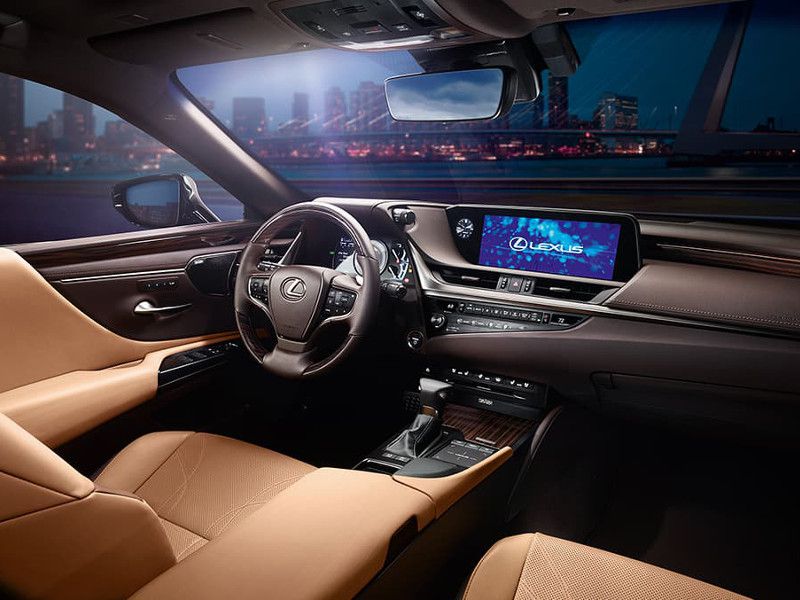 Photo by Lexus
Generous Safety Technology
Every 2020 Lexus ES has a generous range of standard safety equipment. This includes a forward collision warning with forward emergency automatic braking and pedestrian- and bicyclist-detection capabilities; adaptive cruise control; a lane-departure warning with automatic steering corrections; road-sign recognition; and automatic high beams. Extra-cost options include a blind-spot monitoring system with a rear cross-traffic alert and rear automatic braking, along with a surround-view parking camera.
If all this technology doesn't prevent a crash, Lexus still has you covered with strong safety ratings: five out of five stars from the National Highway Traffic Safety Administration, and an IIHS Top Safety Pick+ designation from the Insurance Institute for Highway Safety.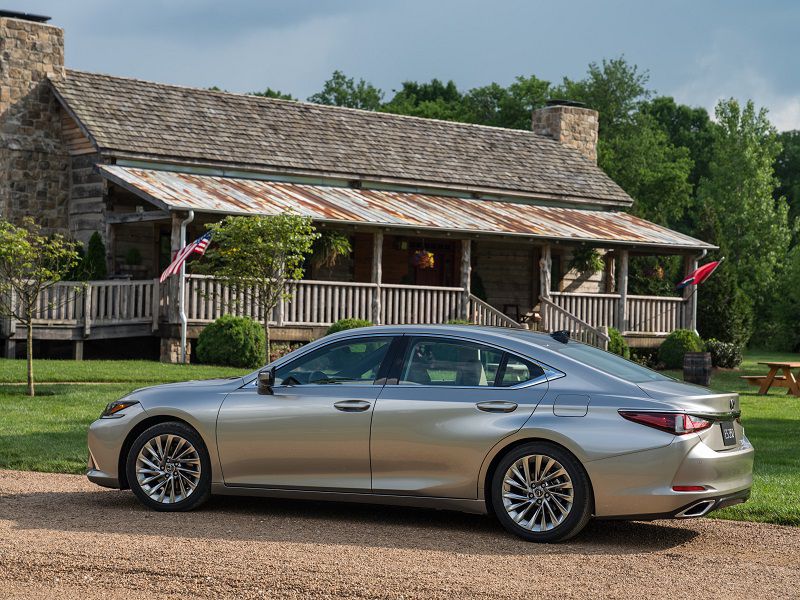 Photo by Lexus
Competitors to Consider
If you're looking for a fuel-efficient mid-size luxury sedan, the Lexus ES 300h is an outstanding choice — but not the only choice. Its closest competitor is the Lincoln MKZ Hybrid, which also has a gas-electric powertrain and costs several thousand dollars less. But it's an older model that shows its age in the dashboard design. It also has lower fuel economy and less power than the Lexus, and it has a tiny trunk for a mid-size sedan.
Another more affordable option is the Toyota Avalon Hybrid, the mechanical cousin to the Lexus ES 300h. It has a similar driving experience to the ES, an equally spacious interior, and equally exceptional fuel economy. But its exterior and interior styling aren't as upscale, and its materials are less rich — and despite its Toyota badge, it's as expensive as the Lincoln. Lastly, if you know you don't drive very much, you can consider the gas-powered Lexus ES 350; if you drive only a few miles, you won't see a huge difference in fuel consumption to offset the hybrid's higher price.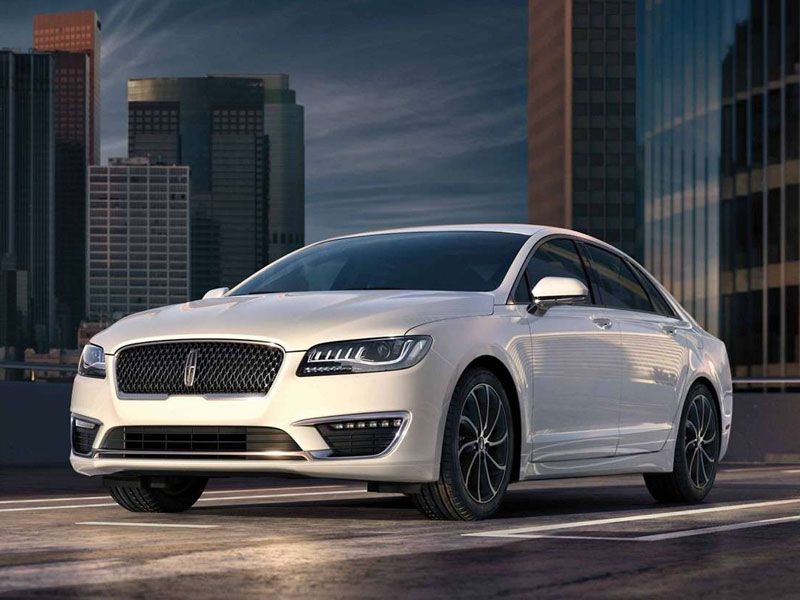 Photo by Lincoln
A Leading Luxury Value Option
Luxury and value seem contradictory, but the 2020 Lexus ES 300h excels at both. It punches above its price point for style and spaciousness, and it drives better than previous ES generations — while keeping fuel costs extra low.
Some buyers demand exquisite mechanical precision and will pay an extra $10,000 or more to get it. But given that it's affordable for its size and fuel-efficient by any standard, the ES 300h is a terrific luxury sedan choice.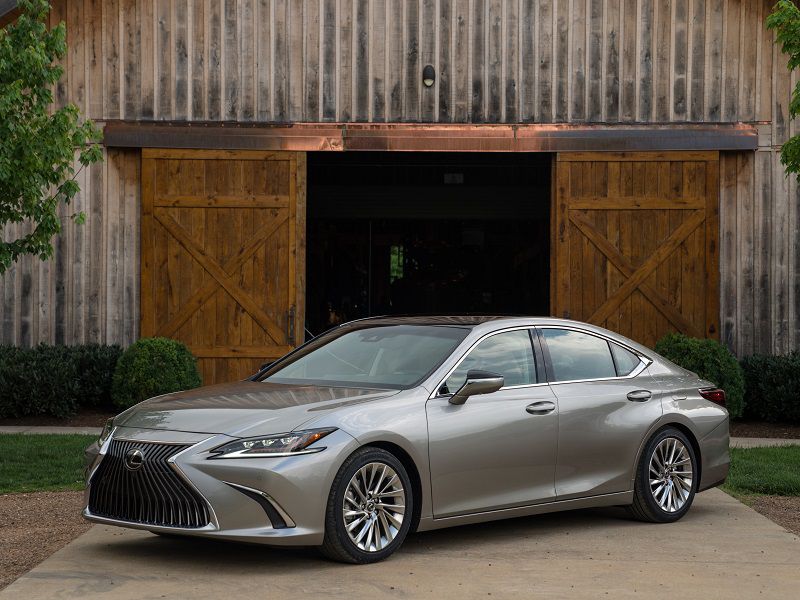 Photo by Lexus