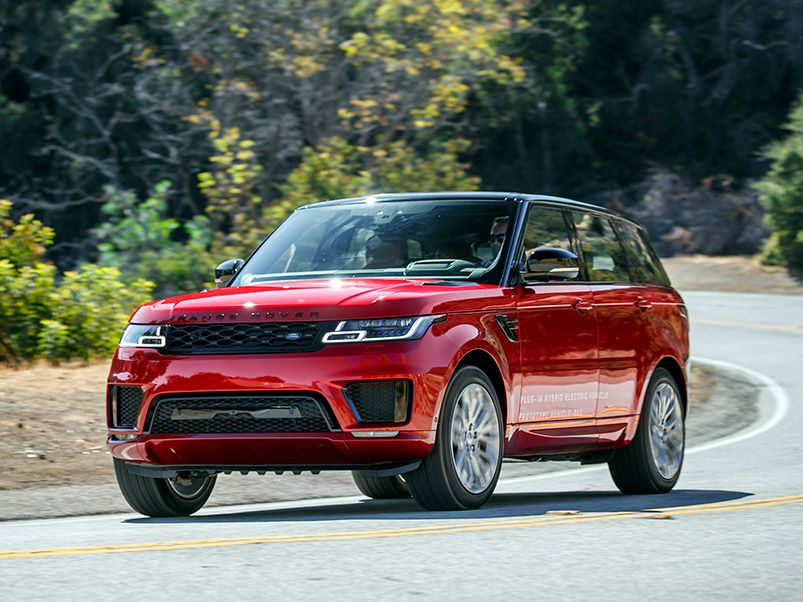 2020 Range Rover Sport PHEV ・ Photo by Jaguar Land Rover
With an as-tested price of $93,000, it may be a bit of a stretch to call this 2020 Land Rover Range Rover Sport Plug-In Hybrid a bargain. It does, however, cost about $20,000 less than a similarly optioned plug-in hybrid version of the brand's flagship Range Rover, which is about the same size and uses the same electrified powertrain. Now that we have your attention, let's take a closer look and this fuel-efficient luxury SUV.
Land Rover builds the world's premier lineup of luxury SUVs, and last year it expanded its Range Rover Sport range to include a plug-in hybrid, or PHEV, model. It sits in the center of several available powertrains, including a fuel-efficient turbodiesel and a 575-horsepower supercharged V8. Land Rover introduced the popular Range Rover Sport model in 2004. Now in its second generation, the plug-in hybrid version competes against a long list of European luxury SUVs, including hybrid versions of the BMW X5, Porsche Cayenne, and Volvo XC90.
Available in Two Trim Levels
Land Rover built its first vehicles for the British military and began selling civilian SUVs in 1948, but the brand didn't sell its SUVs in America until 1987. Their immediate popularity, especially with Hollywood's A-list, helped usher in the genre of the luxury suv.
Every new Land Rover is built just outside London, and every 2020 Range Rover Sport comes with all-wheel drive and an eight-speed automatic transmission. Prices for the new Range Rover Sport Plug-In Hybrid start at $80,295, including a $1,295 destination fee. It's available in two trim levels: the HSE like our test vehicle, and Autobiography with Dynamic Pack, which costs about $10,000 more. Like the larger Range Rover PHEV, both trim levels are powered by a 2.0-liter turbocharged four-cylinder engine, an electric motor, and a small battery pack. The system puts out a combined 398 hp and 472 lb-ft of torque, and Land Rover says it can be driven 31 miles on electric power alone.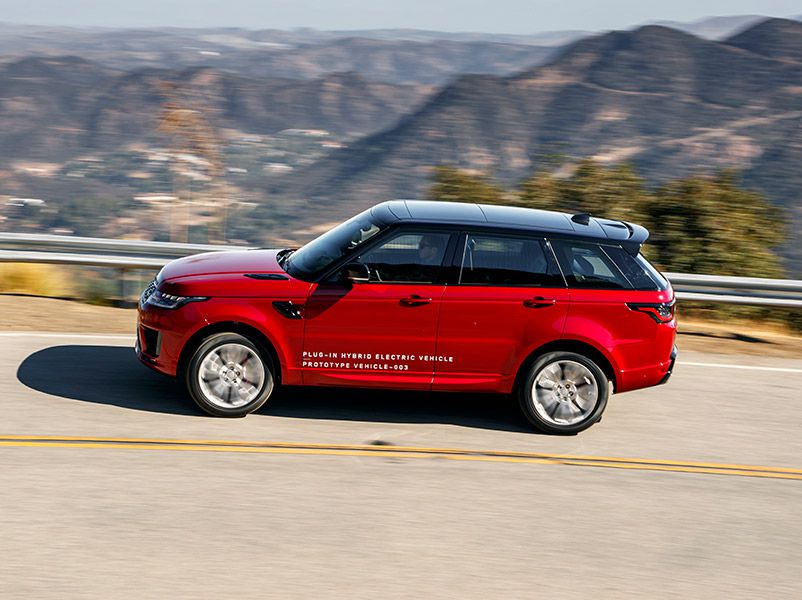 Photo by Jaguar Land Rover
Smooth, Quiet Power
Despite its complexity, the Range Rover Sport PHEV powertrain is very smooth and impressively quiet. It also moves this large, 5,400-lb SUV with zest. There's plenty of power around town, and passing isn't a problem on the highway. Land Rover says the Range Rover Sport PHEV can accelerate to 60 mph in just 6.3 seconds. That's pretty quick. It's also a tenth of a second quicker than its Range Rover counterpart, and nearly a full second ahead of Sport equipped with the 252-hp diesel engine.
Under normal driving conditions, when more power is needed, the four-cylinder engine turns itself on. When you're cruising, it shuts itself off to save fuel. This operation is noticeable, but it's easy to miss if you're not paying attention. There's also an EV mode so you can drive solely on electric power if you wish. The Rover's eight-speed automatic transmission is also quite responsive, and it has a Sport setting for more immediate performance and steering-wheel-mounted paddle shifters so you can choose gears manually.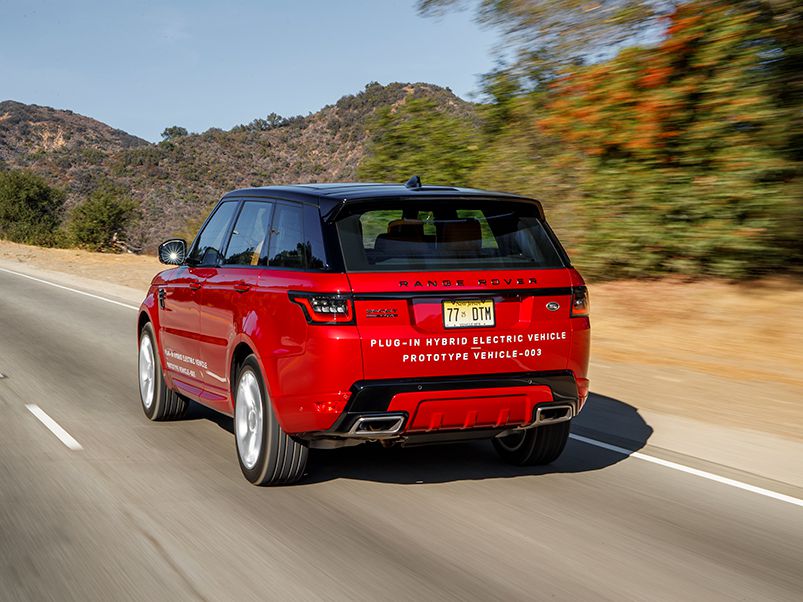 Photo by Jaguar Land Rover
Sporty SUV
The plug-in hybrid version of the 2020 Range Rover Sport is officially called the P400e, and standard equipment includes 20-inch wheels and tires and a height-adjustable long travel air suspension, with Comfort and Dynamic modes. But remember, this is the "Sport" model, so it doesn't ride as smoothly as the larger Range Rover model. Still, it's compliant and comfortable, and it soaks up large potholes well. Out on the highway, the ride is smoother and the Range Rover Sport is road-trip-ready.
That suspension also offers impressive athletics. The 2020 Range Rover Sport PHEV is responsive and fun to drive. Toss it around and it handles like it weighs half as much as it actually does, with little body roll and impressive grip from its wide rubber. On a curving road, it enjoys being pushed and rewards its driver with stable handing and the confidence to go as faster than you would in other SUVs this size.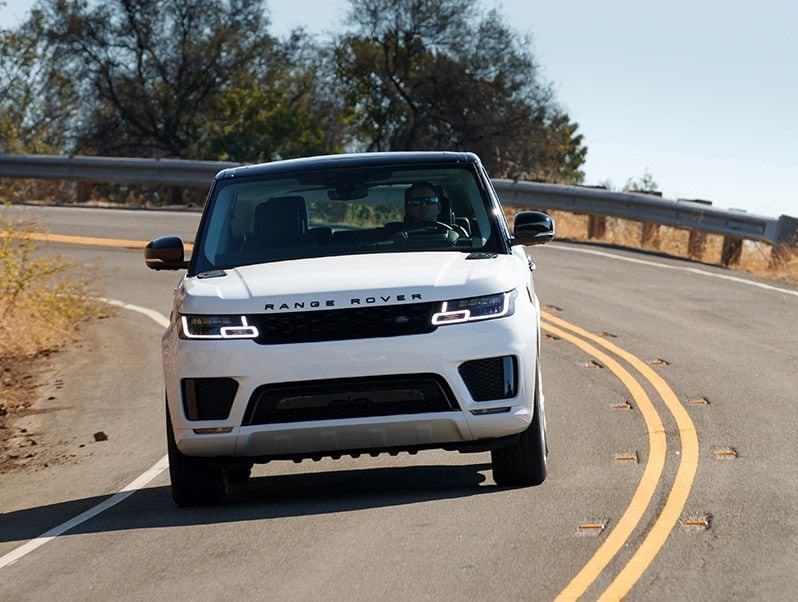 Photo by Jaguar Land Rover
Still Very Capable Off-Road
Land Rovers are also some of the most capable SUVs off-road. They've been driven across the deserts of Africa and through the jungles of South America. We figured the off-road park in Gorman, California, wouldn't be much of a challenge for this luxury suv, and it wasn't. Despite slick conditions and our test car's optional 21-inch tires, which are more designed for the street than the trail, we managed to get through the day without any body damage or breakage.
This may be the most off-road capable hybrid on the market. The Range Rover includes abundant wheel travel, radical approach and departure angles, traction control, and all-wheel drive. The latter's settings for different surfaces, including sand and mud, made rocky sections and steep climbs easy to navigate, especially in low range. We also used its hill descent control, which controls your speed to a crawl safely down steep inclines. Although Land Rover says the Sport can ford 33.5 inches of water, we didn't drive through any rivers.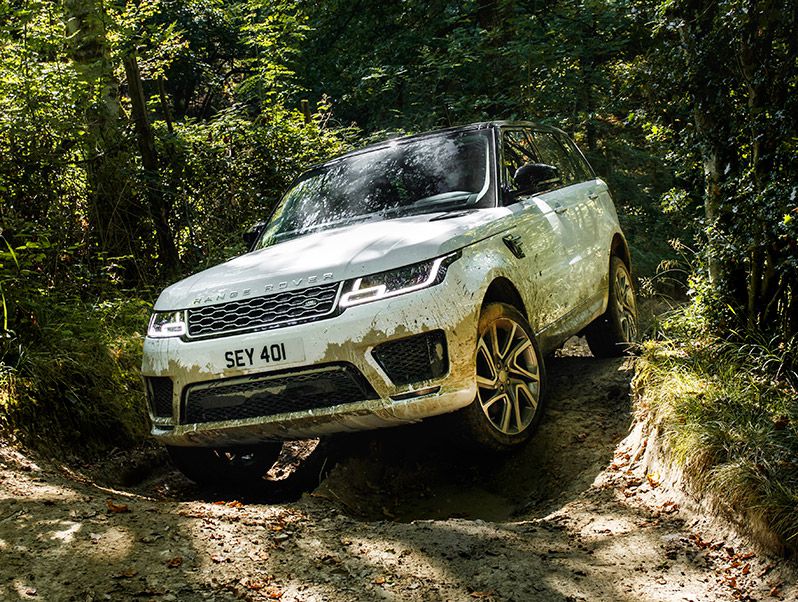 Photo by Jaguar Land Rover
Good Fuel Economy for the Class
The Range Rover Sport PHEV also delivers good fuel economy for its class. On a full charge, Land Rover says it can be driven about 31 miles on electric power alone, although the furthest we got was 26 miles. Still, during our week with the SUV, we drove it over 400 miles but only used about half a tank of gas. The rest was driven on emissions-free electric power. The Rover's charge port is hidden inside its grille. Plug it into a standard household outlet and its battery pack will be fully charged in 14 hours. We would simply charge it overnight. Drain the batteries and the gas tank in one shot and the SUV has a total range of about 400 miles.
The EPA hasn't released fuel economy estimates for the Range Rover PHEV, but we recently took a Range Rover PHEV on a 1,000-mile road trip and averaged 19.7 mpg. It's no Toyota Prius, but that's pretty good fuel economy for an SUV of this size and with this level of performance. With the available 3.0-liter turbodiesel V6, the Rover has EPA fuel economy ratings of 22 mpg in the city and 28 mpg on the highway.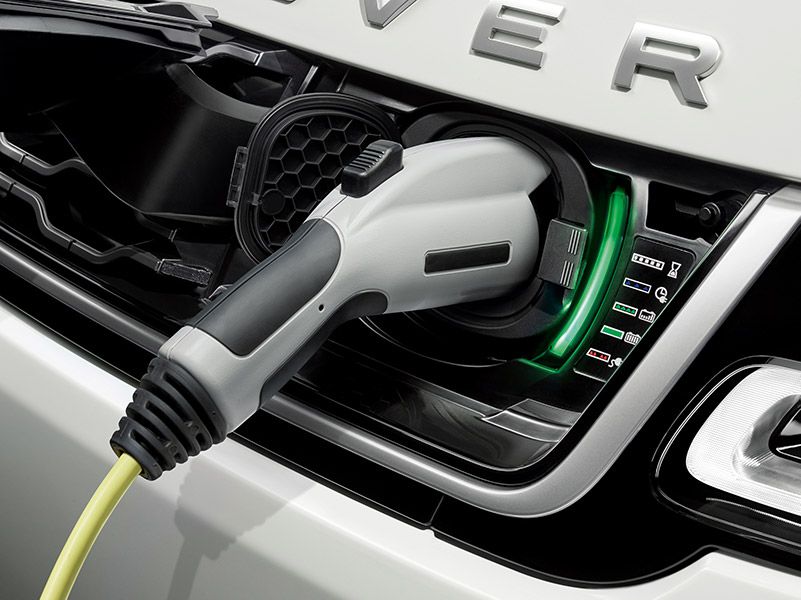 Photo by Jaguar Land Rover
Comfortable Techy Interior
Significantly upgraded a couple of years ago, the interior of the 2020 Range Rover Sport remains one of the best in the segment. Build quality is very high. All the surfaces are soft, all the knobs and switches feel expensive, and its large leather-wrapped and heated steering wheel feels good in your hands. The front seats are firm and supportive, especially on long drives, and at 80 mph, there's very little wind and road noise inside its cabin.
Two huge 10-inch touchscreens are used to control the vehicle's climate and infotainment systems. The design is sleek, modern, and user-friendly with intuitive menus, but the infotainment system could respond quicker to your inputs. It is compatible with Apple CarPlay and Android Auto. Another 12.3-inch screen displays a fully configurable digital gauge cluster with clean graphics. Displays include different gauges and frequently used features including phone, navigation, and media settings.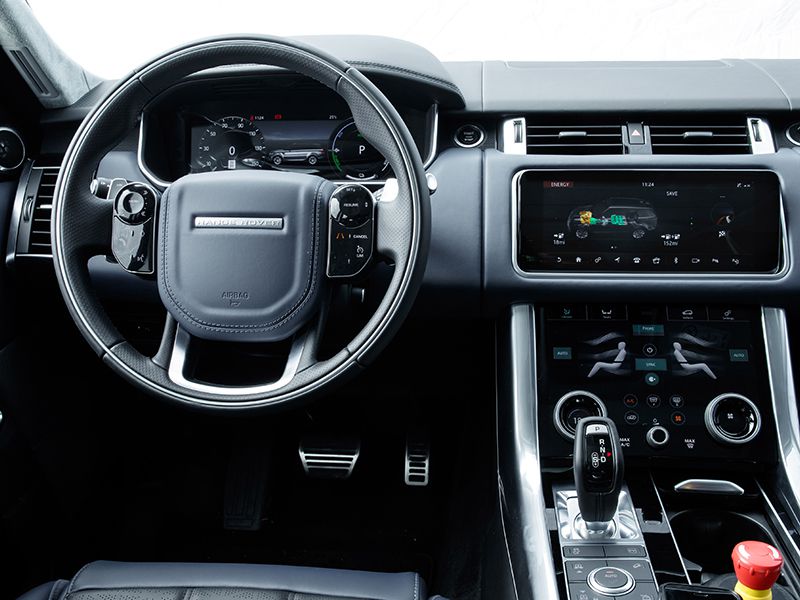 Photo by Jaguar Land Rover
Family-Friendly Space
Inside, the 2020 Range Rover Sport Plug-In Hybrid is the same size as the full-size Range Rover. Both SUVs share the same all-aluminum structure and generous 115-inch wheelbase. This gives the Range Rover Sport more rear-seat space than you'll find in many of its competitors. Unlike the Range Rover, the Range Rover Sport is also available with a small kid-friendly third-row seat, which takes total seating capacity from five to seven. However, the third row is not offered in the plug-in hybrid model. Hey, that battery pack had to go somewhere.
Rear air conditioning vents and controls are standard, while onboard Wi-Fi and heated rear seats are available. Young parents will also appreciate the Range Rover Sport's easy-to-reach LATCH connectors in the outboard seats, easily accessed upper tether anchors on the seatbacks, and its soft-close doors. Blind-spot monitoring, a lane-departure warning, and automatic emergency braking all come standard.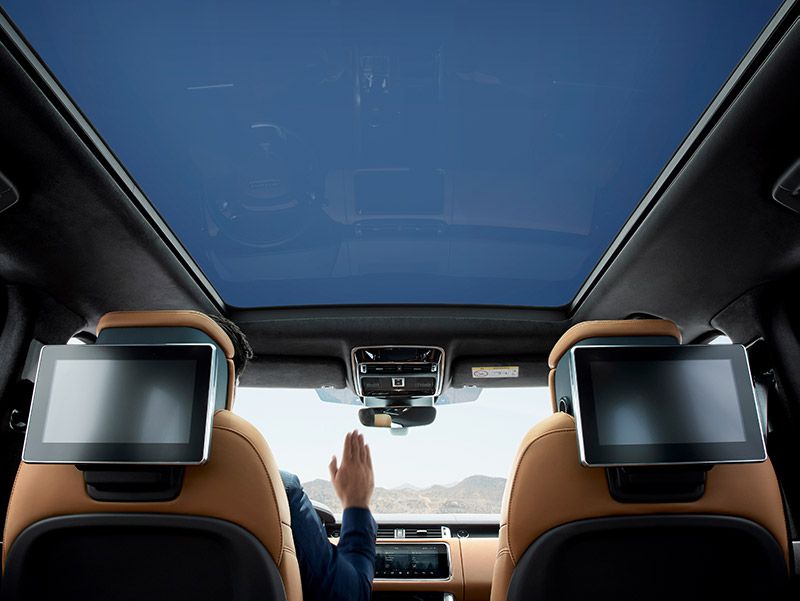 Photo by Jaguar Land Rover
Big Cargo Volume
Storage inside the Range Rover Sport's interior includes large well-placed cupholders and large door bins. Our test car was also equipped with an optional refrigerated center console, which trades some storage space for the ability to hold cold drinks. It kept our waters chilled during our off-road excursion.
Behind the Rover's rear seat is a generous 24.9 cubic feet of cargo space. That's 2.8 cubic feet less than the non-hybrid models. This is due to the hybrid's battery pack, which is stored back there, raising the cargo floor 1.8 inches. The reclining second row is split 60/40, and it easily folds flat opening up 59.4 cubic feet of space, which is about average for the mid-size luxury suv class.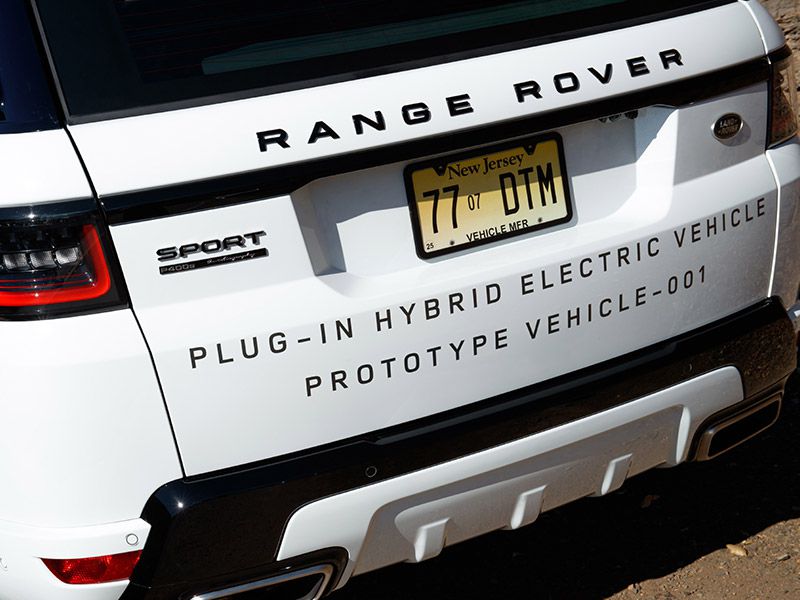 Photo by Jaguar Land Rover
Final Thoughts
As much as we appreciated the hybrid powertrain's performance and efficiency, its additional cost should be considered before choosing it over the turbodiesel or the 355-hp gas-powered six-cylinder models. Those engines make more than enough power for most buyers, and they cost about $10,000 less than the hybrid model. Plus the diesel gets the best overall mileage.
Still, the 2020 Range Rover Sport P400e plug-in hybrid is a favorite. It's fun to drive, spacious, family-friendly, and stylish. If you're looking for an electrified mid-size luxury suv, it's an excellent overall choice.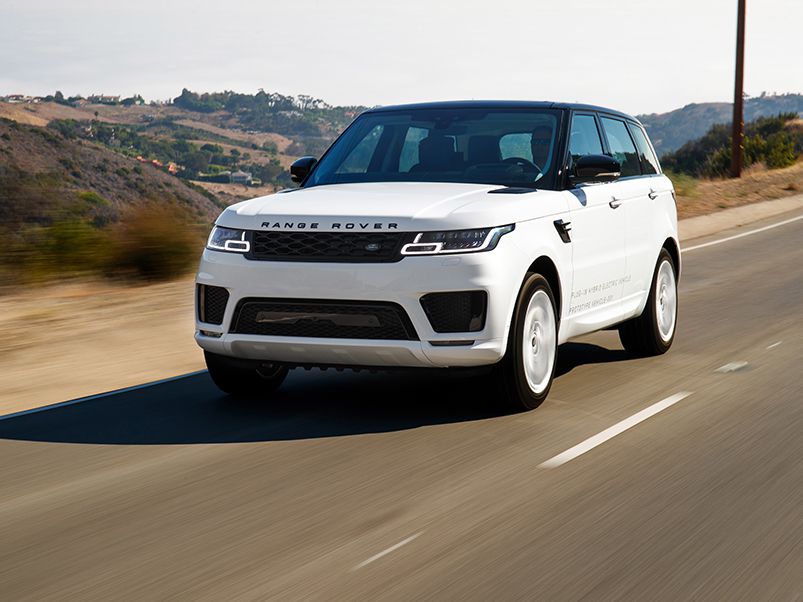 Photo by Jaguar Land Rover