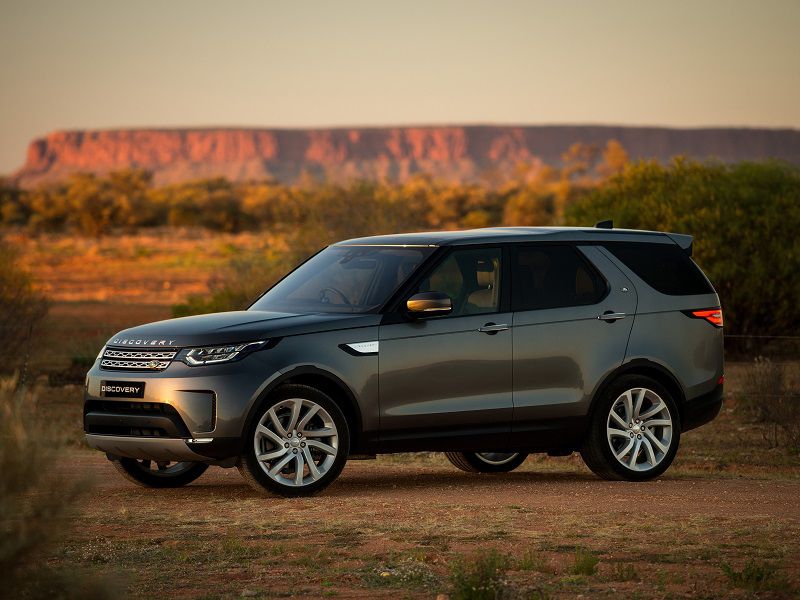 2020 Land Rover Discovery Front Three Quarter ・ Photo by Land Rover
This year, Land Rover is reintroducing its legendary Defender, an SUV with a lineage that dates back to the company's creation over 75 years ago. It's a highly anticipated model, as past Defenders are favorites of off-road enthusiasts the world over. But let's not forget about another legendary Land Rover off-roader, the Discovery.
A favorite of explorers and adventurers, Land Rover Discoverys have seen every corner of the globe. The SUV has taken expeditions through the world's most challenging terrain, from the Arctic Circle to the jungles of Borneo to the African deserts. And that adventurous spirit and go-anywhere capability remain a large part of the 2020 Land Rover Discovery's appeal. Now in its fifth generation, the seven-passenger SUV lives in the center of the Land Rover lineup just above Range Rover Evoque and below the Range Rover Velar. It competes against a long list of popular, high-quality mid-size luxury SUVs such as the BMW X5, Volvo XC90, Audi Q7, and Mercedes-Benz GLE.
Don't confuse it with the Discovery Sport.
I shouldn't have been surprised when my father-in-law took a liking to the 2020 Land Rover Discovery in my driveway. He knows cars, appreciates sleek design, and is always hip to the latest models. But I was surprised when he said, "I thought the Discovery was smaller."
That's when I realized he was confusing the SUV for the brand's smaller Discovery Sport model (pictured here). It's an easy mistake to make, the two SUVs look similar and share the Discovery name, but shoppers should be aware that the two SUVs are completely different. The Discovery Sport is much smaller, has smaller engines, and costs about $15,000 less than the Discovery. Mechanically, the Discovery Sport is more akin to the Range Rover Evoque, while the Discovery shares its chassis and engines with the more expensive Range Rover Sport.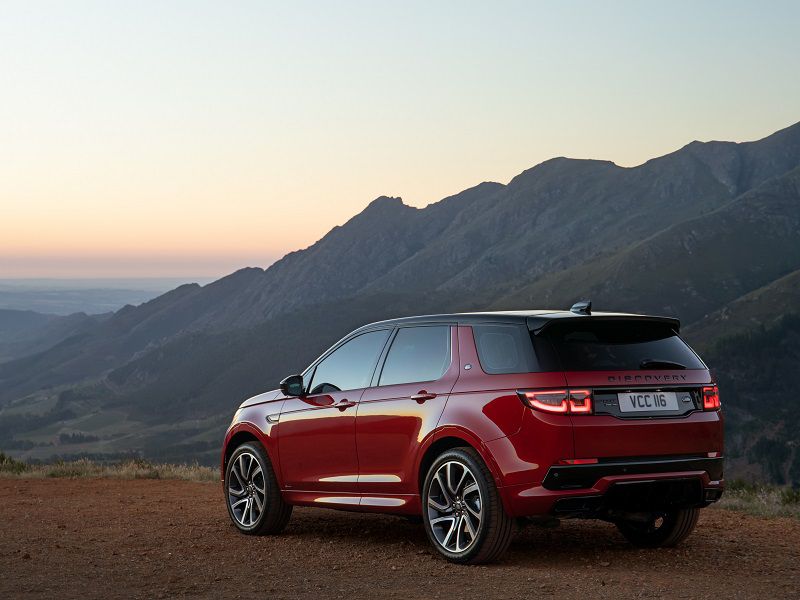 Available in Four Trim Levels
Affectionately called the Disco by the brand's aficionados, the Discovery was last redesigned back in 2017, and its new look has grown on us over the last few years. It's built in the UK, and every 2020 Land Rover Discovery is equipped with all-wheel drive and an eight-speed automatic transmission.
Four trim levels are offered: SE, the new Landmark Edition, HSE, and HSE Luxury. All models come standard with a 340-hp 3.0-liter supercharged V6, while a more fuel-efficient 254 hp 3.0-liter turbodiesel V6 is offered on the SE, HSE, and HSE Luxury for an additional $2,000. Unlike the Range Rover and Range Rover Sport, the Discovery is not offered as a hybrid. Prices start at $53,325, including $1,025 for destination, for the SE model, while the Landmark costs about $6,300 more. Its upgrades include 20-inch wheels, an infotainment system with a larger 10-inch screen, and a smoother-riding air suspension. Pricing for an HSE Luxury like our test vehicle starts at $68,225, and our test car cost just over $71,000 with options.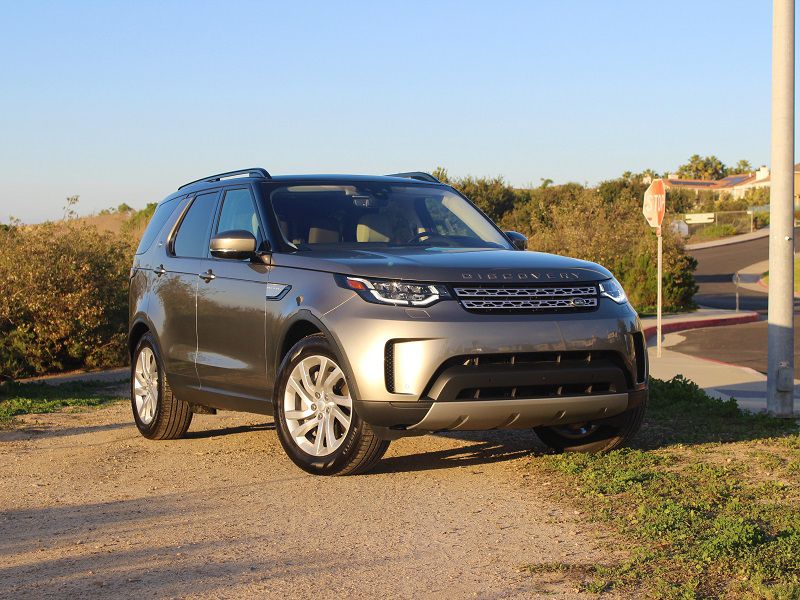 Photo by Matt Carpenter
Athletic and Easy to Drive
For such a large, heavy SUV, this Land Rover is surprisingly athletic. Thanks to light steering and excellent outward visibility, the 2020 Discovery is easy to drive around town, and a tight turning circle makes it easy to park. Since the two share the same chassis and suspension, it's no surprise the Discovery drives very much like a Range Rover Sport. The ride is firm but pleasant, with larger road imperfections soaked up well by its off-road-ready long-travel air suspension.
You sit tall in the 2020 Land Rover Discovery, with a commanding view out over its leather-covered dashboard and long hood. It's all very refined, but unlike some of the Discovery's competitors, the Land Rover doesn't feel like a sedan in disguise.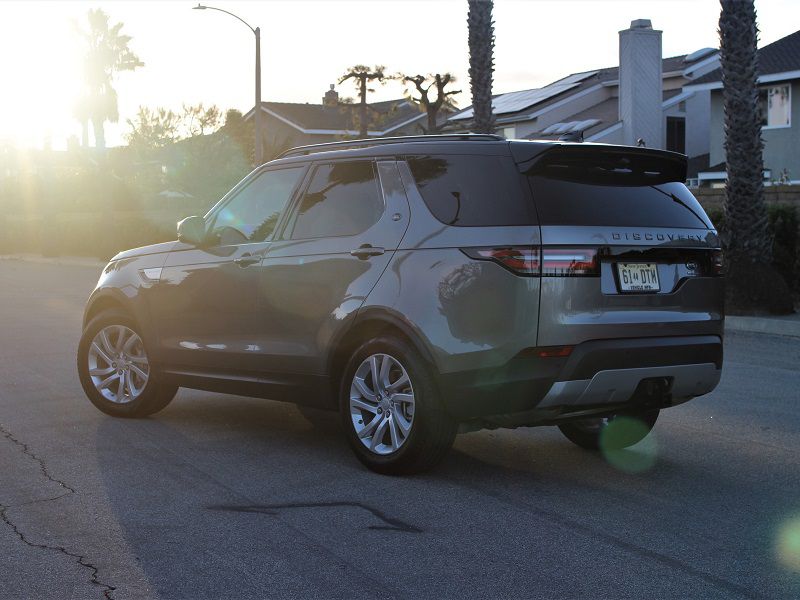 Photo by Matt Carpenter
Good Power and Fuel Economy for the Class
Put the pedal down and the Rover's 340-hp supercharged V6 provides plenty of power. It's the same smooth and refined engine Jaguar uses in its F-Type sports car, so it's no wallflower even in this big heavy SUV. Zero to 60 mph takes just 6.3 seconds, and the Discovery's eight-speed automatic transmission is well geared and pleasingly responsive. It also has a Sport setting for more immediate performance and paddle shifters.
The Discovery's fuel economy is about average for this class. With the supercharged V6, it's rated at 16 mpg city and 21 mpg highway. I averaged 17 mpg during a week of mixed driving and I continuously used the Rover's start/stop feature, which shuts off the engine at idle to save fuel. As expected, the optional 3.0-liter turbodiesel V6 is the more fuel-efficient choice, with ratings of 21 mpg city and 26 mpg highway.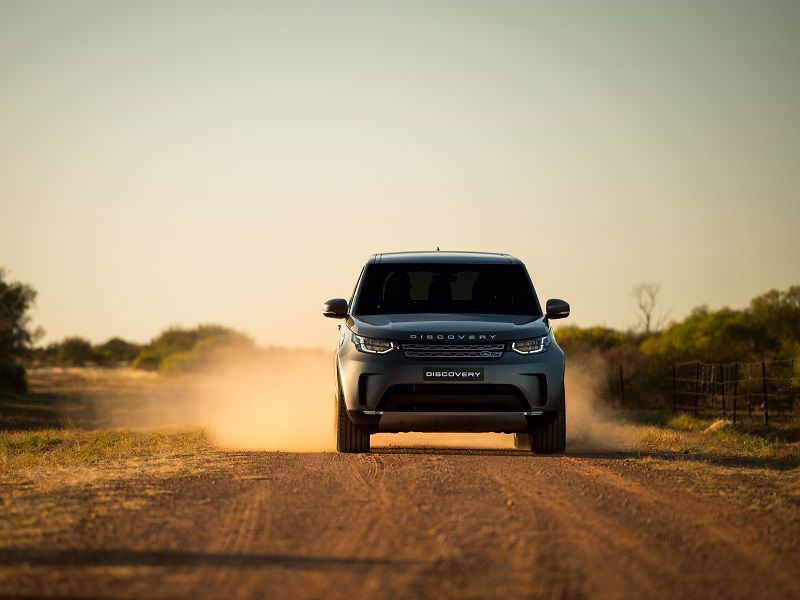 Photo by Land Rover
Awesome Off-Road
In the Land Rover tradition, the 2020 Discovery can also out off-road all of its rivals. Land Rover says the SUV can even ford through 3 feet of water. Try that in your everyday luxury crossover. Actually, you'd better not. With its height-adjustable air suspension increasing its ground clearance, the Discovery can also tackle obstacles you'd avoid altogether in many other SUVs.
During a few hours of play at our local off-road park, the SUV didn't break a sweat. The Discovery's adjustable all-wheel drive system offers four settings for different surfaces, and its traction control system got us through some deep sand and up and over some steep hills. To test its generous wheel travel, steep approach and departure angles, and 11.1 inches of ground clearance, I also drove it up some rutted and rocky trail sections without any trouble.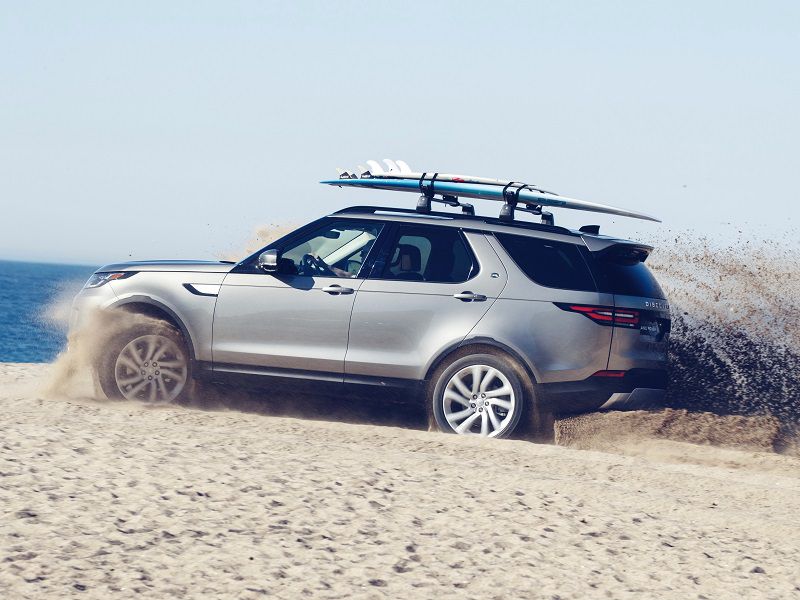 Photo by Land Rover
Ritzy But Simple Interior
We're big fans of Land Rover's interiors. Their design and comfort have been a big reason the brand's SUVs have proven so popular in recent years, and the 2020 Land Rover Discovery has a very attractive, functional, and comfortable cabin. Simple, well-appointed, and exceptionally modern, its design is similar to the interiors of the Range Rover and Range Rover Sport.
Land Rover doesn't do everything right, but seats are on the brand's list of fortes. The Discovery's seats are large and well-shaped, with strong heaters and adjustable armrests. Build quality is high, nothing feels cheap, there's an abundance of soft-touch materials, and the SUV's large leather-wrapped steering wheel feels good in your hands. Its rotary shifter takes some getting used to, but don't let it scare you off. It feels natural after just a few days. The Land Rover's infotainment system features a large touchscreen and the system is easy enough to use, but it should respond quicker. Sometimes it takes a beat or two. Onboard Wi-Fi is available.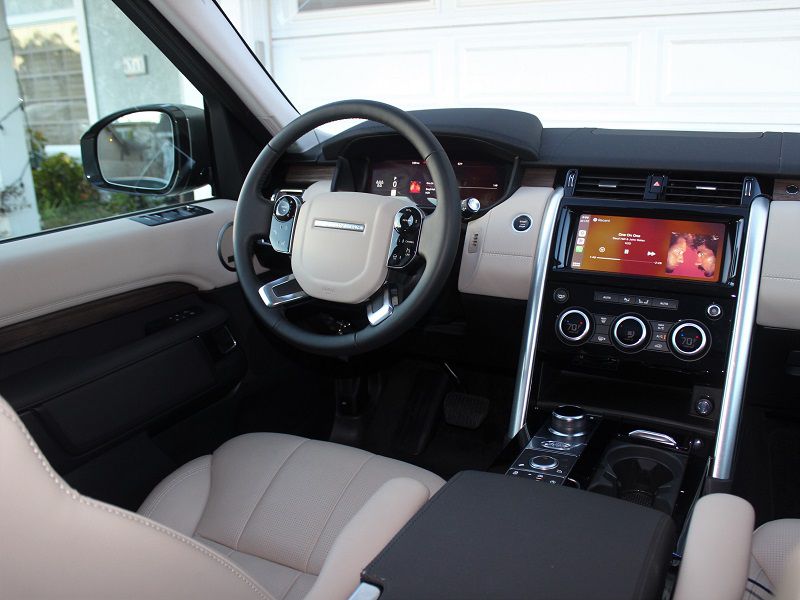 Photo by Matt Carpenter
Spacious, Family-Friendly Cabin
There's also plenty of storage inside the Land Rover's interior. The center console bin is deep and air conditioned to keep beverages cold, and there are large door bins. There's also a cool felt-lined cubby hidden behind the climate controls, bins in the "way back" by the third-row seat, and large well-placed front-seat cupholders that accommodate cups with handles.
Because the 2020 Land Rover Discovery shares its all-aluminum chassis with the big Range Rover and Range Rover Sport, its long 115-inch wheelbase provides plenty of interior space. There's more rear-seat space than you'll find in many of the Discovery's competitors and rear air conditioning vents are standard. The SE and HSE trim levels come standard with seating for five, but a third row is an available option. Seven-passenger seating is standard on the HSE Luxury and the third row is spacious enough for adults if the ride is short.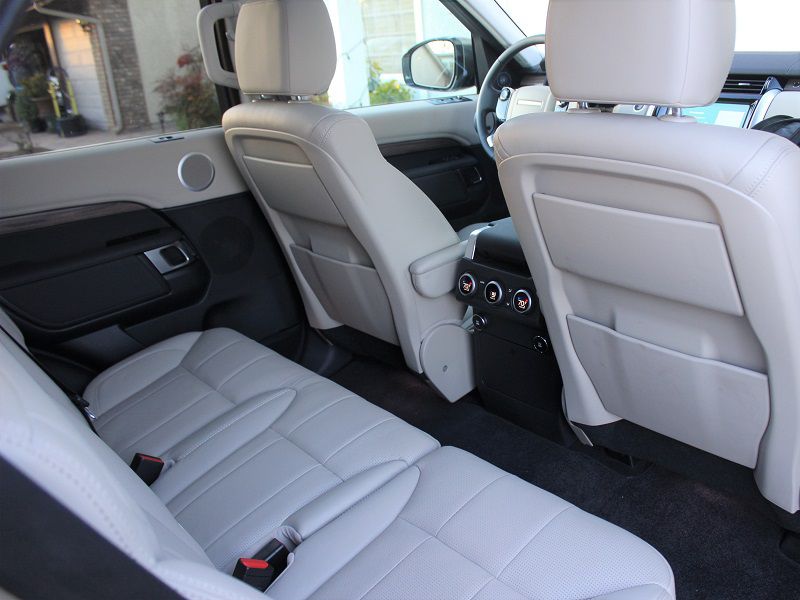 Photo by Matt Carpenter
Generous Cargo Volume
As is the case with most three-row SUVs, cargo space behind the Discovery's third row is limited. A few bags of groceries or a few school backpacks will fit, but not much else. The cargo space behind the Land Rover's second row is extremely generous, however, and its third row, which is split 50/50, folds flat easily. Behind its second-row seat, the Land Rover Discovery offers 45 cubic feet of space, which is considerably more than the 27.7 cubic feet in the Range Rover Sport. The second row is split 60/40, and it also folds flat to open up an impressive 82.7 cubic feet of space.
Our test vehicle's power tailgate and its power-folding second and third-row seats made life a little easier in the Costco parking lot, and the Discovery's air suspension can also lower the vehicle to make loading and unloading heavy items less stressful on your back. The SUV also has a cool power-folding bench so you have a place to sit when the hatch is open. It'll come in handy at the polo match.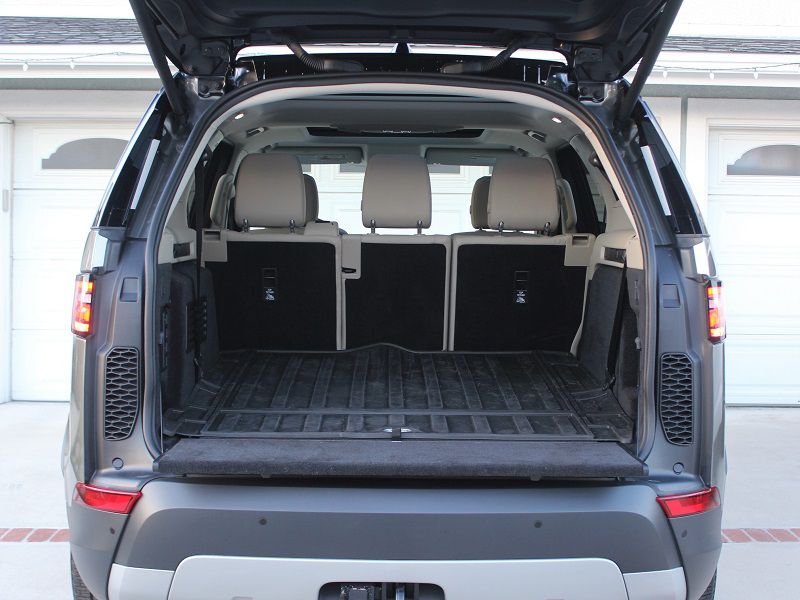 Photo by Matt Carpenter
Final Thoughts
Land Rover remains the only automotive luxury brand that sells only SUVs, and its beautiful, capable and luxurious vehicles have made it one of the hottest automotive brands in the United States. The 2020 Land Rover Discovery is one of the brand's best. It not only looks cool with its sweeping C pillar and asymmetrical tailgate design, but it offers the refinement, comfort, and performance of a luxury sedan, along with the off-road capability you expect from a Land Rover.
Far more capable off-road than its competitors from BMW, Volvo, and Mercedes, the Discovery is at home at the country club or out in the actual countryside. It's just as luxurious as the Range Rover Sport while offering more interior space. If you're looking for a very capable large luxury SUV, the Land Rover Discovery is a solid overall choice.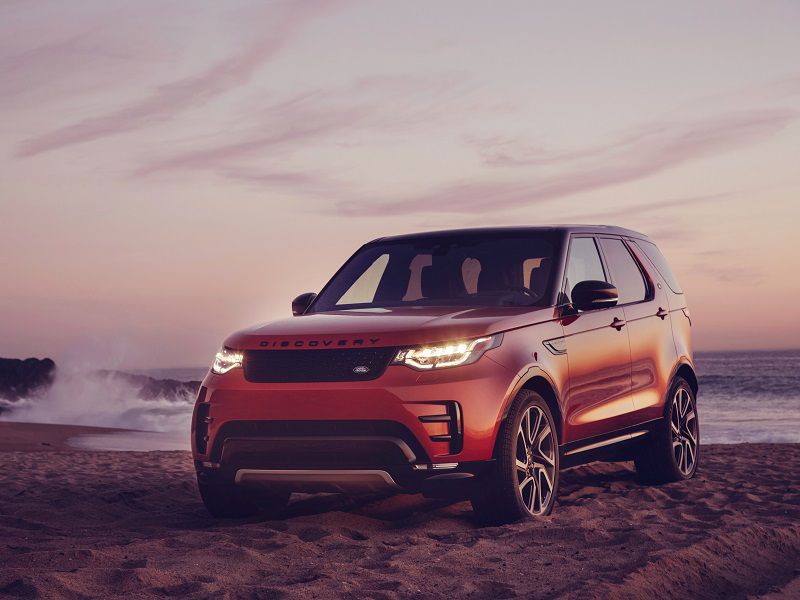 Photo by Land Rover