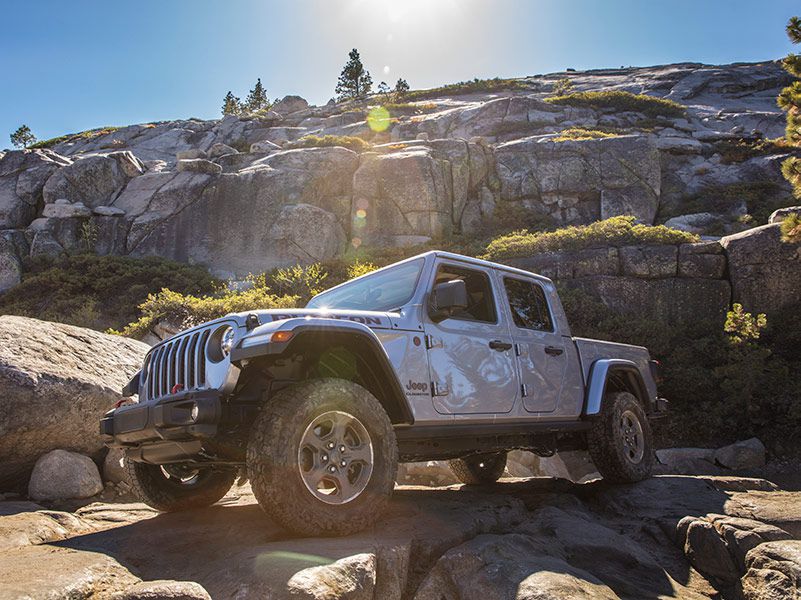 2020 Jeep Gladiator hero ・ Photo by Fiat Chrysler Automobiles
The mid-size truck market has caught such fire Jeep has introduced its first pickup since 1992. The all-new 2020 Jeep Gladiator competes with the Ford Ranger, Chevrolet Colorado, GMC Canyon, Nissan Frontier, Honda Ridgeline, and the sales leader of the segment, the Toyota Tacoma. But it's based on the extremely popular Jeep Wrangler Unlimited, so it's unlike its rivals in many ways.
First of all, the Gladiator is the only truck in its class with standard four-wheel drive. It's also the only convertible pickup offered by any brand, and it's the only one with removable doors. The unique design has proven popular. The Gladiator debuted to strong sales and it has collected a long list of prestigious accolades, including the North American Truck of the Year award. Jeep has also given the Gladiator class-leading off-road capability. In particular, the Gladiator Rubicon model shares much of its design and components with the Wrangler Unlimited Rubicon, universally regarded as America's premier off-roader.
The Rubicon is the Gladiator for serious off-roaders.
Jeep builds the new Gladiator in Toledo, Ohio, and offers the truck in six trim levels: Sport, Sport S, Overland, North Edition, Mojave, and Rubicon. Four-wheel drive is standard across the lineup, while the Rubicon and Mojave models feature more extreme off-road hardware. The Rubicon gets a taller suspension than most of the other models, special Fox shocks, locking front and rear differentials, a disconnecting front sway bar to further expand its suspension's articulation, skid plates, lower axle gears, and larger 33-inch tall tires.
Rubicon models also offer an available forward-facing off-road camera mounted behind the middle slot of the seven-slot grille. It allows obstructions ahead on the trail to be more easily seen, and that's important when because the Gladiator Rubicon can go places most other mid-size pickups cannot. It also features unmatched crawl ratios in this class and can ford up to 30 inches of water, more than any of its competitors.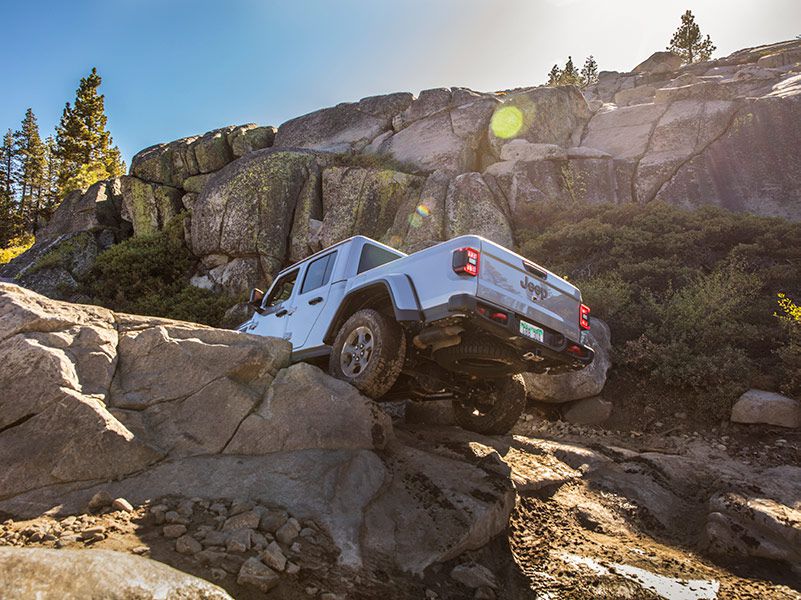 Photo by Fiat Chrysler Automobiles
Competitively Priced With Rivals
Jeep decided that two-door and extended cab versions of its new 2020 Gladiator weren't necessary. All Gladiators are crew cabs with four conventional doors. Jeep also only offers one engine in the Gladiator. Although Jeep has promised the Wrangler's turbodiesel V6, it hasn't happened yet. Instead, every Gladiator is powered by a strong 285-horsepower 3.6-liter V6. Buyers do get a choice between a standard six-speed manual transmission or an excellent eight-speed automatic that costs $2,000 more.
Pricing for the 2020 Jeep Gladiator starts right around $35,000, including a $1,495 destination charge, which is at the top of this class. The Rubicon's base price, however, is more in line with its rivals. At just over $45,000, it costs about the same as the Chevrolet Colorado ZR2 and Toyota Tacoma TRD Pro. A manually folding soft-top is standard, but Jeep offers an optional removable hardtop for $1,195 if you're looking for more weather protection and security.
Photo by Fiat Chrysler Automobiles
Gets Expensive With Options
At its base price of $45,000, the 2020 Jeep Gladiator Rubicon is a steal when you factor in its class-leading off-road capability. Yes, the Toyota Tacoma TRD Pro and Chevrolet Colorado ZR2 may cost a little less, but they can't quite keep up with the Gladiator when the terrain really starts to get serious.
The Rubicon's prices climb quickly, however, once you start adding options. Our soft-top test vehicle's option list was long and included the automatic transmission, blind-spot monitoring with a rear cross-path alert, adaptive cruise control, a roll-up bed cover, leather upholstery, LED lights, a winch capable steel front bumper, and an upgraded infotainment system with navigation and an 8.4-inch touchscreen. It all added up to an MSRP of $56,385.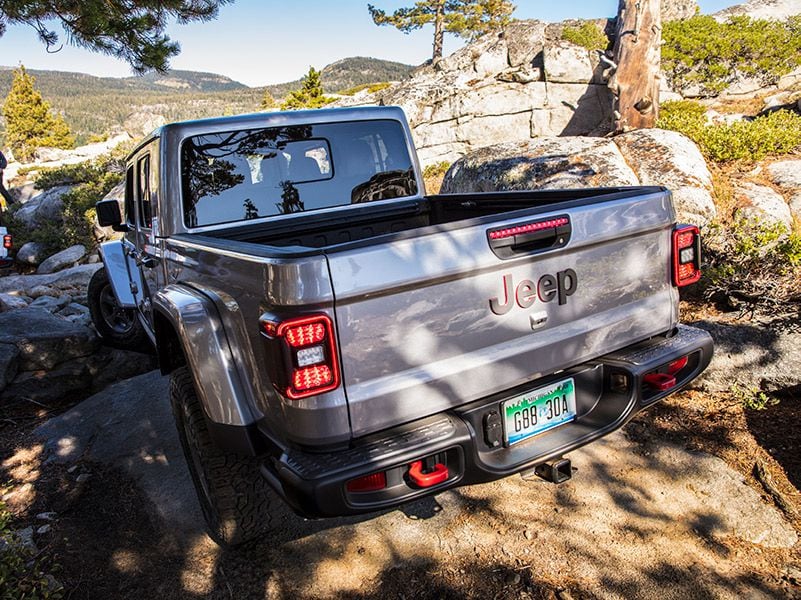 Photo by Fiat Chrysler Automobiles
Climbs Almost Any Hill
At our local off-road park in Southern California, the Gladiator Rubicon was fun and easy to drive in the dirt. Thanks to its generous wheel travel, soft, well-damped suspension, and oversized tires, the pickup crawled up, over, and through challenging trails with just its rear differential locked.
With its two-speed transfer case in low range and its front differential also locked, this truck can climb almost anything — even the biggest, steepest hill in the park. Few trucks make it to the top, but the Gladiator Rubicon climbed the grade like it was just cruising through the mall parking lot. It's so capable that it even makes a beginner off-roader look like an expert. Getting down the mountain is just as easy. The Gladiator Rubicon has the world's best hill-descent control, which is kinda like cruise control for getting the pickup down steep, slick grades. It crawls the truck down any slope at less than 1 mph, smoothly and quietly. You can even choose the speed with buttons on the steering wheel.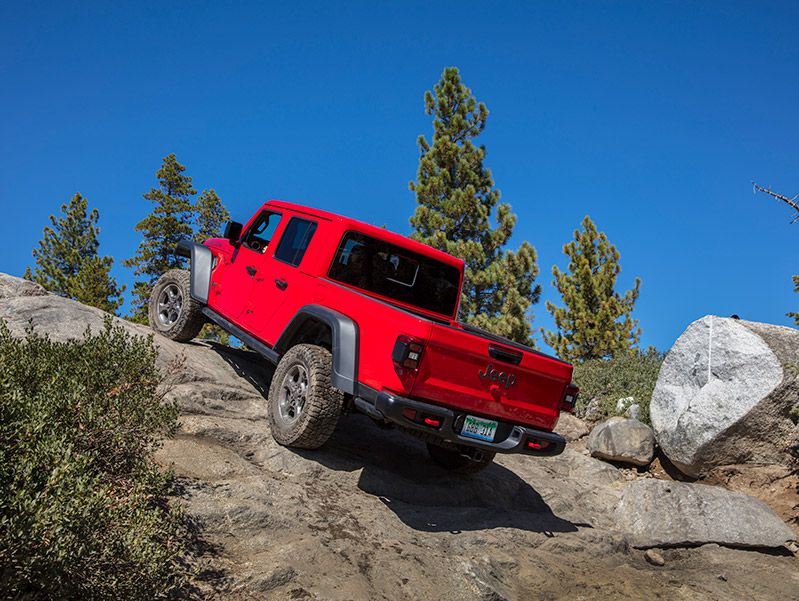 Photo by Fiat Chrysler Automobiles
Crawls Over Big Rocks With Ease
Off road, the Gladiator Rubicon goes beyond the abilities of its rivals. The Jeep's awesome ground clearance, steep approach angle, and high breakover allow it to tackle obstacles other 4x4s in this class can't handle. Like the Gladiator Mojave, the Rubicon wears 17-inch tires and offers a best-in-class approach angle of 43.4 degrees, a breakover angle of 20.3 degrees, a departure angle of 26 degrees, and a best-in-class ground clearance of 11.1 inches.
Those clearances get it over most rocks, and when the front suspension finally runs out of travel, pushing a button unhooks its front sway bar. With the additional articulation, the Gladiator Rubicon proved unstoppable in the park's rock garden. However, due to its 19.4-inch-longer wheelbase and considerably longer rear overhang, the Gladiator isn't quite as agile on tight trails as the shorter Jeep Wrangler Unlimited and its rear bumper does touch down more often.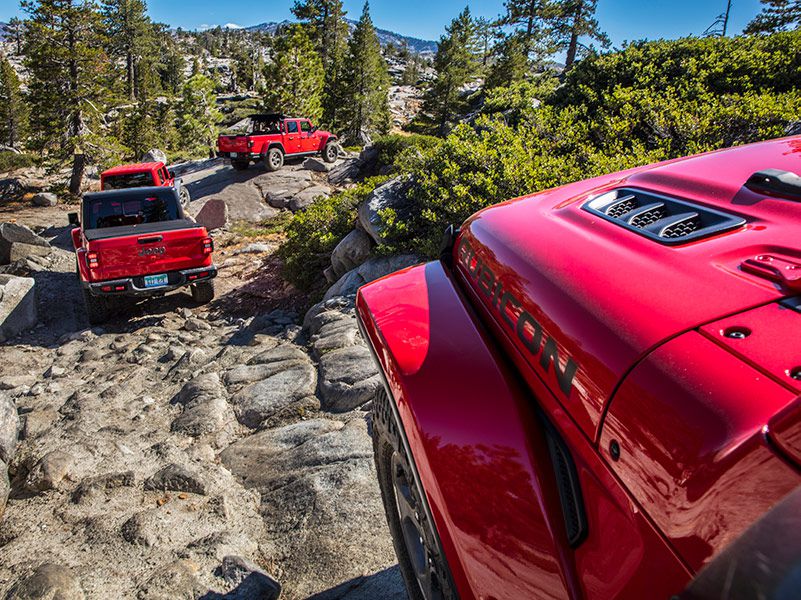 Photo by Fiat Chrysler Automobiles
Digs In on Sand and Mud
The Jeep's large V6 engine also had plenty of bottom-end torque to get us through deep, soft sand and thick mud. In this type of terrain, the truck's four-wheel drive system was ideal in high range, and the Jeep's traction control system worked its magic, maximizing traction and getting the engine's power to the ground.
As we mentioned, the 2020 Jeep Gladiator is the only convertible pickup on the market, and the only one available with removable doors. Off-roading in a wide-open Jeep on a sunny summer day should be on everyone's bucket list. Folding its soft-top is a bit of an operation, however. It takes about 10 minutes with some practice. Removing its doors is easy enough, but requires tools and a strong back; they're heavy. And don't forget to put the top up before blasting though that wet mud pit — or you and the Jeep's interior will get a dirty shower. Don't ask me how I know.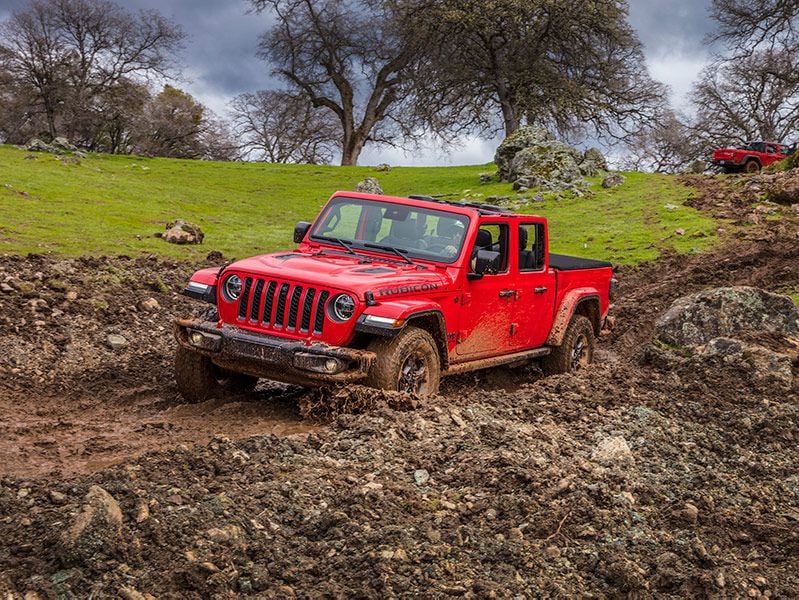 Photo by Fiat Chrysler Automobiles
Comfortable on the Road
For all its off-road capability, the 2020 Jeep Gladiator Rubicon is also easy and comfortable to drive around town. Its large V6 engine is responsive and well-matched to the excellent eight-speed automatic transmission. Accelerating from 0 to 60 mph takes around 8 seconds, which is about average for this class. The Gladiator's ride is pleasantly supple, and its steering feels well connected to the road as the truck handles with a comforting stability. With the soft top, there's considerable wind noise inside at over 60 mph, but not so much that you wouldn't want to take a road trip. The interior is quieter with the optional hardtop.
With engine's smooth start/stop feature, which shuts off the engine at idle to save fuel, the Jeep Gladiator Rubicon is rated at 17 mpg in the city and 22 mpg on the highway. That's about average for this class. Stick with the standard manual transmission and those ratings change to 16 mpg city and 23 mpg highway. I averaged 20.0 mpg during a week with the automatic Jeep, which included a 200-mile road trip and a day of off-road fun.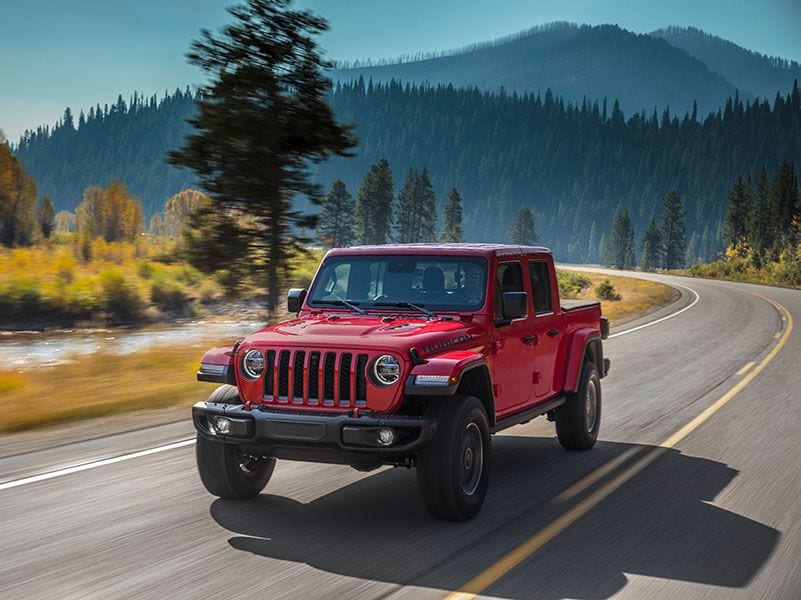 Photo by Fiat Chrysler Automobiles
Well-Laid-Out Interior
Just as the Gladiator shares the Wrangler's engine and much of its suspension, it also borrows the SUV's interior. The Jeep's controls are simple, with large well-placed knobs, and power window switches mounted on the dashboard. There's quite a bit of hard plastic, but it doesn't feel cheap inside. Its seats are well-shaped for a day in the saddle, and Jeep's excellent Uconnect infotainment system features a large 8.4-inch screen, intuitive menus, and quick responses.
Inside the 2020 Jeep Gladiator Rubicon, there's seating for five, with the most legroom in this class. Storage is also plentiful. The glovebox is large, the two-tiered center console bin is deep and lockable for when you've got the top down, and there are nets on each door for small items. There's also considerable storage under its back seat. Buyers should also know that the Gladiator Rubicon has a max tow rating of 7,000 pounds with the automatic transmission and just 4,500 lbs with the manual. The less off-road-focused Gladiator Sport can tow up to 7,650 lbs with the automatic.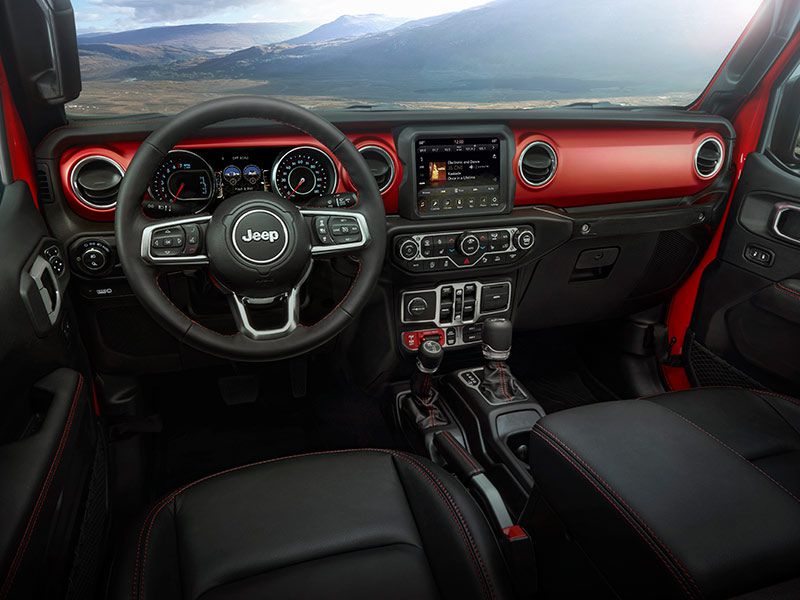 Photo by Fiat Chrysler Automobiles
Final Thoughts
Much of the 2020 Gladiator Rubicon's exterior also takes the design of the Jeep Wrangler Rubicon, including the brand's classic signature seven-slot grille, pronounced wheel well flares, and faux front fender vents. The Gladiator Rubicon also gets rock sliders on its cab and bed to protect the body when off-roading. They proved valuable during our day on the trails.
Overall, Jeep has made the Gladiator Rubicon an off-road superstar. It has created a truck that's not only capable of going places most other vehicles can't, but one that's also easy to drive and easy to live with. It can be driven to work comfortably Monday through Friday and tackle the Rubicon Trail on the weekends. If you're looking for the ultimate off-road capable mid-size pickup, the 2020 Jeep Gladiator Rubicon is your truck.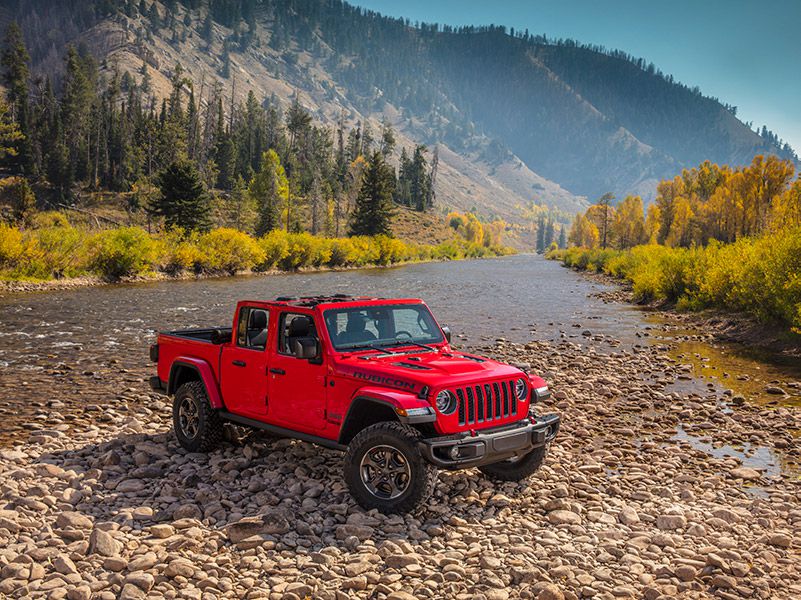 Photo by Fiat Chrysler Automobiles