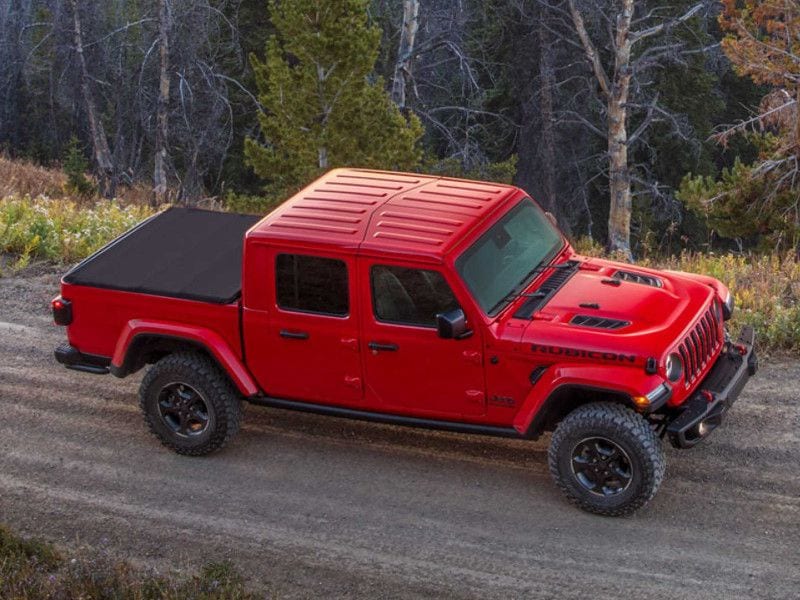 2020 Jeep Gladiator Rubicon red dirt road ・ Photo by Jeep
Until this year, Jeep hadn't built a pickup since 1992. That year, its Comanche was discontinued and the brand concentrated on its popular SUVs like the Wrangler and Grand Cherokee. But the mid-size truck market has heated up over the last half-decade, and Jeep has finally brought another pickup to market. And it's a good one.
The all-new 2020 Jeep Gladiator shares much of its design and components with the Wrangler Unlimited, and as a result, it's packed with Jeep's legendary off-road capability, as well as high levels of practicality and comfort. Recently, the Gladiator was named North American Truck of the Year award and claimed a spot on Car and Driver's 10Best list. It's also the only convertible pickup offered by any brand, and like the Wrangler, its doors are removable. It competes with the Ford Ranger, Chevrolet Colorado, GMC Canyon, Nissan Frontier, Honda Ridgeline, and the sales leader of the segment, the Toyota Tacoma.
Available in Six Trim Levels
Jeep consistently sells over 200,000 Wranglers a year, and the four-door Unlimited model makes up over 90 percent of that volume. So when it came to the new 2020 Gladiator, Jeep decided a two-door or extended cab version wasn't necessary. All Gladiators are crew cabs with four conventional doors, and they're built in Toledo, Ohio.
Six trim levels are available: Sport, Sport S, Overland, North Edition, Mojave, and Rubicon. Unlike its competitors, which offer two-wheel-drive models, every Gladiator comes equipped with four-wheel drive, while the Rubicon and Mojave trim levels feature more extreme off-road hardware. Unlike in the Wrangler, Jeep doesn't offer a choice of engines in the Gladiator. Jeep has promised the Wrangler's turbodiesel V6, but it hasn't happened yet. Instead, they're all powered by a strong 285-horsepower 3.6-liter V6. Buyers, however, can choose between a standard six-speed manual or an optional eight-speed automatic transmission.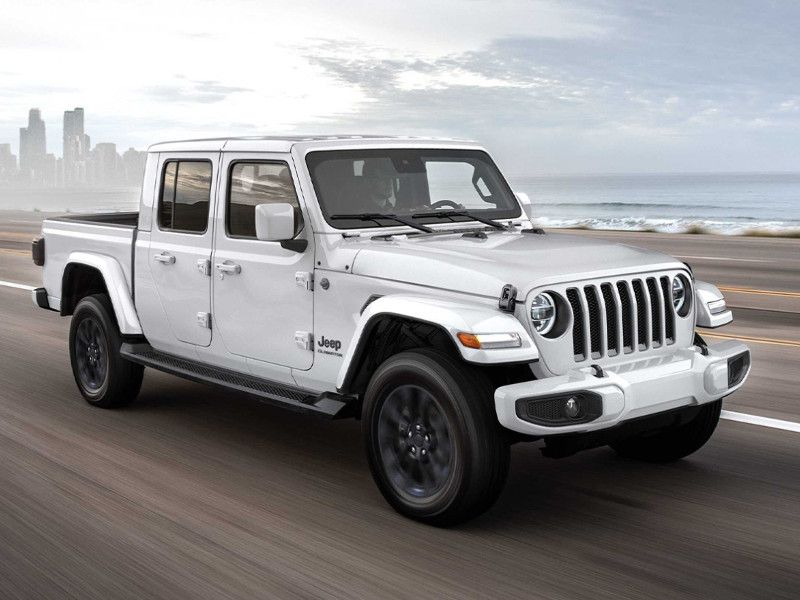 Photo by Jeep
Expensive, But Not As Expensive As You May Think
Pricing for the 2020 Jeep Gladiator starts right around $35,000, including a $1,495 destination charge. That's high for this class. Most of its competitors start below $30,000. Air conditioning is standard on the base Sport model along with power windows, power door locks, and a 5-inch touchscreen. Prices also climb rapidly through the range and top out with the Rubicon, which has a base price just over $45,000. That's right in line with the Rubicon's rivals like the Chevy Colorado ZR2 and Toyota Tacoma TRD Pro. A manual-folding soft-top roof is standard on all models. For those looking for improved weather protection and security, Jeep offers an optional removable hardtop for $1,195.
The base price of our test vehicle, a soft-topped Gladiator Overland, was about $42,000. But its price rose to over $47,500 with options that included the automatic transmission ($2,000), a roll-up bed cover ($595), a spray-in bedliner ($495), leather-trimmed seats ($1,495), heated seats and steering wheel ($695), and an upgraded infotainment system with navigation an 8.4-inch touchscreen ($1,495).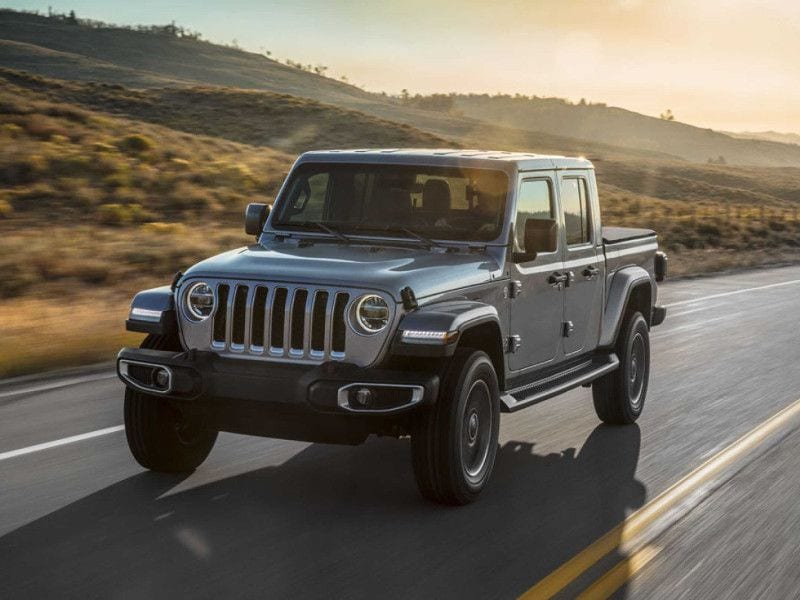 Photo by Jeep
Boxy But Cool
Much of the 2020 Gladiator's exterior mimics the design of the Jeep Wrangler, which was revised back in 2018. Both share the brand's classic signature seven-slot grille, pronounced wheel-well flares and faux front fender vents, but the Gladiator's square bed and upright roofline give it an overall boxier look. Some think it's cool and more than a bit old-school, while others have accused Jeep's designers of shaping the truck with a ruler.
Not only is the 2020 Jeep Gladiator the only convertible pickup on the market, but it's also the only one available with removable doors — and you haven't enjoyed life until you've cruised around in a wide-open Jeep on a sunny summer day. Folding its soft top is a bit of an operation, however. It takes about 10 minutes with some practice. Removing the doors is easy enough but requires tools and a strong back, since they're heavy. If you're really feeling outdoorsy, you can also fold the Gladiator's windshield forward for a real wind-in-the-face experience. Don't forget a good set of goggles.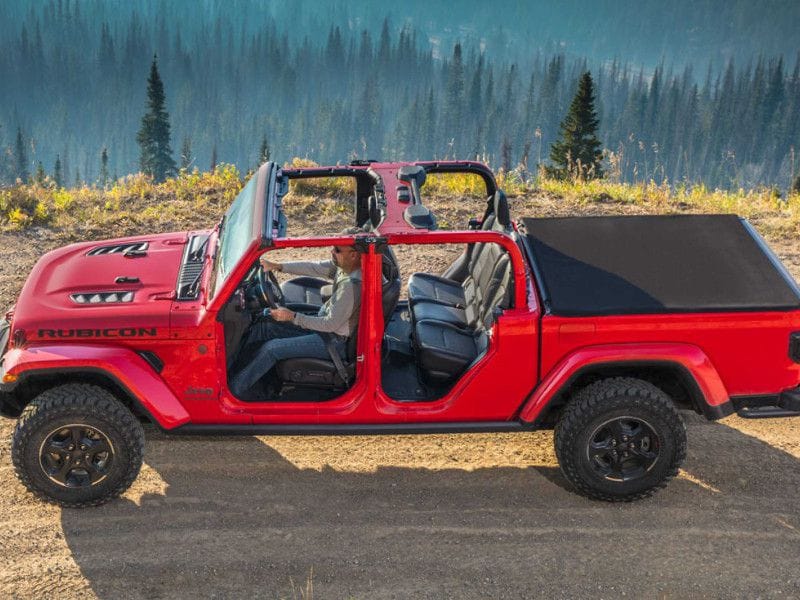 Photo by Jeep
Impressive Off-Road Performance
Thanks to the Jeep's generous wheel travel, soft, well-damped suspension and our test vehicle's oversized tires, the Gladiator was fun and easy to drive in the dirt. The Jeep's large V6 engine had plenty of bottom-end torque to get us through deep, soft sand at our local off-road park in Southern California, and the pickup climbed like a mountain goat with its two-speed transfer case in Low Range — easily scrambling up, over, and through challenging trails.
The Gladiator is as off-road-capable as anything in this class and goes beyond the abilities of its rivals in Rubicon trim. The Jeep's awesome ground clearance, steep approach angle, and high break-over allow it to tackle obstacles other 4X4s in this class can't handle. However, due to its longer wheelbase and rear overhangs, it isn't as agile on tight trails as the shorter Jeep Wrangler Unlimited.
Photo by Jeep
Comfortable on the Road
For all its off-road capability, the 2020 Jeep Gladiator is also easy and comfortable to drive around town. Its large V6 engine is responsive and well-matched to the Jeep's excellent eight-speed automatic transmission. It isn't fast, by any measure, but it's quick enough running from 0 to 60 mph in about 8 seconds. That's about average for this class and right in line with its rivals from GM and Toyota. There's also just enough passing power on the highway.
The Gladiator's ride is pleasantly soft and surprisingly supple, and Jeep's engineers have done an amazing job tuning the steering, which feels well connected to the road. On our test car's 18-inch tires, it handled turns with a comforting stability, and it isn't very long or wide for a pickup, so it's pretty easy to park. Although there's considerable wind noise inside over 60 mph, the Gladiator is also quieter and more comfortable on the freeway than you may expect the boxy soft-top vehicle to be. Paying up for the optional hardtop fixes the majority of this problem, however.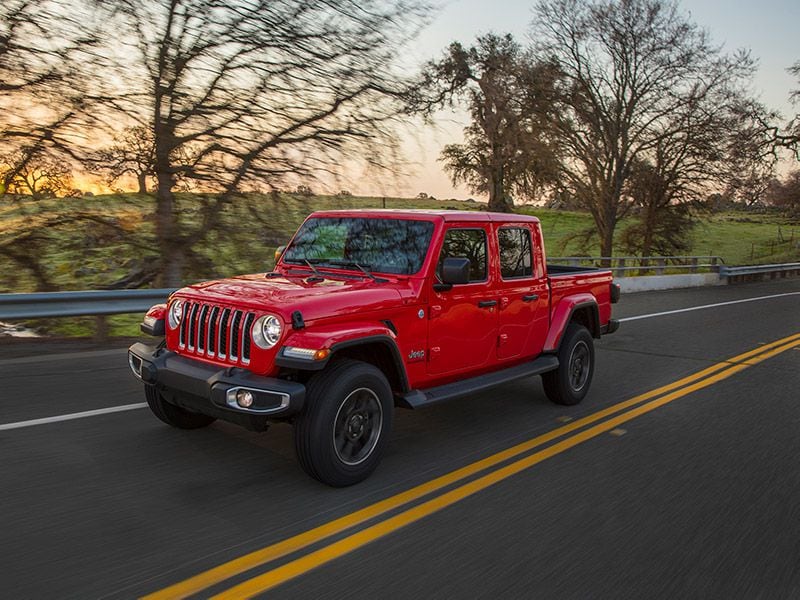 Photo by Jeep
Average Fuel Economy For This Class
With its large 3.6-liter engine and its smooth start/stop feature, which shuts off the engine at idle to save fuel, our 2020 Jeep Gladiator was rated at 17 mpg city and 22 mpg highway. Stick with the standard manual transmission and those ratings change to 16 mpg city and 23 mpg highway. I averaged 20.0 mpg during a week with the Jeep, which included a 200-mile road trip.
The Jeep's fuel economy is also about average for this class. A V6-powered Toyota Tacoma is rated 18 mpg city and 22 mpg highway, while a four-wheel drive V6-powered Chevrolet Colorado makes 17 mpg city and 24 mpg highway. Buyers looking for this highest mileage and longest fuel range in this class might want to check out the Chevy with its optional turbodiesel, which is rated at 19 mpg city and 28 mpg on the highway.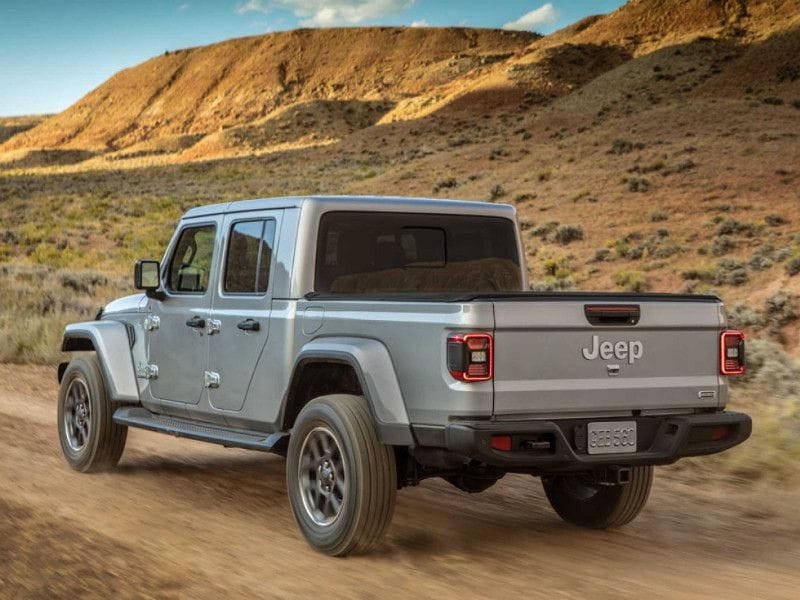 Photo by Jeep
Well Laid-Out Interior
Just as the Gladiator shares the Wrangler's engine and exterior design, it also borrows the SUV's interior. The Jeep's controls are simple, with large well-placed knobs, and its gauges are visually interesting without complicating the information. There's quite a bit of hard plastic, but it doesn't seem cheap and the Gladiator's fit and finish is nothing to complain about.
Its shifter, parking brake, 4WD lever, and two large cupholders fill the console, while the power window switches are on the dashboard below the touchscreen. Jeep's Uconnect infotainment system is also one of the best, with a large 8.4-inch screen, intuitive menus, and quick responses. Its seats are well-shaped for long drives, but the Jeep's lack of a dead pedal (a place to rest your left foot) becomes a comfort issue after a couple of hours on the road.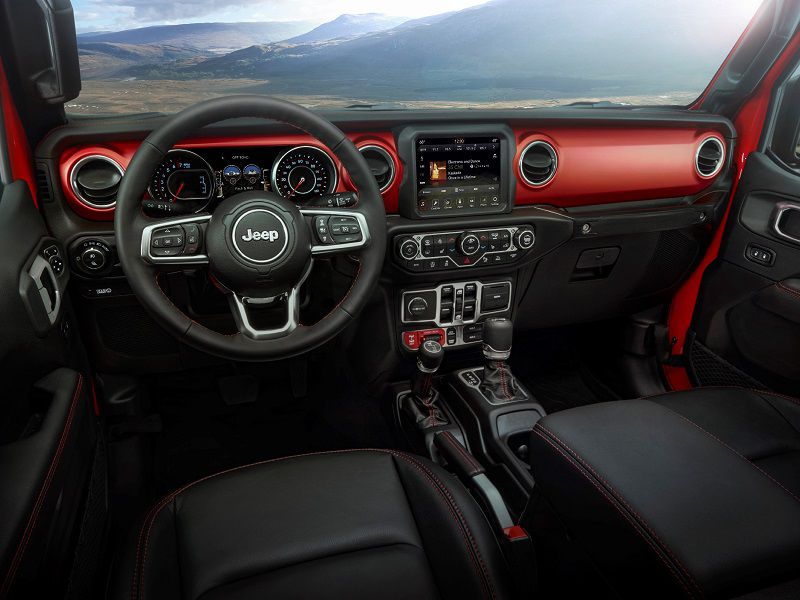 Photo by Jeep
Generous People and Cargo Space
Inside the 2020 Jeep Gladiator, there's sufficient seating for five. The backseat offers the most legroom in this class, so there's room back there for your friends to stretch out. Storage inside the Jeep's interior is also plentiful. The glovebox is large, the two-tiered center console bin is deep and lockable for when you've got the top down, and there are nets on each door for small items. There's also considerable storage under its back seat.
Its 5-foot-long steel bed features under-rail bed lighting, a 400W 115-volt, three-prong power source, and integrated tie-downs. The Gladiator's payload capacity is 1,600 pounds and the pickup is rated to tow up to 7,650 pounds. Both are respectable numbers for this class.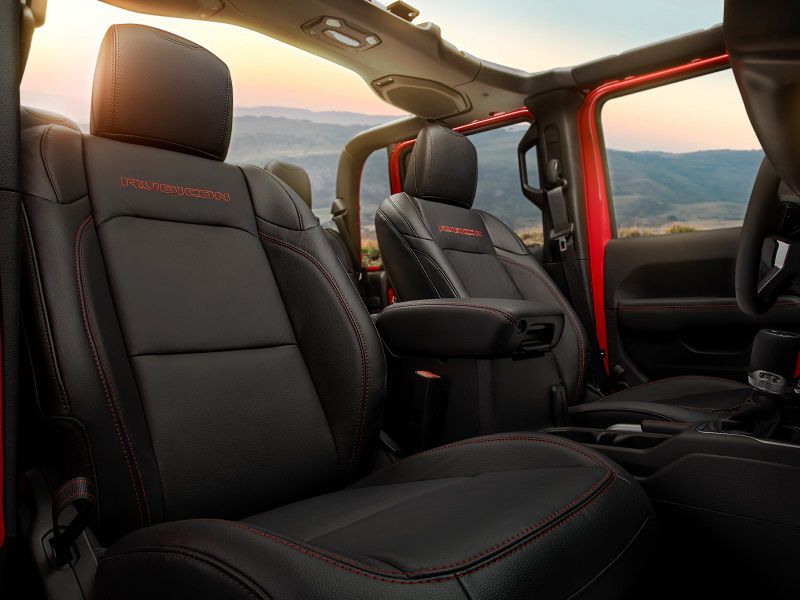 Photo by Jeep
Final Thoughts
When the 2020 Gladiator first rolled out, it debuted to hot sales — so hot some dealers were charging $10,000 premiums over the pickup's sticker price. But demand for the 4x4 and its prices have come back to Earth. Dealers are even discounting Gladiators, which is good news for anyone looking to buy Jeep's new pickup.
Like the Wrangler, Jeep has made the Gladiator comfortable, easy to drive, and easy to live with. Plus it's an off-road superstar, capable of going places most other vehicles can't. It checks all the boxes for families and delivers the chops to satisfy weekend off-road enthusiasts. Plus, the aftermarket is supporting the Gladiator with an endless supply of lift kits, wheels, winches, lights, and indestructible steel bumpers so you can make yours even cooler and more capable. If you're in the market for mid-size pickup with as much personality as capability, the 2020 Jeep Gladiator is a very desirable choice.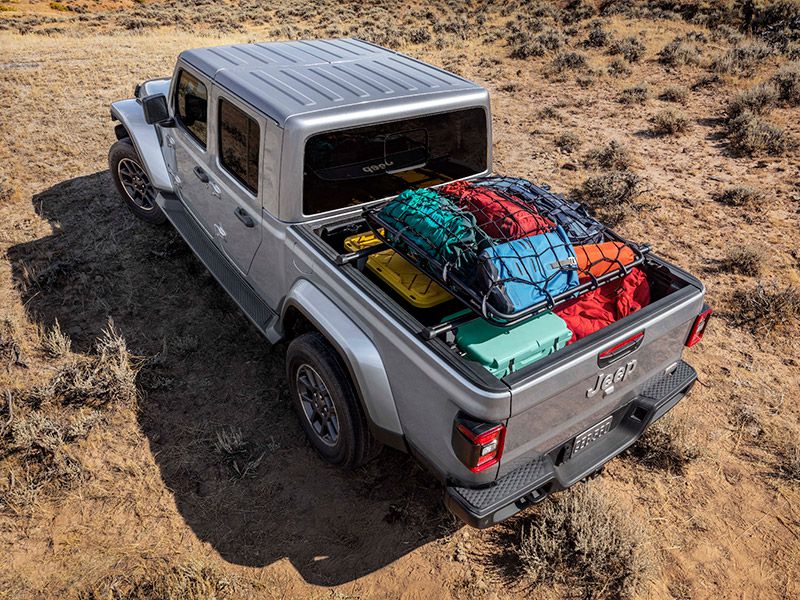 Photo by Fiat Chrysler Automobiles