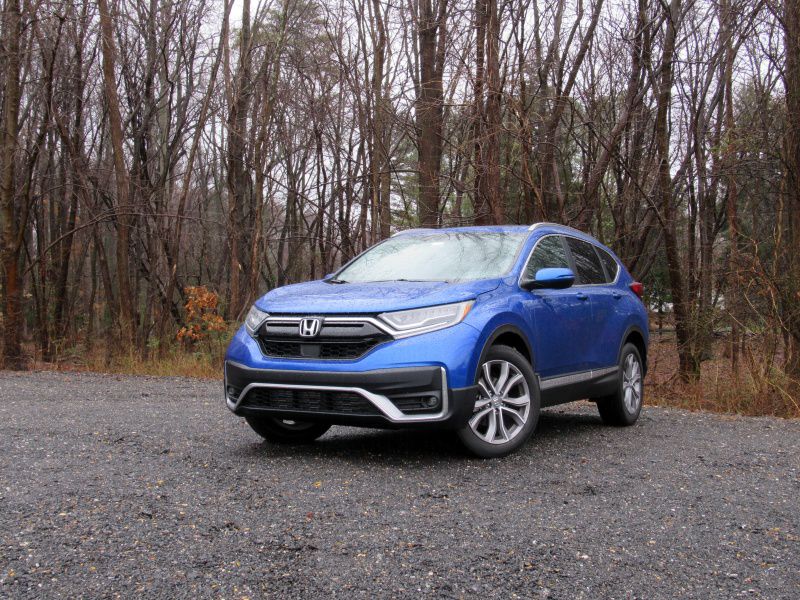 12020HondaCR V ・ Photo by Brady Holt
One of America's favorite vehicles, the Honda CR-V has been a sales leader for years because it provides a pleasant driving experience and an extra-roomy interior at reasonable prices. The current generation of this compact crossover blew us away when it debuted in 2017, thanks to its advanced safety features, fancy-looking interior, and standout fuel efficiency.
But the competition isn't standing still. Key competitors like the Toyota RAV4, Ford Escape, and Chevrolet Equinox have all been overhauled since 2017. So Honda has just upgraded the CR-V with more features, revised styling, and its first-ever hybrid powertrain option. We just spent a week in the updated 2020 Honda CR-V to see how it's holding up in the cutthroat compact crossover segment. Read on to find what we learned.
Prices and Trim Levels
The 2020 CR-V costs a little more than last year's model, but that's in part due to additional standard features. For the first time, the base LX trim level ($25,050) includes the "Honda Sensing" suite of advanced safety technology, along with the same fuel-sipping turbocharged engine as pricier CR-V models. Other welcome standard features include automatic climate control, Bluetooth connectivity, and attractive alloy wheels.
The EX ($27,560) is the next step up, adding a larger infotainment screen with Android Auto and Apple CarPlay smartphone integration; a moonroof; keyless entry with push-button starting; and some extra safety tech. The EX-L ($30,050) adds leather upholstery, power-adjustable seats, and a power liftgate, while the $33,250 Touring model brings a navigation system, a nine-speaker stereo, and a wireless smartphone charger. These prices are generally fair, but most trim levels have omitted a feature or two that are available on an equivalently priced competitor — forcing you to buy a pricier CR-V model or do without them. All-wheel drive costs $1,500 extra, while the new CR-V Hybrid costs $1,200 more than that (with AWD standard); both upgrades are offered on each trim level, and those prices are reasonable.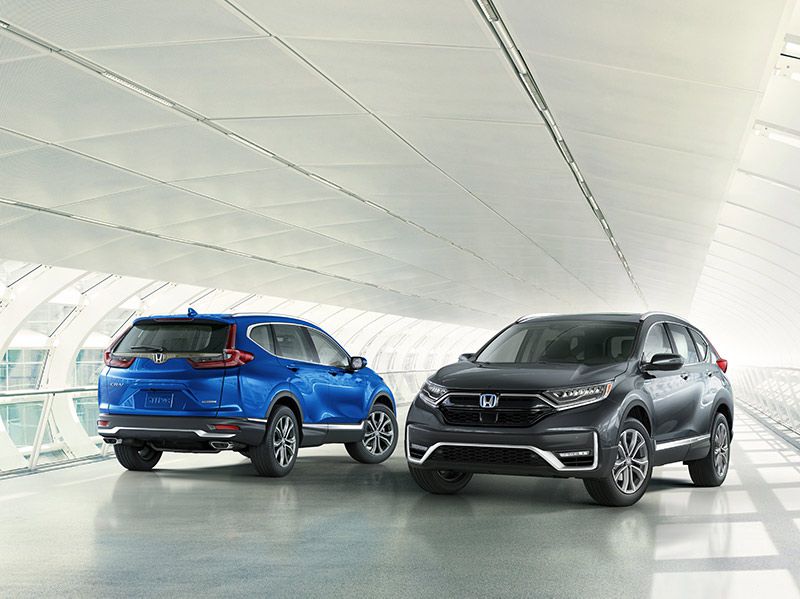 Photo by Honda
Updated Styling
The updated 2020 Honda CR-V features a restyled front end that, to our eyes, represents an improvement over last year's model. Honda removed a big chrome bar from the grille, and instead sprinkled tasteful chrome accents around the front end. In conjunction with a simplified bumper design, the seemingly subtle changes make the CR-V look more upscale and also more like a squared-off, purposeful SUV. We also like the redesigned alloy wheels, which are simpler than last years'.
The rear end retains the CR-V's familiar high-mounted taillights, which wrap around the rear windshield to add visual interest to this box-shaped crossover. But you can now dress your CR-V in bolder colors — for 2020, Honda ushered in a bluer blue (which looked great on our test vehicle), a redder red, and a classy new gray-blue.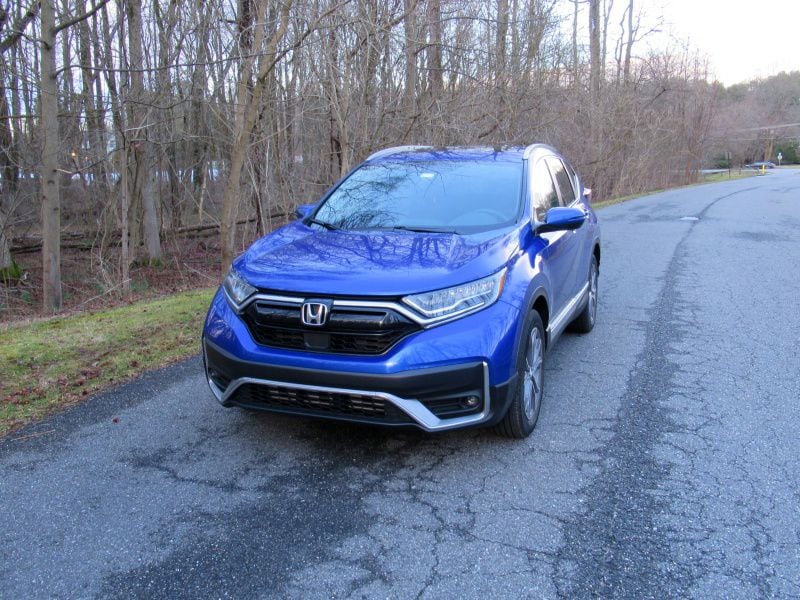 Photo by Brady Holt
Interior Pizzazz
On all but the base LX model, Honda dresses up the CR-V's interior with woodgrain trim on the dashboard and interior door panels. Some buyers will appreciate that Honda is positioning the CR-V as a relatively upscale compact crossover, in contrast to competitors that try to be adventurous-looking or are downright plain. Others, though, might wish for the LX's subtler metallic-look trim.
The LX is also the most user-friendly CR-V, with simple buttons and knobs for its audio system. Other models upgrade to a more advanced 7-inch infotainment system, which brings a touchscreen interface along with advanced smartphone integration. But this system replaces nearly all the dashboard's physical audio controls (except volume) with a touchscreen interface, which isn't as easy as pushing a fixed button or twisting a knob. What's more, the system doesn't respond as quickly as the best in this class, and most also provide larger screens. We wish Honda had overhauled the system as part of the 2020 update.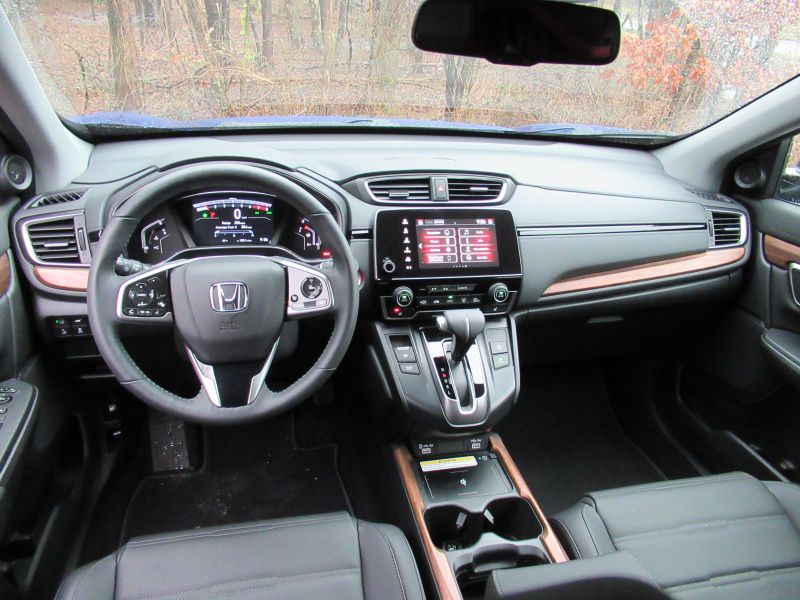 Photo by Brady Holt
Standout Spaciousness
Even nearly four years after its debut, the 2020 Honda CR-V still leads the compact crossover class for cargo space. Credit goes to the extra-low cargo floor, which creates a taller cargo hold and also makes it easier to load and unload the vehicle. The CR-V provides 39 cubic feet of cargo room behind its rear seat, which folds down easily to expand that volume to 76 cubic feet — more than in many mid-size crossovers. A hands-free power liftgate is newly available to access that space; it's optional on the EX-L model and standard on the Touring.
Passengers will also enjoy the CR-V's roominess. The front seat area is airier and more open than in most small crossovers, and the rear seat is more generously sized for adults. And the clever reconfigurable center console lets you remove a divider to accommodate a purse or other small bag between the front seats, while still providing the option for a conventional storage bin under a center armrest.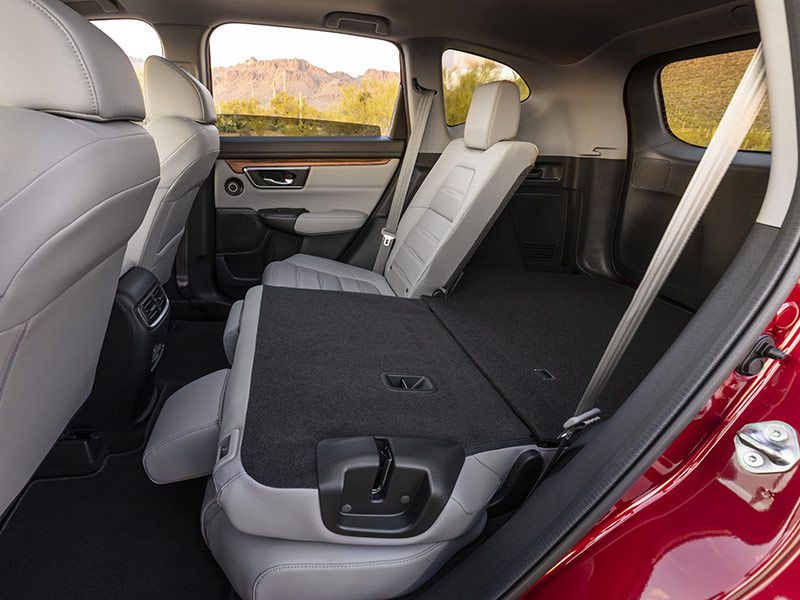 Photo by Honda
Standout Fuel Economy
The 2020 Honda CR-V comes with a choice of two powertrains: the gas-only 1.5-liter four-cylinder turbo that we tested, or the new gas-electric CR-V Hybrid. The less-efficient 2.4-liter four-cylinder from last year's CR-V LX is no longer available.
The 1.5-liter CR-V gets among the best fuel economy ratings in its class: 28 mpg in the city, 34 mpg on the highway, and 30 mpg overall in base front-wheel-drive form, and about 1 mpg less with all-wheel-drive. The AWD-only hybrid is a city-driving standout at an EPA-estimated 40 mpg, but its 35 mpg on the highway barely tops the gas model. We hit the EPA estimate in our AWD 1.5-liter test vehicle, averaging 29 mpg in a week of mixed driving. Despite its small displacement, the 1.5-liter CR-V offers decently zippy acceleration for this class when you dig in. It's rated at 190 horsepower and 179 lb-ft of torque, better than the standard engines on most competitors. However, models like the Ford Escape, Chevrolet Equinox, and Mazda CX-5 offer larger optional engines for much stronger performance.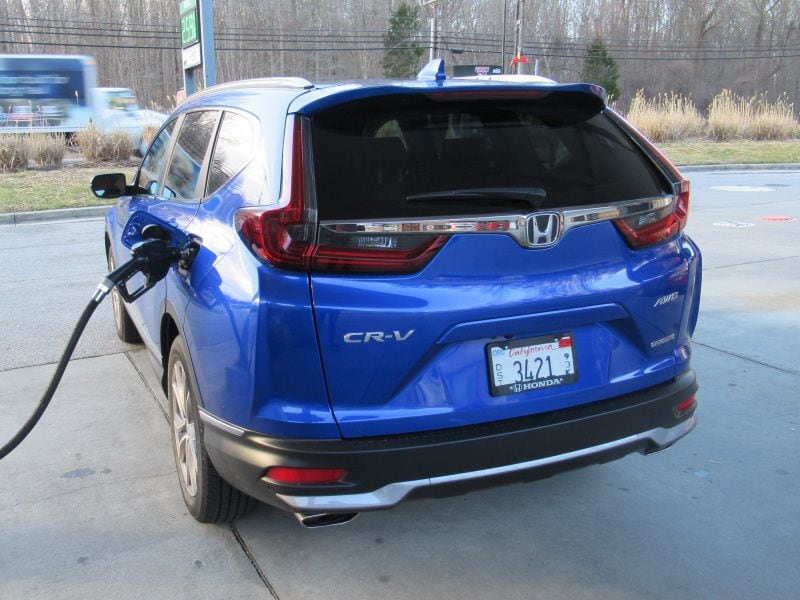 Photo by Brady Holt
Pleasant Driving Experience
The Honda CR-V delivers a smooth, well-controlled, and quiet ride. And it's easy to drive, with natural steering responses and a tight 37-foot turning circle. At the same time, it's one of the sportier compact crossovers, with nimble handling and responsive steering. It's not easy to pull off both at the same time, but Honda did an impressive job at it.
You wouldn't confuse the CR-V for a sports car, and even driving enthusiasts who appreciate its agility might wish for a heartier engine. Still, the CR-V banishes any ideas about SUVs being bulky and cumbersome to drive, remaining one of the better-driving vehicles in its segment. If you're looking for outstanding off-road ability, though, models like the Jeep Cherokee and Subaru Forester might be a better fit if that's a top priority for you. Despite its optional all-wheel drive, the CR-V is a light-duty crossover designed first and foremost for excellence in everyday on-road use.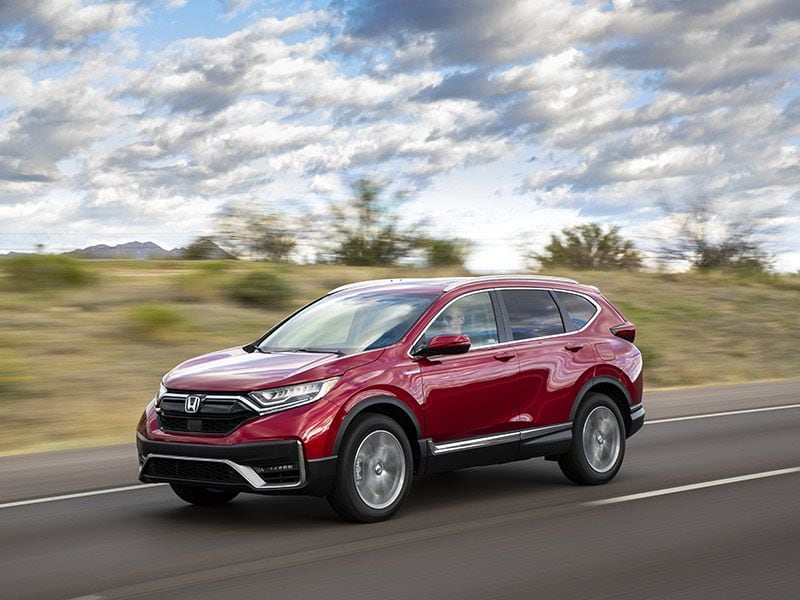 Photo by Honda
Strong Safety Scores
The 2020 Honda CR-V achieved a Top Safety Pick designation from the Insurance Institute for Highway Safety, reflecting its excellent performance in crash tests and other safety evaluations — though some trim levels' headlight performance kept it shy of the highest-possible "Top Safety Pick+" designation. It also earned the top five-star score from the National Highway Traffic Safety Administration.
Bolstering this safety record is the CR-V's improved list of standard features. The Honda Sensing suite, previously unavailable on the base LX model, is now standard equipment. It includes a forward-collision warning with automatic emergency braking, adaptive cruise control, and a lane-departure warning with lane-keeping assistance and road-departure mitigation. All other CR-V trims also bring blind-spot monitoring with a rear cross-traffic alert. A growing number of compact crossovers provide ample safety technology as standard equipment, but many still charge extra for adaptive cruise control, which automatically slows the vehicle to match the speed of traffic and then accelerates back to your selected speed once your lane opens up.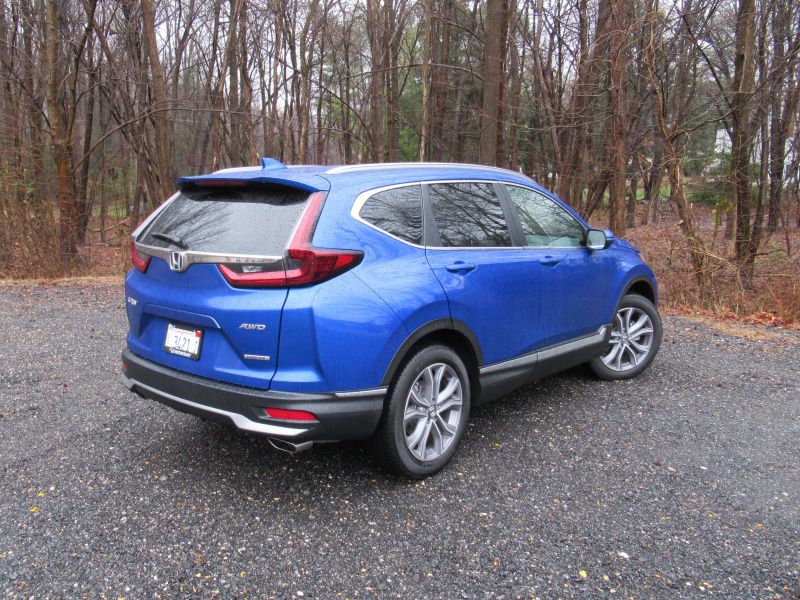 Photo by Brady Holt
Lots of Competition
The CR-V's top competitors include the Nissan Rogue, Toyota RAV4, Ford Escape, Mazda CX-5, and Chevrolet Equinox. Each brings its own set of pros and cons in contrast to the CR-V.
The Rogue is less expensive than the CR-V and has more user-friendly controls. But it has a less upscale interior, slightly inferior fuel economy and safety ratings, and a noisier, less-powerful engine. The RAV4, the class's best-seller, adopts a more rugged vibe than the CR-V and has a superior infotainment system, but the Honda has more interior room. The newly redesigned Escape drives well and gets excellent gas mileage, but it's not as roomy as the CR-V. The CX-5 is a fun-to-drive, luxuriously finished vehicle that trails the Honda for fuel efficiency and interior spaciousness. And the Chevrolet Equinox is an extra-smooth, extra-quiet crossover with user-friendly controls and appealing driving dynamics, but it gets expensive in a hurry and doesn't have the CR-V's extra-spacious cargo hold. Of these models, the RAV4 and Escape offer gas-electric versions that compete with the new CR-V Hybrid; they edge out the Honda's gas mileage but cost a little more.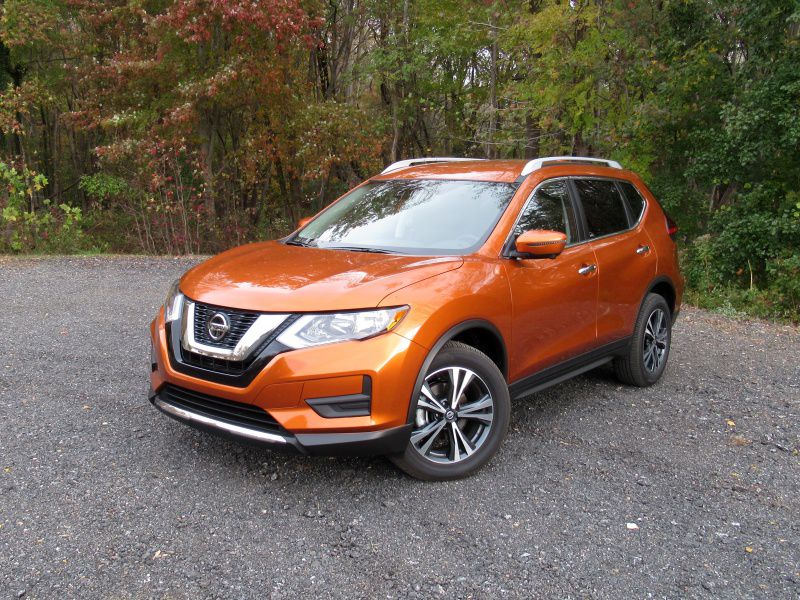 Photo by Brady Holt
Impressive Overall
Overall, the 2020 Honda CR-V doesn't dominate its segment the way it did back in 2017. Improved competitors cast a harsh light on its clunky infotainment system and polarizing woodgrain interior trim. We also wish Honda were less stingy with features like a power driver's seat, power liftgate, and wireless smartphone charger — each of which is offered only on a pricier trim level than we think it should be. 
But setting aside these nitpicks, the CR-V still gets the most significant things right. It's incredibly roomy for its size, it drives well, it gets great gas mileage, and its standard safety features and crash test scores are outstanding. If those priorities align with your own, be sure to check out the CR-V if you're looking for a compact crossover — or, due to its extra-spacious interior, even if you were leaning toward a larger, more expensive one.
Photo by Brady Holt